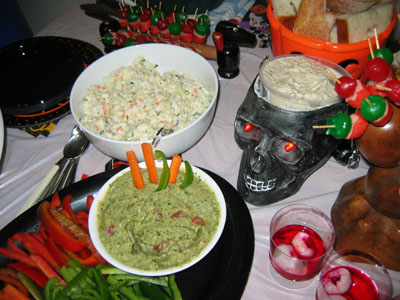 You've seen all this stuff before… I just wanted to show off my blinky skull again. That's a bowl of baba ganouj in his head.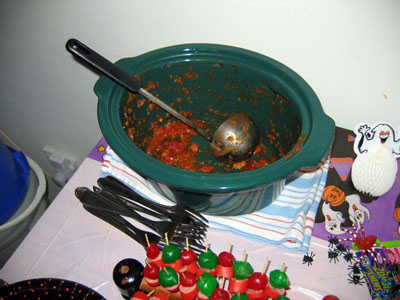 We had been going for a bit of a cannibal theme, what with the ribs and the liver and all. So we decided to make a big pot of Sausage, Fennel, and Bean Stew (the linked sausages representing the guy's intestines). Unfortunately the whole pot was dished up before I even got to take a photo! (I didn't even manage to get a portion myself!) I guess that's the ultimate compliment as a chef.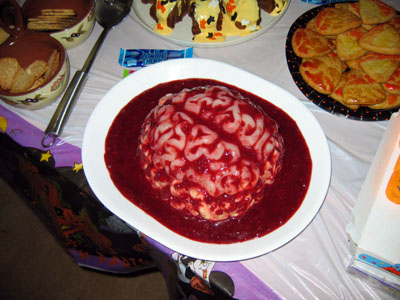 And here, finally… the piece de resistance. Panna Cotta Brains with Raspberry Sauce. I've been wanting a brain mold for YEARS, and this Halloween my dream came true. (Huge thanks to Jill Barker for carrying it all the way from the U.S.!) I wasn't quite sure what the Australian equivalent to "heavy" cream was, so I went with 2 cups of double cream and 2 cups of normal cream. (According to this site, double cream is actually fatter than heavy cream.) I put it in the fridge over night and it set up BEAUTIFULLY. I had been worried about unmolding, but after a dip for a few seconds in some warm water, it came out perfectly. (The only weirdness was that the mixture slightly separated, and the top inch of so of brain was noticeably more clear than the bottom.) Rather than make my own sauce, I just used a can of raspberries in syrup. I dumped it in a saucepan with some cornstarch (for extra "clotting" effect) and reduced it a bit, then chilled before dumping on top. It looked and tasted fantastic. In fact, by the time I realized the guests had gotten into it, there was only a tiny bit left for me!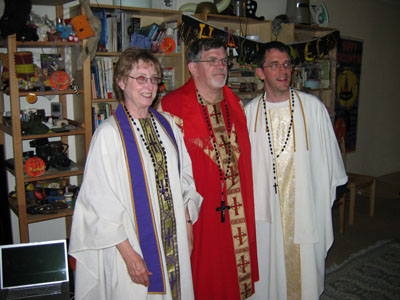 The awesome Barker family. Bob and Jill came in the week before and spent several days in Tasmania with Rob and Amy). They only flew back to Sydney on the morning of the party, so the choir costumes were a last minute affair. It certainly lent a suitably gothic feel to the evening!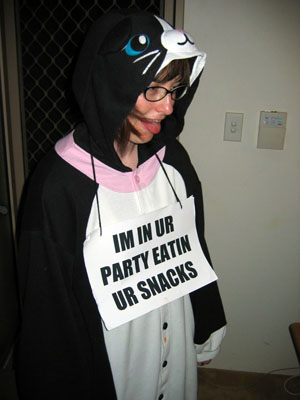 Helen came as a LOLCAT. I repeat, Helen came as a LOLCAT! That is totally brilliant, and it was definitely my favorite costume of the night.
Here's the Snook and I in our guise as the Mythbusters. I drew my T-shirt logo in Illustrator and then ironed it on (using special dark iron-on transfer paper). I didn't get a photo of the back, but I had another patch there that read: "I reject your reality and substitute my own!" The hat was borrowed from Rob and the beard was drawn on with an auburn eye pencil. The Snook's beret came from an army surplus store, and I think he found his glasses at a junk shop as well. We actually had a bald cap (complete with spirit gum to stick it down) but decided it was just way too hot to bother. His hair's so short, you couldn't see it much anyway.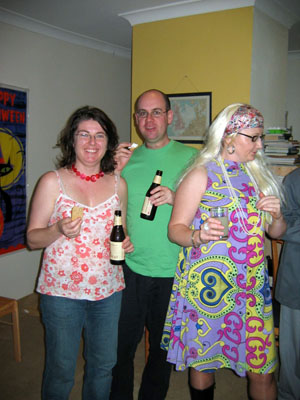 Miss Fee and Matt (who just moved to Sydney – YAY!) actually came as Acryls, the poor little nylon creatures that are killed to make acrylic yarn. (At least, in Miss Fee's mythology.) They looked awesome, but giant furry costumes aren't fun to wear on a hot night! So they ditched them pretty quick.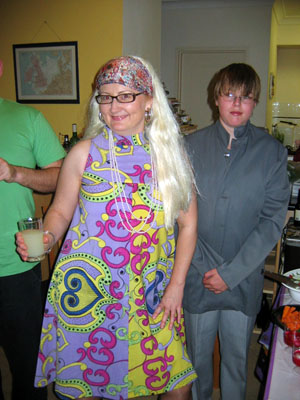 Here's Jane and Cooper, dressed as Felicity Shagwell and Dr. Evil. I'm really annoyed that I didn't get Colin as Austin Powers with them as well. They all looked great! (And huge thanks to these guys, who brought some lovely and ghoulish treats along with them!)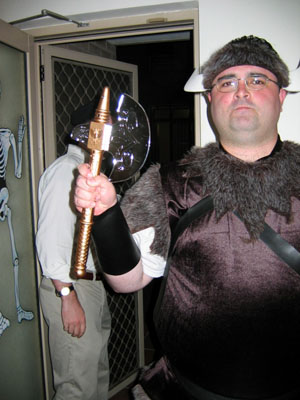 Toast the Viking. This is definitely an intimidating sight to see on your doorstep!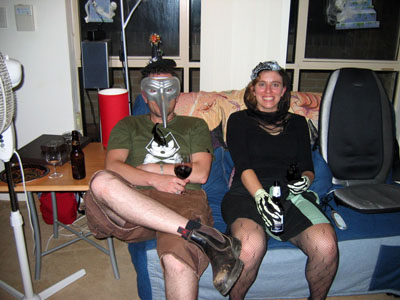 MeFites will be thrilled to get a glimpse – albeit a disguised one – of our own UbuRoivas. Sitting beside him is his sister Selga, who in a neat coincidence, is the girlfriend of one of the Snook's college buddies. Small world!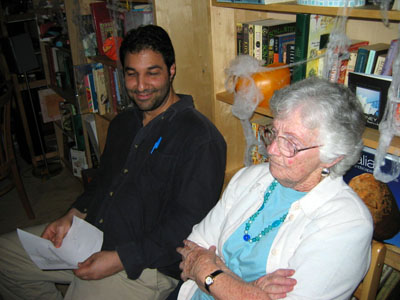 And lastly it's Albie and Verna. Verna's just annoyed that she got there too late to get any stew! I assuaged her with a copy of the Chex Mix recipe, which she loved.
SEE YOU NEXT YEAR, EVERYBODY!
Pages: <- previous