This was our fourth year of bringing Halloween to the Australian people, and we had a GREAT TIME. The crowd was smaller than usual but the creativity and enthusiasm of everyone who came made it all worthwhile. The Snook and I decided to scale back the "sugar factor" of the food this year and provide some savouries as well. Check it out…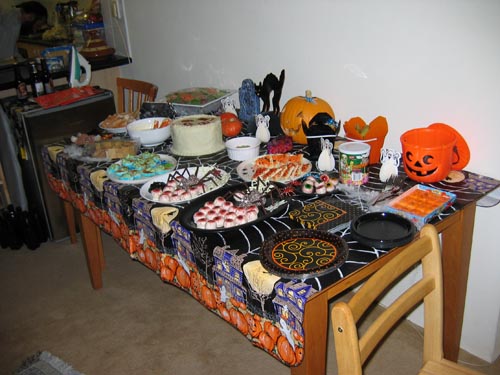 Here's this year's spread. The awesome tablecloth was sent by my Mom, as was the awesome fake pumpkin/jack-o-lantern in the middle (and most of the candy).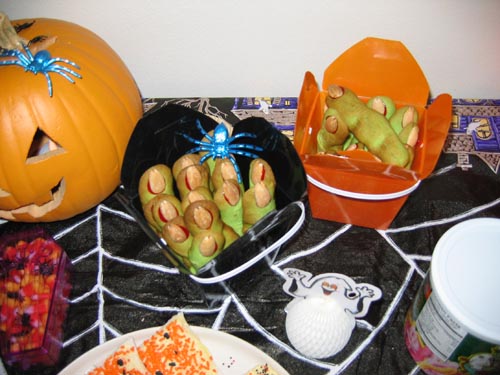 I've made these Witches' Finger Cookies every year now, and they're always a hit. They're basically an almond-flavoured shortbread. (I got the sweet plastic Chinese food boxes from Glebe Carnival and Toy on Pyrmont Bridge Road.)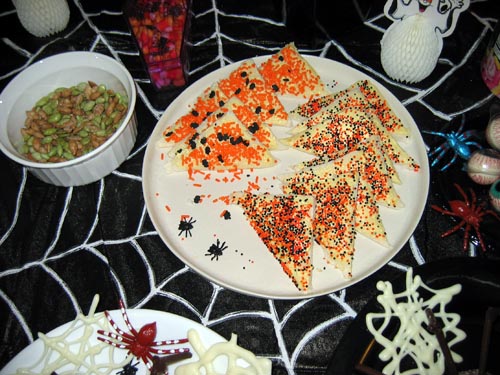 The ubiquitous Fairy Bread. This is a staple of Australian kids' parties, and grown-ups seem to like it too. It's basically nutritionally-devoid white bread with the crusts cut off, slathered in margarine and covered in sprinkles. (Our Halloween sprinkles were provided last year by the awesome Samantha.) That bowl of greenish things were wasabi-coated seeds of some kind procured in Chinatown by Mrs. Morris. They certainly cleared out my sinuses!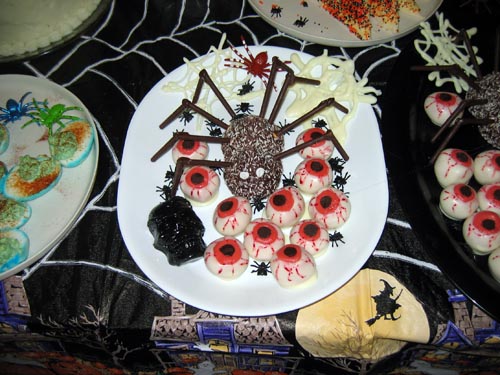 After seeing not martha's crawly cakes, I was inspired to try my hand at some as well. We don't have Hostess here though, so these chocolate-and-coconut covered marshmallow thingies were the best I could come up with. The legs are Pocky jointed with melted chocolate, and the eyes are white frosting. The other eyes are, of course, the Buck Eye Balls I invented last year. The white things are my attempts to make spiderwebs out of white chocolate.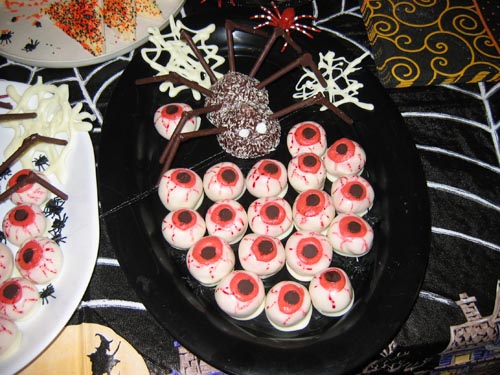 Another spider. I had a lot of eyeballs for them to guard.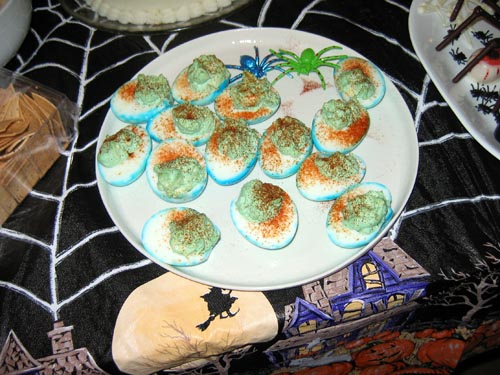 A new item this year was Devilled Alien Eggs. I started by hard-boiling a bunch of eggs in the normal way, and then I used the back of a spoon to gently crack them all over. Then I put them in a tub of water and blue food colouring overnight. Here's what they looked like. Isn't that neat? So then I just cut them in half and made devilled eggs in the normal fashion… except for dying the yolk mixture green, of course. I was worried people would be put off by these, but they went really, really fast!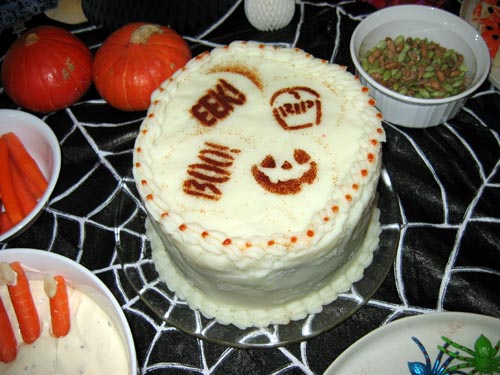 The centerpiece of this year's party was definitely the Snook's Meat Cake. It was inspired by this creation we found on the Internet. The Snook started with two kilos of premium lean beef mince (that's over four pounds of hamburger, for you Yanks) and made it up into a traditional meat loaf mixture. He baked it in two cake tins and then stacked the layers. The icing is mashed potato (from a powder mix to give a smooth consistency) with ketchup for decoration. He sprinkled paprika over Halloween cupcake stencils to create the images on top. It's amazing, isn't it? I took a picture of him frosting it during the construction phase.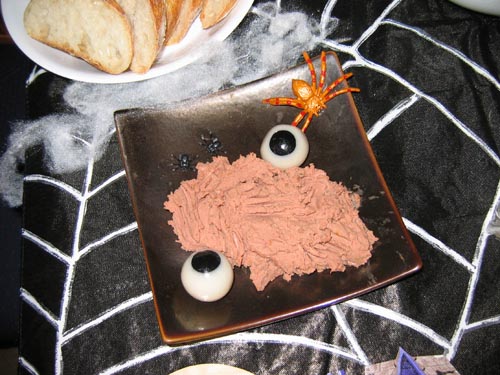 Peppered People Paté. I got the idea from this site. It's just some paté with oogy eyeballs for effect.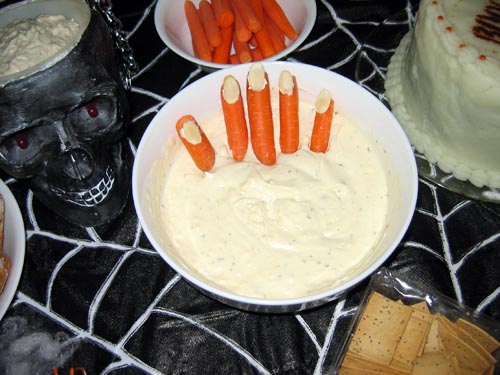 Carrot Fingers and Ranch Dressing. I used cream cheese to stick flaked almonds on for the fingernails. (You were supposed to do this for all the carrots, but I decided the five "display" fingers were enough.) This was actually a Food Network idea that Amy's Mom forwarded on to her. I made the dressing from scratch. It was also surprisingly successful; I think the lack of ranch here makes Australians appreciate it more. We went through twice as many carrots as I expected!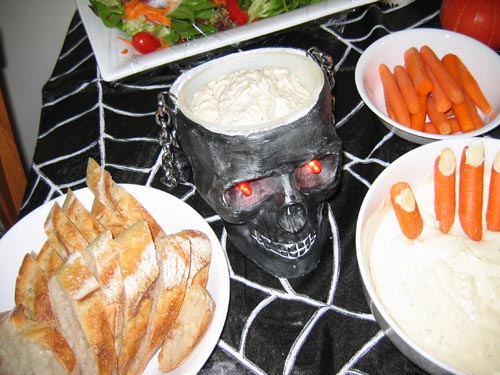 I was so completely stoked to find this skull at Glebe Carnival and Toy. It's actually supposed to be some sort of goth handbag, with blinking red eyes, a chain-and-bone handle, and a satin lining. I picked it up and went: "I could put a BOWL in there!" We filled it with baba ganouj, which we felt looked appropriately brain-like.
Pages: next ->