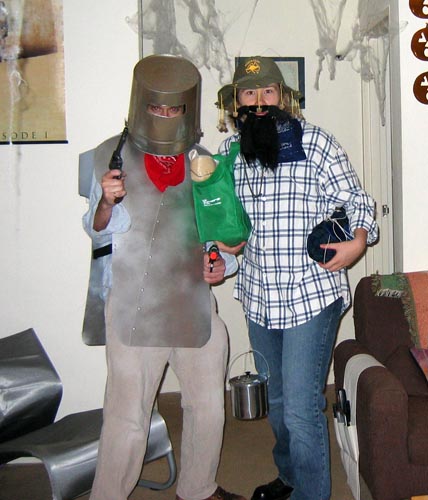 Since I became Australian in September, the Snook and I decided to be patriotic with our costumes this year. Our theme was "Heroes of Australian Mythology." He's dressed as Ned Kelly, the famous Australian bushranger. (His helmet is an aluminum bucket that he cut a hole in, and his armour is spray-painted pasteboard.) I'm dressed as the Jolly Swagman from Australia's unofficial national anthem, Waltzing Matilda.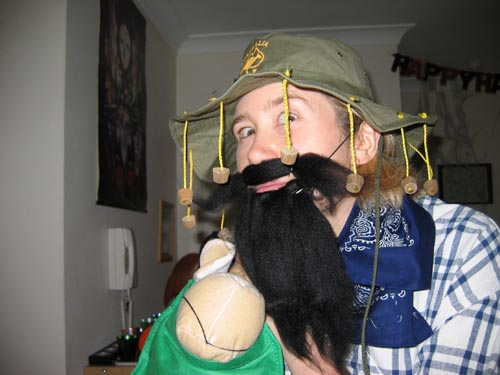 You'll never take me alive, coppers!
(Yeah, the song's basically about a hobo who steals a sheep and then drowns himself to get away from the cops. That tells you a lot about the Australian psyche.)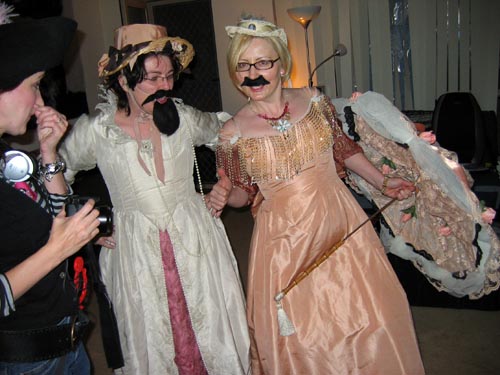 Don't Miss Fee and Miss Jane look fantastic? They were real "laaaadeeees" in their fancy frocks (and flourescent Crocs). Love the 'taches, girls.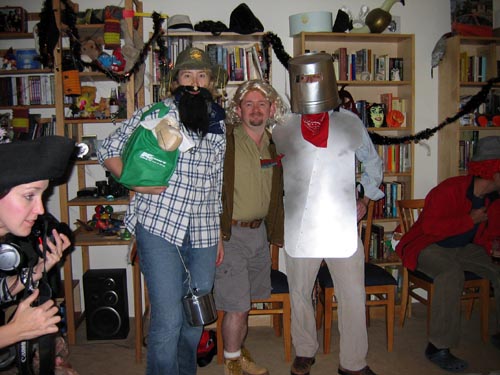 Oh yes, Andrew went there. He dressed as Steve Irwin (much to the horror of my mother when I told her about it afterwards). Complete with a nasty big barb sticking out of his chest. He strutted around all night yelling "Crikey!" and threatening to stick his finger up various animal's bums. (Fortunately Dr. Amy Jones hid in the bedroom.)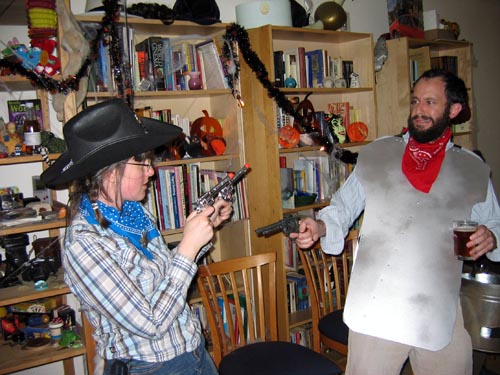 Cowgirl Helen takes on the notorious outlaw Ned Kelly, who is simply trying to drink his beer in peace.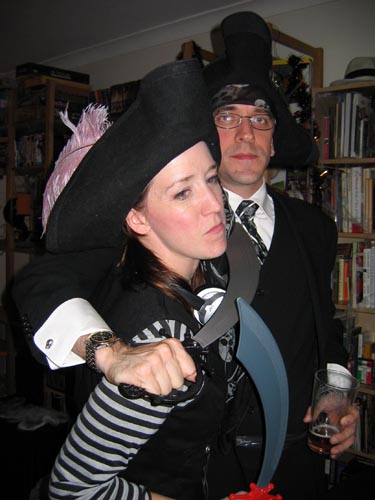 Rob and Amy went cerebral this year with their "pirate" costumes. Here Corporate Pirate Rob (aka "The Man") holds a knife to the throat of Music Pirate Amy. Fight the power!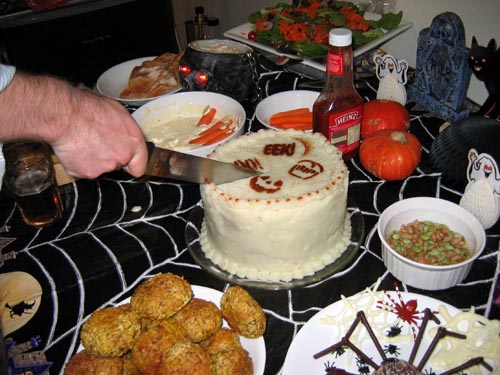 Lastly, we have the Ceremonial Cutting of the Meat Cake. It was actually quite dense and hard to cut (especially for a guy wearing pasteboard armour). It was phenomenally tasty though, and nearly all of the guests tucked in to large portions. We only ended up having a little bit leftover to eat the next day!
That's all from me, folks. Apologies to those guests I didn't get a good picture of. I'm sure the numerous photobloggers in attendance will have lots of great shots that I missed. Thanks to everyone who came, and see you next year!
Pages: <- previous