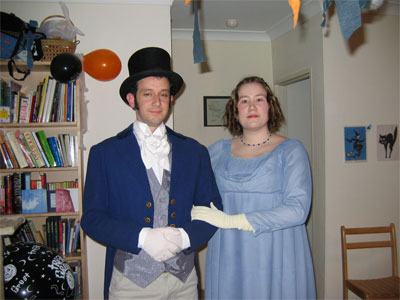 Here are your gracious hosts, Mr. Fitzwilliam Darcy and Miss Elizabeth Bennet from Pride and Prejudice (as portrayed bythe Snook and myself). We figured since we went low-brow last year with Buffy and Spike, we might as well be high-brow and literary this year.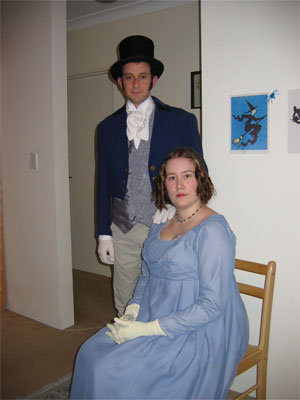 Costume Notes: We rented the big pieces from The Costume Shop in Surry Hills. We've used them for our last few dress-up occasions and I recommend them. That's where I found my dress and gloves, and the Snook got his coat, shirt, vest, hat, and cravat. The Snook also wore his own chinos and my black boots, while I just needed jewelry and a pair of slippers. The only slight difficulty was getting my boobs high enough to fill out the dress properly. (A push-up bra and some duct tape did the trick.)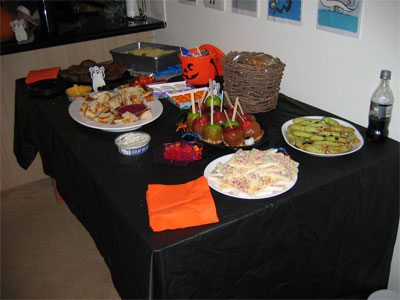 I remembered to document the refreshments properly this year. Here you can see the whole spread. We had one other thing that isn't shown: the Snook made meringue bones but we forgot and left them in the oven. We finally remembered near the end of the party but luckily the remaining guests still polished them all off.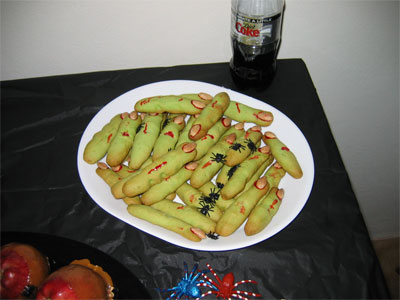 These Witches' Fingers were such a hit last year that I decided to make them again. (Due credit: My sister originally recommended the recipe to me.) They're basically an almond-flavored shortbread cookie. I make mine really green and bloody. This year I even went to the trouble of encasing a strip of red goo in the middle of each one in the hopes that the blood would "ooze" out, but instead it just looked like a red dot. Not a lot of folks noticed so I'll probably skip that step next year.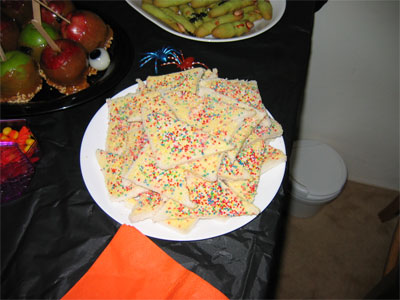 This rather sickly treat is called "Fairy Bread" and it's an Australian children's party tradition. You take extremely fresh store-bought white bread (you know, the kind with no nutritional value) and cut off the crusts. Then you spread it with a thin layer of margarine and sprinkle with "100's and 1000's" (i.e. candy sprinkles). Apparently the triangle shape is important too. I find it rather disgusting by the Snook's made it two years running and it's always a huge hit.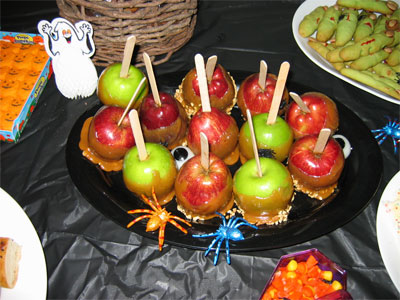 Caramel Apples were something new for us. I found a recipe in my Better Homes & Gardens cookbook (it's got everything!) and bought a candy thermometer. The Snook did most of the caramel-making, but I helped with the apple-skewering and caramel-coating. They turned out really nice! They make a great take-home treat for people too.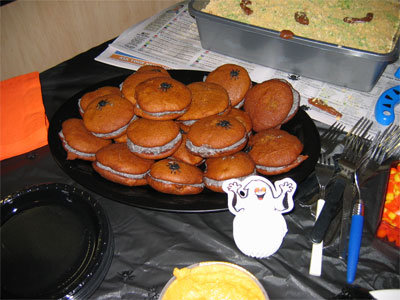 Pumpkin Whoopie Pies were another first for us. Whoopie Pies are basically an Amish creation, I think. (Nobody outside my area of Indiana ever seems to have heard of them.) They're like a homemade Little Debbie cake. My mom was kind enough to send off her only recipe so I could try them out. (I haven't lost it, Ma; I swear!) The tops and bottoms are basically little pumpkin pie flavored cakes with lots of cinnamon, ginger, and cloves, and the icing is made from egg whites, powdered sugar, and Crisco. Yeah, did I mention they're unhealthy? Really yummy though. We unsuccessfully tried to dye the icing black with copious amounts of food colouring but only ended up getting a disgusting gray. It fit the theme though, so we went with it.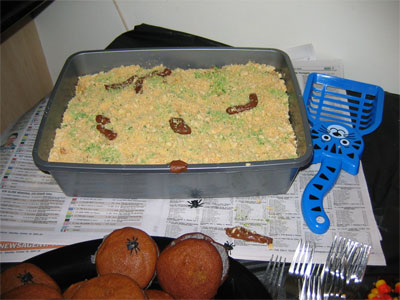 At last, the piéce de resistance: my Kitty Litter Cake. It looks truly disgusting, right? It's basically crumbled up cake mixed with cookie crumbs and vanilla pudding, topped with a layer of crushed cookies. The "poos" are melted Tootsie Rolls. (I even buried some for effect.) And yeah, we made sure we didn't put this out til Dr. Amy Jones was safely locked away in the bathroom. I could just see her weeing on my magnificent creation!
Now on to the guests!
Pages: next ->