Our seventh annual Halloween Party fortunately coincided with Eileen's long-awaited visit to Australia, so that gave us a big sense of occasion. We packed in nearly 30 people and, as usual, made about twice as much food as we needed. And as always, I spent more time mingling than I did taking photos. Here's what we've got: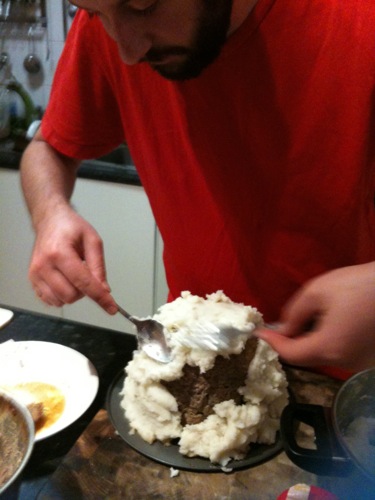 Here's the Snook, a few hours before the party. He's prepping our centerpiece, the Zombie Meat Barbie. The idea was to make a meatloaf in one of those doll dress pans, cover it in mashed potatoes, and top the thing with an effed-up zombified doll. We ended up using 1.5kg of mince and baking it in an old metal pudding basin.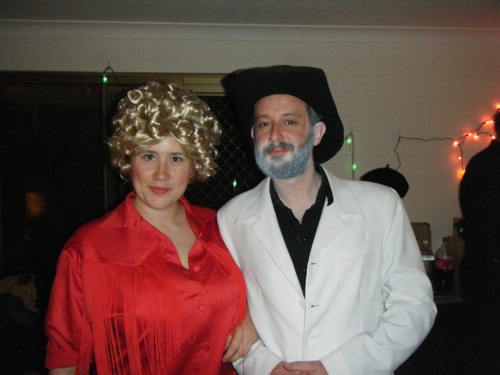 And here are your hosts, Kenny Rogers and Dolly Parton! Our clothes were rented from The Costume Shop. My wig was loaned by Donna, and my boobs were courtesy of Tia. (After consulting MetaFilter, I went with a stick-on push-up bra to get cleavage underneath a large bra stuffed with socks.) And special thanks go to Amy for my oh-so-classy makeup job.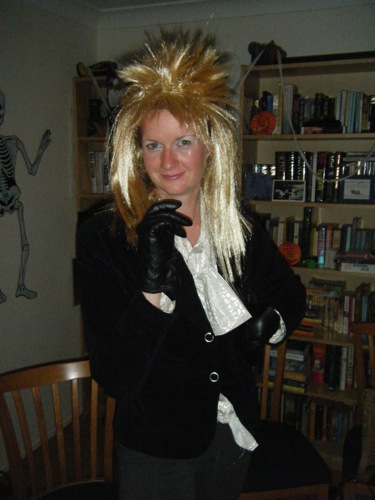 Eileen asked me before her visit if I thought many Australians had seen the movie Labyrinth and would therefore "get" her costume. I reassured her that even if they hadn't seen it, lots of folks saw the "Bowie" episode of Flight of the Conchords. So without further ado, it's Jareth the Goblin King!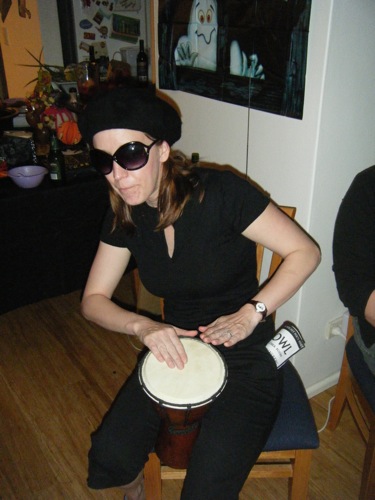 Amy wins the award as the only person to have been to EVERY SINGLE ONE of our Halloween parties. She was without her hubby so this beatnik was flyin' solo. Note the copy of "Howl" in her back pocket.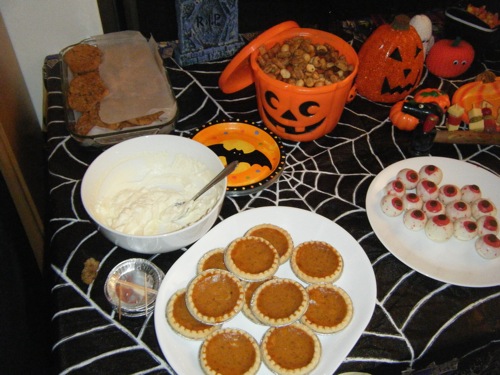 And now the food! Of course, by the time I remembered to photograph it the guests had already attacked. We had two tables this year, one devoted to sweets and one to savoury. This is part of the sweets table. We had mini pumpkin pies (from a can of Libby's that Eileen brought) with real whipped cream. In the back corner are Peanut Butter Bacon Cookies. (Yes, really. They weren't as awesome as I'd expected. If you do it, use really high quality bacon and PB.) In the pumpkin bucket is a big batch of Nuts and Bolts (the Australian equivalent of Chex Mix). And lastly, the cake eyeballs…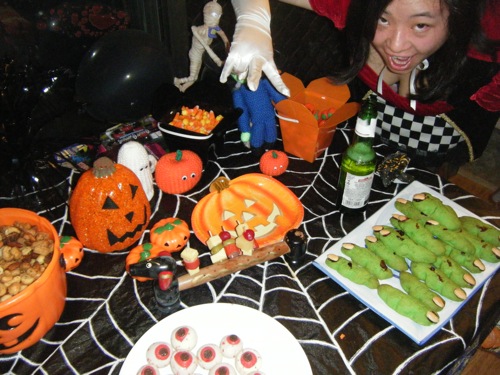 Here we have my traditional Witch's Finger Cookies. We also made a "Cabanossi Dog" (classy toothpics with cabanossi, cheese, pickled onions, and olives stuck into a retro wooden dog). And who's that menacing the candy corn? It's Ness, the Queen of Hearts!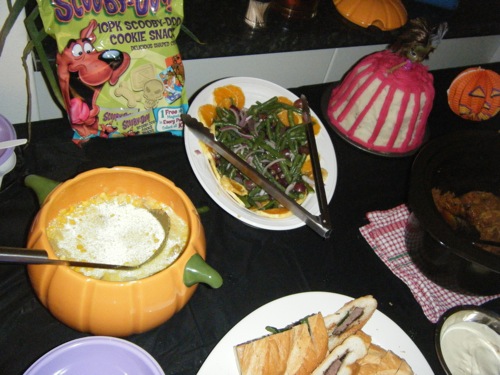 Over on the savoury table, we have Cheddar Corn Chowder in the pumpkin tureen. Next to that is a Halloween Green Bean Salad. Lurking in the corner is the Zombie Meat Barbie in all her glory.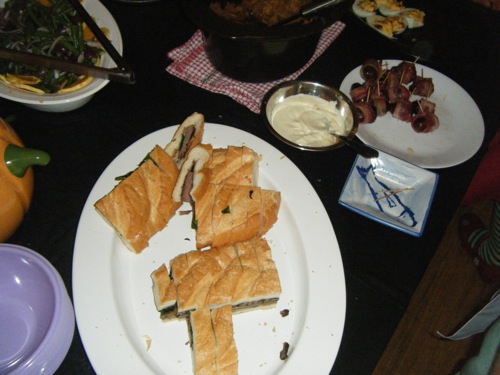 The "Shooters' Sandwiches" are one of the Snook's trademark dishes. Each hollowed-out loaf is stuffed with yummy things: steak and mushrooms for the carnivores, just mushrooms for the vegos. In the crock at the very top of the picture is Transylvanian Goulash, slowcooked all day long and finished with sauerkraut and sour cream. Lastly you can see the few remaining Devils on Horseback (aka bacon-wrapped dates stuffed with Parmesan). SO GOOD.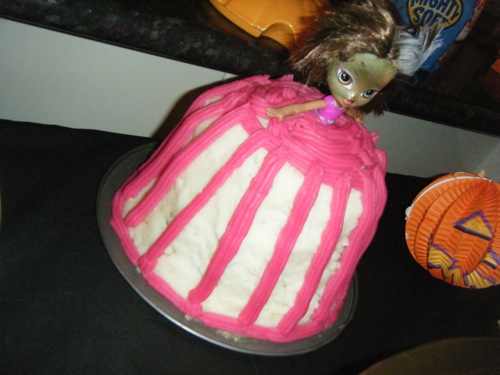 A close-up of the Zombie Meat Barbie. (She's actually a cheap Bratz doll.) We hacked off her hair, spray-painted a white stripe in it, coloured her face green, and set fire to her in spots. She looked pretty creepy.
Pages: next ->