What a unique experience. If you ever visit Sydney, you must do the Bridge Climb. It's a lot less scary than you think. I did the climb with my friends Kel (who's visiting) and Carrot (who's from Sydney), and we had a great time.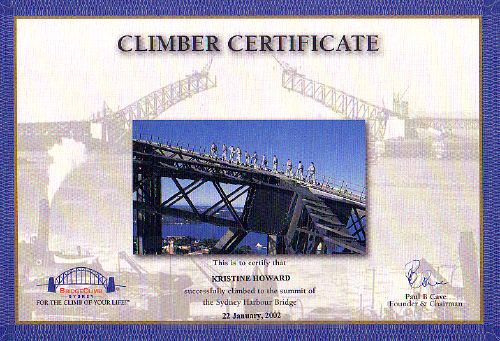 This should actually be at the end, I guess. It's my certificate verifying that I actually climbed the thing. We got these at the very end of the whole climb process. It takes three hours, including the time you spend filling in forms, getting Breathalyzed (no drunkies allowed!), getting your equipment, and being trained.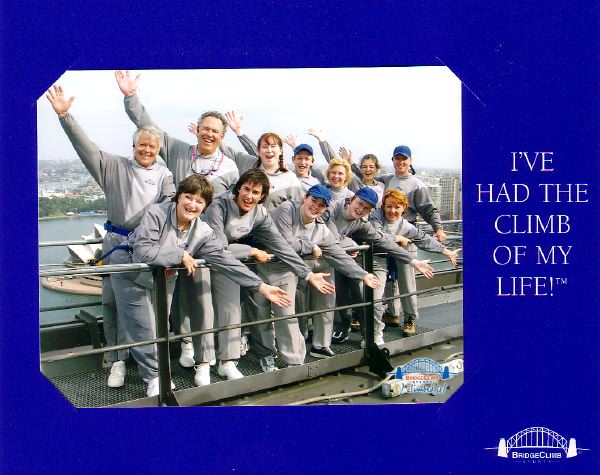 Here's our group of twelve. As you can see, we're all sporting lovely cotton jumpsuits. We've also got tons of equipment hanging off us: safety line, rain poncho, hats, hankies, radios, sunglasses, etc. You're not allowed to take anything else that they don't give you. You have to go through a metal detector just to make sure. No cameras allowed, but they take lots of snaps of you on your way. We had a good group, and we all liked our Climb Leader Matt.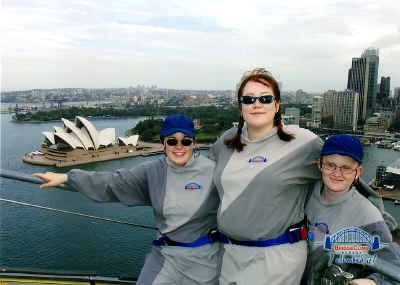 Here's me, Kel, and Carrot with the Opera House in the background. The climb actually wasn't too arduous; we stopped frequently so our Leader could point things out. We learned that there are almost six million rivets in the bridge, which is the largest single-span arch bridge in the world. We heard about the defenses built around Sydney Harbour during the Second World War. And we marveled at the story of Vincent Kelly, the only one person to ever survive falling off the Bridge. It was an informative trip.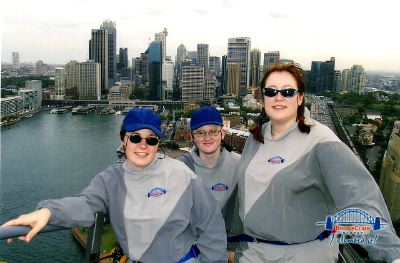 The belt around your waist ends in a little rolly clip that attaches to a safety line running the whole circuit. So you're always clipped on to something strong. We did have to negotiate a few ladders, but most of it is just walking. Here's the three of us with the city skyline.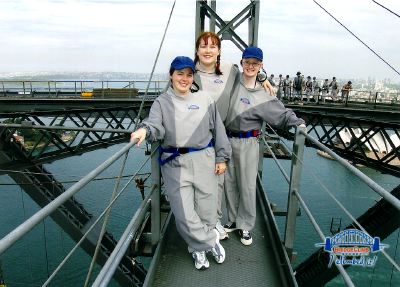 The Bridge Climb actually doesn't go completely over the bridge. You climb up one side of the arch, cross over at the top, and then come down the other. Here we are making the cross at the very top – 134 meters above sea level – with a bustling roadway below us.
So once we crossed over, we headed back down the arch and over to the Climb Center on Cumberland Street. It was amazing to look back and think we'd actually been on the top of the thing. It honestly didn't feel very high or scary, but I know I'll never look at it in the same way again. Like I said, if you're ever here, you really should do it!