As usual, yours truly spent the last three hours before departure frantically packing wet clothes and praying I wouldn't forget anything. As our flight left at, oh, the butt crack of dawn, the mini-cab was picking us up at 6 am. We made it to Heathrow with loads of time to spare, and eventually we boarded our British Airways plane to Singapore. Can I just say that I really enjoy flying BA? Their food isn't atrocious and I always get the planes with the little individual TV screens. And they seem to have lifted the requirement that all the stewardesses have to wear funny straw hats, which is a big plus. Anyway, we landed in Singapore twelve hours later and it was none too soon. (Good as it was, if I had to watch "Oh Brother, Where Art Thou?" one more time I woulda gouged out my eyes.) My first impressions of Singapore were "Hey, it's hot here! So that's what equatorial means!" and "Damn, I need a shower." We caught a shuttle to our hotel which was gorgeous and thankfully let us check in way early (it was technically Sunday morning there). We showered, napped, and then hit the town.
As my only knowledge of Singapore was based on that American kid who got caned a few years back, I was expecting some sort of draconian prison type place. How wrong I was. It was wonderful! Very large, very modern, and very clean. It was a little weird to see so many American chains (Hello, Denny's??), but eventually you come to realize that it's a very American-ized place. English is one of the official languages and everybody speaks it, so your ears don't even register that you're in a foreign country. The people are indeed mostly Asian, but they dress like well-to-do Westerners. And they're shopping mad! Singapore must have more shopping malls per capita than any other city in the world. My first priority was a digital camera, so off we went to check prices and haggle with shopkeepers.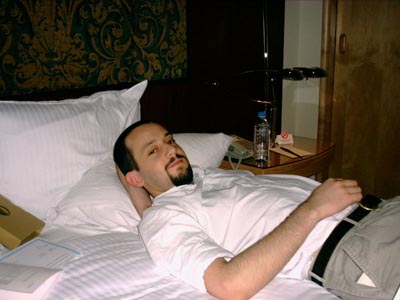 And here's the result! I bought a Minolta Dimage 2300 for $630 Singapore, which is about £250 or $350 American. I also got a set of rechargeable batteries, a charger, and an additional 16MB (it came with 8MB) memory card for another $100. Not bad at all. Here's the very first picture I took of Snookums posing in our hotel room after we returned that night. We had walked all up and down the main drag and had dinner in a yummy Italian place, so we were more than ready to relax. We decided to hit the hotel's outdoor pool.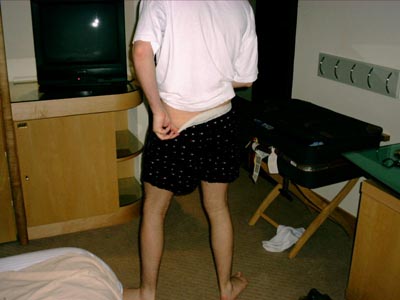 What can I say? Digital cameras are fun. Here's Snookums showing off his bum in his little Tommy Hilfiger trunks. We were the only ones in the pool so late, and it was lovely to just float in the tropical night air and look up at the stars. The pool boy kicked us out at 9 pm, so we changed and headed down to the hotel cocktail bar. We sampled the national drink (the Singapore Sling, natch) and downed a few beers to help the jet lag along. Retiring to our room, we passed out into blissful and much needed sleep.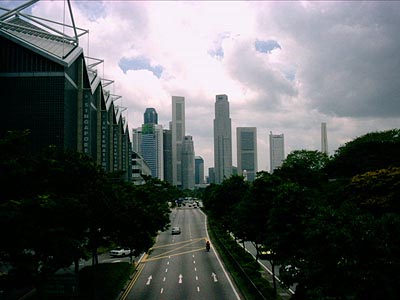 The plan for Day 2 was to explore the city beyond the main drag. We saw the Raffles Hotel (where the Singapore Sling was invented) and strolled through some of the funkier market areas. This is a view of the skyline, as taken from a footbridge over the highway. Pretty, isn't it?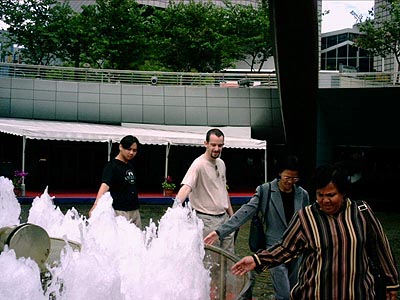 Next stop was Suntec City, which is a massive shopping and office complex consisting of five interconnected buildings. (According to a sign, the architect designed it to have very good "feng shui." The whole thing is supposed to symbolize the five fingers of a hand. It sounded a bit cosmic to me.) The highlight is the Fountain of Wealth, which is the world's largest fountain. A couple times a day they turn it off and you can literally walk out onto it. Here's Snookums indulging in "the ritual."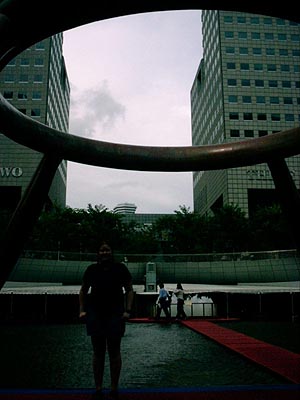 The way it works is, you walk out on the red carpet to the little geyser in the middle. Then you shuffle around it three times clockwise with your hand in the water and repeat a wish in your mind. Supposedly it will then come true! Here's a horribly dark picture of me standing inside the fountain. When it's turned on, water pours down from that great metal circle above me to the floor, which is seriously like a story below.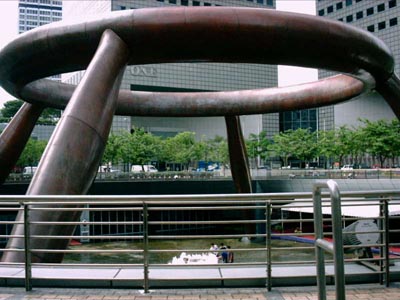 One last Fountain picture, as seen from street level.
Pages: next ->