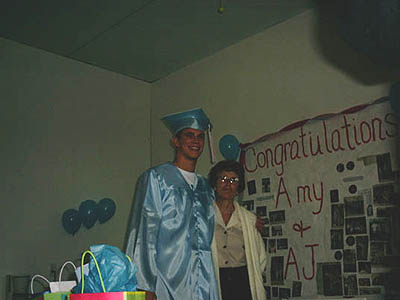 Here's Ant in his cap and gown with Grandma Veva. I always hated that shade of Columbia Blue. The girls got to wear a lovely Dark Red, fortunately.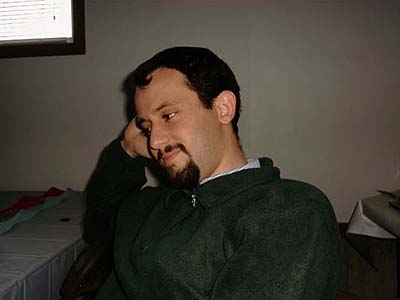 I was worried that Snookums would get bored with all the cheesy family stuff, but he hung in there like a trooper. Of course, the beer might have helped. 🙂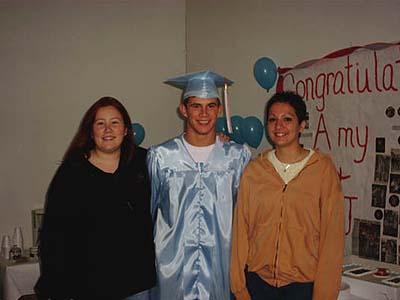 Finally, conclusive proof of the fact that though I am the oldest of the siblings at 24, I am also the shortest at a mere 5'10". Yeah, that's right. Amy's 5'11" and Antny's well over 6 foot. We're a family of Gigantors. You'd never guess that the three of us were a quarter Korean.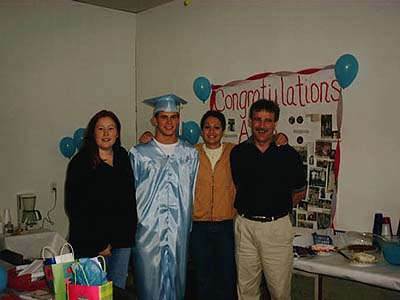 Dad squeezes in for a shot. Don't we look cute?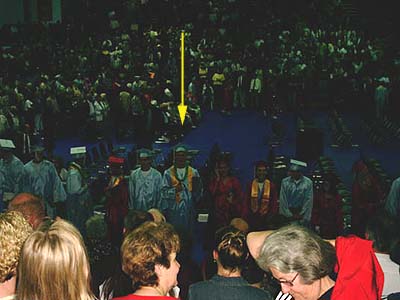 I didn't want to be lame and take pictures through the ceremony, so I waited until the end when the graduates filed back in and stood facing the audience before tossing their caps. They had the lights kind of turned down, though, so I marked where Ant is in the shot. The yellow thing around his neck was for Honor Roll, I believe, and the lei was for the Chemistry Club.
Enough boring family stuff. On to the excitement of "America's Roller Coast"!
Pages: <- previous / next ->