First, the Chunnel Train. I had some sort of wacky idea that most of the three-hour journey would be underground, you know? I don't know where I got that, probably "Mission: Impossible" or something. Anyway, I'm enjoying the ride and readin' my book, and I hear the attendant on the P.A. say something (in a thick French accent) about "tunnel" and "20 minutes." "Great!" I think. "We'll be in the tunnel in 20 minutes!" It was getting dark outside, but I could still see the lights of the towns as we chugged past. "I'll have to be sure to look up then so I can see when we enter!" So 20 minutes later, I look up and strain to see if we're in it yet. I can still see lights, so I turn to Snookums and ask when he thinks we'll be hitting it. He informs me that we're already through. "WHAT?" "Didn't your ears pop 10 minutes go?" "Yeah." "That was it." Seriously, it takes less than 20 minutes to traverse the English Channel underground, and I missed all of it. I'm an idiot.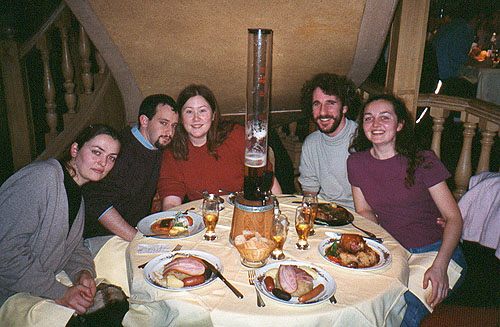 Okay, so we got to Paris and met up with eMan's girlfriend and his French friends. We all headed out to dinner at a fancy-schmancy French restaurant. Here we are (from the left): Cecile (eMan's girlfriend's sister), Snookums, me, eMan, and Anne (eMan's girlfriend). Cecile's boyfriend Kristen (yeah, that's a boy's name) was taking the picture. Check out that beer! It's called "Le Giraffe", and it's a big pipe thing that holds over 2 liters of Kronenbourg (French beer). It has a little tap on the side so everybody can fill their own from it. SWEET.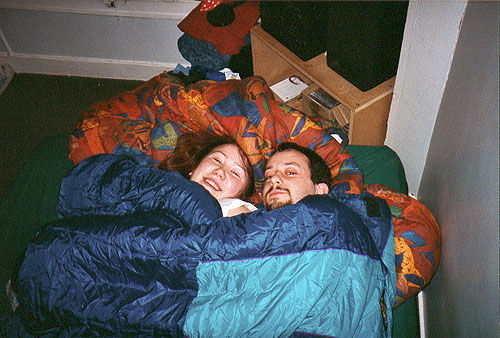 We all slept at Cecile and Kristen's little Parisian flat, and (since space was at a premium) Snookums and I wound up on the foldout sofa. eMan took this photo about two seconds after he snapped on the light and bellowed for us to get up. Ugh. For the record it seems French people are also morning people, while Americans and Australians definitely are NOT. (Which does have its benefits though, like when the French people go out and get fresh croissants for breakfast while everybody else is still trying to open their eyes.)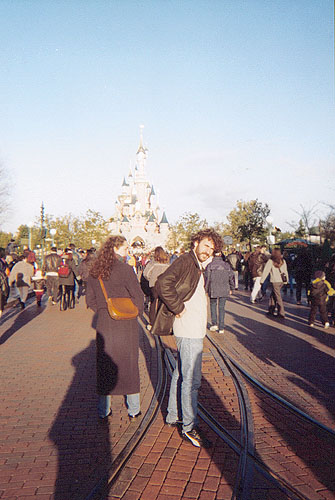 The train to EuroDisney from Paris is cheap and we arrived just over 30 minutes later. The train station is seriously 400 yards from the front gates of the Park, and it didn't take us long to get in. (Well, after we hiked to our hotel and checked the bags… but you don't need to hear the boring bits, do you?) Here's our first glimpse of Sleeping Beauty's castle, or "Le Château de la Belle au Bois Dormant" as the French call it.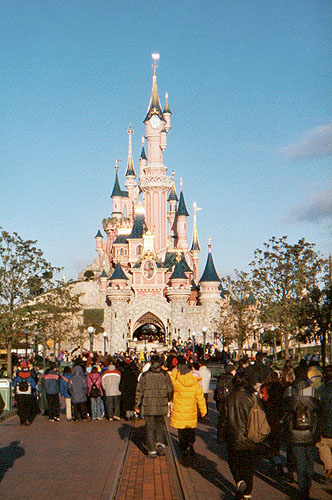 Here's a much better view of the Castle from the end of Main Street U.S.A. (Yes, they even have that here.) You could walk through it to get to Fantasyland, and the interior had some fancy Disney jewelry shops. Underneath the Castle was the Dragon's Lair, where they had this animatronic dragon sleeping in a pool of water that would periodically wake up and freak out all the little kids. There's actually an upstairs level of the Castle too, where you can see a series of tapestries and stained glass windows depicting the story of Sleeping Beauty. Very cool.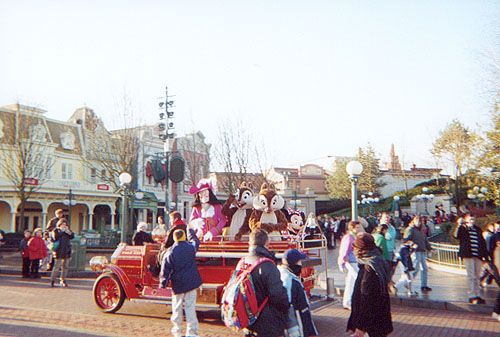 The usual collection of Disney characters were all around the park, and they didn't look any different from the American ones. The only surprise came when eMan identified the two chipmunks in this picture as "Tic" and "Tac." Yes, the French call Chip and Dale "Tic and Tac." I wonder why? Do "chip" and "dale" mean something bad when pronounced with a French accent? No clue.
Pages: next ->