Unable to face the weekly grind after our long trip Down Under, Snookums and I headed off for a quick weekend trip to Edinburgh, Scotland to hopefully resign ourselves once again to life in the Northern Hemisphere. It worked, more or less.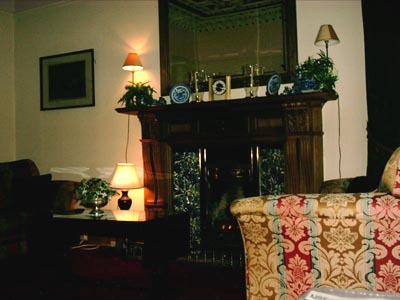 Due to the nature of our cheap airline tickets, we didn't leave London until 11:00 p.m. Friday night. By the time we got to our Bed & Breakfast, it was well after midnight. The little lady let us in and showed us to our room, where we crashed in a travel-induced stupor. The next morning we got up and explored our accomodation. This is the front lounge, with the fire burning and the antiques and the "honesty bar" in the corner. (There are much better pictures at their site.) Isn't it cute?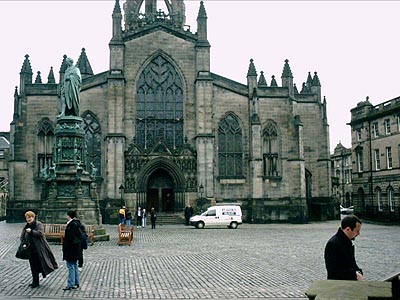 After filling our bellies with a hearty Scottish breakfast, we headed out into town. First stop was the Royal Mile, which is probably Edinburgh's oldest street. It runs from the castle at the top of the crag all the way down to Holyrood House (the Queen's official Edinburgh residence). Here's Snookums at St. Giles Cathedral, which is located about halfway up the Mile.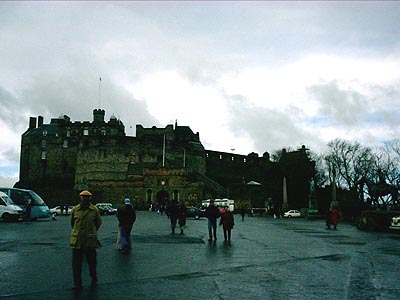 This is our first glimpse of Edinburgh Castle, as seen from the not-so-nice parking lot on the back side. The sky looked a bit gray that morning, but it cleared up nicely within a few hours.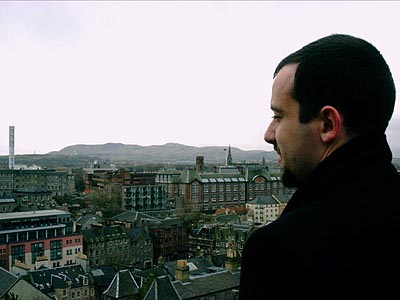 Here's Snookums looking towards the south (old) part of the city. Medieval Edinburgh had a wall around it and space was at such a premium that all the streets are tiny and the buildings are extremely high. You can take a "Ghost Tour" at night that purports to take you down into the vaults where the poor people used to live (and supposedly died by the thousands). I've done it before, and it was a little too scary to repeat.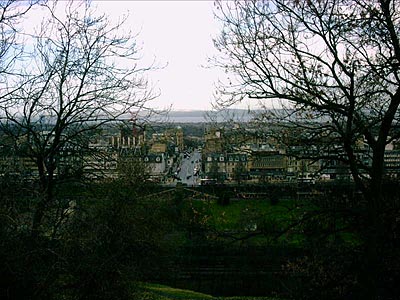 When overcrowding finally became unbearable, a "Newtown" was built to the north of the castle. A contest was held to design the streets for this new area. A young Edinburgh man was chosen, and his design featured large, broad parallel streets with intersecting residential blocks between them. This is looking towards Princes Street, which has turned into the big shopping district of town. You can really see the distinction between the old city above and the new city here.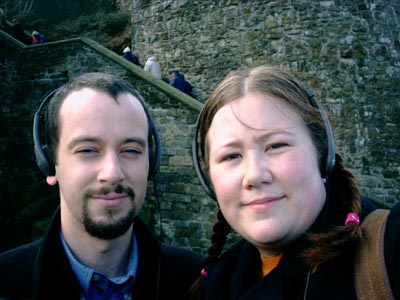 The castle has a free audio tour which basically tells you everything you could ever want to know about it. It's been there forever, and it's changed hands numerous times. (Edward Longshanks, the baddie from "Braveheart", captured it, but then Robert the Bruce got it back, etc. etc.) Mary Queen of Scots gave birth to James I of England there. It also contains Scotland's crown jewels and the Stone of Destiny. We're just soakin' up the history…
Pages: next ->