For our tenth wedding anniversary, we decided to take a trip somewhere neither of us had ever gone before: Tasmania. As usual, I did a heap of research and booked us in for a lot of things ahead of time. (There's a complete map here of everywhere we went.) I don't like traveling without an itinerary of some sort! And the Snook generally prefers not making decisions, so it works out well…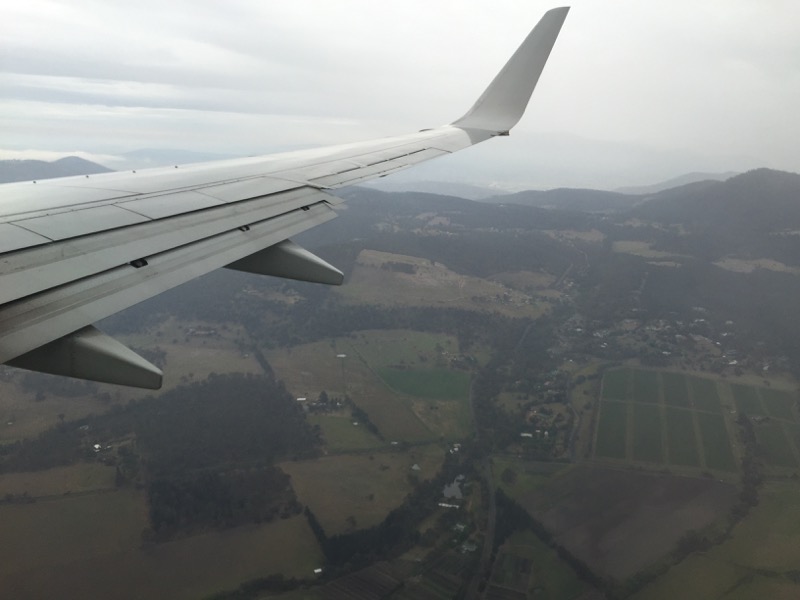 We caught a midafternoon flight from Sydney to Hobart on Virgin Australia. Economy seats weren't super spacious, but it was cheap enough and it's a fairly short flight. While it was hot when we left Sydney, it got rainy and misty once we crossed the Bass Strait.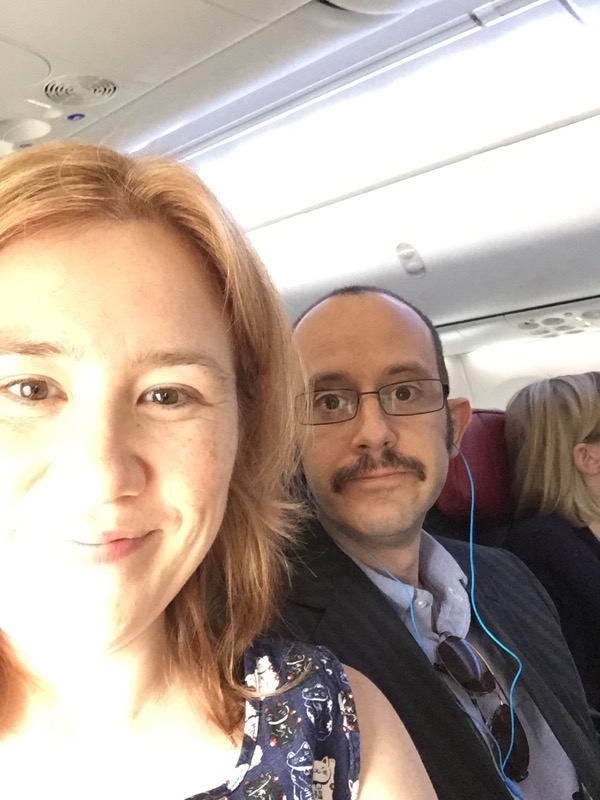 Excited to set foot in a new state on a new adventure!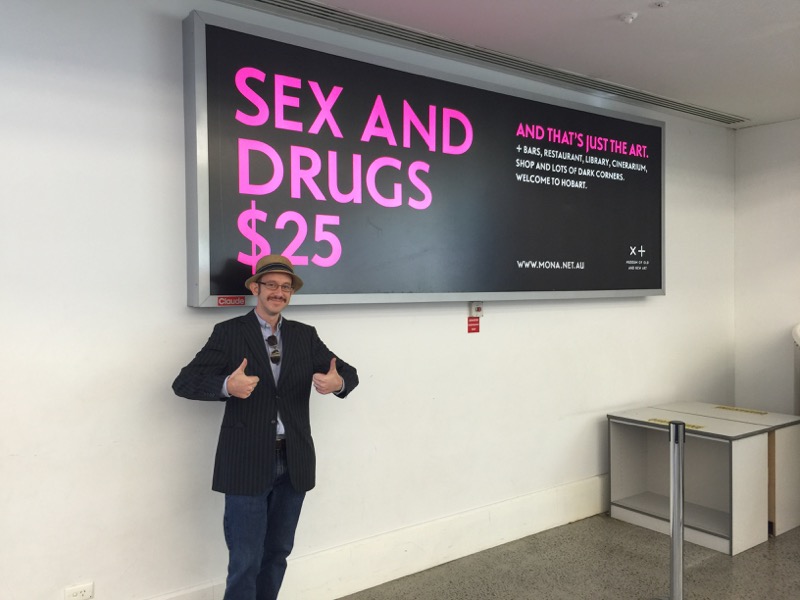 This big poster for MONA was in the Hobart Airport baggage claim area. We were amused.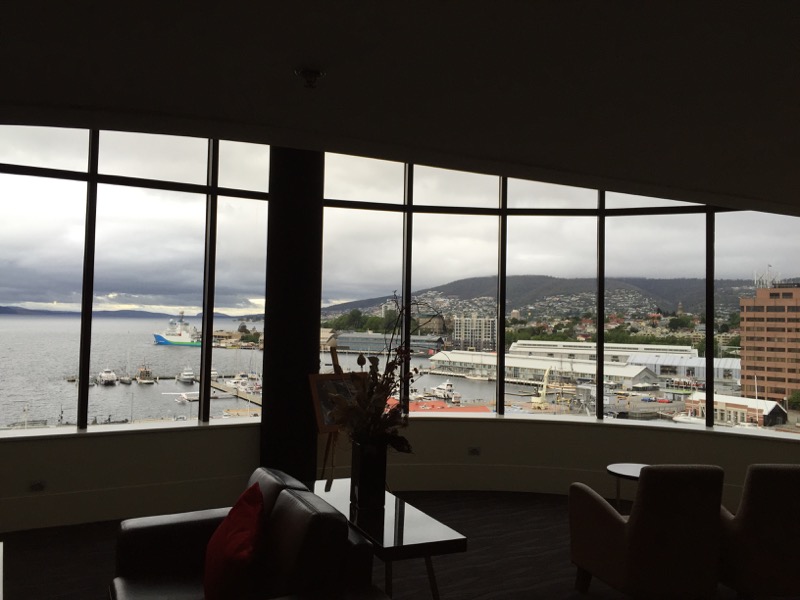 We caught a cab to our hotel, the Grand Chancellor Hobart. It was a little corporate and soulless, but very conveniently located on the harbour. We got an "upgrade" to the 17th floor, which had this amazing view when you stepped out of the elevator. Unfortunately our actual room faced the opposite direction into the city. Still, it was impressive.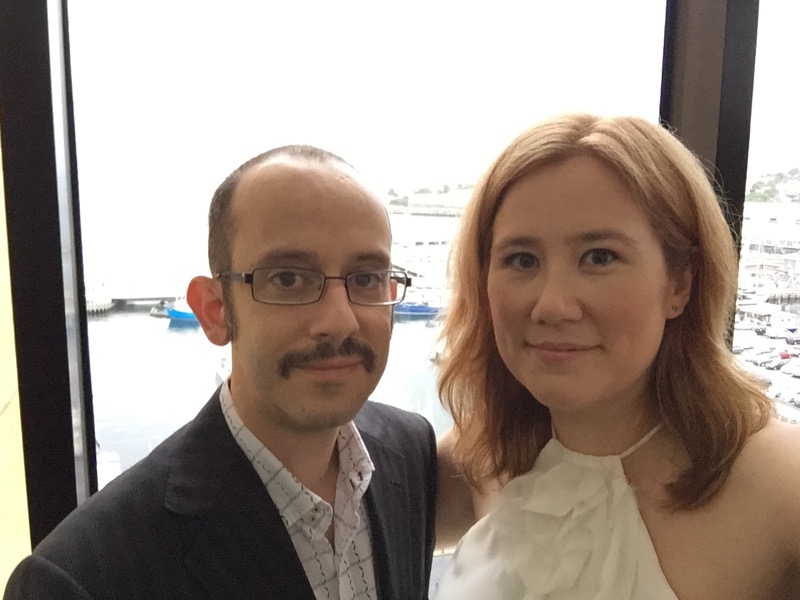 We got dressed up and headed into town to celebrate our anniversary. You'll note that we're wearing the same outfits we got married in!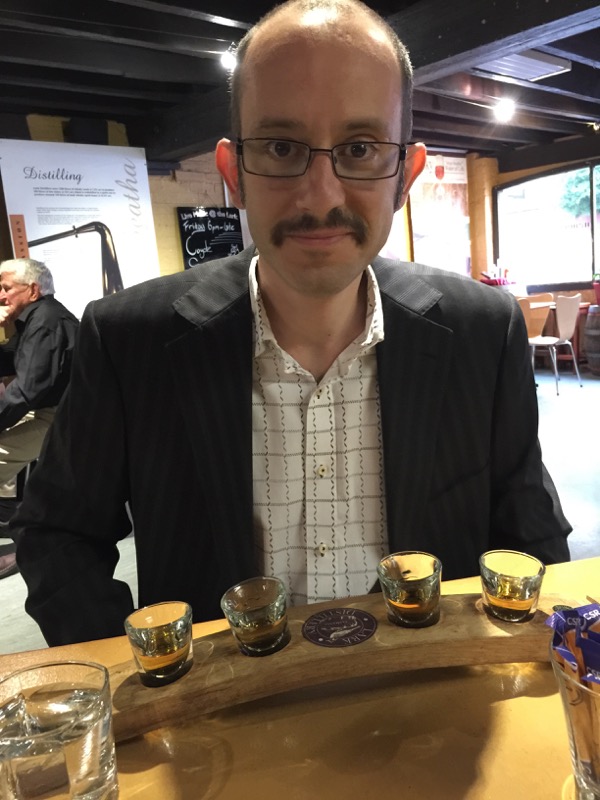 We started with a whisky tasting at the Lark Distillery. It was a little smaller and shabbier than I was expecting; more like a pub than anything. The whisky was good though. Here's the Snook enjoying a flight.
Once suitably lubricated, we headed up to Hobart's trendiest restaurant: Garagistes. Honestly, this was a little out-there even for us. The seating is all communal, and the unisex bathroom has a floor-to-ceiling glass wall that fronts onto the street (right next to the front door). You get the idea. The food was actually beautiful and tasty, though the portions were pretty small. We opted for the matched wines, and at one point I asked the server why none of them were from Tasmania. She explained patiently that they only served "biodynamic, organic wines" which they were unable to source locally. Okay then. Overall I'd still recommend the place, but only if you don't mind high-falutin foodie wank.
The next morning we checked most of our luggage at the hotel and stumbled to Daci and Daci for breakfast. The place was clearly popular with locals, and the food was great (though $15 for a croque madame is expensive, even for Sydney!). There we met up with our group for the Bruny Island Long Weekend. It was just us, one other older couple, and our two guides Rob and Ollie. We all grabbed a coffee while Rob showed us maps of where were going that day. Then it was time to head to the harbour.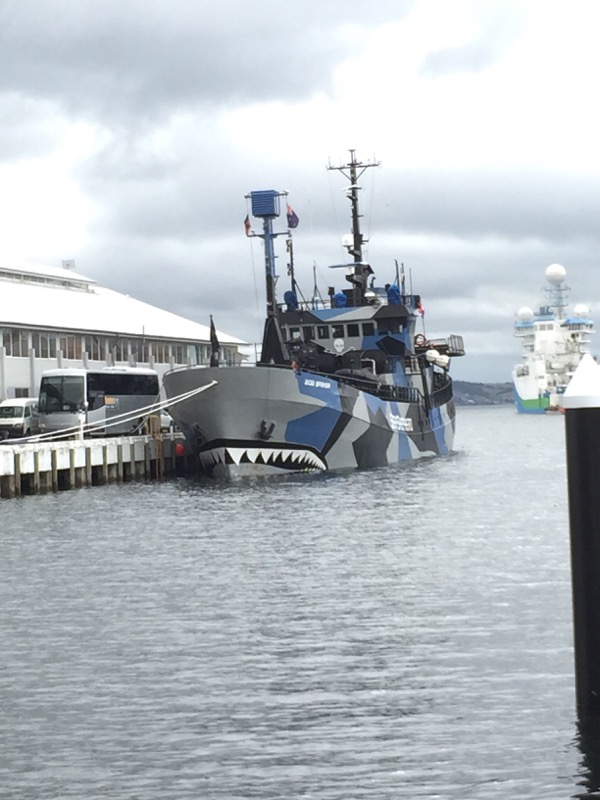 Hey look, there's the SSS Bob Barker!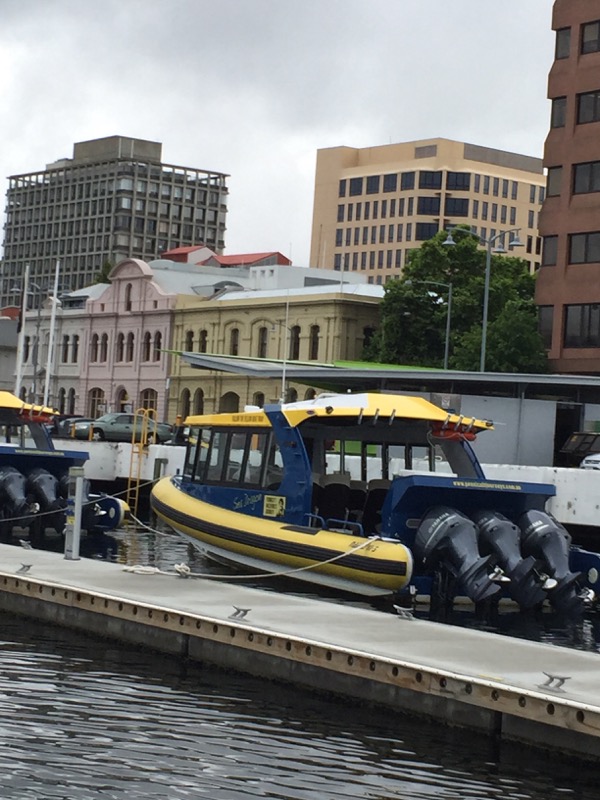 While most tourists take a bus and a ferry to Bruny, on the Long Weekend you get to travel by own private boat. It's actually one of the ones from Pennicott Wilderness Journeys.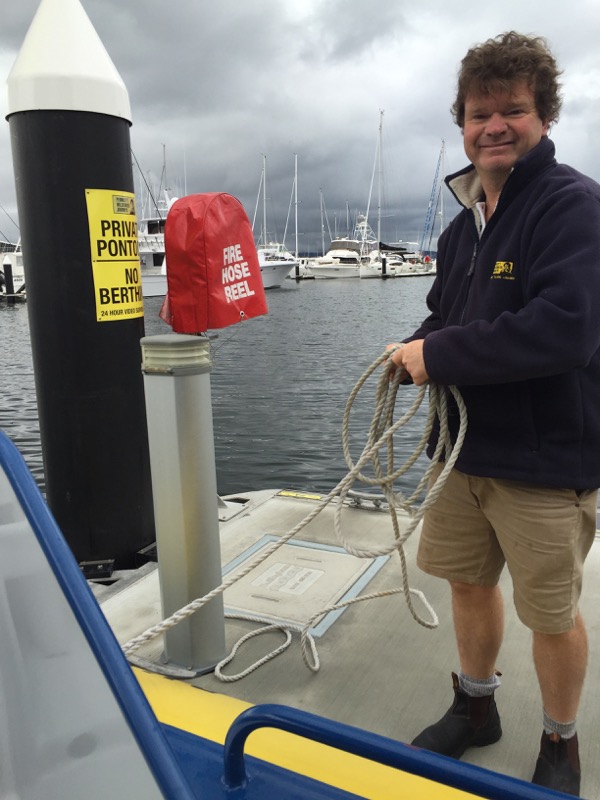 And hey, our captain was Rob Pennicott himself!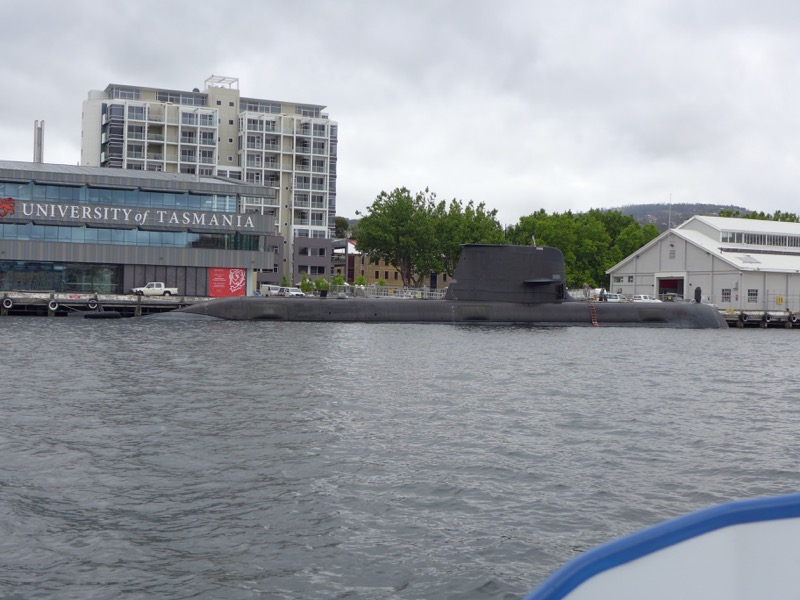 Nearby in the harbour was an actual submarine. I think it was the HMAS Rankin. Behind it is the University of Tasmania's Institute for Marine and Antarctic Studies. (Capt. Rob joked that the signage on the building had literally only been stuck on a few days before for the Chinese president's visit.)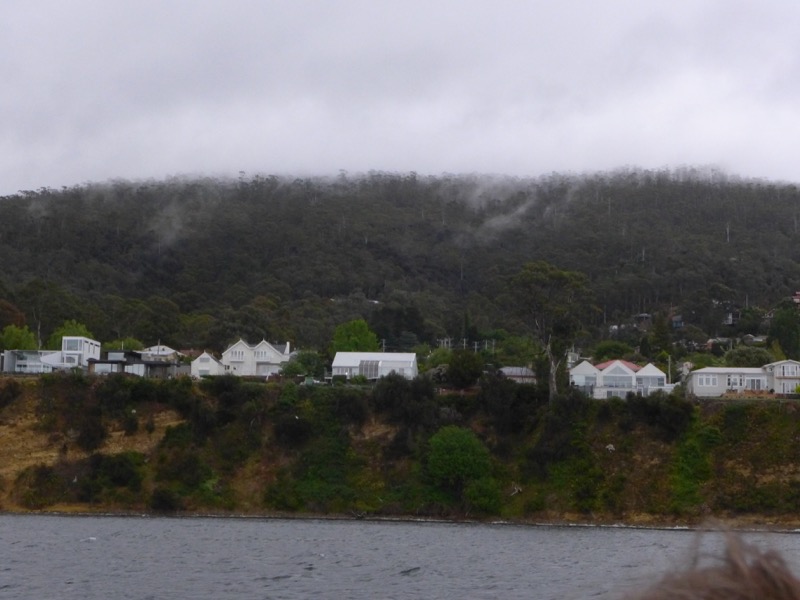 Houses in Hobart on a windy, misty morning.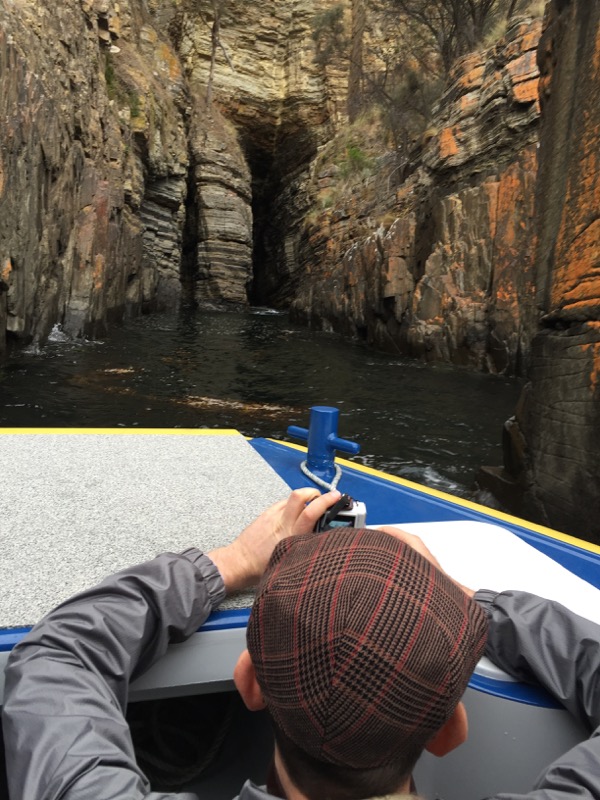 Captain Rob actually stopped the boat several times along the 45-minute trip to Bruny, pointing out wildlife and landmarks. A couple times he nosed us in quite close to a sea cave to have a look. (One of them had a naked dude in it! An actual hermit! He ducked when he noticed us coming. That was weird.)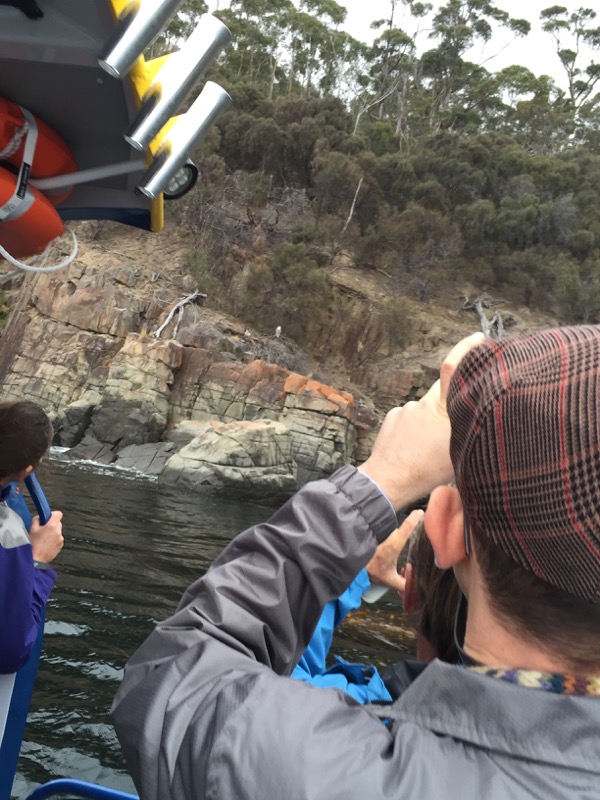 We also spotted some white bellied sea eagles hanging out on a rock nearby. This is pretty rare, so we pulled up close to take pictures.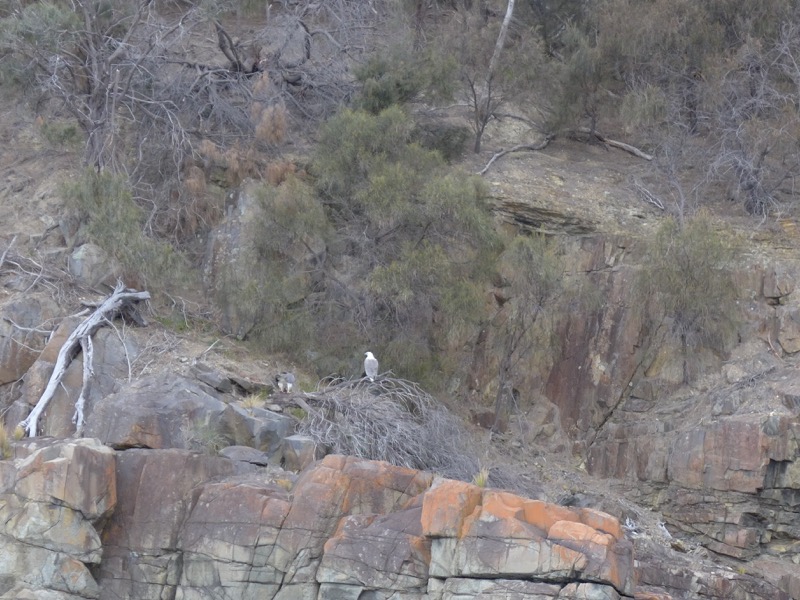 Here's the best photo the Snook managed to take.
Pages: next ->