Sunday, October 31, 2004
| | |
| --- | --- |
| | [15] |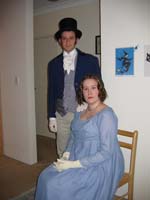 Happy Halloween!
The party's finally over. Yes, that's me and the Snook as Miss Elizabeth Bennet and Mr. Fitzwilliam Darcy from Pride and Prejudice. We figured since we went with low-brow pop culture last year, we'd go high-brow and literary this year. It worked really, really well. The party was a smashing success (as I'm sure you noticed if you were watching CouchCam) and I've got lots of photos to upload in the morning. For now, I'm going to waddle my carb-sickened self to bed...

Update: The pictures are now online!

Saturday, October 30, 2004

Party time! Yes, CouchCam is broadcasting the party... LIVE as we speak. Enjoy.

| | |
| --- | --- |
| | [2] |
Okay, that's the funniest DeskCam picture of me ever. I look like Austin Powers just having woken up, all glasses-askew and mouth-breathing. I'm not gonna change that one for a while.

Friday, October 29, 2004
| | |
| --- | --- |
| | [3] |
Johnny Depp as Willy Wonka. Speaking as lifelong Roald Dahl fan (and someone who'd happily have Johnny Depp's baby anytime), this is just wrong, wrong, WRONG. There are so many levels of wrongness I don't know where to begin. Oh no, wait, I do. What the hell is the point of Wonka finding an heir if he's only forty years old? He's supposed to be an old man! Gahhhh. Looking at the cast list only brings up more confusion. Helena Bonham-Carter as Mrs. Bucket? That character is only in the book for, like, five pages. (The musical increased her part by killing off Mr. Bucket.) And that the hell is this: Christopher "Count Dooku" Lee as "Willy Wonka's Father." Seriously, what the hell is that? Willy Wonka's father doesn't exist! When I spoke to Felicity Dahl about this adaptation three years ago, she stressed repeatedly that they were going to try to be accurate to the book in a way that the musical wasn't. Looking at it now, I can only surmise that somebody sold out Roald's legacy in a big way. (Link courtesy of Kevin.)


Carve a jack-o-lantern! As I haven't been able to locate any orange pumpkins in the city this year - David Jones has them but only for decoration, not for sale - this is as close as I'm going to get! (Link courtesy of Parker.)

| | |
| --- | --- |
| | [10] |
Scariness.
It happened last night about 6:30, not long before we started to close up for the night. Becca and I'd been helping a customer down at the knitting counter for some time. Losh was also on the floor, along with about three customers. The first thing I remember is Losh rushing down to us and asking, "Did you let somebody back in the office?" No. "Somebody's back in the office." I looked up in time to see Albert dash through the door marked "STAFF ONLY." Losh was looking at me scared. I grabbed the phone off the counter. "Should I...?" In my panic, I forgot the Australian emergency number. All I could think was "911! No, that's not right, idiot!" A second later all thought left my head as we could clearly hear Albert fighting with the intruder in the hallway. I put the phone down. What should we do? Should we try to hold the door closed to he can't get out? What if he's got a weapon back there and we'd be trapping Albert back in with him? The matter was decided when the door flung open and a crazed skinny shirtless man flew out. I just had time to see his dirty blonde hair and notice that he was hitching up his pants oddly. My first incorrect (albeit funny) thought was that Albert had walked in on him having a wank back there. "Where's his shirt?" I gasped, wondering if I'd been so blind as to have not noticed a shirtless man enter the shop. "Albert ripped it off," Losh reported from the hallway. "What'd he get?" "A computer." We found out afterwards that Albert had entered the office, seen the guy, and asked him what he was doing. He said we'd let him in to wash his hands. Albert stepped back out into the shop to ask if it was true. When we denied it, he headed back in and asked the guy to return whatever was obviously stuffed into his pants. The guy rushed him. They grappled in our extremely cluttered hallway. Albert was twice the size of the guy but quickly realized it was better to let him go. The intruder was crazy and he was pulling things off the shelves, things like customers' irreplaceable tapestries. The stuff he stole was replaceable; they're not. So he let him go, but not before tearing off the guy's shirt. Everyone was fine. We called the cops. I was still shaking ten minutes later. How did I not notice him? Was it me that left the door unlocked? All my way home I entertained vigilante fantasies about noticing a shirtless man at my bus stop and kicking him in the balls so I could steal the computer back. I had dreams about it all night.

The new shop's going to have security cameras.

Thursday, October 28, 2004
| | |
| --- | --- |
| | [11] |
Another brilliant example of why most of the the world wants Bush out of office: He's blocked his website to anybody outside the U.S. Seriously. I just tried it myself and I get "Access Denied." The man just doesn't care at all about what anybody outside his circle thinks. And no, I'm not arguing anything silly like that "furriners" should have votes or anything, but would it kill us to at least pretend that we give a shit what our neighbours think? I mean, Australia's an ally! They're in the Coalition of the Willing! Yet... "Access denied." Political friendship with George Bush doesn't seem to get you very much these days, does it? (Link courtesy of slashdot.)

Tuesday, October 26, 2004

The Fall Knitty Surprise is up, and it's a whole mini-issue devoted to breast cancer awareness! Very nice patterns, too.

Monday, October 25, 2004
| | |
| --- | --- |
| | [2] |
New word! I am definitely an infracaninophile. (Link courtesy of Casey.)


Even though I've pretty much given up on the diet right now (she says while munching Golden Grahams), the Snook and I still are having endless fun threatening to put Dr. Amy Jones on the Catkins Diet. It makes us laugh. In reality, she eats mostly dry food with the occasional supplement of Fancy Feast, a raw chicken wing, or if she's really good, a bit of fat from a chicken breast. She loves that. (Link courtesy of miftik.)

Sunday, October 24, 2004
| | |
| --- | --- |
| | [13] |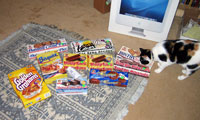 The Greatest Care Package EVER.
Friday was randomly super-duper busy at work and I was just having a complete crapper of an afternoon. All my customers were rude and stupid and irritating. I was hanging on to the last shred of patience when Losh walked by and announced that I had a package. "Another package for me?" It was, at long last, the mythical Little Debbie Care Package from my cousin Jenny. And just like that, my day turned around. Is this not the best box you've ever seen? Boston Creme Pies, Fudge Rounds, Star Crunch, Zebra Cakes, Oatmeal Creme Pies, Swiss Cake Rolls, and two boes of Nutty Bars (my favorite)! Not to mention Golden Grahams, Bisquik, and 500 tablets of ibuprofen. My co-workers couldn't decide what was more amazing: that I actually wanted this crap; that judging by the price stickers, the whole lot cost about $20; or that Jenny actually spent $70 to ship it airmail. All I can say is thank you. You probably saved more than one life that afternoon. And now I must go eat another Nutty Bar. (Don't bother asking me about the diet. It's officially shot.)

| | |
| --- | --- |
| | [1] |
Republicans for Voldemort. Heh.

Saturday, October 23, 2004
| | |
| --- | --- |
| | [1] |
This is one of the looniest analyses of Donnie Darko I've read. The author somehow argues that really the whole thing is about Donnie's repressed sexual urges towards his sister. Say what?

Friday, October 22, 2004
| | |
| --- | --- |
| | [3] |
Jesus. The Snook and I just spent two hours watching Rat Race on television, and I can say without a doubt that it's one of the worst movies I've ever seen in my life. Please don't think we're idiots; we realized this about five minutes in. We went from "Hey, I've heard of this, and isn't Seth Green in it?" to "Oh my god, that's the worst animatronic cow I've ever seen EVER!" pretty damn quickly. And yet, for some reason we didn't change the channel. It was like we somehow needed to see just how bad it could be. And those are two hours that we will never, ever get back. (Additionally: My sincerest apologies to Sarah Michelle Gellar, who I'd previously labelled as the biggest Buffy sellout of the bunch. I know now that Mr. Green is the true holder of that title. I mean, come on, Oz? Hanging off a hot air balloon and squirting another guy in the face with a cow udder? For shame, Seth Green. For shame...)

| | |
| --- | --- |
| | [4] |
Especially Bad Passwords. Yowch. How many of yours are on the list? One of the fairly regular ones I use is smack dab in the middle. Guess it's time to think up some new ones, huh?

| | |
| --- | --- |
| | [3] |
Introducing... DeskCam!
Man, this iSight camera is so sweet. You can now choose between DeskCam and CouchCam over there on the right. (DeskCam's set to only update when it detects motion, so you'll probably be staring at the wall a lot.) And thus progresses my plan to build my own version of the Big Brother house...

Thursday, October 21, 2004

For the sake of any future Googlers: If you use Firewire Target Disk Mode to transfer everything from your iBook to your iMac, you may inadvertently transfer over the setting that displays your battery status. As an iMac has no battery, you will thus be unable to make the stupid indicator disappear. After much googling to no avail, Snookums helped me search through my preferences and find the relevant line in the "com.apple.systemuiserver.plist" file. Just delete that, logout, and when you login again the indicator will be gone!

| | |
| --- | --- |
| | [9] |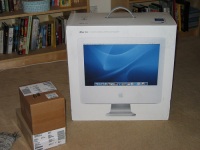 Boudicca II is finally here!
I got the e-mail last night that she was finally being shipped but I didn't have a clue how long it would take. Then this afternoon Albert came by and said she'd arrived at the shop. I literally jumped up and down and squealed. Like a freak. In front of the customers. But I don't care. Now I'm just waiting for Snookums to get home so we can open the boxes together and marvel at Apple's sexy packaging. I guess I should clear off my desk, huh? I'll probably be listing some of my excess Apple junk on eBay after tonight. Anybody want a copy of iLife or OS X 10.3?

| | |
| --- | --- |
| | [4] |
The Red Sox win the pennant! Oh, man! What a fantastic series. I'm not even a huge Sox fan - any team that employed Roger Clemens will be forever tainted in my books - but you gotta love an underdog, especially one that beats the odious Yankees. And good grief, when did Boston last win the World Series? It's been, like, a century, hasn't it?

Wednesday, October 20, 2004
| | |
| --- | --- |
| | [5] |
Sudden realization: We're getting married one month from today. That's right, folks. November 20th has been chosen. We don't have a definite time yet, but we're aiming for about 6 p.m. Vegas time. That should offer most of our family the chance to watch it. (It'll be Saturday evening in the Midwest, Friday morning in Australia.) Final details will be posted the day before when we actually confirm the time with the chapel. For now, you can go ahead and bookmark the Internet streaming site. [more...]

| | |
| --- | --- |
| | [1] |
Bad Things:

- Customers who just don't get it. "Is this yarn on sale?" "Yes, they're all on sale." "Well, is this one on sale?" "Yes, that one's on sale too. They're all on sale." "Even this one? This one right here's on sale?" Yes, that's what ALL means. It means F**KING EVERYTHING. Good grief.


- Customers who have no friends. "Does this color look good on me?" "Yes, it looks fine." "Really? Where do you think I could wear it? Day or evening?" I am not a personal shopper. Find some friends or grow a spine.


- Customers who can't do simple estimating math problems. "How much is this kit?" "Well, it's normally $53.20, so with the 30% discount you're going to save about fifteen bucks or so." "But can you tell me EXACTLY?" Why, are you going to pay in PENNIES or something?


- Customers who think that they deserve special service. "This tapestry has a hole in it. Can I get a discount?" "It's already 50% off." "I mean an ADDITIONAL discount." "Ma'am, that's WHY it's 50% off." "But I'm in here all the time, and I spent a lot of money, and I know the owner's dad, and the last time I was here he gave me one for eighty dollars..." That's usually when I start gauging how fast I'd need to run to fatally impale myself on a tapestry stand.

Good Things:

- We finally got our television fixed, and it cost way less than we expected! Turns out that the explosion was just from the power supply, not the picture tube as we'd feared.


- My computer is finally on its way! I can't wait to get it.


- My laptop is fixed! Adrian at AppleCentre Broadway really came through for me. The monitor's been replaced and a new 40GB hard drive is installed. I can't believe I now have two computers! That's more than the Snook!


- I found my Halloween costume! God bless The Costume Shop. (And God damn ABC Costumes, none of whose dresses would even go over my arms. As Snookums later consoled me: "That's because they were all made for drug-addled NIDA skanks.") Now I just have to figure out how to duct-tape my boobs up near my chin.


Thanks to Kath & Kim, I can now knit a gumnut bonnet with wattle pompom. How cute is that? Too bad Joey and Kurt (Snookums's nephew) are too old to wear then. (Link courtesy of Mary-Helen.)

| | |
| --- | --- |
| | [2] |
Wow. Some guy from Wolcottville, Indiana (where I grew up) started a bison ranch! I'm trying to remember if I ever met Pete Cook. The name sounds really familiar.

| | |
| --- | --- |
| | [4] |
What kind of girl are you?
Apparently I am a hybrid of "Progressive Girl" and "Girl next Door". Actually that's pretty darn accurate.




You know, the detailed profiles of those "girls" are pretty darn accurate too. Maybe I should get the book for the Snook as a wedding gift! (Link courtesy of Brigita.)

Tuesday, October 19, 2004

Check out my signage.
No, that's not a euphemism. Katherine visited the shop Monday and took a picture of the wool section, and lo and behold, there's one of the many, many signs I created! (Once it became known that I know my way around Illustrator, I got handed the task of designing all the sale signage.) That one is actually my favorite, because it just says: "Add to your stash. All knitting yarns 30% off." For some reason those short imperative sentences really crack me up.

Monday, October 18, 2004
| | |
| --- | --- |
| | [6] |
Recuperating.
So I've had 48 hours to recuperate from my first Tapestry Craft sale experience... and I'm still a little wrecked. We ended up working til 3 a.m. Friday night setting things up, which meant I only had about three (crap) hours of sleep before heading back the next day. The old ladies were lined up six deep by the time the doors opened. It was a melee. It was a madhouse. It was like the footage they show on the news of women fighting each other at the annual Harrods sale. Surprisingly, I didn't touch a cash register until the very end of the day. I spent every other second helping people in the wool section. We'd been worried that people wouldn't buy much since it's the end of the knitting season, but instead folks were walking out with hundreds of dollars worth of stuff. By lunchtime I realized that I needed real food (as opposed to the Diet Coke and Krispy Kremes I'd been subsisting on for the past 24 hours) so I headed next door to a coffeeshop. I ran into Helen and her boyfriend Clinton on the way so they joined me. That was nice. Thirty short minutes later I was back into the fray. We didn't actually get the last customer out the door til nearly an hour after our official closing time. Even Albert the owner was amazed. (Apparently it was really weird to have a sale day that was full-on busy all day without any slow periods at all.) We ended up having our biggest sales total in shop history, which is pretty amazing. I just stood there dazed, looking at the knee-deep piles of wool on the floor and dreading the clean-up. Luckily everyone else was just as tired as me so we left it and went home. Since then I've pretty much been knitting, sleeping, and watching TV. Unfortunately, this is going to be the pattern for the next, oh, three weeks. Gahhhh...

| | |
| --- | --- |
| | [1] |
The Triumph of the Unattractive
Dammit! I just do not get the Australian voting public these days. First they vote to keep in John Howard and his army of crusty old curmudgeons, and now they've voted out the sexiest chrome-dome on television since the days of Jean-Luc Picard. I am speaking, of course, of tonight's Australian Idol elimination of Marty Worrall. My two SMS votes were all for nought, it seems. Now who the heck am I supposed to root for? Hayley's a robot, Chanel's a flake, Casey's uncommunicative, Courtney's an old man, and Anthony sets off my gaydar. I am most excessively put out.

Okay, okay, so the final five aren't really that bad... but none of them will make half the pop idol that Marty would have.

| | |
| --- | --- |
| | [10] |
A-ha! So this is why I've been getting dozens of idiotic tourists coming in the shop looking for knitted poncho patterns.

Saturday, October 16, 2004
| | |
| --- | --- |
| | [2] |
Holy crap. I've been at work for sixteen hours straight now...

Friday, October 15, 2004
| | |
| --- | --- |
| | [1] |
Wow. Another Lakeland Laker has a weblog!

| | |
| --- | --- |
| | [2] |
Tapestry Craft is having a Relocation Sale and it starts tomorrow! I've spent the last few days designing signage, fixing up the website, and trying to get our e-mail mailing list in order. It's gonna be a busy month...

Thursday, October 14, 2004

Tonight I joined the Snook out at Westfield Bondi Junction (a big fancy-pants shopping mall) to see Wimbledon with the rest of his co-workers. Their boss had booked a Gold Class showing for us, which was pretty sweet. It's basically a private theater - no more than 40 people - and everybody has big plush recliners to sit in. Unfortunately the concept of "open bar" and "two hour movie" don't go so well together... I myself had to get up and wee twice during the film, and I hate missing the movie. Luckily I didn't miss much, as this is a strictly formulaic rom-com. I never really bought into the love story at all, mostly because Kirsten Dunst annoyed the crap out of me. I guess I'm over her. Paul Bettany was great, though, and I found him really believable as a tennis player. The Snook and I also got a kick out seeing some shots of London and Brighton. (We also had fun speculating on how the tennis sequences were filmed; the IMDb trivia page confirms that the ball was CGed in afterwards.) So all in all, a fun evening... but way, WAY too many carbs. Ick.

Wednesday, October 13, 2004

Body temperature.
Good grief. It's 37 degrees here today. That's 37 degrees Celsius, which to us uninformed Americans equals 98.6 degrees Fahrenheit. It's stinkin' hot. Spring stuck around for, like, three weeks before turning into summer.

Tuesday, October 12, 2004
| | |
| --- | --- |
| | [10] |
Man, I would so be up for a World Series of Knitting! Only it would need to be re-thought a little bit, as the author of that article clearly knows nothing about the craft. (Crochet, cross-stitch, and quilting are entirely separate disciplines.) Now, would I compete for Australia or America? I think about things too much. (Link courtesy of Max.)

| | |
| --- | --- |
| | [1] |
Oh, but before I forget, wasn't Australian Idol such a shocker tonight!? I can't believe Ricki-Lee is gone. I had picked her to win. She was my second favorite after Marty (who I voted for and thus can claim to have saved this week). I really, really thought it would be Chanel. The Snook and I were cooking dinner and I was like, "Man, the hippies are having it rough! First Latham and now Chanel." And then two minutes later the verdict was announced and immediately Amy rang - for the second time during the show - and we were both like, "Oh. My. God!" Why can't Hayley be gone already? How much money can I afford to keep Marty in the competition? And is this thing now firmly within Anthony's hands? And holy crap, are we going to leave before this thing is finished??


"Can you smell the Firefox all over this post? That's because I have to post it from Snookums's crap-ass computer."

Actually that was just sarcastically dictated by the Snook himself. My iBook went off to the shop today for a monitor and hard drive replacement so I'm forced to share his Linux machine. Sheesh, between this and waiting for the telly to be repaired, it's like living in the Stone Age, you know? We've also just realized that we leave for our trip to the US in, oh, FIVE WEEKS, and there's craploads of stuff to do before we go. AND we're throwing a Halloween party in three weeks, AND we're having two sales and a relocation at work. So there may be some radio silence from my end for a few days...

Sunday, October 10, 2004
| | |
| --- | --- |
| | [4] |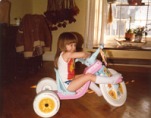 Real Embarrassing Photos: The Coolest 3-Year-Old in Town
You know what the coolest part of this photo is? It's not my sweet Wonder Woman Underoos. It's not my stylin' Powder Puff Big Wheel with the ribbon streamers. It's not my stick-straight bowl-cut bangs. It's not even my so-retro-it-hurts white knee socks. You know what it is? It's the approximately 53 yards of woolen lanyard plant holders hanging in the background. The 70's were a bad time for interior design, yo.

Saturday, October 9, 2004
| | |
| --- | --- |
| | [7] |
...And just like that, the evening turns to SUCK. John Howard has just won a historic fourth term as Australian Prime Minister. The conservatives increased their numbers in the government. Latham has conceded. Catboy's going to become a Kiwi. Everything's turning to crap. Dammit, I've already emigrated from one country with an asshole for a leader; I don't want to do it again! Please, please, please let Bush lose next month... or I think we may have to move to Sealand.


Kick. Ass. REM has extended their current tour to Australia! The relevant dates are here. They're coming to Sydney on March 31. Since I'm a member of their "Online Community", I can register to buy tickets early in a pre-sale! The store opens in four hours. I'm excited. I've only seen them play once before and it was from way, far away.

Update: We've got tickets! "Gold reserved" seating. Hopefully that doesn't suck.

Friday, October 8, 2004
| | |
| --- | --- |
| | [2] |
The Vending Machine Prizes Spectacular! The biggest highlight for me in the whole (pretty hilarious) article was reading the guy's ode to the Chicken Machine. You know, the one with the brown chicken that turned around and clucked and dropped you an egg. I loved the Chicken Machine.

| | |
| --- | --- |
| | [2] |
Kevin's posted an excellent review of REM's new album. He makes it sound pretty downbeat. Crud. My fandom has really never recovered from shelling out for the "deluxe" CD edition of Up only to discover that I couldn't tell when one depressing song ended and another depressing song began. (Not to mention the fact that it was advertised as coming with a "poster" which actually consisted of the pages of the lyrics booklet, which you were supposed to disassemble and tape together or something.) I didn't even bother getting the Greatest Hits CD, though I suppose I will if I decide to get the new album. My obsessive-compulsiveness wouldn't be able to stand having a hole in the chronology of my REM catalog...


Richard Stallman's over here bitching about Linux again. How can a guy that claims not to have had a job in decades afford to fly to Australia?

Thursday, October 7, 2004
| | |
| --- | --- |
| | [1] |
It's on, folks!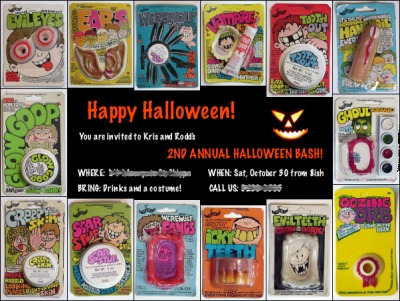 I decided to keep the invitation stylistically similar to last year's. Thanks to Matt for pointing me to the gallery of makeup kits. The e-mails are still going out so if you're in Sydney and you haven't gotten one, just hold tight. If you don't have one in a next few days - and you think you should - just drop me an e-mail.

| | |
| --- | --- |
| | [1] |
Crap. As expected, Apple just e-mailed me to say my G5 iMac will arrive "7-10 business days" later than expected. Does anybody know if they're shipping in the US or UK yet?

Wednesday, October 6, 2004
| | |
| --- | --- |
| | [8] |
Australians all, let us rejoice!
So, Amy and Rob are citizens of Australia now! Actually they're dual American-Australians, which is what I hope to be in about eighteen months. Their ceremony was held in Mosman and I went along to celebrate with them. They basically just had to pledge allegiance and then they got a certificate and a native plant. Pretty sweet! There was a sour edge to the evening for me, though, in the form of a famous visitor in the midst: Tony Abbott! (He's the Leader of the House and the Federal Minister for Health and Aging. He's also a raging conservative asshole.) Didn't he just get out of the hospital for kidney stones yesterday? And here he was, four days before a national election, spending the evening in front of a group of people who weren't even eligible to vote for him! His speech afterwards was polished but uninspiring, I have to say. (When he started talking about Australia's "freedom" I half-expected him to congratulate the new citizens on becoming part of the Coalition of the Willing.) You'll be proud to note that after a short internal battle, I managed to resist the urge to question him about the Pauline Hanson slush fund and kick him in the nuts. Man, I'll never have another chance like that again...



And I just realized that I spelled his name wrong on the photo, but I don't really care.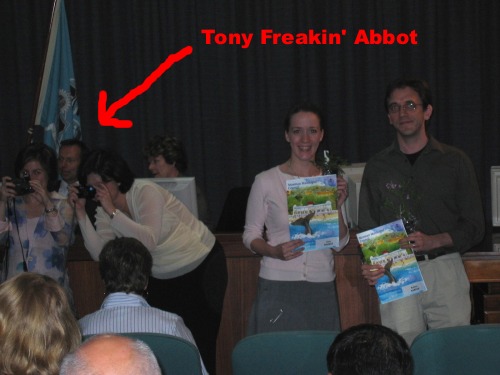 Congratulations to Amy and her husband Rob, both of whom are becoming official Australian citizens tonight. I'm counting on them for lots of helpful tips about this whole dual-citizenship thingy.

| | |
| --- | --- |
| | [5] |

Real Embarrassing Photos: The Man Who Stole Jimi Hendrix's Hair
I was going through some old pictures the other day when I came across this absolute gem. Yes, folks, that is the Snook. In college he had big hair, a dodgy goatee, and - what's more amazing to me - he actually wore blue jeans! Who is this person? It blows my mind. I'm putting this out there for anybody wondering if I know what I'm getting into with this whole marriage-thing. Oh yes, you betcher ass I do. I figure a guy who can laugh at his former self - and give permission for the world to laugh along with him - is a real keeper. Click here for some better views of the 'fro in all its glory.

And yeah, I turned up some doozies of me. Stay tuned... [more...]

Tuesday, October 5, 2004
| | |
| --- | --- |
| | [4] |
AskMetaFilter tackles the questions enquiring minds want to know: Why, evolution-wise, do the testes hang outside a human body? Come on, you wondered that too...


Come-come-commala.
It's been over ten years... but I've finally come to the clearing at the end of the path. I have finished Stephen King's The Dark Tower. In fact, I read over six hundred pages today; I couldn't put it down. You remember how I thought the sixth book kinda sucked? Well, this one didn't. It tied up loose ends and hurtled from action sequence to action sequence with a speed that left me shaking my head. ("Snookums, he spent all of that last book setting up cliffhangers that were resolved in the first forty pages!") When the ka-tet was finally broken about halfway through the book, I sobbed like a baby for half an hour. I'm still tearing up just thinking about it. ("F**king ka!") I found King's inclusion of himself as a character much less irritating this time around, mostly because he wasn't in it much. I liked finding out what happened to Randall Flag, Ted Brautigan, and Patrick Danville. And as for the ending, which probably pissed a lot of people off? I think what happens to Roland makes a weird sort of sense. It's not exactly satisfying but it's not the cop-out I feared. I'm left with hope. As for the rest of the ka-tet... I think that was a bit of a cop-out, but I'm still a sucker for a happy(-ish) ending.

Man, I hope the Harry Potter series ends as well.

Monday, October 4, 2004
| | |
| --- | --- |
| | [4] |
Nine Times the iPod Goodness.
So did I mention that the Snook and I both got new iPods on the weekend? Well, we did. We'd been thinking about getting new mobile phones for some time - since we both just have crappy pay-as-you-go Nokias - but we hadn't done anything about it yet because we're lazy. Then on Thursday the Snook discovered that Strathfield have a deal on where you buy a Sony Ericsson T610 and get a free 20GB iPod. Pretty sweet! We headed over Friday afternoon and spent hours waiting around while they transferred our numbers and upgraded our accounts. It was worth it though... I've even got a camera in my phone now! Oh yes, "moblogging" will be happening soon. This is, like, partial technological redemption for the whole TV-exploding debacle...

| | |
| --- | --- |
| | [3] |
Woohoo! The weird little opera guy Daniel finally got booted on Australian Idol tonight. He seemed nice enough but I got really sick of overly theatrical style. (You're next, Hayley!) I'm totally in the Ricki-Lee camp. She rocks! She's Australia's own Beyonce. Chanel and Marty are sentimental favorites, but I don't think either of them has the star power to win it.

Sunday, October 3, 2004

I had a couple more comment spams today so I finally implemented my "moderation on old posts" plan. Basically, any post older than two weeks is still open but new comments don't appear until I approve them. Let me know if you notice any weirdness. (You shouldn't.)

Saturday, October 2, 2004

Wow, Ebert's new site has finally launched! Now I can finally read all 500+ entries in his Little Movie Glossary. I was amused to note that he uses a Powerbook (naturally). I was not amused to note his wedding ring. :(

Later: Yowch. The site update has broken every single review link from the IMDb. Bad move, web developers.


Tiki Mac. Shweeet.

| | |
| --- | --- |
| | [3] |
Crap. What a day. The class turned out to be a bit of a debacle, mostly because I seriously overestimated how much material we'd get through. I figured that since I've taught people to knit before individually, teaching a half a dozen wouldn't be that hard. I was so wrong. Each person could only manage to follow the pattern for about thirty seconds before yelling for help. And it wasn't that the pattern was hard, it's just that they needed to be shown every little thing. Me, I'm a book learner, so that's why I spent hours writing down explicit notes on everything for them. (Mental note: Don't bother next time.) By the end I was apologizing all over the place because I felt terrible that we'd only accomplished so little. Most of them seemed happy though, and a few actually managed to "get" it before they left. I guess it was a good learning experience for me, huh? Next time I need to remember not to be so ambitious.

So what did I do afterwards? I came home and flopped on the couch, hoping to clear off some TiVo and do some knitting. Two hours later, just as I'd started The Princess Diaries, the f**king television exploded. Yes, you read that right; our TV just exploded. So now there's no telly. This sucks.

Friday, October 1, 2004
| | |
| --- | --- |
| | [3] |
Sorry for the lack of posting, but I'm all in a tizzy because I'm teaching my very first class at the shop tomorrow morning! I'm teaching "Sock Knitting on Two Circulars," which should be pretty fun. Wish me luck...

archives
You can search through the archives by post keyword using the form on the left, or you can browse by month using the links at the bottom.
"Moblog" refers to posts and images posted directly from my mobile phone.

"PW Blog" refers to posts recovered from my very first weblog, which dealt with news related to my college dorm.