Saturday, December 31, 2011
| | |
| --- | --- |
| | [4] |
RunningBlog: Week 52
Another year has come and gone! As you'll recall, last year I pulled out all the stops to hit my goal of 1000km. This year I was aiming for 1100km, and for the first half of the year I was on track to surpass that by far. Unfortunately the second half of the year was a different story. I suffered a couple injuries (rolling my left ankle repeatedly) and then I got sidelined by a virus and cough for several weeks. It sucks that I didn't quite get to 1100, but I'm pretty proud regardless. The final numbers:

Dec. 26: 8.86km
Dec. 28: 6.86km
Dec. 30: 8.02km (cycling)
Dec. 31: 5.16km
Total this week: 20.88km (13.05mi)
Total in 2011: 1043.77km (652mi) - 4% increase from 2010

Goals for 2012: I'm now training in earnest for the July 1 Gold Coast Marathon. I'd love to be able to finish it in 5:30. I'd also like to run the Blackmore's Half-Marathon next September and finish it in under 2:30. I'd like to start my podcast up again. (Anybody want to contribute or co-host?) And I'd like to comment more on DailyMile and Fitocracy to thank everyone who's given me such encouragement this year.

| | |
| --- | --- |
| | [4] |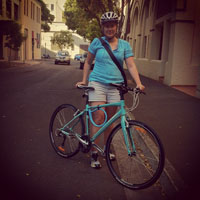 Bring on 2012!
I know I've been quiet lately. Big things are happening, but I've been enjoying the past week's vacation too much to sit in front of a computer. One thing we've been doing is looking at bicycles. We checked out Cheeky Transport in Newtown, and then yesterday we visited Atelier de Vélo and Clarence Street Cyclery. At Clarence Street, we discovered it was the last day of their Christmas sale... and they happened to have a great deal on a Trek 2012 7.4 FX WSD bike. Four hours later, I was riding it home! The Snook came to meet me and we did a slow 8K through the CBD to the Rocks and then home again via Darling Harbour. It's been a while since I rode a bike, and I've never ridden such a fancy one before. It's going to take some practice!

I suppose I should mention why I got the bike. This is the really big news: I got a new job. A couple weeks ago, a friend and former colleague called me up with an offer to join him at Sitback. I met with the company founders, visited the office, and chatted with some employees. There was no interview as such; they were trying to sell me on the idea of coming there. (Very flattering!) I've been in my current role for three years, and I've been wondering if it's time for a change. This was the perfect opportunity. I gave notice at my current role before Christmas, and I finish up on January 20. Then I start at Sitback on the 23rd! I will be their sole Business Analyst, writing specs for all the exciting projects they're working on. One very cool aspect of the job is that the offices are down in the Rocks not far from the Snook's office at Walsh Bay. We're going to be able to commute together! That's why I was excited to get a bicycle. The ride is fairly short - only about 4.5km - but it's a lot faster on a bike than on the bus. I'll miss my weekly workout at Spudds, of course, but I'm hoping to still get over there for the occasional evening class. Luckily some of my new colleagues are sporty and apparently we've got gym access there as well. I can't wait!

Needless to say, I'm very excited for all the new changes coming in 2012!

| | |
| --- | --- |
| | [1] |
Purple Ombre Sprinkles Cake recipe - Pretty!

Thursday, December 29, 2011
| | |
| --- | --- |
| | [1] |
I choose you, Bulbasaur! - CROCHET - I remain amused but uncontaminated by the spreading hexapuff madness. That said, I could totally see myself crocheting 1000-odd granny squares to make some silly 8-bit game character.

Sunday, December 25, 2011

Hacking Scrabble (Part One) - Ooh, cool! I was worried this would be about cheating, but it's more about memory tricks and some neat computing...

Saturday, December 24, 2011
| | |
| --- | --- |
| | [1] |
Christmas Craftiness 2011
I just realised that I've made a lot of stuff this month that didn't actually get documented on the blog yet. For posterity's sake...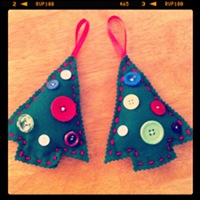 Felt Tree Ornaments
As in previous years, a group of my knitting friends met up for a "Christmas Tea Party" earlier in the month. We always do a handmade ornament exchange. Rather than knit something, I saw some felt tree ornaments online and decided to sew instead. I made a template out of some cardstock and cut out the front and back of several trees. Then I hand-sewed on a selection of buttons to each front. (I've got a box of odd buttons.) Then I sewed the pieces together, sandwiching a piece of ribbon at the top for the hanger and leaving the bottom open. I stuffed each tree lightly with polyfill, then sewed the opening closed. I then trimmed the edges with pinking shears and did some decorative stitching with red yarn. They turned out pretty cute! I was very happy to see them go home with Kylie, who has hung them on her mantle. (In a stunning non-coincidence, I got Kylie's project: a truly amazing knitted Christmas tree!)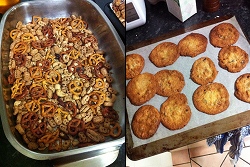 Nuts & Bolts and Compost Cookies
Next up was the December meeting of the Inner City brand of the Knitters Guild, and I was on duty for morning tea. I decided to go with a sweet/salty theme and made "Nuts & Bolts" and Compost Cookies. Nuts & Bolts is basically the Australian equivalent of Chex Mix. (Recipe here.) You mix up cereal and nuts with a packet of soup mix and some spices and then bake it in the oven to get crispy. I also add pretzels to mine. This stuff is addictive! The Compost Cookies were famously created at the Momofuku Milk Bar in New York. (Recipe here.) The idea is that you throw all kinds of sweet and salty things in there: potato chips, coffee grinds, candy, whatever. I used dark choc chips, meringue pieces, Tim Tams, Sesame Snaps, pretzels, and sea salt crisps. They were pretty good! Even though I chilled them overnight, they still spread quite a bit in the oven. (Always happens. I still haven't gotten the hang of the new oven yet, clearly.) Both dishes were a big hit at the meeting.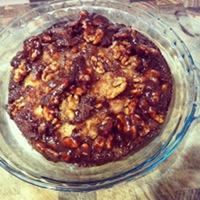 Caramel Walnut Upside-Down Banana Cake
We got some ladyfinger bananas in one of our FoodConnect boxes, so I decided to turn them into a cake. I'd made this Smitten Kitchen recipe before and the Snook really liked it. I actually divided the batter in two and made two smaller cakes this time: one for us and one to take to work. I still haven't worked out the trick to getting flipping the cakes and getting the caramel out nicely, but the taste outweighs the messiness of the topping. Everybody at work loved it, and the cake I took in disappeared in about 5 minutes!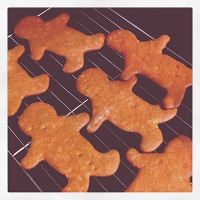 Candied Gingerbread Men
I had a wild idea to make gingerbread men for our last day of work before the Christmas break. Of course, the only cookie cutter I own is the state of Michigan (don't ask), so I had to go on a search for a proper one. Then I had to decide on a recipe. I went with Serious Eats's Candied Gingerbread Men. It uses crystallized ginger, which I know the Snook likes a lot. He actually did most of the prep for the dough since he was on vacation this week. I cut them out and baked them late Wednesday night. I didn't have any time to decorate them, but they were still tasty. The shapes were amusingly non-standard, mostly because I suck at rolling out dough and cutting consistent shapes. It was good fun though, and it made the whole house smell like Christmas!


RunningBlog: Week 51
It was kind of a crazy week. I had only three full work days to try to finish everything up at the office, and Spudds was cancelled for the holidays. I still managed three runs though so I'm satisfied with that. The one upside to Sydney's cold and grey summer has been how pleasant it is to run!

Dec. 18: 5.02km
Dec. 21: 5.01km
Dec. 23: 2.18km (walking)
Dec. 24: 5.01km
Total this week: 15.04km (9.4mi)
Total in 2011: 1022.89km (639mi)

Only one week to go!

| | |
| --- | --- |
| | [2] |
I'm gonna let it SHINE!
I present to you the cutest thing I've seen in a long time:



That kid in the middle, the one raising his arms every time they sing "shine"? That's my nephew Penn. My sister asked him afterwards if he was supposed to do that. "Nope!" He just felt like it. I love that there was no self-consciousness; he's at that age where he feels joy and he can just express it without worrying about what's cool. Isn't that wonderful? We should all have such moments in our lives. :)

Friday, December 23, 2011
| | |
| --- | --- |
| | [1] |
The most insufferable Christmas song ever - Christmas - Salon.com - Every time I hear this song, I think about Nora's hatred of it. It's my own Christmas tradition. :)

Thursday, December 22, 2011

Apple - iPhone - Videos - Santa - Awww, this is really cute! Santa uses Siri to plan his night.

Tuesday, December 20, 2011

The Bombadil-Dark Santa connection... - This is weird. (Snook - this is for you.)

| | |
| --- | --- |
| | [1] |
Aussie Jingle Bells
The Snook has been singing this song every Christmas for as long as I've known him, and this is the first time I've ever seen/heard the original. It's awesome. (I predict my Dad will like it.) I feel like I might have to do an annotated version for all you Yanks though to explain the references! :)



Chibi Game of Thrones house banners

Re-post: Geekery and the humanities - This.

Monday, December 19, 2011
| | |
| --- | --- |
| | [2] |
Jamie's 30 Minute Meals #35: Steak Indian-Style
This was our 35th cooking/blogging experiment from Jamie's 30 Minute Meals. We haven't given up yet! We are still going! We're just a few weeks behind. This is one we had a couple weeks ago, and frankly it wasn't that memorable. It was "Steak Indian-Style with Spinach & Paneer Salad, Naan Breads, and Mango Dessert." We chose it primarily because mangoes came into season! Unfortunately I don't have the time saved on my phone, but I seem to remember it coming in around the 34 minute mark. The Snook was on chef's duty for this one.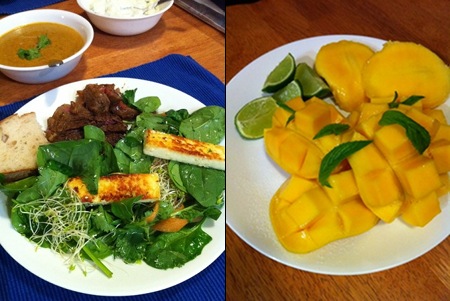 Substitutions: We couldn't find Patak's Jalfrezi paste, so we went with Balti instead. We left the cress out of the salad. We also had an unplanned substitution for the naan breads, but you'll see about that soon enough. Other than that, everything was as written in the recipe.

Quick verdict: Okay, Indian style steak?? THAT'S NOT A THING. Most Indians don't even eat beef, much less marinate it in curry paste. It doesn't taste bad; it's just a weird idea. That aside, this meal was mostly okay. However, it's one of the ones where I don't really know how to eat it. There are just lots of small components, along with dips and such, and it's just kind of confusing. Like, am I meant to be making a little open-faced sandwich? Or is it more of a salad? We liked all of the individual components well enough. We both rated it an 8 out of 10. I'm not really sure who you'd make this for, though. I sure won't be serving it to my Indian friends!

Read on for a photo essay of the preparation. [more...]

| | |
| --- | --- |
| | [1] |
Sherlock Holmes: A Game of Shadows is Gayer, Steamier, and Explodier Than Before - With Stephen Fry playing Mycroft as a nudist? SIGN ME UP.

| | |
| --- | --- |
| | [1] |
RunningBlog: Week 50
Holding steady. Work has been really busy in these last weeks before Christmas, so I haven't been able to squeeze in any training sessions at Spudds. I did still manage my three runs though!

Dec. 11: 7.65km
Dec. 14: 5.17km
Dec. 15: 2.76km (walking)
Dec. 16: 5.86km
Total this week: 18.68km (11.6mi)
Total in 2011: 1007.85km (630mi)

And I've crossed the 1000km mark! There isn't really any chance I'm going to rack up 93km in the next two weeks, so I'm not quite going to reach my goal of 1100km in 2011. But I'm already past last year's total, so I count that as a win. I'm also very happy to see that my fitness is recovering nicely from being sick. I still have a post-viral cough, but my doctor confirmed my lungs are clear and I'm good to run. My speed has been coming back a little more with every workout. Onwards and upwards...

Saturday, December 17, 2011
| | |
| --- | --- |
| | [1] |
Three Cheers for Little Girl Spock - That is the cutest, coolest thing I've ever seen. See? I'd have a kid if I could guarantee it would be AWESOME and like AWESOME NERD THINGS.

| | |
| --- | --- |
| | [3] |
Bokeh Christmas Tree - We have no tree this year. I waited too long and every single artificial tree at Broadway was sold out last weekend!


I AM A GODDESS OF EFFICIENCY - mlkshk - I grabbed the final frame to use as my iPhone wallpaper.

Thursday, December 15, 2011
| | |
| --- | --- |
| | [2] |
Arriving in Australia and a Tour of Historic Bronte House - The Martha Stewart Blog - MARTHA IS IN SYDNEY, PEOPLE. HIGH ALERT!


Cracked Out Rice Krispie Treats - Those sound awesome.

Tuesday, December 13, 2011

I\'m Not Here to Make Friends: The Reality Show Villain Quilts of Alissa Rowinsky Wright | xoJane - Oh wow. LOVE the Boston Rob quilt! Genius.


Making a Luffa Sponge - Neat! I only learned a couple years ago that loofahs aren't sea creatures, but rather vegetables you grow in the garden. This actually shows how you grow the gourd and then prepare it for use.

Monday, December 12, 2011
| | |
| --- | --- |
| | [1] |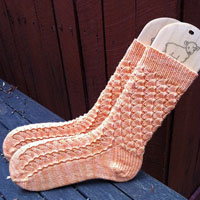 Nanner and Boyfriend Socks
Here are my final two pairs of socks for the 2011 "Super Special Six Pattern Sock Club"! First up are the Nanner Socks from wendy knits. These were knitted at the same time on a pair of 2.75mm circular needles. The wool is Knitabulous Yarn Ultimate Sock in "Sorbet". If my socks look weird to you compared to the pattern photo, it's because I knitted them incorrectly. I only discovered it when my friends at Sewjourn noticed the difference. It turns out that I had followed the charts exactly... and missed the bit of text that explained how you were to insert a row of plain knitting every other row. Oops. So my lace scallop repeats are only half as high as they should be. My only planned modification was to gradually add in an extra repeat on the leg portion, just to give a bit more room in the cuff. That worked out pretty well! My complaint about these socks is that they bias and twist really badly. I'm not sure whether that's due to the pattern or due to my error in knitting them. More photos are available over on Ravelry.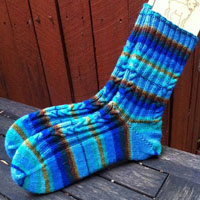 These are the Boyfriend Socks from slippedstitch, which I only finished last night. They were knitted toe-up one-at-a-time on a pair of 2.75mm circular needles. The wool is Regia Design Line Kaffe Fassett. The photos aren't very colour-accurate; the green is a lot stronger in person. (This is probably my least favourite of the Kaffe Fassett colourways.) The pattern is interesting. From the photos I thought that the cables actually travelled, but they don't. Instead when the pattern repeat ends, some knits become purls and vice versa. It's weird at first, but you get used to it. I eventually had it memorised. I used Judy's Magic Cast-On for the toe and knitted the heel as written in the pattern. I knitted 3.5 repeats of the cables, then did a couple P2tog so that it turned nicely into K2P2 ribbing. Then I just ribbed til I ran out of wool. They fit the Snook nicely. Again, more photos over on Ravelry.

And that's it! Six pairs of socks done for 2011. I didn't do any substitutions; I knitted all the socks as set out a year ago: Shur-tugal, Nutkin, Leyburn, Fox Faces, Nanners, and Boyfriend. I also used up quite a bit of sock yarn from stash, which is always welcome. Yay!

Sunday, December 11, 2011
| | |
| --- | --- |
| | [2] |
Commercials for Old Milwaukee beer starring Will Ferrell - Amusing. I like the ones from Terre Haute. (Dad and Cindy - have you seen those?)

| | |
| --- | --- |
| | [2] |
Handmade Ryan Gosling - This is the best Tumblr ever. I had tears from laughing.


RunningBlog: Week 49
I am back on the horse! My cough is nearly gone and I managed three runs this week along with a workout at Spudds. I'm trying to hold back and build up slowly, but it feels so great to be able to exercise again.

Dec. 4: 4.79km
Dec. 6: 5.16km
Dec. 9: 5.20km
Total this week: 15.15km (9.5mi)
Total in 2011: 989.17km (618.2mi)

There's still no chance that I'll meet my goal of running 1100km in 2011, but I'm assured of breaking 1000km. Last year I managed 1002km, so I'll definitely surpass that.

Saturday, December 10, 2011

The diagnosis - Boing Boing - Oh god. Every woman should read this.

Friday, December 9, 2011
| | |
| --- | --- |
| | [1] |
A Dozen Ways to Upgrade Your Eggnog | Serious Eats: Drinks - Amy Carbo, this is for you. (Actually, I think I might have to make that Nutella Eggnog for ME.)


Crochet Christmas Light Pattern @Craftzine.com blog - Bookmarking for next year's Christmas decoration swap.


How We Made the Turducken of Cheese Balls - Food and Cooking - Food News - CHOW - I would make this, and I would eat it. And I would love no doubt curse the cheese baby in my belly thereafter.


How Do You Cut Your Snowflakes? - Neat! Colourful handmade snowflakes from junk mail. Might have to try that.

Thursday, December 8, 2011

Justin Bieber Ruins Entire Nerd Subculture With New Christmas Video - HA! Bieber's new video is STEAMPUNK. Maybe I can convince him to kill off graffiti knitting next?

Wednesday, December 7, 2011

The Revolution Will Not Be Microwaved: Modern Female Protest at Home - Food for thought. (Pun intended.) The Snook likes to cook more than I do, and he's better at it. But he hates to plan menus and do the shopping. We compromise by pretty much sharing everything 50-50. I'm very lucky in that respect!


How not to market science to girls | Bad Astronomy | Discover Magazine - I'm wearing pink right now, but sheesh. If I'd gotten "Beauty Spa Lab" as a kid, I would've been friggin' offended.

Project: Snowman Stocking With Pattern
Tuesday, December 6, 2011

Crafting with Cat Hair | Quirk Books - Dear Snook: This is for you.

Monday, December 5, 2011

What Actually Goes in a Functional Specification? - Brilliant article outlining one of the main outputs of my job. This matches exactly my thinking on the subject. I do cater the Func Spec to the project and audience. On a purely internal project, I leave a lot of the UI behaviour up to the developers because I trust them to use the most efficient option. On a project for an external client though, I get a lot more specific in the details. My Specs are mainly done as Google Docs, but I'm experimenting with some prototyping tools now.

Friday, December 2, 2011
| | |
| --- | --- |
| | [1] |
RunningBlog: Week 48
This flu has really wrecked my training plans for the end of the year. I'm still coughing a lot at night, but it seems to be easing up during the day a bit. So today I went out for my first run in 2.5 weeks. I took it very easy with five minutes' walk to warm up and then 2:1 run/walk intervals (at a slow pace). I felt pretty good! I didn't feel any need to cough during the running portions, but on the walks I could tell how weak my lungs are. It felt good to be out in the fresh air and sunshine though. I am excited to put November behind me and kick off my training plan for the Gold Coast Marathon!

Nov. 28: 2.81km (walking)
Dec. 1: 2.81km (walking)
Dec. 2: 4.06km
Total this week: 4.06km
Total in 2011: 974.02km (608.7mi)

To meet my goal of running 1100km in 2011, I'd need to run 126km in the next 4 weeks. That's 31.5km a week. I don't think it's gonna happen, folks.


Larry David's Rough Night Out With The Aging Literary Lion | The Awl - The real story behind the Seinfeld episode "The Jacket." I had no idea Elaine's father was based on a real author!

Thursday, December 1, 2011

Well, it's the first of December, so that means that Movember is finished! The Snook managed to raise $220 in donations, but you can still contribute if you like. The most exciting part (to me): he actually did go through with his pledge to start tweeting once he hit his target. Looks like everybody's kicked a goal... :)

The Snook used Everyday to take a photo just about every morning throughout the month. This short animation shows them all in time lapse. I think it's funniest if you keep your eye on his upper lip. The hair just comes shooting right out!



Thanks again to everybody who donated!

archives
You can search through the archives by post keyword using the form on the left, or you can browse by month using the links at the bottom.
"Moblog" refers to posts and images posted directly from my mobile phone.

"PW Blog" refers to posts recovered from my very first weblog, which dealt with news related to my college dorm.