Friday, February 27, 2009

Article in NYT about Korean fusion food. Kimchi tacos? Kimchi on hotdogs? Kimchi quesadillas? SIGN. ME. UP.


Surprising stories behind 20 Muppet characters. Neat! I always had a fondness for Rowlf and Fozzie. (Link courtesy of Scrubbles.)

| | |
| --- | --- |
| | [5] |
Ooooh, Ravelry projects bags! Anybody want to do a combined order?

Edited to add: As Miss Fee rightly pointed out, these things tend to sell out quick so best not to dawdle. I've just placed an order for six of the project bags. So far four of them have been claimed, so let me know if anyone wants the others. The cost with shipping works out to $17 AUD.

Thursday, February 26, 2009
| | |
| --- | --- |
| | [4] |
Spicy Shredded Pork. Oh, YUM. My sister - the former vegetarian! - made this yesterday, and it sounds so good. I need to do that on the weekend.


Baby Slippers. So wrong they go all the way through Wrong and back to Awesome. (Link courtesy of Nora.)

Wednesday, February 25, 2009

If the Wii Fit board could really talk... (Link courtesy of Andrea.)


RunningBlog: Best. Workout. Ever. I had a GREAT session at Spudds today. We started off doing the normal gym circuit: treadmill, bike, elliptical, boxing, jumprope, weights, climbing machine. My legs and hips were pretty tight from my long run on Sunday, so I didn't feel great at first. But I quickly noticed that I was starting to feel strong, especially in the boxing. Spudds said it was my best boxing round yet. Then instead of making us run around the block and do the circuit again... we went to the park! It was a beautiful day. We took a couple rugby balls, and Spudds had us start out doing catching drills in a circle. Then it was the dreaded "suicides." (That's what we used to call 'em in Indiana.) You know, the thing where you run to the first line, touch it, run back, then run out to the next line, each time going a little bit farther? Yeah, that kinda sucked. Especially when he made us do squats at each line. Then finally it was time for some fun. We divided into teams and started kicking the balls back and forth. I immediately flashed back to every horrible school gym football experience and braced myself for the inevitable embarrassment. But you know what? I was fine! Spudds showed me how to do a drop-kick, and I managed to get 90% of mine up in the air to the other team. I even managed to catch most of the ones that were kicked to me. It ended up being so much more fun than I'd expected. I'm so glad we did it. It's such a confidence boost to find out you can do things you didn't know you could.

| | |
| --- | --- |
| | [8] |
Dia de los Muertos!
This is the last of the three necklaces I bought in the Etsy Bushfire Appeal Shop two weeks ago. This one is from TangledAndShackled.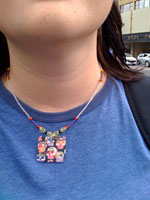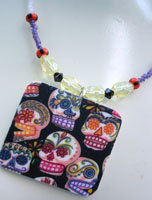 The first photo is me this morning; the second one is from the seller. The pendant is hand-made from shrinky-dink plastic; I assume that means she painted it herself. It's strung with seed beads and some other funky crystals. I bought it thinking that it was ugly but that I loved it anyway. It's fun!


100 Best Websites for Chocolate Fanatics. They linked to my Dahl site down there at #94. Neat!

Tuesday, February 24, 2009
| | |
| --- | --- |
| | [1] |
Gaping Hole Halloween Costume. That is AWESOME. (Link courtesy of Shane.)

| | |
| --- | --- |
| | [1] |
Kimchi Pork Belly Pizza. *drool*


"Kristy, Are You Doing Okay?" Just fine, actually. Why do you ask?

| | |
| --- | --- |
| | [5] |
The Swallow's Treasure
This is the second of the three necklaces I bought in the Etsy Bushfire Appeal Shop two weeks ago. (Here's the first one.) This one is called "The Swallow's Treasure" and it's from Eclectic Moi. It's not the type of thing I normally go for, yet for some reason the little bird really appealed to me.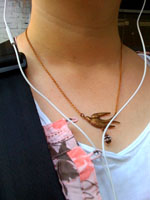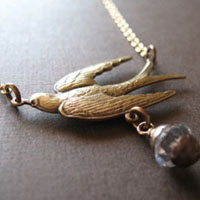 The first photo is me this morning; the second one is from the seller. The swallow and chain are brass, and she carries a little Swarovski crystal beneath. Snookums was a little dubious about it at first. He said it reminded him of the joke in Monty Python and the Holy Grail about swallows carrying around coconuts. The seller's description sounded as if she was referencing a story or myth though. So I did a bit of googling, and whoa! It's a Korean folk tale! I had no idea. Isn't that just perfect? I love it.

Monday, February 23, 2009
| | |
| --- | --- |
| | [1] |
And the winner is... Mikey Filmmaker! Congrats to Mikey for taking out the top spot in this year's Web-Goddess Oscar Contest. Second place went to Brian Kohut. Both Mikey and Brian managed to correctly guess all twelve winners - including "Departure"! - but Mikey's guess for the number of dead people in the tribute montage was closer. So he gets the sock monkeys! Thank you to everybody who entered this year, and especially to Jenny for keeping me updated with the winners. You guys rock! (The full list of entry scores is here. Crystal and Renata, better luck next year...)

| | |
| --- | --- |
| | [1] |
Jenny is reporting 38 dead people in the obituary tribute montage. Can anyone confirm or refute?

| | |
| --- | --- |
| | [1] |
Mines in Space!
If you like Minesweeper and you have an iPhone, you need this game. Between this and Bejeweled, I'll never be bored again. It's got your classic Minesweeper, sure, but it's also got three other variations on the theme. I like "Imposter" the best, where you have to spot the aliens hiding amongst the boulders. Rodd prefers the hardest one of the bunch: "Rocket Shuffle." It's as if the columns on a normal Minesweeper board were shuffled like a slot machine, and you have to line them up the correct away again. He got the logic of it immediately, but it takes me a lot longer to recognize the patterns. There's also a "challenge" mode at the end where you have to progress through 100 of the other challenges. The graphics and sounds are great, but my favorite thing is the trophy wall where you unlock achievements. Seriously, this is one of the best apps I've purchased. (And it's on sale now!)


Buffy the Vampire Slayer (Abridged). All seven seasons in three minutes and twenty seconds.

| | |
| --- | --- |
| | [4] |
We've passed 400 entries in the Oscar Contest! Of course, I've already had to clean several duplicate and suspect entries out of there. "One entry per person" means just what it says. You can't enter again a few days later. Get it?

Update: Entries are now closed! We ended up with 459 in total. You can track your progress on this page. (Hopefully you entered a distinctive name or URL so you can find yourself!) It'll get updated as each award is announced. Good luck everybody!

| | |
| --- | --- |
| | [2] |
I won something!
Holy crap! I won a major award! Okay, well not major. But I did win some awesome electronic kitchen scales in the Grab Your Fork 1000 Posts Giveaway. Out of 852 entries, my little email was one of 8 that got picked! And even better, that's actually the prize that I wanted the most. What a good way to start the week...

Sunday, February 22, 2009
| | |
| --- | --- |
| | [2] |
Oscar Contest - Last Chance!
There's less than 24 hours til the 2009 Oscar telecast begins, which means you'd better enter my Contest if you haven't already! It seems a lot of folks have left it til the last minute, and the number of entries has been climbing rapidly this week. We're up to 360!

As usual, I'm asking if any of you with Tivos would be willing to volunteer to report on the number of dead people in the annual tribute montage. With this many entries, I think the tie breaker is going to be really important! (Unless there's an upset. COME ON, UPSET!)

Saturday, February 21, 2009
| | |
| --- | --- |
| | [3] |
Tired. Spent entire day working on Guild stuff.

Friday, February 20, 2009
| | |
| --- | --- |
| | [3] |
Zooborns - pictures of exotic baby animals from around the world. TOTAL CUTENESS OVERLOAD. And what's more, they have a free iPhone app! I can look at baby elephants and lemurs and gorillas wherever I go!

| | |
| --- | --- |
| | [3] |
StillTasty - the ultimate shelf life guide. This should hopefully eliminate all kinds of arguments the next time I go on a rampage and clean out the pantry.

Edited to add: Holy crap! You're not supposed to wash chicken before you cook it. WHAT?!

| | |
| --- | --- |
| | [21] |
Fatbet is ON!
Okay, in case you missed the Fatbet post below, I've set one up. It runs for the next three months. If you want to join in, all you have to do is set a reasonably difficult (yet achievable) weight loss goal for that period of time. (Note: The other competitors don't see your weight; just your progress towards your goal.) I'm suggesting that anybody that doesn't achieve their goal must PayPal $50 to the person who loses the most. People who achieve their goal must PayPal $20 to the ultimate winner. Yes, I'm talking real money here. That was the whole point of the NYT article that gave me the idea. People who literally bet their ass stand a much better chance of reaching their goals! If you want to join in, just send an email or leave a comment.

Note: The stupid site only uses pounds, not kilos. So those of us using the metric system have to convert.

Thursday, February 19, 2009

What the hell? Summer Roberts is marrying Anakin Skywalker? I am agog.

| | |
| --- | --- |
| | [2] |
Green Bamboo in Resin
I went a little bit nuts on the Etsy Bushfire Appeal shop last week and bought three necklaces. Me? Necklaces? I KNOW! Insanity. Anyway, the first two arrived last night so I'm working the bling today.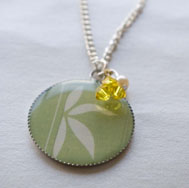 The first photo is me out in the park at lunch today; the second one is from the original seller. The necklace is "Green Bamboo in Resin" from Cherbie's Creations. It's Japanese paper in a pendant with resin on top, along with a tiny pearl and some crystals. Pretty, huh? I didn't even realize until Snookums pointed it out this morning that the design on the paper makes a "K". Nice!


Another tote bag tutorial. This one looks a little more complicated than the previous, but also a bit more sturdy. (Why am I obsessed with sewing projects lately? I think I may need to take a break from knitting for a while.)

| | |
| --- | --- |
| | [7] |
Fatbet
Okay, I just read this NYT article about the efficacy of using wagers and competition to promote weight loss. Hmmm. I know that doing the Nike+ challenges against some of you motivated me to run farther. Maybe it would also work to drop some weight? I found this site Fatbet.net that hosts weight loss challenges. Each person gets to nominate the amount they want to lose in the time frame, so you can participate even if you don't have a lot to drop. We could also nominate an actual wager that would provide incentive. I'm thinking actual cash that the winner would put towards a new wardrobe. Thoughts? Anybody interested?

| | |
| --- | --- |
| | [10] |
Stress
ARGH. I've been having stress about our house for the past week. (See? This is why I wanted to keep renting.) One of the neighbours stopped by last week to let us know about an exterminator that was going to be working, and then casually asked if we had any plans on paying our outstanding strata fees. Uh, what? Frantic inspection of the filing cabinet revealed that we have not received a single mailing from the strata management company for a full YEAR. No bills, no AGM notice, nothing. We've spent the last week trying to get anyone there to actually send us an invoice so we can pay it. We finally had to get the Head of the Body Corporate (and her paralegal) involved to get things moving. It turns out they've had our address wrong this entire time! GAH. So yeah, we're getting it straightened out, but now I feel paranoid that all the other owners think we're deadbeats. I'm going to have to bake them all cookies or something.

Wednesday, February 18, 2009
| | |
| --- | --- |
| | [4] |
MetaFilter wonders: Which one is the hip pocket? My gut reaction was the front pocket, but the sources seem pretty conclusive that it's the rear.


Fat Quarter Tote Bag Tutorial. Must make this!


We've just hit 200 entries in the Oscar Contest! You've got less than a week to put in your picks if you haven't already. We've got clear frontrunners in almost every category, so I am really hoping for some upsets. (Where did Penelope Cruz come from? She's gotten a big late surge in picks...)

Tuesday, February 17, 2009

Note to self: Use Aurebesh in a knitting pattern sometimes for maximum geekitude.

| | |
| --- | --- |
| | [1] |
RunningBlog: Congratulations to Kristen who just ran her first marathon this past weekend! She's posted an awesome race report too. She's giving me very dangerous ideas...

Monday, February 16, 2009
| | |
| --- | --- |
| | [4] |
I heart Yoko.
I kinda always liked Yoko Ono, though I didn't know much about her. I just had this vague idea that she was a cool yet wacky Asian chick who did her own thing. I felt a vague sense of feminist annoyance whenever people blamed her for breaking up the Beatles. I also really like Dar Williams's song "I Won't Be Your Yoko Ono". Then a few weeks ago, I stumbled across Yoko's Twitter feed and decided to follow her. I guess I thought it would be pretty funny, because obviously she'd be a weirdo, you know? But instead I think it's fantastic. She posts these whimsical, childlike notes every day or two. I don't know if it's part of a performance, or whether she really is like that. But then today came THE BEST THING: she posted her 25 things list. I absolutely love it. She starts off talking about feet and shoes and face creams and gloves and then moves on to John and Martians and war and daydreams and gods and dinosaurs. I know that sounds terribly twee and contrived, but really it's not. She's much more interesting than I ever gave her credit for.

Sunday, February 15, 2009
| | |
| --- | --- |
| | [5] |
Not-So-Secret Guild Business
So the big news of the weekend was that I was elected unopposed as the new Convenor of the Inner City group of the Knitters Guild of NSW. Basically that means I'm in charge of running the meetings for our group of 32 knitters every month. My first act upon taking power was to MOVE THE MEETING! Our old location at Humanist House was getting decidedly cramped. So last week I got in contact with a nice lady at the City of Sydney Libraries who ended up offering us free meeting space at Customs House Library! Fiona and I checked it out Saturday afternoon and it's PERFECT. (Photos: 1, 2, 3, 4) The group members agreed to it immediately so I've been busy sending out notices and updating websites. In the space of a fortnight I've gone from "Revolution!" to holding an office within the regime!

| | |
| --- | --- |
| | [3] |
Cats and cupboards
The foot board beneath our oven used to be broken, and Dr. Amy would climb in and hide under there. We didn't want Petey learning that trick though, so when we got him Rodd finally fixed the board back in place. Amy was really confused and disappointed. She kept wandering the kitchen like she was looking for the entrance to Narnia. Unfortunately it seems to have spurred a sudden leap in intelligence. She's figured out how to open cupboards. THIS IS BAD. Now I walk in the kitchen and it's like that scene in The Sixth Sense, when all the doors are hanging open. I actually watched her do it this morning while I was making breakfast. She walked right up to the corner cupboard and used her head to pull it open, then climbed in amongst the pots and pans. (The doors have magnetic spring catches on them, but the springs are pretty much dead. Obviously we'll have to replace them sooner than expected.) Now whenever I go to cook dinner, I have to check for cat hair in the pans. I just hope they don't start teaming up against us...


Happy Valentine's Day!
The Snook and I celebrated in our traditional way: going out for a nice dinner. We'd made a reservation earlier in the week for Redoak. They were doing a special Valentine's set menu, and they also had two new recently-launched beers that we wanted to try. WIN-WIN! We got there about an hour early, thinking we'd hang at the bar and try the new beers. We talked to Janet about her family in Victoria surviving the bushfires, which seems pretty miraculous. Apparently a lot of the produce they use in brewing comes from the family farms, so they're waiting to hear how much of it (if any) survived. Well, we gave them our support by ordering half a dozen beers over the night. My favorite was the new Biere Blanche, a Belgian wheat beer (somewhat similar to Hoegaarden). Our table was free so they seated us pretty early and we got stuck into our dinner. For the first course, I had an onion and blue cheese tart while the Snook had calamari with pasta. For mains, I had an absolutely fantastic sirloin steak while the Snook went for the bream fillet with risotto. Dessert was a shared plate with four different morsels on it. We left feeling well-fed and happy. I'm glad Redoak has managed to survive in Sydney over the years. We need more places with great atmosphere, great food, great service, and most importantly, great beers.

Friday, February 13, 2009

If you haven't yet entered the web-goddess Oscar Contest, Roger Ebert has announced his picks which might give you some tips.


Hahaha... To celebrate Valentine's Day, Amazon.com are offering a free MP3 download of "Let's Get It On" by Marvin Gaye. Nice.

Edited to add: Bastards. It's US-only. Of course, they don't tell you that until you've already logged in and installed their stupid Downloader app. Grrr.

| | |
| --- | --- |
| | [5] |
Pride & Prejudice as a Facebook News Feed. THAT IS MY FAVORITE THING ON THE INTERNET, EVER. "Fitzwilliam Darcy became a fan of Fine Eyes." It's just perfect in every way. (Link courtesy of Lara.)

| | |
| --- | --- |
| | [5] |
Blood Clot and Brain Cupcakes. Bookmarking for Halloween... even though nobody ever eats cupcakes at parties, and I always forget that.


Hey, I know we've just had a heartbreaking national tragedy and all, but what I think we all really need is for Germaine Greer and Miranda bloody Devine to start pointing accusatory fingers at everyone they don't like. Doesn't that just make everyone feel better? Thought so.

| | |
| --- | --- |
| | [2] |
I forgot to mention that we got a Cat-It Drinking Fountain last weekend. Snookums had noticed that Professor Death liked playing with his water bowl, so we figured he might prefer running water. The pet store at Broadway was out of stock but had an ex-display model they offered us for $50, so we snapped it up. As expected, both cats were pretty wary at first. Petey's come to like it a lot though, and he often drinks from the water spilling out over the dome. We've heard that urinary issues in male cats are both life-threatening and expensive, so anything that keeps him drinkin' water is a good thing!

| | |
| --- | --- |
| | [2] |
Bush Fire Donation Round-Up
I've heard from a few non-Australians who want to know where/how they can donate to the Bush Fire Appeal. Here are some campaigns that I know about:I was really happy to hear that my new company donated $10,000 to the Appeal. I hope we can all do even more.

Edited to add: I've had an enquiry about using American credit cards to donate Aussie Dollars. It's cool; your credit card company will handle the exchange. (I use my Aussie card to buy stuff internationally all the time.) Your statement will show the exchange rate they used, and IIRC credit card companies/banks usually give you a pretty decent rate.

| | |
| --- | --- |
| | [2] |
Wow! Snookums just pointed out that I'm on cracked.com today, albeit indirectly. See that Valentine at #15 there? Whoever Photoshopped it took it directly from mine! I don't mind though; it's worth a chuckle. And a lot of people in the comments seem to think that one was the best of the lot.

Thursday, February 12, 2009
| | |
| --- | --- |
| | [2] |
Amish Hackers. Fascinating article about the complex relationship between Amish and technology. I'll admit that I always thought they were a bit hypocritical - riding in cars but not owning them - but this article has made me rethink that a little bit. They're slow geeks.

| | |
| --- | --- |
| | [1] |
For the Snook: Whiskey vs. whisky. He takes such things seriously.

| | |
| --- | --- |
| | [11] |
Vanilla Creamed Rice with Rhubarb
We got another bunch of rhubarb in this week's veggie box, and I was at a loss what to do with it. Rodd's already made a batch of (extremely good) rhubarb and apple jam. We have a big bag of chopped rhubarb in the freezer. What's next? Then I found this recipe, which is basically rice pudding with rhubarb on top.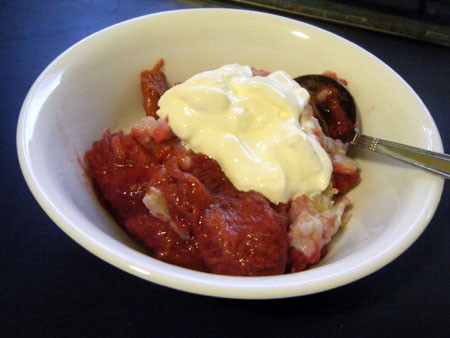 SO. GOOD. I think that's going to be my go-to recipe for rice pudding from now on. We usually have all those ingredients on hand, so it's easy and quick to make up. It's not disgustingly sweet either. The rhubarb was really simple. You just chop it all up and throw it in a saucepan with a little water and sugar. I was skeptical at first. Like, here's this pan of very crispy stalky bits, almost like celery. How's that going to turn to mush? I turned it on low and left to watch Time Team for 10 minutes. When I got back... beautiful pink mush! (I wonder how/why it breaks down so quickly?) Anyway, we had some for dessert last night and then finished it off for breakfast this morning. That's a big dollop of Greek yoghurt on top. Highly, highly recommended.

Wednesday, February 11, 2009
| | |
| --- | --- |
| | [2] |
President Obama speaking in Elkhart this week:
"Now, with respect to Sean Hannity, I didn't know that he had invited me for a beer. But I will take that under advisement. Generally, his opinion of me does not seem to be very high. But, uh, but I'm always good for a beer."
I sent that to the Snook today. His response: "I hope he found time to stop in at the Mishawaka Brewing Company for a pint of Four Horsemen on his way back to the airport." Indeed.

| | |
| --- | --- |
| | [6] |
The Big Picture covers the Victorian bush fires. Devastating... but beautiful, too. It was #23 that shocked me, seeing rivulets of metal on the ground that had melted out of someone's wheels. Oh, and the "graphic" one that you have to click on is of a dead horse (not especially graphic, I'd say).

And while it's really great that this tragedy is getting international coverage and motivating people to think about what happens outside their own tiny bubble... SYDNEY IS NOT ANYWHERE NEAR MELBOURNE. I've had a couple people ask if we were near them. And while it's sweet that they were concerned, there's also an annoyance factor there. Australia is as big as the continental US. Sydney and Melbourne are 500 miles apart. That's about as far as my hometown in Indiana is from New York City. I don't expect people to be experts in world geography, but I thought it was fairly common knowledge that Australia is BIG.

Tuesday, February 10, 2009
| | |
| --- | --- |
| | [2] |
Attention, American friends/fam: I just found out that United is having an unadvertised sale on tickets to Sydney. They're about $1000 round trip (including taxes), and apparently Qantas is price-matching. (Flying Qantas is MUCH BETTER than United.)


Pixel Cookies. Those are AWESOME! (Link courtesy of Snookums.)


Google have release Mobile Sync for iPhone. This is exactly what I was using Nuevasync for, so I guess I can switch over to the official version.

| | |
| --- | --- |
| | [6] |
"Wealthy commuters shun public transport." You know, stories like this make it harder and harder for me to think anything nice about people who live in Mosman. Whack 'em with a congestion charge, I say. If London can charge five quid (or whatever) to access the CBD, so should we. Obviously the Bridge Toll isn't enough. Then put that money straight into public transport.

Now if you'll excuse me, I have to go catch my bus.

| | |
| --- | --- |
| | [2] |
Oh, and Happy Birthday, Dad!


Obama in Elkhart
I woke up today to an email from my Dad asking how come I hadn't mentioned Obama being in Elkhart on w-g yet. HUH? (Oh, maybe because we just had a mammoth natural disaster and nearly 200 people are dead? The newspapers are kinda full of that.) But regardless, I was excited to hear that Obama chose Elkhart to try to sell the American people on his stimulus package. I mentioned before that Elkhart - where most of my immediate family live - currently has the highest unemployment rate in the country. The RV industry there has collapsed. Thankfully no one in my family is out of work yet, but several are on mandatory reduced hours. Dad told me that thousands of people lined up to get tickets to the event. (He also scornfully mentioned that someone then tried to scalp one on Craig's List.) I'm going to try to find some news coverage of the actual meeting...

Monday, February 9, 2009
| | |
| --- | --- |
| | [3] |
Of socks and fake deaths...
This is nuts. You think my Knitters Guild drama is silly? The knitting universe was ROCKED ten days ago by the revelation that yet another sock designer had faked her death. I'm not even joking. (The previous instance.) The MO seems to be to set up a business selling yarn and patterns, fleece a whole lot of people, disappear with the cash, and have a "friend" post an obituary for you. Bonus points if you come up with a rare yet believable disease and manage to get people to donate cash to your grieving family.

And you thought we just liked to play around with yarn.

| | |
| --- | --- |
| | [1] |
T-Mobile Advert Spoof Closes Train Station. Ha! That's pretty brilliant. I mean, the original flash mob was brilliant. The copycat event that closed down the station later was lame. That's my whole problem with flash mobs, really. You can expect every creative and original idea to get run into the ground a zillion times afterwards. But still, I've would've loved to have been there when the original one was filmed.


An Awesome Book
I got an email recently from Dallas Clayton. He wrote an Awesome Book that he thought I would like. It's neat! Thanks, Dallas.


Thanks to a post on Grab Your Fork, I just discovered that we're getting a Taste of Sydney Festival! (And it's on my birthday!) I used to love going to the Taste of Chicago. Unfortunately it looks like our version it going to be ticketed. I guess it will cut down on any insane crowding, but it does increase the expense quite a bit.


Weekend Update: Mostly we just hid in the house to escape the heat. We watched the first half-dozen episodes of Battlestar: Galactica. I made some good progress on the sleeves I'm knitting. I went for a run on Sunday night once the weather started to change. There were several more developments in the ongoing Knitters' Guild saga - including some humorless busybody dobbing me in for using Ann Westren's name in a joke on Ravelry, to which I responded by calling Ann, telling her the joke, and thanking her when she laughed and laughed - but I'm going to try to disengage from that drama for a while. There are more important things to worry about.

| | |
| --- | --- |
| | [2] |
More than 100 people are now dead in the Victorian bushfires. It's the worst natural disaster in Australia... ever. There's really just no way to process that. Firemen have likened the scene down there to a war zone, or the post-apocalyptic landscape from Cormac McCarthy's The Road. Though there were a number of fires in New South Wales too, thankfully we were spared the worst of the hot weather and no one was killed.

Updated: The death toll is now 128 and expected to rise. Good god.

Friday, February 6, 2009
| | |
| --- | --- |
| | [1] |
Whoa! I've just discovered that my co-worker Stu, who teases me whenever he walks past and wears wacky Hawaiian shirts, is actually a photographer of some reknown. I'll have to check out his exhibition. (More info on his site here.)

| | |
| --- | --- |
| | [8] |
Secret Guild Business
It's been a light blogging week because once again SCANDAL has erupted within the Knitters' Guild of NSW. And before you get all "Teehee, isn't it cute how the knitters argue over whether it's 'purl 1 knit 1' or 'knit 1 purl 1'!" this issue really has nothing to do with knitting and everything to do with politics and bureaucracy. For the past few years, many of us have heard the complaints about the Guild being out-of-touch, insular, and fuddy-duddy and tried to change the system from within. I've gone to several AGMS and Executive Committee meetings to try to educate them about the possibilities of doing more Guild business online. Others have sent letters and taken up Committee positions. Not much has changed. Last November, a discussion started on Ravelry about ways the Guild could change for the better. (Sample suggestion: They could accept credit card or online payment, instead of requiring people to post a cheque. It's not exactly burning the Reichstag, is it?) The Guild's response was to try to shut down the discussion. Some good came out of it though, because many new people were motivated to join and a few even dared to nominate for the Executive Committee itself. The nominations were due to close last Friday, and I was happy to hear that not only had three of the "revolutionaries" made it onto the shortlist, but that the lack of other nominations meant an election wasn't necessary. One of the three mentioned on her blog that she was looking forward to the challenge, and a couple of us congratulated the three on Ravelry. Not long after, we were told that the nominations had not closed, that the date had been published wrong, that two more mystery nominations had been received (necessitating an election), and that the three had been "stupid" in mentioning it online. And that was pretty much the straw that broke the camel's back. [more...]


Oh, neat! Robin Hood's "Oo De Lally" Translated. I love that song; Rodd and I quote it to each other all the time. It's funny to see the different versions from other countries. The Italian one didn't even try to match the original feel of Roger Miller's singing. Instead it sounds like a lounge singer trying to seduce someone!


"Being vigilant isn't a crime... but being a VIGILANTE is!" I am so freakin' excited about Watchmen.

Wednesday, February 4, 2009
| | |
| --- | --- |
| | [1] |
Huh. I think I had a vague idea that Steve Martin plays the banjo, but I didn't know how much of an expert he is! I like that he has this secret hobby that most people don't know about. I just sent that link to my Grandpa, who also plays (and even "gigs" in Indiana/Ohio). I'm tempted to send him Martin's new album off Amazon too.

| | |
| --- | --- |
| | [2] |
Guitar Hero Scarf. Sweeeeeeet. Of course, my version would be knitted instead of crocheted. (Link courtesy of Bex, who finds my obsession a bit funny, I think.)

| | |
| --- | --- |
| | [3] |
So wait. Yesterday I got all excited thinking the government was giving me $950. Then today I was flipping through the Telegraph (I know, I know!) while waiting for my bagel at the cafe and they had a chart showing who'd get what... and that seemed to indicate that the pay thresholds applied to households. Which means we'd get zilch. So which is it?

| | |
| --- | --- |
| | [1] |
Carrie Fisher is blogging. I especially liked her reminiscences on the not-so-metal bikini.

| | |
| --- | --- |
| | [5] |
Pizza Bianco with Goat's Cheese and Greens
We've had quite a bit of silverbeet in the fridge from the last two veggie boxes. (For those unfamiliar, it's a green with long stalks and big ruffly leaves. Also known as swiss chard.) The classic ways to use it are in a quiche or in a soup, both of which we've done before. After searching around last night, I hit upon this recipe for a "white" pizza with garlicky silverbeet strewn on top. Yum! The only change I made was using a storebought pizza base, since it was a weeknight and we were too HUNGRY to make our own.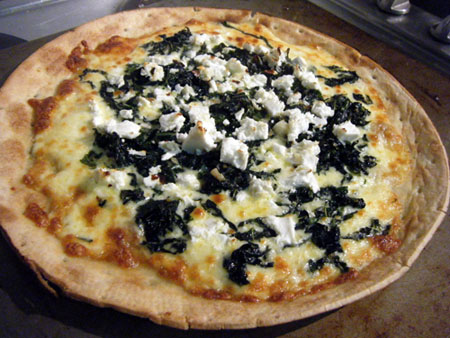 It was excellent. Highly recommended if you're looking for something quick but also a little bit different.

Tuesday, February 3, 2009
| | |
| --- | --- |
| | [3] |
We watched the premiere episode of Wipeout Australia tonight. It was great! They did an excellent job of capturing the fun of the original: stupid telestrator jokes, mockery, silly puns, visual gags, and people getting punched in the nuts. I was curious about the course, because it looked exactly like the one in America. To my surprise, it actually is the exact same course... and it's in Buenos Aires! Who knew? But the only disappointment of the show was the prize: $20K. Man, the Yanks get $50K! That sucks.

Monday, February 2, 2009
| | |
| --- | --- |
| | [1] |
If any of you have Guitar Hero: World Tour, be sure to log into the Music Store ASAP. There are two new downloadable Bruce Springsteen songs (including "Born to Run"!!) and they're free for two more days...

| | |
| --- | --- |
| | [3] |
The Smell of Summer
(This one's going to make my Mom and sister go nuts.) We planted two containers full of basil this year, thinking we'd compensate for our perennial inability to grow it with sheer volume. Instead, we must've gotten something right as it basically went berserk. It's been trying to flower for the past month, so every couple of days we've been going out and picking off the flower buds to keep it producing. We've got more than we'll ever be able to eat before it wilts though, so yesterday we decided to do a big harvest and make some pesto.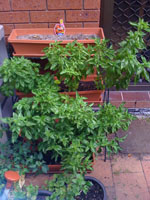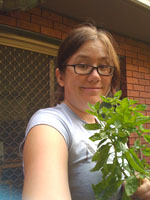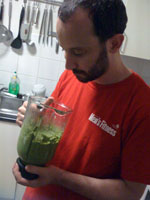 I basically ended up picking about 2/3 of what you see there, which filled a huge bowl to the brim. Snookums then washed it and chucked it into a blender with olive oil, garlic, pinenuts, and parmesan. Mmmm. He made half a blender-full, so we froze it in ice cube trays in the freezer.

My hands still smell good today.


I checked out the BOM this morning to look at the weather forecast. Melbourne's description made me laugh: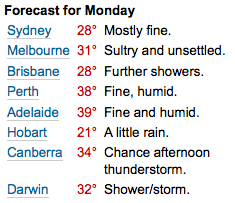 So basically, the BOM is telling Melburnians that today they'll be living in a Tennessee Williams play.

Sunday, February 1, 2009

Entries for this year's Easter Show Arts Competitions are meant to be lodged online by 5pm tomorrow. So of course, I left it til the last minute... and now I'm starin' at this. MICROSOFT FAIL! I hope they fix it by tomorrow.

14 Hours Later: It's fixed! And my entry has been lodged. Phew.

| | |
| --- | --- |
| | [3] |
A Story in Pictures. Photos of two of the most important women's-related bill-signings in recent years. Can you spot the difference?

archives
You can search through the archives by post keyword using the form on the left, or you can browse by month using the links at the bottom.
"Moblog" refers to posts and images posted directly from my mobile phone.

"PW Blog" refers to posts recovered from my very first weblog, which dealt with news related to my college dorm.