Tuesday, August 31, 2004
| | |
| --- | --- |
| | [4] |
Where did the computer go? *drool* I want one so bad it hurts.

| | |
| --- | --- |
| | [2] |
Holy crap. Another reason to be glad we left England: a study of air quality in the UK has determined that breathing the air around Hammersmith - which is, oh, where we lived and worked for two years - is equivalent to smoking 27 cigarettes a day. No wonder I didn't develop hayfever in London... My nose and lungs were completely coated in crap!

| | |
| --- | --- |
| | [1] |
High culture, low culture...
Last night Amy stopped over and we headed to Gleebooks for a reading by Lynn Truss. Truss is the author of Eats Shoots & Leaves, a manifesto for those of us driven mad by bad punctuation. She was an entertaining speaker who kept the crowd laughing with slides of real, badly-written signs. Afterwards we got our books signed and headed home. Then Snookums and I ate Subway for dinner while watching the director's commentary of Dude, Where's My Car?

And that pretty much sums up everything you need to know about me.

Monday, August 30, 2004
| | |
| --- | --- |
| | [2] |
This one's for Max: Bea Arthur for President! Apparently Ms. Arthur got pulled up at Logan Airport for having a penknife in her bag and then proceeded to make a huge scene about how "terrorists" must have put it there. Go Bea!

Sunday, August 29, 2004
| | |
| --- | --- |
| | [7] |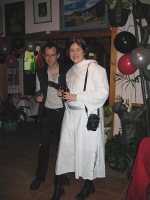 Rebels and Revels
Last night the Snook and I attended the massive 50th birthday celebration of his Auntie Linda. It was held about an hour south of Sydney at a cafe overlooking the coast. The invitations she sent out weeks before declared 1954 as "the year of the rebel" and instructed the guests to "come dressed as whatever a REBEL means to you." We thought long and hard about it and decided that - for us - nothing less than the Rebel Alliance from Star Wars would do. (It was also a pretty lazy option, since we knew we could probably borrow Amy and Rob's costumes from last Halloween.) Anyway, here we are as Princess Leia and Han Solo. Check out the Snook's chest hair! What a scruffy lookin' nerf herder. The rest of the immediate Snook family displayed similar creativity: Pa and Ma Snook were Robin Hood and Maid Marian, while sister Jeannie and husband Chris went as Asterix and Obelix. Unfortunately most of our fellow partygoers interpreted "rebel" to mean "skanky and gothic in the manner of Kelly Osborne", so the six of us really stood out. It was a fun night of drinking, dancing, and nibbles. How could you not enjoy a party that included a lesbian wedding proposal, an S&M version of Dorothy the Dinosaur, and the many jibes at Pa Snook's shapely legs? [more...]

Thursday, August 26, 2004
| | |
| --- | --- |
| | [3] |
Sixty of the world's greatest scientists have declared Bladerunner the best science fiction film ever. And then they didn't even have the decency to list Philip K. Dick as their favorite author? Stupid scientists.

| | |
| --- | --- |
| | [1] |
Olympic Gold Medals Per Capita. Hey, on this ranking Australia is #2!

| | |
| --- | --- |
| | [3] |
Jana Pittman lost. Hmm, maybe that means we'll finally get to stop hearing about her stupid knee for a day or two.


Tex! - George Bush and the Fine Art of Character Assassination is a new comic book satirizing the Bush presidency. My buddies the Poulos siblings have been helping out the creators. Check out that preview. Well done, guys!

| | |
| --- | --- |
| | [5] |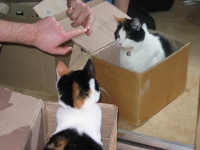 Looking Glass Cats
Amy's getting so big! Fortunately her hunger seems to be plateauing and she's not whining for food every minute like before. She also doesn't wolf her dinner down all at once only to puke it up five minutes later, so that's nice too. I bought her a squeakie toy last week (out of guilt at locking her in the bathroom while we got the carpet cleaned) but she hates it. It scares the crap out of her. The only toys she really, really likes are the plastic rings from the top of peanut butter jars. I blame the Other Amy for starting that...



(I take total perverse pleasure in posting pictures of our cat, knowing that it's such a stereotypical lame thing for a blogger to do. I can't help it. If I have to put up with e-mails from my sister about her cancer dog's diarrhea, you can put up with my adorable little moggie, okay?)



Wednesday, August 25, 2004
| | |
| --- | --- |
| | [8] |
It's official. The Snook loves The O.C. I even caught him playing air piano during the theme song tonight. (The only other show we do that for is Buffy.) We squealed our entire way through the most recent episode, which involved Ryan becoming Marissa's boyfriend, Ryan telling Marissa that her mom is boinking Seth's grandpa, and Summer finally realizing she likes Seth while he's on a date with Anna. My own personal snort-Chardonnay-out-the-nose moment came when the Snook, musing aloud about Ryan's past romantic relationships, actually wondered: "What is the difference between bitches and hos?" God bless 'im. Oh, and I am developing a very unhealthy crush on Tate Donovan. *sigh* Life's too short to not enjoy crap television once in a while.


Ebert has an excellent Answer Man this week in which he answers some of the criticism Stephen King's been throwing at him (from the aforementioned Entertainment Weekly column). Oh, and in an unrelated item, Ebert uses the phrase "quote whores." That made me giggle.

| | |
| --- | --- |
| | [3] |
My So-Called Closure
At last. Remember when I ordered the My So-Called Life DVDs, oh, two years ago? What a nightmare that turned out to be. First of all, the company turned out to be completely dodgy and it took over six months for me to finally receive the discs. Then the "exclusive" deal turned out to be not-so-exclusive and the same set turned up on Amazon for less than I paid. The company swore they'd make it up to us with a MSCL lunch box and bonus disc, but before that could happen the owner got arrested by the FBI for various other swindles. It's been well over a year and I sorta wrote the whole thing off. Lo and behold, today I got an e-mail from a wholly unconnected third party who'd managed to get his hands on both the bonus materials and the list of customers! (Thank God I still check my old Yahoo address.) All I had to do was pay another $15 for shipping to Australia. Which sucks, but hey, I'll finally get my damn lunch box. If you were involved and haven't heard anything from them yet, check the forums. The guy in charge seems to be pretty helpful, considering he's doing all this for free.

| | |
| --- | --- |
| | [4] |
As the Sydney Morning Herald is now fully requiring registration to read their articles, I'm starting a personal boycott against them. I'll be getting my news from the ABC from now on. I also sent the SMH an e-mail complaining about the policy and pointing to this story about the New York Times, which points out how irrelevent the Times is online as a result of their stupid registration requirement. My rage is sated.

Tuesday, August 24, 2004
| | |
| --- | --- |
| | [4] |
Oh good grief. How do I get myself in these situations? I somehow got roped into playing basketball on a co-worker's rec league team tonight. I've told her repeatedly that I haven't touched a basketball in 15 years, that I'm out of shape and I doubt I'll last the match, that I'm clumsy and I'll most likely wipe out on my face at some point. They still need me. Now I'm freaking out that my teammates will be expecting some giant American ringer. My only hope is that the other players will all be tiny Asians and I can just stand under the basket with my arms up in the air.

Update: We won! And I didn't fall down! Oh my god, am I tired. We only had one sub so I was in most of the 40 minutes of the game. They even made me do the jump ball at the start! (I didn't get a single finger on it. My vertical is, like, two inches.) I took two shots but I missed them both. My real contribution - if I do say so myself - was on defense. Since it's a coed league, guys aren't allowed to block girls' shots. If they do, the girls automatically get the two points. Since the other girls on our team were little, my job was to be Shaquille O'Neill and get in their faces. This one girl was totally like, "Ref, come on!" when I had her cornered down in the paint. Oh yeah, I was intimidating. My real highlight came at the end of the first half. The only really good player on the other team was this Asian guy who was just schooling us every time he touched the ball. He was barrelling down the court and I just thought, "Self, he's not gettin' past you this time." So I stepped up, threw out my hip, and laid his ass on the floor! Stopped him dead in his tracks. It was a massive foul of course, but he only made one of the free throws so I think it was a moral victory. Go me! (I'm going to have bruises tomorrow.) After the game I was like, "Dude, you rock. Sorry about that, uh, body check back there." And oh yeah, I wore the big white sweatband. Check out my Intimidation Face!

Monday, August 23, 2004
| | |
| --- | --- |
| | [7] |
Saturday night we headed out with Amy and Rob to see Hellboy and eat Chinese food. The movie was pretty good and I can see where the comic fanboys would totally love it. To be honest, it didn't do a lot for me though. I laughed a couple times and flinched a few more, but I never really got emotionally involved with the characters. I just didn't care about them very much. There were also a couple confusing plot holes that never got resolved. (Spoilerish example: Why did Rasputin visit Liz at the mental hospital and cause her to burn it up? That served no purpose in his plot. Random.) Sad to say, but the highlight of the whole experience for me was watching the Snook piss himself with laughter during the preview for Dodgeball. Is it any good? Because we can't wait to see it. That and Harold and Kumar Go to White Castle. We like stupid movies.



PLUS - I had a moment of pop culture genius at the Chinese restaurant when we were all trying to guess who the hell "Ron Perleman" - who played Hellboy - was. I was like, "You guys, seriously, wasn't he in that "Beauty and the Beast" show with Linda Hamilton? And he looked like a lion and lived in the sewers? I didn't dream that, did I?" But I was totally right. And I never even watched that show!



| | |
| --- | --- |
| | [8] |
The Snook and I have officially chosen our Vegas hotel: the Stardust. I was tempted at the last minute by a great deal for a room at the Luxor but we decided to save a hundred books and kick it old-school, Rat Pack style. Now we're just trying to decide if we can actually do the drive from LA only a day after our 14-hour flight from Sydney. Greyhound is only $50... Maybe we'll just bus it. Any thoughts?

| | |
| --- | --- |
| | [7] |
Anybody in the States up for a food swap? I've been having a craving for Little Debbie lately that cannot be ignored. (Yeah, yeah, diet schmiet.) I'm willing to send off a little care package of Australian goodies in return. Who's up for it?

Sunday, August 22, 2004

Andrew pointed me to this website about a 90-year-old man trying to walk every street of Sydney's suburbs. He's already done 100 out of the 500! Unfortunately he hasn't been to Chippendale yet.

| | |
| --- | --- |
| | [5] |
Crankiness and tears.
My allergies officially crossed the line today from being merely irritating to completely debilitating. It was stupid, but I ran out of Zyrtec a few days ago and decided to go without it to see what would happen. (I dunno; sometimes I wonder whether pills actually do any good, you know?) As a result, within two minutes of waking up this morning my eyes and nose were streaming. My sinuses were burning and I couldn't stop sneezing. I felt awful. I couldn't even think straight; it was like my head was filled with nasty steel wool. Even after some emergency Zyrtec I still felt like ass. My head hurt and I was completely dehydrated. I was supposed to go to a Stitch-and-Bitch at my coworker's place but instead spent the whole day lying on the couch. This sucks. Frickin' dust mites... I don't get it! I've been washing the sheets in boiling water; we had the carpet steam cleaned; I've been vacuuming regularly. Nothing helps. So back on the expensive nightly Zyrtec I go. My allergy specialist has decided that I need "desensitization therapy." Basically they're going to inject me with little bits of the stuff I'm allergic to - repeatedly - until I get used to it. I'm just waiting for the allergens to arrive from France (the apparent allergy capital of the world). Then come the shots. And if that doesn't work, I'll have to have surgery on my sinuses! Man, this sucks. Anybody want to chip in and get me one of those Japanese nasal teapots?

| | |
| --- | --- |
| | [5] |
Dog Toy or Marital Aid? I'm rather surprised to announce that I got 11 out of 14 correct! I swear it's just because of all the time I've spent in the pet store getting things for the cat. Really. (Link courtesy of John.)

Saturday, August 21, 2004

Notre Dame vs. the KKK. Fascinating stuff. Like Brigita, I'm wondering why I never heard this story while I was a student...

| | |
| --- | --- |
| | [3] |
Amy! Check it out: Lynn Truss, who wrote Eats, Shoots & Leaves, is coming to Sydney! She's appearing at a Literary Lunch on the 31st. Can you make it? Total grammar geek fest!

Friday, August 20, 2004
| | |
| --- | --- |
| | [11] |
Inappropriate...

... Umbrellas. We had two days of rain this week and each morning I hate to fight my way to work through a sea of self-important wankers carrying golf umbrellas on the sidewalk. Look, people, it's raining. Accept that your feet are going to get a little wet and give the rest of us a break. This whole umbrella-size arms race is just ridiculous. I started envisioning a sketch (for the little comedy show that plays in my head, of course) involving a person carrying a patio table umbrella down George Street in Sydney. You know, like the guy with the big phone on Trigger Happy TV. That cheered me up a little.

... Children. I understand that the shop appeals to mostly female customers, and that many of those customers spend their days at home taking care of their kids. I understand that coming to a beautiful shop to indulge in their hobby must feel like a wonderful little vacation. I just wish they'd leave the damn kids at home. Every single day some mother comes in dragging her offspring, only to park them in the corner and ignore them while she shops. If it's a baby, it will inevitably start to scream and cry (while blocking traffic in it's inevitably Inappropriate Large Stroller). If they're ambulatory, they'll run up and down the length of the store while yelling. I'm not exaggerating. Our shop has lots of beautiful, shiny, colorful, expensive things that the young dears just love to run their sticky hands over and pull off the shelves into a heap. If anything, these experiences only serve to dampen yet further the nearly-inaudible tickings of my own biological clock.

... Old Ladies. Look, I like being appreciated. I go out of my way to help customers and it's nice when they thank me. There's a line, though, and occasionally it gets crossed. Like today, when a 70-year-old woman kissed me and then - I swear - propositioned me. Seriously. All because I put some wool on hold for her and promised that I'd keep it til she came back for her next knitting class. She thanked me profusely while grasping my hand and I tried to leave it at that, but she had a grip of steel and I surrendered to the inevitable cheek smooch, thinking that'd be the end of it. "Oh, you are just so special! What would we do without this girl? Isn't she the greatest! I just wish I could take you home with me! Not only will you be kept, you'll be fed and watered too!" *double take* What, what, what? Creepy old lady.

| | |
| --- | --- |
| | [2] |
I'm a hometrotter.

Thursday, August 19, 2004
| | |
| --- | --- |
| | [2] |
My sister's been adding some more photos to her wedding website, if you're interested. Thank GOD she hasn't put one of me up yet. I can only imagine the photographic horrors she could unleash upon the world. (This is where my forethought in offering her webspace on my server - to which I have the password! - is an outright godsend.)

| | |
| --- | --- |
| | [5] |
How did you decided what you wanted to do with your life? I'm weighing in on the big questions over at MetaFilter.

| | |
| --- | --- |
| | [2] |
64=65? I was a little wigged at first til I discovered how it cheats.


Congratulations to my old college friend Hoey and his wife Brigid, who're expecting their first child any day now! Hoey used my sock monkey tutorial to make a monkey for the nipper. He's gonna be a cool dad.

Wednesday, August 18, 2004
| | |
| --- | --- |
| | [5] |
*Dark Tower Spoiler Warning!*
So I finished Song of Susannah. She didn't die, yet. Man, that one really sucked though. As I explained it to Snookums this morning, it's like in the middle of The Lord of the Rings, if Sauron suddenly realized that a man named JRR Tolkien was writing his story on another plane of existence and decided to keep the good guys from winning by arranging for a van to, you know, run Tolkien over when he was out on his morning constitutional in Oxford one day. It sucks. Mostly I'm pissed off because about halfway through the book it became glaringly apparent to me how heavily the conclusion was going to draw upon actual, real world events of the past five years. Not only is this cheesy - I actually groaned when the World Trade Center made its appearance - but it just draws attention to the fact that King had no goddamn clue how this was going to end when he started it. I mean, sure, I accept that he didn't know the exact details, but I figure that an author should have a pretty good idea when he starts out whether the good guys are going to win in the end. Now I'm just cringing. It's just such a sad, non-Romantic ending for our beloved ka-tet. (As I said to the Snook, "This book just got so meta I think my brain's going to fall out.") And good grief, the whole revelation of who Susannah's baby's father is? I could've puked. Really. He had to put Mordred in the story? Mordred??? I really, really hope King can pull out a satisfying conclusion to this series because right now book 6 out of 7 has left me incredibly frustrated. I didn't realize how attached I'd become to the characters until he left them all up to their necks in cheesy, meta, cliffhanger crap.

Tuesday, August 17, 2004
| | |
| --- | --- |
| | [11] |
You know those little handwarmer things, the little bags of goo that have a metal disk in them? And you flex the disk and suddenly the clear goo starts solidifying and getting warm? Yeah, anyway, I was serving this complete psycho hosebeast of a woman today when one totally exploded in her pocket. She was like, "Quick! Quick! I need a plastic bag!" and I thought for a minute she was going to barf until she pulled her hand out completely covered in nasty white stuff. It spread all over the glass knitting counter and started hardening before my eyes. The pocket of her nice wool coat must have been completely ruined. I gave her the bag and then directed her to the bathroom. Then I had a complete Heather McNamara moment in which I praised Jesus for answering my prayers and delivering me so righteously from such a bossy, mean, stupid customer. May all who demean and harass retail assistants suffer such a fate!


Can't talk. Completely obsessed with finishing sixth Dark Tower book. Am intensely afraid that Susannah's going to die. Must read now.

Saturday, August 14, 2004

"Kissing Dementors: Fear and Social Discipline in the Harry Potter Novels." Very interesting essay. (Link courtesy of Troppo Armadillo.)

| | |
| --- | --- |
| | [1] |
Oh my gosh. Robert McKee is bring his famous Screenwriting Seminar Down Under! He's the "hack" that Charlie Kaufman and Spike Jonze took the piss out of in Adaptation. Too bad it's $600... Might have been good for a laugh.

Friday, August 13, 2004

I opened the mailbox tonight to discover the Camp Creative 2005 Course List. Sweet! Right now I'm loving some of the selections in the craft category. Would it be weird if I did the "Working With Wood - Making a Chair" class? I dunno; I just have a strange urge to try my hand at some carpentry. (My father is probably laughing right now, given that he was the recipient of my lopsided 7th-grade shop class wooden toolbox.) I also like the ceramics and stone carving. Decisions, decisions! Anybody else interested in heading up to Bellingen next January? I'm sure we can all camp out at Ma and Pa Snook's... :)

Thursday, August 12, 2004

Woohoo! I think I just won the 30,000th visitor contest over at The Zero Boss. Finally being in an obscure time zone is an advantage!

| | |
| --- | --- |
| | [8] |
Scary cat. *shudder* Now you'll all have nightmares too.

| | |
| --- | --- |
| | [15] |
It's official! Introducing the newly-appointed manager of Tapestry Craft... yours truly. I'm feeling good about the new challenges and a little stressed about the responsibilities, but mostly I'm just stoked about the nice raise. I've gone from making 50% of my Epson salary to now making 70%. Hey, at least it's going in the right direction now, huh?

| | |
| --- | --- |
| | [28] |
Me: Ooh, change the channel. I think that fetus thing is coming on.
Snook: What fetus thing?
Me: Oh, you know, the documentary that woman made that's been in all the news. What's it called?
Snook: Not Without My Fetus?
Me: *giggle*
Snook: Dude, Where's My Fetus? The Fetus Strikes Back?
Me: *uncontrollable laughter*

It just continued on from there. Five days later we're still throwing out gems like 2001: A Fetus Odyssey and Citizen Fetus. It's fun. Try it.

Note: For the record, the film was called My Foetus, which is obviously way too lame and unmemorable. And it has that weird "o" in it.

| | |
| --- | --- |
| | [2] |

Sweet mittens, eh?
So I finally finished my own pair of Broad Street Mittens with just a few weeks of winter left to spare. As you can see, mine are knitted in navy "argyle" sock wool from Heirloom. I basically followed the pattern as written (with a few exceptions based on the error I mentioned in the previous post). And yeah, I embroidered "DUDE" and "SWEET" on the backs of the mitten flaps in a subtle red wool. Heh. Somehow I doubt many of my fellow commuters are going to get the joke.

Wednesday, August 11, 2004
| | |
| --- | --- |
| | [1] |
Gahhh. I can't belive I missed Brigita's birthday. Happy belated, B! Man, I feel so out of the loop now that I'm not sitting in front of a computer for eight hours a day.


Mac users: Check out this great idea for moving all your Mail.app e-mails over to Gmail. I'm gonna try it out.

| | |
| --- | --- |
| | [2] |
Hmm. Looks like the Snook's buddy Hank has a weblog of his own! I am especially thrilled to add him to my list of daily reads because I didn't have any other "H" site. Now I lack only Q, X, and Y out of the whole alphabet. Any good suggestions?

| | |
| --- | --- |
| | [3] |
I'm ranting about governmental and societal pressure to reproduce over at The Zero Boss. I didn't realize it was something I felt so strongly about!

Tuesday, August 10, 2004

Mike Piazza enters the batter's box to the sounds of a "rotation of classic rock and heavy metal classics". Hmm. I can't decide whether this makes him more or less likely to be gay. Any readings? I was half hoping that it would be "ABBA Gold" or something similarly unambiguous. Whatever. He still kicks ass. Songs for the rest of the league are found here. (Link, surprisingly enough, courtesy of non sports fan Max.)


Bono admits that many U2 song lyrics are trite and "banal." No duh.

| | |
| --- | --- |
| | [2] |
Woohoo! New Knitty pattern for the, uh, zaftig girls. I might have to make that.

| | |
| --- | --- |
| | [9] |
Me: Why haven't Ryan and Marissa kissed yet? Jeez, it took, like, four years on the Creek for Pacey and Joey to get together!
Snookums: Yeah, but this is a sexy show. It runs at, like, quadruple speed.

Sure enough, there they are hookin' up on a Ferris Wheel in the next preview! Man, I love this show. There really is no better way to relax from a crap day than a couple glasses of red wine, reheated curry, and yet another premiere episode of The O.C. I can't wait for next episode when they all go back to school and Seth hooks up with that Jennifer Tilley-lookin' chick.

Monday, August 9, 2004

Spring Cleaning begins...
I did such a grown-up thing today: I had the carpet steam-cleaned! Our carpet has been filthy ever since we moved in and I finally decided to do something about it. Last week I noticed there was a coupon on the back of the grocery receipt to have four rooms cleaned for $80, so I called 'em up and made an appointment. The only pain was picking up, like, everything in the house that was on the floor and then moving it out of the way. Anyway, the guy came today and what an improvement! Suddenly I'm energized for all our upcoming spring tasks. Snookums has grand plans for the garden this year and even set up a proper compost box yesterday. The sun is shining and everything seems possible...

Sunday, August 8, 2004
| | |
| --- | --- |
| | [10] |
Ebert really likes Brittany Murphy. I mean, really. The pedestal has come crashing down to earth.

Saturday, August 7, 2004
| | |
| --- | --- |
| | [6] |
RunningBlog: Done any good deeds lately?
Remember how my sister ran the Honolulu Marathon last year? It turns out that Katie Krawcyzk, a good friend of my cousin Jenny (who you'll recognize as a frequent commenter here), is running it this year to raise money for AIDS services. She's got another reason though: she's doing it to get her Dad to quit smoking. I really liked this bit from her training page:
I have chosen to run a marathon to show him that overcoming most of life's hardest battles (such as quitting smoking) is an issue of determination and mind over matter - you can achieve anything, no matter how much you may resist, or how much you struggle to get through it. Even if you never wanted to do such a feat for yourself in the first place, you do it for those you love because they want you to, and they need you to; you do it to make yourself healthy so you can make the most of the one life you're given. Through this marathon, we raise money for those living with AIDS in order to prolong their lives as much as possible until we find a cure. For me, I am not only hoping to help save their lives, but I'm also hoping to save one more.
That's awesome. Please consider donating a few bucks if you have any to spare. (And Dad, are you listening? Say the word and I'll start training.)

Friday, August 6, 2004

What it feels like for a girl...
I just spent, like, twenty minutes reading this excellent MetaFilter thread about women and their fears (both rational and irrational) about being in the public space. I don't think a lot of guys understand what it's like to be objectified to the point where it's easier to assume every stranger is an attacker and behave accordingly. I mean, look, I'm no Paris Hilton or anything, yet I've been groped and catcalled and frottaged enough to be seriously wary of any guy I don't know. It sucks but it's the truth.

| | |
| --- | --- |
| | [1] |
We were watching telly tonight and a preview came on for an upcoming interview with Dawn Fraser. "Why do I know that name?" I asked. "She was a famous Australian Olympic swimmer," Snookums replied. "She set a bunch of records in the sixties but then got banned for some incident about a flag." Huh? A flag incident? He did some Googling to dig up the details for me. Turns out it really happened! She and some mates basically got drunk after the closing ceremony at the Tokyo '64 Games and tried to steal a flag from the Imperial Hotel. Just another example of the Australian penchant for celebrating larrikins. On a related note, I can't wait for the Games to start so Roy and HG will return to our screens. I really should tape it so you Yanks can see what you're missing.

Thursday, August 5, 2004
| | |
| --- | --- |
| | [1] |
Attention, Sydney knitters! Tapestry Craft just got some absolutely luscious 100% Italian cashmere in yesterday. It's the softest thing I've ever felt in my life. I got the fun job of calling all the folks on the waiting list and telling them that it had arrived. Most were like, "Ooh, sweet! That sounds nice!" but my favorite reaction was by a fellow American. She sounded excited but asked how much it was a ball. "Thirty-three dollars," I said hesitantly. Her response: "F**k. Me. Gently." Exactly.

| | |
| --- | --- |
| | [4] |
And Ralph Fiennes as You-Know-Who... I gotta say, that's some inspired casting. He'll be perfect. (Once you give him some slitty red eyes, of course.)

Wednesday, August 4, 2004
| | |
| --- | --- |
| | [2] |
I'm taking this with a huge grain of salt, but... an eighth Harry Potter novel?? Wow.

| | |
| --- | --- |
| | [3] |
A few moments of lucidity...
My computer is dying. I thought she'd slipped off in her sleep last night but here she is this morning, still wheezing away. I want her to go quietly. She's had a good run and it's time to visit the big AppleCentre in the sky. Now I just need to figure out if I'm going to shell out for another Mac or let the Snook set me up with a Linux box for half the price. Decisions, decisions...

Monday, August 2, 2004
| | |
| --- | --- |
| | [3] |

The end of a long weekend...
Ahhhhhh. Now that was a nice break. In gratitude for all the long hours he's been pulling, the Snook's boss arranged for us to have a swanky night out (on the company). So we filled the automatic cat feeder and headed off Sunday afternoon for the Observatory Hotel down in the Rocks. Check-in was at 3:00 and we wanted to take advantage of every minute. Our room was huge and we had a lot of fun checking out all the features (including a dual-spout shower!). Then we headed out for a beer at the Lord Nelson and a perusal of the Sunday paper. Later we went back to the hotel for a wash - check out us in our fluffy robes! - before setting off for Wildfire. We tried it last year but weren't really impressed with the service. The experience this year wasn't a lot better. We tried the "churrasco", which is basically an "all-you-can-eat" kind of thing where they bring lots of grilled chunks of meat to your table on skewers. Snookums thought that the squid was way too raw, while I couldn't detect any hint of fancy Brazilian spice at all. But whatever. We weren't paying for it, so we didn't care too much. The wine was excellent, at least. We headed back to the hotel for a much deserved sleep. Unfortunately we didn't really get it. The bed, which seemed nice at first, was way too soft and I was tossing and turning all night. The Snook found the air incredibly dry and kept waking up and gasping for the water glass. I wouldn't say we were incredibly well-rested when the breakfast tray came this morning. The food was good though, and we took turns having long soaks in the extra-long bathtub. By the time we checked out at 11:00, we felt refreshed and happy. Dr. Amy Jones survived her first night alone and seemed really happy to see us. That is, until I let my newfound energy go to my head and - in a fit of spring cleaning fervor - dragged out the vacuum cleaner... But she'll recover. I've got a couple more pictures from the hotel if you're interested. [more...]


Another Ebert fact to add to the shrine/encyclopedia: He's a Steak & Shake man. Niiiice.

| | |
| --- | --- |
| | [1] |
Wow. Some jerk Freeper actually stole one of my Roald Dahl images. I've added the site to my .htaccess file now. Can you tell which one it was? :)

| | |
| --- | --- |
| | [8] |
When I got out of the shower this morning, Snookums excitedly asked if I'd seen the story on Page 2 of the Herald. "No, what is it?" Apparently Notre Dame has made an agreement with the Archbishop of Sydney to take over the disused St. Benedict's school in Chippendale. I was pretty floored. The last I knew, Notre Dame's Australian program was based in Fremantle (near Perth) and there weren't any plans to relocate to Sydney. The weird thing is that the article never actually specifies which Notre Dame is involved. I mean, we both assumed my alma mater, but there are plenty of Catholic schools around the world called that, right? And the ND news site doesn't have any mention of it. I wonder what's up with that. Could ND really be opening a new foreign study center right around the corner from my apartment?

| | |
| --- | --- |
| | [2] |
Eeek! Steve has cancer! I wonder if I can send him a fruit basket...

Sunday, August 1, 2004
| | |
| --- | --- |
| | [1] |
Sorry for the lack of posting. Snookums's birthday weekend continues. Last night we headed out to the Rhinedorf, a German restaurant he's been eager to visit ever since he discovered it online. Apparently they're the only place in Sydney with Kolsch (a really good German beer) on tap. It's way, way out in the suburbs though and we had a bit of a train journey to get there. Luckily I'd thought to call ahead because the place was packed with several birthday parties and they were only just able to squeeze us in. It was well worth it. The decor reminded me of riding the Matterhorn at the county fair: it was all mountains and lederhosen and odd pictures of fruit. The waitresses were even wearing dirndls! We drank half-liter steins of beer and grinned at all the fat suburban German-Australians around us. Everyone was happy. We ordered the Farmer's Platter for Two, which consisted of four big sausages, pork cutlets, meat loaf, sauerkraut, potatoes, and red cabbage, served with a pitcher of a gravy and two tubes of gourmet mustard. It was excellent. We followed that with a couple slices of cake from the dessert menu. (Me: "I like how at a normal restaurant they'd ask you if you wanted custard OR ice cream OR whipped cream, but here they just give you ALL THREE!") The bill was surprisingly cheap - only $70 - especially considering we'd consumed a liter and a half of beer between us. We staggered out an hour later to catch a train back to the city, echoes of oom-pah music still ringing in our ears.

archives
You can search through the archives by post keyword using the form on the left, or you can browse by month using the links at the bottom.
"Moblog" refers to posts and images posted directly from my mobile phone.

"PW Blog" refers to posts recovered from my very first weblog, which dealt with news related to my college dorm.