Wednesday, August 31, 2005
| | |
| --- | --- |
| | [1] |
The Snook and I decided to be non-carnivores tonight so we made up a batch of clare's dudhi channige. It's basically a sort of lentil curry. We subbed in red lentils (since we didn't have any chana dal) and, as per Clare's substitution, sweet potato and carrot for the bottlegourd. Yummy! Oh, but I forgot to get fresh chilies, so we didn't really have any. It was still good, but I could sense how it's gonna be great next time...

Tuesday, August 30, 2005
| | |
| --- | --- |
| | [2] |
Selective blindness.
I've just realized that there's been a bottle of maple syrup sitting on my living room coffee table for, like, three weeks. See, right there on CouchCam! This is what comes of liking pancakes too much.

| | |
| --- | --- |
| | [2] |
Sports Illustrated presents Famous Sports Collisions. Yow. I was sorta flicking through like "Yep... yep..." until I got to this one, which stopped me DEAD IN MY TRACKS. Just how in the world does a catcher end up like that?


Woohoo, StorTroopers are back! I can't wait to have a play around with these. (Link courtesy of Brigita.)


These links are definitely not safe for work (nor my parents), but AskMetafilter has been dispensing some pretty interesting sex advice lately. Just so you know.

Monday, August 29, 2005
| | |
| --- | --- |
| | [1] |
I was all excited to get in on the iPod class action lawsuit and claim my $25... til the Snook pointed out that I never had a battery issue with my first gen player. In fact, when I tested mine after two years of use, it was still playing for eleven hours off one charge. Three-and-a-half years on, it's still chugging along for Amy (in her bitchin' new iPod cozy). I'd definitely say that was my best Apple purchase ever in terms of value for money. We've played the hell out of that thing.

| | |
| --- | --- |
| | [4] |
Not again. Old people + knitting shop with curved staircase = grannies flyin' all over the place. It's like that Eddie Murphy sketch where he imitates his Aunt Bunny falling down the stairs. BOOM BOOM CRASH - "Oh Lord, help me!" - CRASH THUMP BOOM... (I'm not being that callous. Nobody's been seriously hurt. They're just too entranced with the wool to watch where they're going.)

Sunday, August 28, 2005

Cats in Sinks. Pretty self-explanatory. Here's my cat in the sink. (Link courtesy of John.)

| | |
| --- | --- |
| | [1] |
Note to self: See if the Asian grocery in World Square has Taiwanese pickled cucumer (hua gua) so I can make Pinkcocoa's Taiwanese Style Meatballs, because they sound really yummy.

| | |
| --- | --- |
| | [2] |
Eek! Crumpet met Chanel and Daniel from last year's Australian Idol! They're actually the two I wouldn't mind meeting myself. They seemed the most normal and friendly.


The Snook and I were watching a TiVoed Friends episode yesterday when we suddenly recognized the location: Ross and Rachel's drunken Las Vegas wedding was at the same chapel as ours! Well, ours wasn't drunk and they definitely glossed over the paperwork issue, but the sign out front was definitely for the Little White Wedding Chapel.

Saturday, August 27, 2005
| | |
| --- | --- |
| | [2] |
DeskCam: Red alert! Yeah, I had another trip to the hairdresser yesterday...

| | |
| --- | --- |
| | [5] |
Llook out, Llarry, it's the llandllord!
Hooee. The Llama Song is one of the funniest things I've seen on the Internet in a long time. I don't know what it is or where it came from, but it's going to be making me giggle all day. GO WATCH IT! (Link courtesy of news from me.)

| | |
| --- | --- |
| | [3] |
A few random Apple complaints, since I haven't whinged about them for a week or two:
I often drag links in Safari to the tab bar to open them in a new tab. That's all well and good. It works really nicely when you're viewing an RSS feed. When you're on a regular web page though, and you've scrolled down at all, when you go to drag the link upwards the whole page scrolls up really fast. You lose your spot. When you do it in an RSS feed, the page stays put. I want it to always stay put.
The Safari Features Page claims that I can "search across all of your bookmarks, RSS bookmarks and history." How? I can't for the life of me figure out how to do this. I printed out a recipe last night for sweet potato stew. How do I find that page again? Spotlight doesn't find it. CMD-F doesn't find it. The Google searchbar doesn't find it. Am I missing something here?
I haven't seen this listed anywhere else, but the Snook found this Register article that says that Apple is extending the original warranties on iMac G5s to two-years because of all the problems people like me have been having. And lucky me, my new machine - the one they brought me to replace the old dead one - is still one of the ones covered. Great. What I can't figure out though, is what this means for my AppleCare warranty. I paid for two years beyond the one they give me, so does that mean mine lasts for four years now? Do I get a rebate or something? Or am I going to get screwed once again?
Rant over.

| | |
| --- | --- |
| | [1] |
Matt asks: "If you had a gun to your head, what album would you and/or could you write 25,000 words on?" In my pathetic case, it would probably be either REM's Out of Time or the RENT soundtrack. In either case the resultant book would be a melancholy and insightful look into a self-obsessed moody teenager growing up in the Midwest in the 1990's. Not really going to set the publishing industry afire with that, am I?

Friday, August 26, 2005
| | |
| --- | --- |
| | [8] |
As The 40-Year-Old Virgin hasn't even come out here yet, all I know about it is what I've read through online movie reviews... which means I didn't realize at all that the studio created a grammar controversy by incorrectly hyphenating the title on most of its marketing material. (According to Ebert's site, this sort of thing happens pretty frequently.) That would totally irk me if I had to see those posters everywhere.

| | |
| --- | --- |
| | [5] |

KA-POW!
So... boxing rocked! Last night the Snook, Albie, and I headed over to Boxing Works for their "Kick-Start Foundation" class. We'd all filled out the special $20/8 days offer on the website, so all we had to do when we got there was pay up and collect our gloves. "Whoa, this place smells like stinky feet!" I said when we got up to the workout room. I had no idea what was to come. Our teacher was this tiny little woman, and in fact, most of the class were women too. (The only other men were a gay couple.) We started with a few minutes skipping rope to warm up, which was pretty amusing. I haven't jumped rope in years, but given that I spent every recess from Grades 2-5 perfecting my skills, it didn't take long for it to come back. Even the Snook managed to get a little rhythm going, though none of us could go longer than about thirty seconds. Then we all faced the mirrors so the teacher could take us through our technical instruction: proper boxing stance, moving the feet and shoulders, throwing a straight punch, a hook, and an uppercut. Finally we got to put our gloves on and head to a bag. The stereo came on and the Snook and I - sharing the same bag - got down to some punchin'. Damn that's a good workout! We were all using pretty good technique too, I have to say, mostly because Fearless Leader threatened us with ten push-ups if anyone dropped their non-punching hand from the guard position. Then it was time to kick. We all took off our gloves... and that's when I made the mistake of smelling my hand. GOOD LORD, THAT WAS FOUL. Think of the nastiest, smelliest old tennis shoes you've ever smelled in your life, and then imagine wearing them on your hands while you punch and sweat for ten minutes. Then think of how your hands would smell afterwards. Plus you fall into this awful psychological conundrum of thinking, "Whew, that's really bad! Wait, how bad was that smell again?" and then SMELLING THEM AGAIN AND AGAIN. (My co-worker Leanne had warned me of the dangers of puking, but she meant as a result of overexertion... not of smelling my own stinky hands.) Anyway, I finally managed to drag myself away from obsessively sniffing my rotten hands in order to learn how to do push kicks and roundhouses. Then, back to the bags. I screwed up at first by connecting my kicks up too high on my shins; it was KILLING. A nice chick nearby told me to connect lower and that helped. (I still think I'm gonna have bruises today.) Kicking was a lot more fun that I expected though. I can't wait til I can go all Jean Claude VanDamme and knock somebody's block off with my foot! Eventually the gloves came back on and we put it all together for an all-out barrage on the bags. I have to say, my right is pretty damn tough; I actually managed to scootch the bag (which was touching the floor) over towards the Snook. My left is my Kryptonite though; I've got about as much power with it as my cat does with hers. We finished up with some group stretching, which felt pretty nice. All three of us decided that we're definitely going back next week, and that we'll mostly likely buy a ten-visit pass and share it. I highly, highly recommend it... as long as you've got a strong stomach. (I'm going to try to find cotton under-gloves today.) Now if you'll excuse me, I have to go wash my hands for the twenty-third time.

Thursday, August 25, 2005
| | |
| --- | --- |
| | [1] |
I'm addin' this Indiana girl t-shirt to my Christmas list. They've got lots of Chicago, Boston, and Seattle designs for you lot too... (Link courtesy of Gael.)

Wednesday, August 24, 2005

You know what's totally weird? Reading about your mom in somebody else's blog entry.


DietBlog: Yeah, so I stayed the same this week. I was a little bummed at first til I remembered the Una's... and the Quizno's... and the Chili's... (I went to a lot of restaurants with apostrophes, I just realized.) Anyway, I figure that avoiding a gain in a week like that is probably the best I could hope for.

Tuesday, August 23, 2005
| | |
| --- | --- |
| | [2] |
For no reason other than the Snook and I passionately debated it this morning, this page explains the difference between transitive, intransitive, and linking verbs. Because when you get old and you haven't studied grammar in ten years, sometimes this stuff atrophies in your brain.

Monday, August 22, 2005

Me: I just now got full. My brain just finally got the message that I don't need to eat anything else... a full hour after we finished eating dinner. That's how long it takes.
Snook: Your insides are broken.

| | |
| --- | --- |
| | [1] |
The 500 Hats of Bartholomew Howard
Or something. I had some scrap wool lying around so I decided to knit some hats on the weekend. The first I call the "Craig David Minimalist Ribbed Beanie," so named because it tends to be worn on smooth RnB singers with tiny goatees and it's so plain it doesn't even have a cuff. I didn't have a pattern for it; I just casted on a bunch of stitches on a circular needle and started ribbing away. Eventually I decreased. That's it! The second one is dubbed the "Call Me MISS Mayim Bialik, Thank You! Sassy Flower Hat," so named for its propensity to be worn on hippy dippy teenage girls in the 90's. That one's actually from a Rowan pattern, though I did enlarge it a bit to accommodate my giant Korean head. I picked up the flower this morning for six bucks at Accessorize. I wasn't about to wear it in public, but the chick in the shop seemed to think I was rockin' it... so out into the center of Sydney I strolled. I got some funny looks, and I swear one kid fell down the stairs at the QVB because he was staring at me. That's the mark of good millinery design, I think.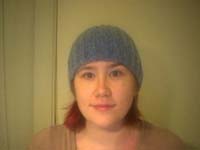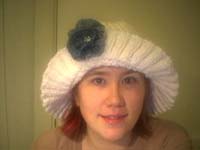 | | |
| --- | --- |
| | [5] |
80's Lyric Quiz. How well can you do? I scored 82.5 but I missed some real groaners...


""What we are looking for is the powdered milk equivalent for blood." Dude, scientists are trying to make fake blood! How tomorrow is that?


50 Foodie Things to Do in Sydney. By my pathetic count, I've only crossed six of these off the list so far. We did the DJ's Food Hall thing for my birthday on my first visit to Australia; we ate at Bennelong for my birthday in 2002 (though I don't think it was "Guillaume's" yet). We've recently discovered the A.C. Butchery in World Square (and, in fact, had their pork, fennel, and chili sausages for dinner tonight). I ate my first Sydney Rock Oyster on Valentine's Day last year, and I've had a couple of beers at The Australian (plus more than a few Scharer's at the Broadway Cafe around the corner from our flat). And though I haven't been to the Wellington Cake Shop, Raelee brought us a kugelhopf into work recently and it was DIVINE. Next on the list: Tetsuya's on October 8 with the Barkers.

| | |
| --- | --- |
| | [1] |
Oh, and just WHY do I have the sudden urge to box? Because we saw Kung Fu Hustle Friday night and it kicked ten kinds of ass. Seriously, if it's playing anywhere near you - and you have no aversion to ass-kicking - GO SEE IT. Ebert described it as "Jackie Chan and Buster Keaton meet Quentin Tarantino and Bugs Bunny;" the Snook and I described it to friends as "Jackie Chan plus Monkey plus Kill Bill." There's a ton of violence, but most of the really gruesome stuff happens off-screen. At one point - the bit with the snakes - I slapped my hands to my face to cover my silent screams of laughter and shock only to look over and realize that the Snook was doing the exact same thing. I also found myself wiggling in my seat and punching the air, which I only do in really good fight scenes. (For example: the Obi-Wan/Darth Maul light sabre battle in Phantom Menace did it for me; none of the fight scenes in Gladiator did.) I also lost it during the Shining homage, and the direct quotation of Spider-Man (albeit in Chinese). Seriously, you should go see it. Especially my sister, as unbeknownst to her she possesses the secret of the Lion's Roar.


Anyone ever done boxing? I'm actually - *GULP* - thinking of trying out Boxing Works tomorrow night. They've got a trial offer of a week for $20. Might as well, eh? I'll probably collapse.

Later: Drat. They suggest I do one of the "foundation" classes first just to make sure I don't kill myself by punching incorrectly. So my heavyweight career is on hold til Thursday night...

Sunday, August 21, 2005
| | |
| --- | --- |
| | [4] |
Race Car Ya-Ya's
Amy has posted a couple pictures from Rob's birthday outing yesterday, including him screaming around the track at Eastern Creek Karts and a truly demented one of me slurping down ranch dressing. The go-karts were pretty fun, though I was a little scared at first. We had to wear full-on coveralls and helmets and gloves and watch a safety video. There were sixteen of us in our heat, but most of the other guys were on the 13hp carts. (We were newbies so we had to stay on the 9hps.) It was actually surprisingly physical and scary to drive the cars. I managed to lap Amy - we discovered later that there were special cars for people with big asses, and she'd accidentally gotten one of those and was sliding all over the place; she could barely reach the pedals! - but I didn't really see the guys the whole time. I found out later that I came in second out of our group behind Rob. How cool is that? Amy and I decided to take a pass on our second heat so just the boys did that one. I'm glad we did; there were some really aggro guys and they were all spinning and sliding all over the place. At any rate, I've now got a voucher for a free ride so I guess we'll be going back this summer!

Saturday, August 20, 2005
| | |
| --- | --- |
| | [9] |
Moblog: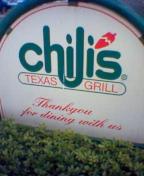 Deep in the suburbs...
We're so STUFFED. That was surreal. Chili's Oz is exactly the same as the US (but with slightly less crap on the walls). And YAY, we got chips with ranch!


Remember that fatty-boom-batty breakfast we had at Una's yesterday? In a lovely bit of foodblog coincidence, Grab Your Fork went there this very morning and photographed the Snook's exact breakfast. Can't you just smell the rosti?


What's your Cheese Profile? Okay, that's officially the stupidest quiz ever. None of the answers for "What do you like best about your job?" remotely applied to me, nor do the types of car I drive. So I just made them up. And guess what? I'm "The Family Wo(Man)", whatever that means. Shockingly, they do not list cottage cheese with my cheese profile. Instead I get Cheddar, Colby, Colby Jack, Havarti, Monterey Jack, and Swiss. You know, I like all of those, but all this stupid quiz did was mind me that you can't get Colby Jack or Monterey Jack in Australia, and now I'm all frustrated. Thanks, American Dairy Association.

Friday, August 19, 2005
| | |
| --- | --- |
| | [3] |
If any of you Southerners are thinking of going to Dragon*Con in Atlanta next month... you totally should, if only because you can then say "hi" to my good friend (and Farscape alum) Raelee Hill, and it would blow my mind that you paid money to go to a sci-fi convention to meet someone I work with three times a week. And tell her you're a friend of mine. :)

| | |
| --- | --- |
| | [3] |
So ND Australia has officially opened its office... about 50m around the corner from my house. Seriously, it's like the Fates have decreed that I should always live within easy distance of a Notre Dame campus. It still blows my mind that they're here. The office even has pictures of students frollicking in front of the Golden Dome. It's weird.

Anyway, after a fatty-boom-batty (but oh so delicious) breakfast at Una's this morning, we stopped in at the ND office to have a peek. We were greeted by a nice Australian lady named Susannah. I explained that I was an actual US Notre Dame graduate and that I lived in the neighbourhood. She gave us some details on their progress - everything's in place for a February 2006 semester start; Father Beauchamp is in town helping out; etc. I asked nonchalantly if there were any employment opportunities available. "Oh, are you interested in lecturing?" she asked. EEK! She actually gave me the contact information for the Dean of the Arts College so I could talk to him about it. While I was chatting to her, the Snook was looking over some of the brochures and information sheets they had available. "Holy crap," he said. "You have to see the tuition costs." Expecting something comparable to the US tuition (which is astronomical), I picked up the sheet only to see a full-time yearly cost of $5000. That's Australian dollars. Plus degrees here only last three years, so for a full Notre Dame degree you're looking at approximately $11,400 US. HOW INSANE IS THAT? It's only slightly more than you'd pay at a public university in Australia. Since it's private, students are not eligible for HECS, but there is a government loan scheme that all students can get. (Me: "You mean they don't care how much money your parents make? They don't make you jump through hoops and sign your life away? You don't have to pay any of it back until you're making $36,000 a year?") So now I'm actually thinking about... maybe going back to school. Currently the only postgrad course they have is a Masters of Education, but they're planning to add more. Plus they have a BA in Communication, specializing in computers and the internet. How sweet would that be? I just don't know if they'd let me do it though, given that I already have a BA. (Can you do more than one?) My head is whirling right now.

(Oh, and note to Amy: They're currently accepting Expressions of Interest for employment opportunities in the new Library...)

Thursday, August 18, 2005
| | |
| --- | --- |
| | [1] |
RunningBlog: I went running in the park this morning for the first time in two weeks. It was a little later than my last run - more like 8:30 than 6:30 - and consequently it wasn't so chilly out. I still had some slight sniffliness, but not anything near as bad as I had last time. I did wipe my nose on my sleeve though. Just so you know.

| | |
| --- | --- |
| | [2] |
Extra has a teaser trailer for Harry Potter and the Goblet of Fire. Man, I am developing such a crush on Daniel Radcliffe as Harry. (Link courtesy of Kevin.)

Wednesday, August 17, 2005
| | |
| --- | --- |
| | [5] |
This has been my day for dealing with dipsh*ts. It's been like an eight-hour version of the "stupid customer" montage from Clerks. People who are pissing me off today:
People with no creativity or imagination, like the woman who spent twenty minutes repeatedly asking me about every minute detail of our store sample, because she wanted her cross-stitch to look EXACTLY the same. Eventually I ended up on a chair trying to count the holes per inch on a piece of linen in a framed design ten feet up on the wall.
People who expect me to mind-read, like the woman who came in and asked for "tapestries that are French" for her friend, when what she really wanted was "cross-stitch kits" that are "pale in colour." I only figured that out after tearing my hair out and showing her every French canvas we have in the shop.
People who don't know what the hell they're doing, like the woman who bought a Zhivago pattern book and bunch of wool on the weekend but can't get any of the patterns to work, despite the fact that "they're very simple" and "she's a really good knitter," yet somehow after a few rows she's always missing stitches. So obviously Zhivago is some kind of magic wool where perfectly knit stitches just DISAPPEAR.
And then there were the usual assortment of idiots asking for things we obviously don't sell - velcro, a pin for a pocket watch, quilling supplies - and country mice visiting the big city who freak out when they see our prices. It's been a loooong day.

| | |
| --- | --- |
| | [8] |
DietBlog: I know I shouldn't base my whole emotional state on the outcome of my Weight Watchers meetings, but still whenever I see a "minus" written next to my name, it's like I've just taken a swig of Felix Felicis. The sun is shining on me and I can do no wrong. I've bounced back from my tiny gain two weeks ago - I missed last week due to sickness - to register another kilo loss. This brings me down to eighty-seven kilos. People, this is as low as I ever got on the Atkins diet, and thus is the smallest I've been since college. That's NUTS. My next mini-goal is eighty-five, for which I've promised myself a reward of a new pair of Crocs and some new pants (since all the pairs I own now are falling off my arse).


This BBC article on proposed changes to prescription drug advertising in the US amused me, mostly because the situation is so different in Australia. You're not allowed to mention the name of any prescription drug in commercials here; the ads can only urge you to "ask your doctor." So in order to differentiate themselves, advertisers often resort to repeating the same word over and over, like that's the keyword that the doctor will recognize. "If you want to BOOST your weight loss, ask your doctor about the amazing new treatment that will BOOST your metabolism and BOOST you to better health. BOOST now for a BOOSTful future." I'm sure the drug's called "Boostillin" or something.

Tuesday, August 16, 2005

Man, I really wish Lefty Tim had taken out Big Brother this year, if only for the chance to see a BB winner strutting around Newtown. And man, he got muscles!

Monday, August 15, 2005
| | |
| --- | --- |
| | [3] |
Looking Glass Jumper
At last, the Snook's new cabled jumper is complete. It's pattern C from Sirdar's Denim Book of Aran Knits and it was knitted in the Denim Sport Aran. (The Snook was the third size; I bought the required seven balls but even though I lengthened the body and sleeves, I only used five-and-a-half.) This was my first attempt at converting a pattern written for flat knitting into circular, and I'm about 90% happy with the result. There is a rather glaring error on the front of the jumper - clearly visible at right - but we'll just call it my Amish mistake. (It was too far to frog down and too complicated a spot to correct with a dropped stitch. I thought about swapping the front for the back, but that felt like I was trying to hide it too much. I like that it has a real human error in it. Can you spot it?) The jumper was so named because every other row of the pattern had to be inverted and read backwards to be knit in the round. It only really got fiddly once I started doing the neck shaping; I was juggling five sets of decreases at once (left front, right front, two sleeves, and the back). I just sorta winged it. Pretty nice huh?

Incidentally, it's really hard to take a decent photograph of cables. I took both the ones below before I figured out that I had to do it without the flash. But isn't the Snook with his Puss-Puss sooooo cuuuuuute?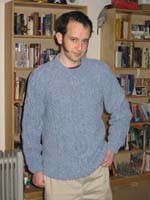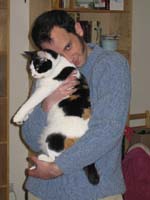 Note to self: Print out these Make Ahead Pasta Bake and Casserole Recipes from WW for future reference...

| | |
| --- | --- |
| | [3] |
License to Drive

Me: Hey, guess what? I just looked on the RTA Website for information about booking my driver's test, and apparently the law changed this year. Now license holders from the US don't have to take any test at all! I just have to turn mine in and they hand me my Australian one!
The Snook: That's great! ...And worrying.

The only problem is that Australia has a graduated licensing system and needs to know how long I've been driving. As I renewed my license in 2003, I've got to get the Indiana BMV to send me a letter saying when I originally got it. But at any rate, it looks like I'm all clear to drive to Steve's wedding next month!

Sunday, August 14, 2005

After much public deliberation (and private contributions by the Snook, who flatly stated his opinion that one popular favorite was "boring"), Amy and Rob and I have selected the three shots for our Knitty calendar contest entry: 1, 2, and 3. Cross your fingers for us!

| | |
| --- | --- |
| | [1] |
Nintendogs. Just because I'm a cat owner doesn't mean I don't appreciate the inherent heart-breaking cuteness of a Labrador Retriever puppy. And these ones don't smell or pee on the carpet!

| | |
| --- | --- |
| | [21] |
Feed me some cheese.
Confession time: I have never, in my entire memory span, willingly eaten cottage cheese. Is that weird? I just never liked the look of it. I seem to be going through this experimental phase lately though, and I like just about every other soft cheese I've ever eaten... so the time is ripe. I bought me some cheese. Here's the question though: How the heck do I eat it? Any really excellent ways of serving it? I've always seen it on salad bars but I'm not really sure what you're supposed to do with it. Just plop it on with your salad? Mix fruit in it? Spread it on crackers? This isn't strictly a diet-related request either, so don't feel required to provide me with zero-Points recipes. I don't plan on eating this stuff smeared on celery sticks.


Wow. 83 gyoza in 8 minutes. I couldn't ever hope to match it, but I'd looooove to try...

Friday, August 12, 2005
| | |
| --- | --- |
| | [1] |
Much like miftik, I am utterly defenceless against the All-Powerful Cuteness of the PotterPuffs. They're characters from Harry Potter drawn in the style of Powerpuff Girls, and they're mindsplittingly adorable. Warning! Some contain spoilers from Half-Blood Prince (although if you haven't finished it yet, Sis, I'm going to disown you).

| | |
| --- | --- |
| | [3] |
Moblog: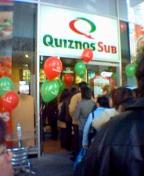 Quizno's
Just waiting for our FREE SUBS! Austin Powers just walked by hissing at some Subway customers. No, really.

Thursday, August 11, 2005
| | |
| --- | --- |
| | [1] |
How did I not know that there's a podcast about knitting? (Link courtesy of Katherine.)

Wednesday, August 10, 2005
| | |
| --- | --- |
| | [7] |
Attention Sydneysiders! The brand-new Quizno's at World Square is having its Grand Opening this Friday, and they're giving away FREE SUBS between 11-2! I've never had a Quizno's sub before; they seem to have come to national prominence in the States well after I left. (Didn't they do some really wacky commercials, like with monkeys or something?) Anyway, I was tempted not to post this lest you all show up and eat all the FREE SUBS before I get there, but my magnanimous nature won out...

Tuesday, August 9, 2005
| | |
| --- | --- |
| | [4] |
I'm tempted to get the Snook a Utilikilt just so I could wear it... (Link courtesy of Jeff.)

| | |
| --- | --- |
| | [6] |
This history of ranch dressing is missing a sentence or two:
In 1997, Chicago-native Kelly McMahon started a new trend and simultaneously nearly bankrupted the Chili's franchise in South Bend, Indiana: She requested ranch dressing with her complimentary nacho chips. Friends who sampled this concoction realized it was so good that there was no need to actually order real food. The idea caught on like wildfire with the rest of the Notre Dame student body and continues to this day.
(Link courtesy of Max, who is also a Certifiable Ranch Fiend.)

| | |
| --- | --- |
| | [8] |
I was just happily working away on the website when the office phone rang. "I need you to COME UPSTAIRS NOW!" said Rae. I sprang to my feet. Usually this means that someone dodgy is in the store and the girls are worried we're going to get robbed. I grabbed Albert and we sprinted up the stairs. I was halfway to the counter when I came to a screeching halt. There, coming to meet me with her hand extended and a smile on her face, was PARKER POSEY. That's why they called me up! So I got to meet her and her handler Ray and they were both totally friendly and nice. We talked about donuts and tapestries and Mexican food and felting. The funny thing is, she looked so totally normal that I might not have recognized her on my own. (Except for her voice; I'd know her voice anywhere.) So just like that, ParkerWatch came to a successful conclusion. I just hope I have my mobile on me next time she pops in...

Monday, August 8, 2005

Oh good grief. CouchCam caught me mid-cough. Now that's attractive.

| | |
| --- | --- |
| | [1] |
Okay, once you've looked at my Gleewarts photos, now you can look at other people's. I clicked through hundreds of photos to find the few that featured our group: Amy and Rob sleeping. Me with Hedwig. Me and the Snook. Fire dancing hippies. (Look for us between the red and yellow flags.) Sirius the Insane. Sirius drinking Ribena. (I nearly snorted Diet Coke out my nose when I clicked on that last one.) Madam Pince and Sirius. And lastly, I don't even know this kid and I never saw him on the trip, but this is the BEST PICTURE EVER. Just the thought that all the fuss and work that went into the trip could make this kid happy MAKES IT ALL WORTH IT.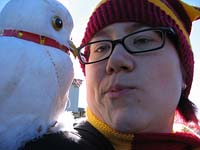 At long last, my Gleewarts Express photos are now online! Laugh with delight as wizards and witches gather before you. Tremble in suspense as the Snook grapples with live snakes. Wee in your pants at the sight of a Marauding Mancho. Go on, I dare you.

| | |
| --- | --- |
| | [6] |
A few days ago I read this editorial at the Sun-Times about Dove's new advertising campaign in the US. As they don't seem to have launched the campaign in Oz, I'd heard nothing about it. Apparently they're using "real women" instead of emaciated model types. Based on the comments Wendy mentioned in her article, I assumed that these were really big, like, obese women; still pretty but obviously a long way from traditional models. Today I took a look at the actual site. What the hell? Those women are gorgeous! They all look fit and strong and curvy and not flabby at all! (Which is good, since they're selling firming cream, and I now want to get some.) I just can't believe that big-name journalists like Richard Roeper would go on the record as objecting to these women. "If I want to see plump gals baring too much skin," said Roeper, "I'll go to Taste of Chicago." Nice one, Dick. If I looked like these women, I'd feel like the Supreme Sexy Goddess of the World. (Maybe I do and I just can't see it?)

Sunday, August 7, 2005
| | |
| --- | --- |
| | [21] |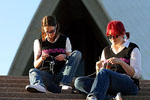 I'm gonna be a supermodel...
This past weekend Amy and I finally got off our asses and decided to prepare our entry for the Knitty 2006 Calendar Contest. The idea is that you send in a photograph of yourself wearing an item from Knitty. We figured that the two of us in our matching Cheesylove vests in an iconic Sydney location like the Opera House would be a shoo-in to win. Right? Right. So having secured a phenomenal photographer - that would be Rob - we headed down to the Quay near sunset to best capture our amazing hotness. (My complaint that I don't get off the couch for less than $10K a day fell on deaf ears.) Here are the results. Which ones do you like? We get to submit three for the contest. Amy and I are agreed on #2 and #9, but she also likes #14 and #16 while I kinda like #17. (Mostly I like the fact that, though I am clearly still a Gigantor next to Amy - I do not, however, look overly chubby. Yay!) So which one do you think is our covershot?


Unleash your inner Jackson Pollack. How cool is that? Took me a few seconds to figure out what to do. (Link courtesy of Zesmerelda.)


Eileen's blog has been around less than a week and she's already created a signature meme for herself: the Awkward Friday Photo. She's amassed a collection of bad teenage photos and she's doling them out one per week. This week it's the shuddering horror of a "braided frontal tail." (The sad thing is, given the student body at my junior high school, that just as easily could've been a girl.) I've got a few of my own I should probably send to her...

Friday, August 5, 2005

In case you missed the announcement, my very own college Roomater Eileen has launched her very own weblog. I just wish she was still waitressing; the stories from that were comedy gold, people!


The Snook sent me a link to an Ani Difranco concert review... on Kuro5hin. I know; it's random. The review's pretty good though. The author is a middle-aged conservative guy who disagrees with Ani's audience's politics, but as he himself puts it: "guitar trumps politics every time." Get well soon, Ani!

| | |
| --- | --- |
| | [19] |
Whew. That was a much, much needed design update. I couldn't stand looking at those snowflakes any longer. I think I've worked out all the big kinks... but let me know if you find any pages that look weird.

| | |
| --- | --- |
| | [2] |
That sucks. The Valhalla theater is closing and the Chauvel is following not long after. I never even went there! The Snook and I have been thinking about making a standing date to go to the Dendy once a week. I suddenly feel compelled to support the local independent cinemas.

| | |
| --- | --- |
| | [2] |
Remember Brian and Greg, the twins on The Amazing Race who flipped their jeep but still managed to beat the odious Ray and Deana in a footrace? (Remember how that was the greatest moment of that season EVER?) It appears that Brian is an aspiring actor, and on his website you can watch their audition video. It's the FUNNIEST THING EVER. My favorite parts were the car-slide credits, the breakdancing, and the blooper reel at the end. If there's an All-Star Race, these guys need to be on it.

| | |
| --- | --- |
| | [1] |
Japan now has an iTunes Music Store. At this rate, the only places that don't have one are going to be Australia, Outer Mongolia, and the International Space Station.

| | |
| --- | --- |
| | [2] |
No touching!
Just trying to decide if the expense of having this shirt shipped all the way to Australia will be worth the looks of recognition from the, like, seven Arrested Development fans in Sydney... (Link courtesy of Brigita.)

Thursday, August 4, 2005

(Attention Sis: Minor HP Spoiler here, but not a biggie...)The San Francisco Chronicle takes a look at "shipping" in Harry Potter fandom. (Shipping refers to "relationshipping," the championing of certain romantic pairings over others.) Apparently the Harry/Hermione shippers are majorly up in arms over the end of Half-Blood Prince. I just don't get it. I mean, it's been obvious from both the books and the movies that Ron and Hermione are going to get together, and it's been especially overt since Goblet of Fire. (The article way overstates the status of their relationship, though. They didn't "fall" into each other's arms at all.) Harry and Ginny wasn't as obvious, but it's still not like it was a complete shock...


ars technica reviews Apple's new Mighty Mouse. Can I just say that I'm blown away that they're using that name? (Is Mighty Mouse out of copyright? Have they bought the rights?) Oh, and once the Bluetooth version is out, this thing is definitely going on my Christmas list...

| | |
| --- | --- |
| | [3] |
The first single from the upcoming Rent movie soundtrack is now on iTunes. Of course, it's "Seasons of Love" which isn't necessarily one of my favorites, so... meh. (Link courtesy of Manda.)

Wednesday, August 3, 2005
| | |
| --- | --- |
| | [2] |
This is GENIUS: The Jelly Belly Wine Bar. A wine magazine has put together recipes using Jelly Bellies that allow you to sample classic wine varietals and styles. And ha! Some of them use Bertie Bott's Every Flavour Beans to add a touch of "dirt" and "grass." Just be sure to avoid the f**kin' merlot. (Link courtesy of the Sydney Food Diary.)

| | |
| --- | --- |
| | [9] |
RunningBlog: Running Meme
Oh god. I was worried this would happen. I've been tagged!

Q: What are you training for now?
A: Nothing in particular. To help my WW progress, I guess. Running is hard so I feel like I'm getting more benefits than other kinds of exercise.

Q: If you are raising money for a cause, what is it and why is that cause important to you?
A: I wish I could say I was, but I'm not. It's the purely superficial "Get Kris into a size 14 bikini by summer" cause.

Q: What is the furthest distance you've run in your training and what is the furthest distance you will run before your event?
A: In the past two weeks? My furthest is four big laps around Victoria Park. Not much, I know, but I can already feel an improvement. Each time I feel like I can go a little further before walking. I'd like to get back up to doing 5K non-stop.

Q: What is your favorite flavor of gu? (or other sports gel)
A: Huh? That's a little futuristic for me. My half hour shuffles around the park don't require astronaut food... yet.

Q: How many days a week do you run?
A: My current goal is twice a week, which I'm meeting. It's hard though, since it's chilly in the mornings and dark by the time I get home from work. I can't wait for Daylight Savings so I can run in the evenings.

Q: Are you injured in any way right now? If so, what are you doing about it?
A: Other than the cold (which kept me home sick today), I'm actually in pretty good shape, I think. I'm trying to prevent the tendonitis and back pain that marred my previous running attempts so I'm continuing my weekly yoga class. My route around the park includes a section on the grass, and I plan to travel further afield once my fitness levels improve.

Q: What is one item of running clothing/gear (shoes don't count) you can't run without?
A: Lately it seems to be a handkerchief!

Q: Do you have a talisman you are planning on taking to your event? If so, tell us!
A: The Snook is my talisman. :)

Q: Share one thing about yourself we don't know.
A: I actually did run track in middle school. I sucked at it, but our competitions were so small that I still managed to score a couple ribbons. Long jump was my favorite. (Who doesn't like playing in the sand?)

Hmm, who should do this next? Probably Eileen, though she doesn't have a blog. (Write your answers in the comments, RT!)

| | |
| --- | --- |
| | [3] |
Kevin just pointed me to a ton of pictures from the upcoming Harry Potter and the Goblet of Fire movie. Man, Mad-Eye Moody is givin' me the serious creeps. He reminds me of that scary witch in The Dark Crystal. The rest of the pictures are linked on The Leaky Cauldron. Unfortunately I think everybody in the world's trying to look at them at once, because it's taking ages to get the others to load...

Tuesday, August 2, 2005
| | |
| --- | --- |
| | [9] |
RunningBlog: It's been a bad day.
The cat woke us up scratching on the bed at 3:20 a.m. (We shut her in the bathroom.) I'd set my alarm early to get up and go for a run, which means that I woke up every ten minutes thereafter in anticipation. When I finally did get up, I felt sluggish and my throat was sore. The arm on my sunglasses broke. I couldn't find my iPod headphones. Nevertheless, I headed out for half an hour of shuffling around the park. My nose ran constantly. (How do you runner-types deal with this? Whenever I'm out on a chilly morning, my nose runs. That made me feel like I wasn't getting enough oxygen. By the end of my first lap, I was seriously considering blowing my nose on my sleeve. (I didn't.)) Once I got to work, I discovered that we were short-staffed AGAIN today due to sickness (which made everybody who did come in that much grumpier). And then the Excel spreadsheet I'd spent three days working on got corrupted and broken and I couldn't open it at all. And suddenly I noticed that I've got a full-on head cold forming here. Everything sucks.

But then my wonderful clever husband managed to retrieve the data from my file and provided the one ray of sunlight in a terrible, no-good, very bad day...

Monday, August 1, 2005
| | |
| --- | --- |
| | [1] |
It seems to me like this scientific study linking mothers who smoke during pregnancy to offspring with anti-social behavior seems to dance around one very big elephant in the room: Women who don't care enough to practice good prenatal care probably won't care enough to raise their kids well, either. Occam's Razor, folks. Crappy parenting is a far more likely explanation than some sort of inherited "bad behavior gene".

archives
You can search through the archives by post keyword using the form on the left, or you can browse by month using the links at the bottom.
"Moblog" refers to posts and images posted directly from my mobile phone.

"PW Blog" refers to posts recovered from my very first weblog, which dealt with news related to my college dorm.