Tuesday, September 30, 2003
| | |
| --- | --- |
| | [1] |
Woohoo! The Amazing Race has been renewed for a fifth season. Bring on Team Attention-Starved Teachers!

| | |
| --- | --- |
| | [3] |
Yet Another Gym Malady.
Tonight I was happily doing my lifting routine when the weirdest thing happened. I'd just done my "Front Raise", which is this exercise my trainer gave me where I get in a push-up position (except on my elbows) and hold myself there for 20 seconds. It's good for your abs, I guess. Anyway, I'd just finished that when suddenly both of my feet cramped up at once. I've had the occasional painful foot cramp, but never two at the same time! I could barely walk. It was all I could do to grab my things and hobble home, where I paced and stretched and winced and swore until they finally relaxed. They still hurt. I guess this is the final glaring sign that I need some new gym shoes, huh?


Ebert's obituary for Elia Kazan is worth a read. I'm going to have to try to find Kazan's autobiography at the library sometime.

| | |
| --- | --- |
| | [4] |
I feel like I'm in a blog-reading rut. Does anybody have any great new suggestions for sites I should be reading? Here's what I like: frequently updated sites with lots of links and a good mix of commentary from smart, interesting people. (Example: virulent memes, an excellent Aussie blog I'll be bookmarking.) I can only stomach pure diary/journal sites when I know the person, so don't bother with those. So... where should I go today?


Gruesome Flash Fun: Could you perform open heart surgery? The results of my first attempt as an intern were not good: "Your ineptitude has ended the patient's life." Ouch!


Woohoo! Survivor: Pearl Islands has finally premiered and the Snook and I loved it. We're big Rupert fans. I cheered when he stole the stupid team's shoes.

Monday, September 29, 2003
| | |
| --- | --- |
| | [3] |
Memo to self: Bookmark this Dr. Who Scarf Page when you get home.

Sunday, September 28, 2003

The Sydney Morning Herald has published its list of the world's best blogs. *sniff* I am not on it.


Donald O'Connor has died. I'll have to watch Singin' in the Rain tonight in his memory.


My Triumphant Return to Body Pump... Not.
Determined to follow my new personal trainer's recommendations, I attended my first pump class in over a year yesterday. I used the lowest weight possible and it still killed. At one point I was trying to do lunges and my legs were trembling so badly I couldn't balance. When I asked the instructor about it I got a five minute lecture on the importance of eating breakfast before class. (Apparently when you don't, your body goes into famine mode and your muscles go all wonky and the Baby Jesus cries. Yeah, yeah, but it was at 9 a.m. on a Saturday! The guy should be happy I made it there at all.) Anyway I skipped my scheduled cardio because I Can't. Friggin'. Walk. Every bit of my body hurts today. <cartman>You guys, my ass, seriously...</cartman>

| | |
| --- | --- |
| | [4] |
The family football battle is over... and Antny's team won. It's a bad time to be an Irish fan.

Friday, September 26, 2003

I just realized that my alma mater's newspaper has gotten a new domain name and a redesign. Hmm, I'm not sure I like it. It looks totally cookie-cutter. I also found it difficult to pick out the letters to the editor, which are always the best part of The Observer. (Today's hilarity: a letter protesting the local TV station's decision not to show Coupling. The guy's argument is that the star of the replacement show - Spin City's Charlie Sheen - is at least as morally bankrupt as the British sitcom-remake. HA! I think a better argument is the fact that the only other area to ban it is in the heart of Mormon Utah and the Catholics will come out looking like overly-uptight religious crazies by association.)

| | |
| --- | --- |
| | [3] |
Oh. My. God. Weird Al Yankovic is playing the Enmore Theater in two weeks! I have to talk the Snook into going.


Michael Moore responds to critics of Bowling for Columbine. Turns out it's all true! Score one for the liberals.

Thursday, September 25, 2003
| | |
| --- | --- |
| | [14] |
Like Matt, I read through this list of The Top 50 Most Common Used CDs feeling smug about not owning any of them. Then I hit the top five and stopped smiling. Ouch. I own all of those, plus a few more in the top ten. Shut up! Belly was really good, okay?

| | |
| --- | --- |
| | [4] |
Eeek! I got a letter yesterday from Tapestry Craft, which is the big knitting shop in Sydney. Check this out:
"Having come highly recommended to us by Liz Gemmell, Albert Morris, our manager, would like to offer your a teaching position in future classes. If you're interested please contact us."
How friggin' cool is that? Liz Gemmell is a famous Aussie designer and knitting teacher. I had a class with her back in August and I guess I made an impression! (To be honest I didn't learn much in the class, as the other three students didn't know much at all. None of them had ever even thought to get a knitting book! I spent the whole time feeling like a suck-up and knitting ahead to provide examples for Liz.)

Anyway, I just talked to Albert on the phone and we're going to meet up this weekend. It's getting to the end of the season here (summer's coming!) so most likely I wouldn't do anything til next year. I'm excited though! I had a go at teaching my sister and cousin to knit while I was home and it was pretty fun. I'd love to teach a group of beginners and get them all fired up!

Wednesday, September 24, 2003
| | |
| --- | --- |
| | [7] |
Trivia Update: Eh, we sucked tonight. Your questions: Name the five categories of sport that make up the modern pentathlon. Which two countries have one word names that end in "M"? Who played Radar O'Reilly on MASH? Who originally sang "Psycho Killer"? Used before SOS, what do the letters CQD stand for? We missed all of those but the last one.

| | |
| --- | --- |
| | [3] |
Via the 'Filter... The Most Phallic Building in the World. While I haven't been to Ypsilanti to see the winner, I'm happy to report that the Snook and I did notice the Best Uncircumcised Building in the World when we were in London in July. (I believe his actual phrase was: "Hey, what's that new big silvery gherkin-looking thing over there?") We also have a good giggle everytime we visit Chicago and spot this building. My lesbian friends will be gratified to know that they're not the only ones to spot the resemblance!

| | |
| --- | --- |
| | [1] |
Geek Eye for the Luddite Guy. This should be a real show, and the Snook and I should be on it.

Tuesday, September 23, 2003
| | |
| --- | --- |
| | [1] |
Leprechaun curling. *blink* Kiwis are so weird.

Monday, September 22, 2003
| | |
| --- | --- |
| | [15] |
I've developed a bit of a slug problem in my worm farm. Everytime I open the lid there are a couple stuck on the walls around the top. I've been picking them off (with a trowel - they're gross) and then squooshing them on the pavement, but I'm getting tired of it. I saw "Slug and Snail Repellant" in the gardening section at Kmart but I'm worried it might hurt the worms. Does anybody have any suggestions beyond the old standby of drowning them in beer?

| | |
| --- | --- |
| | [7] |
"There is nothing inherent in fat that increases the risk of weight gain." HA! The National Heart Association of Australia has finally verified what millions of Atkins dieters already know: eating fat doesn't make you fat. Of course, the article includes criticism from the director of the NSW Centre for Public Health Nutrition, who worries that this information will "undermine weight-control intiatives". In other words, there's a lot of money to be made in promoting low-fat diets and he thinks the Association should've lied or covered up their results for the good of the Australian people. (I'm paraphrasing, but what other interpretation is there in a quote like: "Policymakers must take care that they are not blinded by science to the realities of the prevailing food environment"? Blinded by science??)

| | |
| --- | --- |
| | [1] |
Woohoo! Brace yourself, Aussies. The Snook has just heard through the grapevine that Iron Chef is coming to SBS on October 11. I wonder if we'll get the old reruns of Bobby Flay? Those are the only ones I've ever seen (when I managed to catch it at home in the States).


Probabilities in the Game of Monopoly. I skipped over most of the math myself as I was only interested in Snookums's long-held theory that "Whoever owns the red monopoly wins the game." Given the author's summation regarding Illinois Avenue, I guess he's right.

| | |
| --- | --- |
| | [2] |
The Crafty Garden
Since we now have a lovely tiled courtyard to fill up with plants, I decided to start with a succulent garden (since my friend Kevin has one and it's gorgeous). I bought the plant stand at Kmart and then picked out some sempervivum, a green Jellybean, and another unnamed plant. Yesterday the Snook helped me transplant them into some record bowls I had made. On top I put decorative pebbles and some of the reject glass marbles left over from making marble magnets. Pretty huh? We also planted some basil and cherry tomatoes in the small plastic pots, so hopefully we'll have some homegrown veg this summer.




Saturday, September 20, 2003
| | |
| --- | --- |
| | [5] |
RunningBlog: I just had a great session with my new personal trainer Adam. He set me up with a weight lifting program that I'm going to alternate with Pump classes. I'm also going to mix up my running a bit more and alternate between longer, slower runs and short, intense sprints. I'm feeling pretty good about everything. (Well, except for my pathetic tricep strength. You know how you do those reverse push-ups, where you lower yourself off the edge of a bench and push yourself up and down with your triceps? He had me down for thirty. I can do five. Yikes.) He also asked me about my diet and I stiffened, waiting for the inevitable Atkins backlash. But he was totally and utterly supportive! He just reminded me to get enough Omega-3s and iron and told me that I was doing the right thing! It felt so nice to have some friggin' vindication after a whole year of defending myself. He even thinks that running a marathon next year is a great goal to work towards. (You runners will be happy to note that he gave me a lecture on the importance of running outside. I'm going to work on that.) I feel motivated and inspired. And how's your weekend?

Friday, September 19, 2003
| | |
| --- | --- |
| | [2] |
Friday Five:

1. Who is your favorite singer/musician? Why?
It's probably REM, I guess. I go through periods of obsession with other groups, but I buy every record they put out and I think they're consistently one of the best bands in the world. They're also the only group whose fan club I've ever bothered to join.

2. What one singer/musician can you not stand? Why?
Celine f**kin' Dion. I loathe her music. Every Celine Dion fan I've ever known was a complete idiot. (That's not necessarily cause-and-effect, just an observation.) Her silly chest-thumping and oversinging just make me cringe. Jewel runs a close second, mostly because of her psychotic tendency to switch between her breathy baby voice and her big brassy Celine voice in the same damn song.

3. If your favorite singer wasn't in the music business, do you think you would still like him/her as a person?
I think I'd like Mike Mills, Peter Buck, and Bill Berry. They seem like cool guys. Michael Stipe is a total fruit loop though and I think he'd probably be a jerk if you met him. I saw him on a documentary recently (about some artist friend of Bono's in New York) and Stipey wore some crazy Afro wig through the whole thing and just mumbled incoherently everytime anyone asked him a question. Yeah, I think he's a little weird.

4. Have you been to any concerts? If yes, who put on the best show?
Yep, lots. I think my favorite shows ever were James (London 1998), Ani Difranco (London 1998), Reel Big Fish (1999) and They Might Be Giants (Sydney 2001). They were all in small venues with just great vibes and so much fun for the audience.

5. What are your thoughts on downloading free music online vs. purchasing albums? Do you feel the RIAA is right in its pursuit to stop people from dowloading free music?
I look at it as an issue of being an informed consumer. Yes, I bought more music back before I discovered the joy of downloading mp3s. That was because I'd sign up for a stupid BMG club and spent hundreds of dollars on discs I didn't like and didn't ask for. Now I only buy discs from artists I know I like and want to support. (I'd buy more singles except the only ones that ever seem to be in stores are crap hip hop and rap that I'd never buy anyway.) The record industry is unhappy because people used to buy their stuff regardless of whether it was crap, and now we're all finding out ahead of time how crap it is. Too bad. I refuse to pay $25 for one good song and ten sucky ones any longer. The Constitution is not supposed to guarantee anyone's business model continues making a profit. Living overseas also complicates matters. Often it's the case that I'm willing to pay for something (TiVo, Silpat, mp3s, etc.) but these things simply aren't available in Australia. If the RIAA wants my money, they better start helping Apple roll out the iTunes Music Store to other countries. I got an Australian credit card burning a hole in my pocket but I can't actually buy the things I want! That's ridiculous.

| | |
| --- | --- |
| | [1] |
It's not quite CouchCam, but OfficeCam is now up and running over there on the right. Rest assured, CouchCam will return. It's just that our living room PC needs some updates (in order to run our homegrown Tivo!) so it's currently located in the office... Hence OfficeCam. Enjoy.


Wow, my site got a link and a nice compliment over at craftster.org!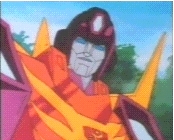 The Snook noticed recently that our DVD of Spirited Away (which we still haven't watched, actually) contains the trailer for Transformers: The Movie. Made in 1986, it stars Judd Nelson, Leonard Nimoy, Robert Stack, and Orson Welles (!) as various Autobots and Decepticons. We were having a giggle over this til we noticed the name of the character Judd Nelson played: Rodimus Prime. Snookums now requests that you refer to him as "Roddimus Prime" in all online communication. Thanks.


If anybody, um, wants to get me a Christmas present or anything, this is definitely on my list.

Thursday, September 18, 2003
| | |
| --- | --- |
| | [5] |
My fellow cable-deprived music lovers might be interested in watching REM's new video online. (I'm told it's also playing on MTV and VH1.) As near as I can tell from the crappy Quicktime version, the song is really really good. I'm trying to find a decent rip online so I can tell for sure. (Rest assured, Mr. RIAA, I'll buy the damn record - as I have all the others - as soon as it comes out here in Australia, which probably won't be for four years anyway.)

| | |
| --- | --- |
| | [2] |
The new Knitty is here! Yay.


Now there's something you don't see every day... Uluru reflected in a "lake". Very cool.

| | |
| --- | --- |
| | [4] |
The Top 11 Strangest Star Wars Action Figures. I actually don't own a single Star Wars action figure, if you can believe it. What I wouldn't give for the mythical RocketFett! (Link courtesy of Matt.)

Wednesday, September 17, 2003

You know coffee creamer, right? The dried powdery stuff your Grandma puts in her coffee? Well, guess what they call that in Australia. Go on, guess. It's beverage whitener. Seriously. Which makes sense, but it's still a weird thing to see on a jar at the supermarket.

| | |
| --- | --- |
| | [4] |
Max points out that The Amazing Race 5 is now casting. Hooray! That means it's probably coming back! Unfortunately the official eligibility requirements preclude the Snook and me from applying on account of his non-Americanness and my not-resident-in-Americaness. If Max gets in we're totally rooting for him, though.

| | |
| --- | --- |
| | [7] |
How do you sleep? I'm a foetus and a freefaller myself. Actually I sometimes do a combination of both, with my arms up around the pillow and one leg bent at ninety degrees (like I'm climbing). It's so comfy; you should try it. But how in the world do those log folks sleep like that? It looks to me like you'd have trouble balancing with your arm pinned beneath you. I'd topple over onto my face within five seconds.

| | |
| --- | --- |
| | [13] |
Foxy Lady
I just don't understand why guys honk at women. What do they hope to accomplish? They can't possibly expect me to, like, respond to them. Is it just that they're showing appreciation, like an audience clapping at a symphony? That's nice, but as far as I'm concerned stepping outside my house in a skirt isn't really grounds for a standing ovation. I can maybe see it if I'm all dressed up to the nines, but not when my hair's still wet and plastered to my head, I'm not wearing any makeup, and I'm wearing a coat that covers 65% of my body. The only thing exposed today were my knees. Is this the nineteenth century? Are men allowed to hoot and honk every time a woman exposes more than an ankle?

Tuesday, September 16, 2003
| | |
| --- | --- |
| | [5] |
David Blaine is ten days into a new "stunt" that involves hanging in a clear box near the River Thames and not eating for 44 days. The English, God love 'em, have been taunting him mercilessly. On Friday one awfully clever person used a remote control helicopter to dangle a cheeseburger outside Blaine's box. Hee!



I can laugh because I've been resisting the siren call of the cheeseburger long enough to get back in ketosis! It's time to get rid of these last seven kilos, once and for all.




"The dinosaurs are not around today because they did not have a space program." The Top 10 Reasons for a Space Program. As this Slashdot post points out, most of these have to do with planetary safety and economic reasons. Whatever happened to "Because it's there"?

| | |
| --- | --- |
| | [6] |
How sensitive are your senses? Take this test. I scored 10 out of 20. I screwed up most of the first visual section and I missed the last three straight. I suck.

Monday, September 15, 2003

Not only are we getting the American version of Queer Eye for the Straight Guy shortly... but they're casting an all-Aussie version right now! I told my friend Kevin - who owns the salon where I get my hair cut - that he must apply.

| | |
| --- | --- |
| | [3] |
I just saw this fluff piece on "buttock augmentation" and was merrily skimming through it when I hit the bit where they describe exactly how the procedure is performed. Lordy! No pictures, but I'm never going to be able to get the mental images out of my head. And the scars are down your...!

| | |
| --- | --- |
| | [6] |
Don't forget, Aussies! Tonight at 6:00 the ABC begins showing every single episode of Dr. Who. Our VCR is set. Is yours?

Sunday, September 14, 2003
| | |
| --- | --- |
| | [4] |
The Snook and I just got back from finally seeing that pirate movie. As we'd been eagerly awaiting its arrival in Australia for, oh, four months, it was probably inevitable that we'd be let down a little bit. Eh, I dunno. It was enjoyable and two hours of watching Johnny Depp are never misspent, but somehow it just didn't buckle my swash the way I expected it to. A lot of people said they felt it ran too long, which might be part of it, but what I noticed the most was a lack of surprise. I wanted something to happen, anything that I hadn't already seen coming miles away. It felt like I'd already seen every good bit in the trailer. I'm also annoyed because I spent the whole film waiting for Johnny to say the line from the trailer about "bloodthirsty pirates that cannot be killed", and he never did! I hate it when they do that. Orlando was good but he's always so deathly serious. He never plays characters with any sense of humor. I end up giggling at his romantic lines when I should be swooning. And lastly, sorry boys, but Keira Knightley failed to impress. She's got great hair, but her upper lip is bigger than her lower one! Am I the only one that thought that was weird?

| | |
| --- | --- |
| | [5] |
Ouch.
Saturday, September 13, 2003

Friday Five:

1. Is the name you have now the same name that's on your birth certificate? If not, what's changed?
Yup. Most folks nowadays call me Kris rather than Kristine though. A few who knew me in grade school still call me Kristy.

2. If you could change your name (first, middle and/or last), what would it be?
I like my name, except for the fact that everybody either A) spells it wrong when writing it down or B) pronounces it wrong when reading it out loud. ("Yeah, there's an E at the end there. Hence Kristeeeen. Not Kristen.") But I wouldn't change my name over that. I'd just prefer everybody in the world learn how to spell/pronounce it properly.

3. Why were you named what you were? (Is there a story behind it? Who specifically was responsible for naming you?)
I always thought that my parents had just liked the name, but a few years ago while talking with my mother she mentioned that "Kristine" had been her best friend in school. I never knew that. I don't know anything more about her, but that's who I'm named for.

4. Are there any names you really hate or love? What are they and why?
I like names that pack in a lot of options, like my name. I lobbied pretty strongly for my cousin Megan to be named "Katherine", because I reckoned it would be nice to choose from Katherine, Kate, Katie, Kathy, etc. I also like traditional names that aren't going to be embarrassing when the person is eighty years old. Can you imagine going to the nursing home to visit "Dakota" or "Jaden"? I don't think so.

5. Is the analysis of your name at kabalarians.com / triggur.org / astroexpert accurate? How or how isn't it?
I did the Kabalarians a long time ago and at the time I thought it was pretty accurate. The triggur.org site says I am weak of spirit and hate happy people. I am also apparently a lousy drunk. Yeah, I'd go with that.

| | |
| --- | --- |
| | [1] |
RIP Johnny Cash and John Ritter. The Snook and I were watching the news last night when we got the jaw-dropping news about Cash. Snookums has called a special meeting of his "Guinness Club" at the pub tonight to drink some beer and mourn the man in black. I didn't hear about Ritter til I read it on Max's site this morning. So sad. Remember when he played "Ted" on Buffy?



Sidenote: Did anyone else do a double-take on the quote from Bono in that Johnny Cash article? "I considered myself a friend, he considered me a fan - he indulged me." Either Bono or the BBC messed up the quote, or Bono rather hilariously misunderstood his relationship with Cash.



Friday, September 12, 2003
| | |
| --- | --- |
| | [5] |
Aoccdrnig to a rscheearch at an Elingsh uinervtisy, it deosn't mttaer in waht oredr the ltteers in a wrod are, the olny iprmoetnt tihng is taht frist and lsat ltteer is at the rghit pclae. The rset can be a toatl mses and you can sitll raed it wouthit porbelm. Tihs is bcuseae we do not raed ervey lteter by it slef but the wrod as a wlohe.

| | |
| --- | --- |
| | [1] |
Like Max, I think Come Poop With Me sounds awesome.

| | |
| --- | --- |
| | [6] |
Contest: My company has just launched a new product called the Dreamio. Seriously. An expensive, high-end consumer electronic device called a Dreamio. The mind boggles. Do marketers actually get paid to come up with this stuff? My co-workers and I are having fun coming up with other things more deserving of the name. My favorites so far have been: a luxury pillow, a sex toy, and a "soccer playing Smurf". Got any better? I'll send a Harry Potter knitted bookmark to the person who comes up with the best alternative. Post your suggestions in the comments.


Unless it rains soon, as of October 1st it will become illegal in Sydney to use a lawn sprinkler or wash your car with a hose. Premier Bob Carr says that this will be remembered as "the first time global warming affected our way of life". While homebrewing is not yet banned, I think the Snook's going to have to work on making the process a little more water-efficient.

| | |
| --- | --- |
| | [14] |
Last night I organized our entire CD collection and put them all into new binders. I was amused to see that we have a CD for every letter of the alphabet except for U and Z. Any recommendations? The Snook suggested UB40 and ZZTop, but I'm thinking we can do better than that...


Want to help make the world's longest scarf? The project is being run as part of next year's Stitched Up Textile Festival in Wangaratta, Australia. Even beginning knitters can take part! Using 8-ply wool and 4mm needles, cast on 66 stitches and knit one metre lengths of garter stitch (knit every row). They should end up being 12 inches wide. Then just send them to the address listed. After the world record is verified, they'll break up the lengths and use them to make blankets for the needy. I'm going to be doing it!


Did you ever have one of those experiences where you try to do something normal and it turns out completely surreal? Last night I met the Snook in the city to buy his computer monitor. We decided to hire a cab and save on the $30 delivery fee. So we walked down York Street from the Queen Victoria Building, went in the shop, and paid for the monitor. I'm positive that only took fifteen minutes. We left with the box and hailed a cab to take it home. Two minutes later a man ran over as we were sitting at the red light. "You guys might want to get out," he said. "There's a protest going on up there and the cops have blocked the street." What? It was like a flash mob. Sometime during the fifteen minutes we were at the computer store, a hundred Chilean protestors converged on York Street and started chanting about Pinochet and anti-Americanism. It was a little weird. We decided to stay with our cabbie though and he managed to get us through, only to run into atrocious traffic everywhere else. Eventually we made our way around to Glebe but the only street to our house from that direction is one-way... going the other way. "It's okay," I said. "We can just go around the block." "No, it's cool!" the driver said, before throwing it into reverse and speeding down the street backwards. The Snook and I were both yelling and holding on for life as he explained that the police cameras can only bust you if they see your car pointing the wrong way down the one-way street. How comforting. We finally screeched to a stop outside the apartment and we scrambled out. The fare? Thirty dollars. I'll be sticking to mass transportation from now on. Sheesh.

Thursday, September 11, 2003
| | |
| --- | --- |
| | [2] |
License plate I saw this morning on my way in to work: GDAYM8. That made me smile.

| | |
| --- | --- |
| | [12] |
Trivia Update: I know... It's Thursday! The schedule has changed. We're actually going back to the Nag's Head for trivia (since it's closer to the new house) and trivia there is on Wednesday nights. They have better prizes too, but unfortunately we didn't get any of them because we sucked. Your questions for the week: Which TV show featured the Loyal Order of the Water Buffalo? What type of reptile is a basilisk? Which world leader coined the phrase "the mother of all battles"?

Wednesday, September 10, 2003

The other night the Snook and I caught Woman on Top on TV. I can't believe I actually liked a Penelope Cruz movie. It was funny and sweet and romantic. Ebert thought it was fluff, but it was enjoyable fluff. Plus I love me some Harold Perrineau. If you like good food and you're not afraid of a whimsical movie (think Amelie), you should definitely rent it.


The Herald picks the ten most "attention-getting pop-cultural" kisses in history. I'd have put that Michael Jackson one at the top.

| | |
| --- | --- |
| | [3] |
I'm ranting about marriage over at Glitter. Again, just as I start to think it's something I want to do, somebody has to go and ruin it. In this case it's a person who thinks that only people who are married or who intend to get married should live together. Otherwise you're just "wasting time." Grrrr.


We're still lacking Internet at home, though the Snook thinks it may have been secretly hooked up. He's working on cabling the house so hopefully we'll be back online soon.

Tuesday, September 9, 2003
| | |
| --- | --- |
| | [5] |
You never realize how useful that middle finger on your left hand is until you slice the shit out of it while chopping pumpkin. Ouch.

Monday, September 8, 2003
| | |
| --- | --- |
| | [6] |
Skittlebrau. The Snook is gonna love this.

| | |
| --- | --- |
| | [2] |
I could totally see myself being one of these Disney obsessives. I've only been three times in my life and I absolutely loved it. I also used to wish we lived closer to Sandusky so I could get the Cedar Point annual pass. I'm a theme park freak.

| | |
| --- | --- |
| | [16] |
As Robert points out, Cherry Coke has finally returned to Australia after an absence of many years. Pretty surprising, since I'm fairly certain we've always had Cherry Coke in the US. Haven't we? I can remember loading it in the pop machines at our local IGA in high school. The Snook thinks it's because the American "cherry" flavour is too strong and almond-like for international palates. I haven't tried the new Australian version yet, but apparently it's been modified somewhat from the original. One of the Snook's co-workers e-mailed Coke Australia last week to complain about it "not being cherry enough", and he got this as a reply:
"The decision to introduce "Cherry Coke" to the Australian beverage market was made after extensive research coupled with strong consumer feedback. Coca-Cola Amatil tested various "Cherry Coke" formulations from around the world before choosing the German formulation for "Cherry Coke". This variety has a much subtler cherry flavour than the American version."
So there you have it. Evidently the American cherry flavoring is just too hardcore for the rest of the world. I'm going to have to try this soon and compare.

| | |
| --- | --- |
| | [4] |
I'm baaaaack! Wow, I thought you kids would've made a much bigger mess while I was gone. :)

No major dramas with the van, thank St. Christopher. I only had one minor incident going around a roundabout, where I waited too long to start cranking the wheel (no power steering, of course) and ended up jerking it at the last minute. Of course, that meant about fifteen boxes in the back slid over. To further compound my stupidity, I then turned my head to see what had fallen, thereby forgetting to turn the wheel back to the left and driving up on to the curb momentarily. No harm done though, and the guy behind me had a bit of a laugh. I think it gave me good driving karma too because each time we headed back to the old place I was able to find a huge legal parking space right across from the house. So that was good.

Right. So the Snook and I took over two loads of stuff Friday and the movers brought the rest on Saturday. We are loving our new place. The Snook is so enraptured by the dishwasher he insisted we rewash all of our dishes to remove any newspaper packing residue. I myself am so positively giddy over my internal laundry (and the fact that I can wash clothes in hot water now) that I've done about ten loads already. We even washed the couch slipcovers and all the rugs. It's wonderful.

Here's what isn't wonderful about moving: cleaning the old house. We'd planned to do it ourselves on Sunday but we only managed about 45 minutes of dusting and sweeping before giving up. It was just too gross and we were too tired. Plus psychologically we were all about nesting and setting up our new place, and I was just so ready to be done with the old place, you know? So we called it quits and arranged to have a cleaner come in Monday. All that's left is for the Snook to take some old clothes and toys up to the op shop.

We're about 75% unpacked at the new place. Really all that's left is the office, which is currently piled high with desks and computers and boxes. It's a low priority because we won't have our ADSL switched over for a week or so. (No CouchCam til then, I'm afraid.) The Snook also has to work out how he's going to cable the new place. I keep pushing him to go wireless, but given how much we've already spent on the move I guess I can live with a few wires crossing the hallway. :)

As always, pictures are forthcoming. I can't wait for you to see it!

Friday, September 5, 2003
| | |
| --- | --- |
| | [2] |
Well, I successfully drove the rental van back to the house without killing us both! I even went around a roundabout. The only confusion is that the gear lever is on the left side of the steering wheel and the turn signal is on the right. I keep reaching for the wrong one instinctively.

Anyway, this is me signing off for the time being. No word when we'll be back online, as the ADSL hasn't been transferred to the new place yet. At the very latest you'll hear from me Monday at work. Have a good weekend, everyone.

Thursday, September 4, 2003
| | |
| --- | --- |
| | [10] |
The lease is signed; the keys have been handed over. It's officially Moving Day, yo. Well, sorta. Today I'm home packing and cleaning while the Snook finishes up at work. Then tomorrow we'll be renting a van to drive* as much of our stuff over as possible. Saturday the movers come to get all the rest. I'm in for a busy weekend...

* Yeah, so despite the fact that I've been living overseas for four years, this Friday will be the first time that I've actually gotten behind the wheel of a vehicle outside the United States. It will also be the first time that I've driven on the left side of the road, the first time I've driven around roundabouts, and the first time I've driven a van in, like, eight years. (Yes, the Snook has a license. No, he doesn't like to drive, so I'm doing it.) Wish me luck. Who's the patron saint of motor vehicles?

| | |
| --- | --- |
| | [9] |
I took the Real Age Test and discovered that although I am 26.5 in calendar years, I am 24.8 in terms of my "real age". I don't think that's quite right, though. I took a huge hit on the nutrition section since it didn't view healthiness from at Atkins perspective. (Too much meat and not enough breads and fruits, I guess, although I did get max points for vegetables.) I do think I need to get some variety back in my gym routine. All I do now is running and I guess some weight training would be beneficial. Fortunately I've got some sessions with a personal trainer coming up (I had to upgrade my gym membership when transferring it to a location near my new flat) so maybe they can help me plan a routine. (Real Age link courtesy of Kristen. If you do it, I advise entering a junk e-mail address and checking "no" to their many spam requests.)

Wednesday, September 3, 2003
| | |
| --- | --- |
| | [1] |
New Poll: In honor of the ass-whupping at darts I received today at lunch courtesy of my co-workers, I want to know - what's your favorite bar/pub game? Do you prefer intellectual stimulation, or would you rather endanger yourself with projectiles and long sticks?

| | |
| --- | --- |
| | [9] |
Not happy, Jan. My iBook monitor is officially buggered. The cost of replacement is over two thousand dollars, not counting labor. I could buy a whole new computer for that! I called Apple Australia's customer relations in the hope that they might throw me a bone and let me buy AppleCare out of warranty, but they'll only do that if the computer is verified "in good working order". Ouch. So the only solution left is to hack the machine to allow me to operate it with the lid shut and plug in an external monitor. The Snook, ever one to see the silver lining, has graciously offered me his huge mondo monitor... so he can buy a new one. :)

| | |
| --- | --- |
| | [11] |
Do you like girly drinks? Are fruity cocktails too feminine for your manly self? While I've never had a Sex on the Beach in my life, I confess that I find martinis and bourbons just a tad too strong for me. Lately I've been ordering Long Island Iced Teas, which at least aren't fluorescent colored.

| | |
| --- | --- |
| | [6] |
Little Victories: Whenever I buy pantyhose, I automatically just reach for the largest size available. I'm tall and that's the only way to get a pair where the crotch doesn't end up around my knees. This morning I was opening up a new box when the sizing chart on the back caught my eye. You know what these look like, right ladies? With height on one axis and weight on the other, and colored squares in between to indicate the sizes? I assumed that I'd be smack in the middle of size 2, which is what I'd bought. When I actually traced my height and weight though, I found myself square in size 1! I actually had the Snook re-calculate my height and weight in metric so I could be sure of it. It's a trivial accomplishment, but it sure felt good. What's your little victory of the day?

Tuesday, September 2, 2003
| | |
| --- | --- |
| | [7] |
There was a good article reprinted in today's Herald about the surprise success of Office Space. The movie barely made back its intial investment in the theaters but is now considered one of Fox Home Entertainment's Top 20 hits. Have you got a red Swingline stapler?

| | |
| --- | --- |
| | [5] |
In case you missed the link in this thread, check out these rabbits. At least, I think they're supposed to be rabbits. Isn't that nuts? I want one.


Apple plus Sony? Intriguing idea.

archives
You can search through the archives by post keyword using the form on the left, or you can browse by month using the links at the bottom.
"Moblog" refers to posts and images posted directly from my mobile phone.

"PW Blog" refers to posts recovered from my very first weblog, which dealt with news related to my college dorm.