Saturday, September 30, 2006
| | |
| --- | --- |
| | [1] |
Excellent. The first knitted "tag" from the Sydney Stitch and Bitch group went up yesterday in Martin Place. And it was Swannies-themed! Too bad they went down by one point in a nailbiter. Better luck next year, Bazza.


To quote Iron Chef, the Barbecue Battle is OVAH! We had about nineteen people in here at one point or another today for the official Bigass Kris Becomes Strine Party. The Snook outdid himself at the barbie, with chicken, lamb, snags, prawns, and mushrooms all on the menu. Our guests outdid themselves with salads, snacks, and desserts. Special thanks to Amy and Rob for the hilarious "Aussie Showbag," including a terrycloth hat, zinc, thongs, and many other Aussie accoutrements. (No doubt they or Andrew will have photos soon.) The only one unhappy was Dr. Amy Jones, who hid under the bed for hours. Poor thing. We only just managed to coax her back out. She's such a scaredy-cat!

Friday, September 29, 2006
| | |
| --- | --- |
| | [19] |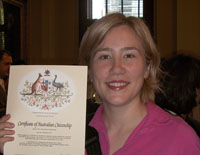 Citizen Kris
Well, it's official folks. I am (you are, we are) Australian. It's weird; the importance of what I was doing didn't really hit me until yesterday. I was at the shop saying goodbye to Verna, the lady who runs our embroidery clinic, when I mentioned that I'd be Australian the next time she saw me. "Really? You're getting your citizenship?" she asked. I said I was. "Thank you." she said sincerely. "I really mean that. Thank you. I think it's wonderful when people decide to join us." How nice is that? And that's when I realized that this kind of is a big deal. For the rest of my life, whenever anyone asks my nationality, I will say something different to what I've said up to this point. I always feel weird about making big changes like that. (Hence, I kept my last name when I got married.) So there really was a sense of the momentous when we headed into Sydney Town Hall this afternoon.

We were ushered upstairs - it really is a very pretty old building - and into a reception room. Snookums left to sit with the other guests in the back while I signed in and was directed to a seat in the front row. (I quickly worked out that the two halves of prospective citizens were divided based on whether they were taking the "God" oath or not. I was on the "not" side.) A woman in the corner played a steady stream of Australian classics on the piano: "Waltzing Matilda," "I Still Call Australia Home," "We Are Australian," "The Pub With No Beer," etc. Eventually everyone was settled and our host entered; it was Clover herself! Wearing her Lord Mayor regalia and her signature choker. SWEET. As she spoke to us about this nation of immigrants, I started thinking about my grandmother going through a similar ceremony in the US more than forty years ago. She was a long way from home too, and she was saddled with a foreign tongue, young children, and a husband in the service. I can't imagine. Soon Clover was finished and our two groups were asked to stand and recite the pledge together. My version read: "From this time forward, I pledge my loyalty to Australia and its people, whose democratic beliefs I share, whose rights and liberties I respect, and whose laws I will uphold and obey." Personally, I really like it. I think it's fair. All notions of patriotism and national identity aside, I feel like the Australian people - the friends, co-workers, and family I've met over the past five years - deserve this much. I want them to know I do respect their way of life, and it's my way of life too. Then we were each called to the podium in turn to collect our certificate and have a photo taken with Clover. (They'll mail them to us soon.) We also got a "showbag" of gifts. We concluded by all singing the national anthem and then snacking on meat pies and lamingtons. (No, really.) This flag-waving was all a little much for a still-recovering Snookums, so we headed home not long after.

Oh! So you'll want to know what was in my gift bag. Well, unlike other people, I didn't get a tree. I repeat - NO TREE! I was very disappointed. I was really looking forward to nurturing a native plant. I got a little photo book about Sydney, a commemorative pin, and an ink pen. (My inner Lloyd Dobler: "Australia gave me a pen. I gave her my loyalty, and she gave me a pen.") Oh well. And can I just say, if the group of new immigrants I was in is in any way indicative of the future gene pool of Australians, we're all going to be a much shorter nation in the future. Other than me and a few giant Russian guys, everyone else was tiny. I was surrounded by insanely happy, cute, tiny Asian-Australians. I really like living here. BRING ON THE BARBECUE!

Thursday, September 28, 2006
| | |
| --- | --- |
| | [1] |
Ooh ooh! Damien from Idol has a myspace page with two songs to download! (Link courtesy of his - unbeknownst to him - girlfriend, Crumpet.)

| | |
| --- | --- |
| | [6] |
Someone on AskMetaFilter wonders: Why do you wear makeup? Well, I don't normally wear makeup, but I do today! I just had my free little makeover at Clinique. Here the results. I don't know if you can see very much in that picture, but I took a poll amongst everybody at work (and at tonight's Stitch and Bitch) and the results were overwhelmingly positive. I think the only real problem I have with it is the SHININESS. The blush and the lipstick are a little over-the-top for me (and the Snook agrees). I really like the eyes though, and as much as it annoys me to say it, I think I may have to start wearing mascara. It just really brings out my eyes and makes me seem more alert (and less tired). I still just feel weird about the concept of me wearing makeup though. People in that MetaFilter thread said it makes them feel polished and sophisticated, but I always feel like a little girl playing dress-up. Is that just a case of not being used to it? I just feel really silly and obvious, like other people will look at me and think that I'm trying too hard or something. (Plus there's the whole "men aren't expected to wear crap on their faces" feminist argument that I still partially identify with.) Ucccchhh, I dunno. I gotta go wash my face so I can feel like myself again.



I did manage to escape without buying anything though, which was a victory. Maybe I'll try it again at a different counter and see if they do it differently. Any suggestions?



| | |
| --- | --- |
| | [4] |
"Finger length gives sports clue." Huh. I always heard that women whose ring fingers were longer than their index fingers were more likely to be lesbians. (Who told me that? Kel?) At any rate, I just did a highly scientific study of my own fingers using the knuckle bend as the starting point. And guess what? My ring finger is longer too! I guess I really should commit to running a marathon next year. (And leaving the Snook for another woman. JUST KIDDING!)

Wednesday, September 27, 2006
| | |
| --- | --- |
| | [5] |
Some sweet high-res stills from Harry Potter and the Order of the Phoenix were released online today. I like the short hair! I also covet Hermione's yoked fairisle jumper. (Link courtesy of Kevin.)

| | |
| --- | --- |
| | [1] |
Cricket Australia says they're going to crack down on racism this year... except for Pom bashing. We're still allowed to do that. Cool!

Tuesday, September 26, 2006
| | |
| --- | --- |
| | [2] |
Check it - a messenger bag made out of old floppy disks. Pretty sweet! Although it looks like it would suffer from the same problem as my Carpenters bag: being too boxy and uncomfortable to carry.


I have spent way too much time today watching my poor sick Snookums on CouchCam. We think he's got a touch of food poisoning. Any ideas for nice things I can do for him tonight?

Update: Now I'm starting to feel not-so-nice myself. I wonder if we picked up a bug?

| | |
| --- | --- |
| | [3] |
TallulahBelle is my new favorite Idol commentator. Her analysis of Sunday's performances was spot on, and she shares my insane amusement with the antics of Mr. Bobby Flynn. (Thanks to crumpet for pointing me to Tally's site.)

| | |
| --- | --- |
| | [2] |
RunningBlog: Pictures from last weekend's Bridge Run are now online! Why is my natural impulse to give the thumbs-up in every time I see a photographer?

| | |
| --- | --- |
| | [4] |
New hair colour! Now appearing on DeskCam. I wanted to go all brown; my hairdresser wanted to go all blonde. We compromised by doing a full head of foils, half of each all mixed together. It actually blends to the most natural colour I've had in years.

Monday, September 25, 2006

Hypoallergenic cats are now on sale. They're so cute! I like that the guy from the company goes out of his way to clarify that all they did was breed the right cats together; these are not GM cats.

| | |
| --- | --- |
| | [2] |
The Last Knit. It's a cute little computer-animated video about a very obsessed knitter. Of course, this obsessed knitter couldn't help but notice that she's knitting garter stitch, yet her hand movements look more like purling... I'm a dork. (Link courtesy of John, who totally knew I'd post this.)


Oh my gosh - a homemade ball winder made out of Lego! And it's motorized! That's the coolest thing ever. (More details pics are here.) I wonder if it actually works out cheaper than just buying one on eBay...


GO IRISH! I can't believe I missed the Game of the Century. Hey Mom, do you have enough bandwidth to start running a Slingbox for us?

Sunday, September 24, 2006
| | |
| --- | --- |
| | [2] |
Reality TV
Of course, I wasn't cleaning the whole time. The Snook and I managed to find time to work in both the new seasons of Survivor and The Amazing Race. I have to say, I am LOVING the "divided-by-race" thing on Survivor... mostly because the Asians are rocking the house. Two hot Korean-Americans on primetime TV? I really hope my Mom is watching. I don't want to give too much away (in case Nine gets off their collective ass and decides to show it here), but let's just say I'm enjoying this concept way more than I expected to. It helps that most of the contestants are good-humoured about the whole thing. (And did I mention Yul's hotness?)

And then there was the Race... which I'm also enjoying. No one's leapt out as a personal favorite yet, but no one's really grated yet either. I admit I cringed when the Kentucky couple were introduced. I'm probably related to them. But you know what? They rocked. They were friendly; they were open-minded; and so far they haven't embarrassed me one friggin' bit. Unlike the dad who confessed to "a little disappointment" because his daughter's a lesbian. (Me: "OH NO HE DI'NT!") So yeah, I forgot about him. He grated. He's trying to make up for it though, so I'll grudgingly give him a momentary pass. He better improve. A big thumb's up to the eating challenge though, and to that damn rope climb. I hope this is a sign of (legitimately difficult) challenges to come.

Lastly, there's our very own Australian Idol. CONGRATULATIONS to all the ladies, I have to say! (Except Klancie. I like pretty Shania, but Klancie seems to be channeling slutty dominatrix Shania. *shudder*) Lavina was the most "fun" we've seen her and I really want her to do well. (Mostly because I was never a fan of her sister Emily, and I want her to do well by comparison.) Jessica was friggin' INCANDESCENT though, and that was literally the best response I've ever seen to a judge's comments. I was so cheering for her to get a touchdown. Suck it, Sandilands! Lisa has also completely turned it around and she's now back in my good books. That was a perfect song choice for her, and she nailed her delivery. Good, good, good. The boys though? Not so great.

Amy: Dude, Bobby? Was not good tonight.
Me: I know! Bobby phoned that one in from the parking lot.
Amy: Ha! Word.

My boy Chris was a bit underwhelming as well. Damien gave a great performance, but it was so understated I'm not sure people will remember it. Ricky was okay, but he is so intensely desperate to do well that it makes me nervous for him. Dean picked yet another perfect song and gave it his (okay) best, but damn that boy brings the pretty. And Mutto... Mutto has constipation face. We have no need for Mutto.

So if we could just get rid of Klancie and Mutto, I would literally have no problem with *any* of them winning this year. Which is why, uh, I finally got sucked into voting. I can't help it! They've gotten me emotionally invested. And here I am blogging about it, just as James Mathison predicted I would. Damn you, Channel 10!




Spring

Summer Cleaning
Dude, it was NINETY DEGREES today. We have officially leapfrogged Spring and gone right into a blazin' hot Aussie summer. (Literally.) What's weirder is that we also had gale force winds. This? I'm not used to. In Indiana, when it's hot it's usually stinkin' humid and hot. Today was like being in a fan-forced oven. An especially strong gust nearly tore down a section of the fence between us and the neighbours'! It was kinda extreme.

In more mundane news, the Snook and I did some much needed "spring" cleaning. We started with the closets and ended up taking two more large garbage bags full of clothes to the Salvos. (I'm still parting with FatWear.) I also finally broke out the space bags I bought a while back to store my sweaters and our doona. DUDE, THEY ARE AWESOME. I need to get about twelve more. Seriously, our comforter filled an entire suitcase; sucked down it's less than half that size. We also washed a ton of laundry and had our first confirmed sighting of the bottom of the laundry bin in nearly a year. (How do I know that? Because the last thing we pulled out was my Sakei costume.) We also sorted and filed - I swear - several hundred bank statements and bills in the office. I feel our feng shui starting to improve already.

The garden got a big of a makeover as well. We've planted a new flowerbed along with basil, green onions, and pineapple. (Our old pineapple was kinda "budding," so we figured we might as well plant the tops and see what happened.) I also picked up some new ceramic pots which we filled with tomatoes, capsicum, and cat grass. (Dr. Jones approves very much.) Today we walked to Newtown with the simple intention of filling up the gas bottle for our barbecue... and we ended up with this. Talk about your true blue Aussie impulse purchase!

Friday, September 22, 2006
| | |
| --- | --- |
| | [3] |
Stop. The. Presses. Bobby Flynn is apparently going to be singing Arthur's Theme (Best That You Can Do) on Idol this Sunday. First off: that's AWESOME. Secondly: Did he go see The Boy from Oz last week too?


I'm happy to report that the latest Rowan magazine (number 40) is now in stock at the shop! I'm also THRILLED to tell you that it's not nearly so wacky as the last one. Although it does contain knitted suspenders. And a full-length knitted ballgown that probably costs as much as my computer. Okay, so it's a little wacky.

| | |
| --- | --- |
| | [3] |
Other than missing my family, there isn't a lot of stuff that makes me think, "Man, I really wish we lived in the US." But you know what does? HALLOWEEN. I know, I know. You're saying, "Kris, what about your dream of bringing this fine holiday to the Australian people? Don't give up the dream!" And you're right. It's just hard! Especially when I see all the truly awesome Halloween stuff you can get in the States that simply doesn't exist here. To whit: I-Mockery's Ultimate Guide to the Halloween Candy of 2006. That? IS AMAZING. God, I hope Mom is sending me some of that in her care package! (Link courtesy of Bex, who probably didn't mean to bring on such a bout of melancholy and nostalgia, but it's cool.)

| | |
| --- | --- |
| | [3] |
At last! Photographic proof of my acceptance within the Sydney goth knitting community... :)


Ooh, NIDA are putting on one of the most memorable plays I saw in London: Shopping and F**king. I wonder if the Snook's up for a night at the theater? I don't even remember the plot, other than lots of references to sodomy and ramen noodles.

Thursday, September 21, 2006

I went for a run this morning and found myself smack dab in the middle of the ABC strike. Huh. I wondered what that was all about.


"Karma is a bizzle, yo."
All controvery aside, I thought the Survivor premiere this year was excellent. I liked that each group sorta had their own dynamic and issues to deal with. Their good humor about the ethnic divisions was enough to dispel any worries I had about the non-PC aspect. And yeah, give it up for the Asians! Anything that gets more hot, competent Koreans on the screen is a good thing in my books.

| | |
| --- | --- |
| | [2] |
Austrian scientists suggest "that for a man, sharing a bed can momentarily decrease brain power." Apparently we women disturb their sleep and stress them out, while we ourselves sleep too deeply to be affected. Unfortunately this study is FLAWED, because they failed to introduce the "F" factor. (That stands for "effing feline.") Dr. Amy Jones has decided that since the sun is coming up earlier, she should get her breakfast a little bit earlier every day too. She got me up at 5am yesterday. The Snook somehow sleeps right through her ploys, whereas I go through a five stage process: 1) being rudely awakened by the feeling of four pounds of cat sitting on my stomach; 2) rolling violently from side to side to get her off me while I try to get back to sleep; 3) passive-aggressively wishing the Snook would wake up and deal with her while I frantically kick out with both legs at the foot of the bed, where she's scratching; 4) throwing myself out of bed dramatically and stomping to the kitchen, where I kick open her automatic feeder and tell her to choke on it; 5) seething for half an hour in bed while recognizing that I should never, ever have children. AND DO YOU THINK THAT'S GOOD FOR MY MENTAL STATE, FANCY PANTS AUSTRIAN SCIENTISTS? I DON'T THINK SO. (Original rant-prompting link from Christopher, who has his own bed and no doubt sleeps the sleep of the blessed and just.)

Wednesday, September 20, 2006

HAPPY BIRTHDAY, JOEY! My little little brother turns five today, and he sang me a cheery song about it on the phone. Love you, bubby!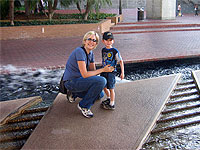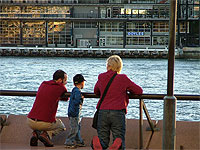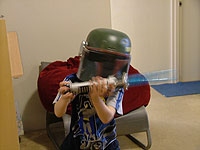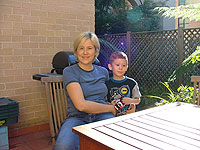 These are all from the Garbericks' visit to Australia earlier this year. The first is me and Joey standing amidst the fountains at Darling Harbour. Next (my absolute favorite shot) is Snookums, Joey, and me kneeling at the Opera House railing and looking out over Circular Quay. Third is Joey modeling the Snook's Boba Fett helmet and showing off some light saber action. Lastly is me and my little brother out in our garden.


I forgot to mention that my Mom is now actively selling her quilts on both eBay and her own website: Heartland Quilt Company. One of those will definitely keep you warm this winter!

| | |
| --- | --- |
| | [2] |
Murphy's Friggin' Law
Last night we moved everything out of the knitting shop so we could get the carpet steam cleaned. It looked gorgeous. Within four hours this morning, a customer spilled fruit salad all over it.

| | |
| --- | --- |
| | [5] |
Congratulations to Jeff and Tricia on their wedding this past weekend! Have a great honeymoon, you guys...

Tuesday, September 19, 2006

The Anorexic Camera. That's ridiculous. Sure, I like a skinny mirror as much as the next girl, but this is taking things a little too far.

| | |
| --- | --- |
| | [2] |
RunningBlog: The Race results are now available! There were 7824 finishers in all, and we didn't do too badly. The Snook came in with a net time of 57:48 to finish 5176th, while my net was 58:14 for a place of 5262nd. I did slightly better against my age and gender groups, mostly because the Snook got bumped into the 30-39 male group and I think most of them are hardcore runners. Our next event is tentatively going to be the Gladesville Bridge-to-Bridge run (10K) on October 15.

Monday, September 18, 2006
| | |
| --- | --- |
| | [1] |
Wow. My six year blogging anniversary came and went this month without me even noticing. Average number of posts per year: 1001. Wow.

| | |
| --- | --- |
| | [1] |
Get Well, Roger! A Flickr group devoted to photos of people giving the thumbs-up to my favorite movie critic. The idea is from the folks over at Chicagoist.

| | |
| --- | --- |
| | [2] |
Idol Roundup: So last night was the big rock show, and I have to say Ricky rocked. I agree with the judges and prefer him as a rocker rather than a smooth RnB type. Lisa took a (deserved) beating from the judges on her aimless stage presence, but I thought she did a lot better than before on singing outside her genre. Mutto bores me. When I see pretentious middle-age singers writing slogans on their hands and crouching all over the stage, I think "Bono." And I hate Bono. Klancie, to me, is a total Redshirt. She's cannon fodder. Yes, there have been successful country crossover acts in this country. But I have to agree with Holden; she's from another era. Bobby was Bobby. I was hoping he'd really rock out at some point, but does it really matter? He does mesmerize. Reigan's performance was great, but Kyle's comment was spot on. That's the third obscure song she's picked in a row. Is she mental? You're never gonna win singing songs people haven't heard. Damien's song choices, on the other hand, have been perfect. Popular but not obvious, and always with a great falsetto highlight. Again, I just wish he'd rocked out a little more. Jessica did an unexpectedly great job and it was nice seeing someone having so much fun. I did notice the jelly belly though (before Kyle pointed it out), but mostly because I too have the jelly belly. Chris Murphy can do no wrong for me. He's just too fun. I hope we get to hear his husky voice croon some ballads though. Lavina was also unexpectedly excellent working outside her comfort zone. I don't even like Evanescence but she rocked that song. Dean got the big finale, but his vocals left me a bit bored. I hope he doesn't coast through to the finals on his looks alone.

One last note - I am loving Andrew and James this year. They're really coming into their own as hosts. Their snarky little jokes just really amuse me. I also appreciated how they leapt to Jessica's defense after the "jelly belly" comment. "SHE'S SIXTEEN!" And then later to point out Kyle's hypocrisy for not calling out Chris Murphy as well... That was genius. I don't think Kyle is being malicious with his weight-related comments, but he could stand to be a bit more even-handed in giving them out.

| | |
| --- | --- |
| | [1] |
How to make a real pizza. The site is running slow as a dog at the moment (I think it got BoingBoinged), but I managed to get all the text to load. The Snook's going to love it. Of course, he's also probably going to burn the house down trying to get our oven hot enough...

| | |
| --- | --- |
| | [2] |
My Mom's posted some more quilts if you're interested... And you should be, because they're gorgeous. I love the old fashioned Holly Hobbie one.

Sunday, September 17, 2006

How do you celebrate a big fitness accomplishment? By getting stinkin' drunk with a bunch of random Internet friends. It was weird meeting other MeFites in person and being able to make really geeky inside jokes that even the Snook didn't get. After four schooners I may be iffy on the names, but I'm pretty sure I met peacay (which is most definitely pronounced "pee kay"), tellurian, dhruva, arha, UbuRoivas, qwip, and Mrs. qwip. (Hopefully the qwips - who are Americans too, yay! - should have photographs.) It was actually really fun, once we got over the awkward meeting-each-other phase.

Update: Yep, pics are up.

Saturday: Bruschetta, Beefcake and Creampuffs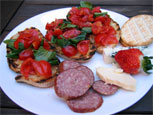 The Snook and I started off the weekend yesterday with a long walk over to the Farmer's Market at the Entertainment Quarter. We hadn't really intended to get anything in particular... but somehow we ended up lugging a big bag of stuff home. Afterwards we assembled our feast and sat out in the sun in the back garden. We had slices of fresh sourdough charred and rubbed with garlic, and then loaded them up with crushed fresh cherry tomatoes and basil. We also had two types of cheese - Roquefort and Wensleydale - along with organic salami and fresh strawberries. Bring on summer! We were so inspired I decided to give SSK a miss and we spent some time weeding in the garden. Now we just need some seedlings...



A quick shower later and then, at last, it was time for Amy's and my date with the Boy from Oz. (Amy's friend Jacqui joined us.) We were seated straight out from the stage... just way, way far away. Luckily they had giant screens so we could see every last eyelash on Hugh's face. He opened the show by descending from from the ceiling on a white grand piano dressed in a silver sequined suit, at which point Amy leaned over to whisper: "And I was worried he wouldn't be gay enough!" Our boy Hugh, indeed, can camp it up with the best of them. The show was polished, slick, and highly entertaining. The acresses playing Judy Garland and Liza Minelli were pretty much spot-on, and I absolutely loved Liza's transition into the "Cabaret" scene. MAGIC. But really, everybody was just there to see their boy Hugh. I can only imagine that the show has changed a lot since it was on Broadway. They were really playing to the local audience and a lot of the patter and expressions were very Australian. At one point, Hugh even emerged wearing a sleeveless Swans jersey with "Allen" bedazzled on the back. (That's the moment at which Amy and I started arguing over whether his bum or his arms were more swoonworthy. Amy and the audience both preferred the bum, with one old lady actually telling him "Nice ass" as he worked the room.) The only problem for me was the lack of emotional resonance. I just didn't really feel anything about the story. I don't know if the problem is with the book or whether it was just that we were too darn far away from the stage, but I wanted to feel some tears welling up and I never did. Not even when his hot boyfriend (with the bad Texan accent) died. Maybe if they'd kissed... Who knows. So all in all an entertaining outing, but one that didn't get beyond the superficial for me.

And the absolute highlight of the night? Amy brought us Beard Papa's! I have to say, even cold and soft they kicked Puffy Cookie Puff Puff's ASS.

| | |
| --- | --- |
| | [5] |
RunningBlog: While the Irish were getting spanked by the hated Wolverines back home, the Snook and I were engaged in our own grudge match with the Sydney Harbour Bridge. We were aiming for a time of 60 minutes for the 9K (based on our previous 8K time of 53 minutes). The race started in Milson's Point at the little grassy park at the base of the bridge. You were supposed to "self-seed" so the Snook and I dutifully joined the crowd around the "60 minute" sign. The gun went off and everyone started inching towards the starting line. Unfortunately all the idiots who'd been in line at the Port-a-Potties just joined in wherever they could, which meant that once again we had to pick our way around walkers and strollers. (It's getting to the point where a main source of my inspiration to get faster is my desire to get away from the goddamn walkers.) We headed up the street and turned onto the bridge exit ramp. And then suddenly there we were, heading up the middle of the bridge. I fulfilled a dream and deliberately ran in the "death" lane. (There are six lanes with no divider, just indicators that light up to tell you which ones are open in each direction. They change it depending on traffic. The middle one is the death lane.) More idiots were stopping in the middle of everything to take pictures of each other. WHATEVER. We were there to run, people! Then down around the Cahill Expressway above Circular Quay and then right onto Macquarie Street. Then it was all the way up the hill to the park, where we hung a left into the Domain. This part of the course was basically the same as the Mother's Day Classic, so we knew what we were doing. We were checking our pace fairly frequently and we hit the 5K mark at 33:00. Not bad! That's the point where I felt a stitch starting to threaten. The whole second half of the race ended up being an epic battle Kristy vs. Her Stitch. Back up to Macquarie Street and then a straight shot down to the Opera House. As we hit the 8K mark, I told the Snook to go ahead. I knew I could grimly hang onto the pace I was at, but I wasn't really in any shape to be sprinting. Wincing and gasping for breath, I crossed the line at 58:20. The Snook probably finished around the 58:00 mark. BOOYAKASHA, BRIDGE! Then we headed up to the "Recovery Village" to turn in our timing chips. I have to say, the "post finish" services at this race SUCKED. Maybe it's just because we finished in the middle; I don't know. But it took us ages to inch our way through to the de-chipping area, and then ages more to locate the medal collection tent. People get really greedy and grabby post-race, and every tent where things were being handed out just turned into a complete melee. We got our medals; we got our free newspaper. We headed home. In Haymarket we stopped at Harry's Cafe de Wheels for a much needed beef pie. Mmm, protein. Now we're just in recovery mode. Man, I'm thirsty.

Oh, and I forgot to mention the most amazing part. WE RAN THE WHOLE THING. Well, I had to stagger up the last fifty feet of the last hill, but other than that, we actually ran more than FIVE MILES without stopping. I'm very proud of us!

Saturday, September 16, 2006

There's a beautiful gray-and-white stray cat that's been lurking around our neighborhood lately, a fact that has not gone unnoticed by Dr. Amy Jones. We first learned about the visitor when Amy woke us up early one morning, freaking out and scrabbling at the bedroom window. "Awww, she wants a friend! Maybe we should get another cat," we thought. We spent a few days thinking about the ramifications. Then today I was sitting at the computer with her nuzzling into my shoulder (see DeskCam), all sweetness and fuzzy purring. Suddenly I felt her stiffen and I saw movement out of the corner of my eye. Gray Cat was sitting in our back garden! Amy freaked out and scrambled out of my arms, and the two of them faced each other through the sliding glass door. I ran for my camera - thinking it would make a great Flickr shot - but Amy reared up on her back legs and started striking out at Gray Cat through the glass. Gray Cat predictably ran away, and Amy sat glowering at the door daring her to return. Her little head was actually visibly vibrating with emotion. "Uh, maybe we misinterpreted their relationship," I said to the Snook. Our dear Puss Puss seems to view Gray Cat as an interloper, and interlopers Must Be Destroyed. How cute to have our own little Attack Feline.


I was in Kinokuniya last night stocking up on comic books when I noticed they had a big poster up for International Talk Like a Pirate Day. Huh? Since when does an Internet joke become an actual holiday that is celebrated by businesses in meatspace? It's perplexing. I'm just waiting for the big poster in Coles next February advertising Steak and BJ Day.

| | |
| --- | --- |
| | [1] |
Knitted Converse Shoes. I predict Amy is going to LOVE these.

Friday, September 15, 2006

The Snook would be the first to tell you that I am not a morning person. However, even I would cheerfully bound out of bed in the morning if my alarm clock woke me up with bacon.

| | |
| --- | --- |
| | [2] |
A-Z Retail Tricks to Make You Shop. MWA HA HA! The dirty hippies want to expose these tricks so you'll buy less, but little do they know they've also given us wannabe-marketers a great list of tricks to try! Now excuse me; I need to go plan out my "Zone of Transition."

| | |
| --- | --- |
| | [4] |
RunningBlog: This Sunday the Snook and I will be competing in our THIRD race together, the 9K Bridge Run. Can you believe it? And we've already started thinking about what our next event will be. This running thing has gotten a bit addictive. We're not even that good at it! I found a great calendar at CoolRunning Australia and we're having a look. I think this Sydney Summer Series sounds interesting. It's a program of after-work events where you have to navigate various courses around the city. We can pretend we're on The Amazing Race!

Anyway, Sunday. Yeah. Our original goal was to finish in an hour, and I'm hoping that's still achievable. Unfortunately we've had a week and a half off due to my stomach, and we both put on a few kilos. (I'm hoping it's just water weight.) We had a good run last night and I'm just looking forward to running down the middle of the Bridge on Sunday!


AskMetaFilter tackles Halloween costumes for couples. I liked Spy versus Spy, Bob Ross and Happy Tree, Yoshimi and a Pink Robot, and the one where one person is a pilot and one is a snake. (That will never not be funny.) Fortunately no one came up with the concept the Snook and I will be using this year. I CAN'T TELL YOU BECAUSE IT'S A SECRET, but it's going to be great.

| | |
| --- | --- |
| | [4] |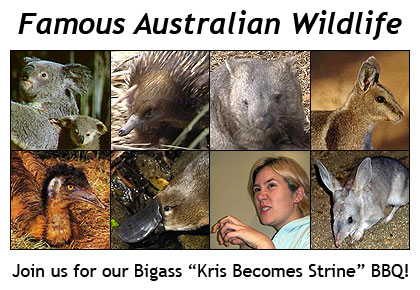 The invitations are going out, folks!

Update: Toast feels my invite needs a few modifications...

| | |
| --- | --- |
| | [3] |
Tiny Fast Food. That's the cutest thing I've ever seen. (Link courtesy of not martha.)

| | |
| --- | --- |
| | [1] |
The new Knitty is out, and normally I'd be pointing out all the patterns I like... but I'm afraid that's impossible because my brain has fallen out. And it's all this article's fault. I just might be insane to try that method one of these days.

Thursday, September 14, 2006
| | |
| --- | --- |
| | [5] |
The War on Flair
Leanne and Mel are trying to convince me that the staff in the shop (including me) should wear knitted accessories. Every day. Like a uniform. It this goes through, I may have to launch a subversive counterattack. I'm thinking a knitted squid hat, shadow-knit robot scarf, Skull Socks of Fury... or maybe just one of these

Wednesday, September 13, 2006

Happy birthday, Roald! Can you believe I actually forgot? What amused me about this article is that I've actually met one of the people quoted. Amanda Conquy is the one who initially contacted me eight years ago about the roalddahl.org domain (which I owned). I happily signed it over to them, of course. She also put me into contact with Felicity Dahl and helped arrange my visit in 2000. Glad to see she's still promoting Dahl's work!


I do believe my next pair of socks will use the Snakes on a Sock pattern. They even provide some pretty sweet gift tags! (Link courtesy of Elemi.)


It's a good time to be a fan of rice paper rolls. In addition to Vermicelli (which I've blogged about before), a new shop called Chop Chop has recently opened up down the street from our shop. I'm in heaven! Vermicelli have better rice paper rolls and soup (I always get the chicken and sweetcorn), while Chop Chop have better Asian bread rolls. And Leanne and I just made a huge discovery: Chop Chop deliver FOR FREE in the CBD! So now I don't even have to go out when it's cold or rainy; they'll walk my food down the block for me. Sweeeet.

| | |
| --- | --- |
| | [2] |
I went into the David Jones Food Hall last night and was greeted by stacks of Christmas chocolate. IN SEPTEMBER. See, this is what happens in a country without Halloween and Thanksgiving to act as Christmas levees.

| | |
| --- | --- |
| | [2] |
Idol: I have to say, the bloom is definitely off the Lisa Mitchell rose for me. I can even pinpoint the moment it happened. It was at the start of the first eviction show Monday night, when all twelve of them were doing the big group sing. I was interested to see how some of the non-traditional contestants would deal with the whole "cheesy jazz choir" aspect of it. To my surprise, Bobby Flynn was right in there, bopping away like a maniac. I love Bobby. Towards the end of the song I thought, "Where the heck did Lisa go?" And there she was in one quick shot, clearly not singing and obviously just over the whole thing. It was quintessential bershon. And you know what? I thought to myself, "Whatever, young lady. If you're too cool to participate in the big cheesy group sings, you shouldn't have auditioned in the first place."

| | |
| --- | --- |
| | [1] |
Steve Irwin fans are suspected of "revenge attacks" against stingrays. That's the dumbest thing I ever heard.

Tuesday, September 12, 2006
| | |
| --- | --- |
| | [13] |
Today's Retail Tale of Horror
A lovely little old lady came in with a crocheted batwing sweater (That's not The Horror, but it was definitely its own Kind of Horror) and she was worried that the cuffs she was knitting wouldn't go around her arm. She was knitting them on straights and obviously they wouldn't then bend to allow her to try it on. And while I surprisingly do not possess any Rain Man-like skill that allows me to instantly generate a scale 3D mental model of a knitted garment from a flat piece, I did have the wherewithal to suggest that she slip the stitches onto a piece of scrap wool. Shocking, I know. So I left her to do that, only to discover a few minutes later that she A) can't see and B) can't knit, and had dropped stitches left and right. So I spend the next twenty minutes fixing it all up for her again. No biggie; I should've done it myself from the start instead of thinking I was going to get away easy. (Did I mention I'm not really supposed to be working in the shop much anymore?) Anyway, The Horror was in the conversation she subjected me to while I fixed it. I sat there fixing her knitting while she regaled me on the problems of living on a fixed income, why the government should clamp down on immigration, the nefariousness of the hairdresser for charging extra for a blow-dry, the pointlessness of World War II (The Queen herself is German, you know!), and lastly... how she was off to get her toenails cut, because she's got the double-whammy of rheumatism and tough toenails, and how thankfully there is some charity organization that cuts old people's toenails for them for free. Did you know that? Because I didn't.

I'm horrible in these situations. We get people like that in the shop all the time, people who are obviously lonely and just want someone to talk to. I'm not a bartender though and it's not part of my job. So I alternate between feeling sorry for them and feeling annoyed at the wasted time... and then I feel guilty because God knows in forty years I'll probably be an old woman rabbiting on about my aches and pains to craft store employees who couldn't care less myself.


I too am now obsessed with the idea of seeing an F1 car race upside-down. Come on, Mythbusters!

Monday, September 11, 2006
| | |
| --- | --- |
| | [2] |
On Friday the Snook took me out to The Vanguard in Newtown to see one of his favorite bands, The Backsliders. I'd never been in there before. It was so cool! An extremely tiny blues bar filled with cosy little candle-lit tables, great food, and fantastic music. We were doing the "dinner and a show" thing and ended up having a full-on three-course meal with cocktails, wine, and dessert. (The only thumbs-down was my Szampan cocktail. I thought it tasted like a Texta*.) I'd forgotten how much I enjoyed hearing live blues. This was like the bizarro version of my favorite London blues bar... and in a lot of ways, it was superior. Good food. Good service. Clean bathrooms. And the #1 reason - no smoke! I highly recommend it.

* Texta is Australian for "Magic Marker."

| | |
| --- | --- |
| | [1] |
The End of the Story
I had my final visit with Dr. Chin tonight so we could wrap up the extra-special episode of House that my mystery stomach ailment had become. I think he was as relieved as I was to finally have the answer. Treatment is to keep taking Nexium for the next six weeks so my stomach can heal, and then to NEVER TAKE IBUPROFEN AGAIN. Seriously. That's what he said. This damage will heal up, but I'll always have a sensitivity to it. (Actually the damage was probably done a long time ago.) I'm also not supposed to drink alcohol. Uh-huh. I told him I'd do my best to cut back. Not that I've ever been a big drinker... but you can pry my Chardonnay out of my cold, dead hands! (And besides, I need something to fill the void left by Diet Coke.) Seriously, though, thanks for all the sympathy and kind words. I really appreciated it.


Shovelglove: The Sledgehammer Workout. I went to that site expecting it to be a joke - An exercise routine that involves swinging a sledgehammer around your living room? - but it's actually really cool and thought-out! They have little videos and a messageboard and everything.

Sunday, September 10, 2006
| | |
| --- | --- |
| | [6] |
Idol Declaration: Women of Australia, you can have your Dean Geyer and your Ricky Muscat. I am firmly on the Bobby Flynn Love Train. That song was freakin' amazing. I knew he could do the ballads, but I had no idea he could do rock like that. I'm still shaking my head in disbelief. Cold Chisel? Really?? I swooned. Now I'm off to convince the Snook to grow back the 'fro...

| | |
| --- | --- |
| | [2] |
Two fabulous crafty finds today: How to Knit a Princess Leia Wig, and How to Build a Tiki Bar. Sweeeeet.

| | |
| --- | --- |
| | [1] |
"Notre Dame Steamrolls Penn State." Now that's that kind of headline you like to see in the morning! I'd actually received an invitation to watch the game live from Sebastian, an Aussie guy who went to grad school at ND. A bunch of us went to his place in North Sydney for the home opener last week (among them Kriegel and J.R.), which we watched via some complicated Internet connection he had set up with his friends in the States. The quality was crappy but the novelty of watching the Irish play from Australia (something I haven't managed in five years) was great. Of course, that was a night game and this one wasn't... and I couldn't muster the energy to drag myself out of bed at 4 in the morning in the middle of a freezing downpour. They seem to have done all right without me though!

Saturday, September 9, 2006
Project Pipeline
Cabled Noro Silk Garden jacket for me. It's nearly there. I think I may turn the collar into a hood though. The weather has turned horrible as if to taunt me, saying: "Knit faster and you may be able to wear your jacket yet... (but in all truth, it's going to be blazing hot as soon as you finish)."
Elizabeth Zimmerman Surprise Cardigan for Tia's forthcoming baby.
Mitred Square Blanket (MAGIC SQUARES!) for my sister's forthcoming baby.
Feathers balaclava. It's just as hideous as it sounds. It was a bit of a joke but I'm determined to see it through. It's the scariest thing I've ever knit.
Eleven pairs of socks. No, really. I bought the damn wool; I'm going to knit them.
Fairisle cardigan in 4ply alpaca for me. I've had the yarn for ages; it's time to get down to business.
Concept courtesy of Mary-Helen, who will be knitting socks right along with me...


In case of rain, it looks like the Goth knitters have nominated Buzzbar Cafe (next to the pet store on King Street) as the alternate stitch and bitch venue.


Brad Pitt says he and Angelina won't get married until everybody can. And that frickin' rules. The democratization of marriage is one of the big reasons I hesitated for as long as I did. Too bad my little blog isn't high profile enough for my political stances to make the AP wire!

Friday, September 8, 2006
| | |
| --- | --- |
| | [2] |
Oh my god. Coolest. Keychains. EVER!

| | |
| --- | --- |
| | [13] |
Lipstick as Political Statement
Yesterday as I was eating my lunch I stumbled across this AskMetaFilter thread about finding the perfect lipstick. A whole bunch of people said that Clinique's "Black Honey" is the Best. Lipstick. Ever. (Other websites concur.) Of course, yours truly doesn't normally wear any makeup. When I left work for the day though, I noticed that the cosmetics area at Myer was still lit up like a casino. I was drawn inside. After I fought my way to the Clinique counter, I asked a beautifully made-up girl (in a white lab coat, no less!) for help finding it. "I'm really clueless about makeup," I said, "but I, uh, was reading about it on the Internet today and a bunch of people said this was the best lipstick ever." (Thinking to myself: "I am the biggest dork ever.") She didn't bat an eye at my dorkitude though. "Is it expensive?" I asked nervously. "Oh, not at all," she said. "It's just thirty-four dollars." THIRTY-FOUR DOLLARS. I have purchased maybe half a dozen lipsticks in my life, all from grocery stores, drug stores, or Wal-Marts. I've never paid in double digits for makeup before. I figured I might as well try it on though, since I was standing right there. She handed me the tester and I twisted it up... and it was black! Total plum-black, like something Naomi Campbell would wear. "There's no way this is going to look good on me," I said. I started dabbing it on with a Q-tip, only to have her quickly sense my ineptitude and take over. And you know what? The damn thirty-four dollar lipstick looked gooood. It didn't go on black at all, but rather a nice purply-red stain that wasn't fakey looking. I thought it would wash me out, but it actually warmed up my cheeks and brought out my freckles. I felt really sophisticated and more "adult" than I usually do. I was in awe, and so I frickin' caved. I bought the damn lipstick. And then I booked in for a makeover next week.

And then, of course, once I got home I felt incredibly guilty and superficial. I have all these weird feminist issues with wearing makeup, mostly because I knew girls in college who'd never leave the dorm without it. The Snook doesn't help matters, since he prefers me as au naturel as possible. (He doesn't even like me to pluck my eyebrows. He thinks I'm "mutilating" myself.) But then again, I've been known to periodically sport a bright pink hairdo. What's the difference, really? Nothing. Nothing! So I've been proudly wearing my new lippy all day and singing Ani Difranco in my head.

People talk about my image like I come in two dimensions / Like lipstick is a sign of my declining mind...


Mobile Cinema Times - a handy little text-based website that lets you look up Australian movie times from your mobile phone. Much simpler than paying through the nose for premium sites...

| | |
| --- | --- |
| | [3] |
Got an hour to kill? Have a go at this Movie Soundtrack Quiz (Excel file) that the Snook sent me. It gives you a song from a movie and you have to name who sang it and what movie it's from. (The instructions are slightly misleading; they make it sound like the song is performed in the movie itself. That's not necessarily the case. For instance, there's at least one Disney movie on there where the correct answer is the pop star who sang the song for the soundtrack, not the voice actress who sang it in the film.) How many can you get without resorting to Google? I'm stuck on 201 points so far, and there are a few that I'm achingly close on.

| | |
| --- | --- |
| | [2] |
My secret Goth girlfriend Bex - Shh! Don't tell her real girlfriend! Or my husband, for that matter... - has helped organise an outdoor stitch and bitch picnic tomorrow as part of Newtown's Under the Blue Moon Festival. The Sydney Goth SnB Group will be at Sydney Water Land, north end of Station St (off Enmore Rd next to @Newtown) from 2pm. Newbies and learners are welcome, as are those of us who are only wannabe goths.

Thursday, September 7, 2006

Apparently it's National Thylacine Day. The last captive Tasmanian Tiger died on this day seventy years ago. I did not know that. The photographs on that page are fascinating. Thylacines can open their mouths really wide! They don't look like that on the Cascade bottle.

| | |
| --- | --- |
| | [6] |
Australians all let us rejoice!
The letter has arrived, and yours truly is going to become a genuine citizen of this fine nation three weeks from tomorrow! If any of you feel like attending - which will probably entail chucking a sickie, as they've scheduled me for a Friday afternoon - the ceremony is on September 29th at 3:30pm in the Sydney City Council Chambers, Lord Mayor's Reception Room at the Town Hall. (I wonder if that means Clover's going to be there?) We will, of course, be holding the promised bigass Kris Becomes Strine Party BBQ on the following day (which happens to be the AFL Grand Final - how appropriate!).

| | |
| --- | --- |
| | [2] |
Albert just handed me a job application that was posted in... from BEIRUT. I'm not joking. It's got about five Lebanese stamps on it with matching postmarks and an "International Post" sticker. It's a normal enough application, except that she's not in Australia and admits she doesn't have citizenship, residency, or a visa. How weird is that? Does she want us to sponsor her for a worker's visa? If so, why'd she put down that she'd prefer part-time work? She didn't even list an e-mail address so I could write her back. If this is a practical joke, it's a good one!

Wednesday, September 6, 2006
| | |
| --- | --- |
| | [7] |
I left work early today feeling pretty crappy... but the Snook knew how to cheer me up. He brought me a Puffy Puff Puff Cookie Puff! (Or whatever they're called.) I have to say I was a bit underwhelmed. Cold, crumbly... and nowhere near as orgasmic as Beard Papa's sounds. Still, it was a sweet gesture and it made me feel a lot better.


Pilates of the Caribbean. *snort* I really shouldn't be laughing when my stomach hurts like this... (Link courtesy of John.)

| | |
| --- | --- |
| | [1] |
Kitchen Myths. Very interesting. There are a few things I didn't know in there. (Link courtesy of not martha.)


Are we really calling Nintendo's new controller the "Wiimote"? Because I can't decide if that's cute or disgusting.

| | |
| --- | --- |
| | [1] |
The 2007 Good Food Guide is out, along with the list of this year's "hatted" restaurants. Augustus Gloop has the rundown here. I have sadly only eaten at four of them: Tetsuya's, Rockpool, Buon Ricordo, and Restaurant Balzac. (Balzac went down a star this year? THEY'RE DREAMIN'!) We really need to rectify this situation.



Unrelated: This is my 6000th post!



| | |
| --- | --- |
| | [9] |
How weird that my RSS feed has evidently been broken for AGES and none of you called me on it. (Are people not using it?) Anyway, I've fixed the date issue so they should be appearing properly now.

Tuesday, September 5, 2006
| | |
| --- | --- |
| | [10] |
Mystery Solved
Well, that was weird. I wasn't too scared about the endoscopy this morning but I wasn't looking forward to it either. After changing into a hospital gown and climbing into a ridiculously short bed (with sides like a crib - I felt like a big baby!), I had an IV thingy put into my arm. (These are great. When we all start getting cyborg improvements, sign me up for one of these.) The anesthetist was named Don and had the most beautiful blue eyes. He pushed a little bit of clear drugs through my "jack" and told me it would be like drinking a couple bourbons. "When will it hit me?" I asked. "About thirty seconds." He was right. I remember looking at the curtain separating my bed from the next and being entranced by the moving colours. I next have a vague memory of being wheeled into the procedure room and having Don put a plastic guard into my mouth. Then next thing I knew, I was waking up back in the recovery room just as if I'd had a pleasant nap. "Is it my turn yet?" I asked the nurse. "You're all done," he said. Huh? I had to check the clock and ask repeatedly before I believed them. This was the very definition of painless. I dozed for a bit before sitting up and reaching for my mobile phone. (The picture is below.) Then I had a cup of tea and some biscuits. Eventually Dr. George came over to tell me the good news: they found the problem.

The good news is that I definitely don't have an ulcer. No H.pylori for me! The bad news is that I have erosive duodenitis. This means that they saw some wounds where my stomach joins my small intestine. (There are pictures on this site. They're a little gross.) And how did I get it? The major culprit looks to be ibuprofen. Yep, really. I used to take a lot of it to deal with period pain through high school and college. We're talking at least a dozen a day or I'd be vomiting from the cramps. Coincidentally, college is also when I started having stomach problems. Funny how I never put the two together, you know? Anyway, my ibuprofen consumption dropped considerably when I went on the Depo a few years back, but I'd still take it occasionally for headaches and stuff. The damage was probably already done though. Treatment for duodenitis is basically to stop taking whatever's irritating you. I stopped taking ibuprofen several weeks ago when Dr. Chin told me too... and I guess that's why I've been feeling better. I'm also supposed to go back on Nexium for a while to help heal.

So in the end I'm mostly just happy that we were able to figure out what was wrong with me. It really sucks feeling pain that you can't really pinpoint and then worrying that it doesn't have a fixable cause. Big thanks go to Snookums for taking care of me and to the folks at the Inner West Endoscopy Centre for being so nice and (especially Don with his blue, blue eyes) for making a stressful procedure literally painless. Now I'm going to go nap some more. :)

| | |
| --- | --- |
| | [4] |
Moblog: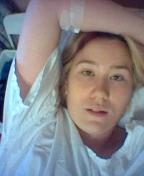 Recovery time
Moblogging under sedation. Just had my endoscopy, or so they claim. I don't remember anything after the first drugs. Just feel like I've had a nice nap. Drugs are nice.


More pictures from SSK last weekend, including me showing off my Noro sleeves and Mary-Helen and I geeking out over her phone.

Monday, September 4, 2006
| | |
| --- | --- |
| | [3] |
Holy crap! Steve "The Crocodile Hunter" Irwin died today from a stingray barb to the chest. And thus passes the only prominent Australian most Americans could name...

Sunday, September 3, 2006
| | |
| --- | --- |
| | [6] |
THIS IS A CRY FOR HELP. I JUST PLAYED, LIKE, TWO HOURS OF WORLD OF WARCRAFT. I know! I just leveled up in the realms of nerddom. My character is a troll priestess called "Mamorti," which I have decided is Latin for "Boobs of Death." In my defense, this was both a bonding exercise with my husband and a bit of a challenge. He now has to knit something for my sister's upcoming baby. Ha!


RunningBlog: Awwww, man! When is the Nike+iPod kit ever going to come out in Australia? I want to play the game! Waaaaaaahhhhhhh.

Saturday, September 2, 2006

For some reason, these "I Blogged Your Mom" T-shirts really make me laugh. I want one. (Thank you to Bex for telling me about it.)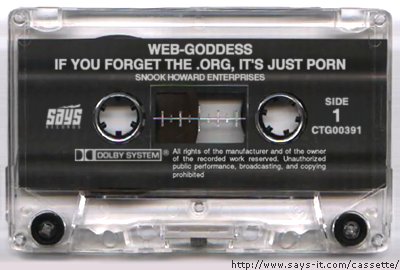 You can make your own too!

Moblog: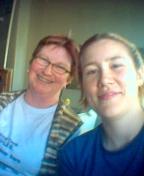 Stitch and Bitch
Me and Mary-Helen at SSK. Lots of people venturing out to knit in the sunshine!

| | |
| --- | --- |
| | [1] |
Felted Pirate Queen Booty Bag. I like it! I've never done any "double knitting" (as in, two colour double knitting to produce a reversible fabric) or felting/fulling before. I wonder if I could get it done before Talk Like a Pirate Day... (Link courtesy of miftik.)


Underground Notre Dame Glossary. Even though I haven't been on campus in literally YEARS, it's good to know how many things stay the same. But what the hell is "Legends"? Did Senior Bar change its name? That sucks. "Legends" sounds like a crappy Vegas variety show. (I hope they at least kept the shuffleboard table.) And did I mention that fellow PW alum Kriegel actually found a way for us to watch the game here in Sydney? She tracked down some other Domer Down Under who apparently has some complicated Internet setup that will *hopefully* stream the game to us here. And just like that, I'm off tomorrow morning for Kegs and Eggs. Good times. (Link courtesy of my Roomater.)

| | |
| --- | --- |
| | [2] |
Voodoo Curse?
Ma Snook recently brought down the Snook's birthday present: two new teapots. One is a beautiful large retro-futuristic green pot, while the other is a small Alice in Wonderland pot. (This brings our number of teapots to FOUR, meaning we officially have more teapots than inhabitants. And that's counting the cat.) Anyway, this morning Snookums went to make me a pot of berry tea from T2 and decided to use the new Alice teapot. He opened it up... and inside was a dried out wishbone. As in, an actual bone from an actual chicken. We're perplexed. We googled to see if there's some sort of tradition of putting wishbones in new teapots, but nothing came up. We're hoping his Mom can provide an explanation. Otherwise there's a disgruntled worker at the teapot factory trying to freak people out...


Ooooh. The battle of words between John Gruber and those conmen who claim to have "hacked a Macbook in 60 seconds" just got cranked up a notch. Gruber has thrown down the gauntlet and issued a challenge: "If you can hijack a brand-new MacBook out of the box, itís yours to keep." I love all this geeky drama. Pass the popcorn!

Friday, September 1, 2006
| | |
| --- | --- |
| | [2] |
Spring is here! The sun is shining; the air is warm; and the guys at the printers next door are barbecuing snags and tapping a keg. Sometimes life is glorious.

| | |
| --- | --- |
| | [2] |
"We're sending our

love

scarf down the well..."
It's kinda glurgeworthy, but I feel compelled to report that the folks of Beaconsfield are asking for help knitting a massive scarf to commemorate this year's mine disaster. It's supposed to be 925 meters long, because that's how far down the two guys were trapped.

| | |
| --- | --- |
| | [1] |
You know how you can really like something and be into it and stuff, but then one day you meet someone who's really into it, into it in a creepy way, and suddenly you feel embarrassed that you ever thought it was cool to begin with? That's how I feel about this Sock Monkey Dress. (Link courtesy of Amy.)


Idol Semifinal Roundup
(It's the last one, I promise.) I ended up going 7-for-8 with my Final 8 predictions, which isn't bad! Bobby went through (yay!) along with Joseph (meh). Of the second group of ladies, I really enjoyed Raechel's performance of "Dumb Things." She seems like a great girl, but not quite enough star-quality for Idol. The less said about Rebecca and Jessica the better, I think. Lavina was awesome and I'm happy to have her be this year's "diva." (I don't get Holden's negative comments towards her though.) Does anyone not like Lisa? My sixteen-year-old self soooo wants to be her, it's ridiculous. And how funny was it when Kyle announced her as possibly "the best thing this country's ever produced musically," and the camera cut to the holding pen where Lydia was very obviously the only person in the WHOLE STUDIO not on their feet clapping? Her performance bored me to tears, too. More Whitney friggin' Houston. (Wasn't Holden supposed to commit hara-kiri at that or something?) So Lisa and Lavina went through as God intended.

Now, the wildcards. Quite frankly, I was surprised at how many guys were selected. I thought they were trying to keep everything 50-50 male/female this year? I'm still fairly happy with who was selected though. I'm hoping for Chris, Brendan, and Ricky to make it through, and maybe one of the girls. I just wish Klancie would stop bawling all the time!

archives
You can search through the archives by post keyword using the form on the left, or you can browse by month using the links at the bottom.
"Moblog" refers to posts and images posted directly from my mobile phone.

"PW Blog" refers to posts recovered from my very first weblog, which dealt with news related to my college dorm.