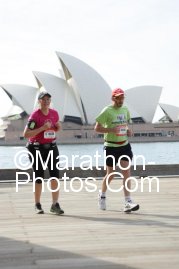 Blackmore's Half-Marathon 2011 Race Report
Remember how last year I said that the half-marathon distance was CURSED for me? The streak continues. This past Sunday was the 2011 Sydney Running Festival, where the two of us were toeing the line for my fifth Half-Marathon and the Snook's first. Our training plan had went pretty well, with the exception of me spraining my ankle twice and missing a couple long runs. I felt pretty good on the day though, and we soon found ourselves at Milson's Point getting ready for the start. (I took a quick photo just to prove that this year I didn't lose my iPhone.) We started at the back of C group and we planned to do 2:30/45s intervals from the start. I didn't want to aim too high given the state of my ankle, but I had hopes that a PR (around 2:30) was possible. From the start, we were flying. We were going under my PR pace, but I didn't feel like we were going too fast. It was great.
Here's the cursed part: It was an unseasonably HOT spring day. We were wearing sunscreen and hats, but there's only so much you can do. I wore my water belt, but I could tell we were hitting it hard. When I had my first Hammer Gel at 45 minutes I felt briefly light-headed, almost like I might faint. (Thankfully the feeling passed.) We hit 8K at the one hour mark, and that's when it all started to fall apart. My lower legs started to cramp. We extended a few walk breaks, thinking I could shake it out. I had already been taking Endurolytes, so I also started hitting the Powerade at each aid station. It didn't help. I ended up battling cramps for the entire second half of the race. Every 5-10 minutes they were back, first one leg and then the other depending on the camber of the road. Sometimes my shins, sometimes my calves. It SUCKED. Snookums tried to keep my spirits high, but I was in a lot of pain. My dreams of a PR slipped away. It was just about surviving to the end. My face was gritty with salt and my shirt had white patches on it. It was so hard. Eventually I limped my way across the finish line, a full 20 minutes slower than I'd hoped to run. I was so glad to be done. I wasn't the only one having problems; we'd seen the medics treating a LOT of people out on the course. And the poor marathoners! I was glad I hadn't picked this one for my first 42K. Anyway, we collected our bag and met up with the fabulous Knitabulous, who ran her first half-marathon as well. And hey, that's the important thing! Rodd and Ailsa ran their first HM, and that's AWESOME. I'm just glad I got to come along for it!
We actually got some pretty good race photos this year. Have a look…