Jamie's 30 Minute Meals #33: Stuffed Cypriot Chicken
This was our 33rd cooking/blogging experiment from Jamie's 30 Minute Meals. (ARE WE DONE YET? Sheesh.) For this one we chose "Stuffed Cypriot Chicken, Pan-Fried Asparagus & Vine Tomatoes, Cabbage Salad, St. Clement's Drink, and Vanilla Ice Cream Float." We chose it because we had the episode recorded, and it didn't use anything we couldn't get this time of year. HOWEVER – we realised quickly that the book version is very different from the one on the show! It has an extra dish (the "Ice Cream Float") and some of the instructions were different. Very sneaky, that Mr. Oliver! The Snook was on chef's duty and managed it in a respectable 35:43.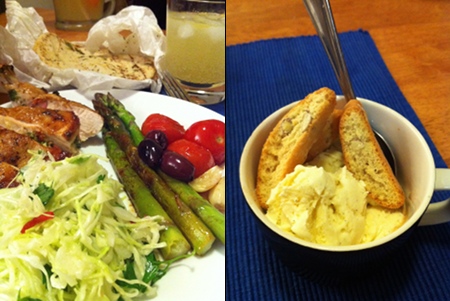 Substitutions: We only did a half-recipe of the chicken, and we left out the rosemary sprigs. We also only did 2 flatbreads. We didn't bother with mint for the drink, and we used espresso rather than instant coffee for the dessert. Other than that, everything was as written in the recipe.
Quick verdict: Pretty good! Nothing to complain about here. The chicken did take a bit longer to cook than we expected, but it's visually impressive when you slice it apart. The flavours were all nicely complementary. The cabbage salad was better than I expected, with the onion giving it a welcome bit of bite. The flatbreads fluffed up without catching fire, which was a bonus. (We always seem to have trouble with his "damp greaseproof paper" instructions.) Tomatoes and asparagus are always good, and the drink was fine (if a bit unnecessary). The dessert was basically an affogato, so we both liked that. We both rated it an 8.5 out of 10. It was a nice, tasty meal, but it didn't really have any stand out elements. It sure looks pretty though!
Read on for a photo essay of the preparation.Pre-start prep: We got out all the necessary ingredients, tools, and cooking vessels. The kitchen was clean (well, as clean as it gets) and everything wiped down and ready to go. The book said to put the oven on at 220C, but on the show he only put it to 150C. So we went with the 150C instead. The food processor was fitted with the slicing disc. We had one frying pan for the veg, and another for the chicken.
First up are the ingredients for the chicken: parsley, basil, sun-dried tomatoes, garlic, feta, lemon, and skin-on bone-in chicken breasts.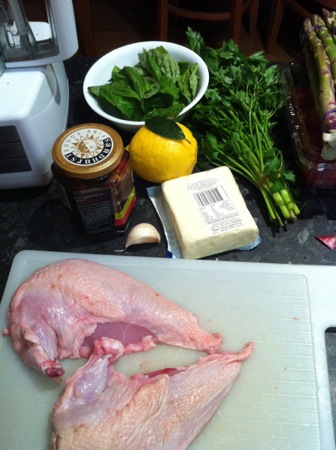 For the veg, we had: garlic, cherry tomatoes, thyme, bay leaves, asparagus, and black olives. For the flatbreads, we had: dried oregano, garlic, and flatbreads.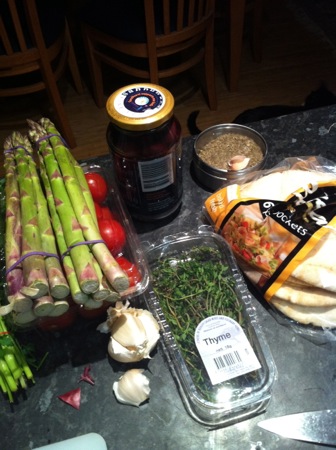 For the cabbage salad, we needed cabbage, onion, parsley, basil, red chilli, and lemon.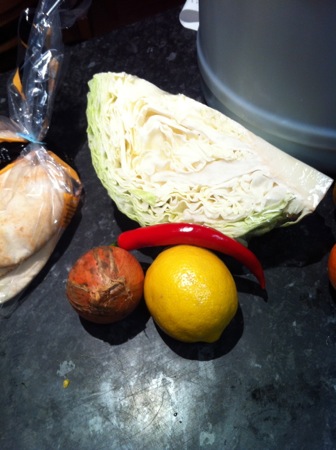 Here are the ingredients for the St. Clement's Drink: ice cubes, lemon, oranges, and sparkling water. For the dessert, we had: vanilla ice cream, espresso, sugar, and biscotti.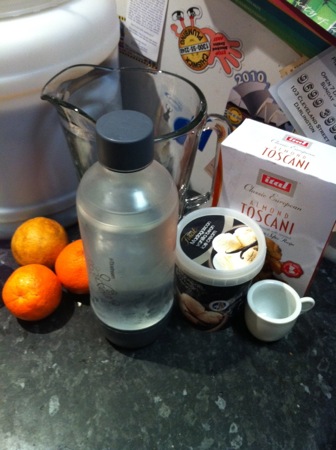 Our two frying pans, ready to go!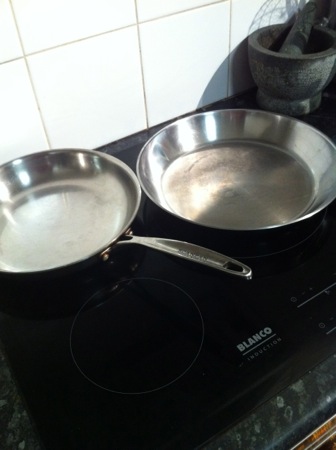 And he's off! The first step was to make the stuffing for the chicken. He piled up parsley, basil, and sun-dried tomatoes. Then he seasoned it with pepper and crushed over some garlic.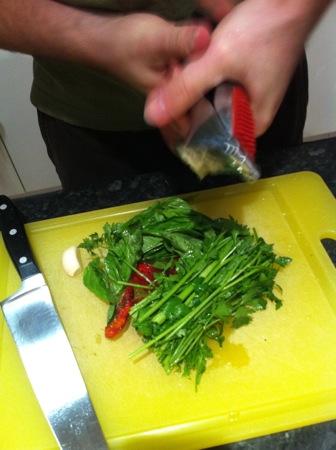 Then he did his best to chop it all together.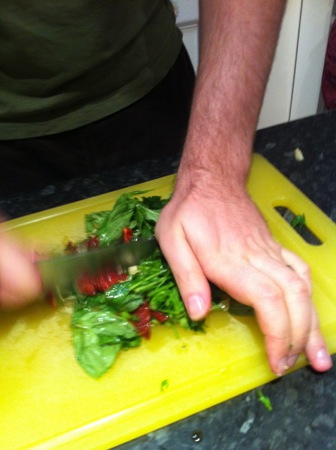 Next he added some feta and lemon zest…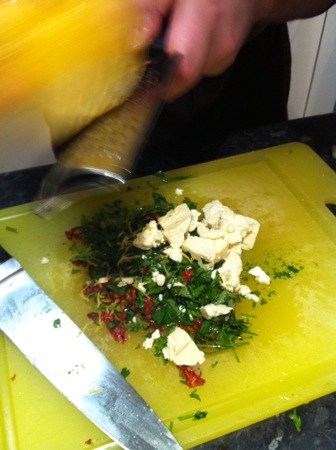 …before chopping it all up together again.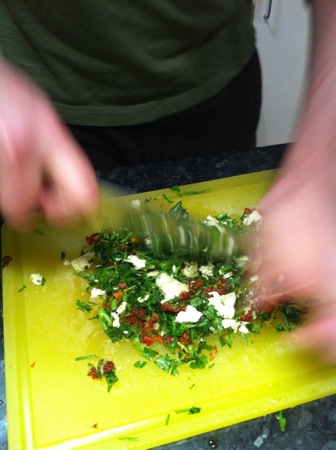 He got the veg going by drizzling some olive oil into one of the hot frying pans. Then he threw in cherry tomatoes, squashed garlic, thyme, and a bay leaf.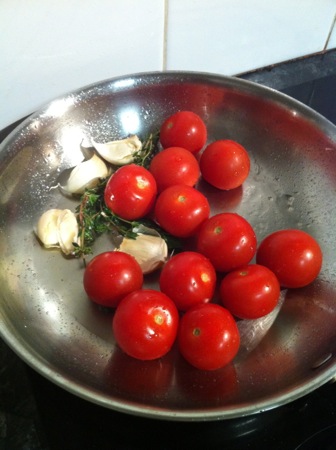 Now for some knifework. He carefully cut a pocket into each side of the chicken breasts.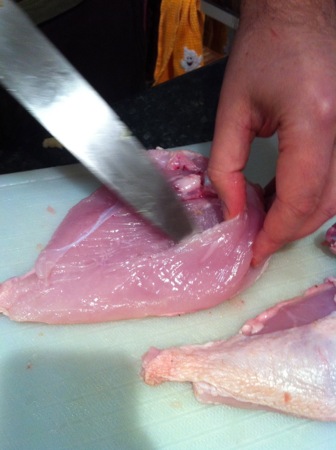 Then he filled the pockets with the stuffing mixture and folded the chicken back together.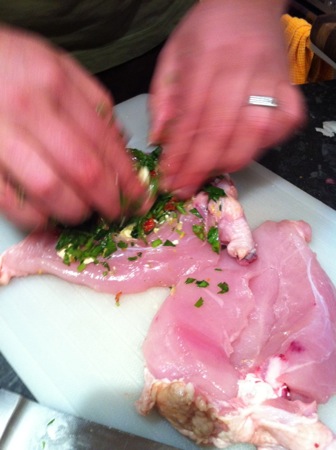 Here are the prepped breasts ready to be cooked!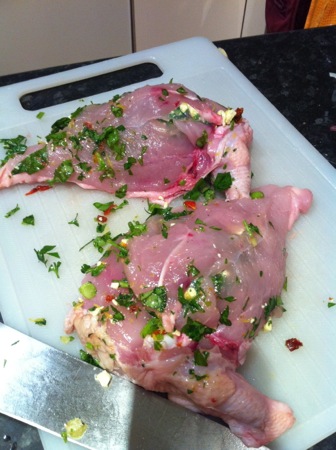 He poured a few lugs of olive oil in the other hot frying pan and then put the chicken in, skin side down.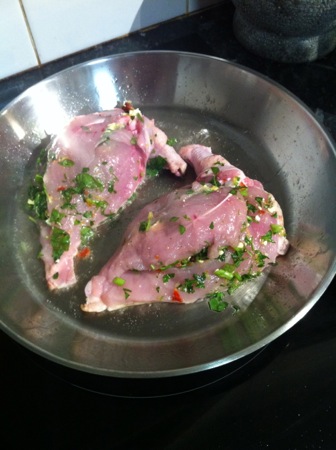 He then made a "cartouche" out of wet greaseproof paper to cover them. (On the show Jamie was all fancy about making it circular, but in the book he doesn't bother. Snook went for the circle.)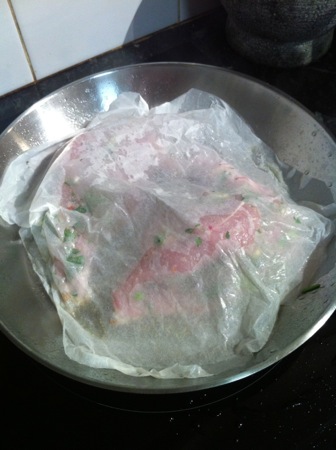 Next he prepped the flatbreads. He sprinkled salt and pepper on the chopping board (still messy from the stuffing), as well as some dried oregano and olive oil. Then he minced up a couple cloves of garlic as well.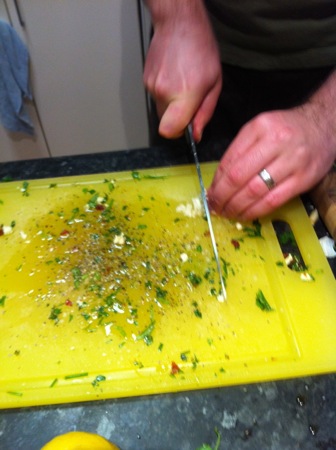 He then wiped and rolled the flatbreads around on the messy board to coat them.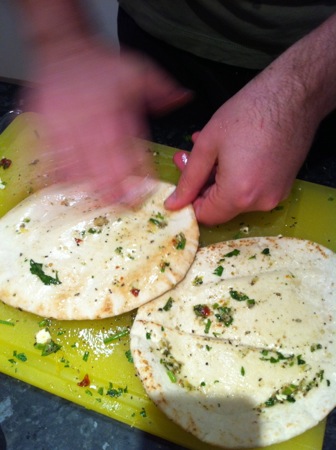 He stacked them and wrapped them up in more wet greaseproof paper, then put it in the oven. (Where, thanks to the lower temperature, it did not catch fire.)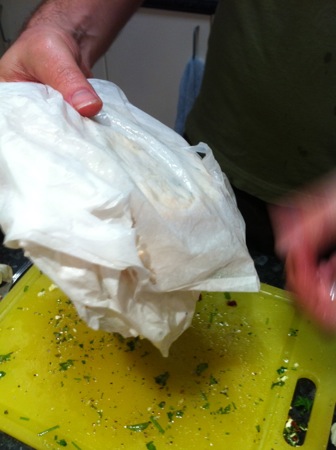 Back to the veg. He trimmed the asparagus by breaking off all the woody ends.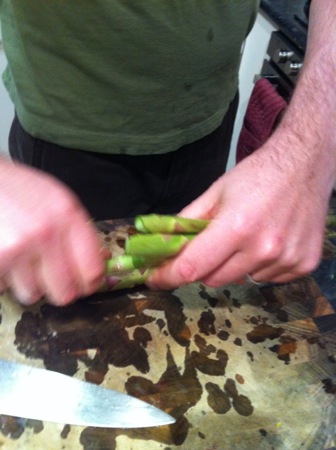 Then he added it to the pan along with some black olives.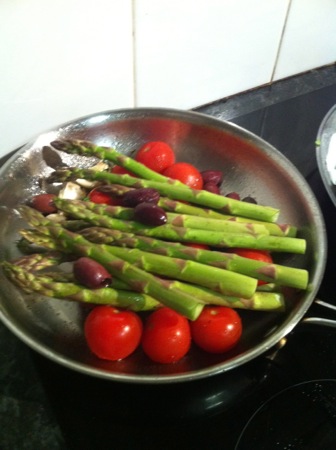 Now for the cabbage salad. He shredded the cabbage in the food processor…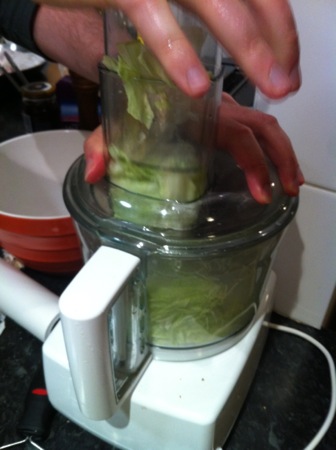 …along with onion, parsley, basil, and chilli.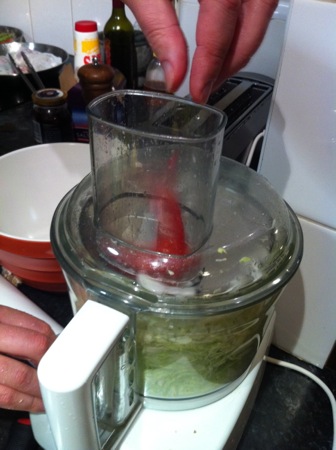 Here's everything all shredded up.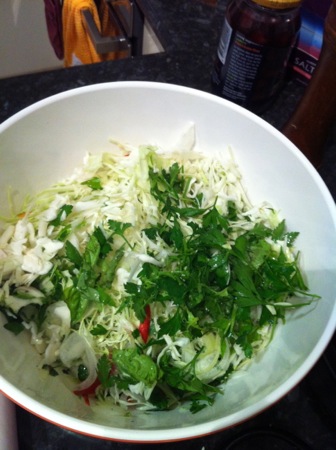 Then he did a quick check on the chicken, which was crisping up nicely.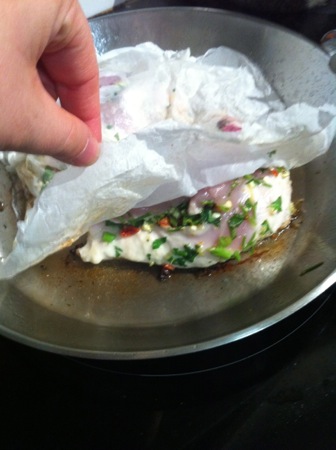 To dress the cabbage salad, he squeezed over some lemon juice and then added extra virgin olive oil and salt. Then he scrunched it all up with his hands.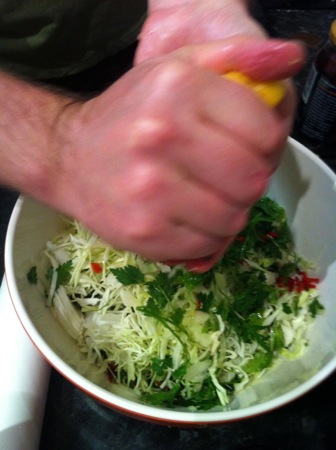 Here's the completed cabbage salad!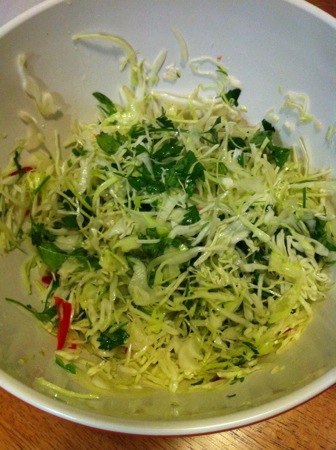 Time to turn over the chicken! It was golden and beautiful underneath. He put a heavy pan lid on top to weigh it down at this point.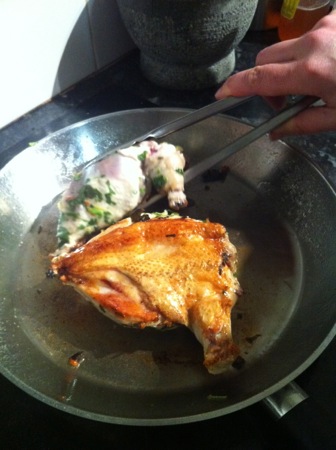 For the St. Clement's drink, he juiced the oranges and lemon…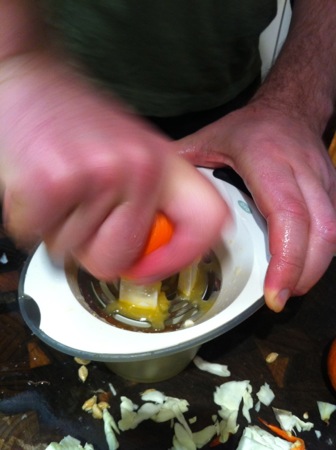 …before adding it to the pitcher of ice (along with the orange halves).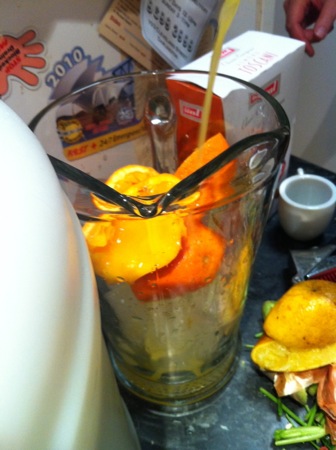 Then he topped it off with sparkling water.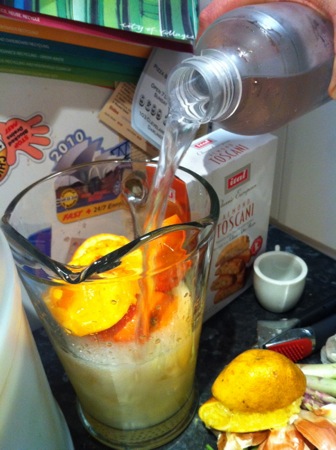 Here's the finished St. Clement's drink!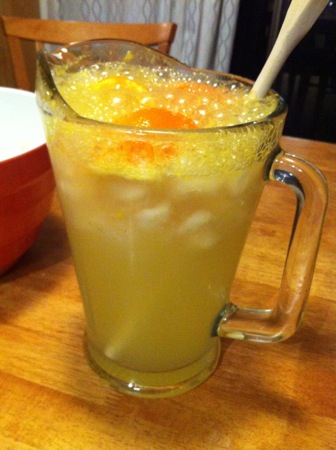 The chicken ended up taking a bit longer than we thought. (When we first cut it open, it was still a little raw.) This is how it looked when it was finally cooked through. Pretty!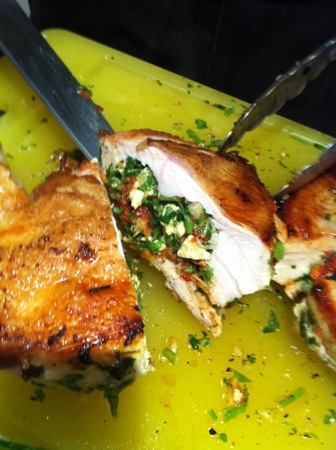 He poured the pan juices over the chicken slices to finish it.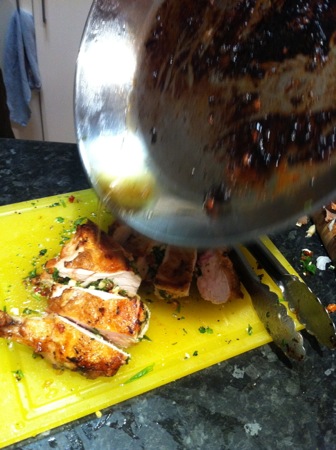 Here's the finished meal of Stuffed Cypriot Chicken, Pan-Fried Asparagus and Vine Tomatoes, Cabbage Salad, and St. Clement's Drink.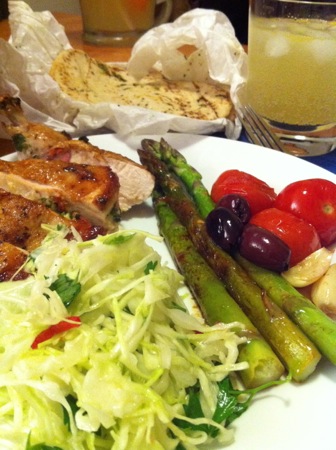 The actual dessert was assembled after we finished eating. He just put ice cream into each cup and then topped it with espresso and a biccie. Yum!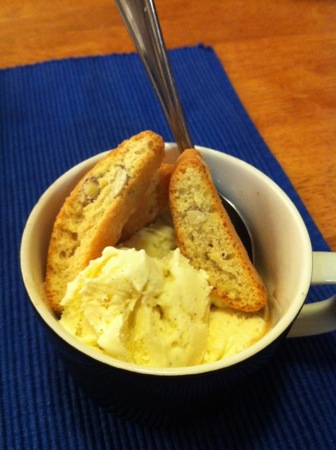 Tasting notes: Since chicken breasts are pretty boring, this is a good way to jazz them up in terms of both flavour and visuals. We were both worried that the breasts would fall apart and leave stuffing everywhere, but they actually held together pretty well. The cabbage salad was simple but effective, and it made a nice textural contrast. You can't really go wrong with sauteed asparagus and tomatoes, so no complaints there. The flatbreads were a great way of sopping up the juices on the plate. The St. Clement's drink was mostly a novelty, but it was tasty enough. And everybody likes an affogato, right? So 8.5 out of 10 overall. A not-too-challenging meal that should please just about everybody. Definitely recommended.
Stay tuned for another recipe from Jamie's 30 Minute Meals!