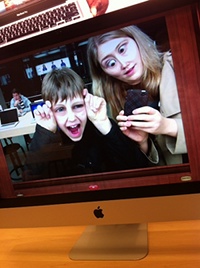 Jamie's Italian
We had a special visitor on the weekend! Our nephew Kurt recently turned 12 so he came over for a sleepover. Knowing that his favourite food is Italian, I thought we might check out the new Jamie's Italian in the city. It's the first Australian location for Jamie Oliver's chain of family-style restaurants. It opened late last year but I was hoping the hype would have died down by now. They don't take bookings, so we turned up on Saturday night at 6pm hoping for a table. The nice host explained that we were looking at a wait of nearly two hours. I turned to Kurt, leaving the decision up to him. He was happy to wait. So we gave the guy my mobile number and then headed off to do some window shopping. As you might have guessed, we ended up at the Apple Store. 🙂
At 7:30 we headed back to the restaurant and perched ourselves near the bar waiting for our table. The host was still telling incredulous newcomers that it was a two hour wait, so we weren't the only ones making that mistake. Eventually we got seated and quickly placed our order. (We had plenty of time to look at the menu while we were waiting!) We ordered some olives and parmesan to start, then all three of us had pasta as mains: Truffle Tagliatelle for me, Spaghetti Bolognese for Kurt, and Risotto Milanese (with Roasted Bone Marrow) for the Snook. We also split a Rocket & Endive salad between us. Service was very prompt, and we didn't have to wait long for the food at all. Which was good – because we were hungry!
I wish I could say that the food was worth the wait, but it probably wasn't. However, it was definitely worth the cost which was extremely reasonable. My tagliatelle definitely had an aroma of truffles and a slice of one on top, but in terms of flavour it was mostly just butter. (Not that there's anything wrong with that.) Kurt really enjoyed his spag bol and pronounced everything "beautiful". The Snook felt his risotto didn't have a lot of saffron in it, but given that it was on the table in under 20 minutes he thought it was pretty good. Quantities were decent and all of us left satisfied. I'd definitely go back, but not if it involved such a long wait. (Pro Tip: they do take bookings for parties of 6, so next time I'll get a group together!)
We finished the birthday party back at home with ice cream and flourless chocolate cake from Bourke Street Bakery. There was plenty of Guitar Hero, Doctor Who, Ghostbusters, and iPad gaming. It's always fun when Kurt comes to visit!