Inspiring Women in I.T.
On Twitter recently I saw @tammybutow talking about a new project she's launched to highlight female role models in I.T. Tammy's project is affiliated with Go Girl, an I.T. career showcase for high school girls. Her idea is to collect photos of women with I.T. careers and compile them into a video to inspire the students. When I was in high school, I thought computer programmers were just guys in neckties who worked at IBM. I don't remember any girls in the Computer Club, and I certainly didn't join myself. I briefly considered a dual CS major in college but chickened out for fear I wasn't smart enough. I had no idea that one day I'd know lots of cool, smart, funky women who work in I.T. with jobs like "Programmer," "Game Designer," "User Experience Director," "Project Manager," and even "Business Systems Analyst." (That last one is actually ME!)
So anyway, this is an issue I feel pretty strongly about. I don't want my nieces growing up to think that computers aren't something girls work with. So I gathered up all the women in the office yesterday morning and corralled them into a photograph. (There are actually more than five, but this is all I could round up on short notice.) I present to you the inspiring women of Sitback!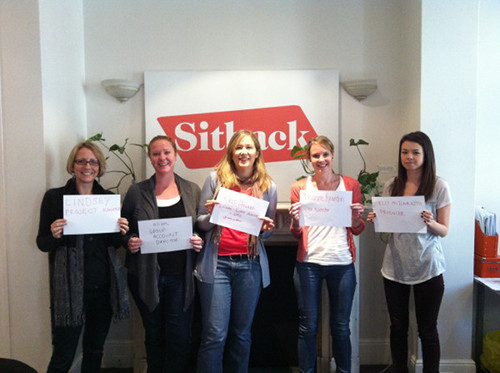 Full size version here. Thanks to Kunaal for the photograph!
From left to right, that's Lindsey (Project Manager), Alison (Group Account Manager), me (Business Systems Analyst + GEEK!), Leanne (User Experience Director), and Elly (Producer). Woo! Go women of Sitback!
Updated to add: I can't believe I forgot to mention the most inspiring woman in I.T. I know!