Shared today on Instagram: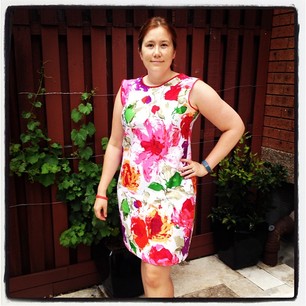 A dress in a day! Another Colette Laurel, my fastest sewing project ever.
Edited to add: A few months ago I spotted this cotton sateen at Spotlight* and knew I had to have it. It's so wild though that I didn't want to go too crazy with the dress. I've worn the heck out of my other Laurel, so I went with that. With only two pieces, this comes together so fast! I was going to make my own bias binding, but then I found some scraps of pinky-red pre-made bias (left over from the Sorbetto) that matched pretty well. And I had just enough! Quickest project ever. OH, and I didn't even bother to put a zip in it. I knew from the other Laurel that it would go over my head, and even though this fabric has a little less stretch, it still works.
* Okay, I normally hate Spotlight. But I have to say, the one out at Auburn (opposite Costco) is actually REALLY nice, and they actually have a pretty good fabric range! So there's a recommendation for you.