It's summer in Deutschland, and now that we've had our first vaccine shot, we feel a bit more comfortable travelling again. Two weeks ago we headed out of Munich for the first time since the Zugspitze last year. And where did we go? Salzburg, Austria.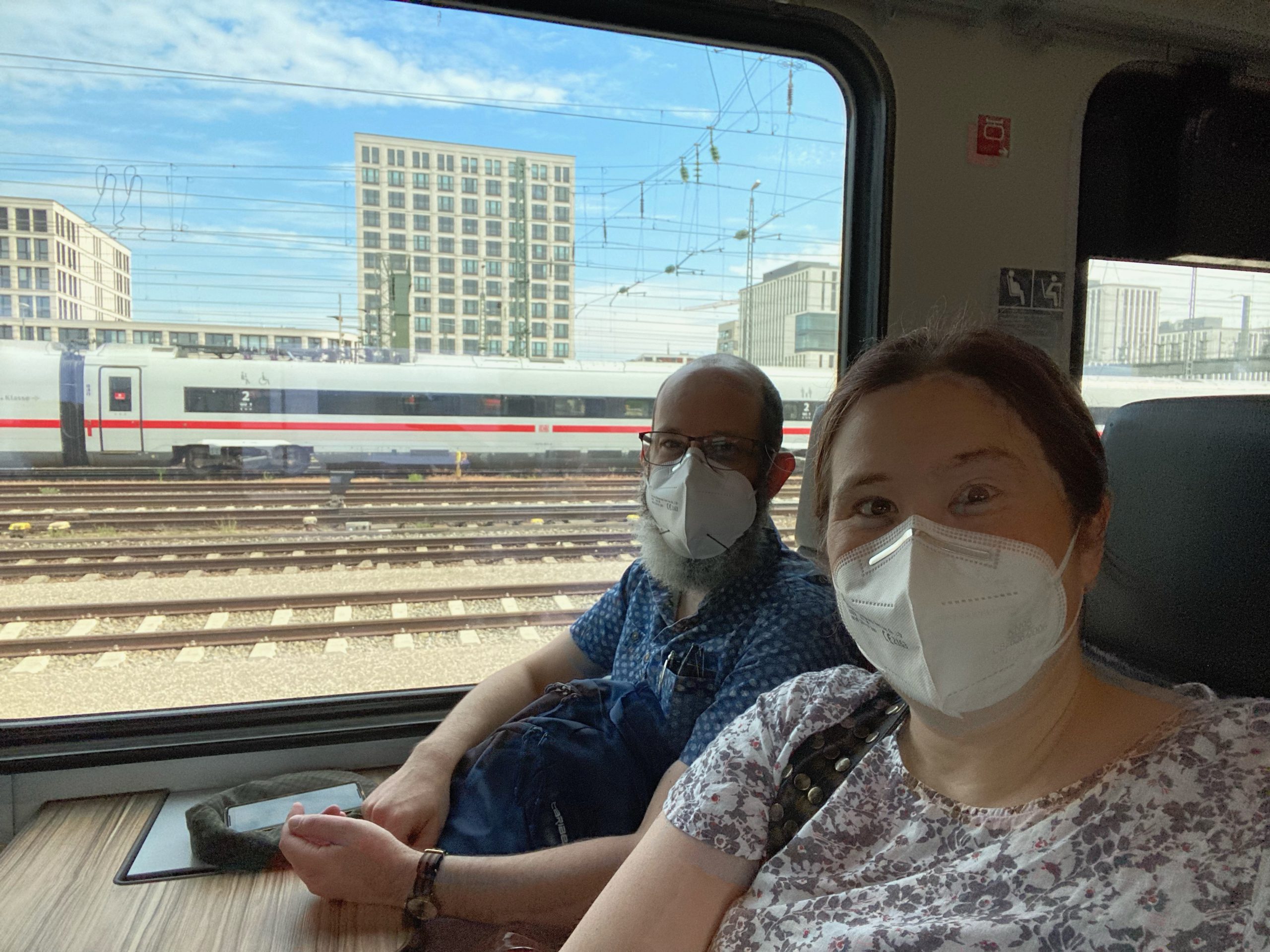 We actually started the day with a Covid Schnelltest at our local shopping center. Austria has lifted a lot of its restrictions, but we knew that it was important to have a negative test result. By the time we got to the Hauptbahnhof (central train station) 20min later, the results were in our email inboxes. Protip: Bavaria offers a special discount ticket called the Bayern Ticket, which lets you ride regional trains and most public transport through Bavaria. It also gets you to Salzburg, which is about two hours from Munich. The weather forecast was for clouds, but it was a beautiful sunny day as we headed southeast towards the mountains, whizzing through idyllic German villages and rolling green fields…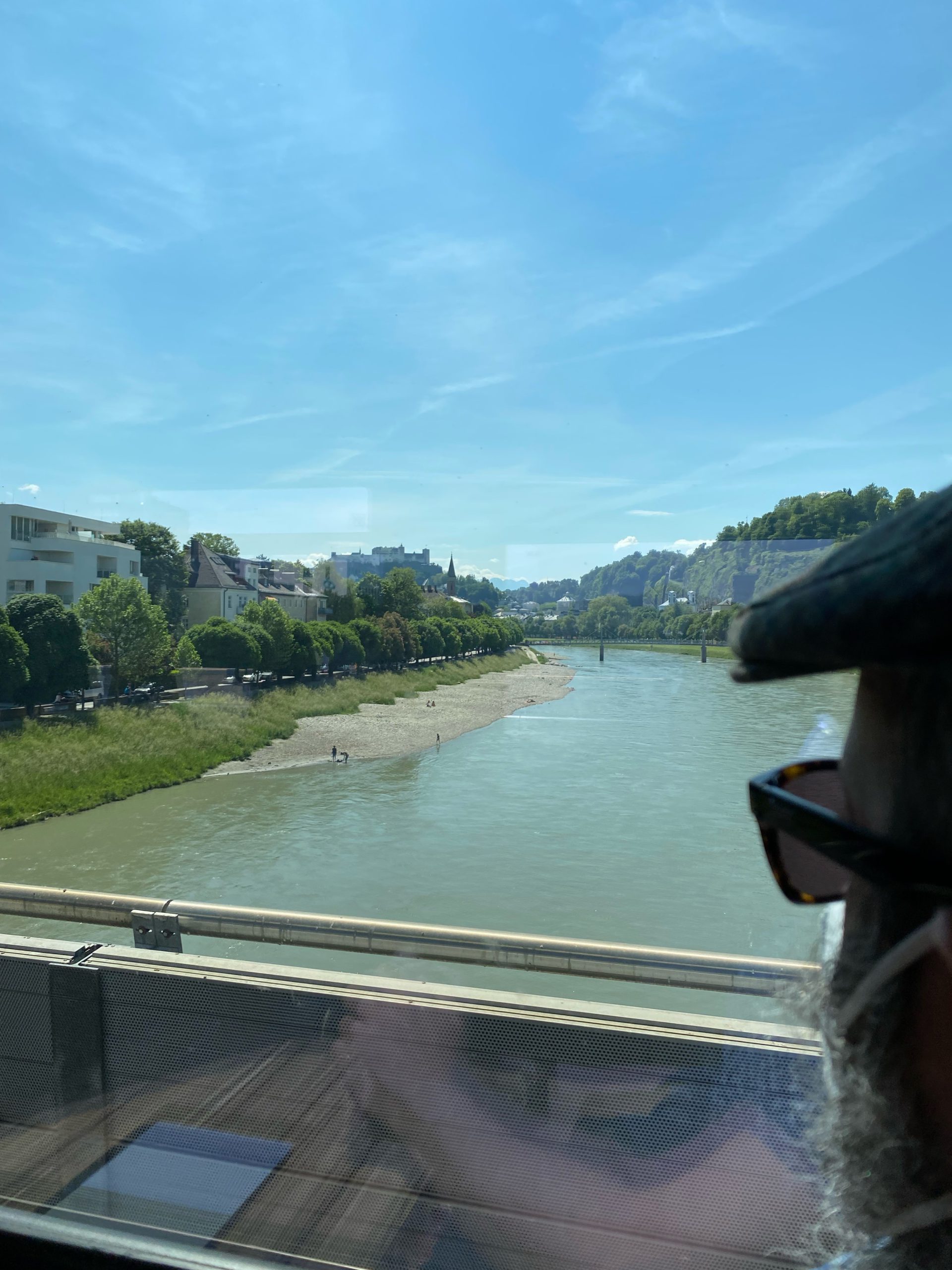 We crossed the Salzach River and got our first glimpse of the Festung Hohensalzburg ("High Salzburg Fortress") atop the Festungsberg as we pulled into our destination. I had planned some activities based on this blog post, including booking tickets up to the castle. We had a few hours to kill though, so we started by walking to the Altstadt along the river. We crossed over at the Marko-Feingold-Steg, a pedestrian bridge decorated by visitors with thousands of padlocks.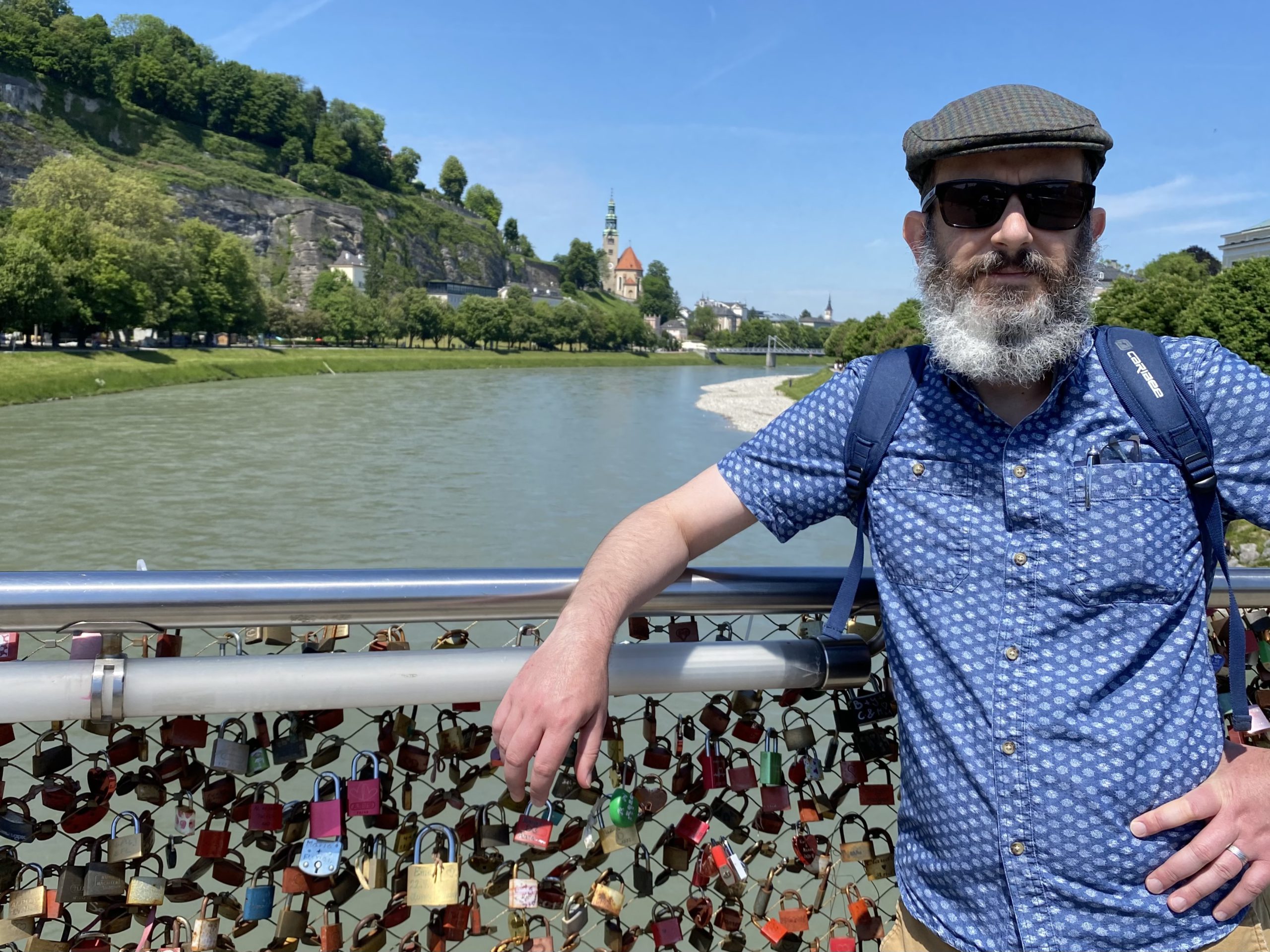 We headed to Getreidegasse ("Grain Lane"), a busy shopping street in the heart of the old town. It's narrow and historic and super charming, even despite the fact that many of the shops were the same as you'd see in any major city. It was also surprisingly busy, and I found myself feeling a little wary of all the unmasked folks! (It's been a long lockdown. 🙁)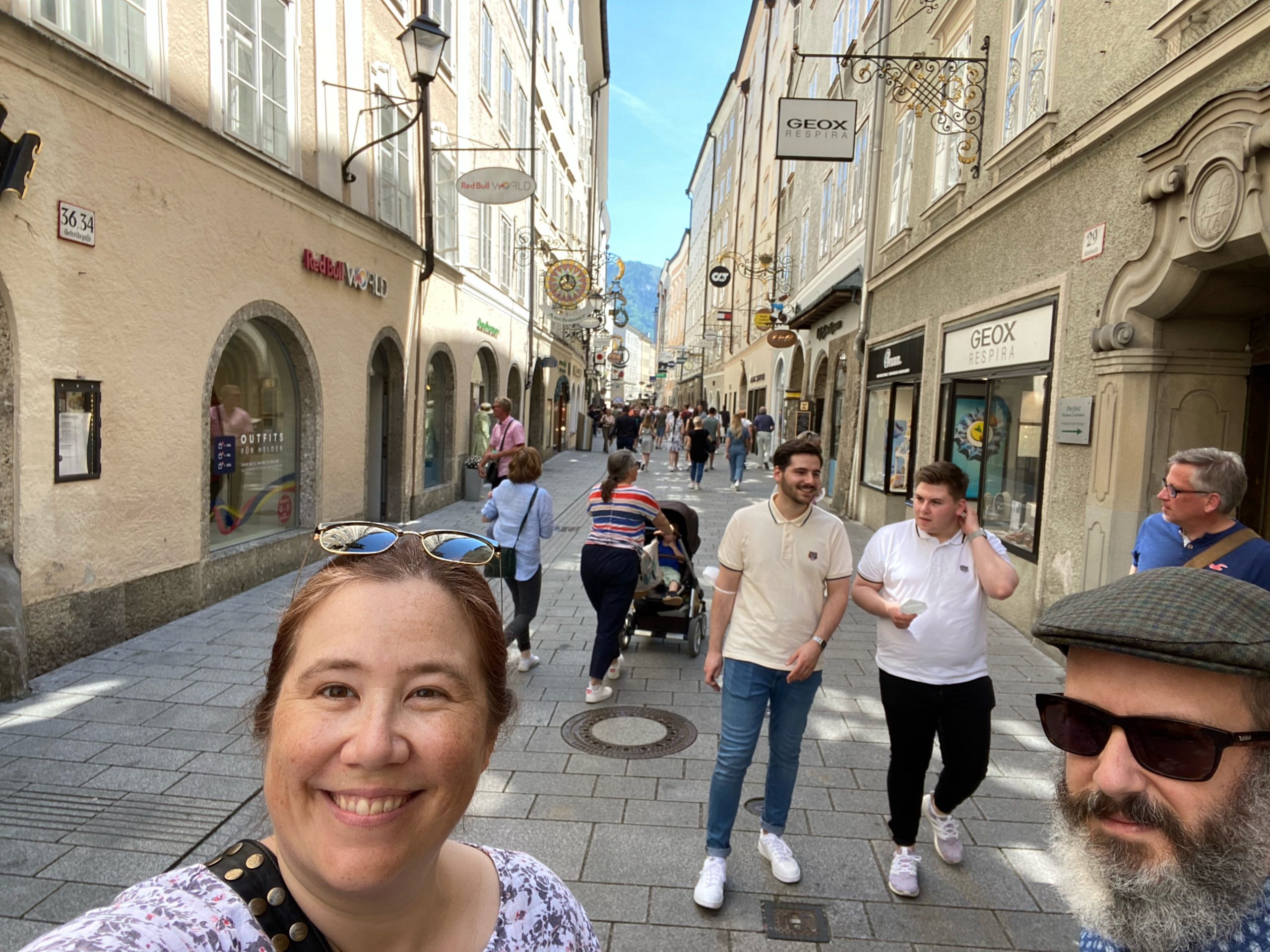 It was lunchtime and we were hungry, so we headed to the Zipfer Bierhaus. We got a table out the back in University Square and enjoyed a couple plates of sausages along with some local Austrian brew…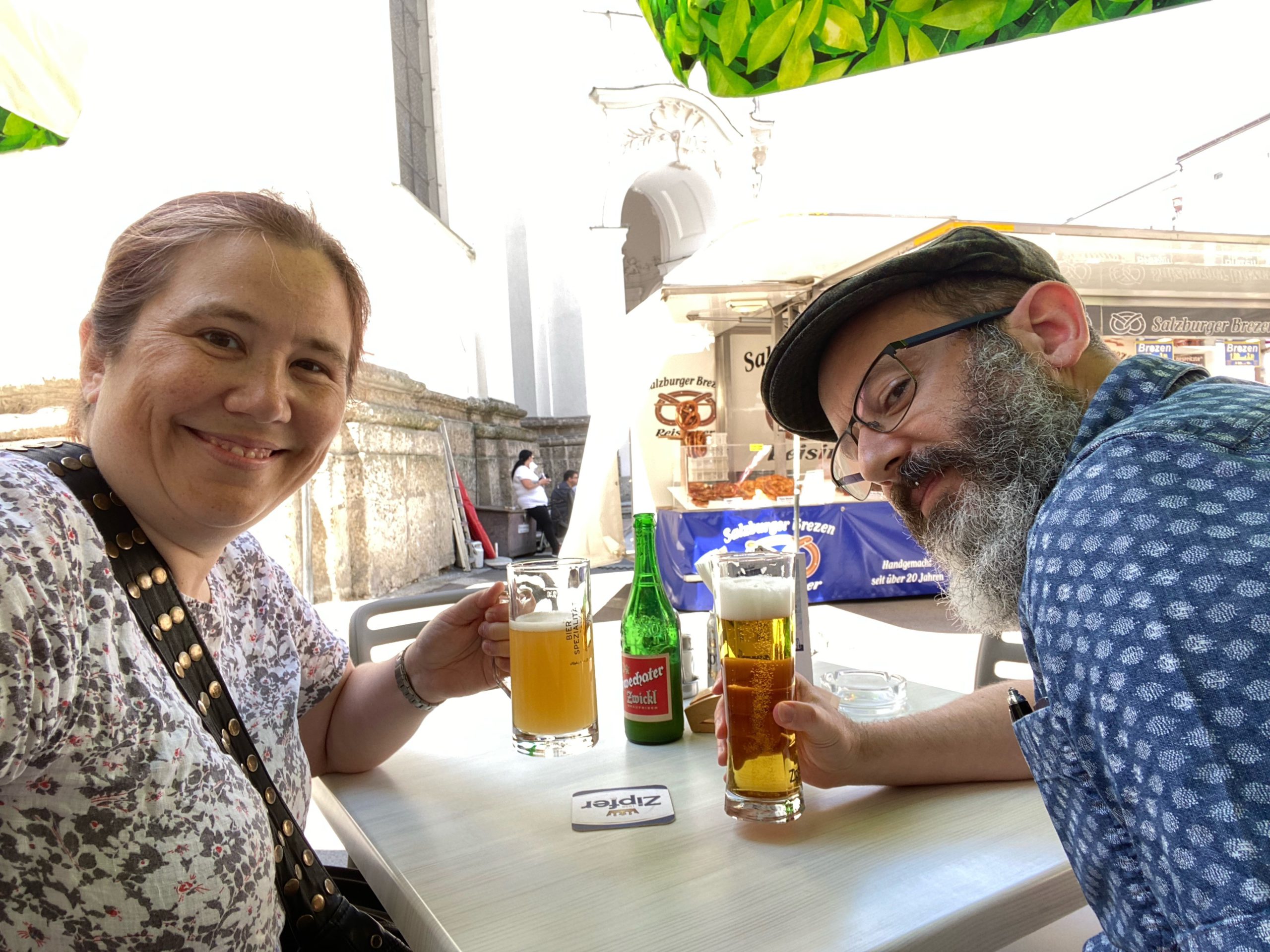 Our next stop was back on Getreidegasse – Mozarts Geburtshaus (Mozart's birthplace). It was fairly empty at the time, and we enjoyed wandering the rooms and  learning a bit more about his life and his family. Did you know that Mozart's sister Maria Anna (nicknamed "Nannerl" by the family) was also a musical child prodigy, but because she was a girl, she eventually had to stop touring and performing? (I found myself feeling so angry on her behalf.) I was also surprised to see that pianos in Mozart's day had the black and white keys reversed!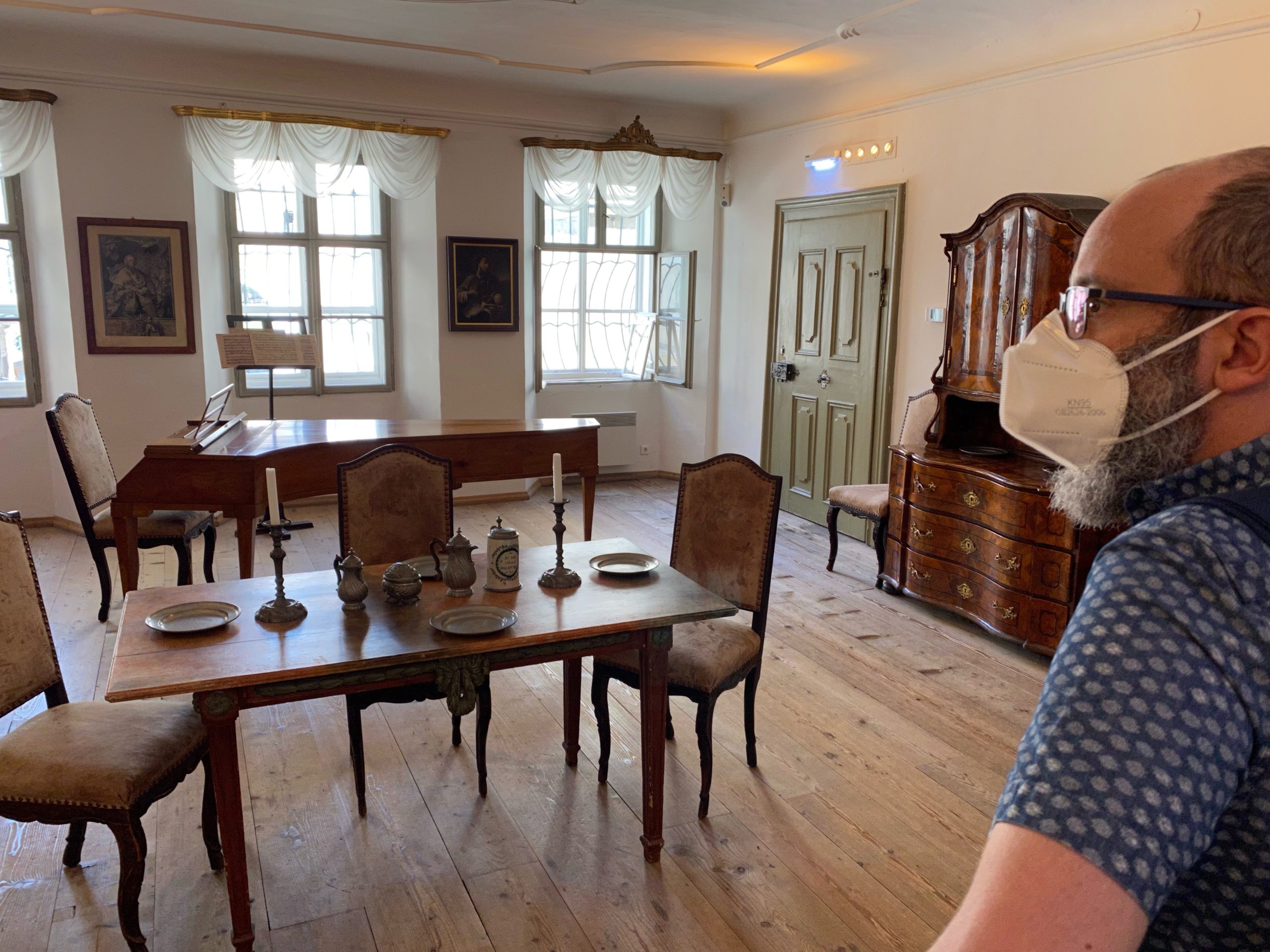 We ended the tour in the gift shop, of course, where I bought a cool lenticular magnet to add to our collection. They had a TV set up showing scenes from Amadeus, and I confessed to the Snook that I'd never seen it. That was going to have to be rectified, I decided…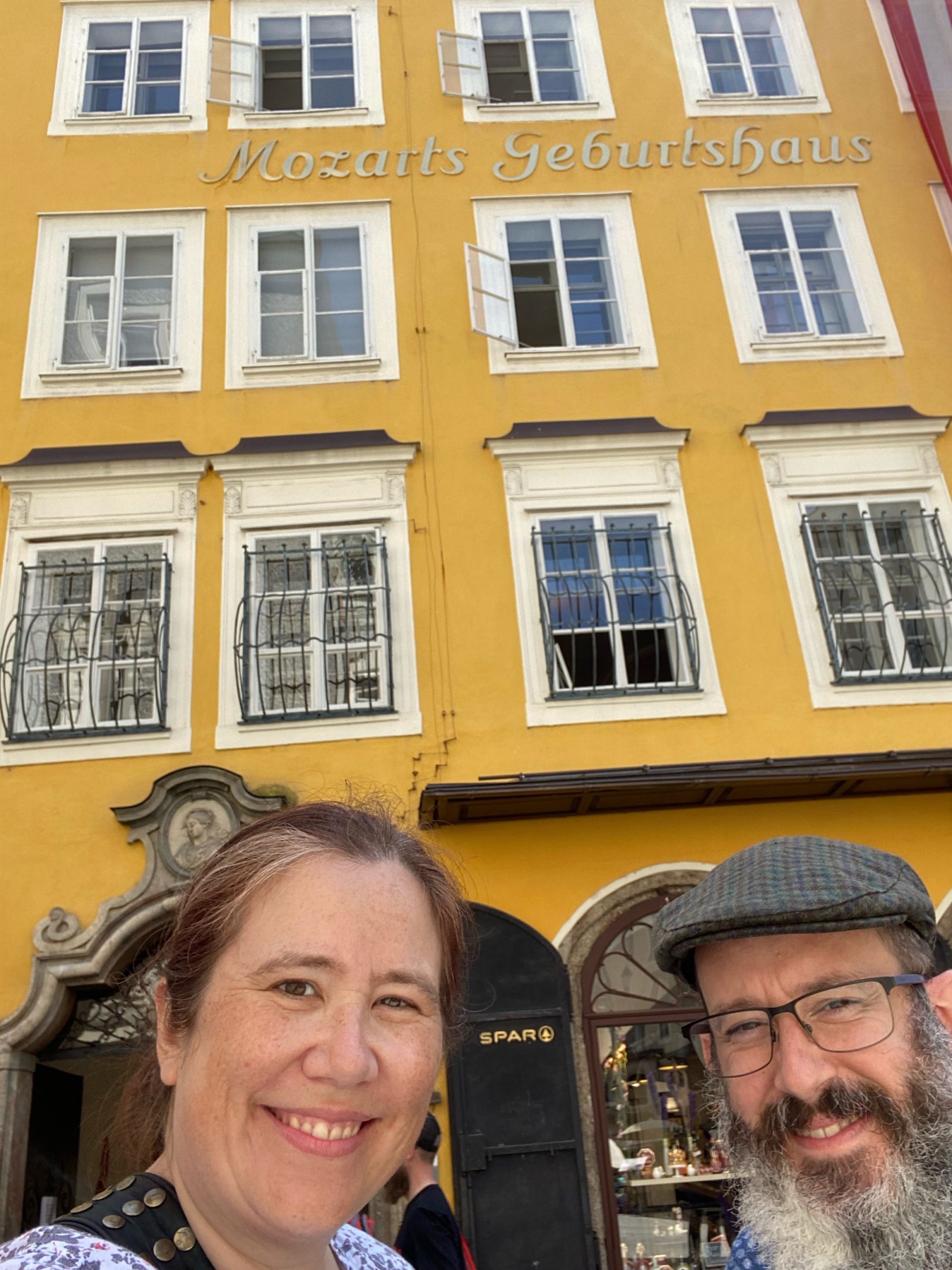 And then it was time to head up to the fortress! We caught the Festungsbahn (funicular) up to the top and were greeted with stunning views across the city to the mountains beyond.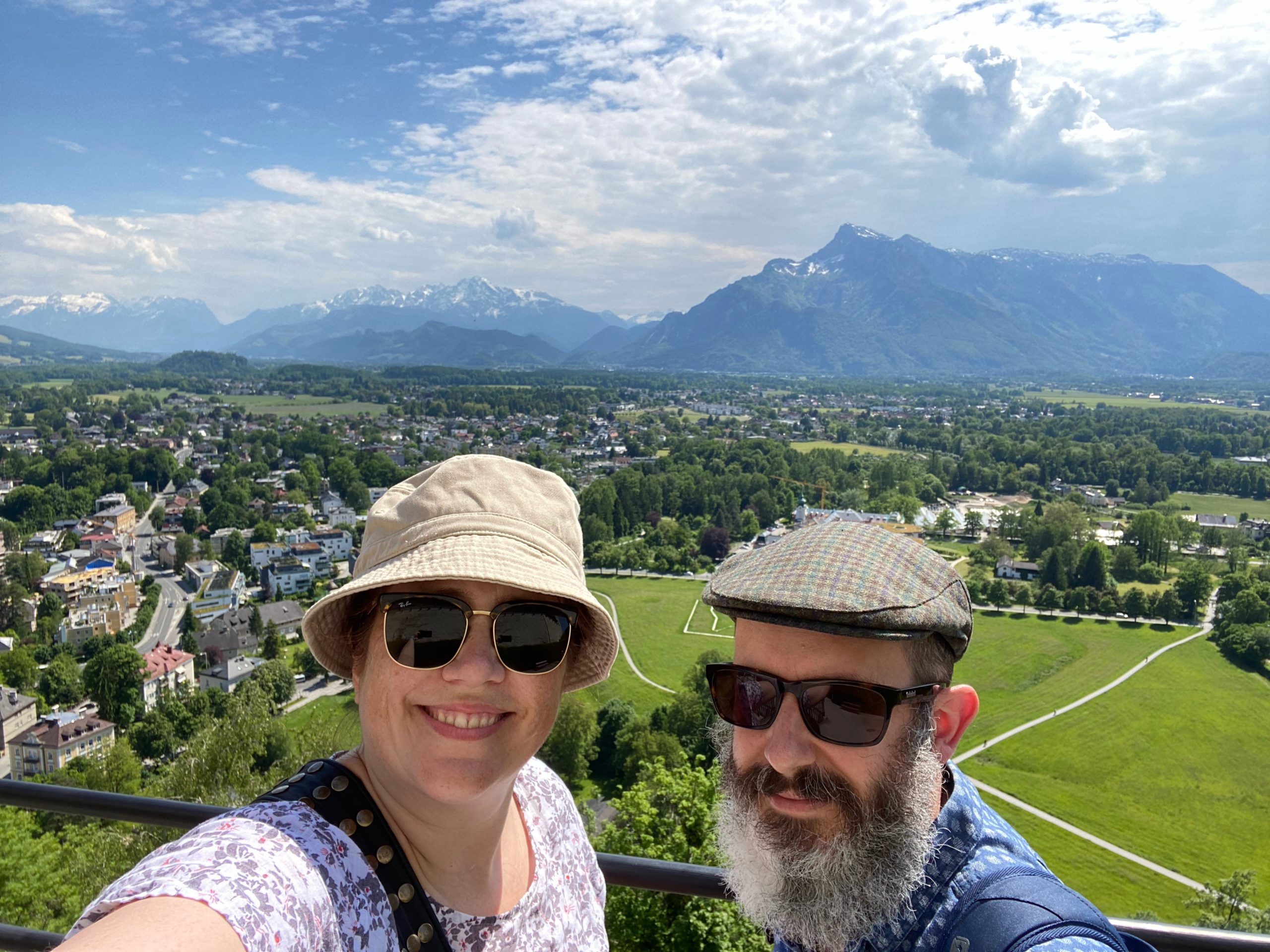 The day was turning out pretty hot, so we headed into the Zeughaus (Armory) Museum to cool off and learn about medieval weaponry. They had a lot of interactive exhibits, including a kiosk where you could picture yourself as a knight. The Snook also enjoyed creating virtual gunpowder and seeing how far he could fire a cannon.
The real highlight of the Festung is the view over the city. How stunning is this? This is why we came to Europe. ❤️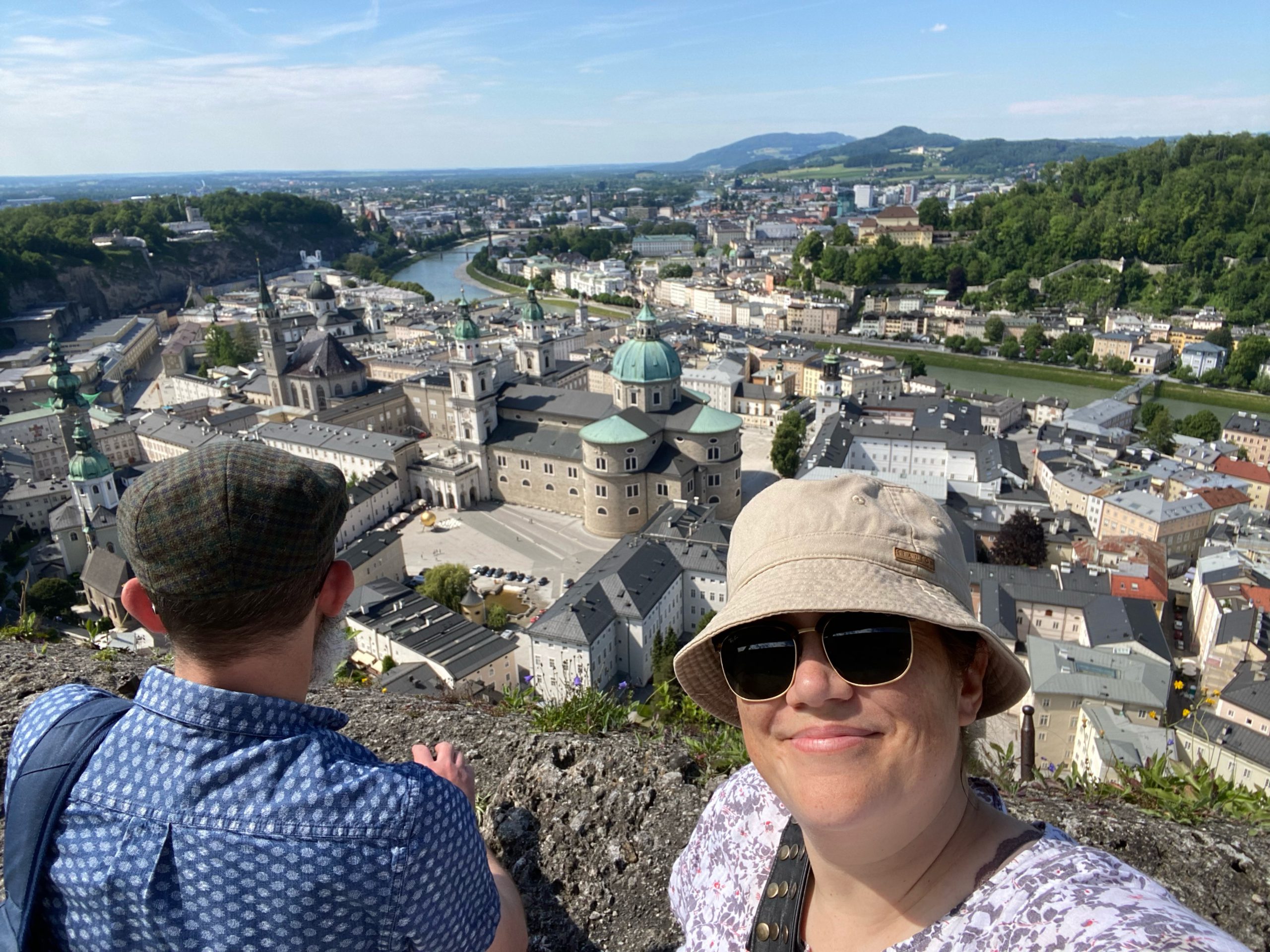 It really was quite hot though. 😅 We were also getting tired from all the walking so we caught a quick rest in the shade.
Our tickets also included access to the Prince's Chambers, the richly appointed staterooms installed by Prince-Archbishop Leonhard von Keutschach. My favourite part was the Golden Hall, with its 17m-long beam, carved columns, and decorated ceiling.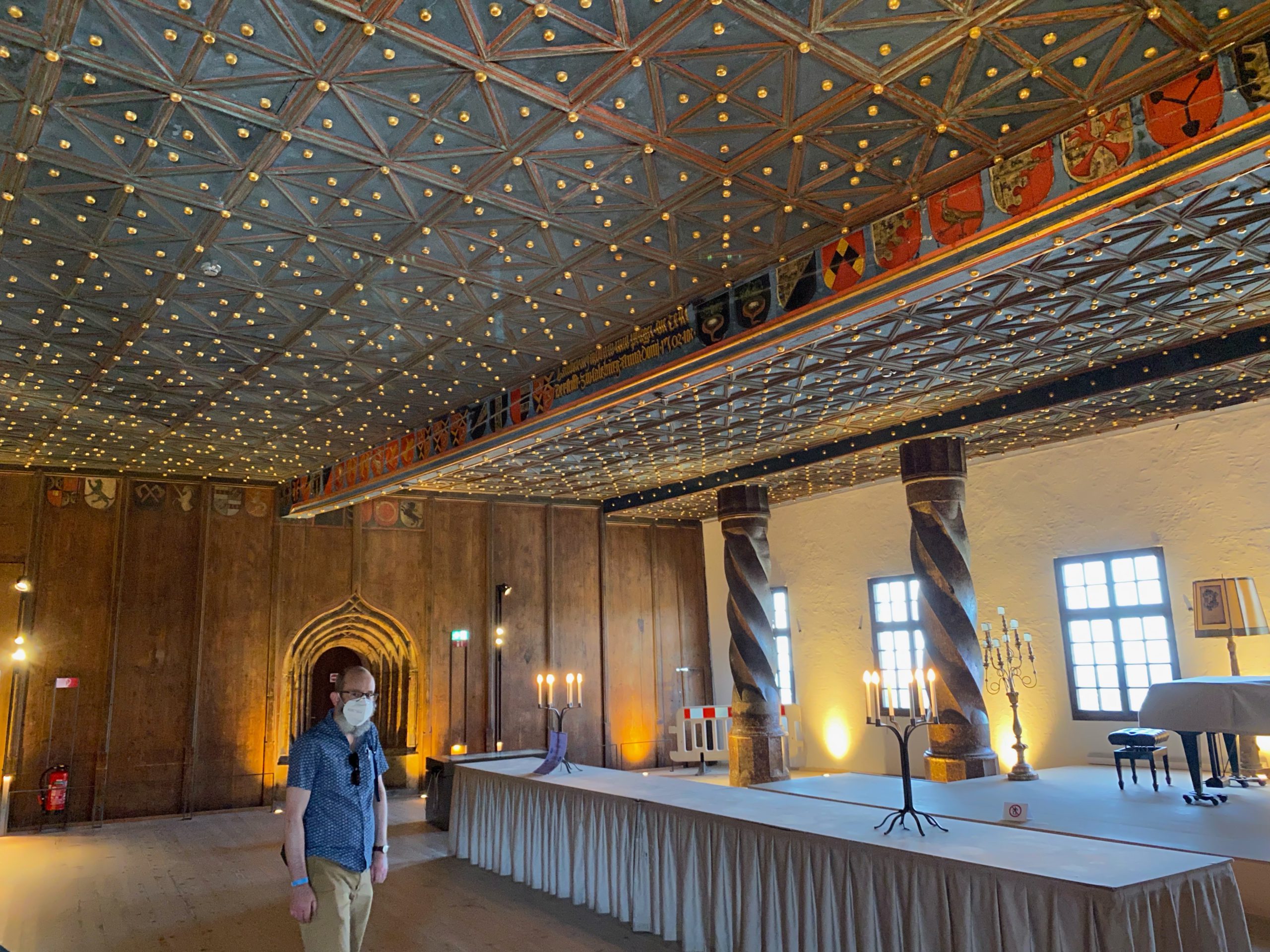 And from every window, an amazing view…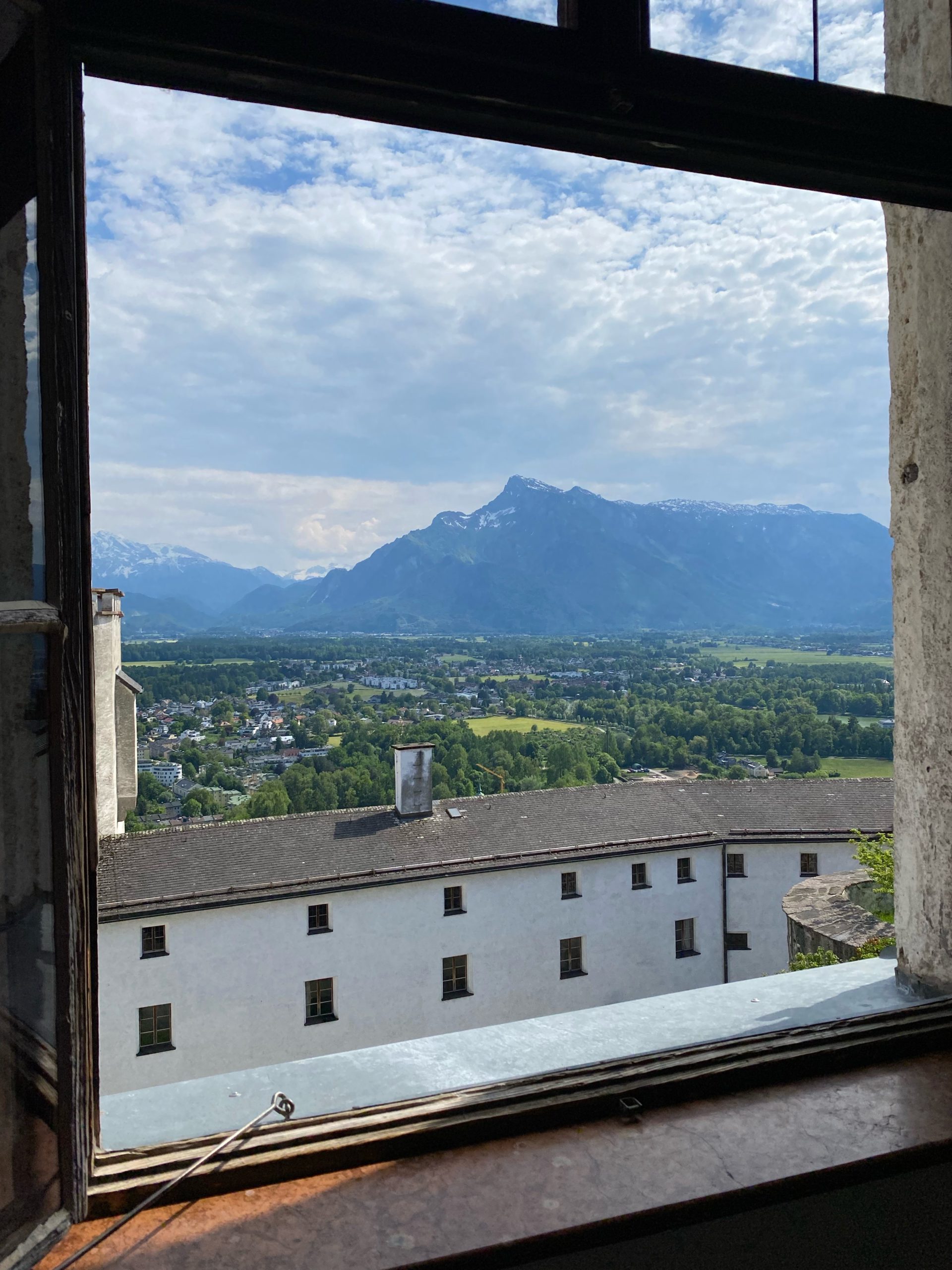 We were really flagging by this point, so we caught the funicular back down to the Altstadt. In need of refreshment, we headed to the nearby Stiegl-Keller where I was delighted to sample their Grapefruit Radler in the rooftop biergarten. What a way to end the day!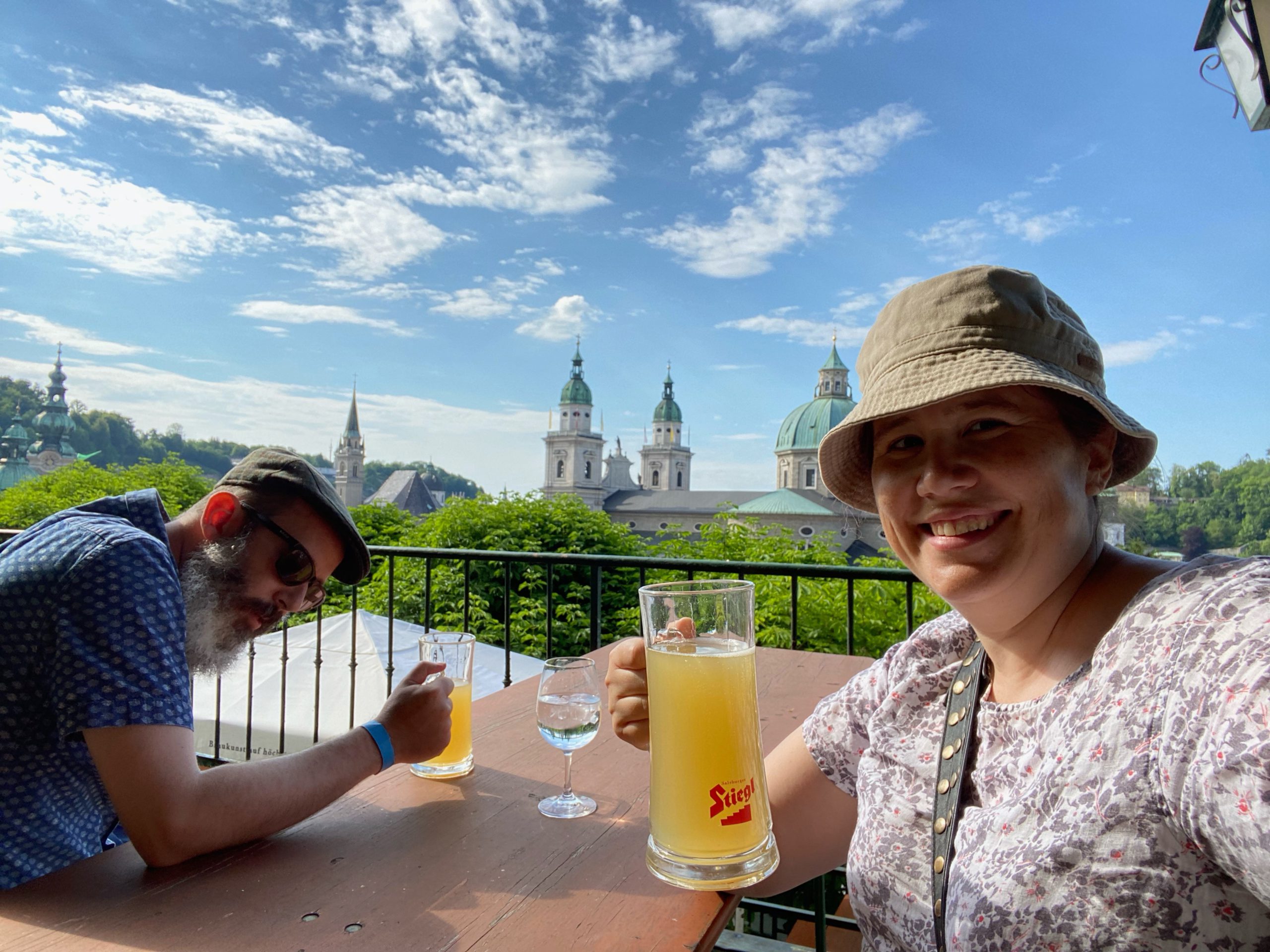 We walked back to the Hauptbahnhof and caught the return train to Munich, exhausted and happy. What a perfect day! Can't wait to do more exploring over the next few months…
OH! And the first thing we did back in Munich? Watch Amadeus, of course. I loved it. ❤️