I'm kind of obsessed with Moomins. For the uninitiated, these are the titular characters from a series of books and comic strips by the Swedish-speaking Finnish author Tove Jansson. I'd never heard of them growing up, but way back in 2005 the Snook introduced them to me and I fell in love. The Moomins themselves are "trolls" but look like hippos and live in a tall, round blue house in the middle of Moominvalley. The stories are funny and droll, but also at times melancholy and gloomy and even occasionally scary. I've read most of the books since then (wellll, in truth Rodd has read them to me), watched some of the various animated series and films, collected some merch, and even visited the Moomincafe in Hong Kong (sadly since closed). For my birthday this year, the Snook even made me a Little My cake!
At some point many years ago we learned that there is an actual Moominworld theme park in Finland. Earlier this year I remembered it and jokingly suggested to the Snook that we should go. Amazingly, the stars aligned and Covid restrictions eased enough that we were actually able to make it happen! Strap in folks; this is going to be a long post…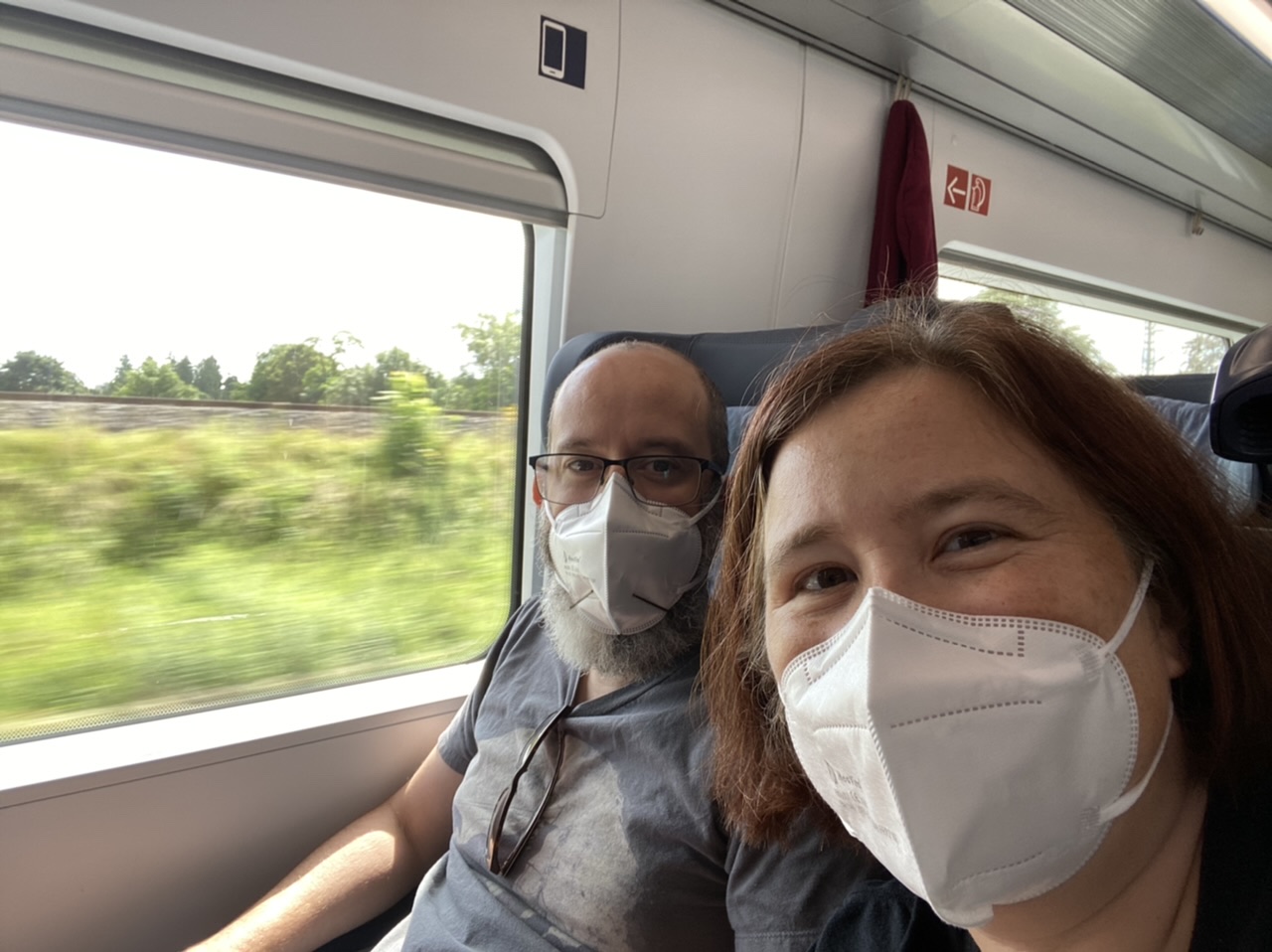 Rather than just fly to Finland, we decided to train it north through the Nordics and visit some new cities (and some of my colleagues!) along the way. Our first destination was Hamburg, a 6.5hr train ride from Munich. When we arrived at our hotel, we were delighted to find that it was just down the street from the Hamburger Dom Fun Fair!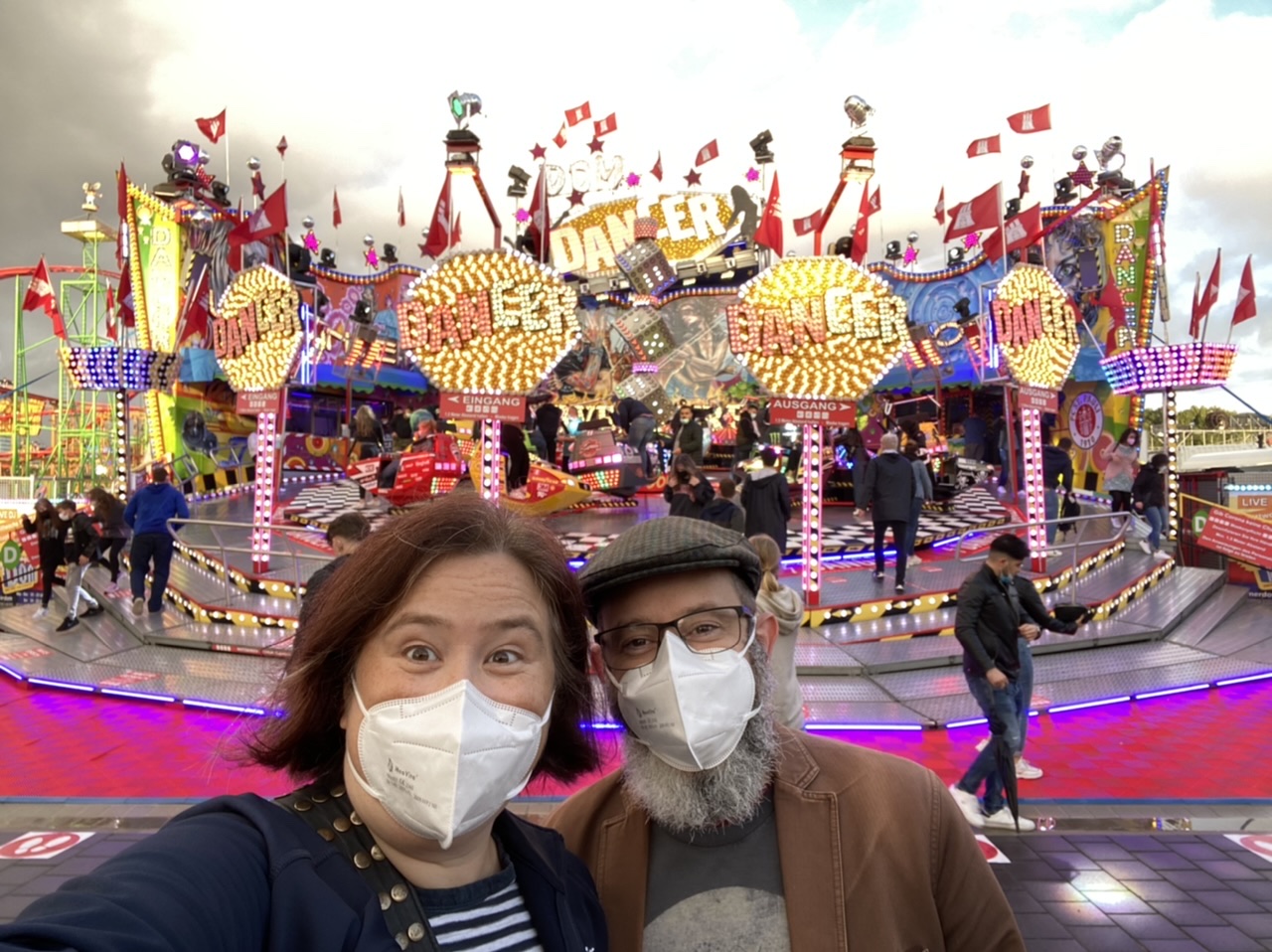 We decided to have fair food for dinner. I was intrigued by the stand offering a "half-meter bratwurst" (which they had to cut in half to fit in the bun!) as well as "Oma's Gurkenfaß" (Grandma's Pickle Barrel). The Snook also had freshly-made Marillenknödel (apricot doughnuts).
After the fair, we went for a walk through Hamburg down to the Speicherstadt ("city of warehouses"), which used to be the heart of Hamburg's working harbour. The Snook was very sceptical about our destination, a place that I'd been told by many was THE tourist destination in the city…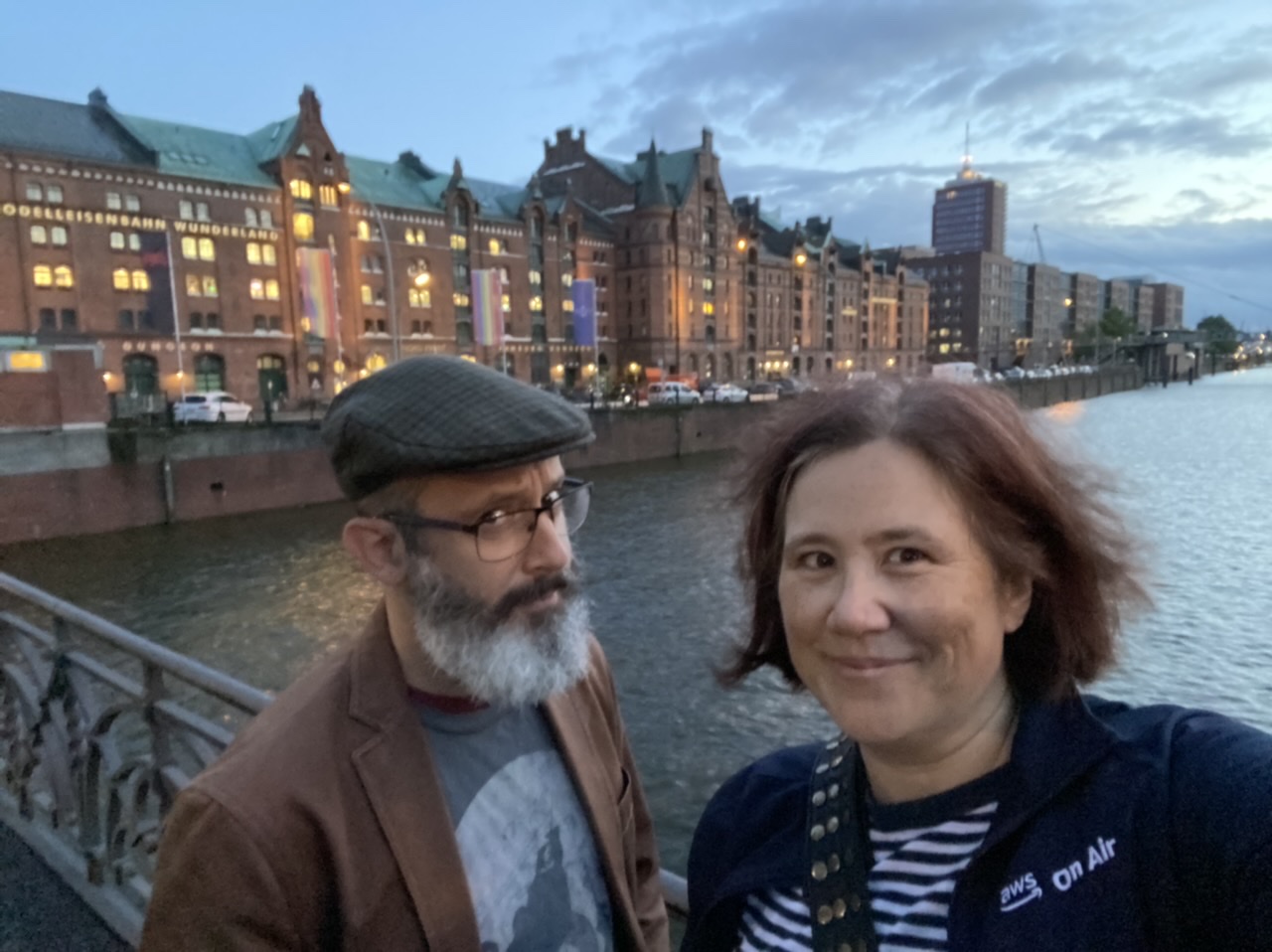 Miniatur Wunderland! This place is the largest model railway in the world. It has 1300 trains across nine sections. The first one we came to was the American Wild West…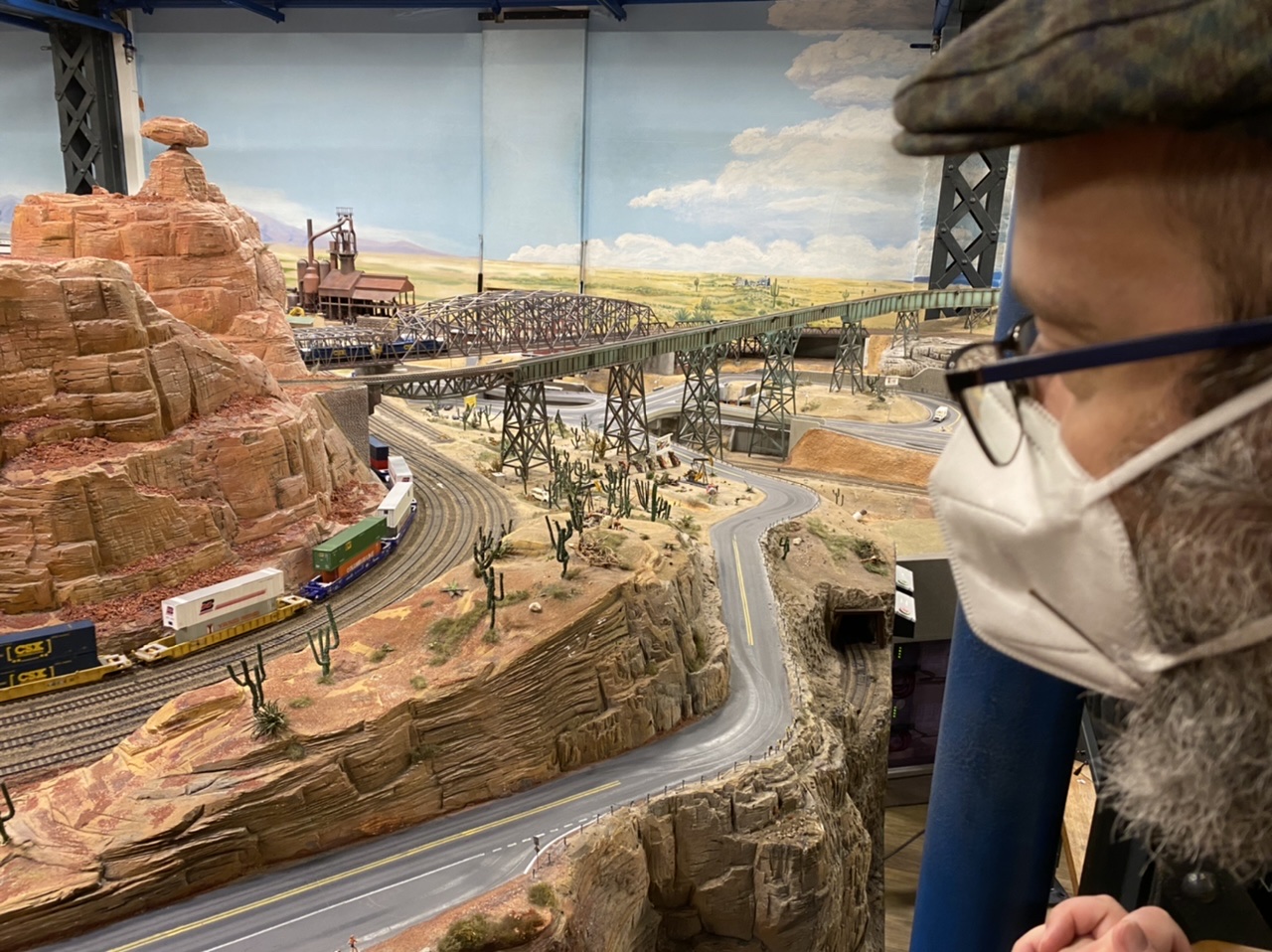 We were only able to get timed tickets at 10:30pm, and it was still PACKED. It reminded me of the House on the Rock, in that it felt like an obsessive fever dream kind of place. Every fifteen minutes the lighting cycled through an entire day so you could see it all at night too. Some sections had buttons you could press that would cause things to happen, like a Ferris Wheel to start spinning or the Space Shuttle to take off.
Did I mention it has a giant working airport?? Model plans take off and land through holes cut in the walls while little luggage trucks drive all over the place. It was CRAZY.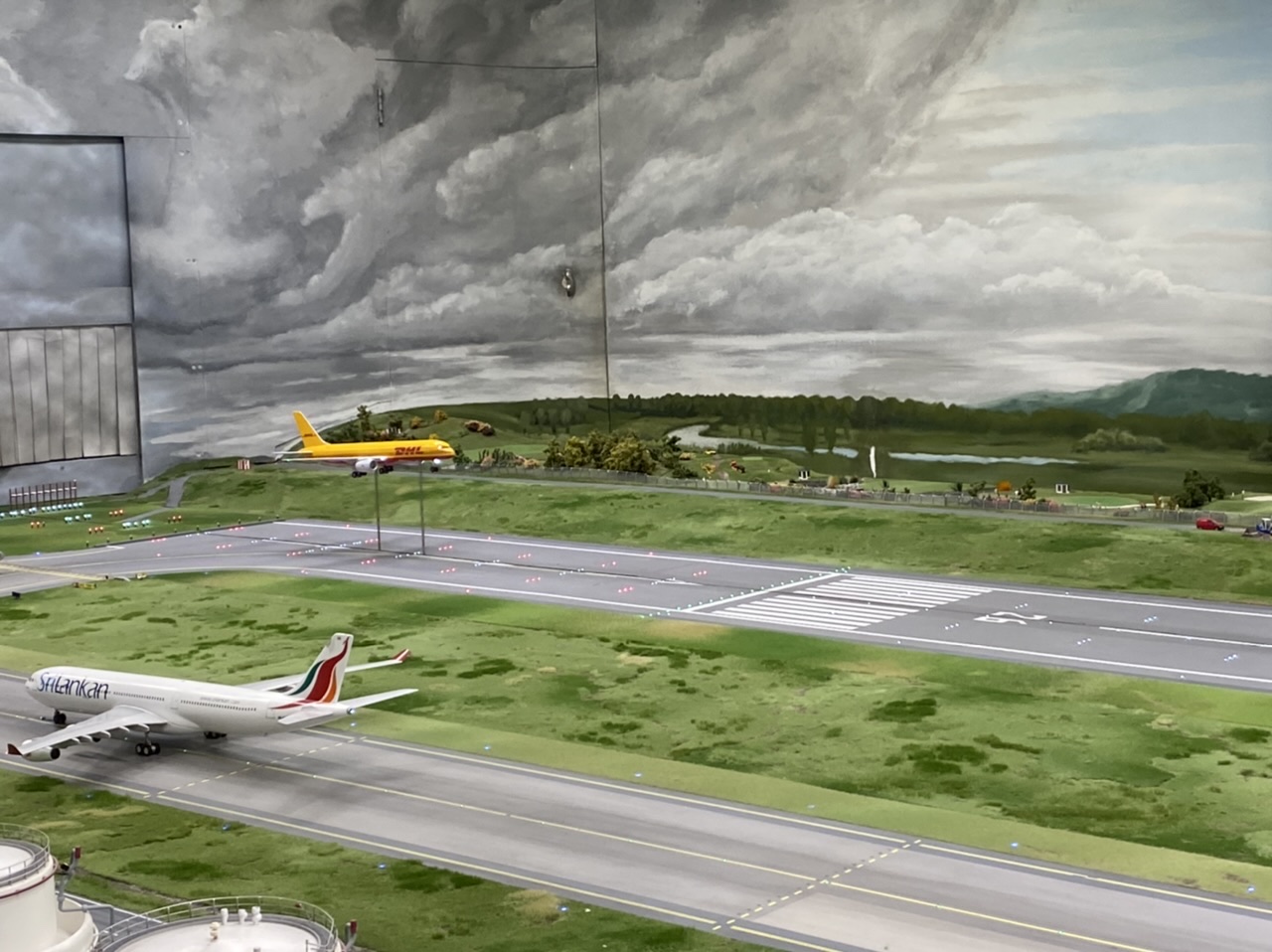 There are thousands of little scale figurines all over the place. Hilariously, apparently some of them are doing "rude" things and fans of the place try to catalog them all. We didn't spot many, but it was pretty clear these folks in the sunflower field were enjoying themselves…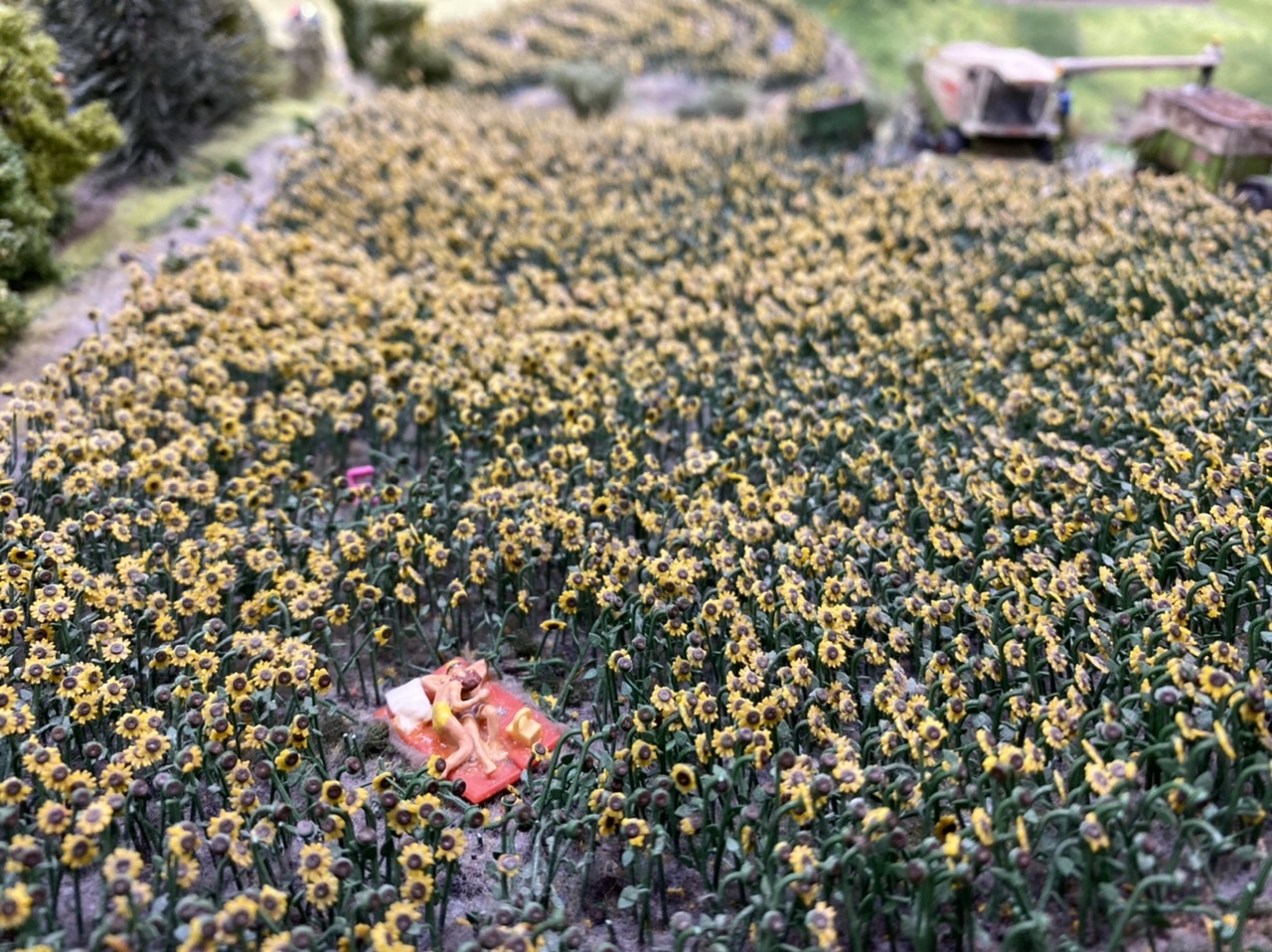 I think my favourite part was getting a glimpse into the control room that runs everything. It looks like Mission Control! It takes a lot of computing power and smart people to keep all the little trains, planes, cars, trucks, and boats moving.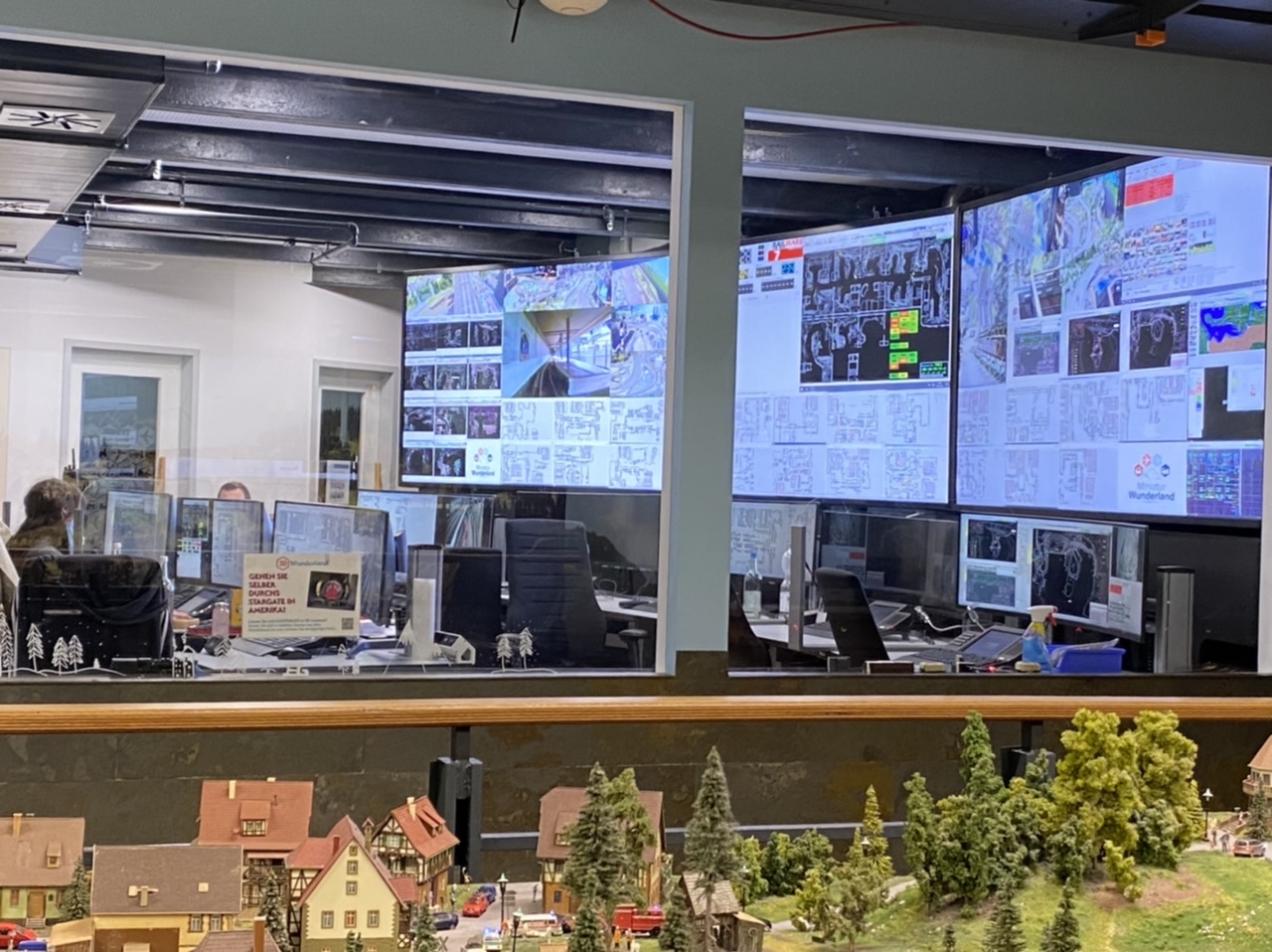 The next day, we bought tickets for a "Hafenrundfahrt" (harbour tour) as it's the best way to see the Speicherstadt.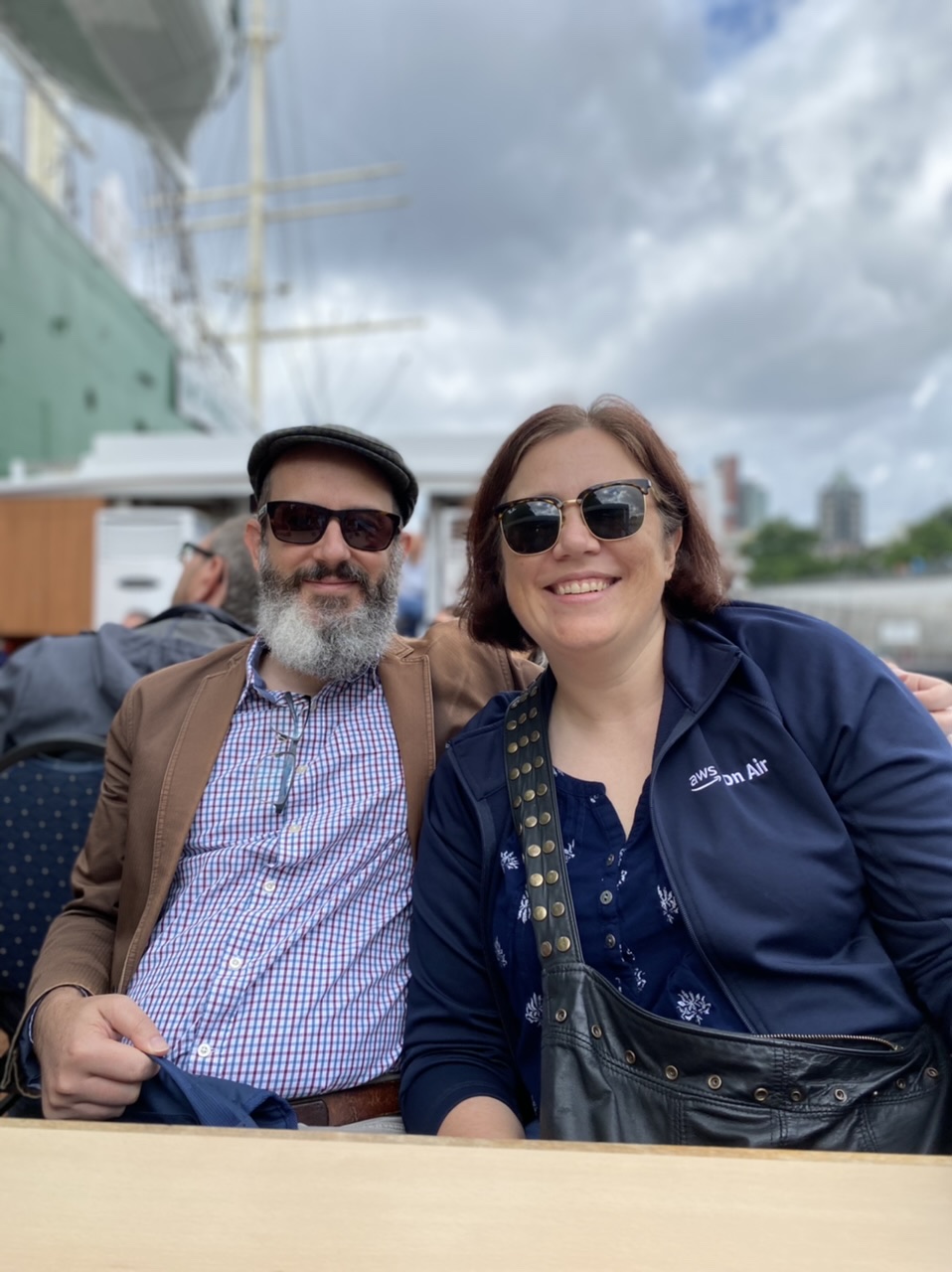 It was really cool to see all the old warehouses and canals. Apparently Hamburg has more bridges within its city limits than any other city in the world. (More than London, Amsterdam, and Venice put together!)
Then we went out in to the harbour proper and saw the working port and some big sailing ships near the Maritime Museum.
The sky had been threatening rain and it finally started to fall. Luckily our boat had a retractable roof so we didn't get too wet! Our first glimpse of the Elbphilharmonie was through the rain…
After our tour, we had a wander through Hamburg properly. This is the Rathaus (City Hall).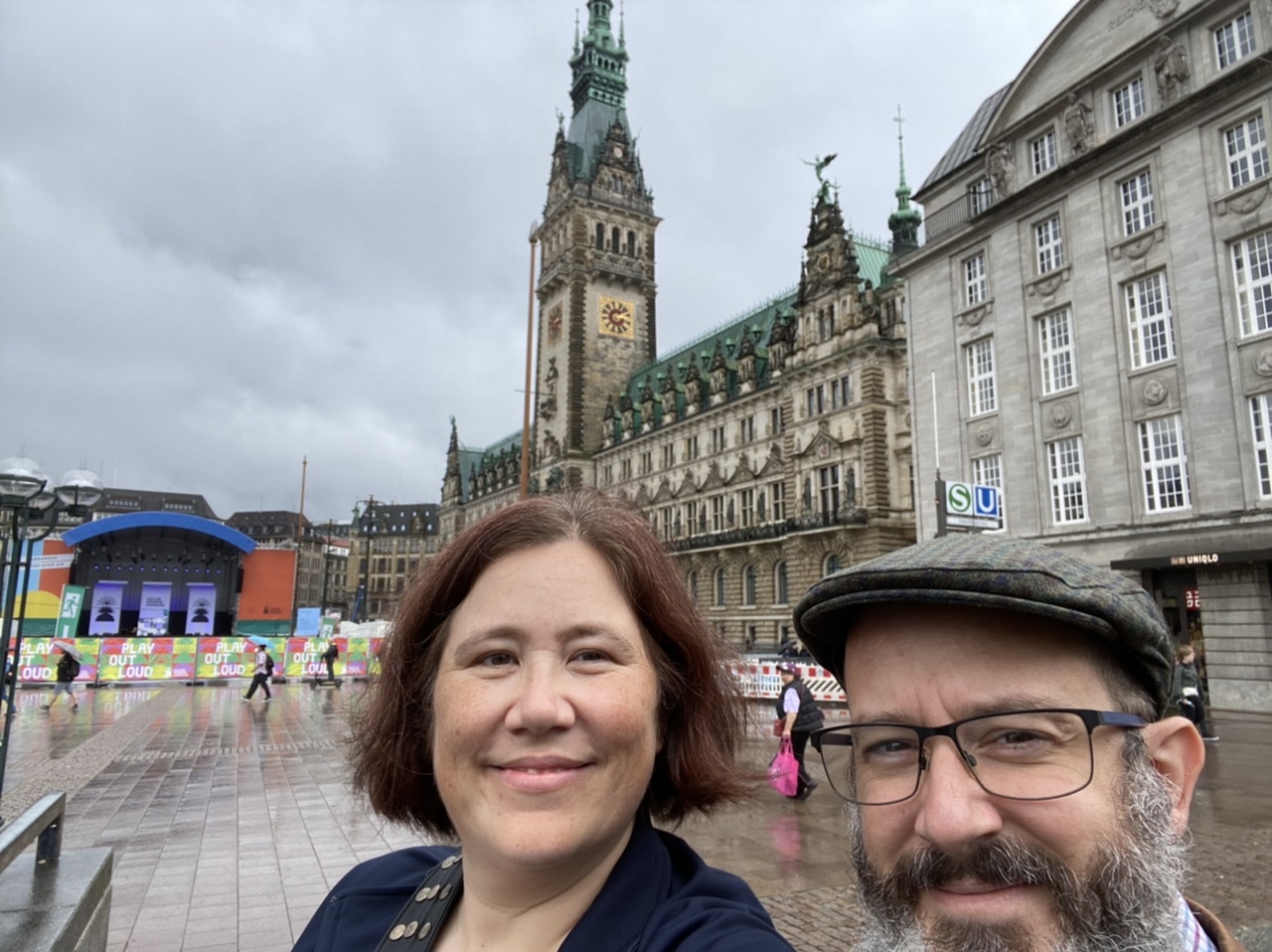 We also checked out St. Nicholas Church, which for a time was the tallest building in the world. It was destroyed in WW2 bombing but left as a ruin as a memorial.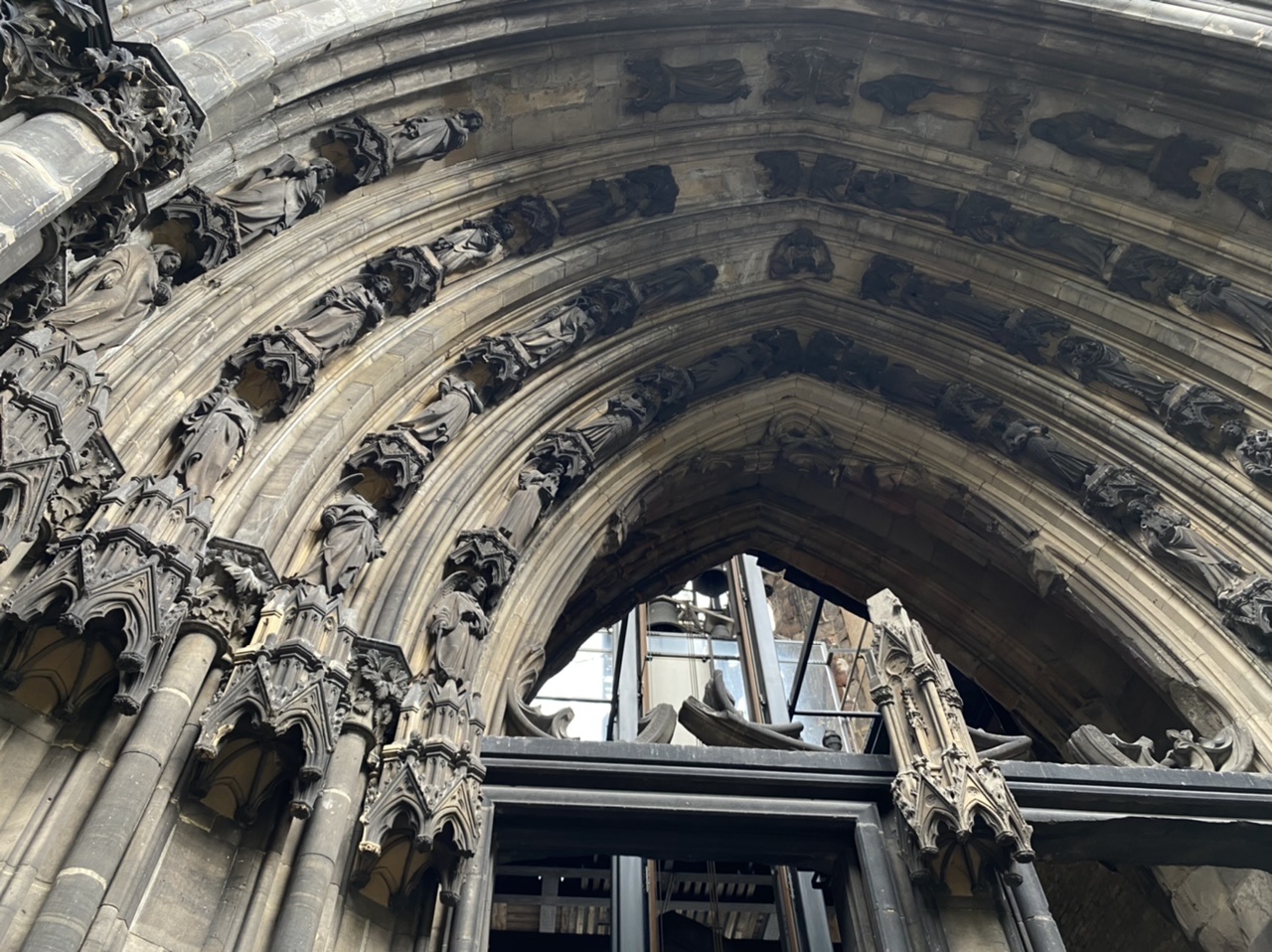 Then it was time to meet up with my colleague Dennis! He lives not far from Hamburg so he came in to meet us and show us around. Our first stop was the Elbphilharmonie, Hamburg's gorgeous concert hall on the harbour.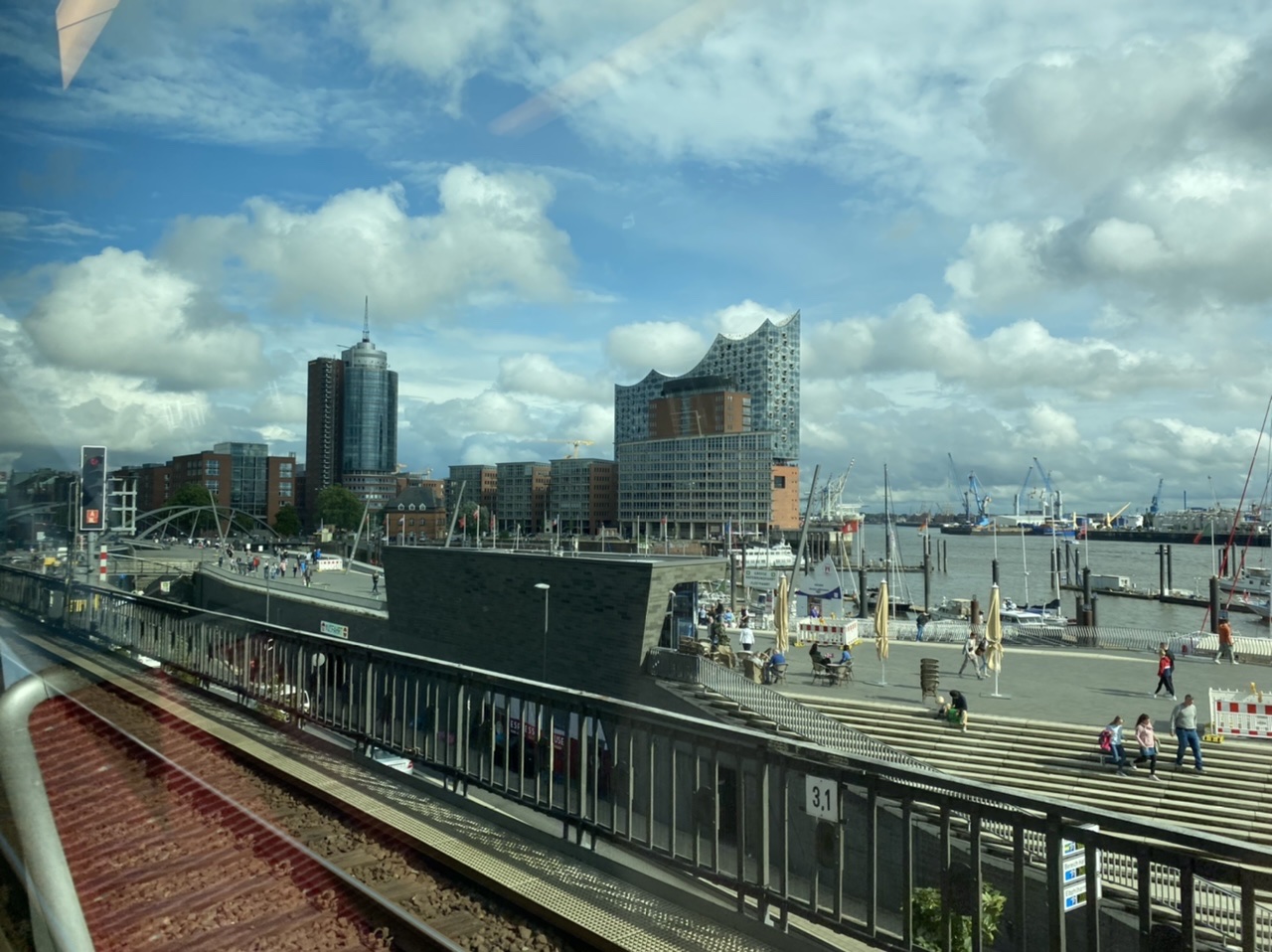 Thankfully the sky was starting to clear so we went up to the observation deck to check out the view.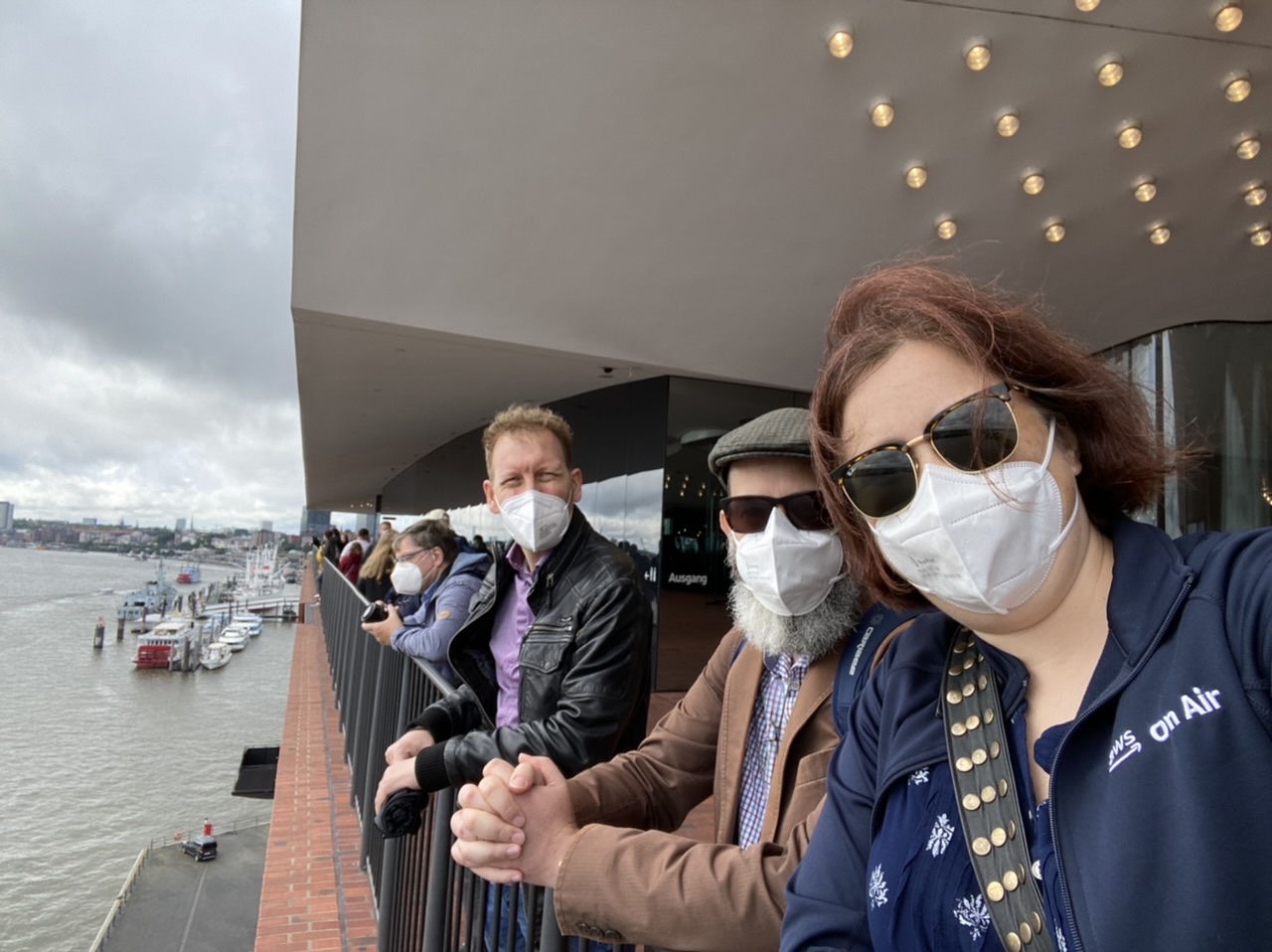 Our next stop was the famous Reeperbahn, Hamburg's red light district and where the Beatles played in the early 60's. Check out these guys…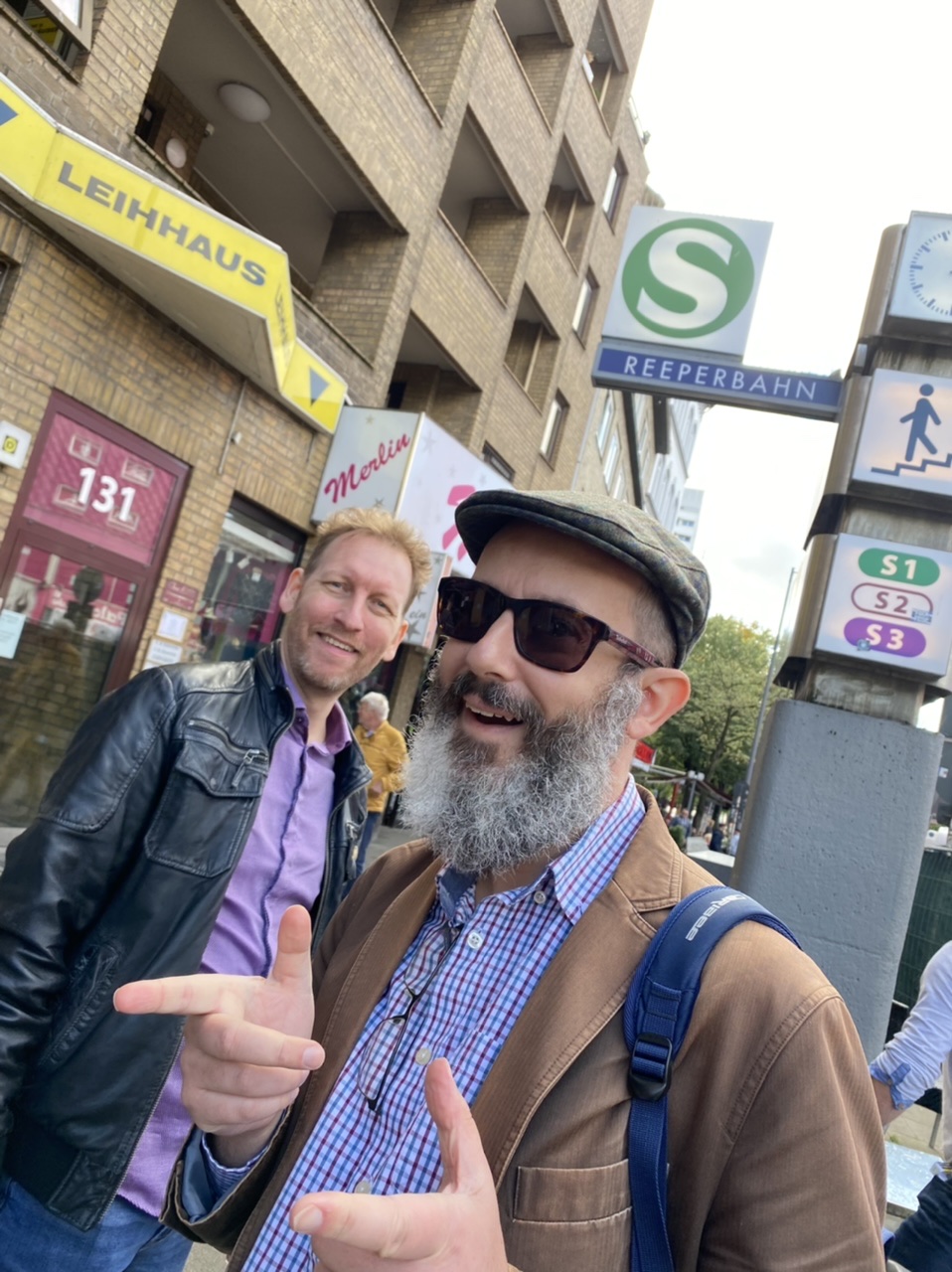 We didn't actually venture down any of the side streets where all the clubs are. This one had a memorial to the Beatles with a sculpture of the band in outline (where that group of guys in black are standing).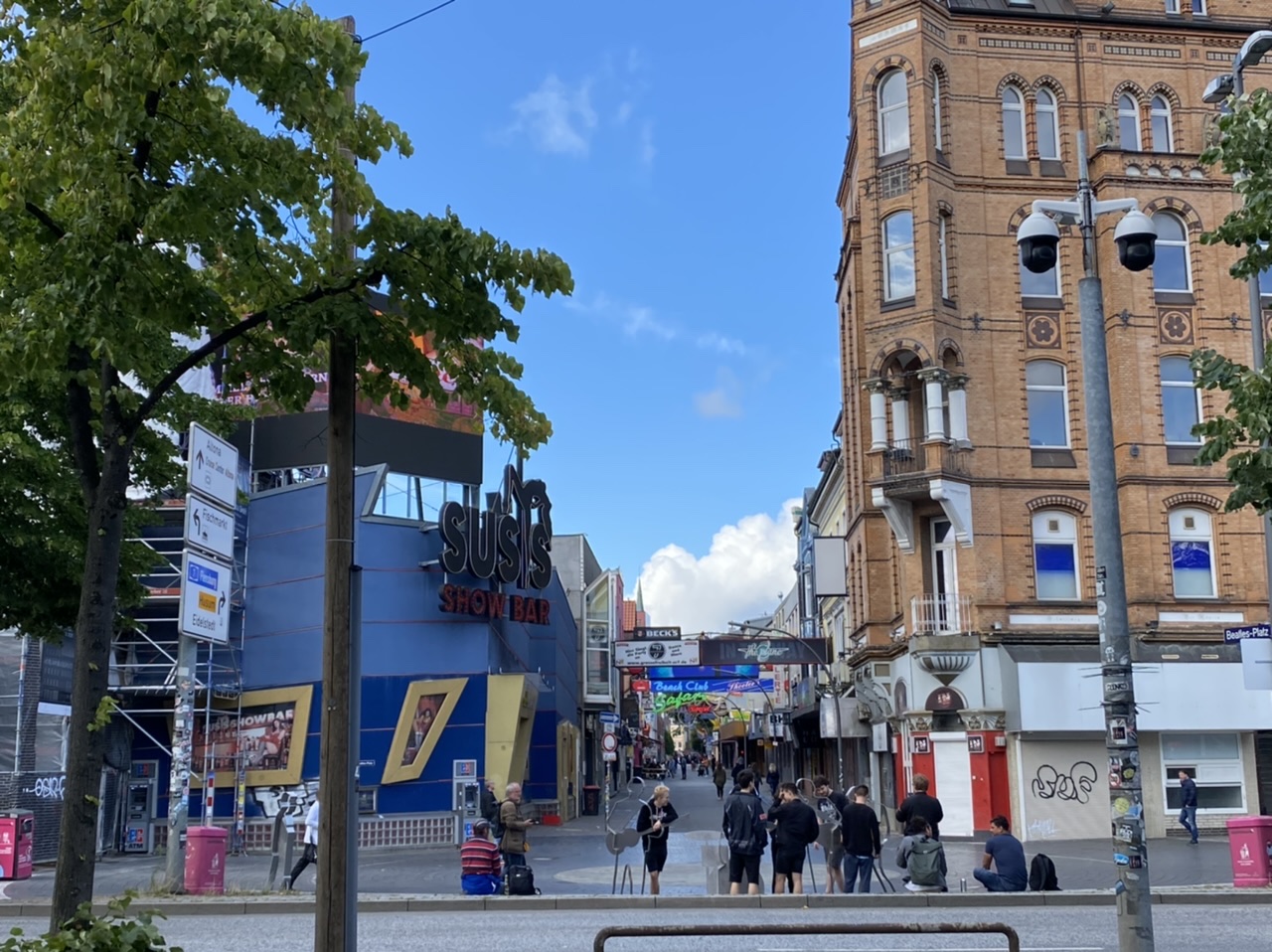 Our final destination was the Altes Mädchen Braugasthaus to meet up with Andreas, who runs the AWS Hamburg User Group. It was really cool to meet these guys after a year's worth of video chats!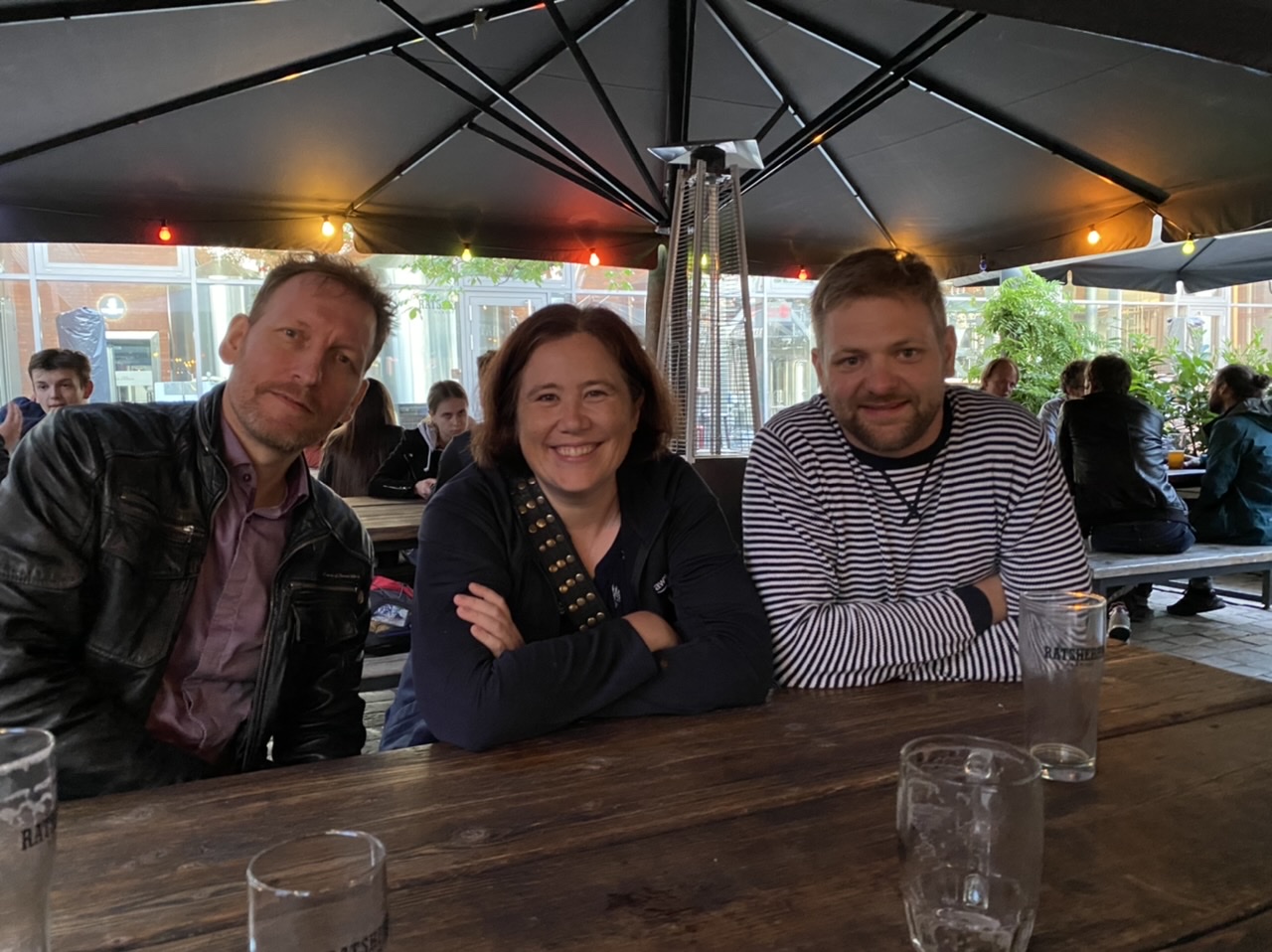 The next day we caught a train to Copenhagen. This was about a five hour ride north into Denmark and then east towards the capital.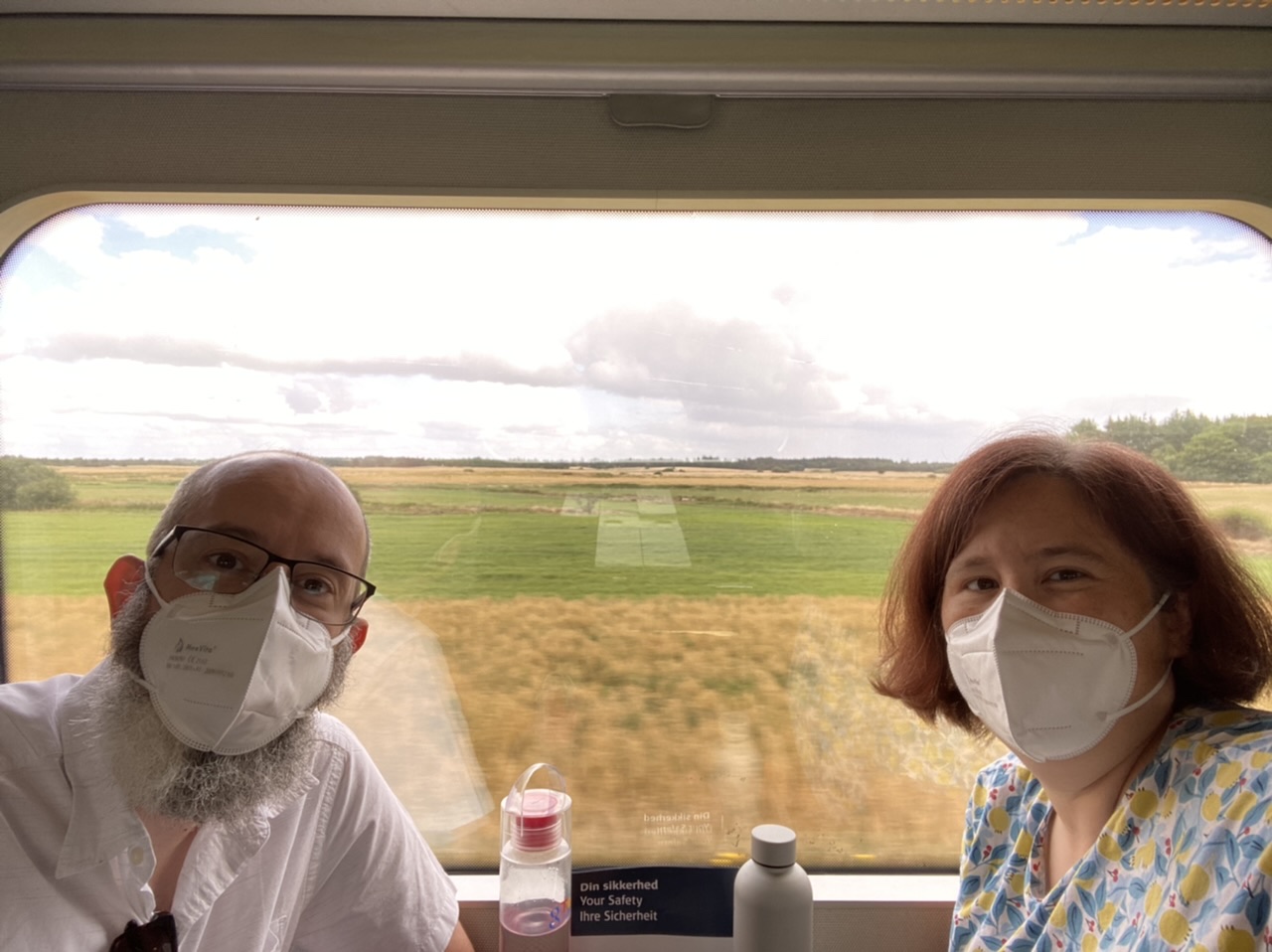 The Snook did all the planning and research for the trip, and he was excited to get to cross the Great Belt Bridge between the Danish islands of Zealand and Funen. The whole crossing is about 18km (11mi) and includes the tiny island of Sprogø in the middle.
The train station in Copenhagen is so beautiful! (I was less enamoured of the many, many folks who were not wearing masks.)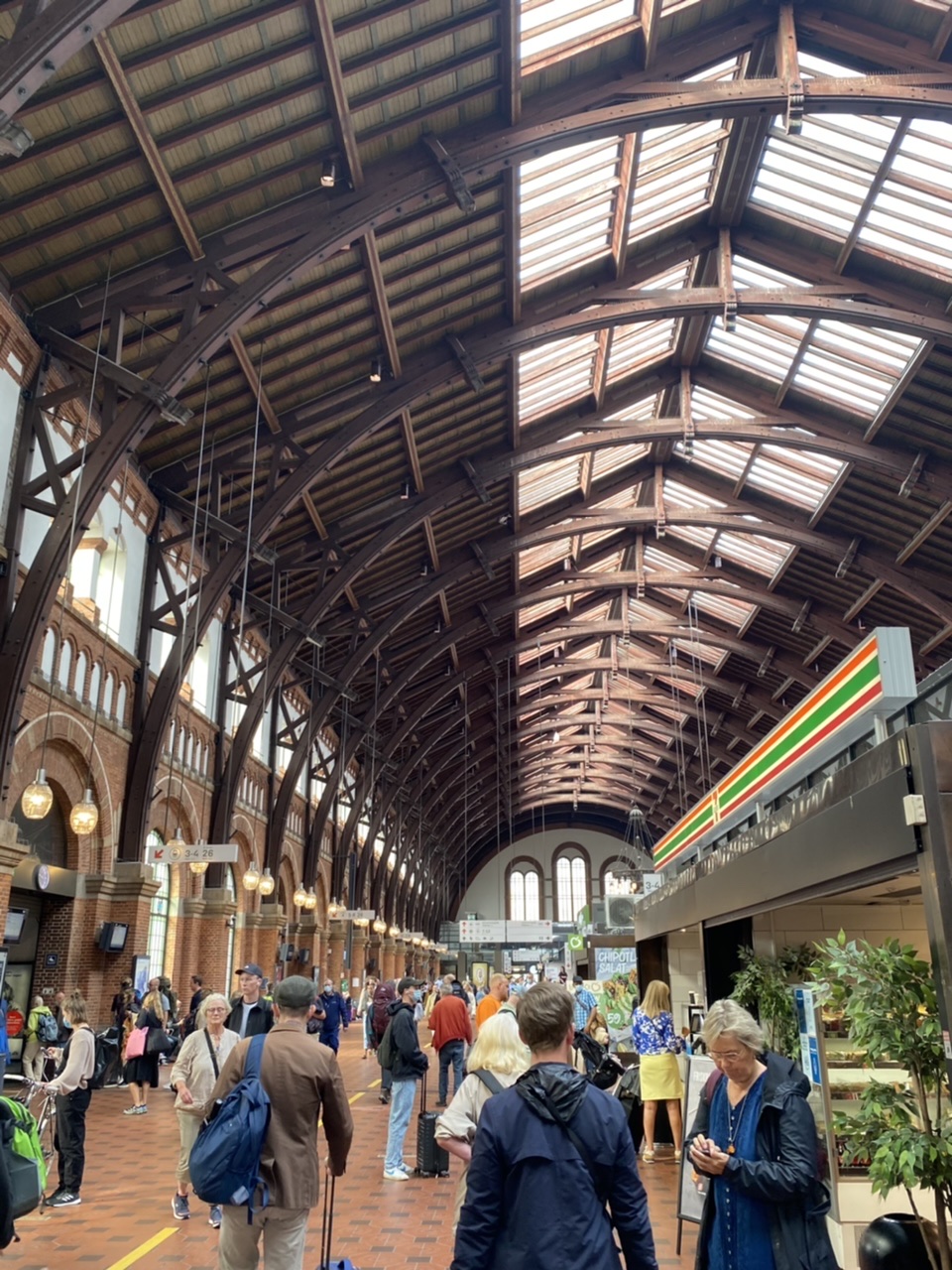 In Copenhagen we stayed at the Hotel Alexandra, which I picked entirely because it promised Danish mid-century furniture in every room. It did not disappoint. 😍
We were hungry after that long train journey, so our first stop was Warpigs for BBQ and craft beer. We got a range of stuff to try, and… WOW! Definitely recommended.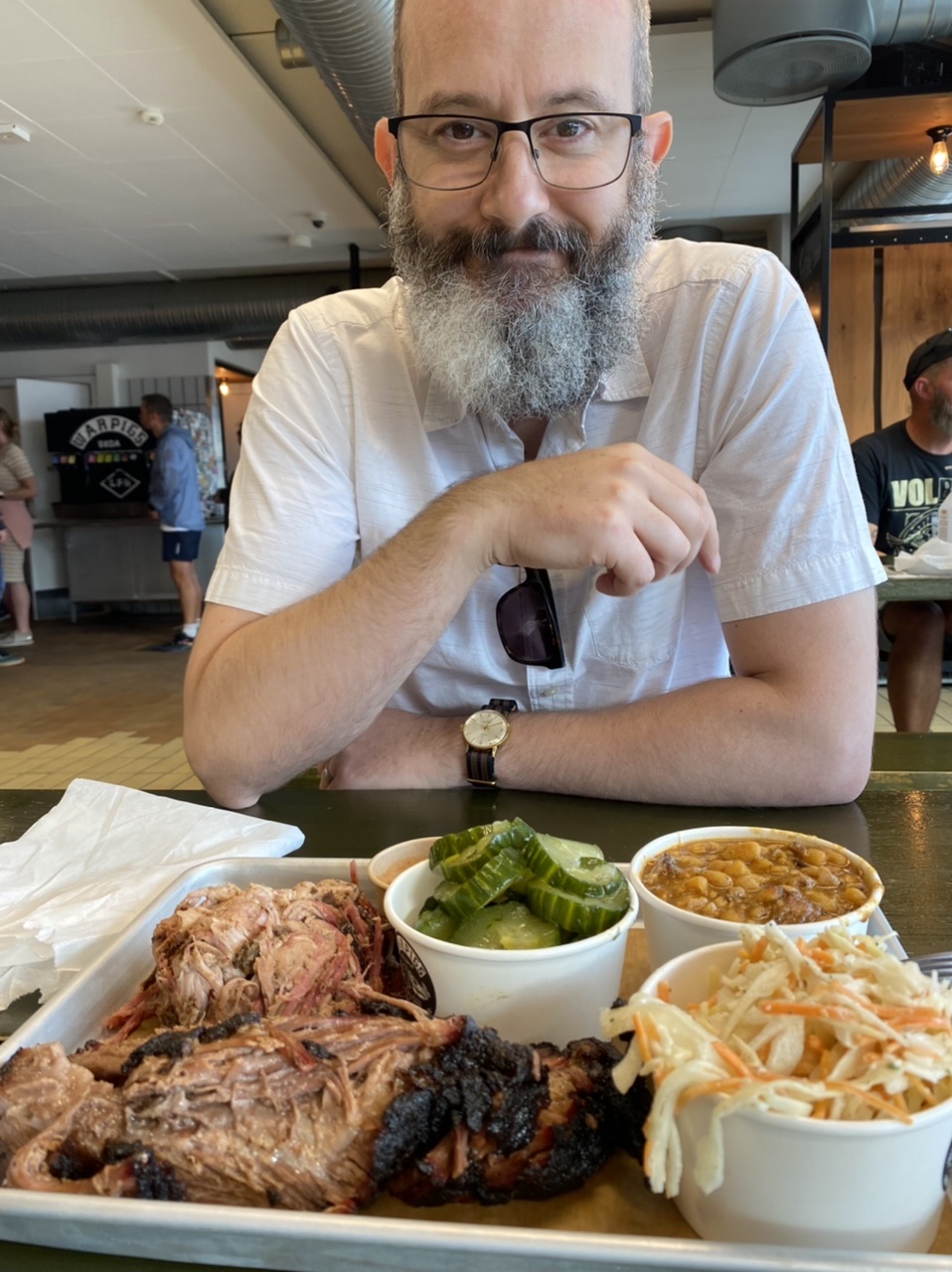 Originally we had planned to spend two days in Copenhagen, but track work on the train line  meant we had to cut it short. So instead we contented ourselves with an evening exploring the city.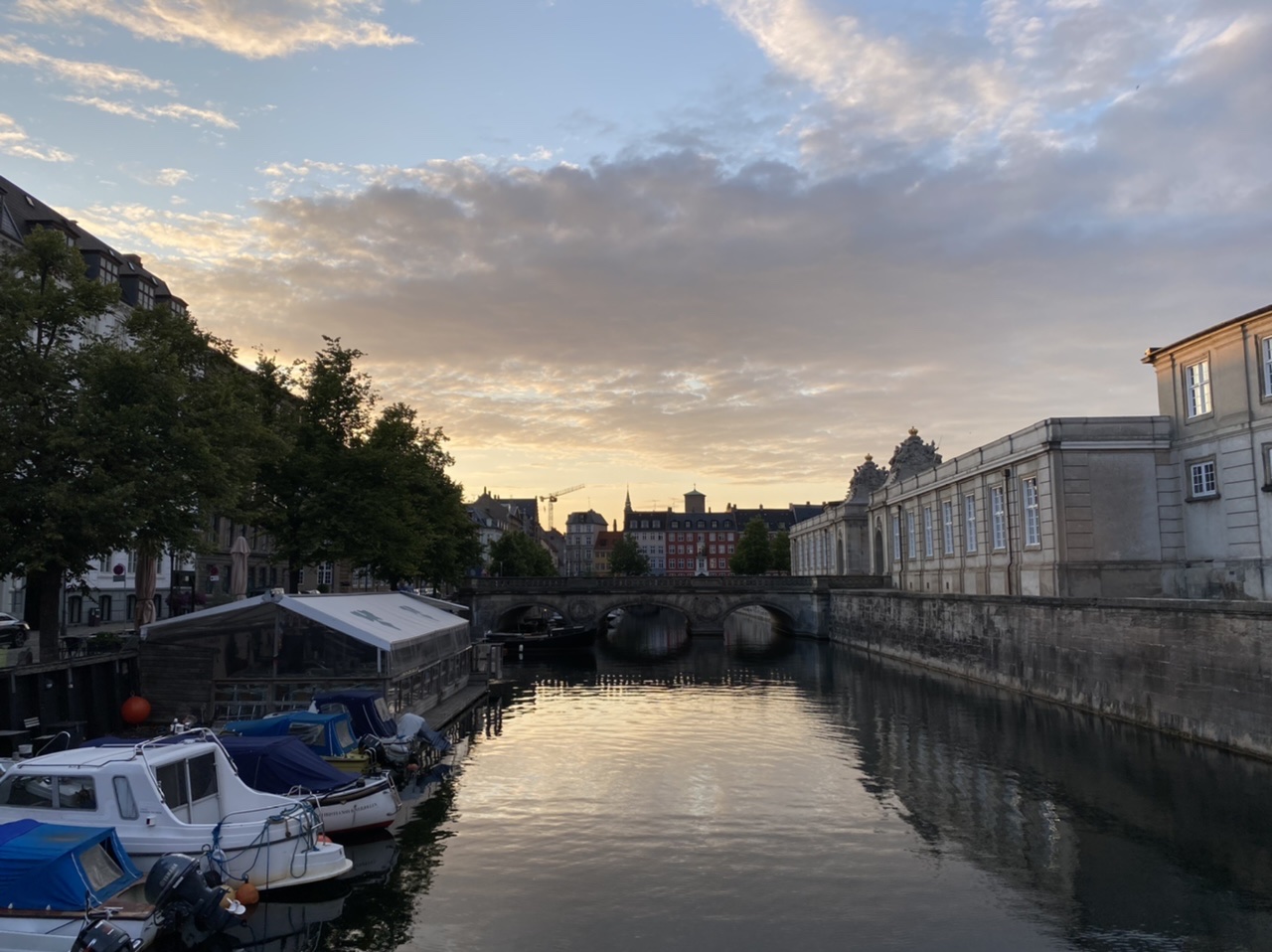 Copenhagen is STUNNING. I need to go back for a least a week. And look at that wide bike lane! The bike lane of my DREAMS.
The next day we fuelled ourselves with coffee and Kanelbullar (Danish cinnamon buns) from Sankt Peders Bageri, the oldest bakery in Copenhagen. They were excellent.
Then it was on to our next country – Sweden! We caught the train to Stockholm, and my little trainspotter geek was very excited to get to cross the Øresund Bridge. This is the longest combined road and rail bridge in Europe at 8km (5mi). The really funky part is that there's a tunnel at one end that just disappears down into the sea in the middle of an artificial island!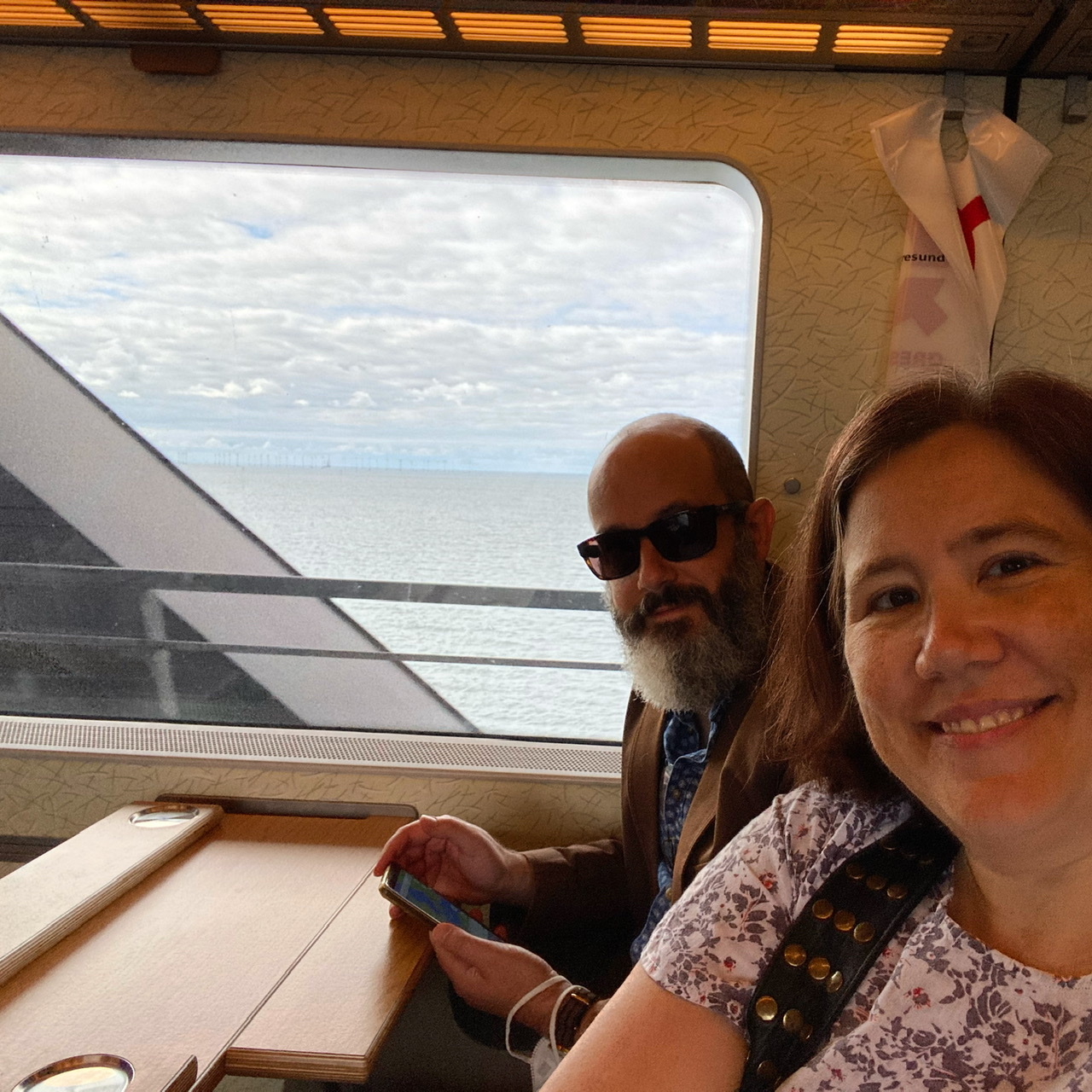 The journey to Stockholm was really lovely. It was another long one (6.5hrs) so we had preordered lunch on the train. I crocheted and we marvelled at the scenery. (I love trains.)
We were really only just passing through Stockholm on our way to Finland, but we managed to meet up with my colleague Vera for a quick tour!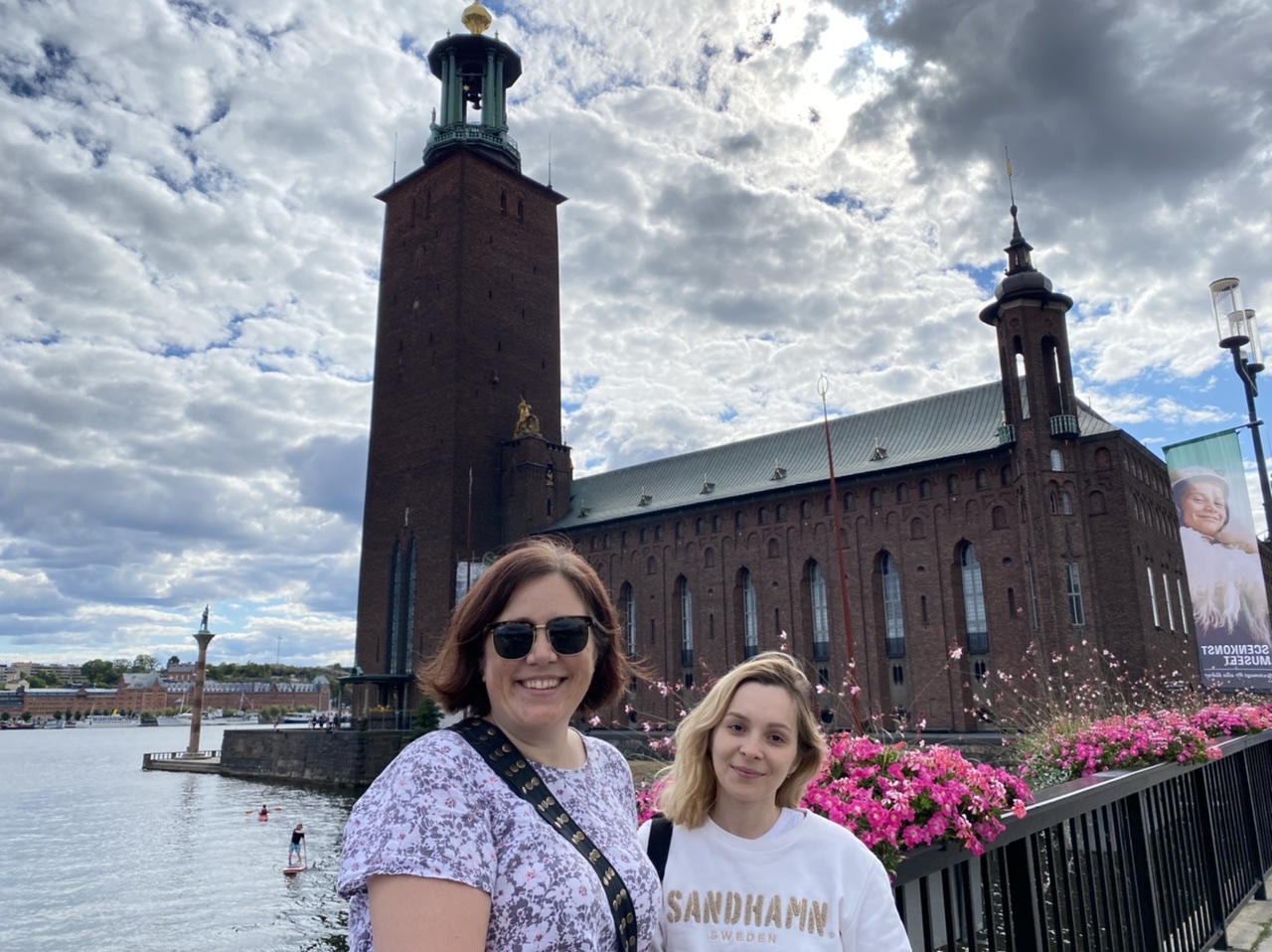 Vera walked us around the harbour and through part of the old city. It was a beautiful day in Stockholm and we were pretty charmed!
We also discovered the Nobel Prize Museum at the Swedish Academy. Here's the Snook doing his best "Learned Professor" look.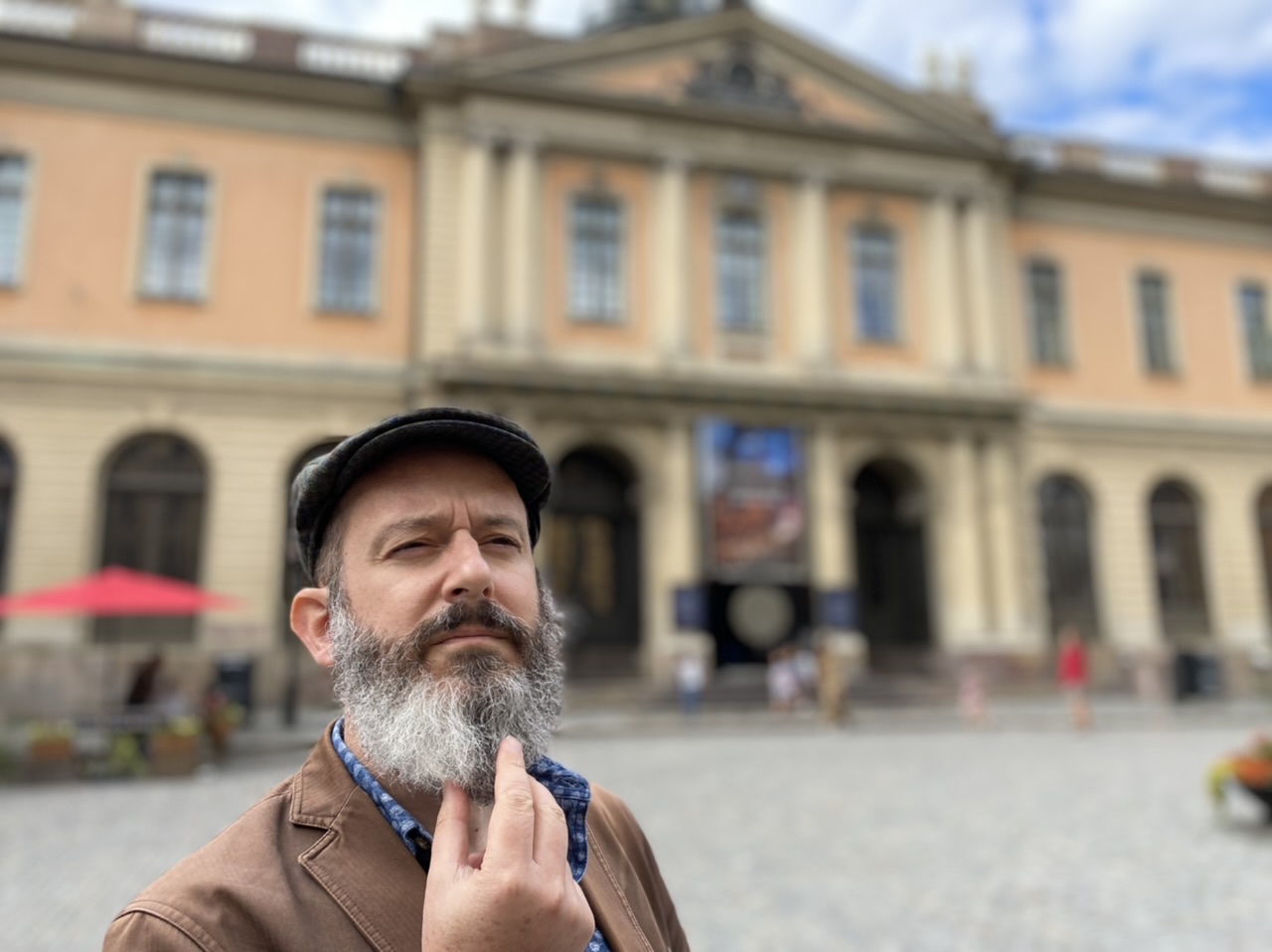 Did I find a wool store? Yes. Did I buy yarn? Also yes.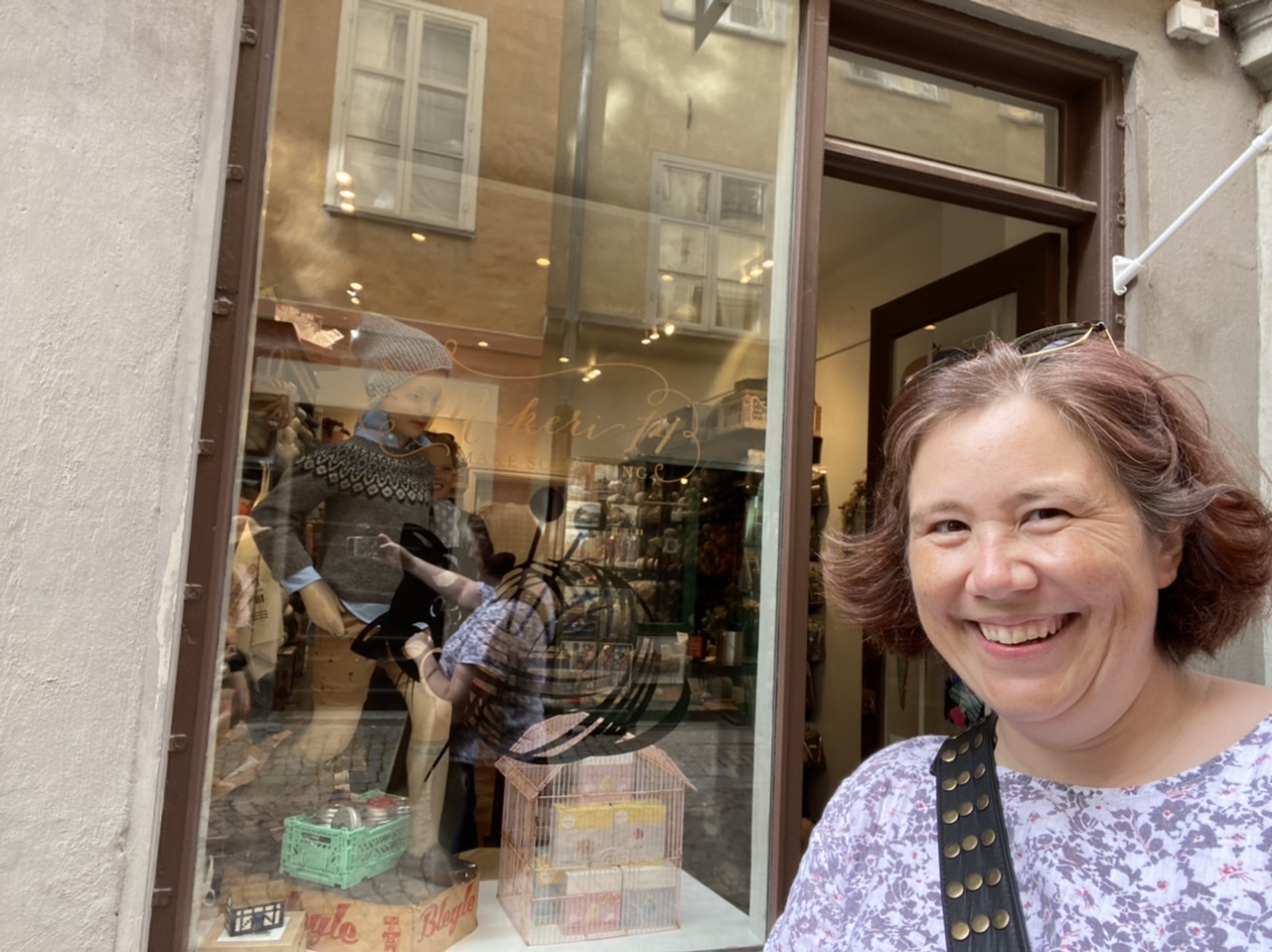 And then it was time for fika! Fika is a coffee and cake break, but the Swedish take this stuff very, very seriously. It's like a state of mind, a ritual for enjoying with friends. Vera took us to a very good local place called Bröd & Salt, right down by the water…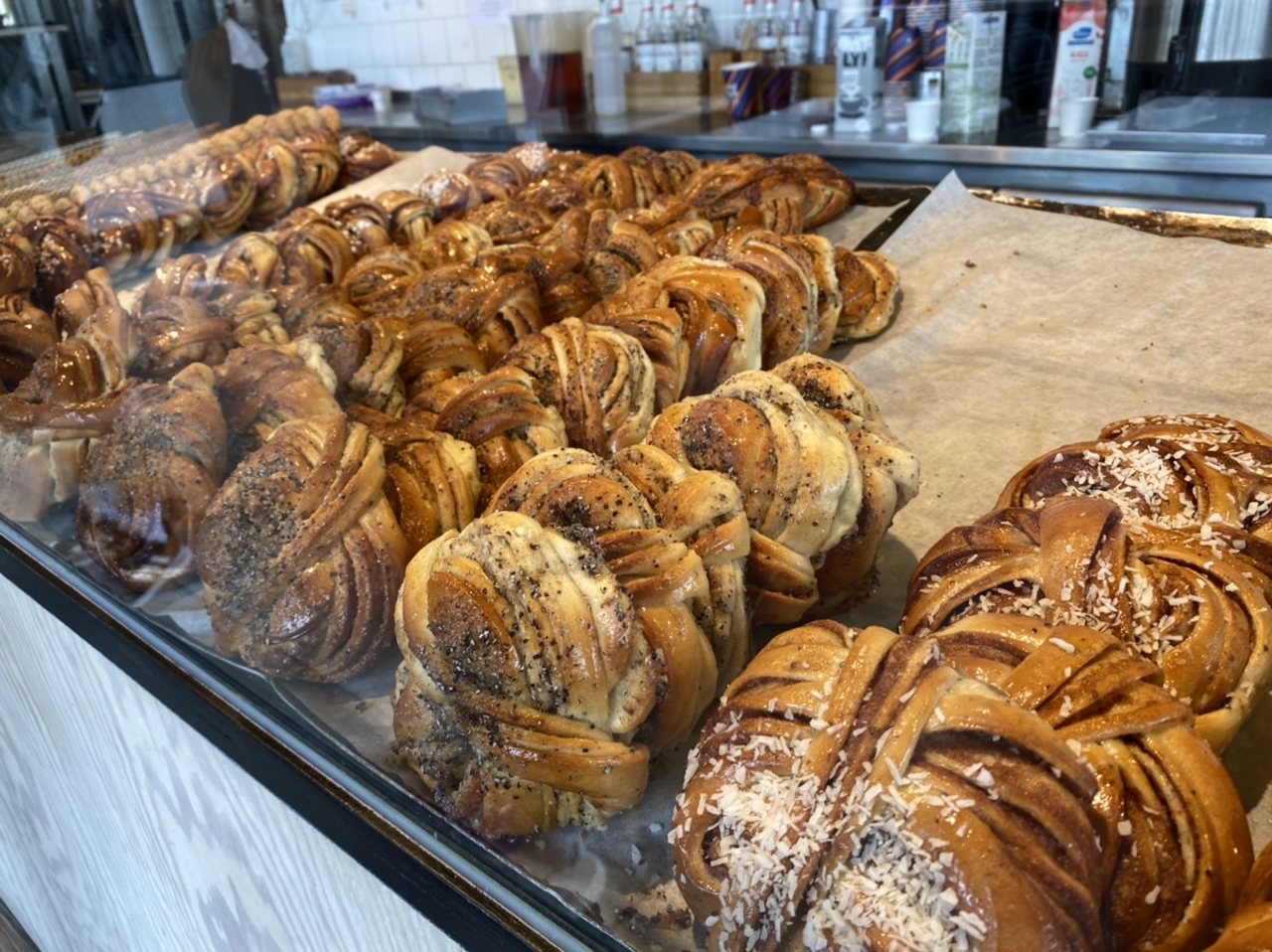 We went with three different types: Kanelbulle (cinnamon), Kardemummabulle (cardamom), and Pistachio (I think??). They were all excellent.
After fika, Vera led us up to one of her favourite lookouts showing all of Stockholm spread out below us. We'll have to go back and spend more time!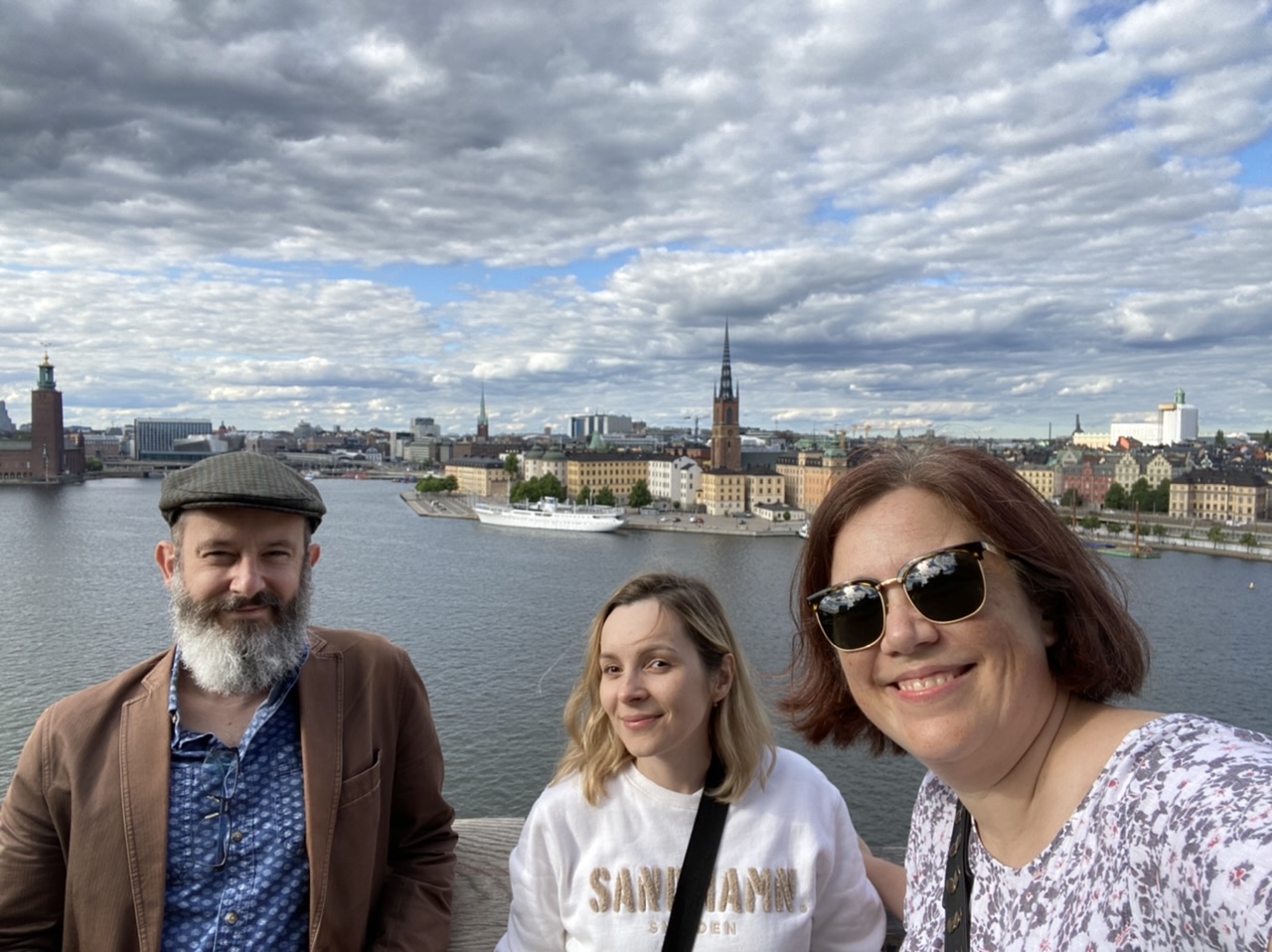 But alas, we had to head to our next form of transportation – the overnight Viking Ferry from Stockholm to Turku, Finland! These ferries run twice a day (morning and overnight) and have restaurants, nightclubs, casinos, and duty free shops. The Snook splurged and got us one of the nicest cabins that looked out the front of the ship.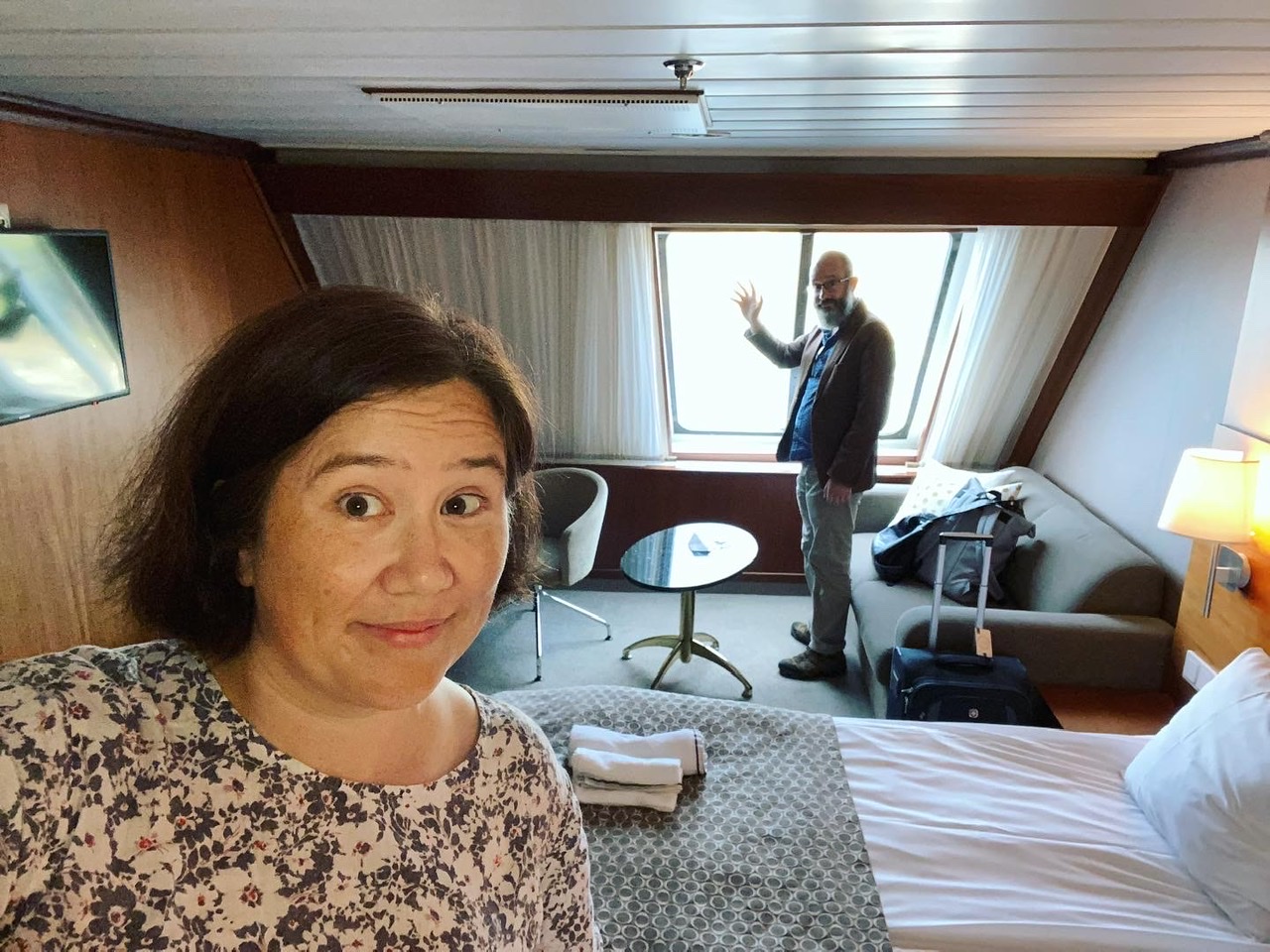 If I look dubious, it's because it… was not the cleanest room I've ever stayed in. The staff have to do a quick turnaround between journeys and there are a lot of cabins, so it felt a bit shabby and run-down. I got the impression that most people treat it like a booze cruise and don't really spend a lot of time in their rooms. That said, the view out the front was pretty special!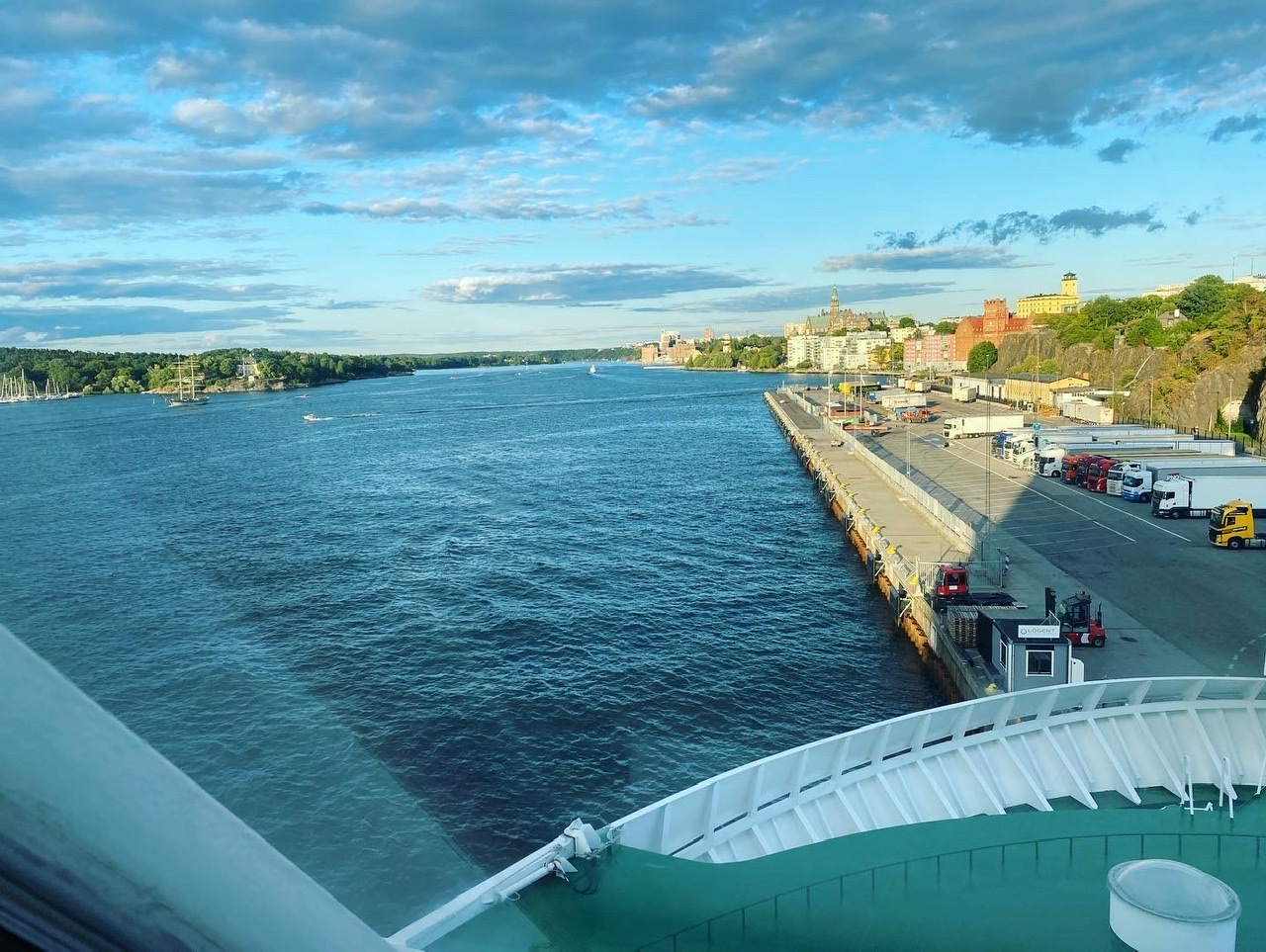 We headed up to the restaurant level to find somewhere to eat and ended up at the bar & grill. That's where we realised our error – the seasoned ferry travellers had gone straight there to claim tables next to the windows. So sadly we didn't have much of a view to go with our burgers and beers.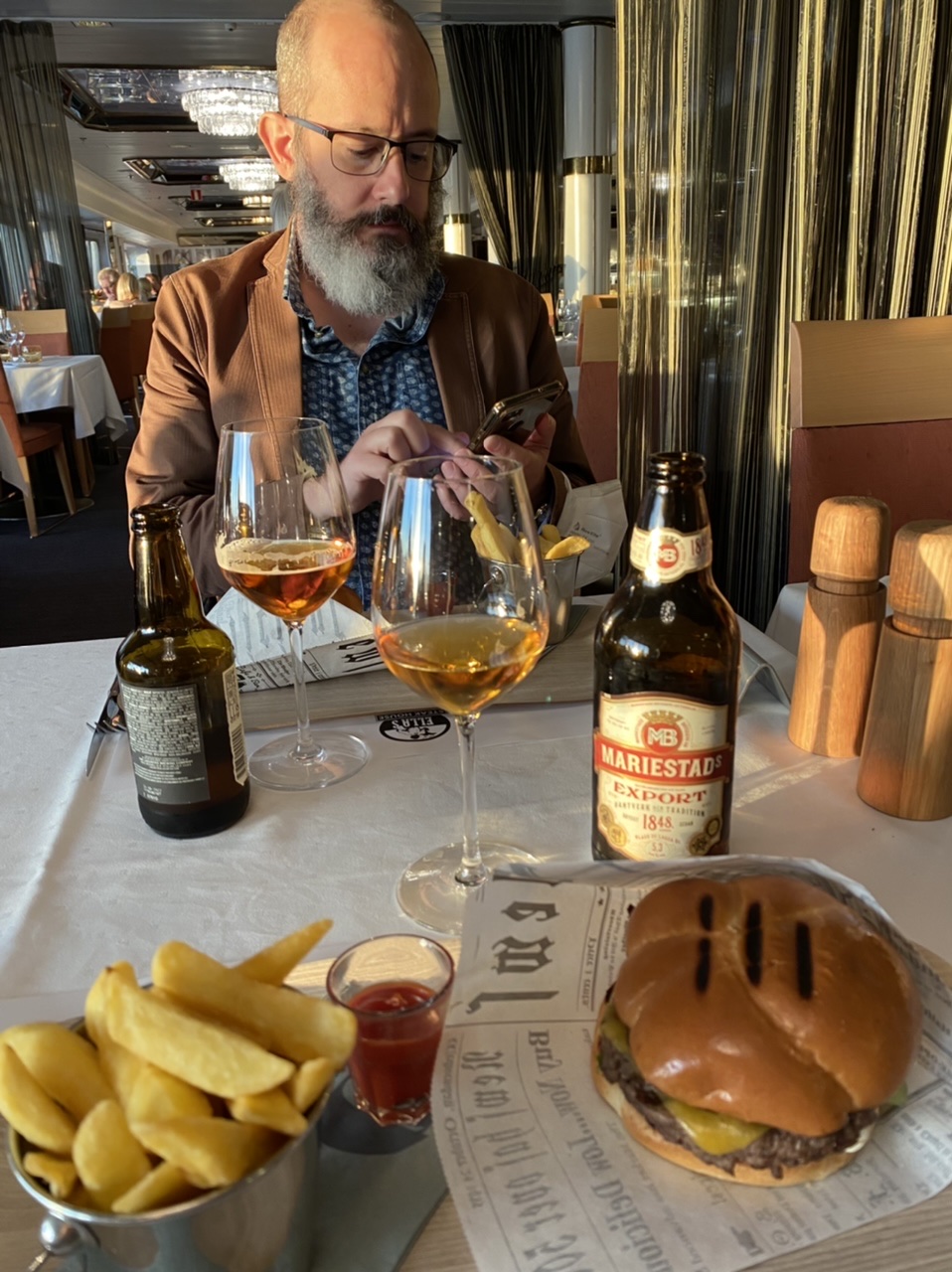 We watched the sun go down from our cabin and then went to bed early. You're meant to get up very early in the morning and leave your room so that they can start cleaning, so we wanted to get as much sleep as possible. The boat does make one stop in the middle of the night, but I slept right through it apparently! Check out sunset in Sweden and sunrise in Finland…
After a buffet breakfast, we disembarked in Turku, the oldest city in Finland. It was still very early and we had time to kill, so we stored our bags in a locker in the ferry terminal (MISTAKE! MORE ON THAT LATER!) and walked up the river towards the town proper.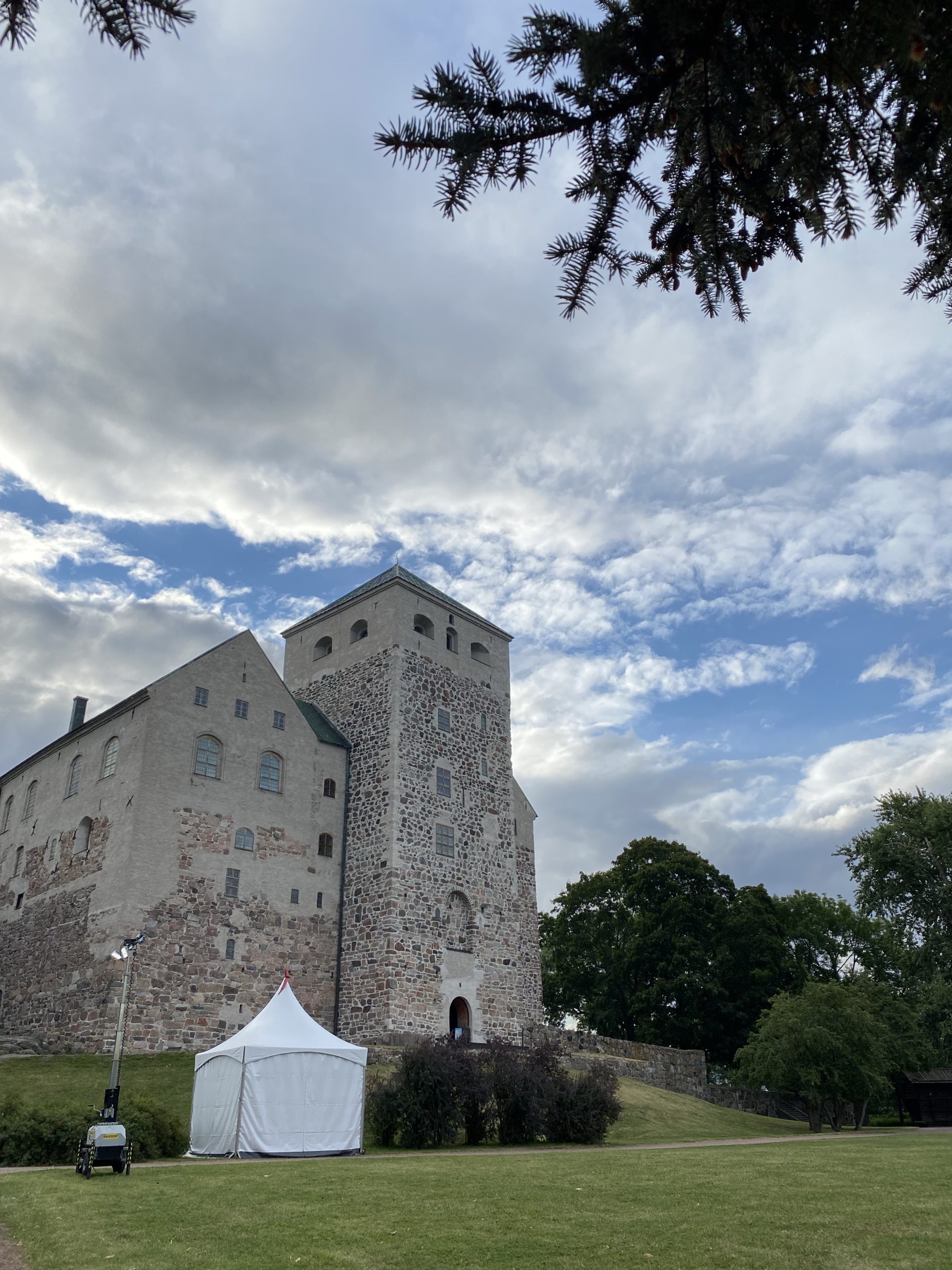 Our first discovery was that Turku has a castle! It's the largest surviving medieval building in Finland. They were setting up for some sort of festival. We walked past it along the river and discovered some interesting sculptures along the way into town. We also passed the SS Ukkopekka, a vintage steamship that would be our transport a few hours later!
It was still pretty early in the morning so there wasn't much open in Turku. We were able to go inside the old Market Hall for a look around, and we also found the old Turku Library.
We also visited the Turku Cathedral, the most important religious building in Finland. Love those Gothic arches…
It was nearly time for our pre-booked steamship journey, so we caught a bus back to the Ferry Terminal to pick up our bags. (Yeah, this is where that big MISTAKE! comes in.) To our horror, when we got there we discovered that it was locked up tight for the day. That's right; the Turku Ferry Terminal is only open for a few hours around the morning and evening arrivals/departures. I managed to phone customer support to see if anyone was still inside, but a kind woman told me that everyone had gone home for the day. So there we were in Turku, scheduled to shortly board a steamship cruise to our final destination Naantali, with all our luggage stuck inside a locker in a closed Terminal. 😫
On the upside, we realised pretty quickly that all was not lost. Naantali is not actually that far from Turku, and there were frequent buses between the two towns. (We were only taking the steamship for the novelty of it.) So we could still catch our boat and then come back later that evening to pick up the bags. After a rushed trip back down the river, we managed to board the SS Ukkopekka a few minutes before departure…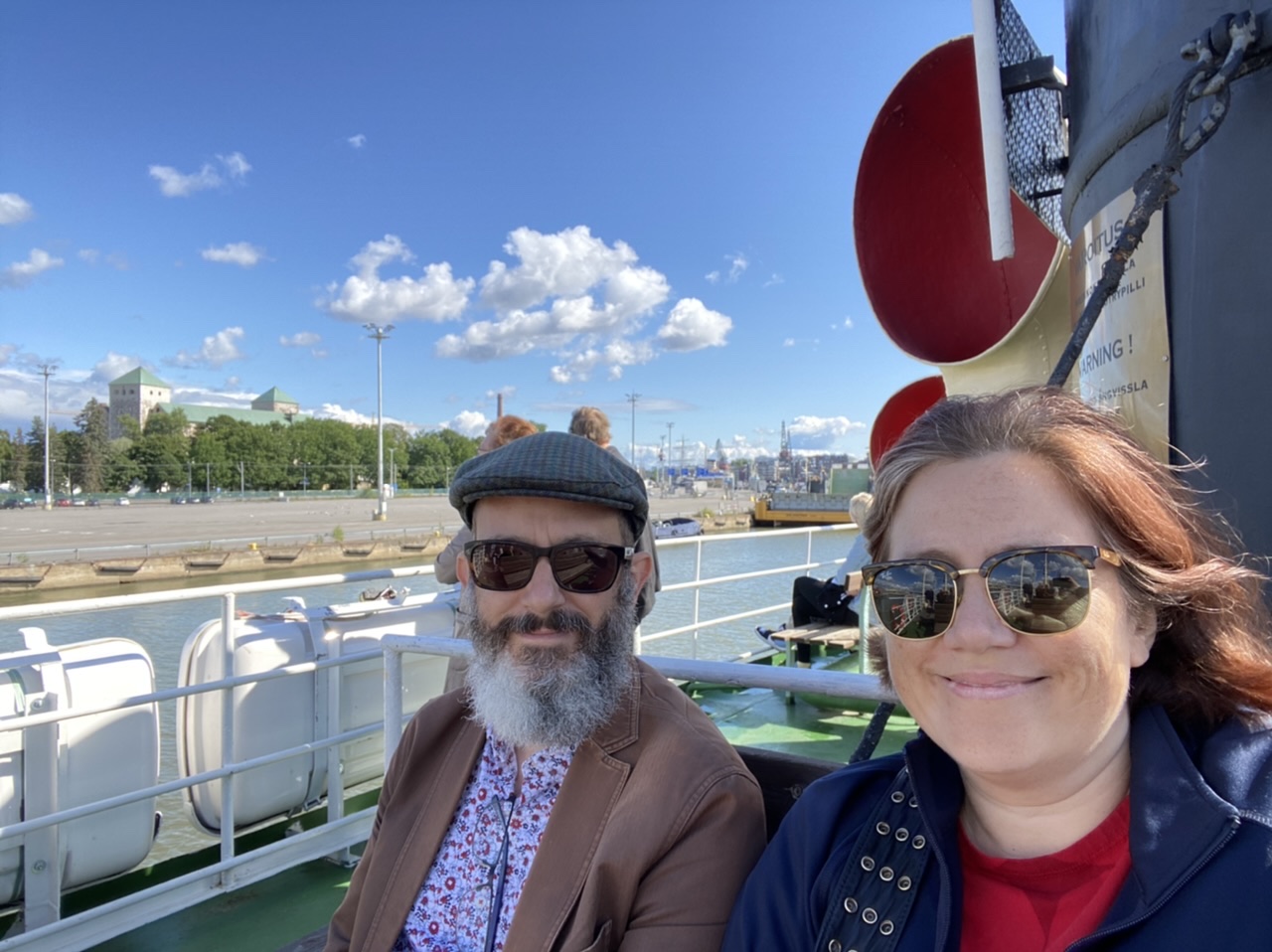 Do we look stressed? We were, a bit. 😂 But the sun was shining (momentarily), and we were on a boat. The Ukkopekka is "probably the last sea-going passenger steamer designed for icebreaking still in active service." How cool is that? The day cruise to Naantali takes about 2 hours and includes an optional lunch. There are two levels inside as well as the roof seating, and our boat was pretty packed… mostly with retirees! The journey was very lovely and there was commentary (in Finnish) along the way. I was enamoured of the big summer houses with matching twee boathouses down at the water's edge.
The weather around Turku seems pretty changeable, and it wasn't long before the clouds moved in and it started to sprinkle rain. We ducked back inside and managed with some difficulty to find a free table on the lowest level. (I should note we did wear our masks when moving around the boat.) It ended up being a good thing that we didn't have our luggage, as with everyone crammed under cover there wasn't a lot of room to store a suitcase!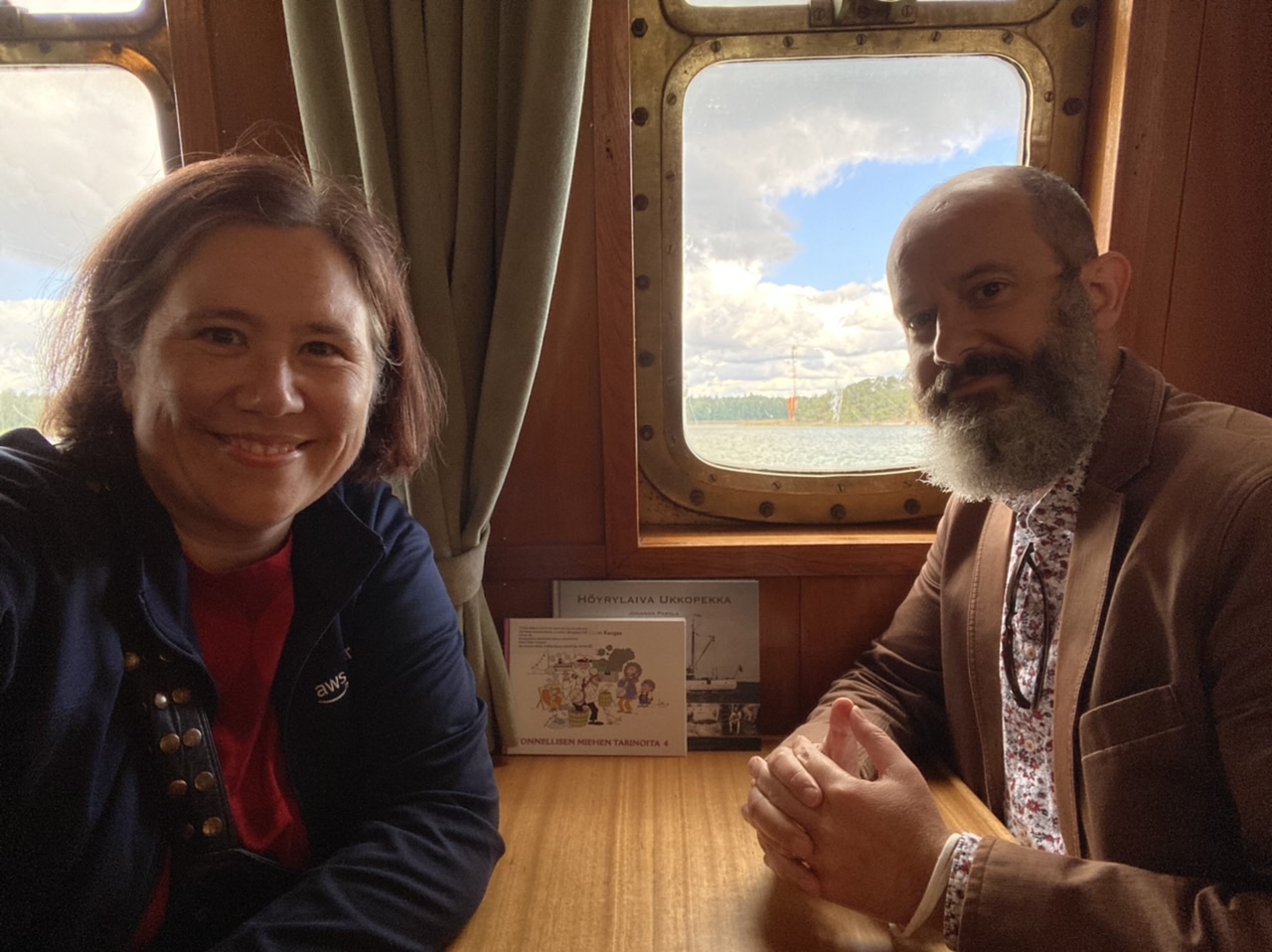 We weren't quite sure how lunch worked. The Snook had pre-purchased our meal, but the process for redeeming it was completely opaque to us. Staff brought out giant steaming tureens of soup and baskets of bread on the upper level, but by the time we realised what was happening the clever retirees had all queued up. I ended up waiting in line for a long time, and by the time I got there the only option was the "classic fish soup." I somehow managed to fill two bowls with a bit of soup and bread and only spilled a little as I carried them back down slippery stairs in the middle of a packed boat. While it wouldn't have been my first choice, the fish soup was actually pretty tasty! It helped that the Snook was able to buy us a couple beers at the boat's bar.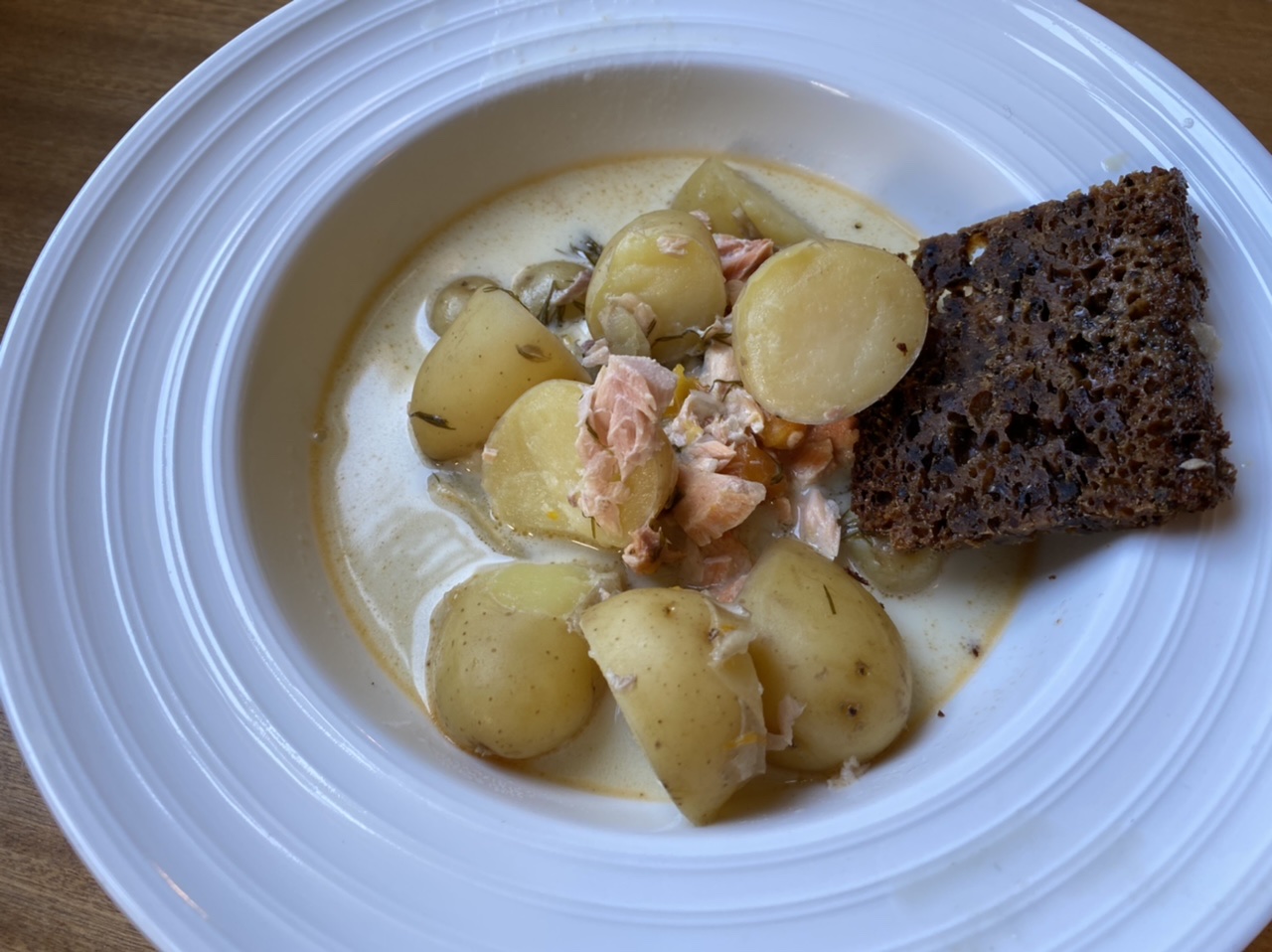 As we neared Naantali, we sailed under the Ukko-Pekan silta bridge. Lots of folks went outside to get a photo as we approached. The bridge goes from Naantali to the large island of Luonnonmaa, where the President of Finland has their summer residence.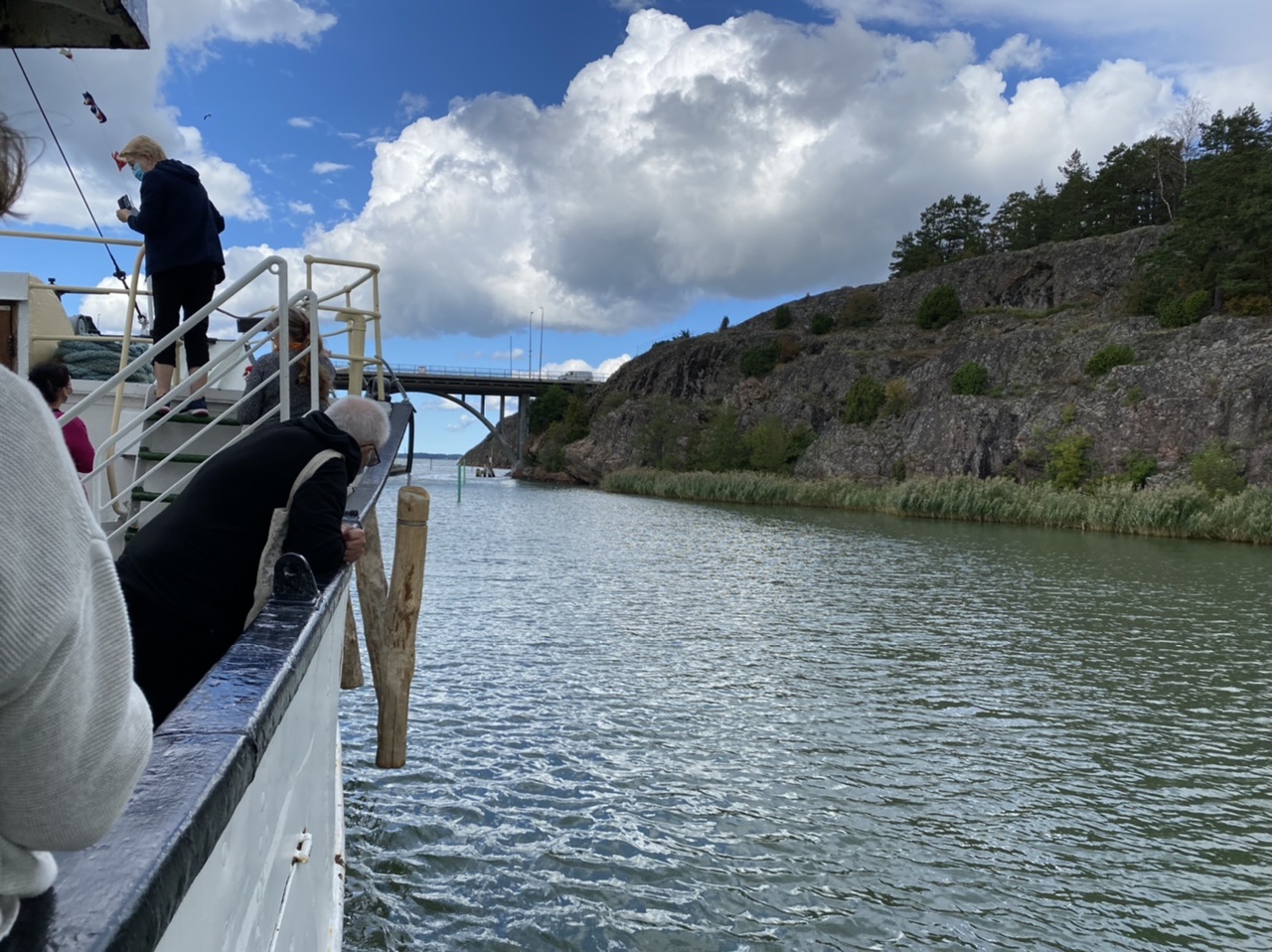 Finally we reached Naantali harbour and said goodbye to the SS Ukkopekka! The boat docks there for a couple hours before heading back to Turku in the afternoon. It was clear that a lot of the other passengers were day-trippers who were going to head back, but we had only booked the one-way ticket as we weren't leaving for a couple days.
Naantali was the real destination for this entire trip. It's a tourist resort town in southwestern Finland and it's very charming. We were there on one of the last summer weekends so it wasn't very crowded. We headed to our hotel – Hotel Amandis – a restaurant with six very nice little motel-style rooms out the back. The restaurant is known for its amazing waffles, so I couldn't very well resist trying one, could I?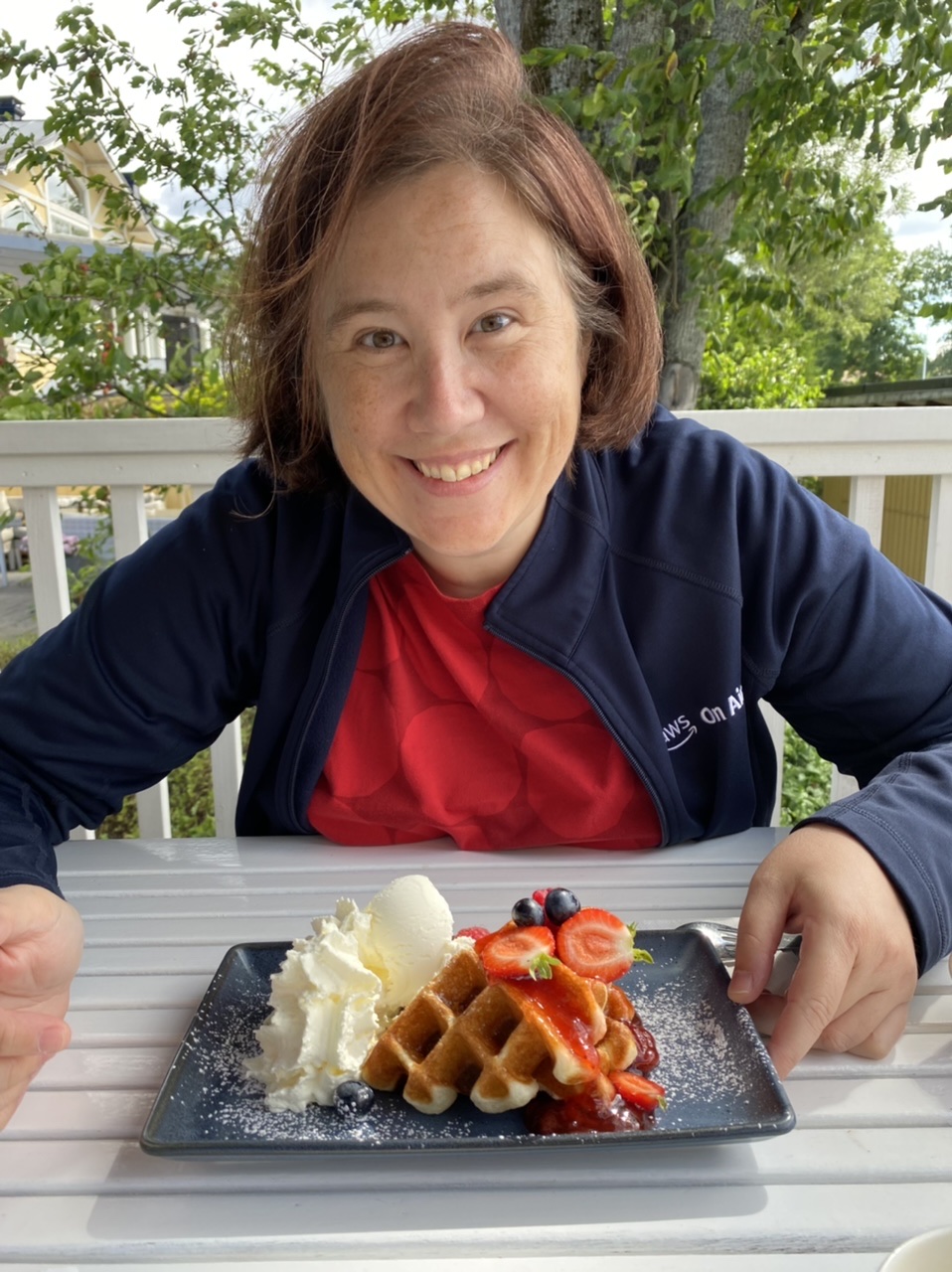 And then… it was finally time for Moominworld. It's located on a tiny island in the harbour, and there's a footbridge from Naantali. Can you tell I was excited?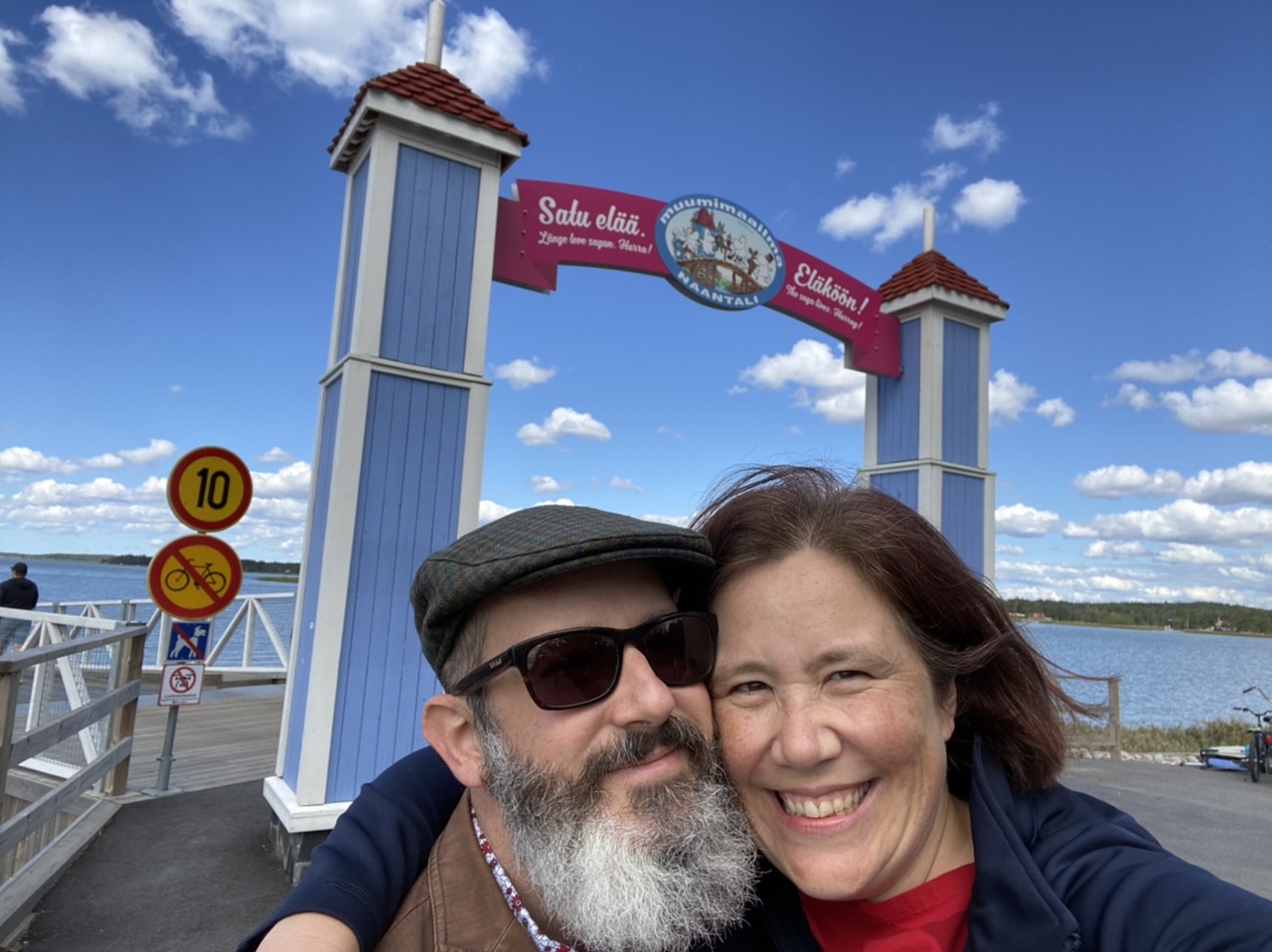 We crossed over the bridge…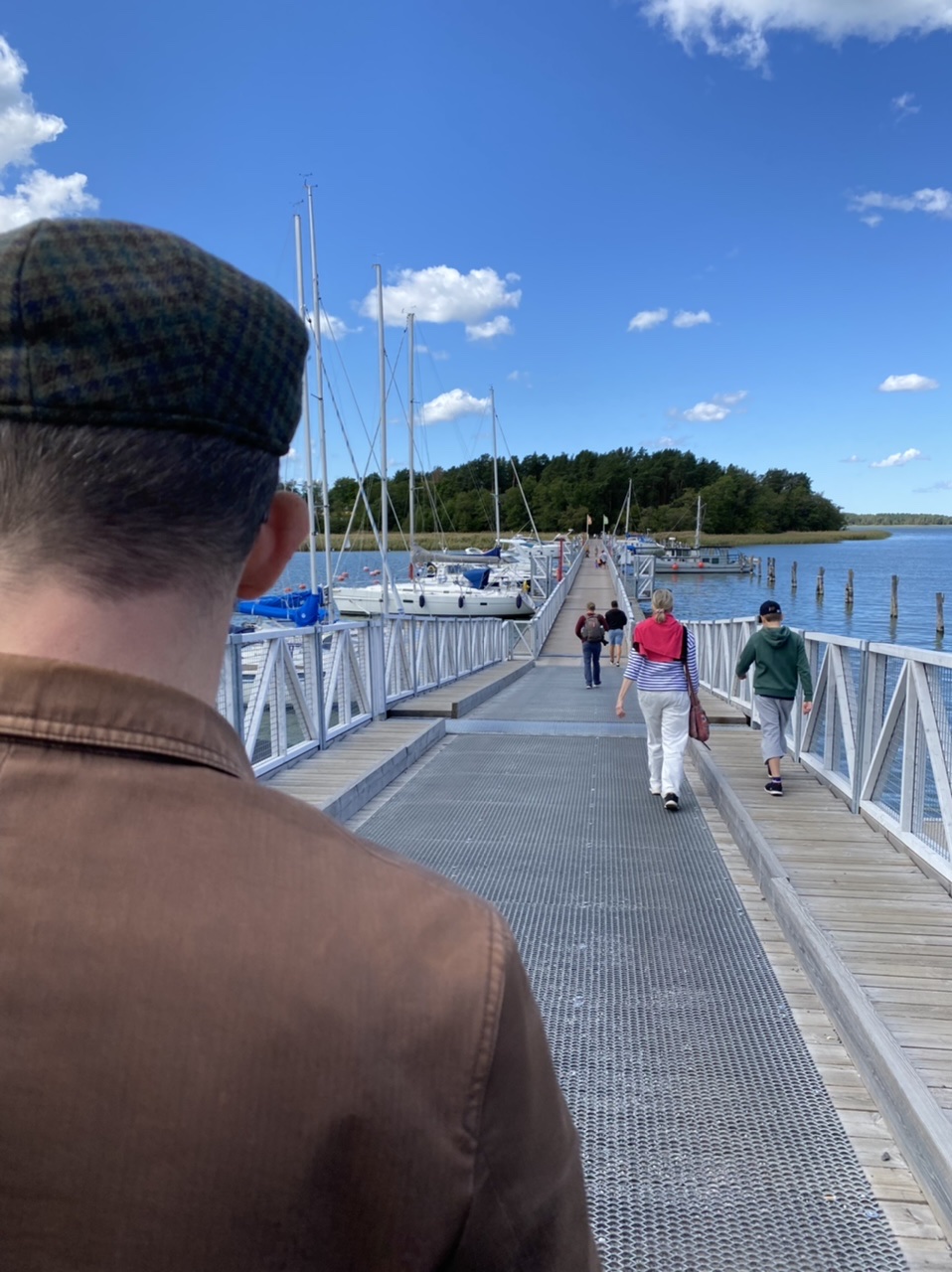 I don't think there was a little kid there more excited than me at this point. The rain had stopped and the sun was out again, but it wasn't hot.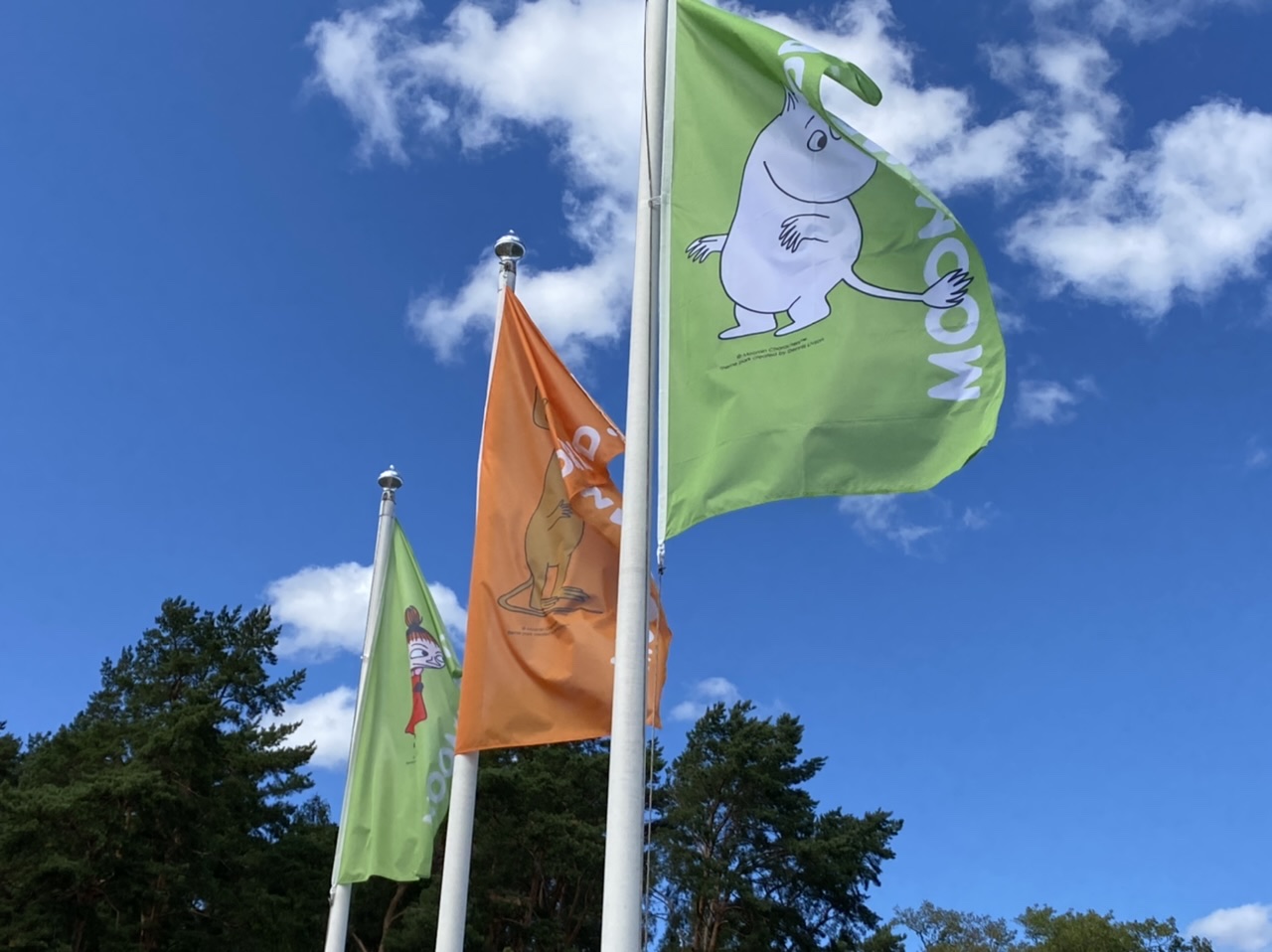 We showed our tickets and finally entered the park! It really wasn't crowded, which is what we expected for a weekday at the end of the season…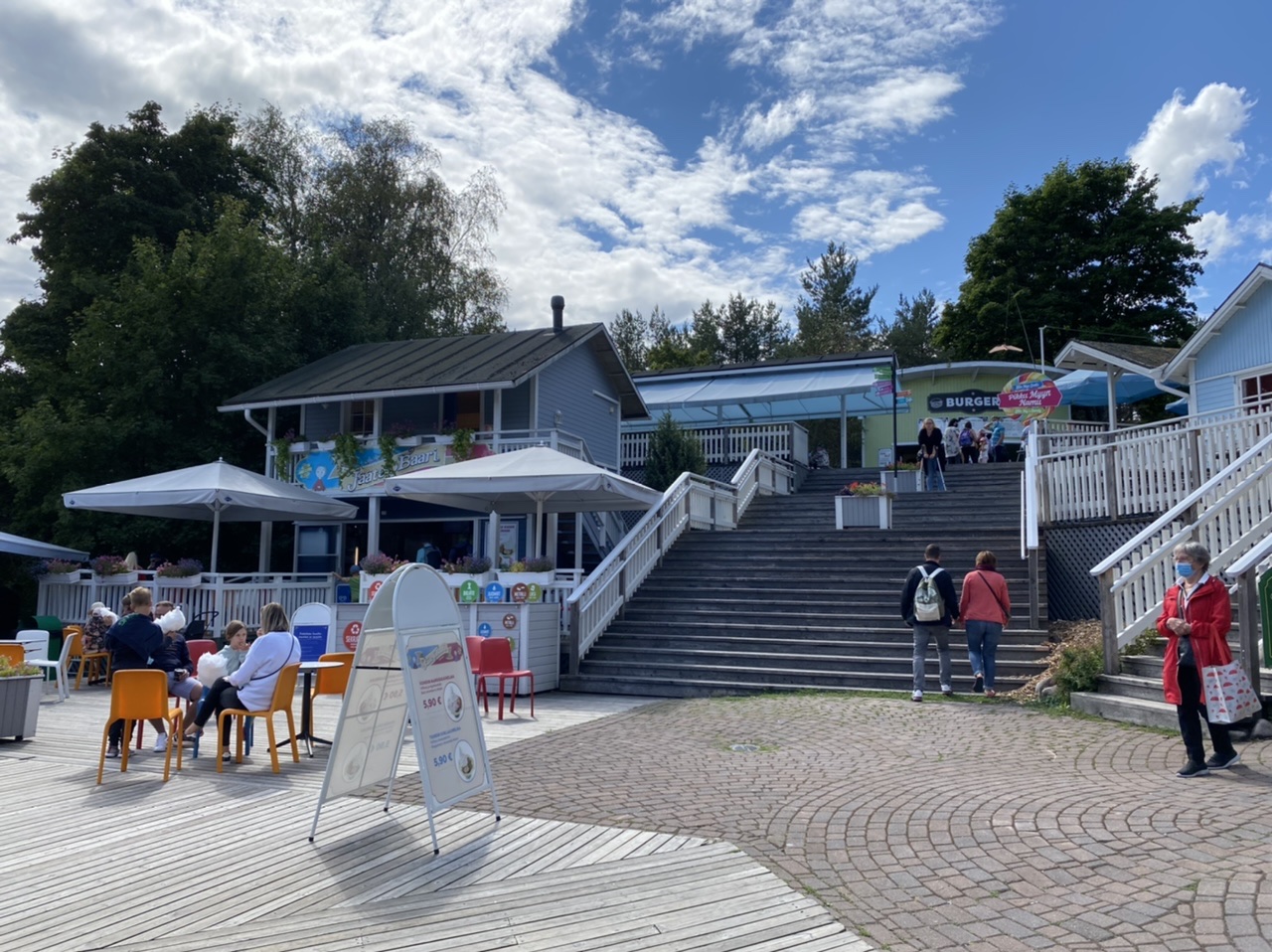 If you like thrill rides and technology, this isn't the theme park for you. It's very small, and to be honest our two-day tickets were overkill. There are no rides. Most of the "attractions" are just interactive scenes from the books that you can explore, as well as costumed characters for you to meet. There are also a couple stages where they put on shows, and a handful of restaurants where you can get food. I think there's only a single souvenir shop, and I was impressed overall with how non-commercial the whole place is. (It's won awards for its educational content!) Mostly it's about exploring this beautiful island and feeling like you're really part of the Moomins' universe.
And the absolute high point is, of course, the life-size Moominhouse. 😍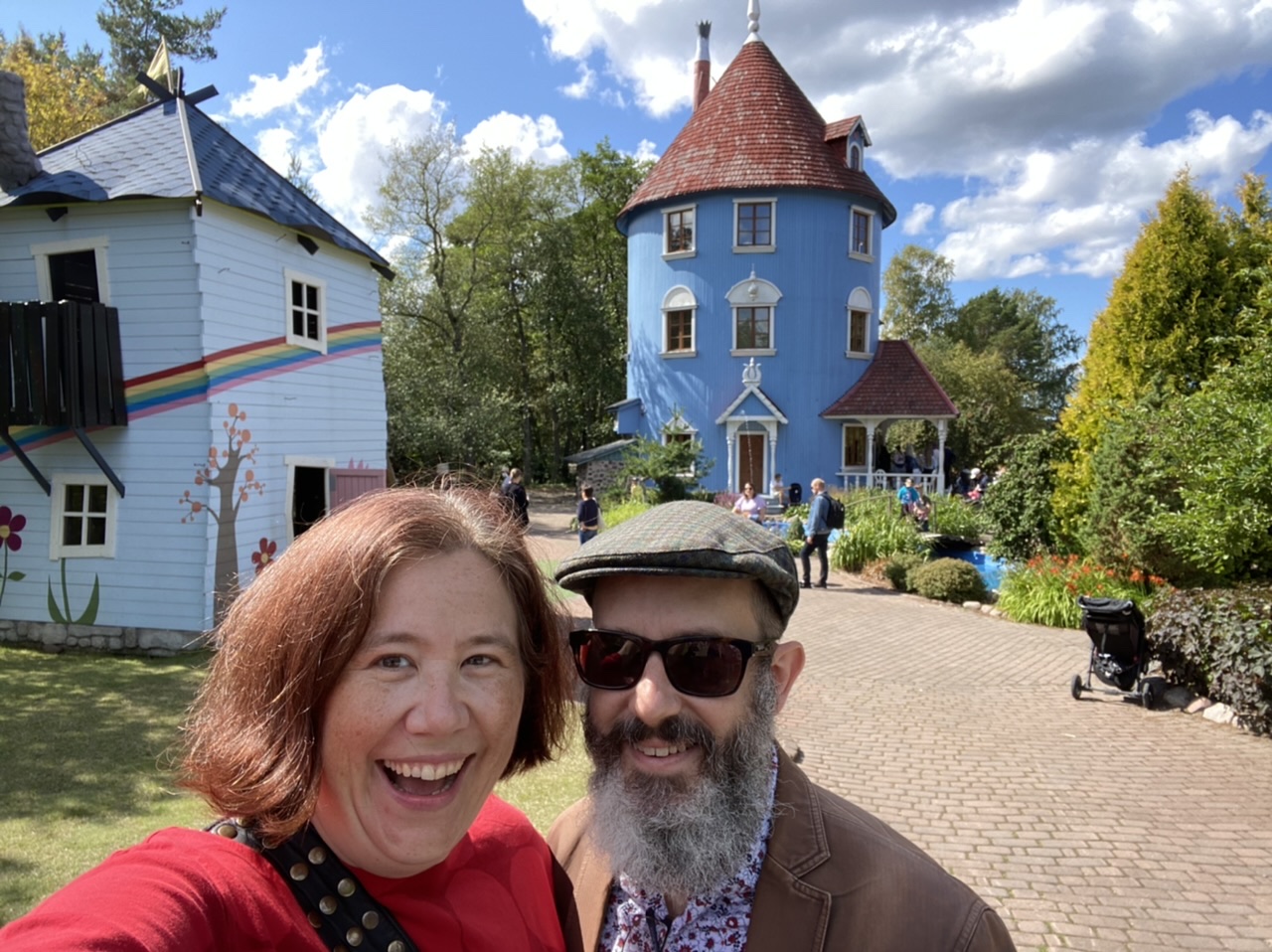 There are multiple floors inside and you can climb all the way to the top. It's amazing. You can look out the windows and really feel like you are there in Moominvalley! There are also special panels with a seashell on them that you can trigger with the RFID inside your ticket bracelet, and then some sounds or motion will happen like Moominmamma's pot stirring.
Here's Moominpappa writing his memoirs of his many exploits…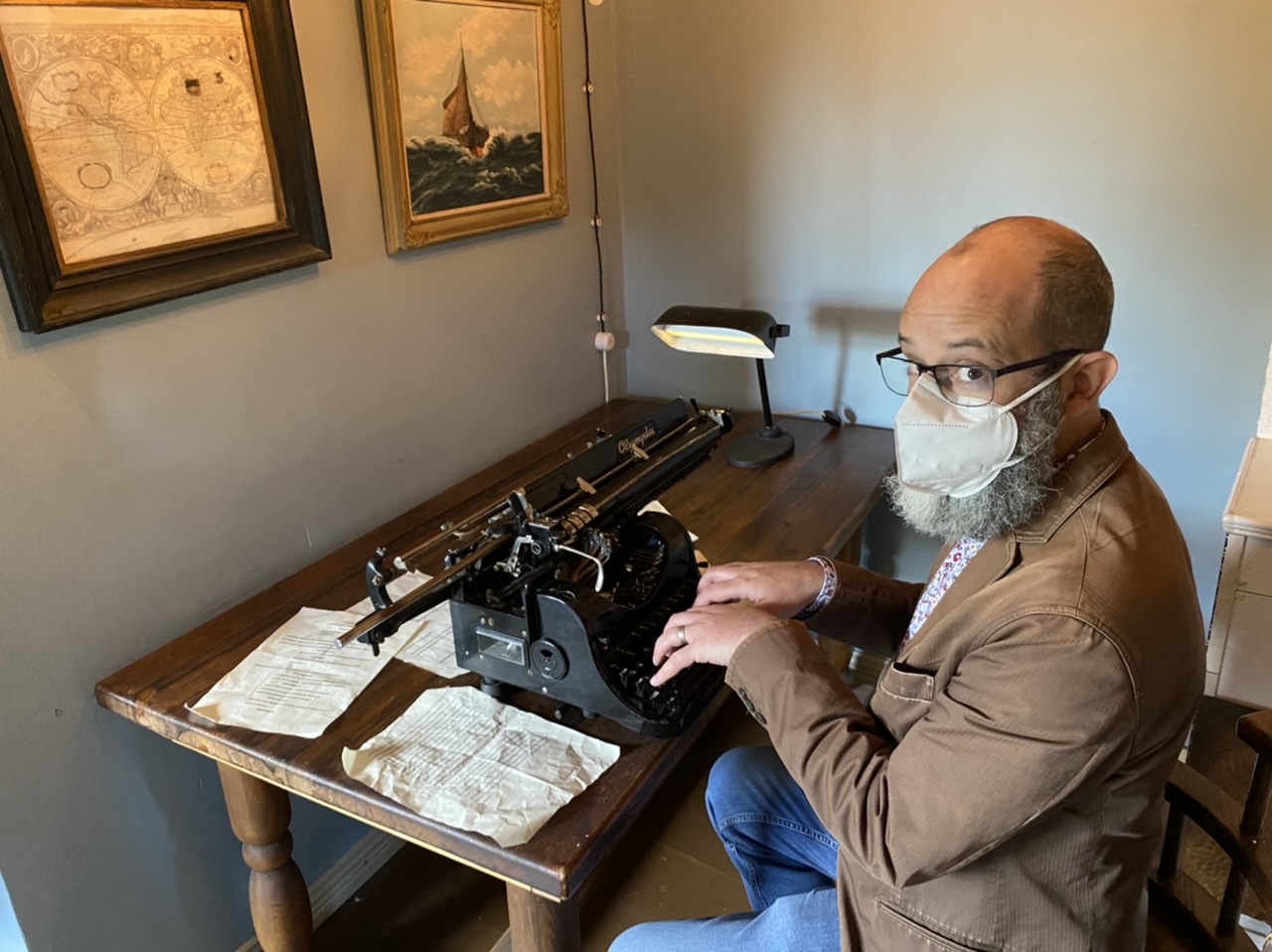 Once you get to the top of the house, there's a set of back stairs that take you back down and out so the whole thing has a one-way traffic flow. I was especially charmed at the "family photos" in the house that featured the costumed characters from the park. ❤️
Outside the house, I found Moomin himself for a big hug!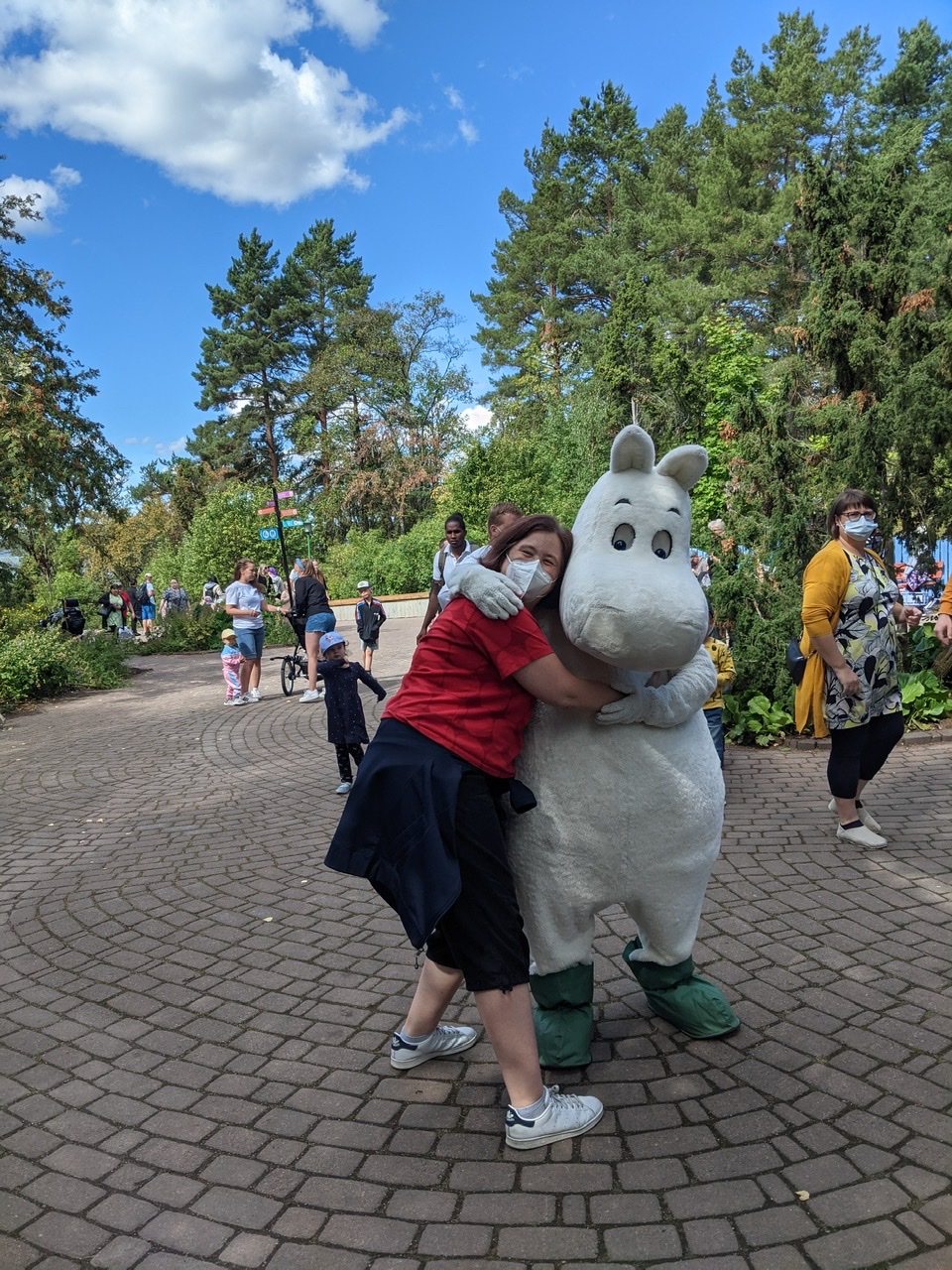 Nearby was the Hemulen's house, which you could also explore. Hemulens in the stories and shows are eccentric collectors, so I loved that they included his butterfly collection!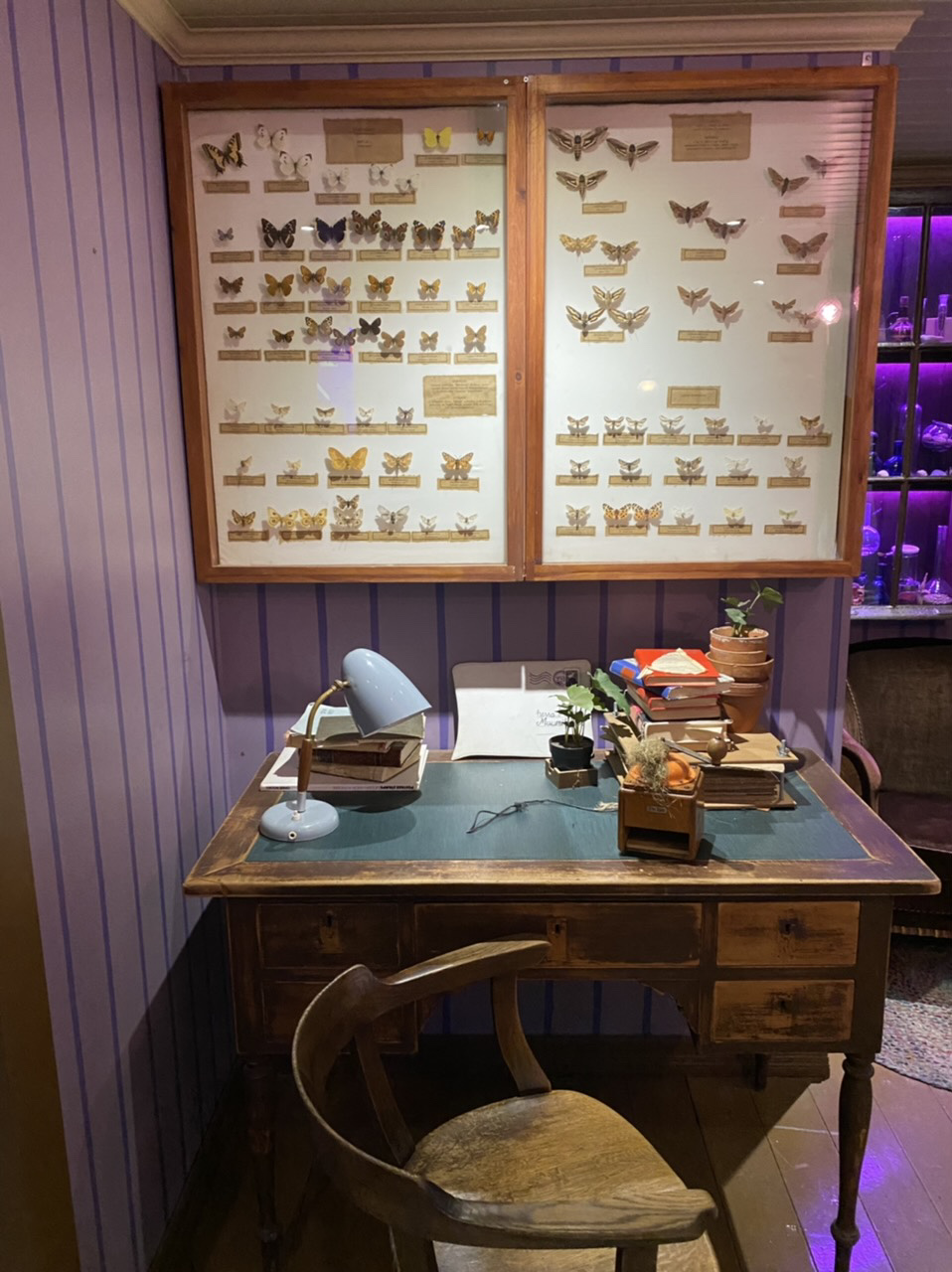 At the far end of the island is the Moomins' bathing hut. (During the winter, Too-ticky uses it for ice fishing!)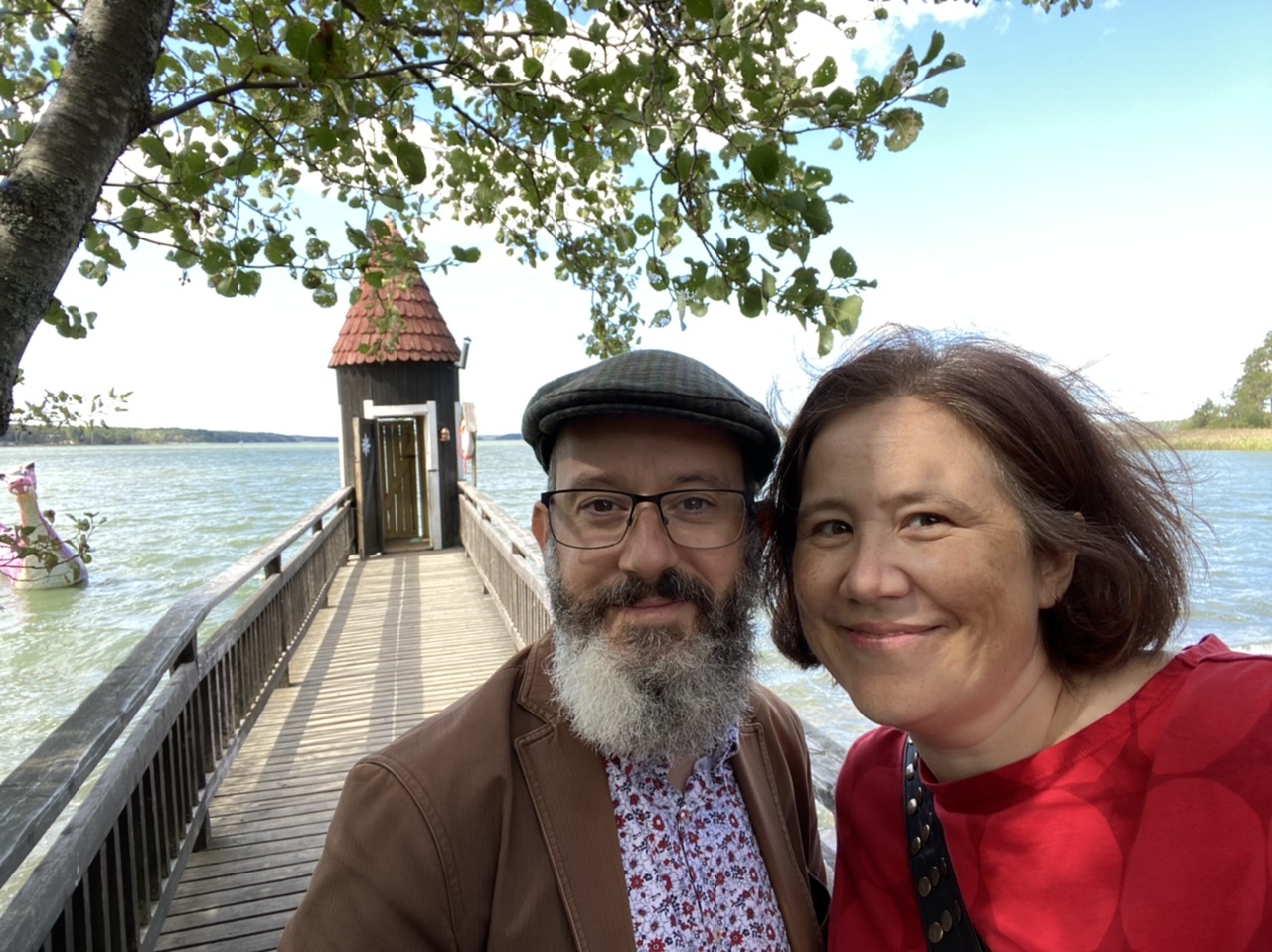 I wasn't the only excited kid that day. 😀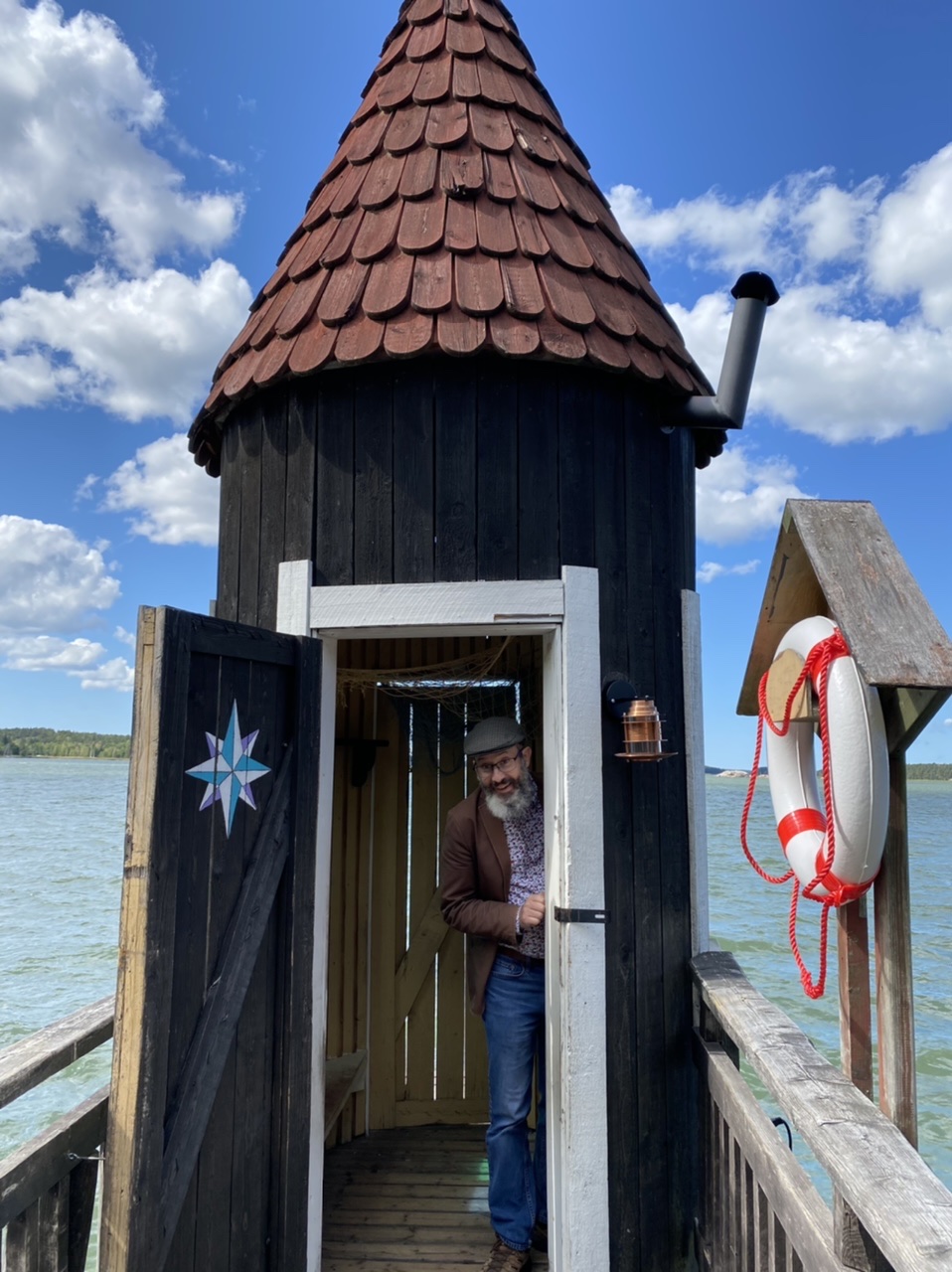 Floating in the harbour nearby is Edward the Booble, a sea creature that appears in Moominpappa's memoirs.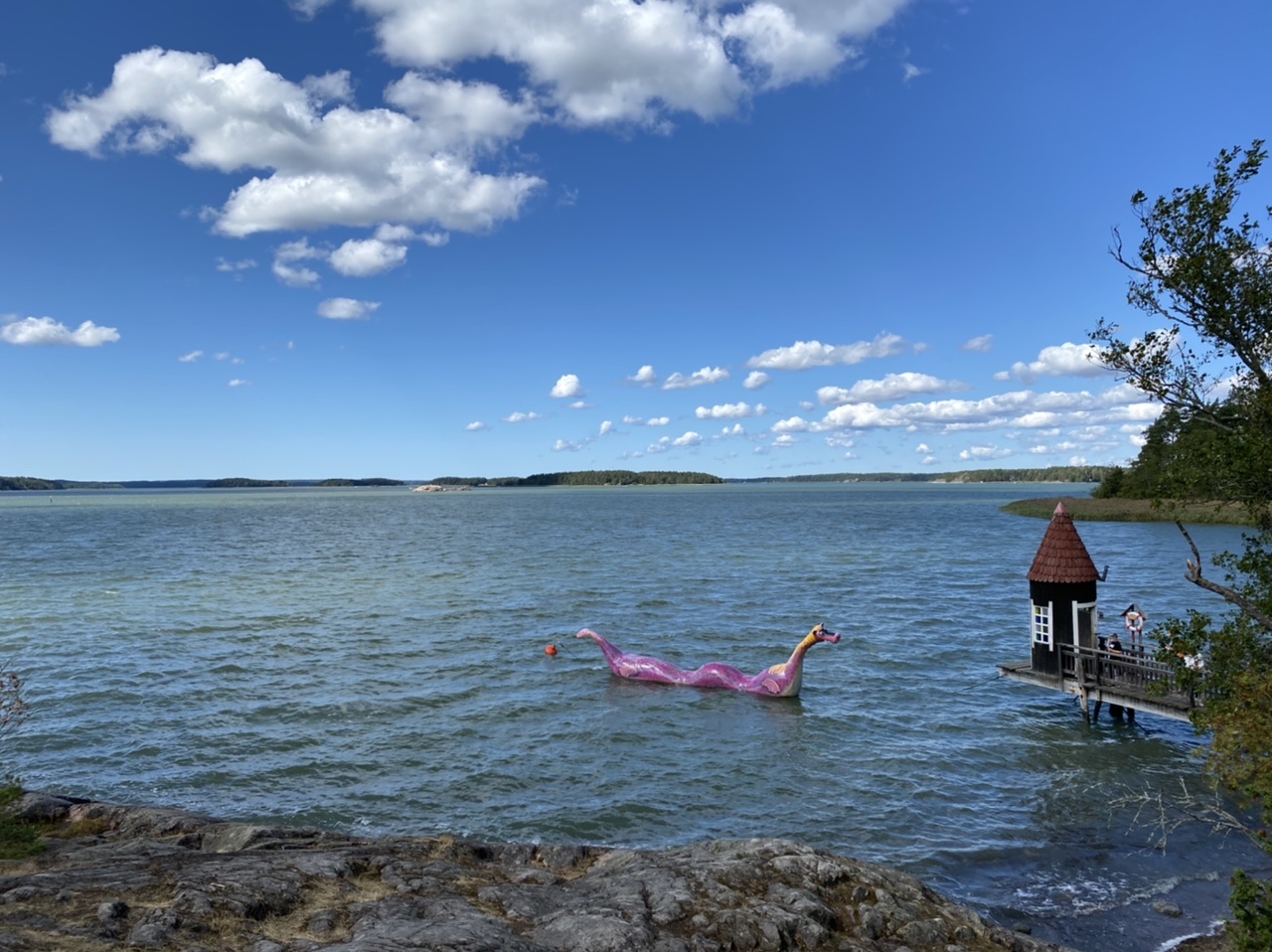 We also visited the Snork's workshop, where he is always inventing things. The Snook felt right at home.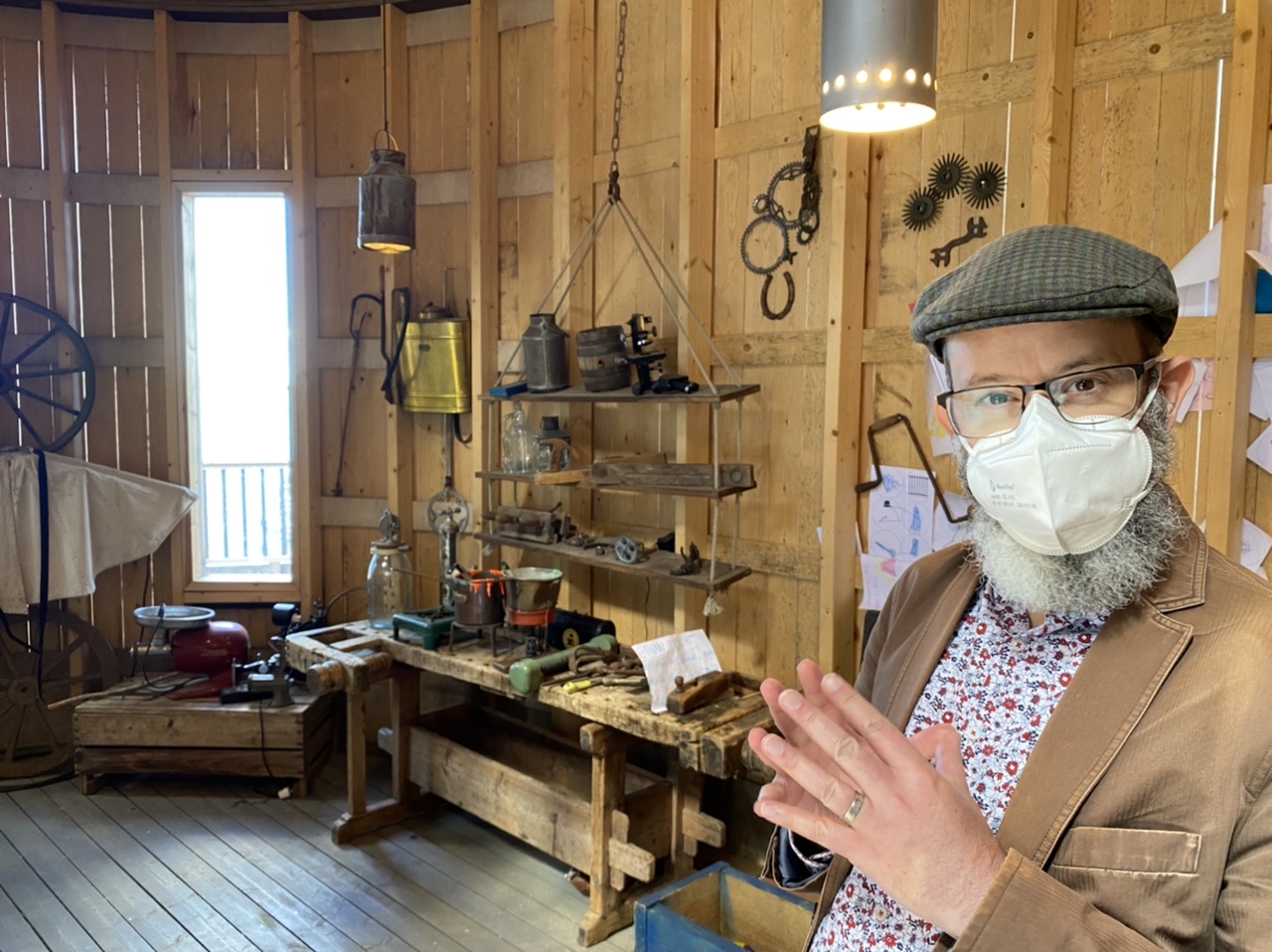 There are lots of fun little areas of the island to explore. We found a big telescope that looks out to sea.
We also discovered Snufkin's camp! Snufkin is the Snook's favourite character. He's a wanderer, philosopher, and vagabond, and he never stays in one place for long. Like all of the costumed characters, he spoke English as well as Finnish and was happy to pose for a photo with us. (The "human" characters all wore face shields.)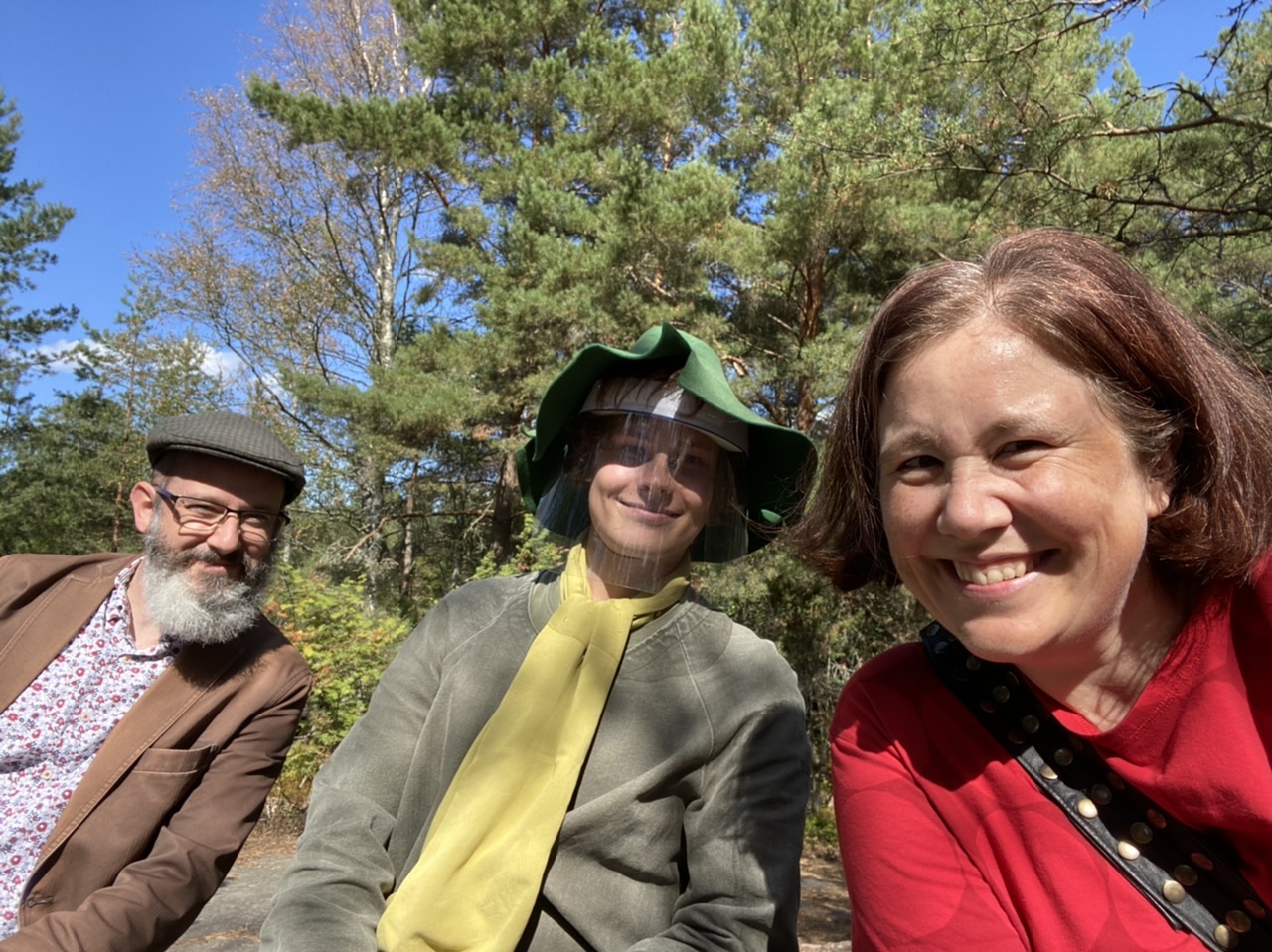 "But Snufkin," I said, "where is your harmonica?" "Right here!" he replied and pulled it out to play us a song. Honestly, that's a bucket list moment right there.
There's an actual post office in Moominworld so you can send postcards to your friends around the world. We stopped in to send one to the Snook's Mom back in Australia. ❤️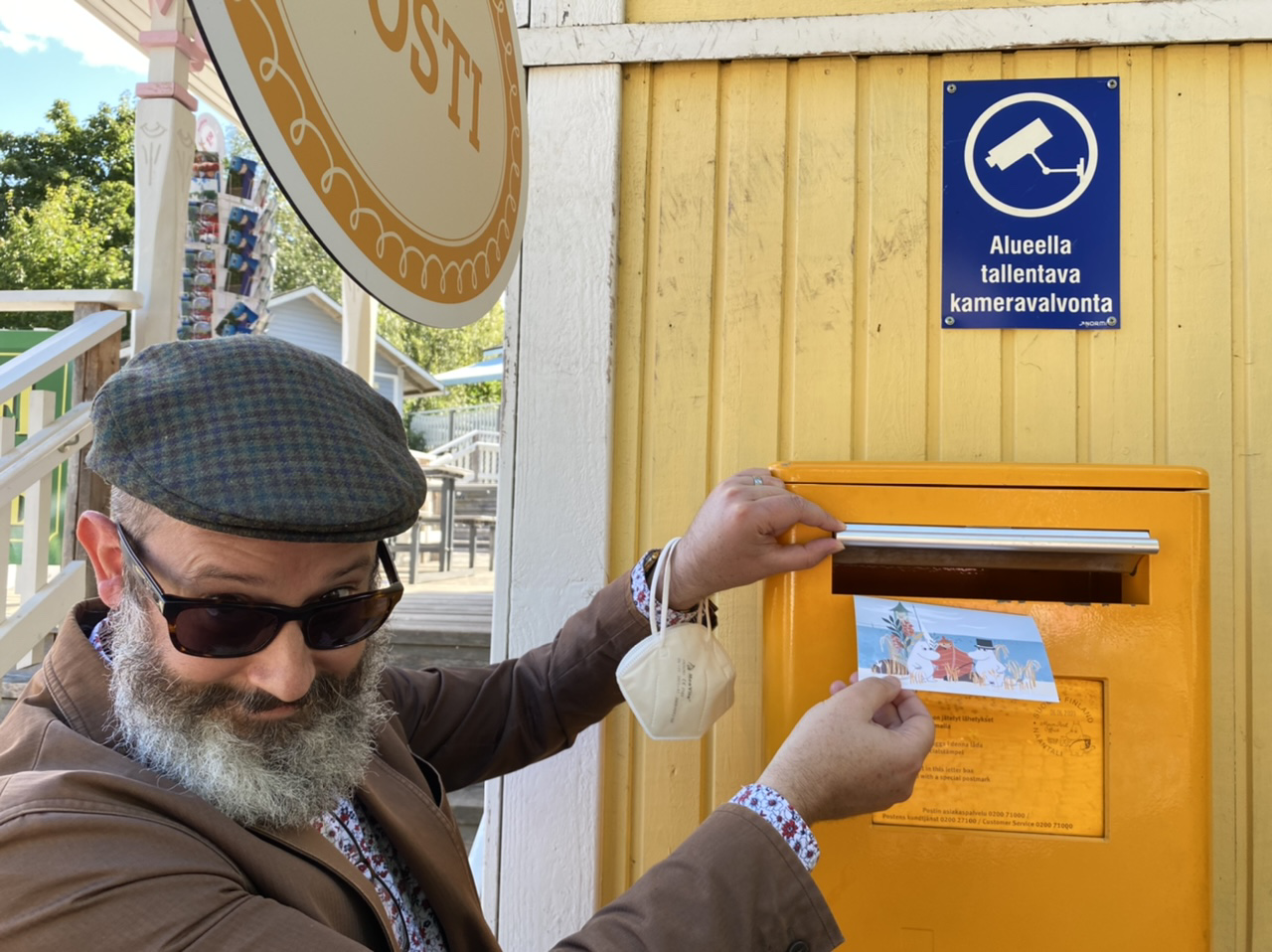 After a quick visit to the gift shop, that was it for Day One in Moominworld! It was time to head back to Turku to pick up our luggage. The public transport in the area is excellent, and you can pay for the bus using an app on your phone. We collected our luggage and then headed to Pub Niska for pizzas and beers for dinner. (Highly recommend!)
We caught the bus back to Naantali and headed to bed. The next day I was delighted to learn that our room rate included a breakfast waffle each day! I went for a savoury option while I planned out our second day in Moominworld.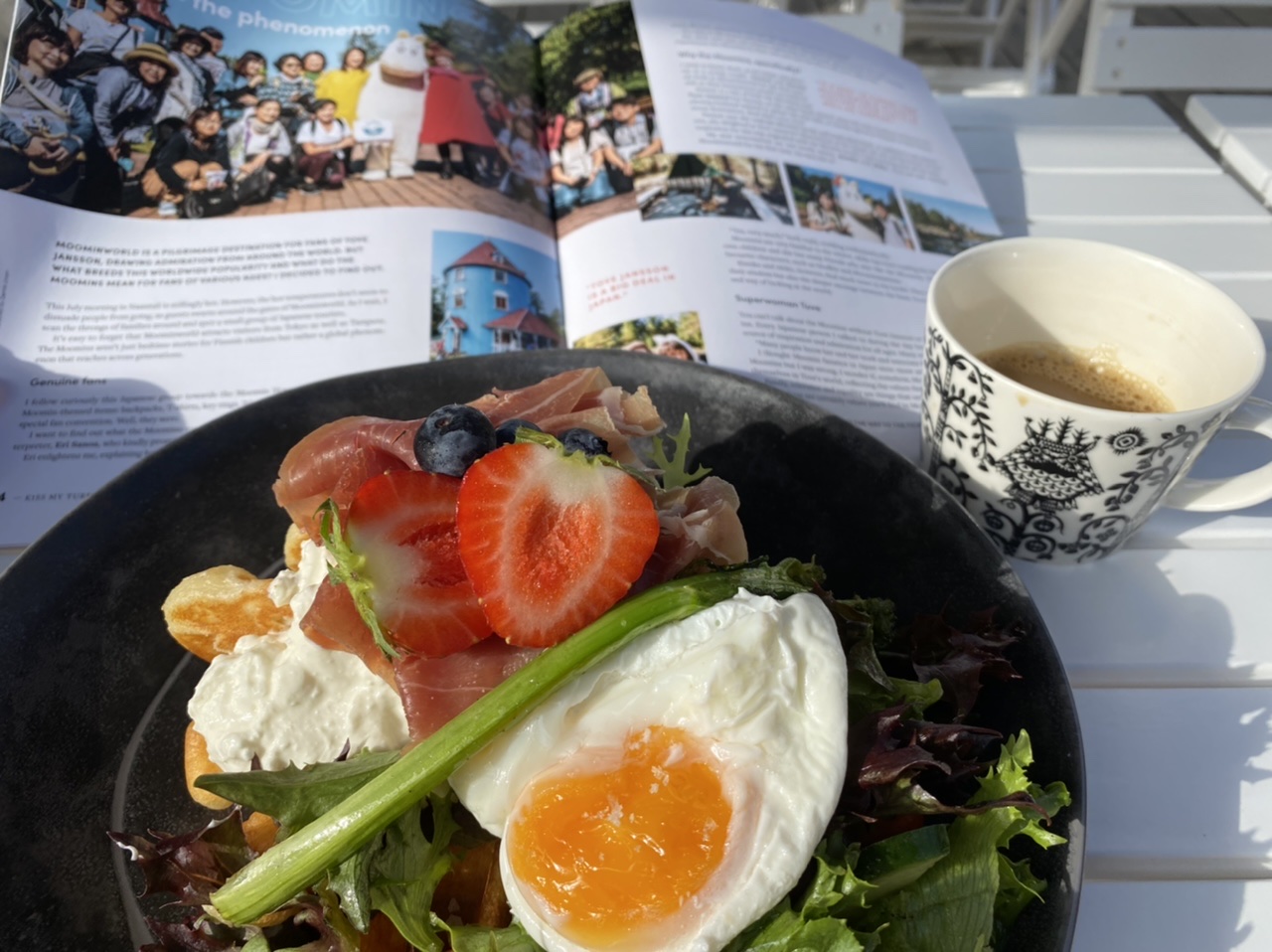 We headed back across the bridge to Moominworld and immediately met some more characters. The Snook and Moominpappa gave me a manly pose…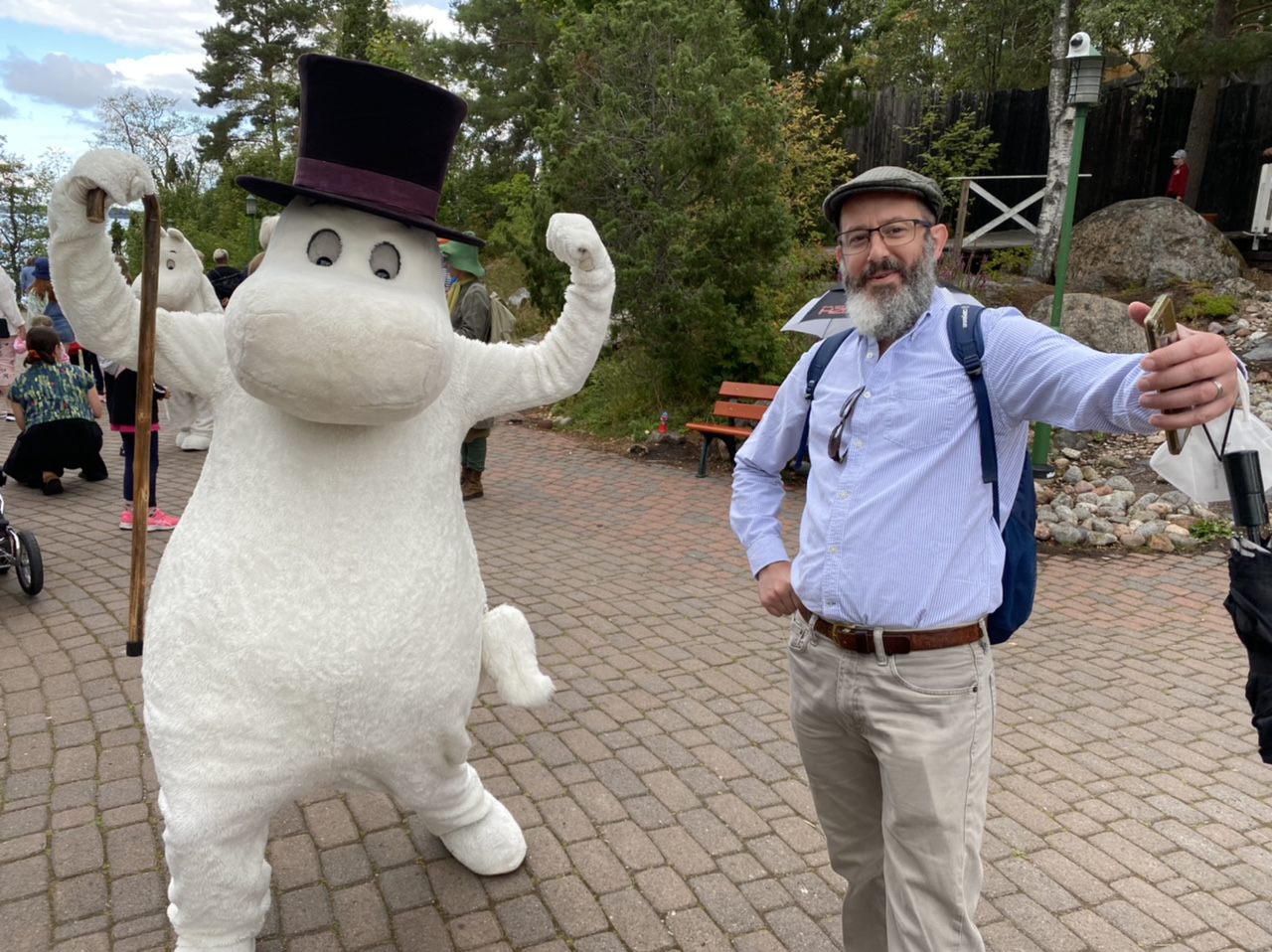 …and we also met up with Moomin and the Fillyjonk.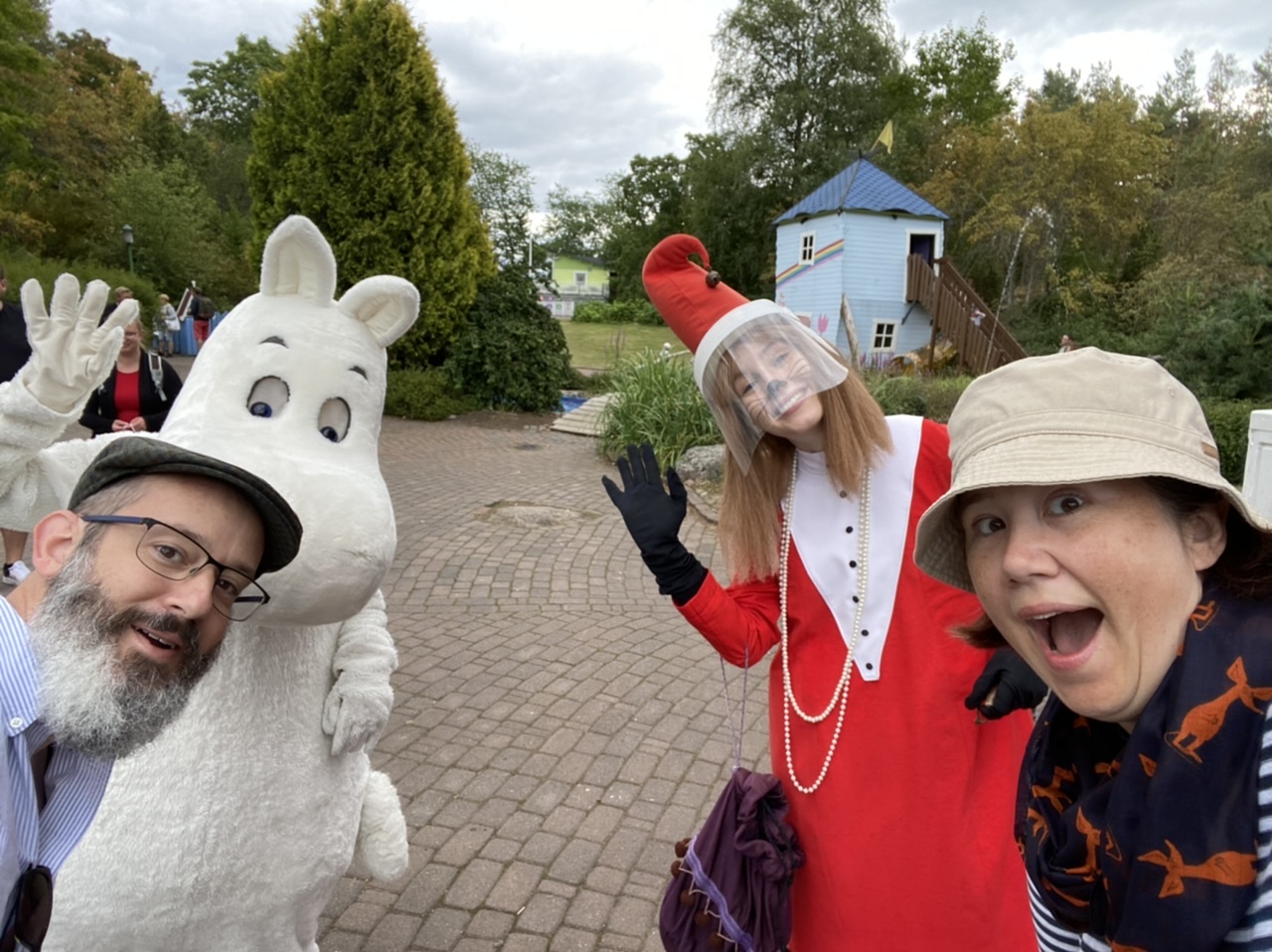 I also met my favourite character – Little My! "You're quite naughty sometimes!" I said. "No, you are the naughty one!" she cheekily replied.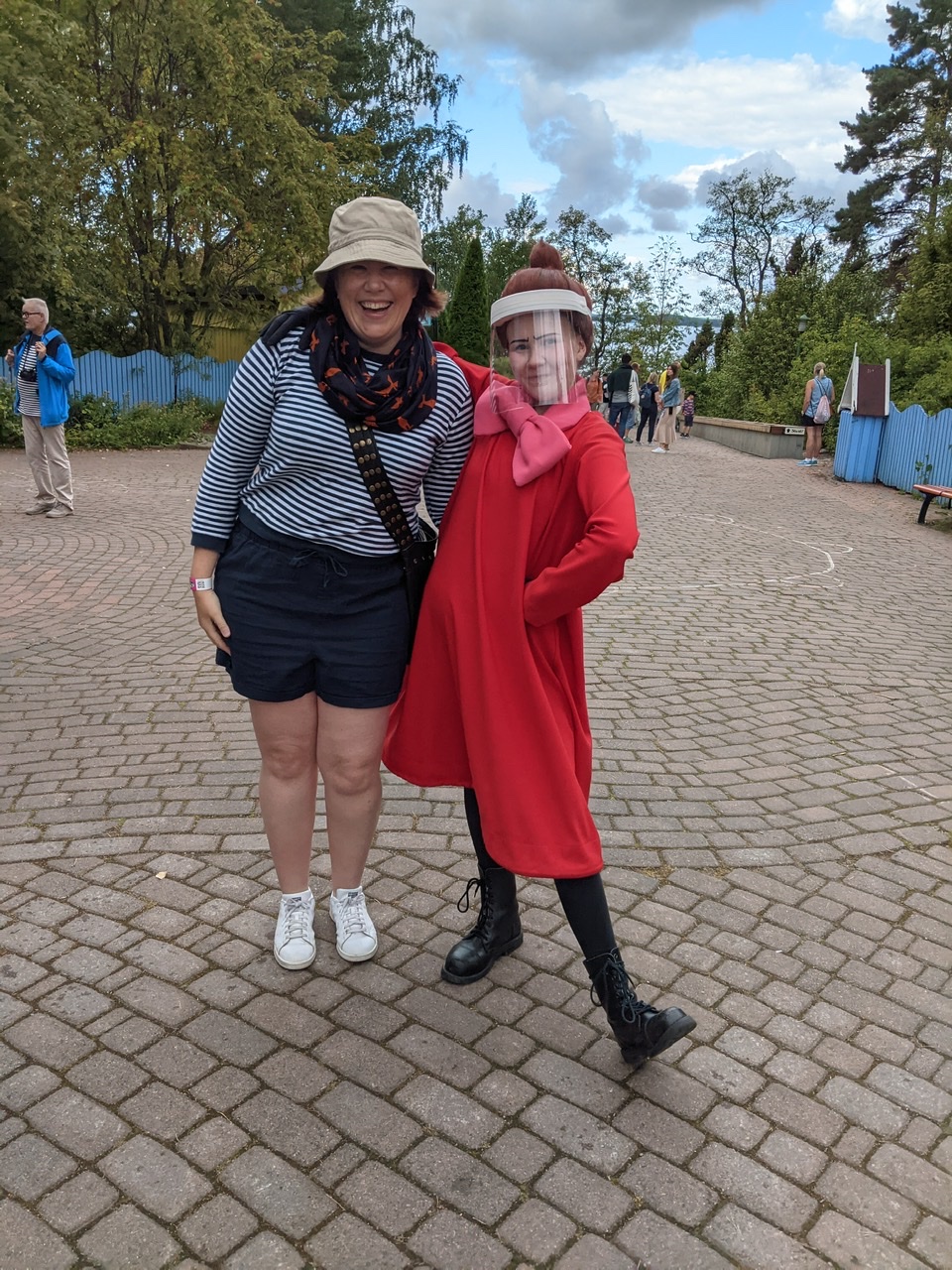 We had left a small part of the island to explore the day before. There are nature trails, little houses to visit, a rope bridge over a cataract, and even a labyrinth to solve!
Needless to say, we were a little wary of going into the cave of the Hattifatteners! These creepy ghost-like creatures travel in wordless packs and worship a barometer. 😳
We followed a quiet path down to a rocky beach. Apparently you can swim there in the summer, but it was much too cool that day.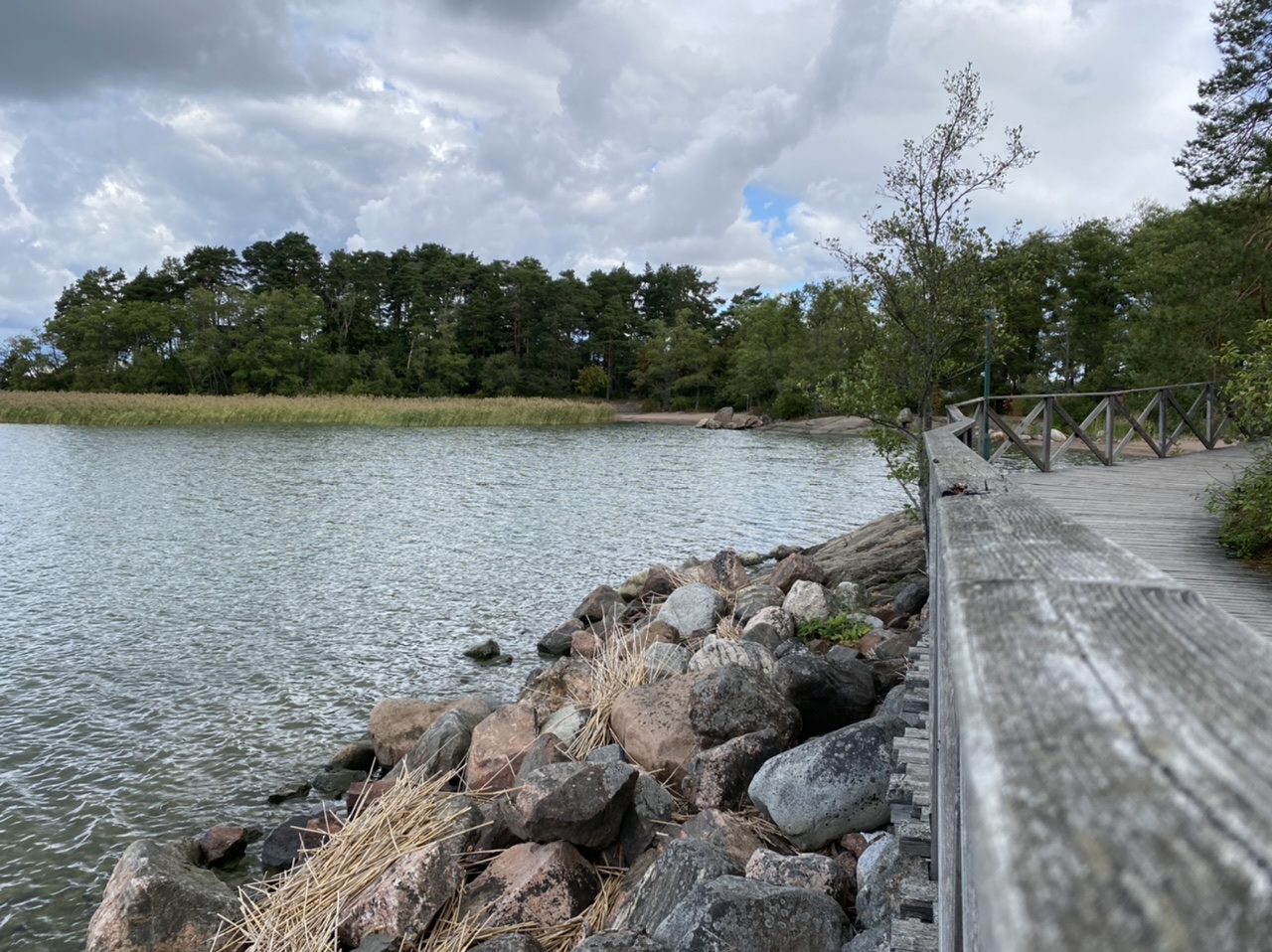 Near the beach is Sniff's house! He's another of my favourite characters. He looks like a kangaroo and he loves SHINY THINGS. I loved that they filled his little house with trinkets he's collected!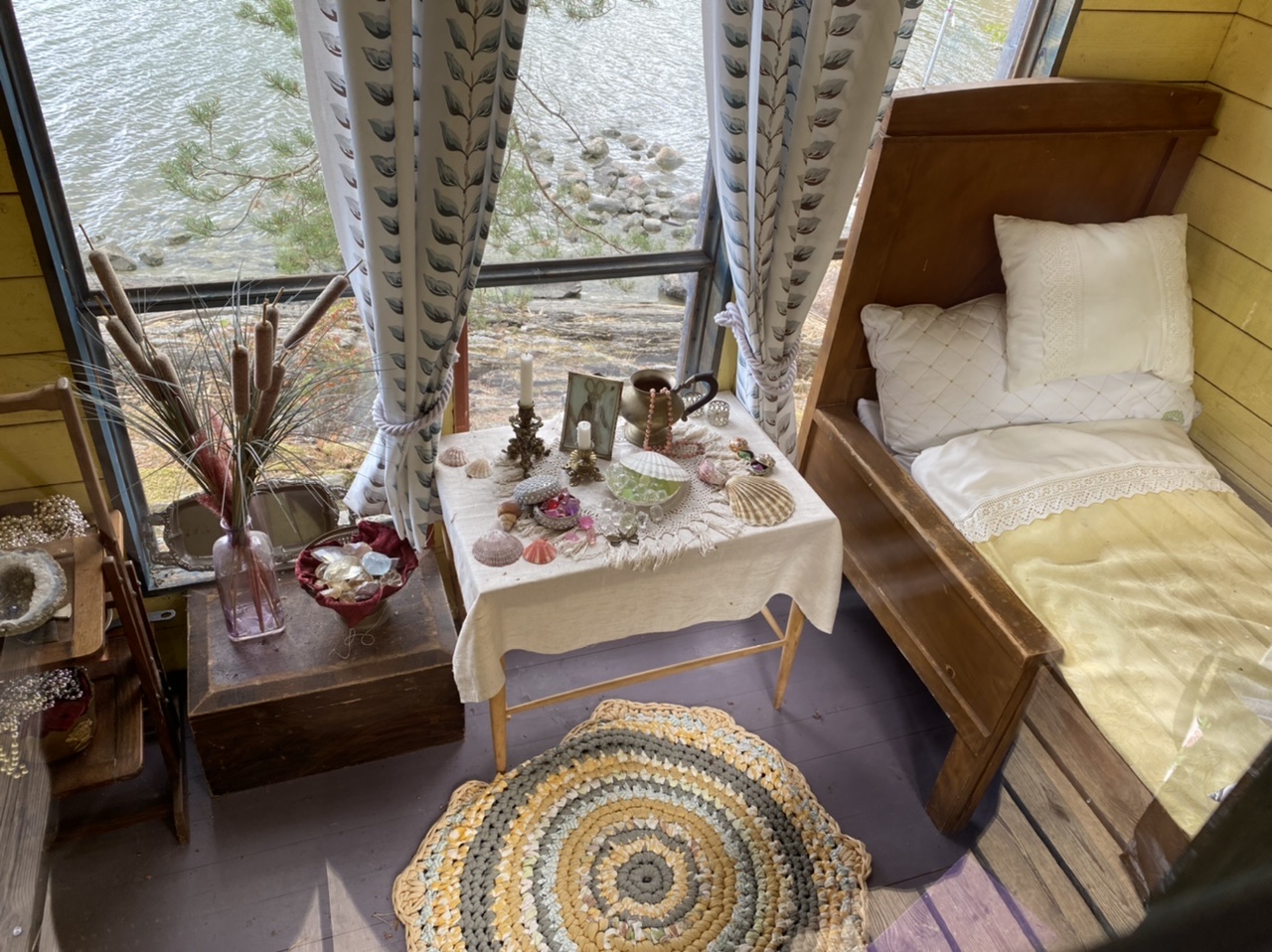 We were disappointed that the Pancake Cafe down by the beach had closed for the season…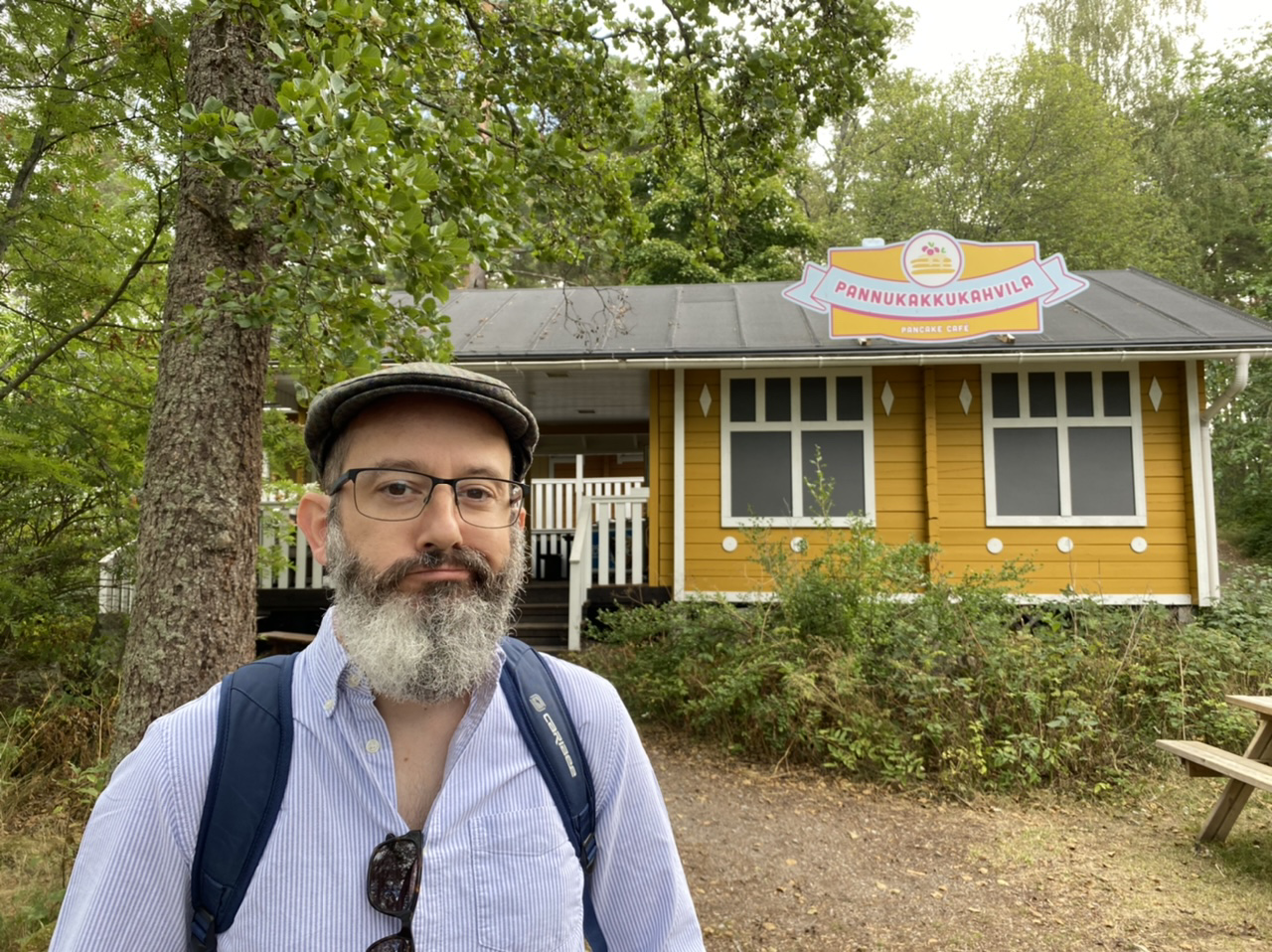 Oh hey look, it's Stinky!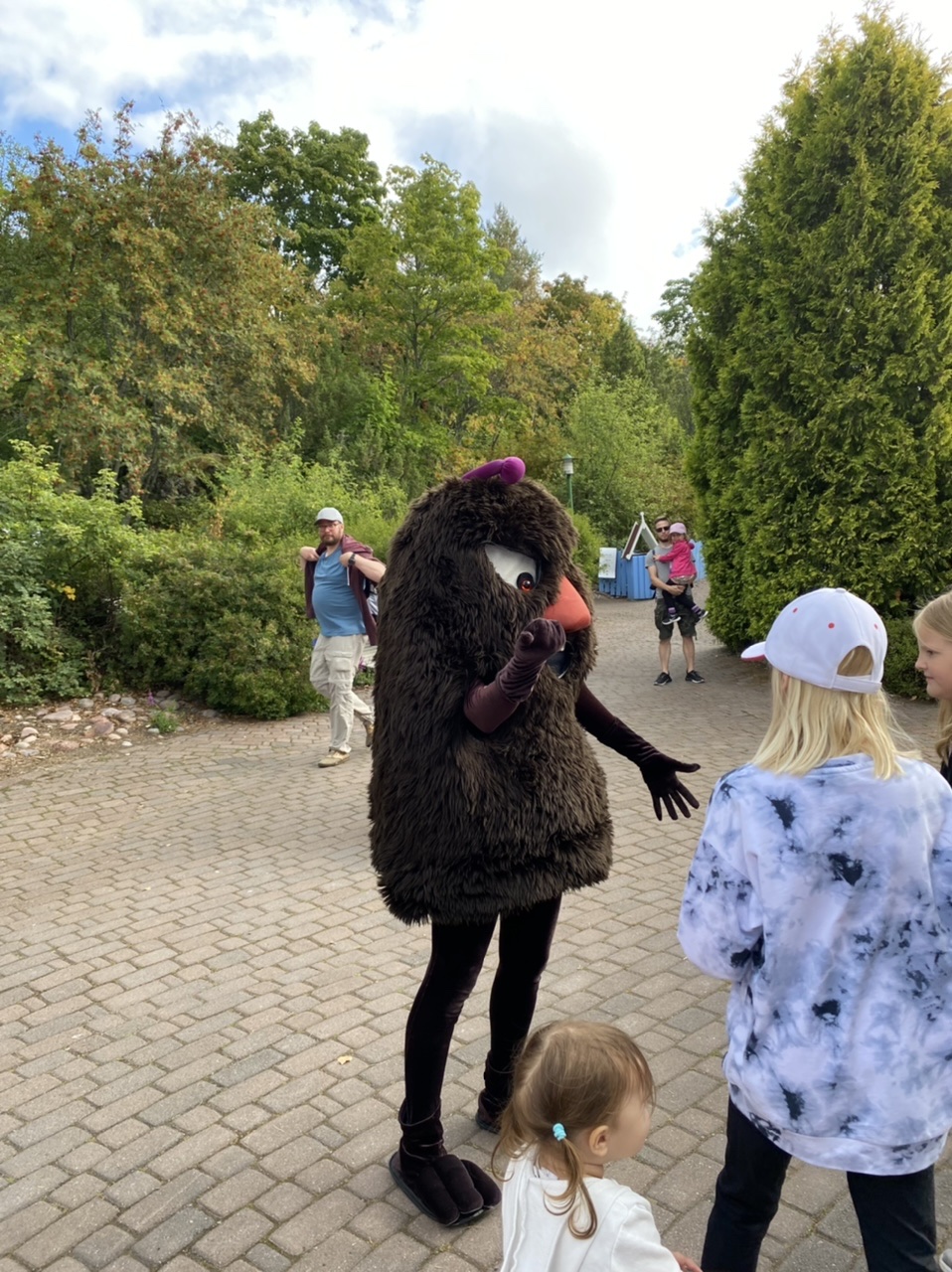 We also caught a couple shows before we left. The ones in Theater Emma are surtitled in English, but the ones at the Small Stage were just in Finnish. It was really cute seeing the kids singing and dancing!
We had pretty much exhausted the possibilities of Moominworld, so we headed back across the footbridge to Naantali. We visited Naantali Church (second largest medieval church in Finland!) as well as the nearby lookout tower.
We took shelter for a while in the lookout as it started raining again. We could see all the way to the Presidential residence on the island! The flag means that he was actually there that week.
We walked into the old part of Naantali in search of the Peculiar Cafe. It's technically part of Moominworld, but it's in town and you don't need to pay to get in. It has a lot of fun memorabilia, Moomin-themed treats, and a giant collection of the Arabia Moomin mugs. I especially liked that they had the King's Ruby and some very dubious looking Hattifattener eclairs. 😂
The owner of the hotel had recommended to us that we check out the "Path of Love" in Naantali, so we headed there next. This is a walking path that leads up to some rocky cliffs that offer a great view of the harbour. The island you can see in the distance is actually Moominworld! The Snook, as is his custom, took some photos of bugs and flowers.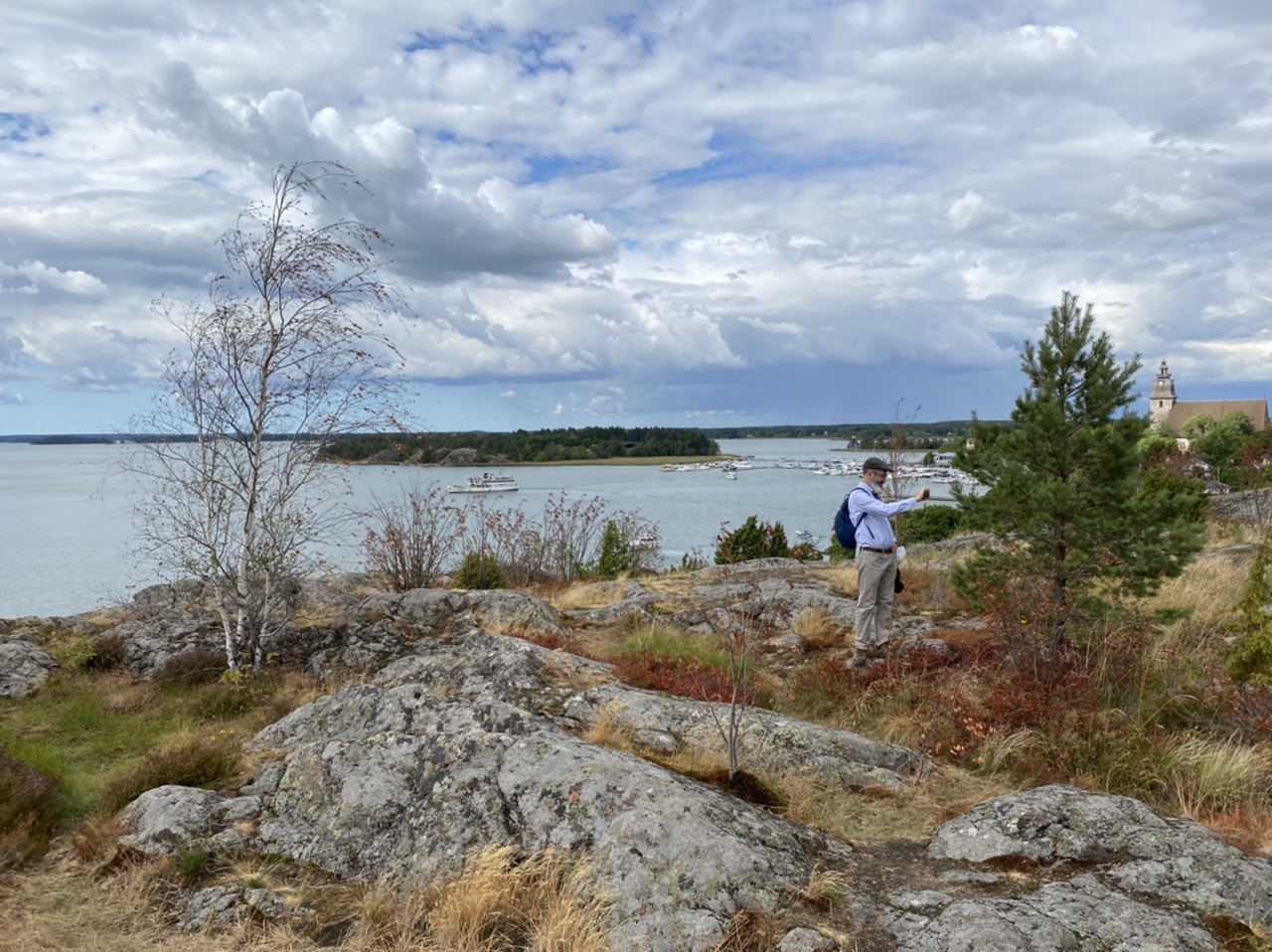 Hey, there's the SS Ukkopekka heading back to Turku!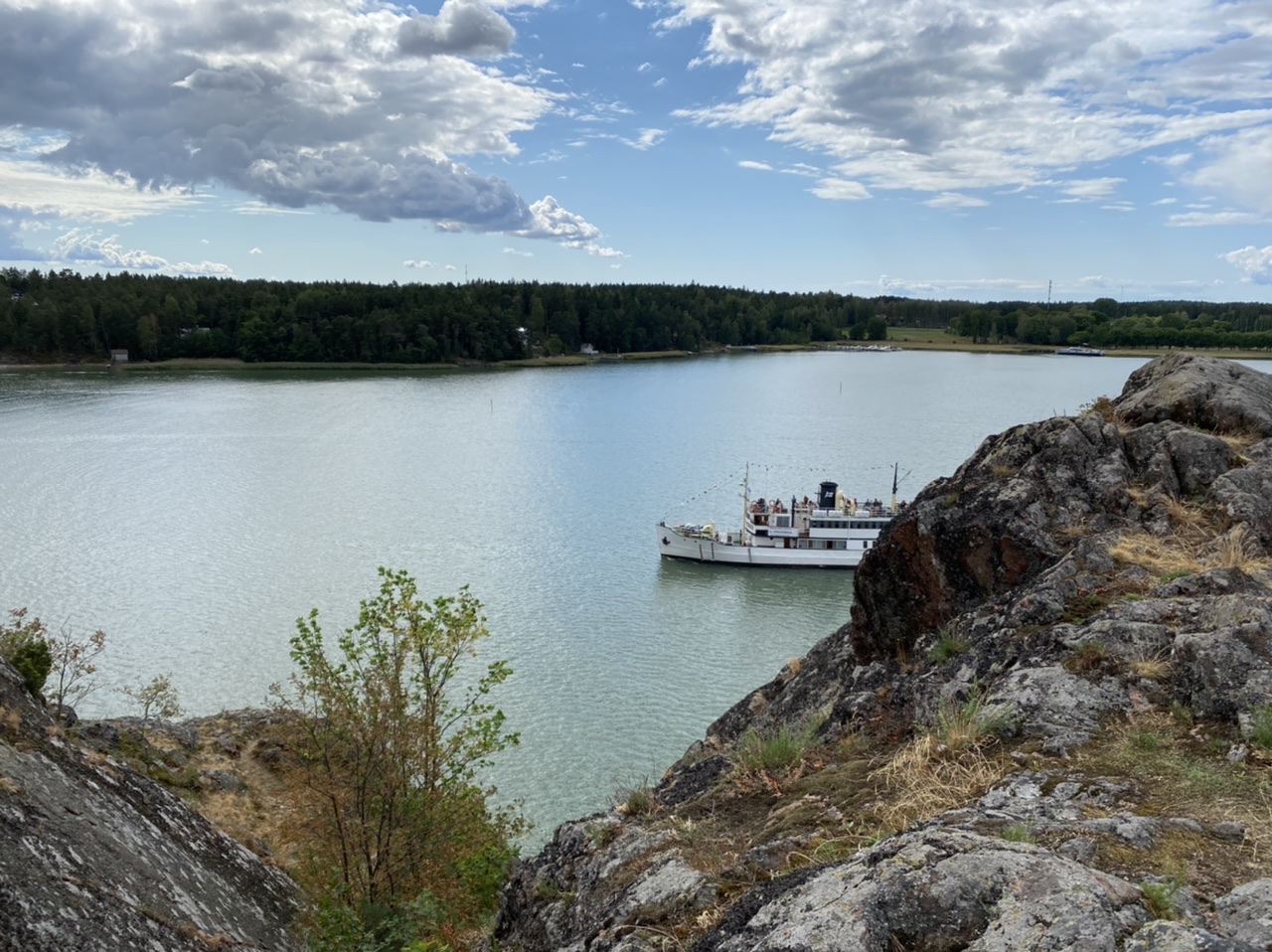 We found some steps down to a pier and the Snook captured me taking a selfie…
You can see my lovely Sniff scarf that I bought in Moominworld. I can't find it online anywhere, so it may well be exclusive to the park.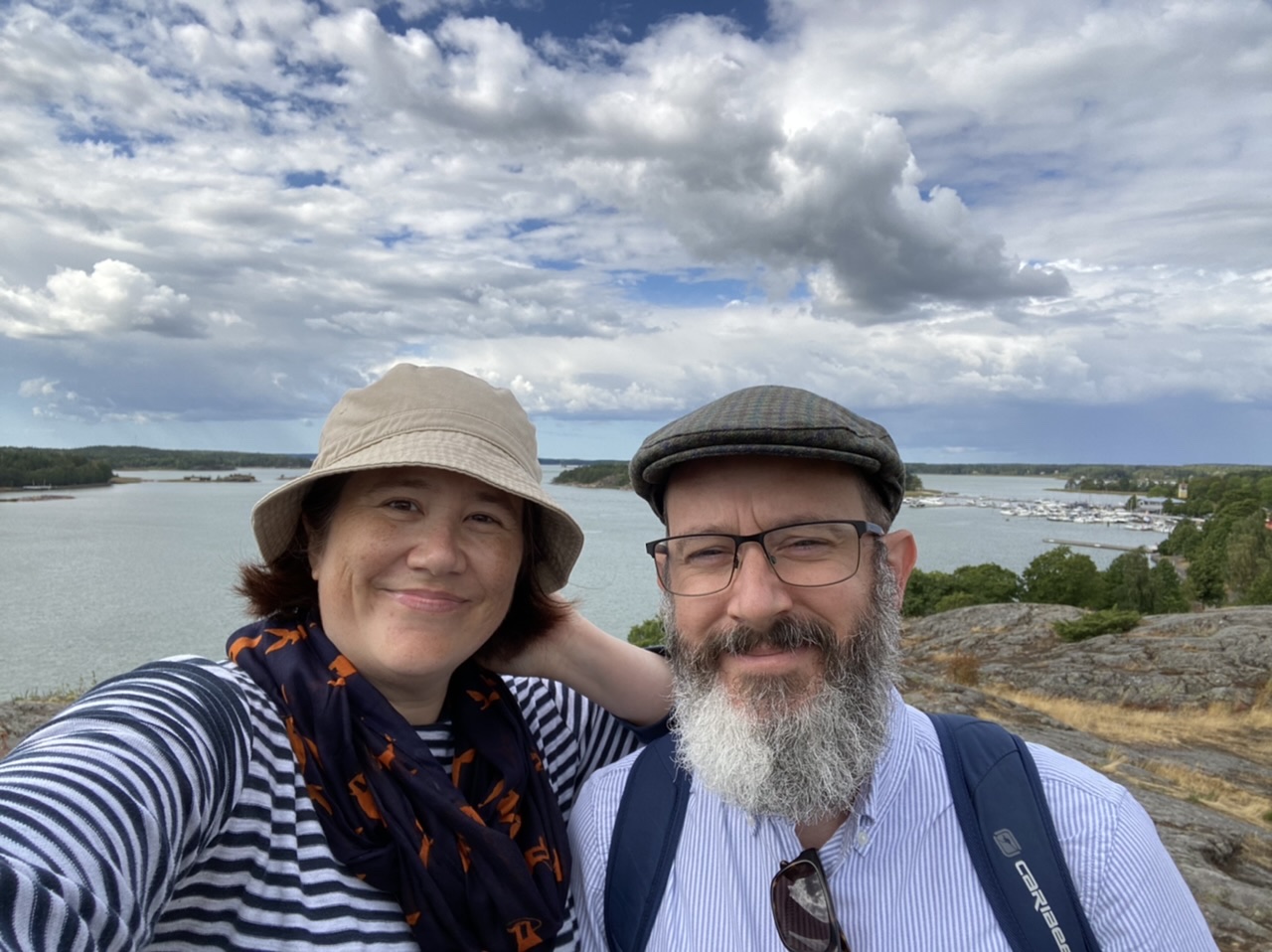 One last novelty in Turku – the Snook ate reindeer quiche! This was at Cafe Qwensel before we caught our train to Helsinki the next day.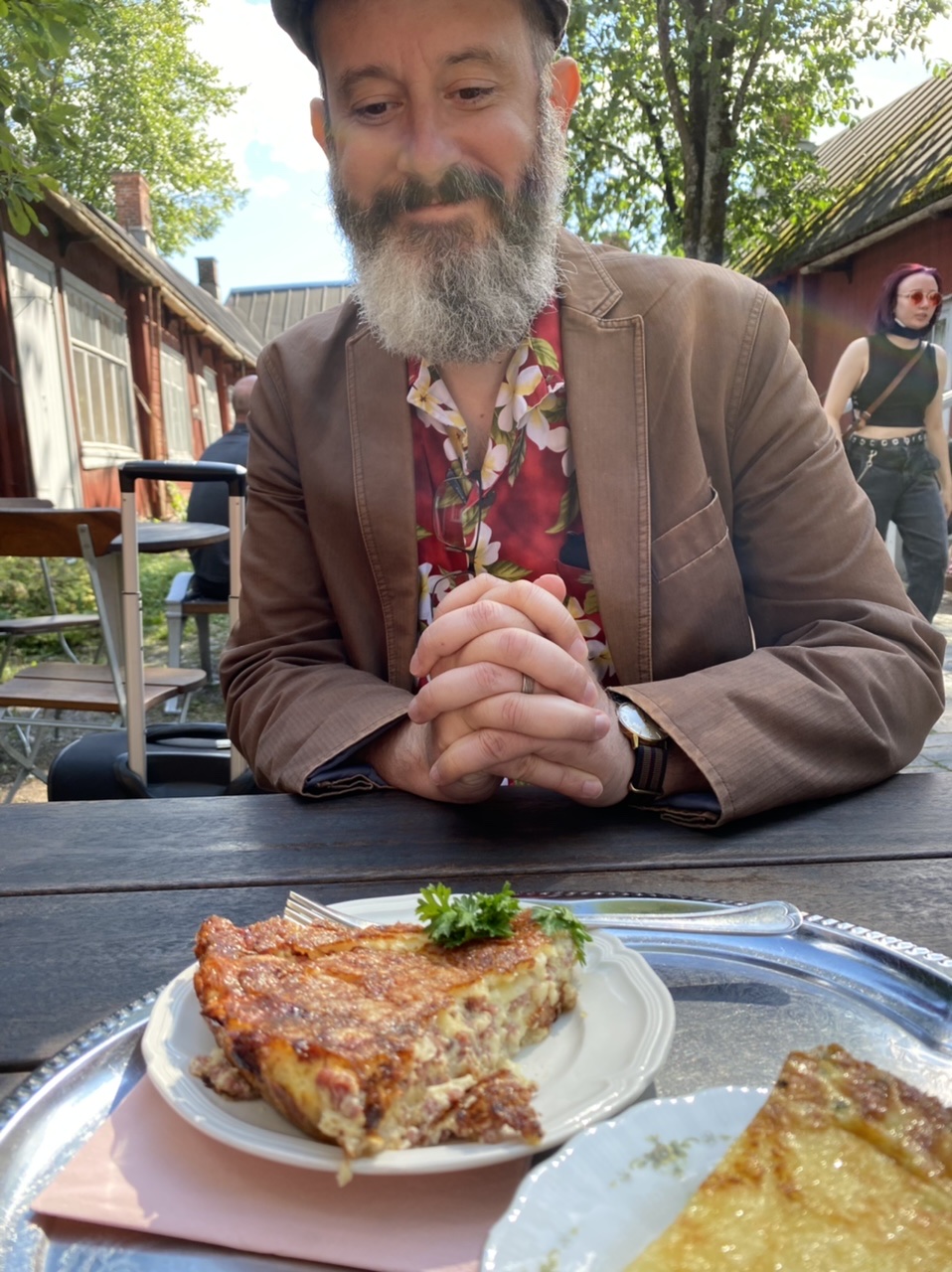 Helsinki was our final stop of the trip, and we caught the train from Turku.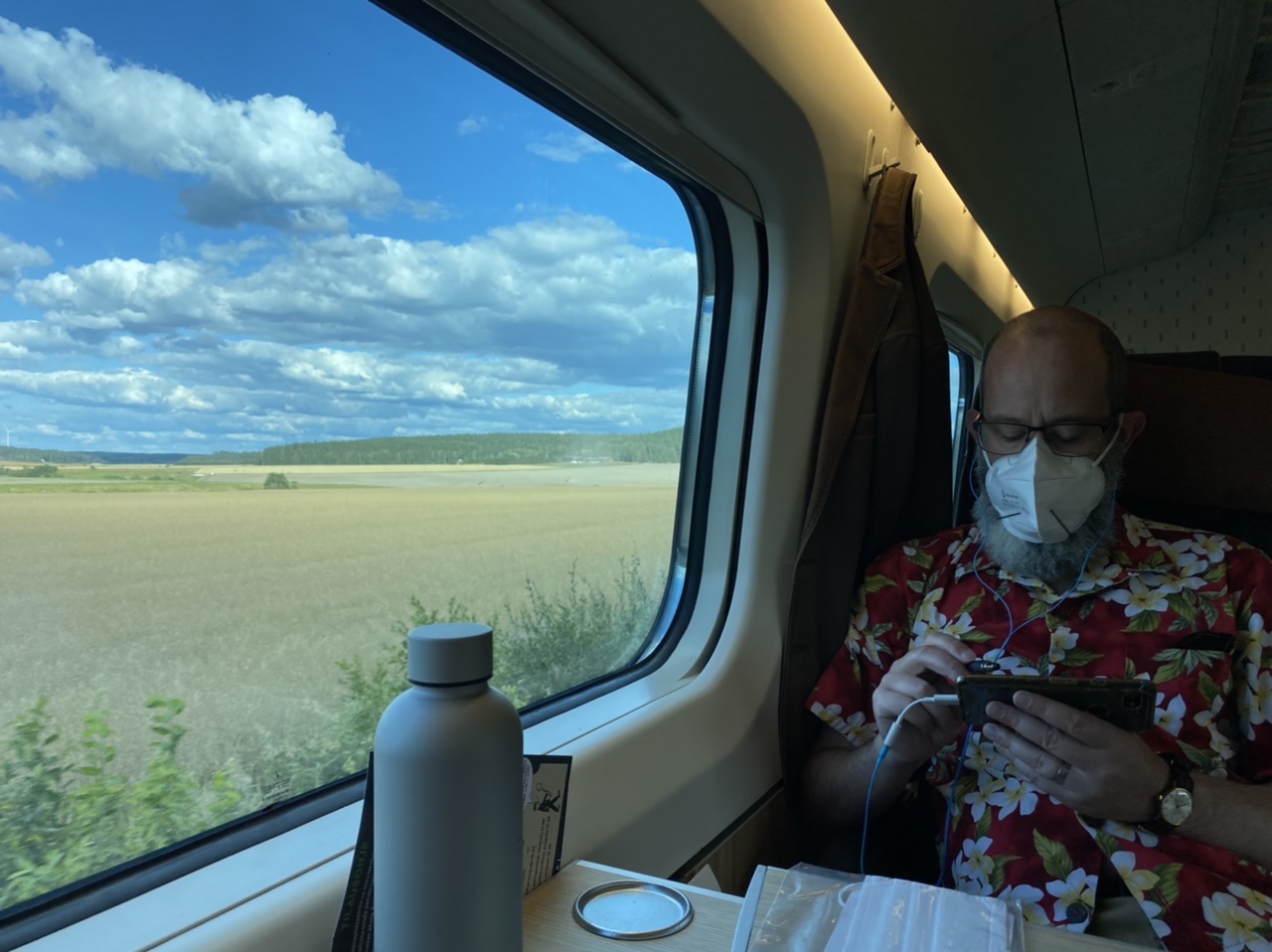 We booked a room at Hotel Helka, a very cool converted old YWCA filled with artwork. As a special treat, we booked an amazing room with its own SAUNA!
After a lovely meal of Georgian food with my colleague Marcia, she took us for a nighttime tour of Helsinki.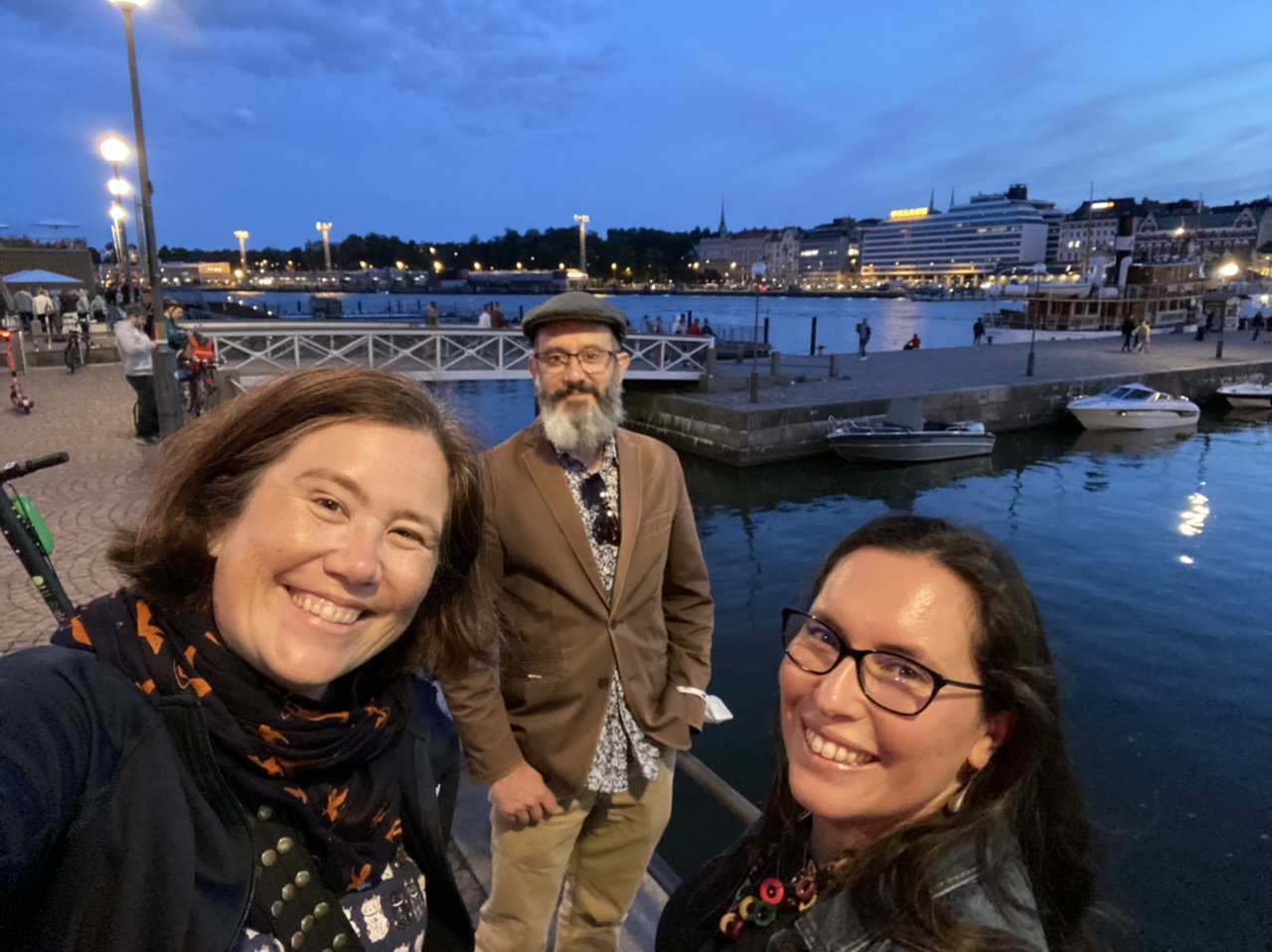 There were a LOT of young people out in the city that night. It was a combination of it being pretty much the last weekend of summer, and the facts that additional Covid restrictions were about to come into force. Marcia pointed out the Ferris Wheel (SkyWheel Helsinki), which is the first wheel in the world with a sauna on it. (It's the dark gondola in the photo.) My favourite thing was Janet Echelman's Earthtime 1.78 artwork in the Senate Square, all lit up dramatically at night.
Not only was our hotel full of funky art, they had even turned over a couple rooms to artists to create walk-in installations. The black & white one was by kingsheikki.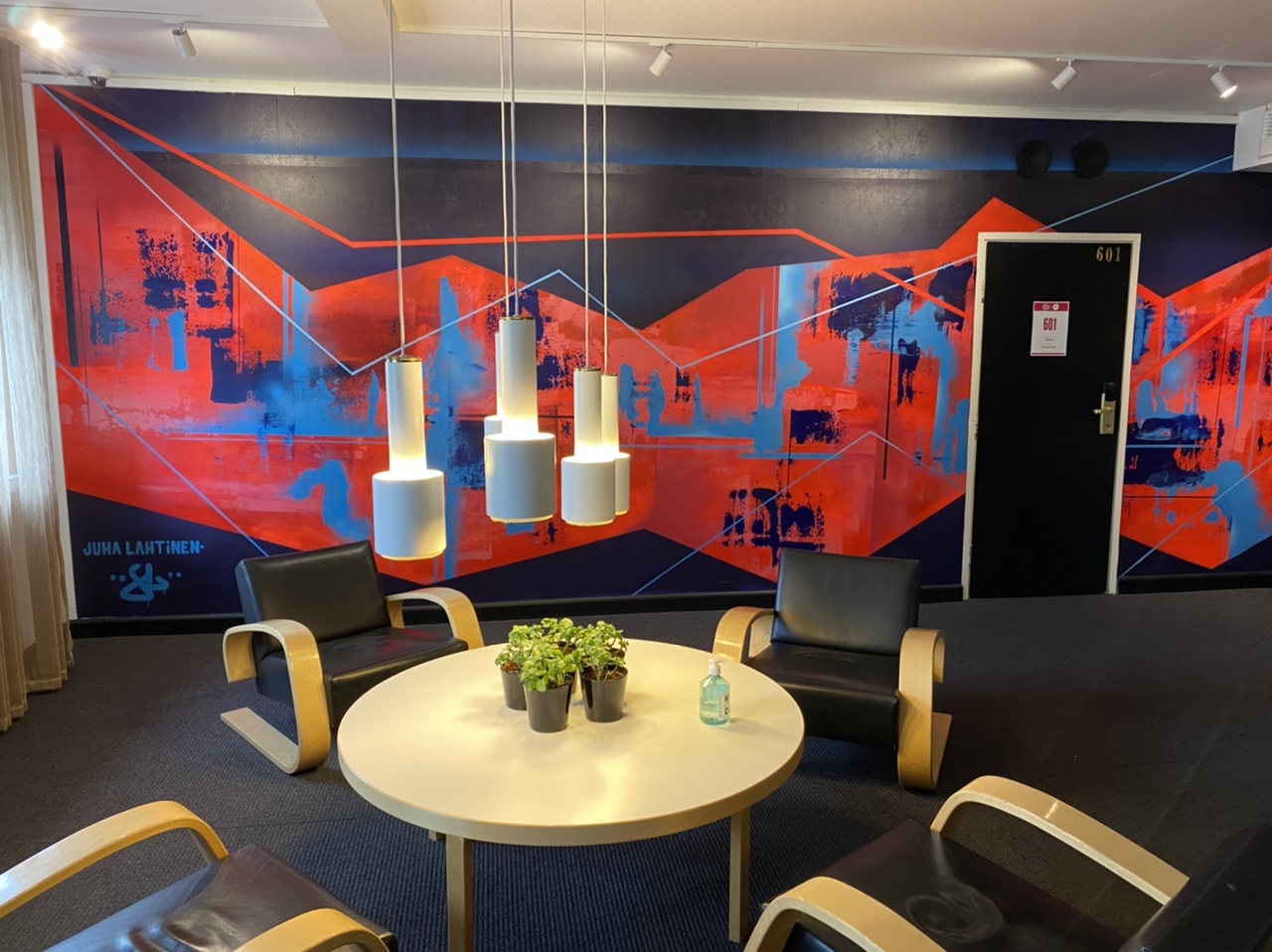 The next day, we headed back into the city to do some final shopping. I headed straight towards the big Marimekko shop, but to be honest most of it didn't appeal to me. Then I spotted this raincoat and tried it on. LOVE! I bought it and wore it the rest of the day (which proved to be very lucky, actually!).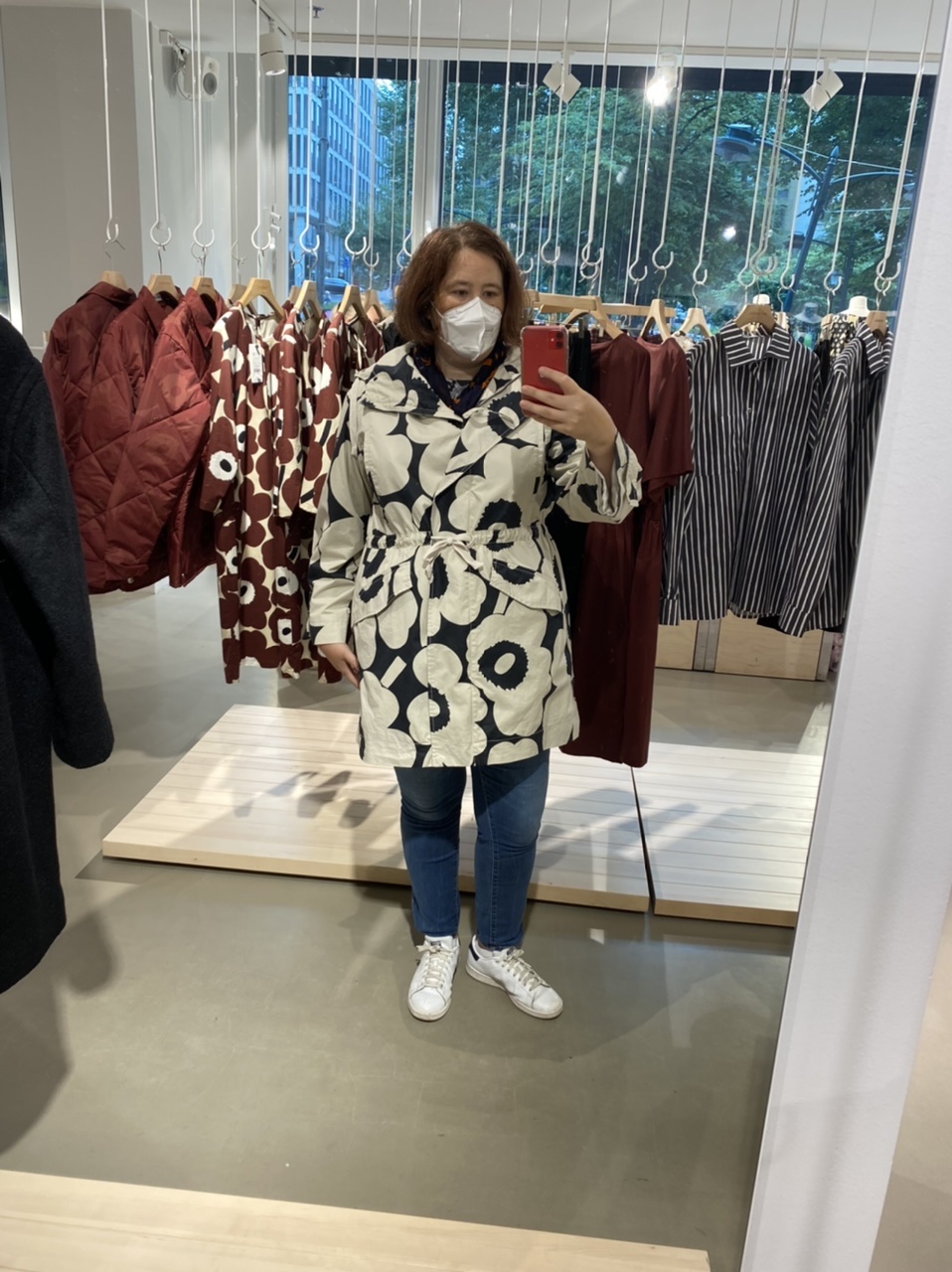 We also checked out Snurre (a yarn store that had been recommended to me) as well as the littala & Arabia Design Center.
There are more than 300 islands in the Helsinki area, and we really wanted to see them on a boat. We decided to catch a ferry out to Suomenlinna, an island sea fortress and UNESCO World Heritage site. (Sveaborg is the Swedish name.) The island also has a lot of museums and art galleries on it.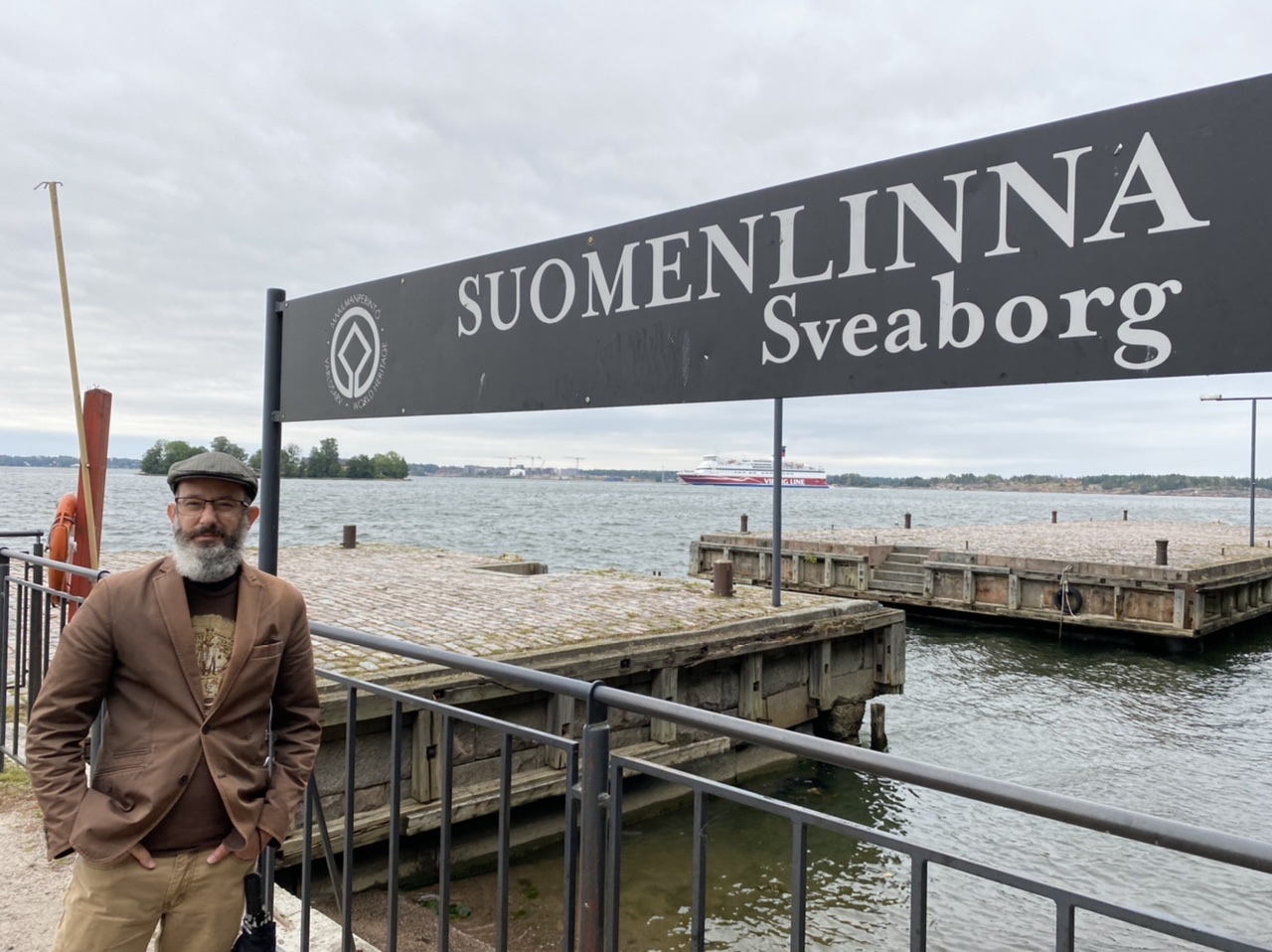 I was amused to see a display in the visitor's center with some vintage Moomin toys!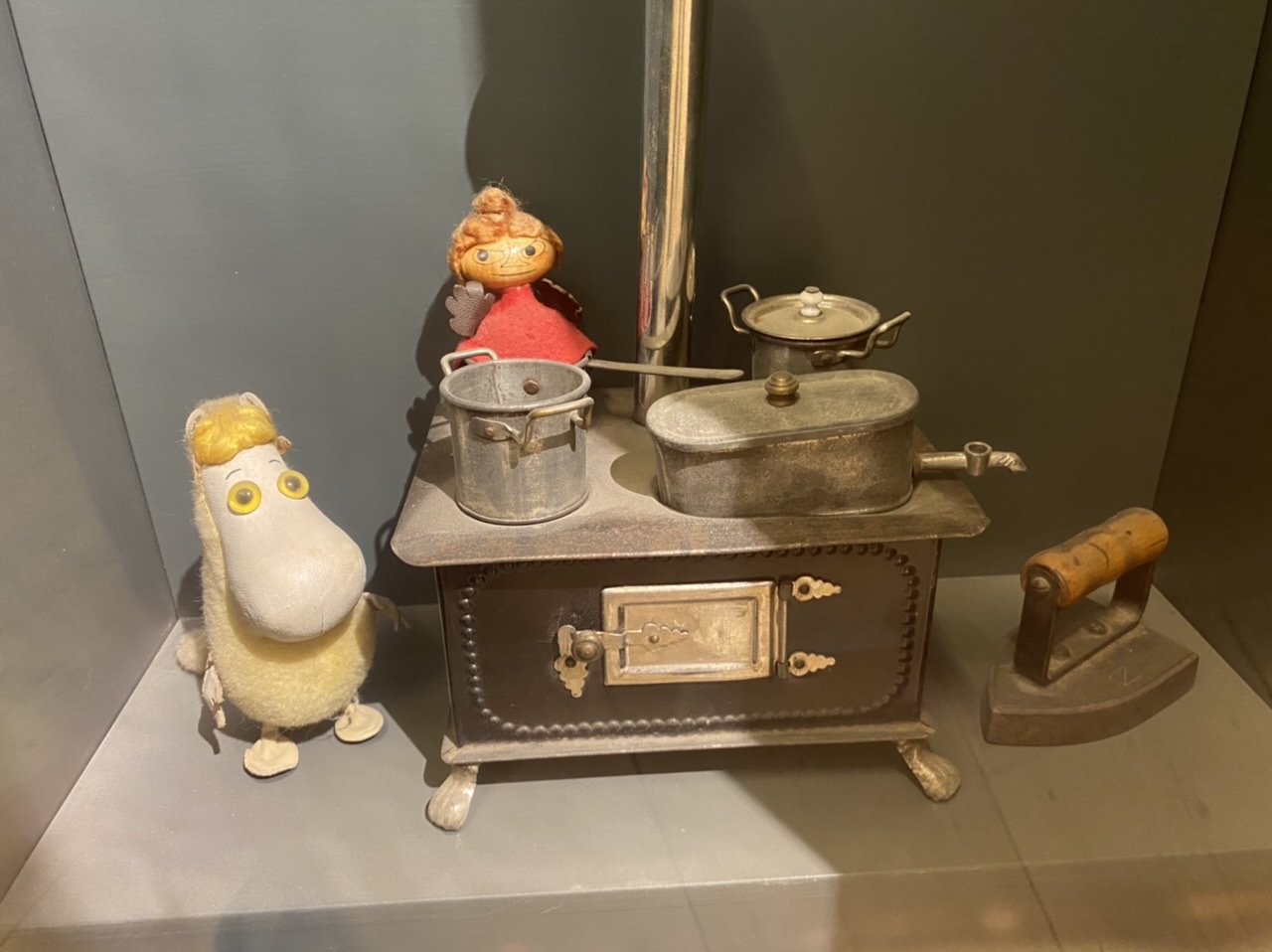 At first the weather wasn't too bad, so we headed out on the suggested walking path. We checked out the Suomenlinna Church and some of the giant fortifications.
The weather started to get pretty nasty, and I was very happy for my new raincoat. Unfortunately for the Snook, all he had was an umbrella.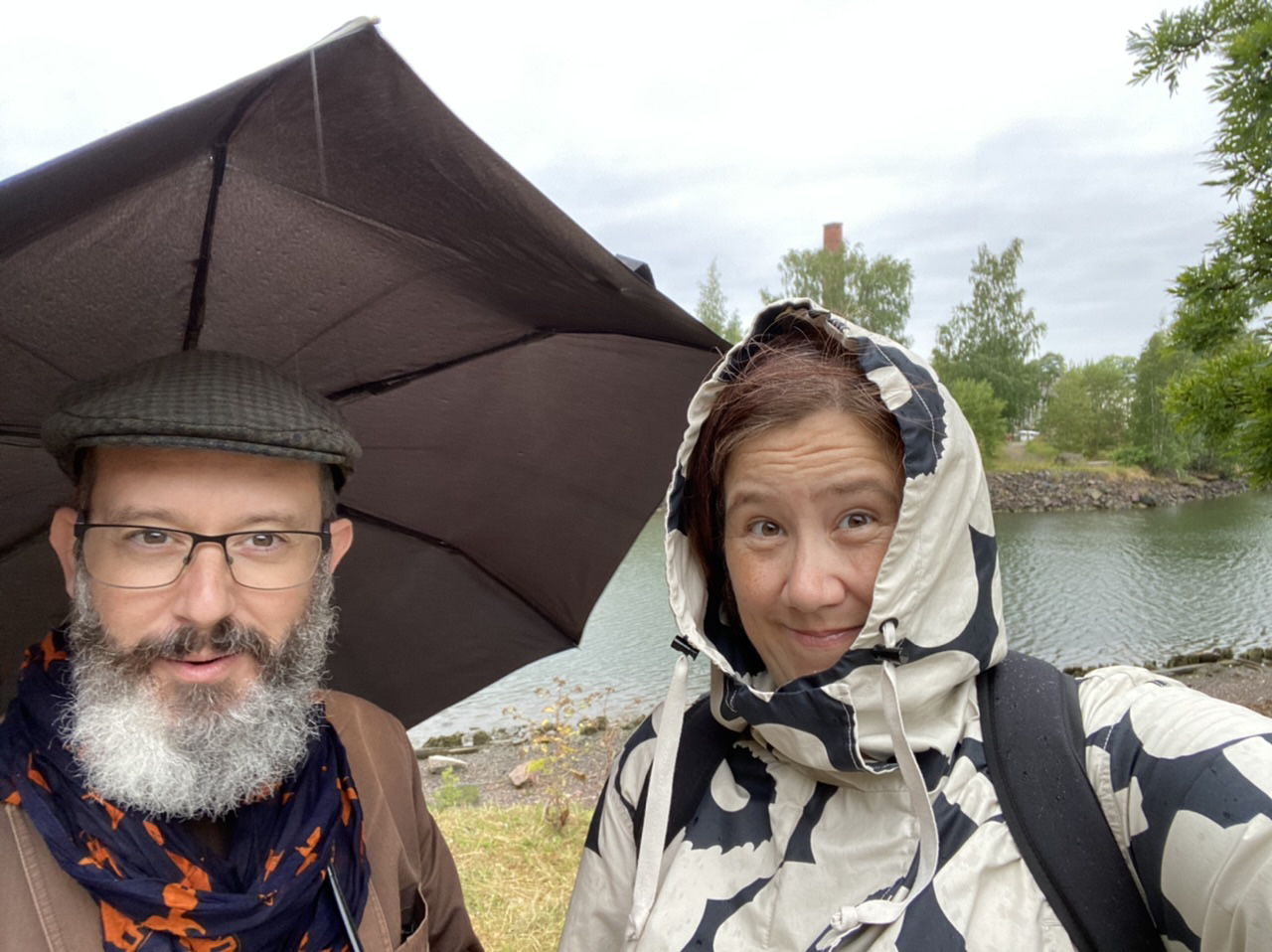 We sat out some of the rain in an art gallery and had some lunch, but there was nothing for it. If we were going to see the island, we were going to get wet.
By the time we got back to the ferry terminal, we were both absolutely soaked through. Suomenlinna was a fascinating place, but take my advice and go there on a nicer day. 🌧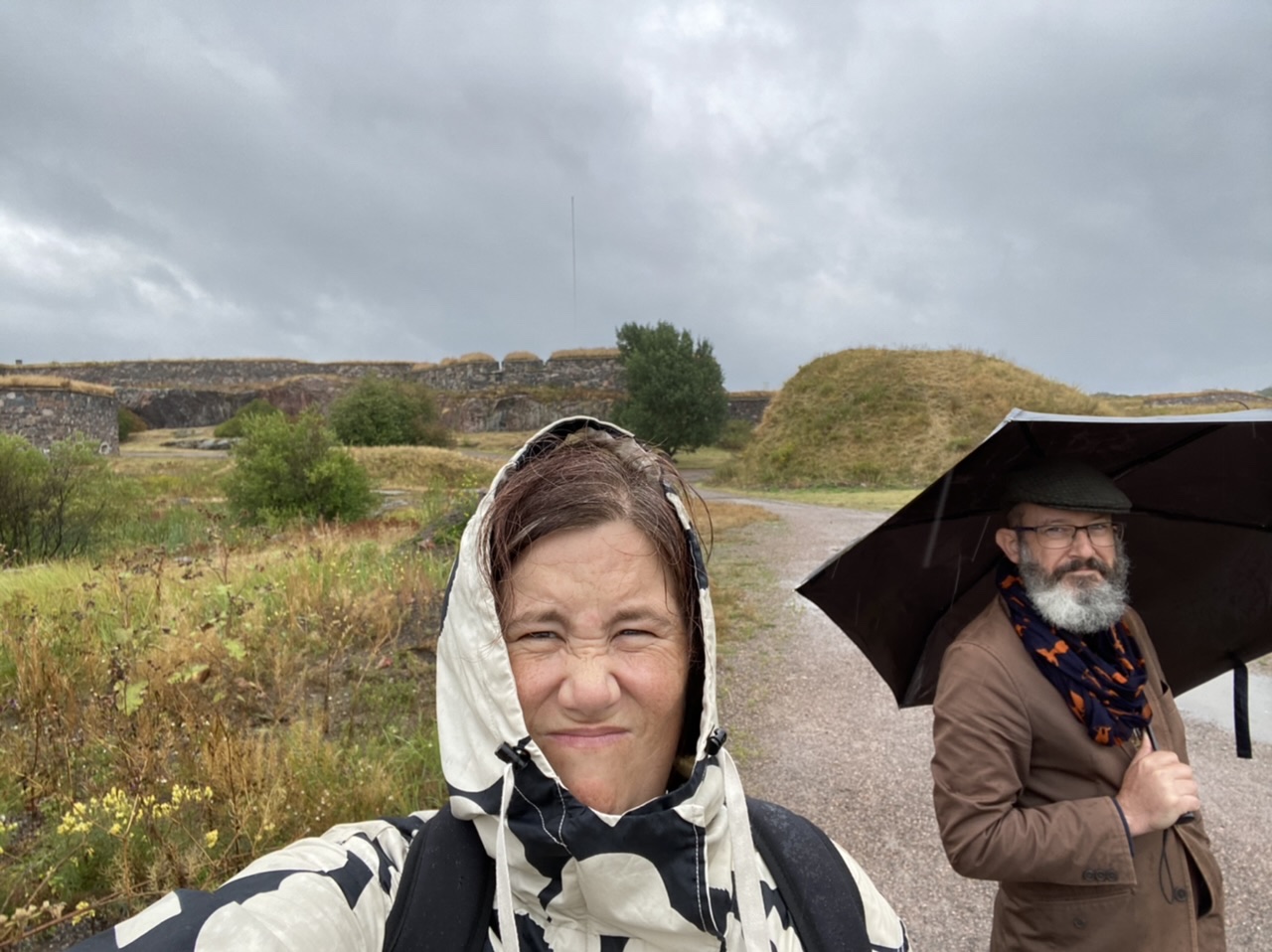 Fortunately, we had a sauna waiting in the hotel room and we made good use of it!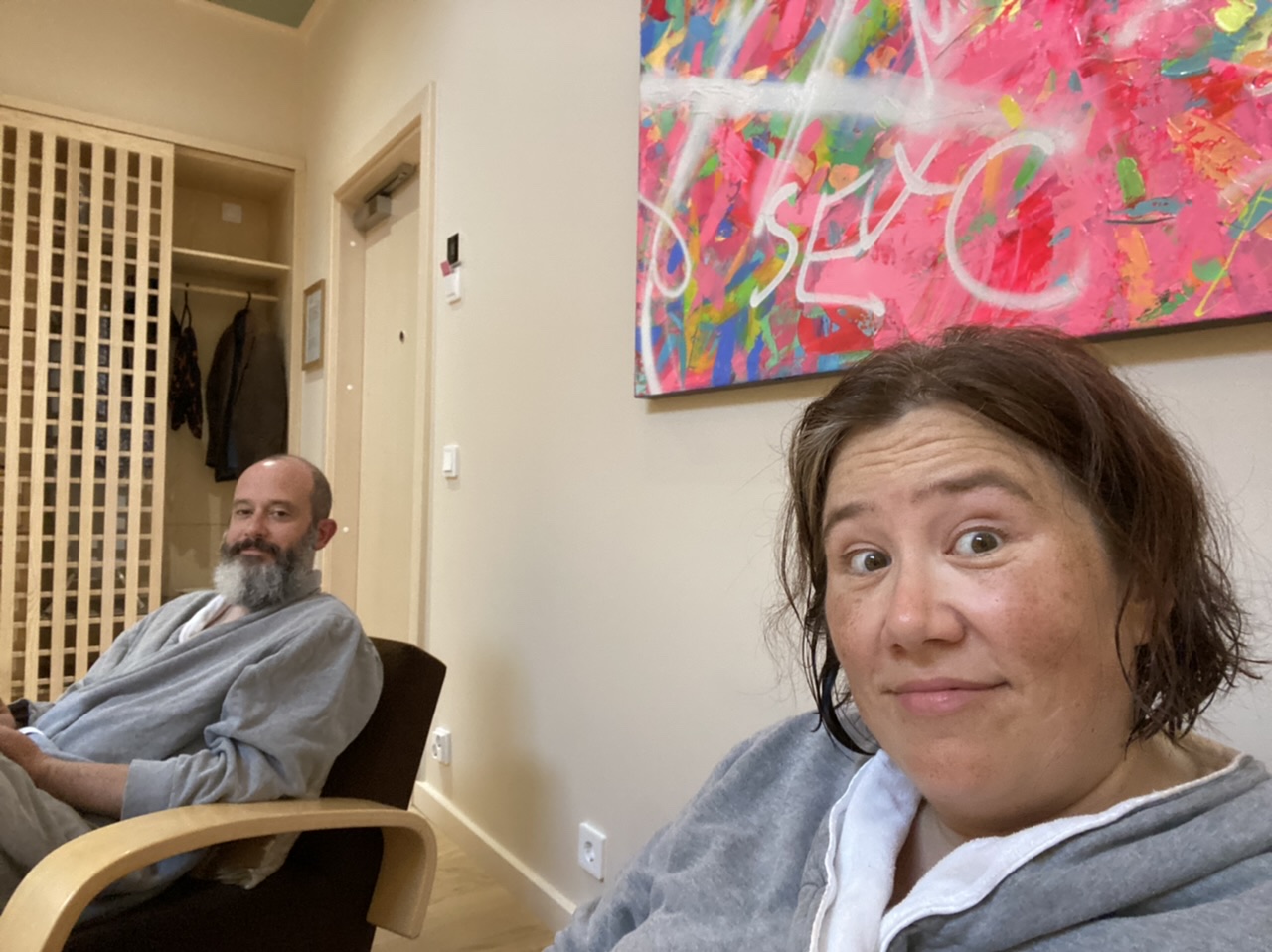 For our final night, we caught up with my Instagram friend Svenja for craft beer and burgers at a local brewery. She even brought me some more Moomin goodies! ❤️
And then it was time to head home! We caught the only flight of the trip to get back to Munich, and I suddenly realised how much I preferred travelling on trains to being jammed on a plane.
It was a whirlwind trip, and I still can't quite believe that I really got to go to Moominworld! Thankfully I have some souvenirs to remind me of this adventure for years to come…