In September, we went on a very special trip to Italy.
As always with these travel posts, I have to put them in context. This one goes way back! Five years ago, I went to a special foodie symposium at the Sydney Opera House hosted by acclaimed Danish chef René Redzepi (from Noma). He was joined onstage by many other chefs, including David Chang (from Momofuku) and Massimo Bottura (from Osteria Francescana). The event was all about the future of food, how we eat as a society, how food and culture intersect and impact the environment, and the responsibility of chefs to educate. Not only are these guys all really smart, they're literally the best in the world at what they do. When you get a chance to eat at one of their restaurants, you take it.
Fast forward to September 2020, not long after we arrived in Germany. I started thinking about which bucket list restaurants we could visit in Europe, and I discovered that Osteria Francescana takes bookings six months in advance. It's been rated the best restaurant in the world twice and currently has three Michelin stars. (Also, if you watched Master of None on Netflix, it was featured – along with Massimo himself – in Season 2.) Covid was still making everything uncertain, but we figured it was worth taking a gamble. The restaurant is very small (it only has 12 tables!!), but we managed to get a reservation for the following April. Unfortunately, we went into lockdown over winter and things were still very uncertain in March. The restaurant was open but we weren't sure if we'd be able to get in/out of Italy without having to quarantine. Reluctantly, we cancelled the reservation and decided to try again. Thankfully we were able to get another booking for the following September, a full year after the initial idea. And happily, this time we were vaccinated and able to go.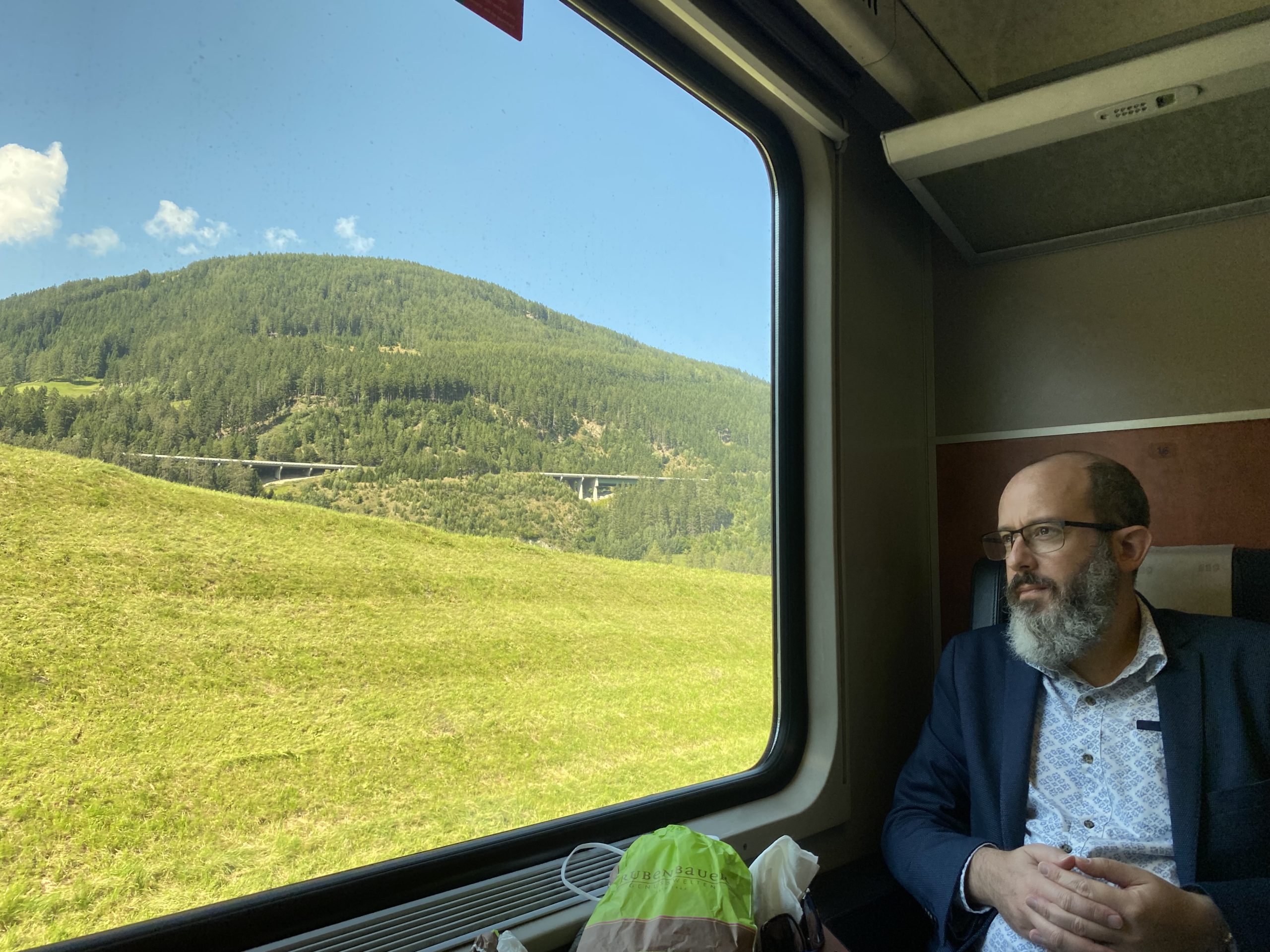 As usual, we decided to train it. We caught the EuroCity train from Munich to Bologna, travelling south across Austria through the Tyrolean Alps to Italy. The trip takes about 7 hours and features truly stunning scenery. We were lucky that that weather was perfect and we had great views of soaring bridges, charming villages, and hilltop fortresses. (Note: we wore masks the whole time and I only had him take it off briefly for the photo!)
As we passed through Verona, a cheeky Capulet bit his thumb at me! 😂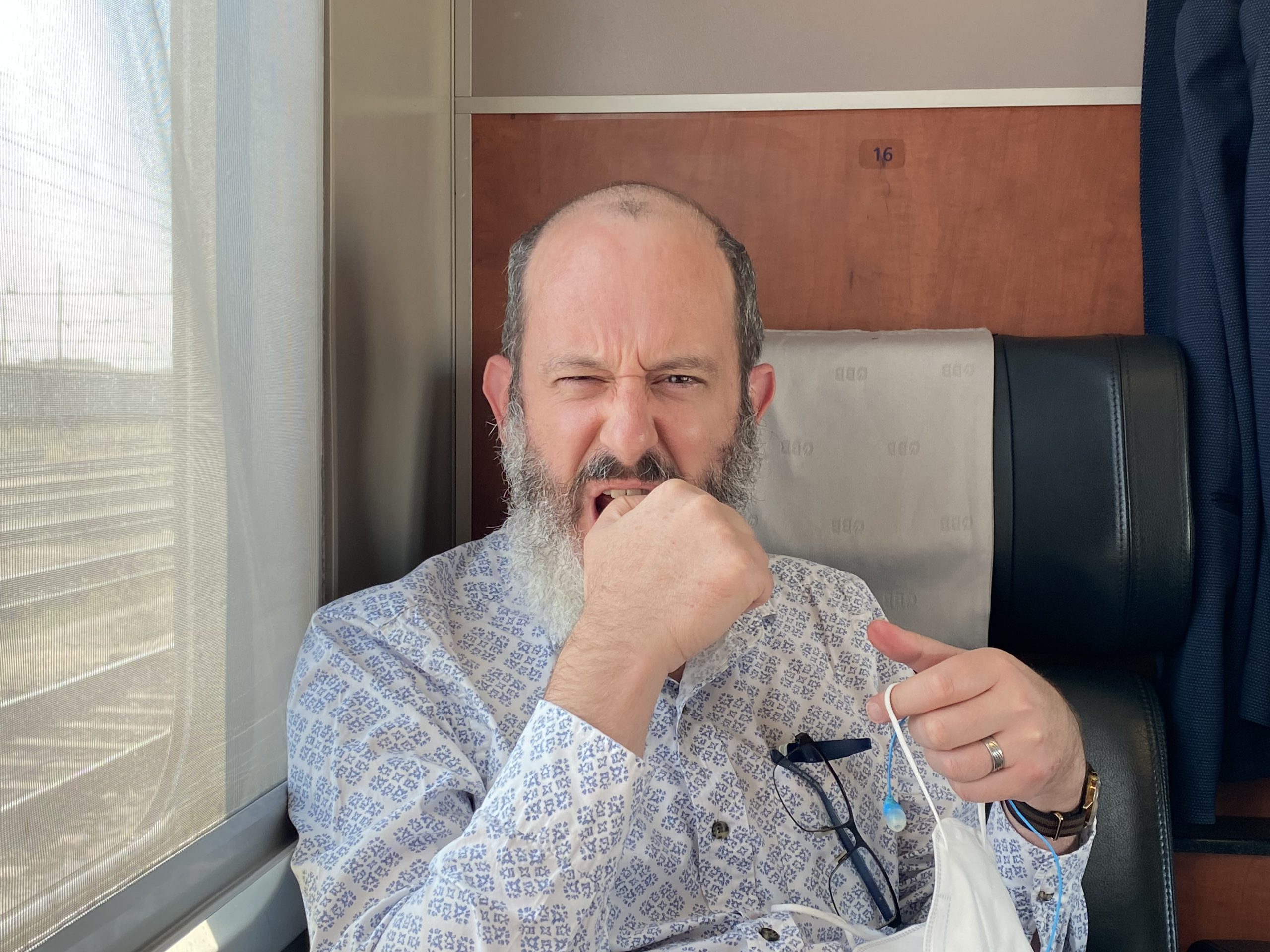 At Bologna we had to change trains for the short ride to Modena, our destination for the weekend. Modena is known for UNESCO World Heritage sites, balsamic vinegar, Enzo Ferrari, Luciano Pavarotti, and of course, a very special restaurant. We hauled our bags over to our hotel and the headed out into the city to explore.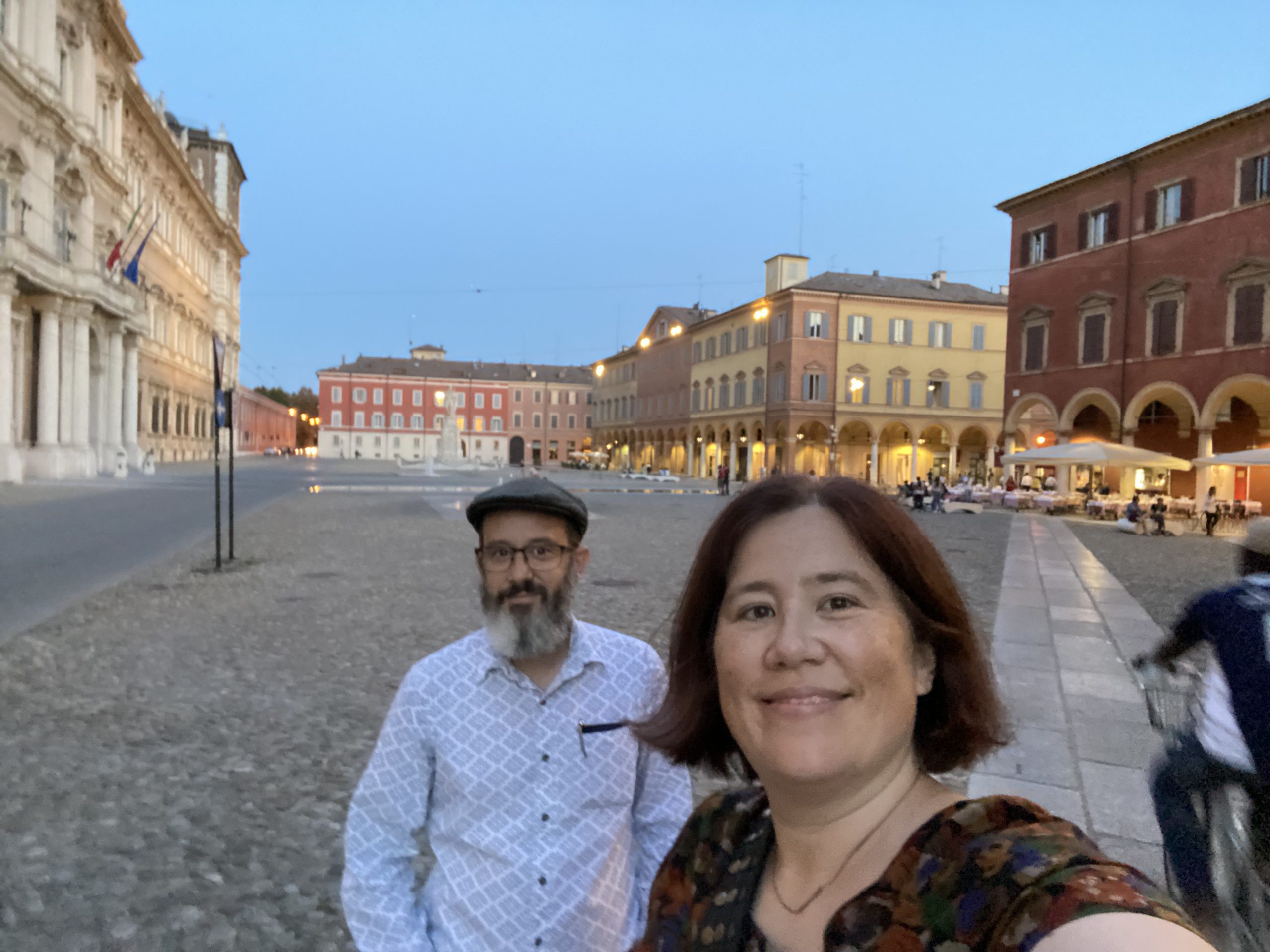 We got to Piazza Roma just as the sun was setting. The Ducal Palace runs down one side and has fountains out in front.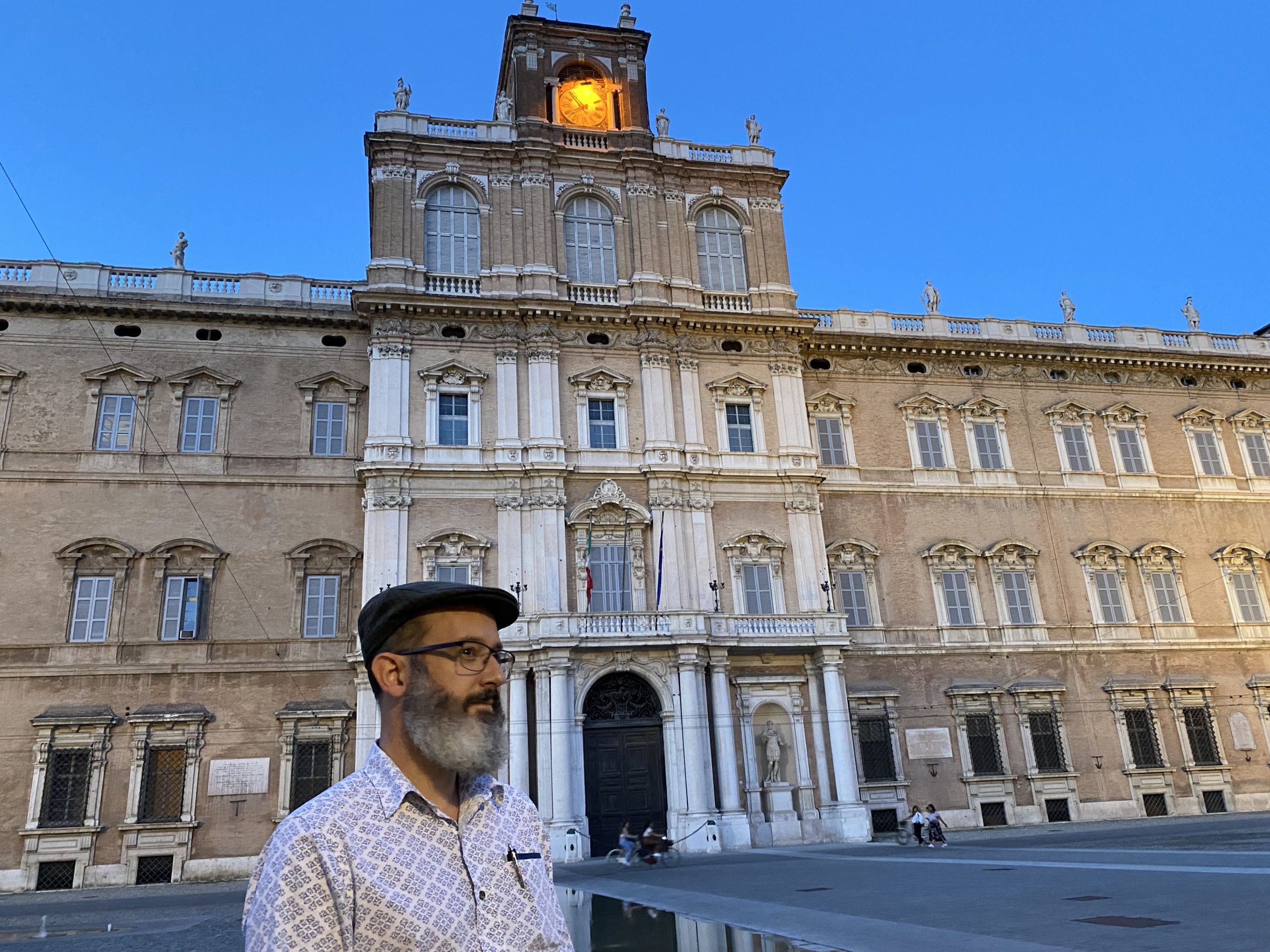 I'd found a promising place for dinner so we went for a wander through the cobbled streets of the historic center.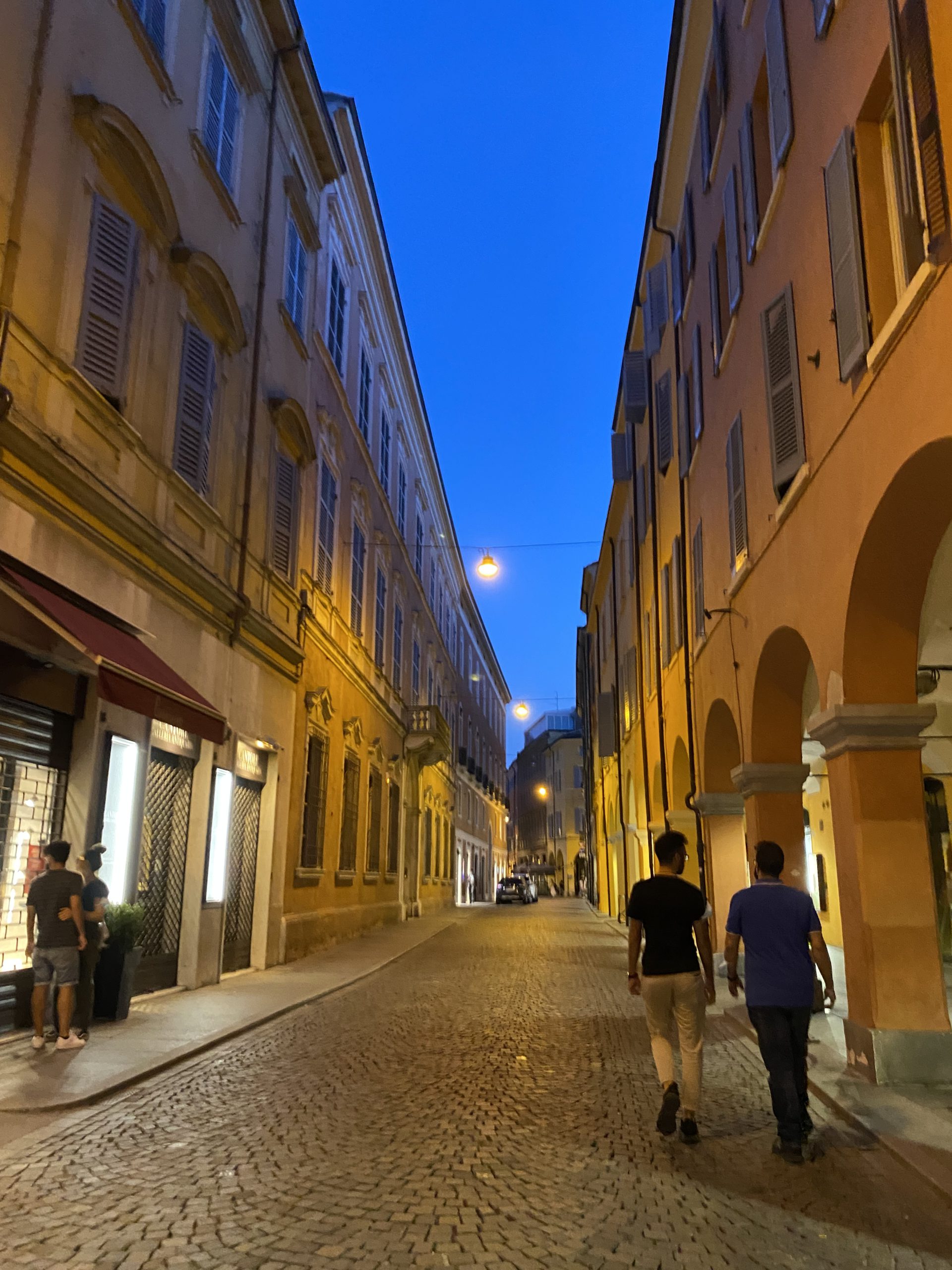 We headed to Sosta Emiliana, where we grabbed a small table outside. The restaurant specialised in local delicacies from Emilia-Romagna like tigella (Modenese flatbreads), meats and cheeses, and sparkling Lambrusco. We went with platters that meant we got to taste a bit of everything!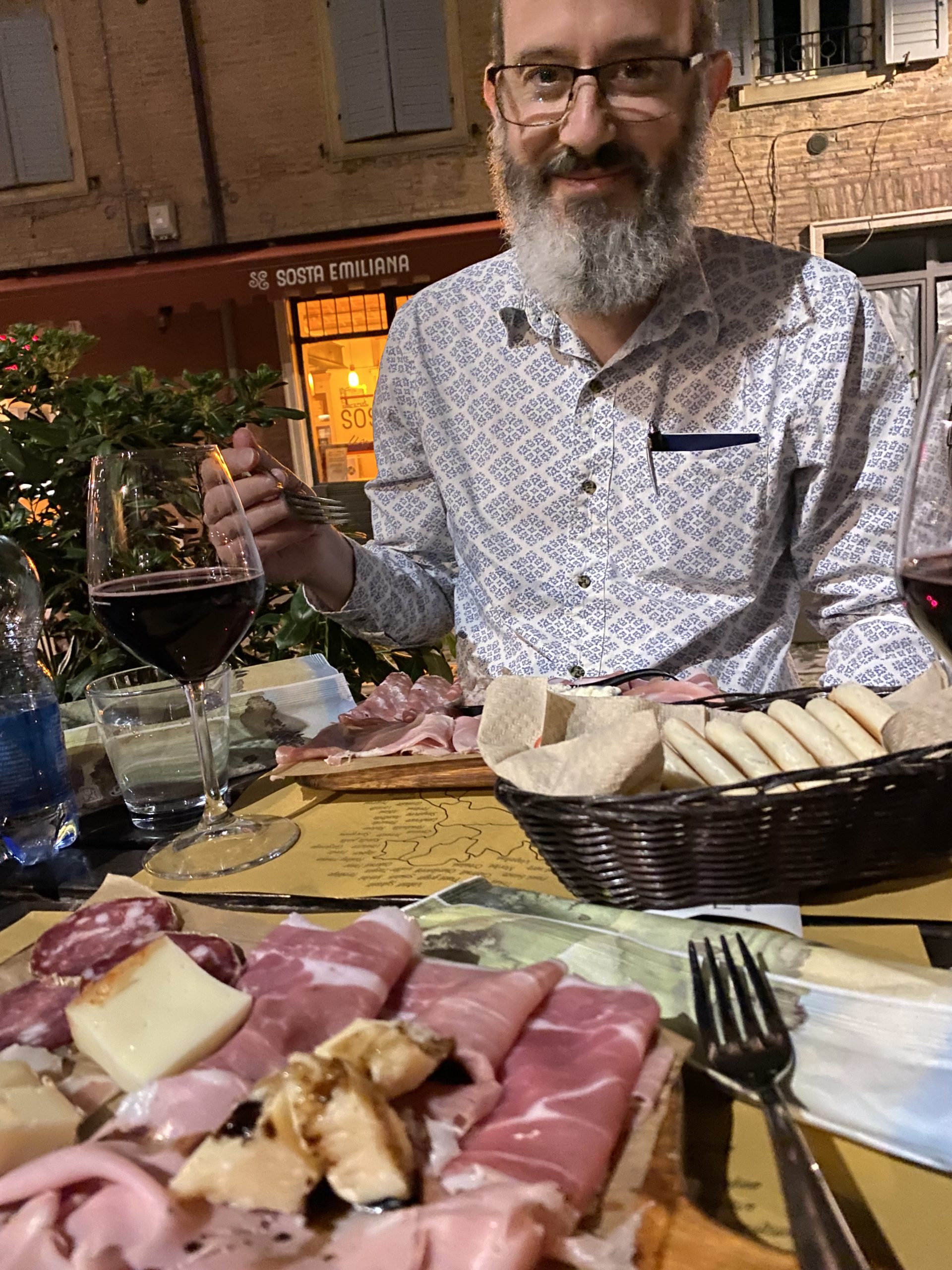 On our way back to the hotel we passed the Duomo di Modena (Modena Cathedral), a UNESCO World Heritage site. It looked very dramatic lit up against the night sky.
"Have we had too much Lambrusco or… is it leaning a bit?" we wondered. Definitely some funky angles going on there.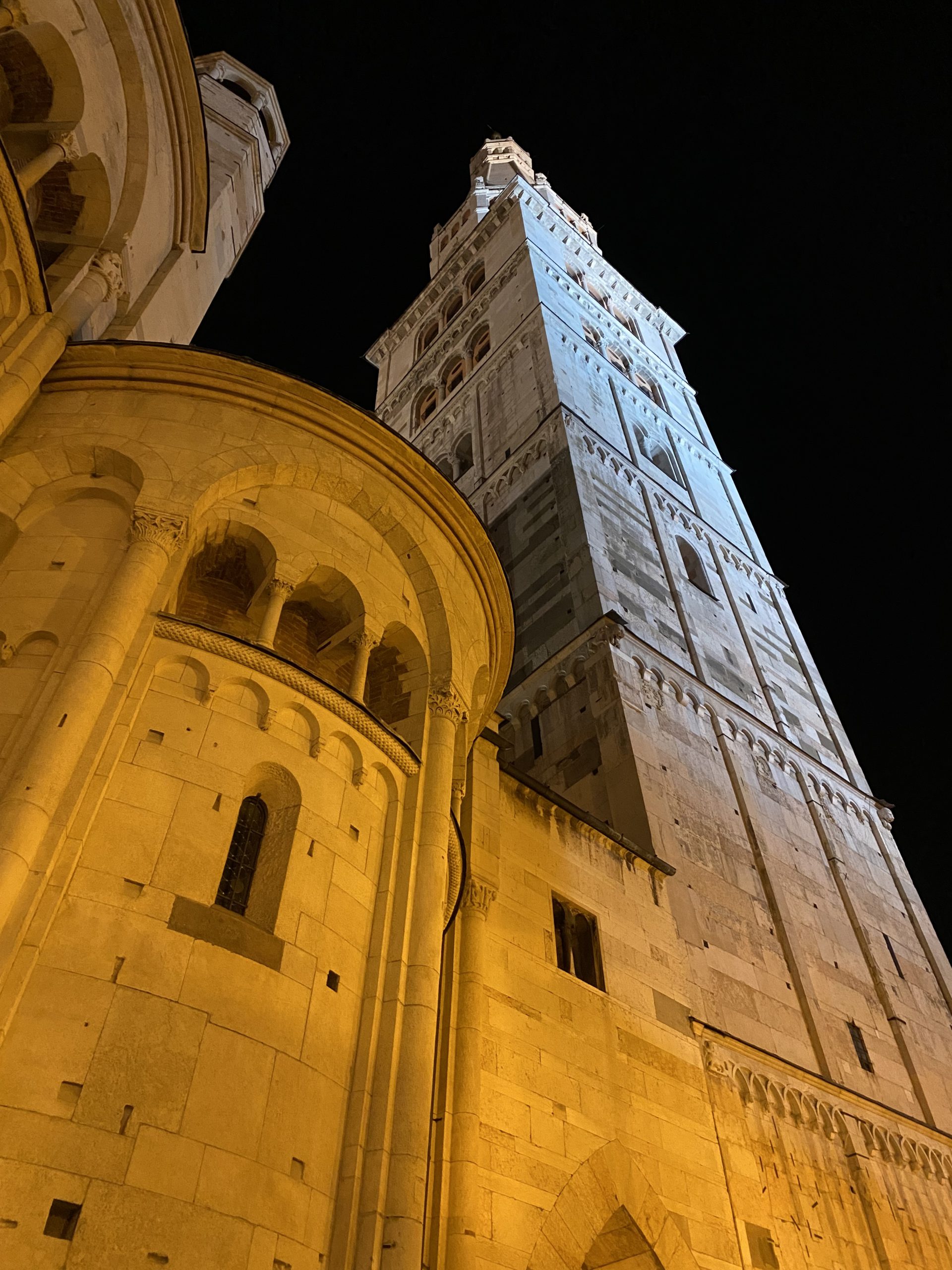 The next day the morning dawned hot and sunny. We had time to fill before our reservation, so we headed into the Parco Giardino Ducale Estense, the park that was formerly the gardens of the Ducal Palace. (As you can see, we dressed up a bit for our fancy lunch.)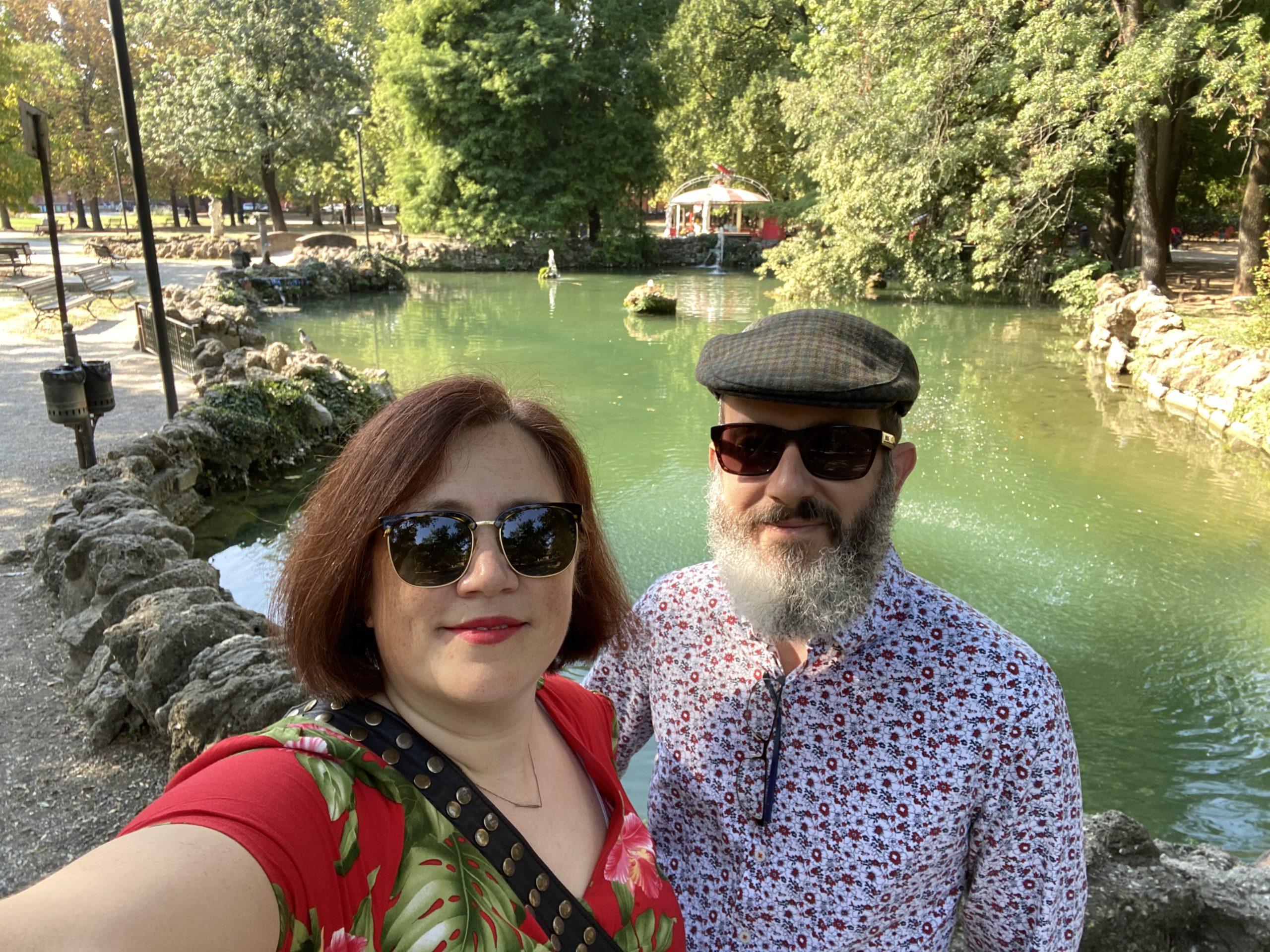 The old part of Modena is shaped almost like a pentagon so we went for a long stroll around it. This beautiful building on the Viale delle Rimembranze is actually a bank!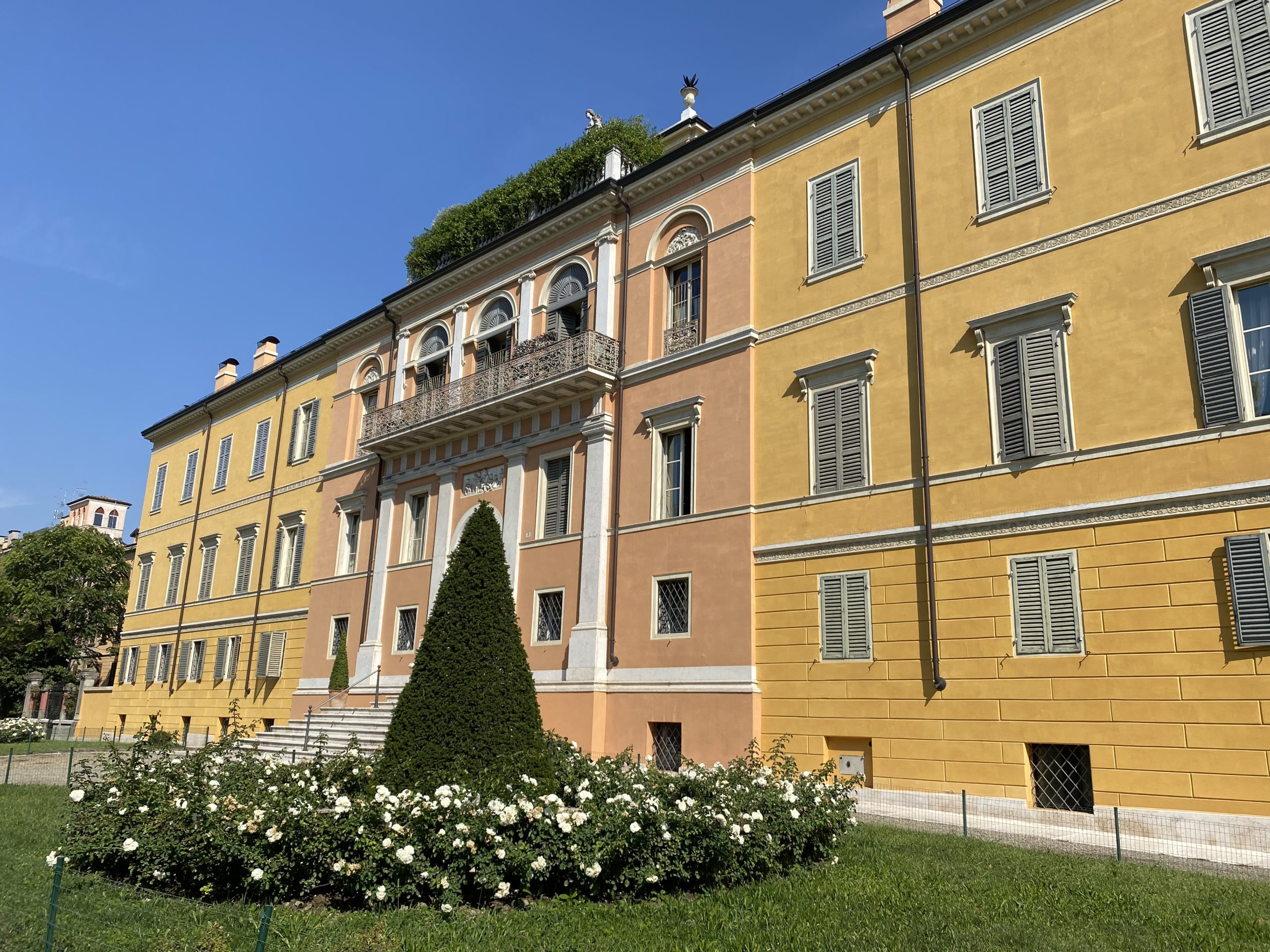 The Snook scoped out the local real estate prices.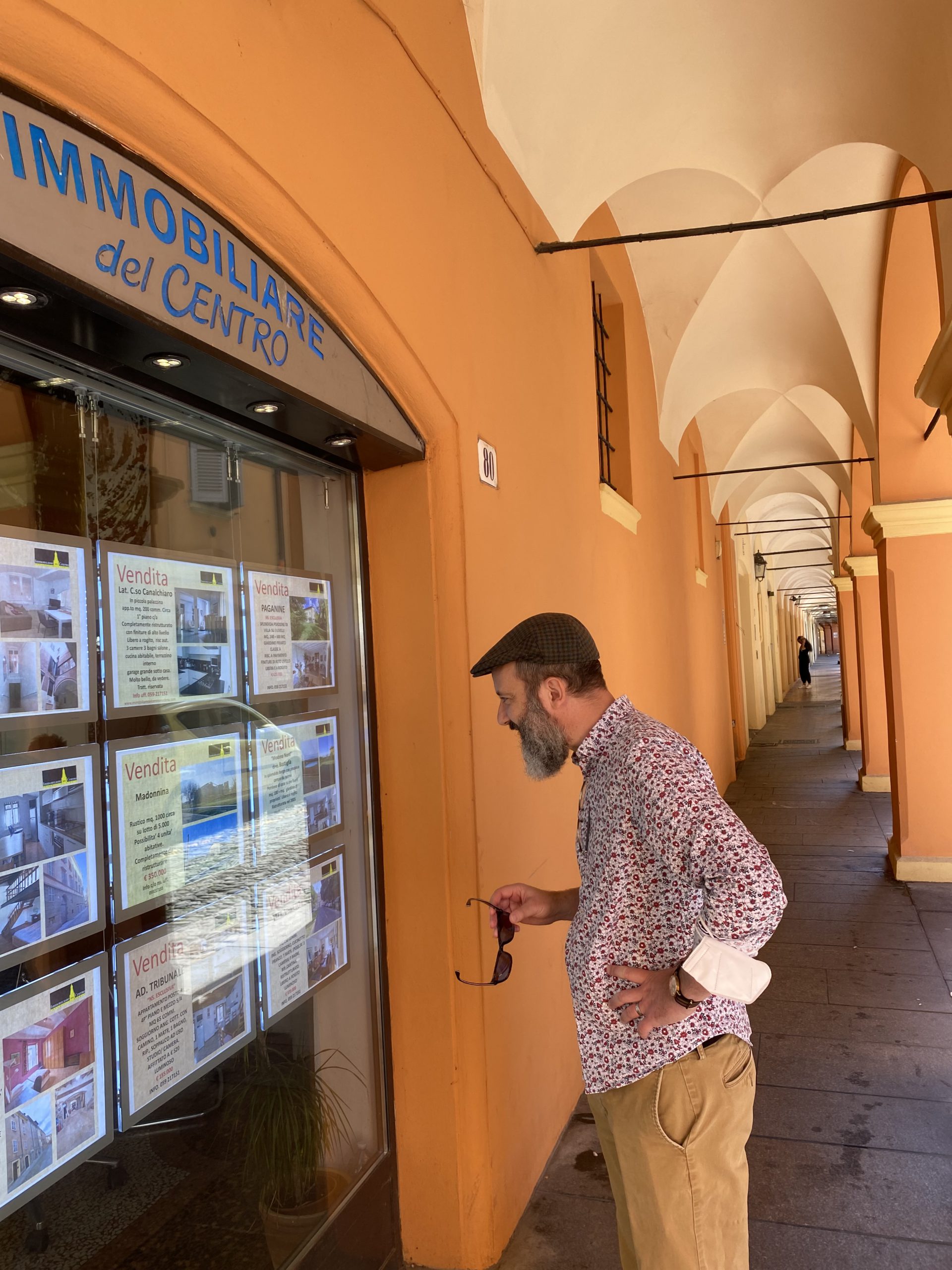 We also went back to the Cathedral and ventured inside. (It's where Pavarotti's funeral was held!) It's over 800 years old and features lots of different styles of carvings and embellishments. The stone lions next to the entrance date to the Roman times and were thought to have been found while digging the foundations. The Cathedral also features the burial site of St. Geminianus, the patron saint of Modena.
We'd worked up quite an appetite by this point, so it was time to go to lunch! The restaurant entrance is quite unassuming with only a tiny sign, and we probably would've walked right past if not for the small group of people waiting nearby. We spent the time taking photographs with some of the other guests and gawking at the Maseratis and Ferraris parked down the street.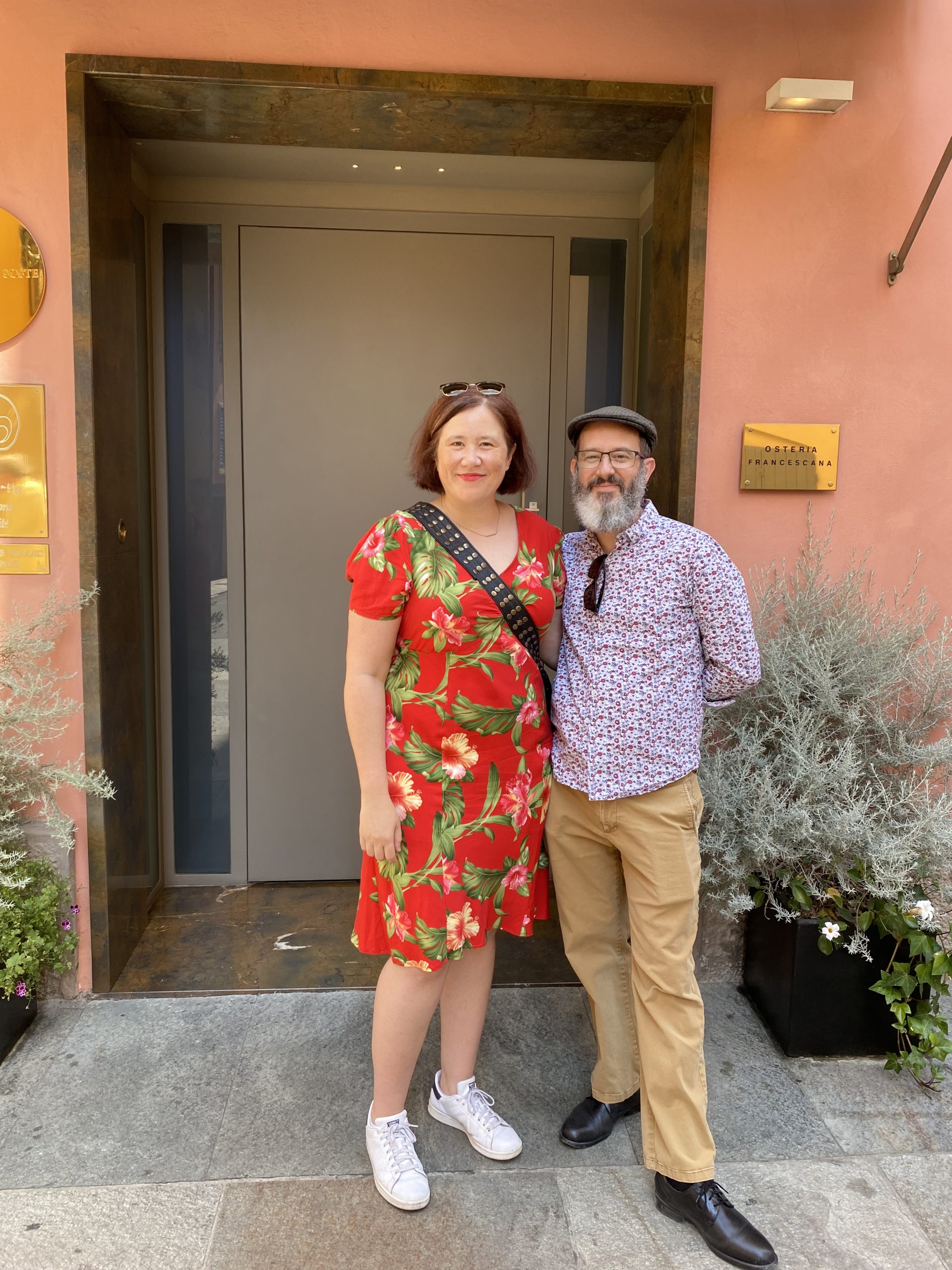 And then we were ushered inside!
Rather than a single big space, the restaurant had a few different rooms and we were in one with only four tables.  The walls were decorated with fine art and I felt a little daunted to be sitting there in a dress I'd sewn myself!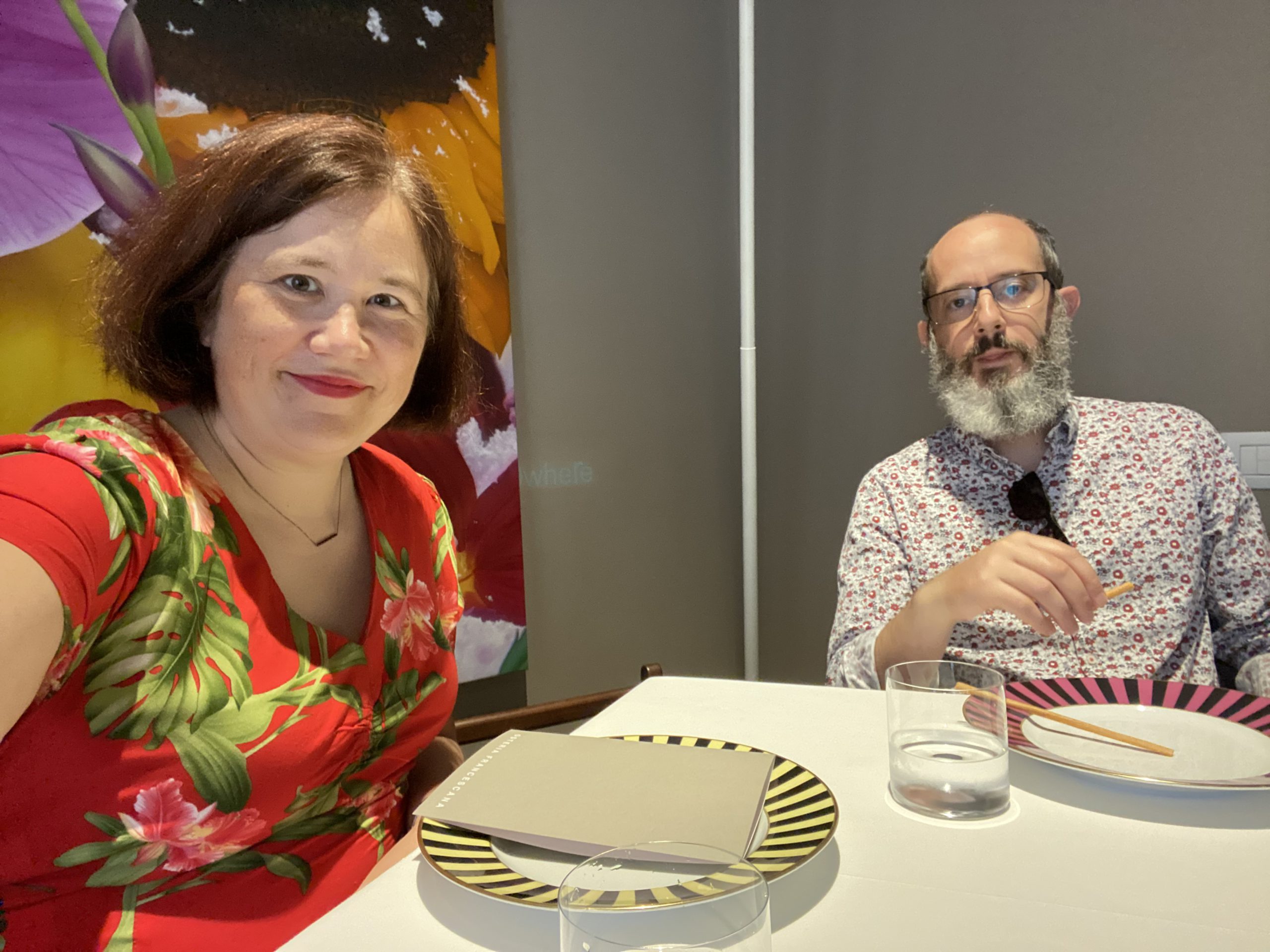 Buckle up, because you're about to get a LOT of food photos…
We nibbled on some really excellent grissini while we perused the menu…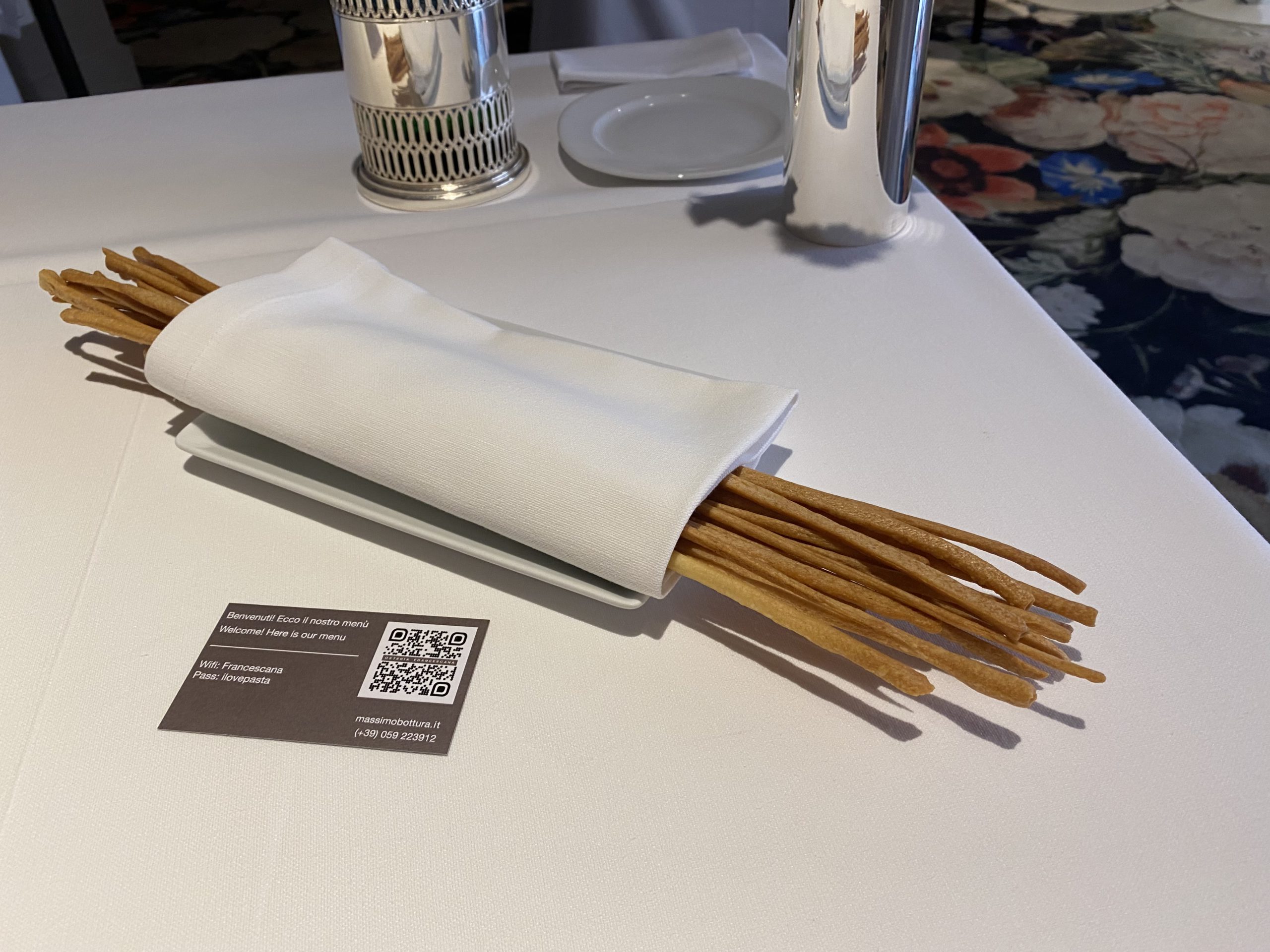 Rather than his usual menu, Massimo came back after the Covid lockdown with a totally new one inspired by Italian chefs over the last 50 years. (You can read about the development of the menu and his thoughts on each dish here.) Each dish was his variation on someone else's, and to be honest our lack of familiarity with those chefs probably meant that some of the cleverness went over our heads. We also opted for the matched wine pairing, of course.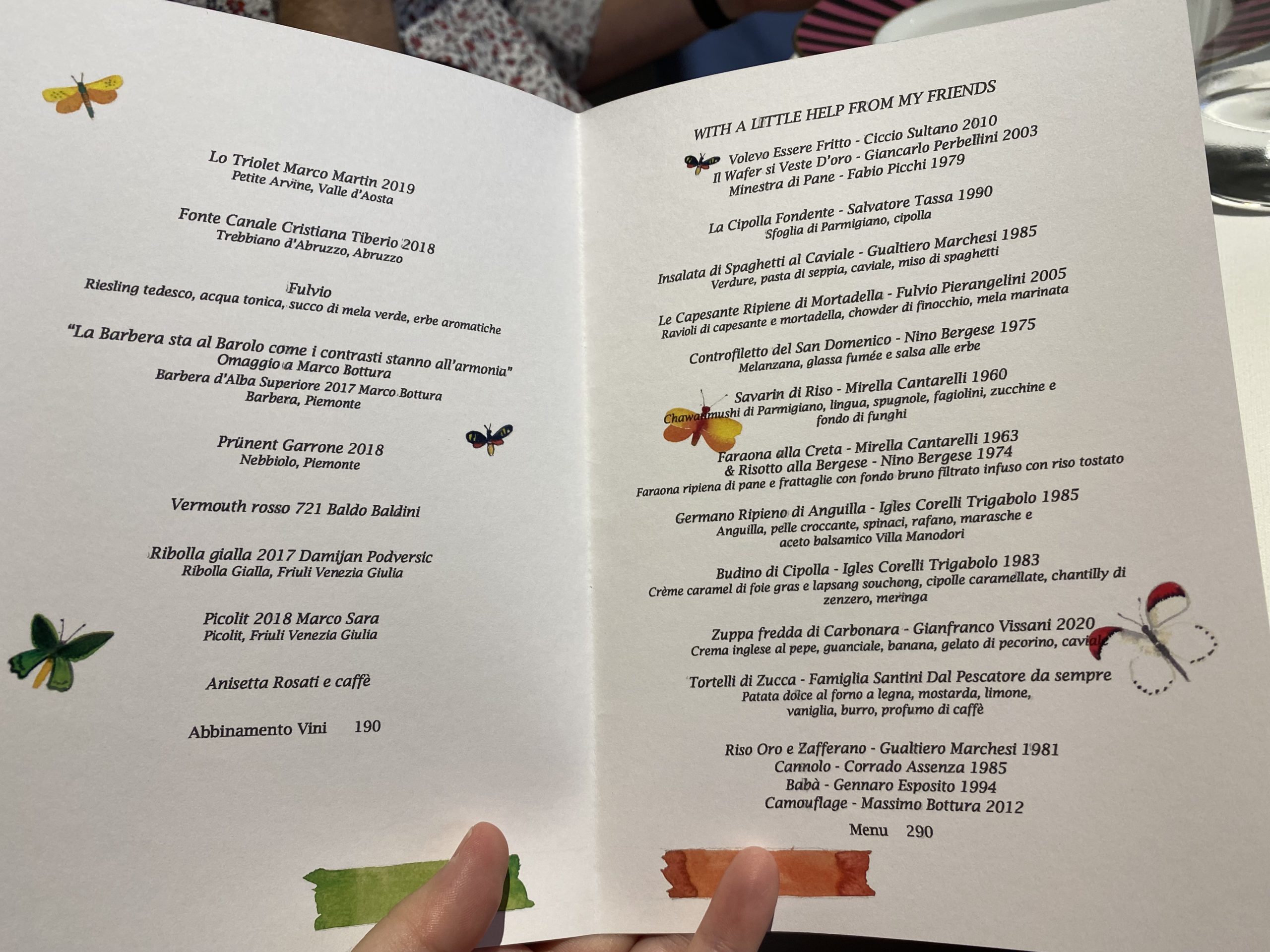 The first course consisted of three small bites. There was "Volevo Essere Fritto" ("I wanted to be fried") based on a dish from Ciccio Sultano – a bit of prawn in pastry with powdered prawn heads and sauce . "Il Wafer si Veste D'oro" ("The wafer is dressed in gold") based on a dish from Giancarlo Perbellini – wafers with ceviche. And "Minestra di Pane" ("Bread soup") based on a dish from Fabio Picchi. They really set the tone for the creativity and whimsy of the dishes to follow.
Next was one of my favourite dishes, inspired by "La Cipolla Fondente" ("The dark onion") by Salvatore Tassa. This was a salty, crunchy, chewy pastry rich with onion and Parmigiano. I could have eaten a lot more of this!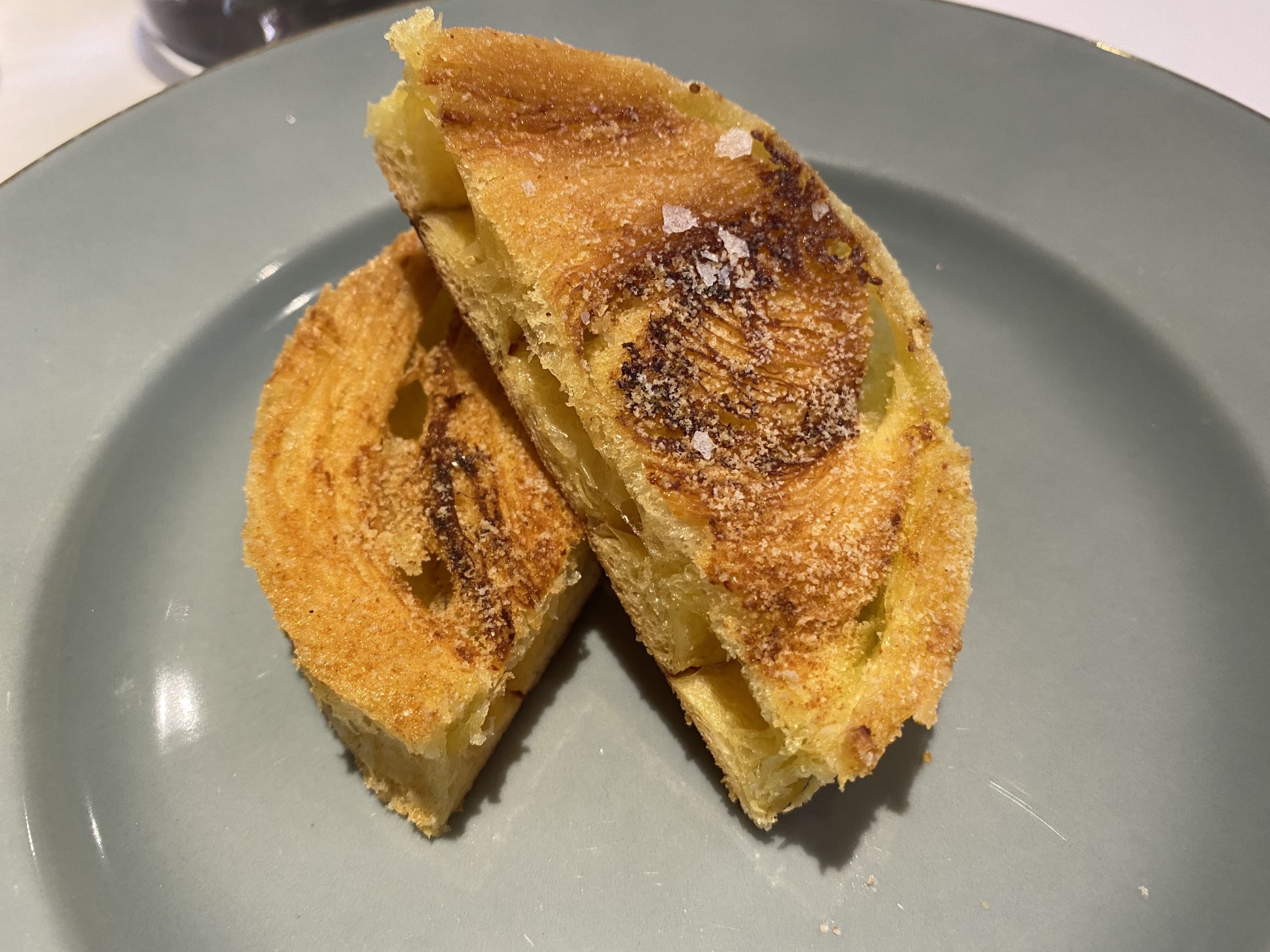 Next up was a very artistically presented dish inspired by "Insalata di Spaghetti al Caviale" ("Spaghetti salad with caviar") by Gualtiero Marchesi. The waiter pointed out the different vegetable "spaghetti" and cuttlefish, and that we should mix them together to eat with the miso underneath.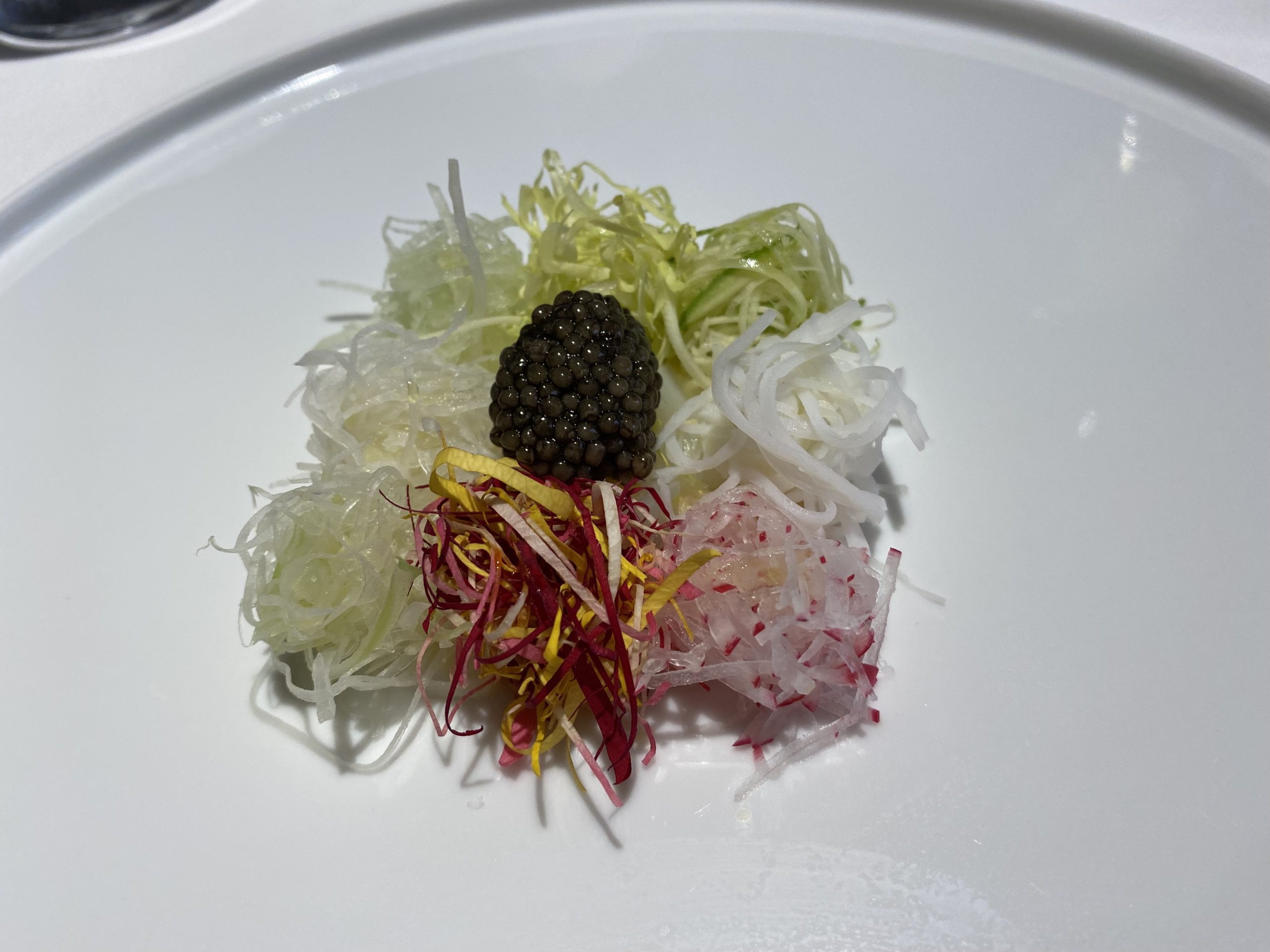 We'd had two wine pairings so far and they were both excellent. For the next course though we were given a cocktail: a "Fulvio" with German Riesling, tonic, green apple juice, and herbs. Very refreshing! (Fulvio is the name of the chef that inspired the next dish, so presumably it was named after him.)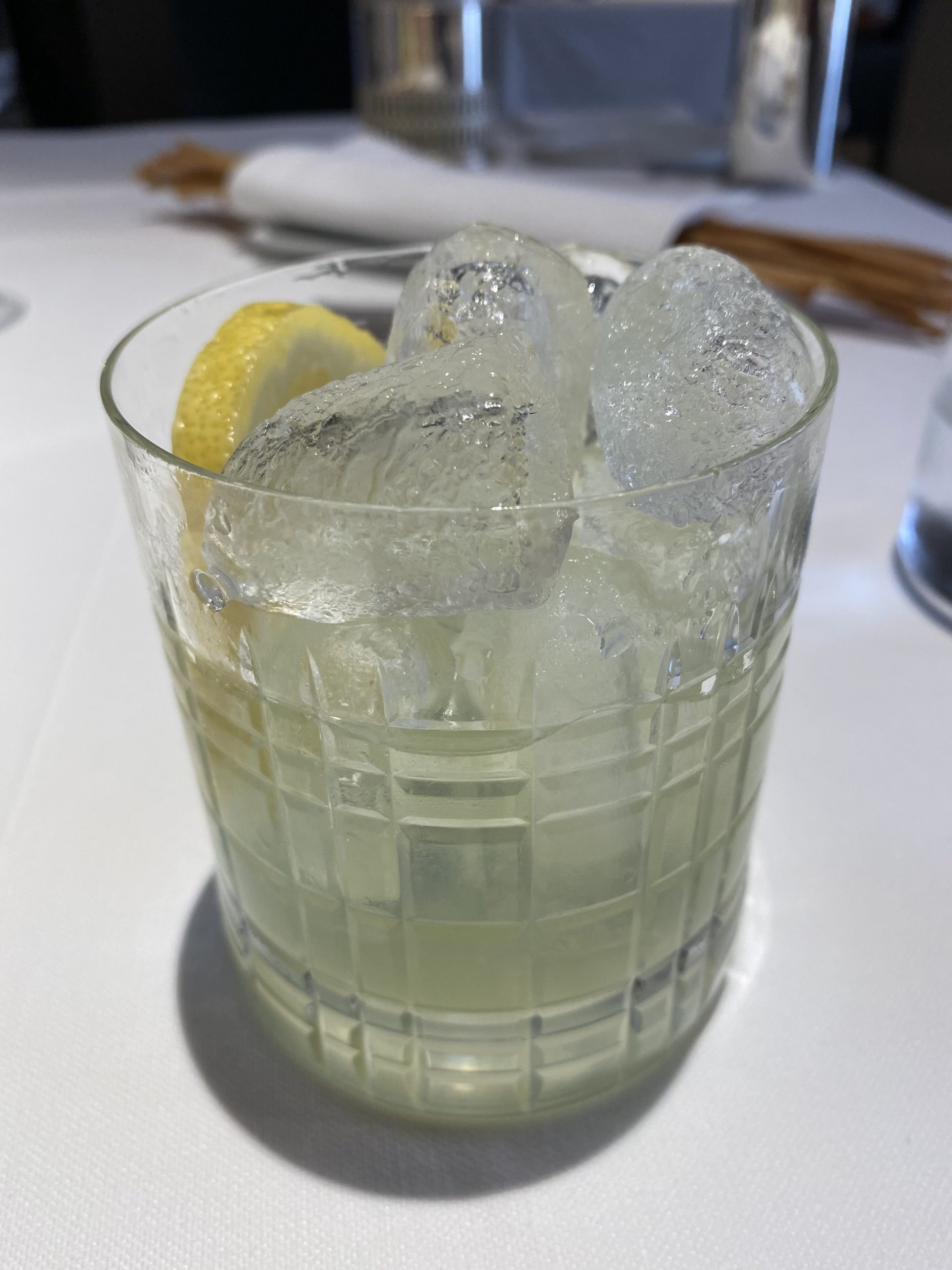 The next dish was inspired by "Capesante Ripiene di Mortadella" ("Stuffed scallops with mortadella") by Fulvio Pierangelini. I believe in the original the mortadella is inside the scallops, but here it's used as the pasta for the ravioli! The sauce was a chowder of fennel and apple.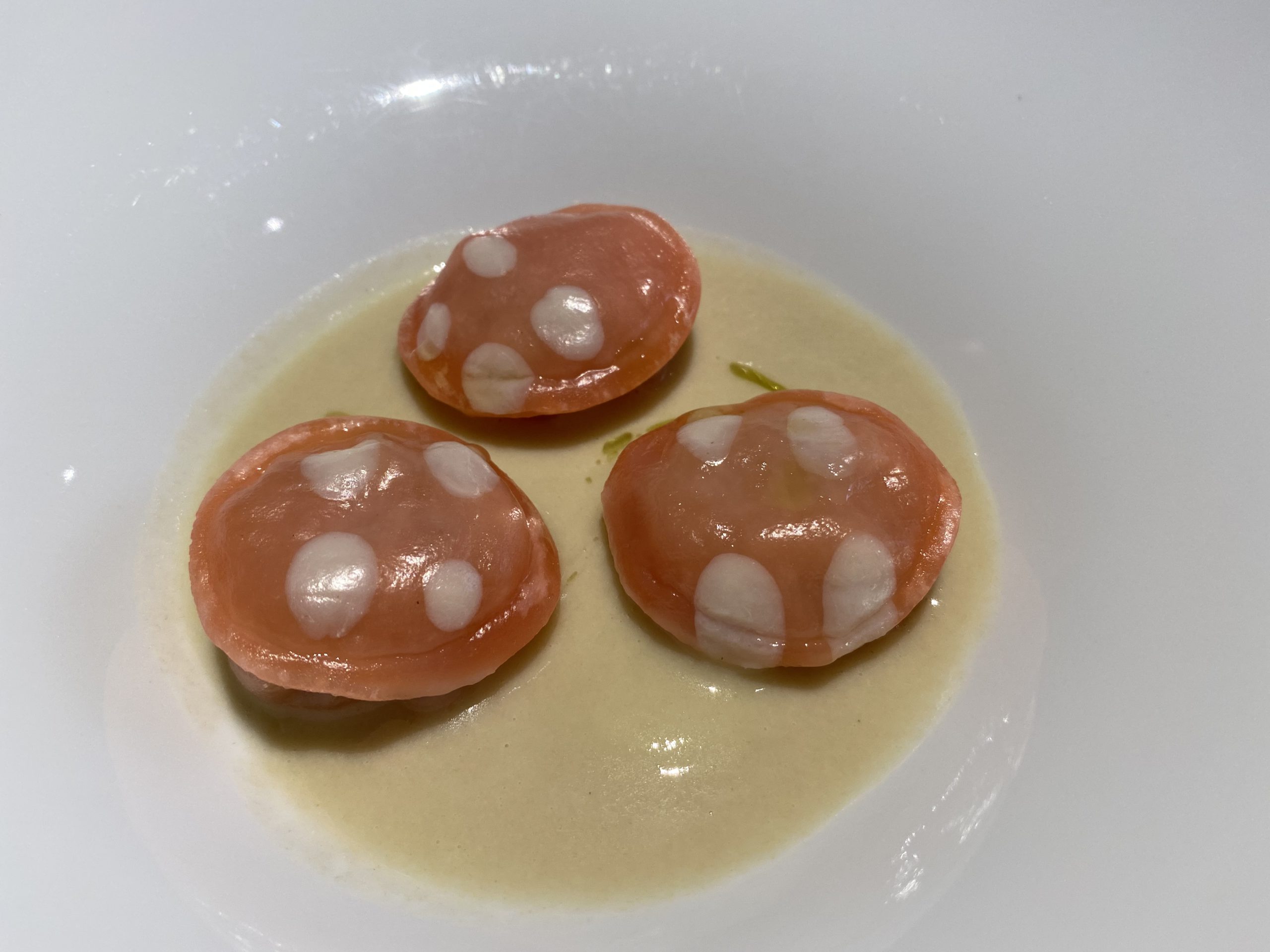 Next was a dish inspired by Nino Bergese's "Controfiletto del San Domenico" ("Sirloin of San Domenico"). Instead of a steak, a slice of eggplant has been smoked and glazed and served with an herb sauce.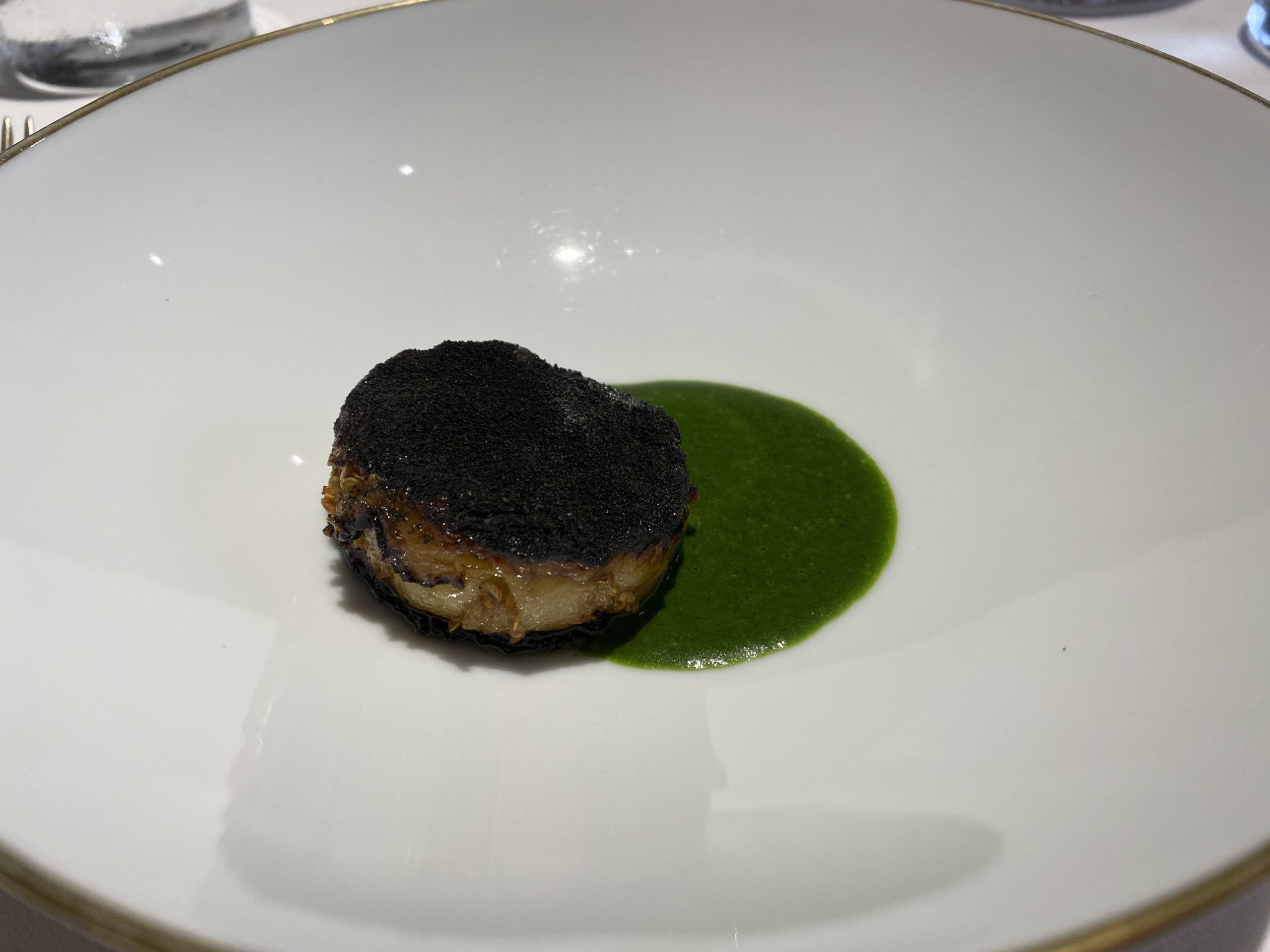 Next was a Japanese-flavoured dish inspired by "Savarin di Riso" ("Rice Savarin") by Mirella Cantarelli. This one is a really far cry from the original! Massimo's version became a Parmigiano chawanmushi with slices of tongue, vegetables, and a mushroom broth (added at the table). I've read other blog posts where people found the dish too mushroom-y, but I enjoyed it.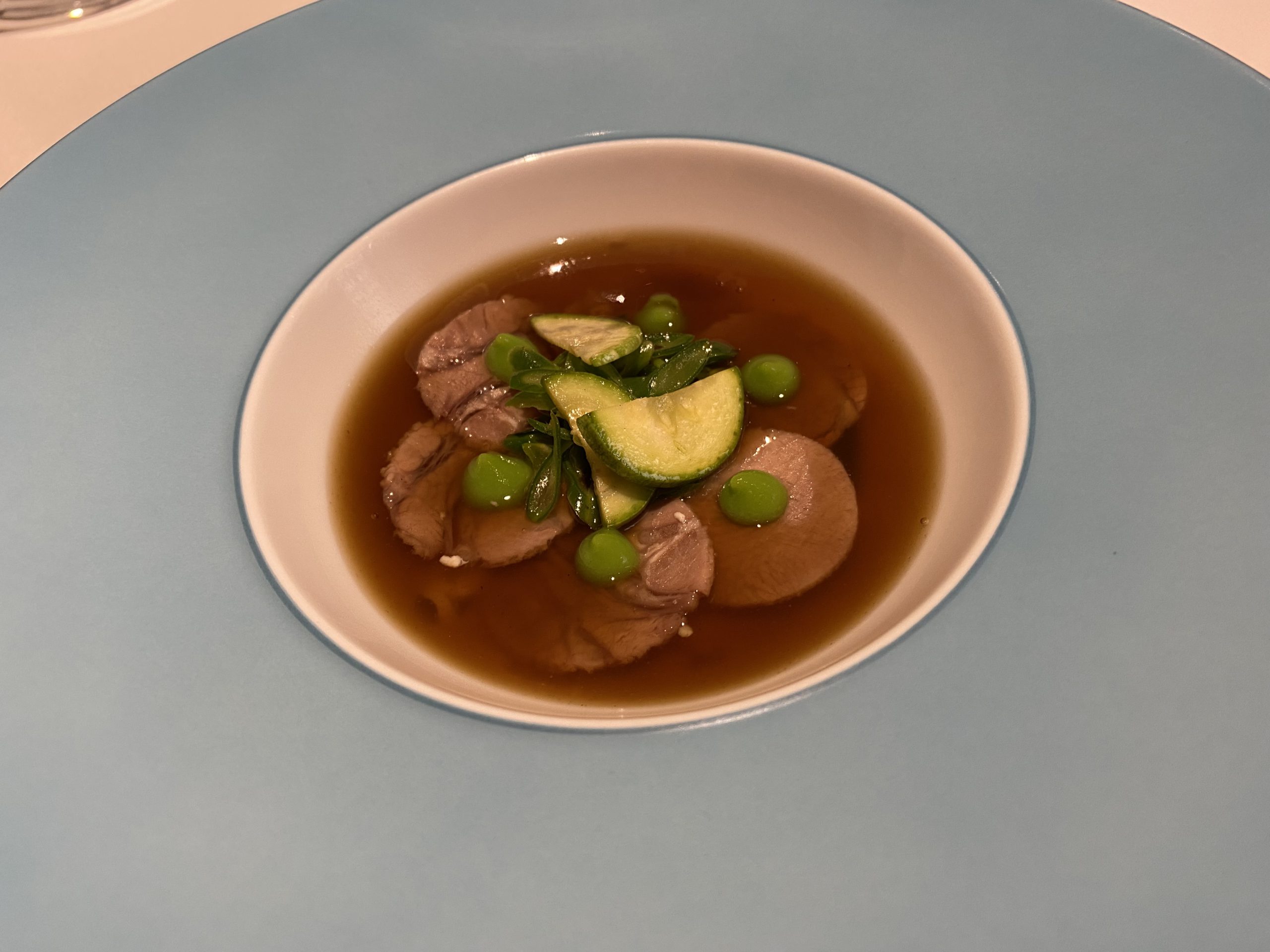 This dish was actually inspired by two others: Mirella Cantarelli's "Faraona alla Creta" ("Crete-style guinea fowl") and Nino Bergese's "Risotto alla Bergese" ("Bergese risotto"). The guinea fowl was stuffed with bread and offal, and the sauce was made with toasted rice. We were encouraged to try the meat with each of the three accompaniments to the right and to sop up the sauce with that amazing bread.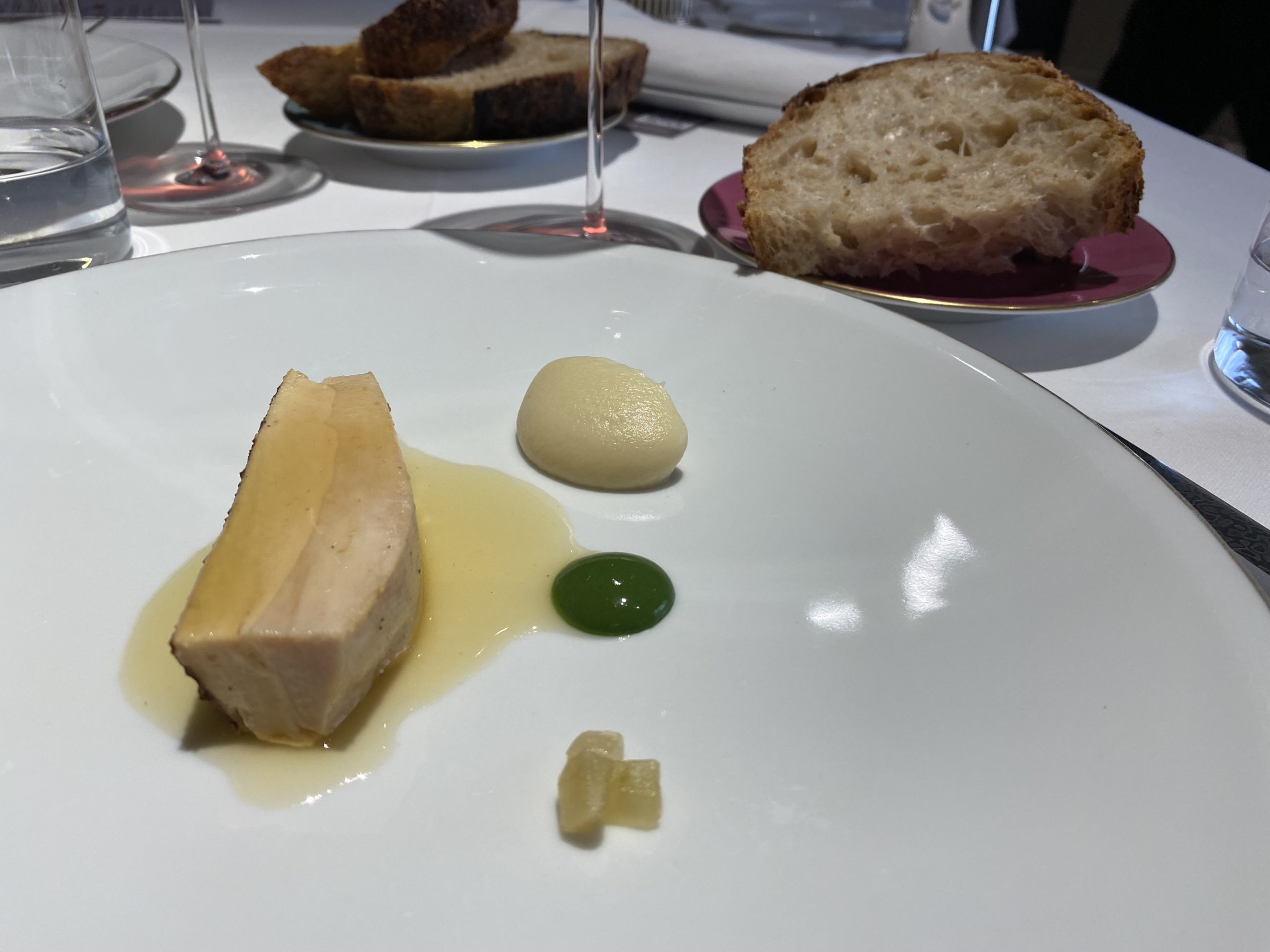 Judging by the timestamps on my phone, this was about the point where we looked up and realised that Massimo himself was standing in front of us! He was clearly going around to each table to say a short hello. I blurted out that I had seen him speak in Sydney a few years ago and his face lit up. He spoke about how much he loved visiting Australia, and how he still had a picture from that trip up in his office. He ended up speaking to us for a few minutes, and though I was too starstruck to ask him for a photo, I was really happy that I'd been able to prompt that fond memory for him!
The next meat course was inspired by "Germano Ripieno di Anguilla" ("Mallard stuffed with eel") by Igles Corelli. It turned into a perfect little piece of eel layered between spinach and crispy duck skin, served with some very intense sauces made with cherries and balsamic vinegar.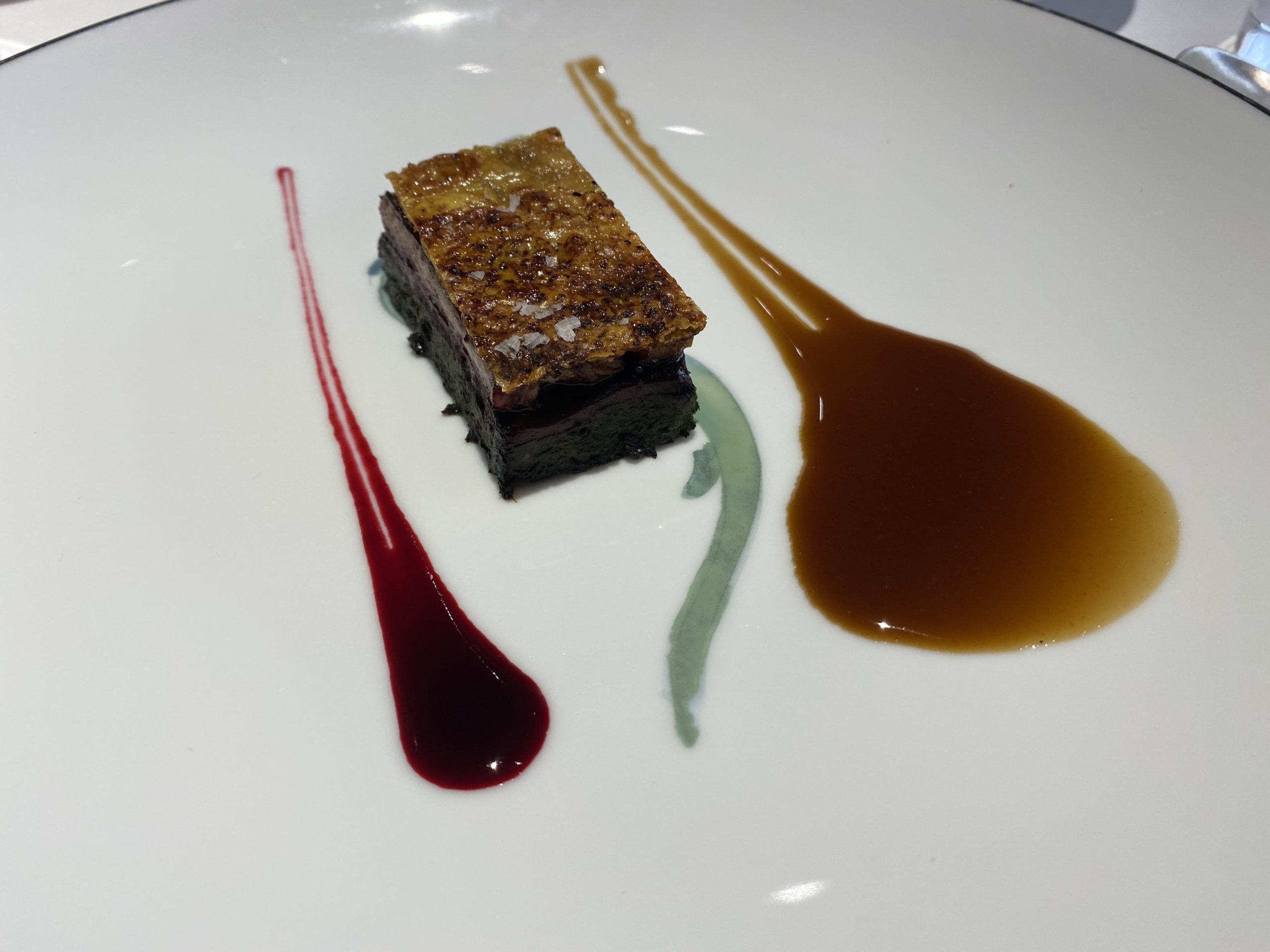 The next dish began the transition from savoury to sweet with a very clever take on Igles Correli's "Budino di Cipolla" ("Onion pudding"). It was a creme caramel of foie gras with vanilla, burnt onion, ginger, and chantilly cream, with a sweet meringue on top. The tiny intense bits along the side call out the flavour highlights of the dish. I loved the surprise of this one, and how it wasn't like anything I'd ever eaten before. (I think these are the same plates they normally serve Massimo's famous "Oops I Dropped the Lemon Tart" dessert on.)
The wine pairing was quite generous – 9 small pours spread across 12 courses. I believe here you can see me finishing off the 2017 Damijan Podversic Ribolla Gialla, with the final 2018 Marco Sara Picolit waiting beyond.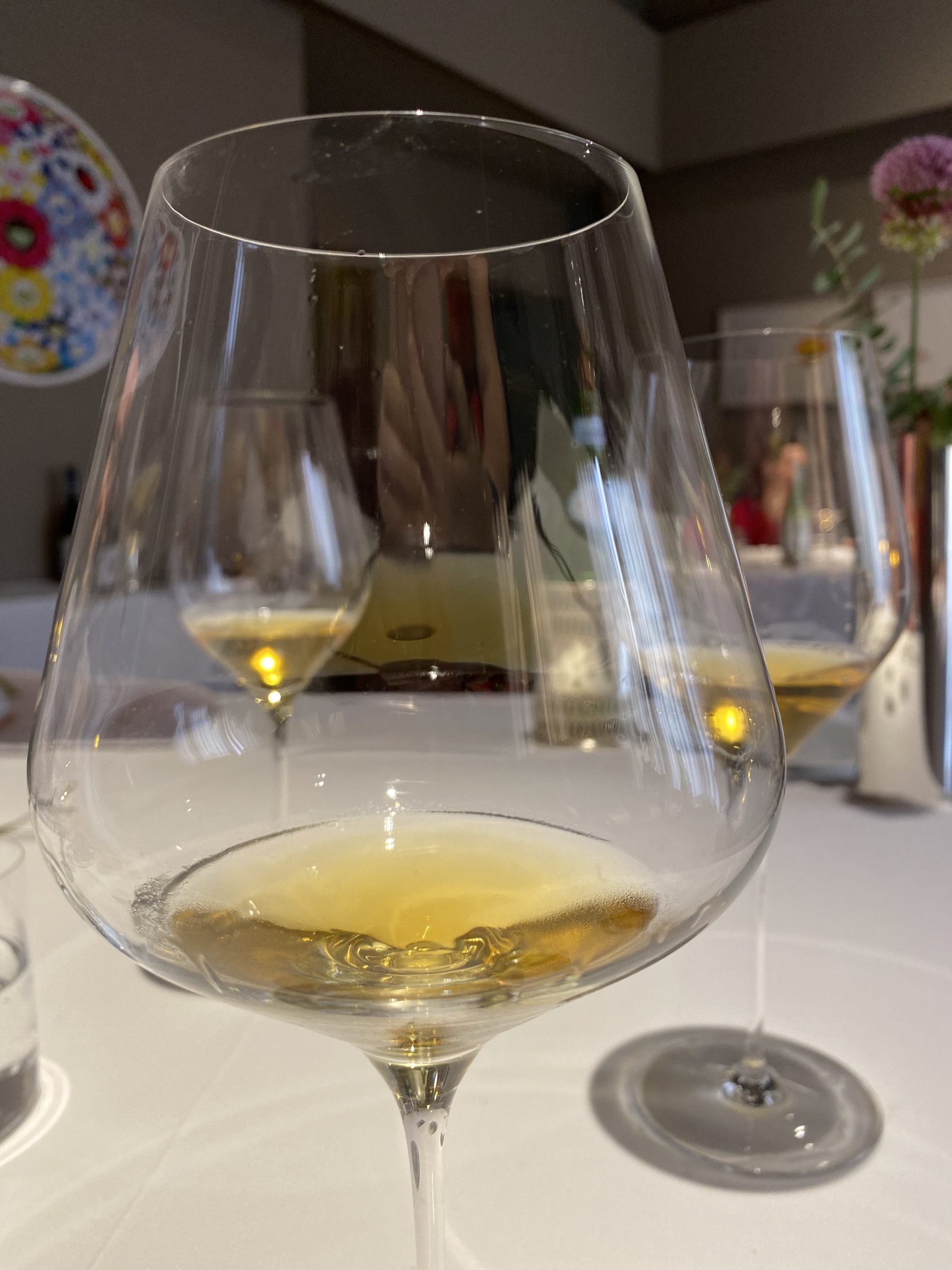 To me, this next one was really the highlight dish of the whole meal and  shows off the incredible creativity of the chef. It's inspired by Gianfranco Vissani's "Zuppa fredda di Carbonara" ("Cold carbonara soup"). Imagine the best spaghetti carbonara… but as a dessert. Once you smash the cone you discover pecorino ice cream, banana custard, bacon (actually guanciale), caviar, and black pepper. You wouldn't think that would work, but it really did!
The final drink of the night was a digestiv: Anisetta Rosati (anise liqueur) with coffee.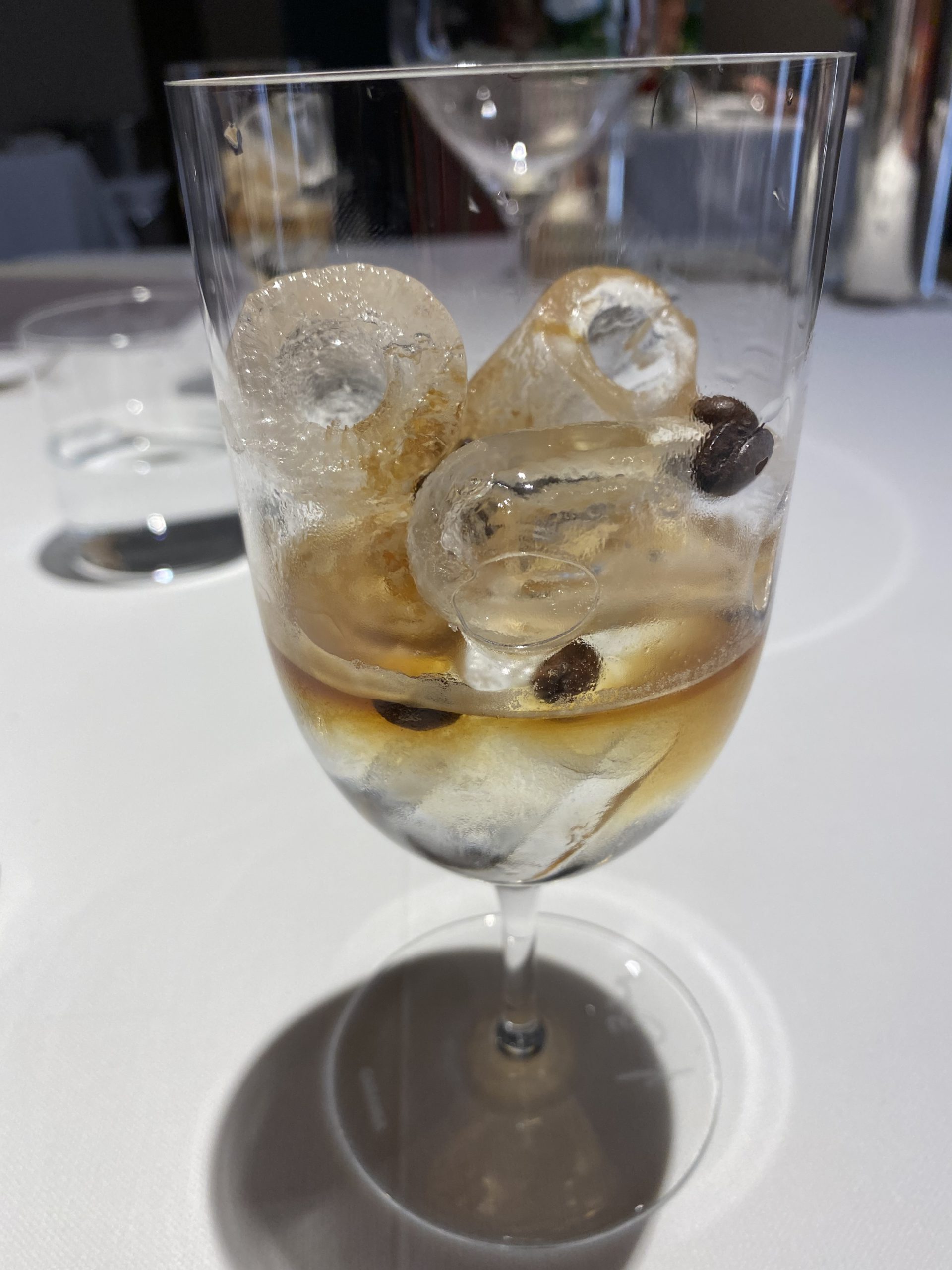 Our last dessert was inspired by the Santinis' "Tortelli di Zucca" ("pumpkin tortelli"). Instead of pumpkin, this little parcel was filled with roasted sweet potato with vanilla, lemon, and butter. The waiter actually had an atomiser and sprayed over it a coffee-scented mist. A bit pretentious, but still silly fun.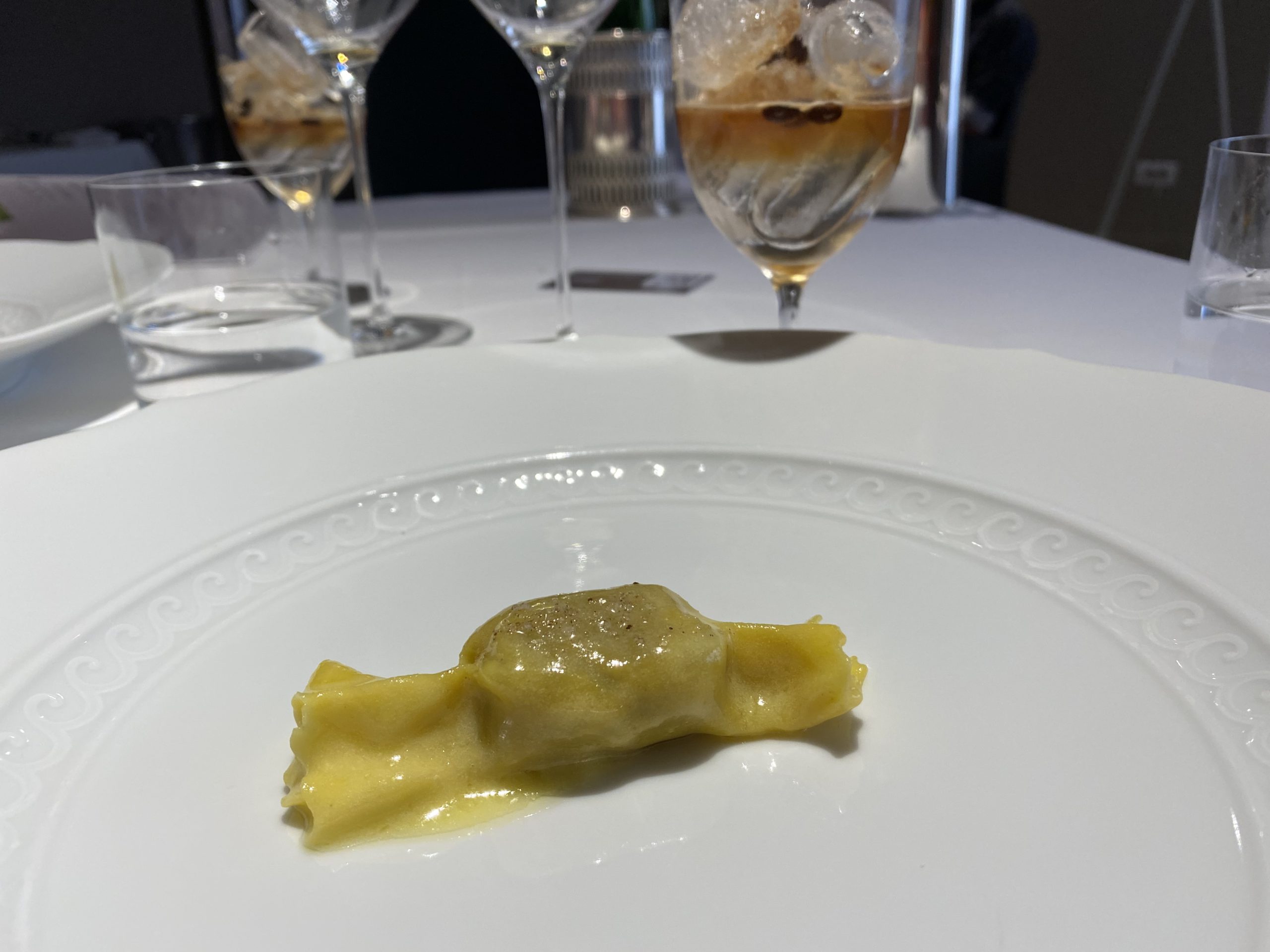 The meal finished with a selection of petit fours based on Gennaro Esposito's "Babà," Corrado Assenza's "Cannolo," and Gualtiero Marchesi's "Riso oro e zafferano." The very last truffle was inspired by Bottura's own famous "Camouflage" dish.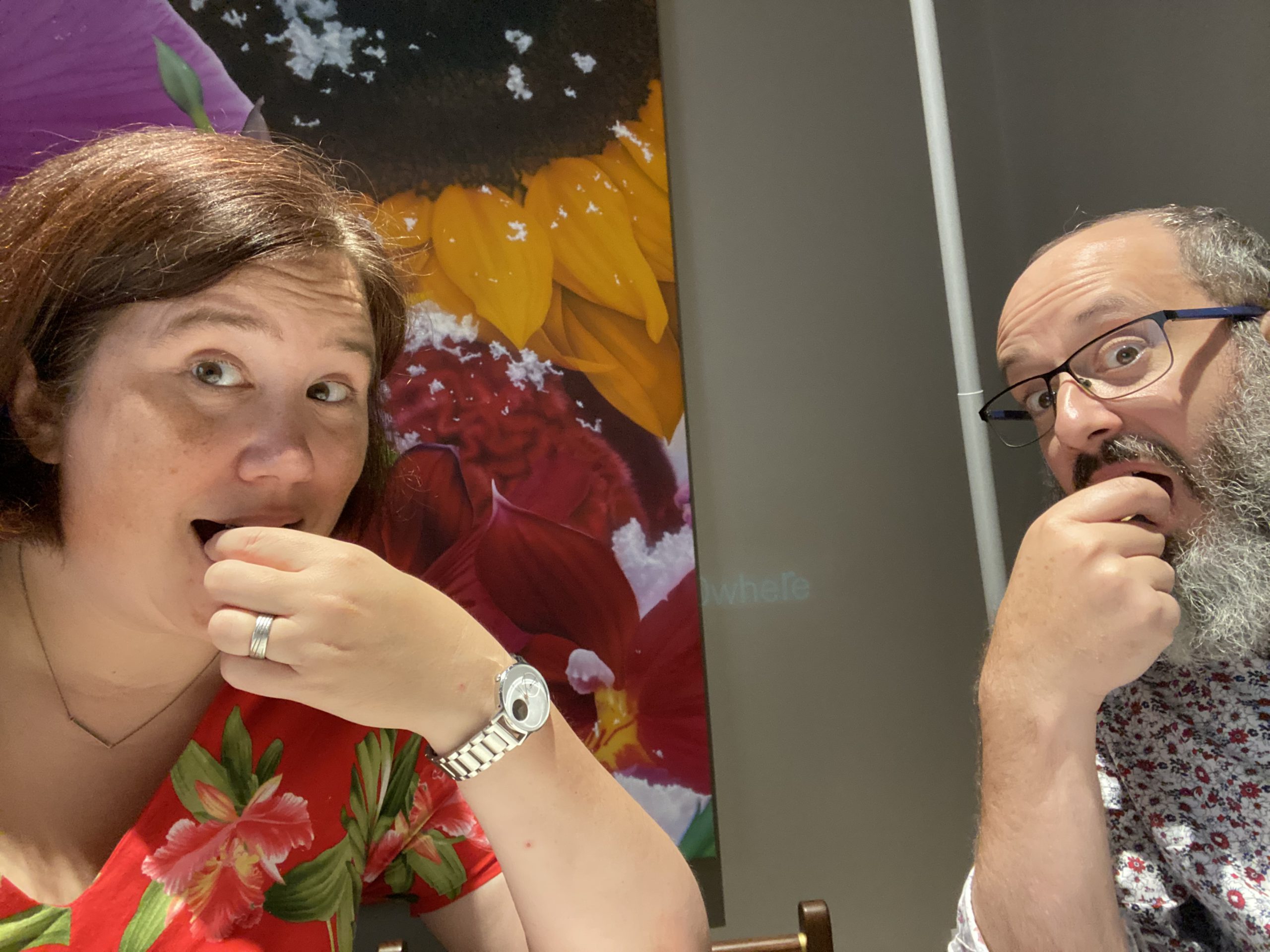 Overall verdict: I can see why this restaurant is so awarded, and the skill of the chef and his team were evident. That said, it's not my favourite type of meal. It was like a fine art gallery, and I can appreciate the artistry involved. But I do think we probably missed out on some of the cleverness of the menu (not being familiar with the Italian chefs Massimo was quoting/reinterpreting), and the formality of the waitstaff made the experience feel more pretentious than it needed to be. In Australia service tends to be a bit more casual, even at fancy restaurants. I'd much rather have a chef leaning over the bar at Momofuku Seibo to explain the dish to me than a rotating team of waiters intoning "Chef has prepared this for you…" Maybe part of it was the language barrier? It was still excellent; just a bit more stiff that we're used to. And even though we were there for three hours, the amount of food and drink was just right (and it didn't feel like an overstuffed death march like The Fat Duck did). As we left, we were charmed when they presented us with a small gift bottle of Massimo's own Balsamic vinegar. Overall not a bad way to spend an afternoon!
We retreated back to our hotel to rest, cool off, and digest for several hours. That evening we ventured out to explore the city some more and have a (small!) late dinner…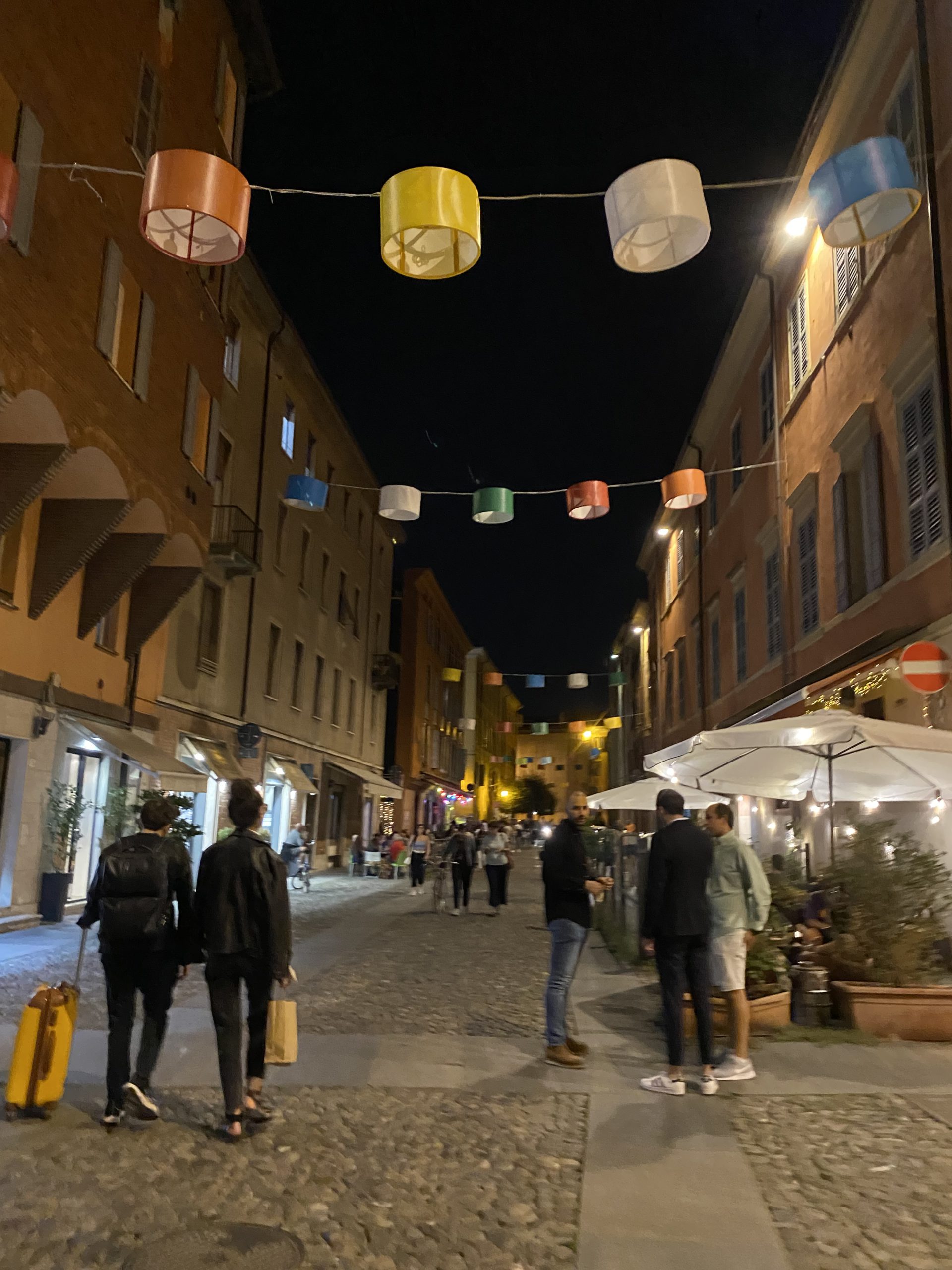 We ended up sitting outside at Birrlandina enjoying some local craft beers and burgers.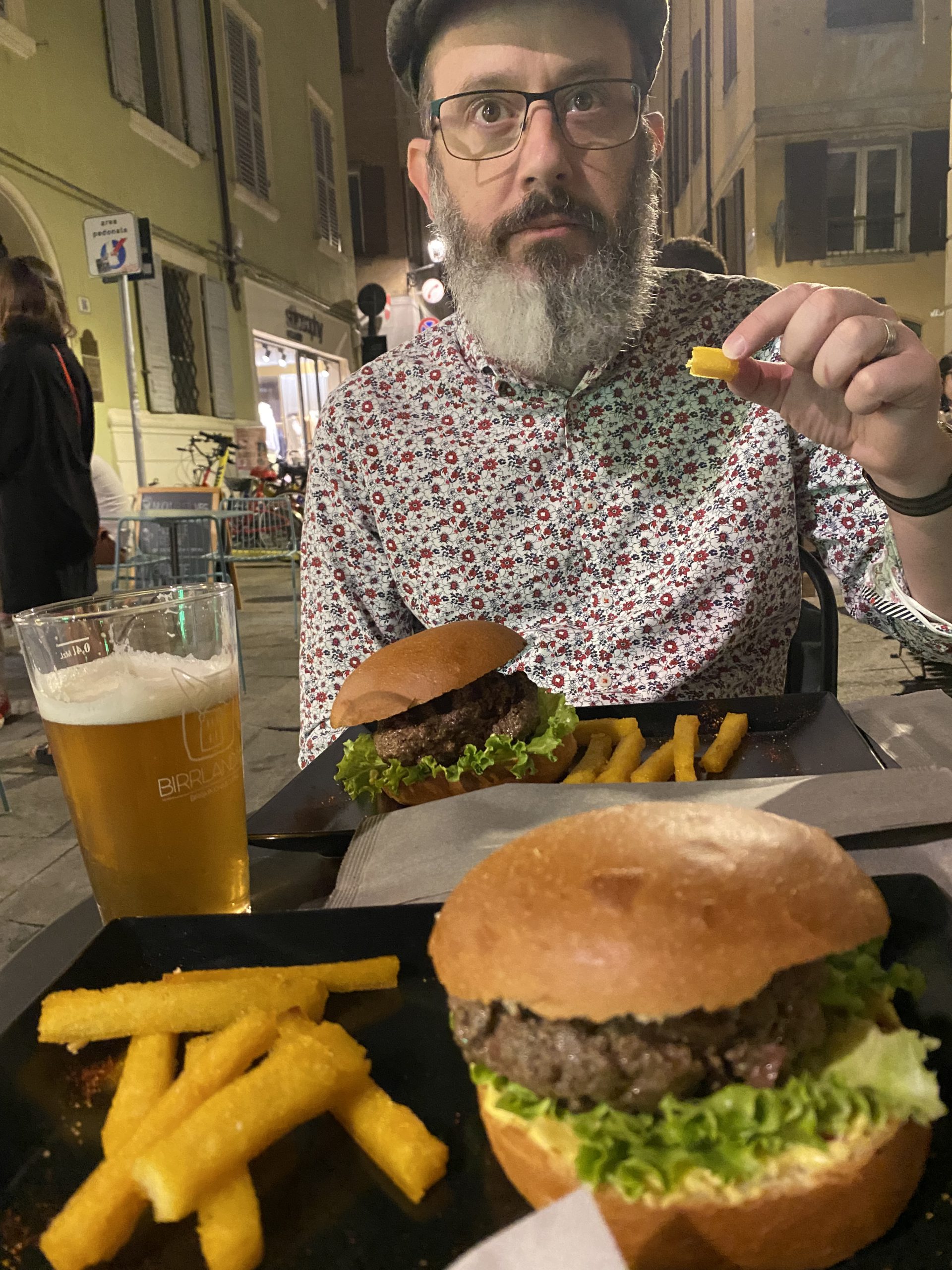 The next morning I had booked us in for a Modena walking food tour which set off early near the Duomo. We were a small group – a few couples and an American uni student – and our leader was Caterina, a local woman. While we stood near the cathedral I took the opportunity ask her why it looked like it was leaning. Turns out it's not an optical illusion – parts of it really are tilted! It's because the cathedral was built over many years and the ground continued to settle throughout.
Our first stop was Bar Tiffany for a traditional Modanese breakfast – gnocco fritto and cappucino. Gnocco fritto are pillows of fried bread, and to my surprise they were salty instead of sweet.
Thus fortified, we headed for our next stop – the famous Mercato Albinelli (the local market).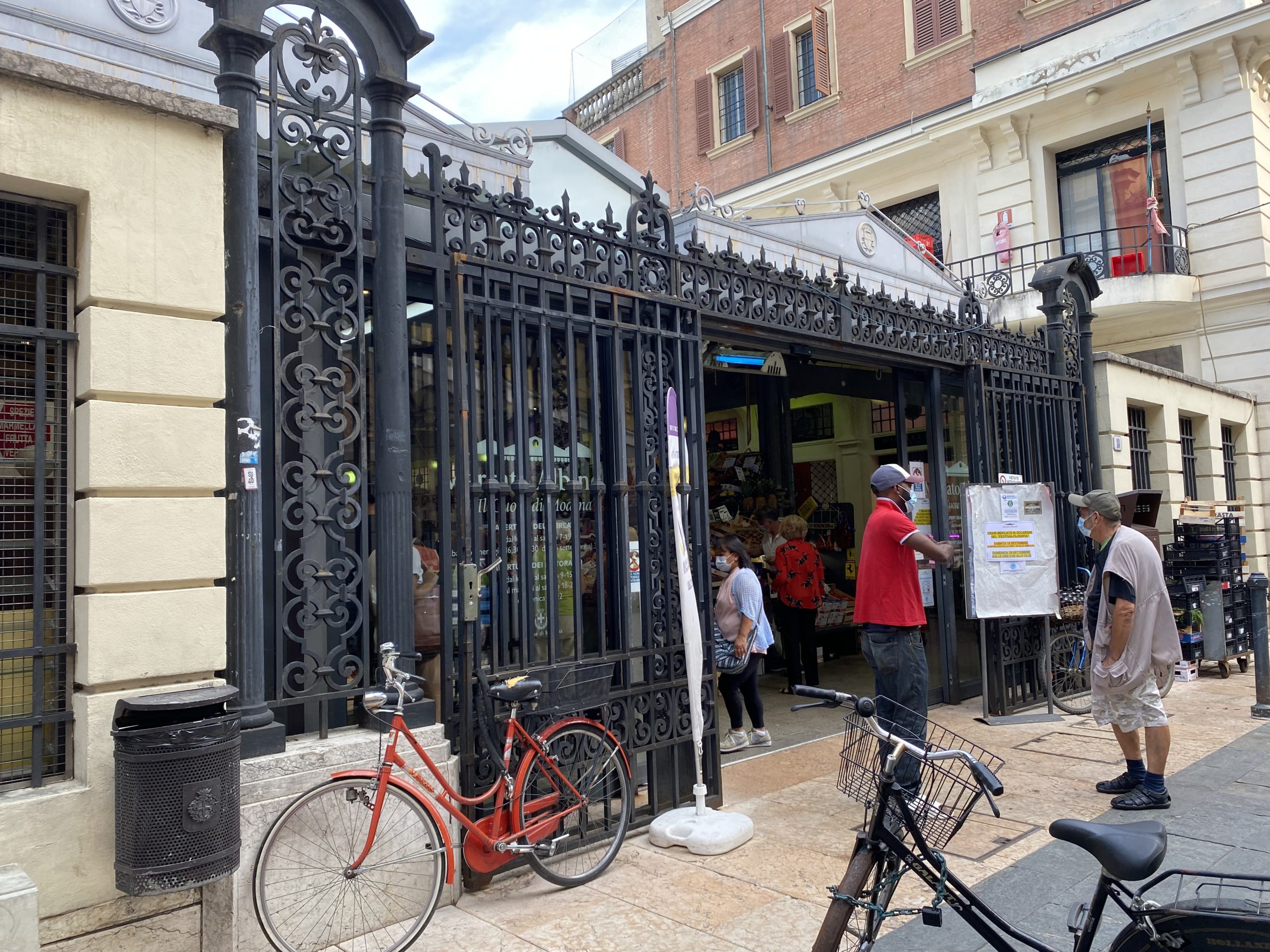 The market was pretty overwhelming, and it wasn't even super busy yet.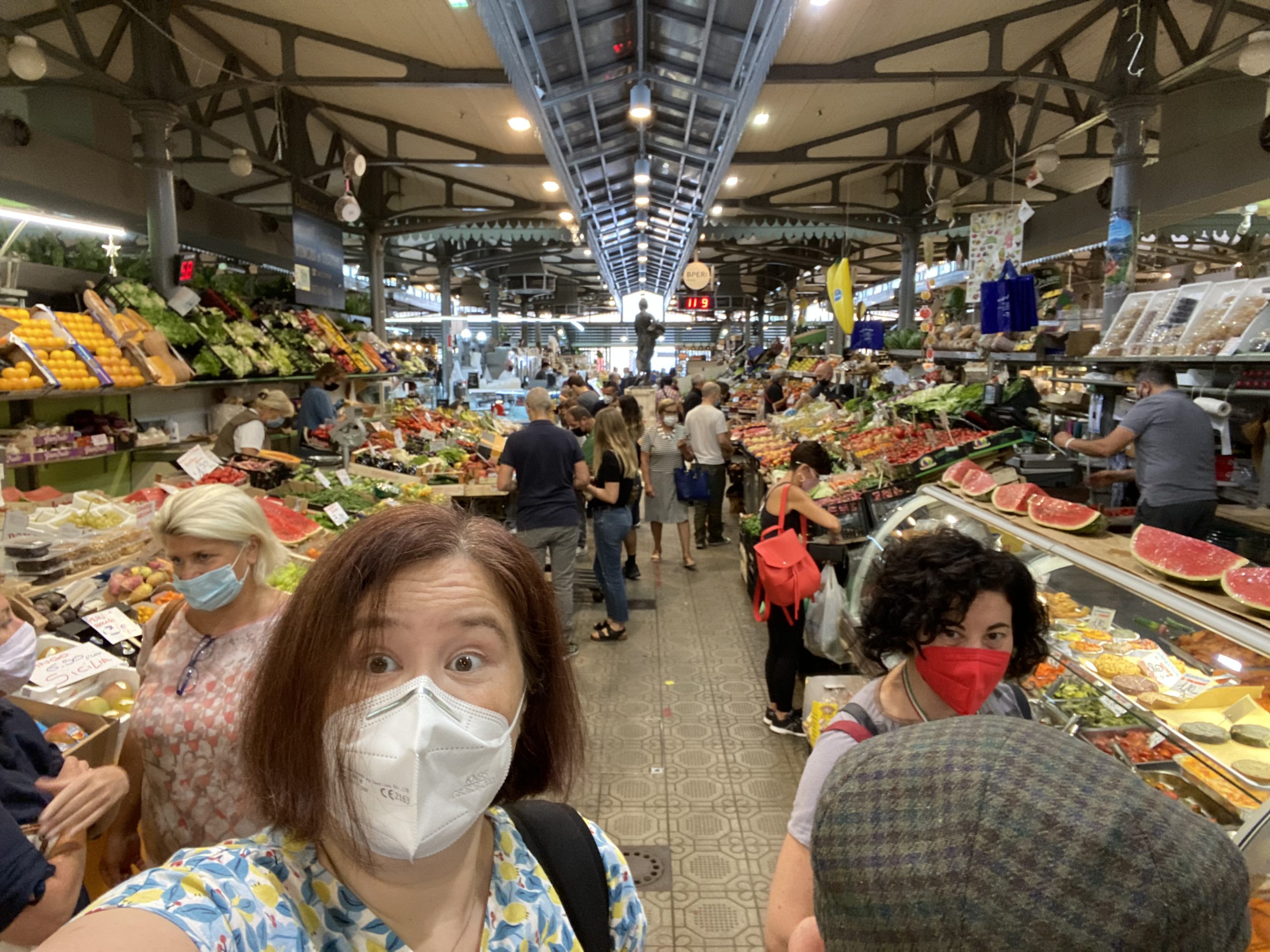 From its stalls you can get pretty much everything you could possibly want, all of it fresh and local.
We followed dazed as Caterina led us through the market to a number of different stalls, purchasing things for us to try.
Eventually we made our way to some tables off to the side where it was time to eat again! Caterina poured us each a glass of sparkling local Lambrusco from Torre Tusini, which we had with fresh figs, ricotta, and an intense fruit jam.
The highlight for the Snook was a "vertical tasting" of Parmigiano Reggiano. Caterina had purchased three different ages – 1yr, 2yr, and 3yr. We tasted each as she explained how the cheese changes over the years. The oldest one was practically crystallised, a salty umami bomb that felt crunchy as you bit into it. (We both liked the 2yr the best.)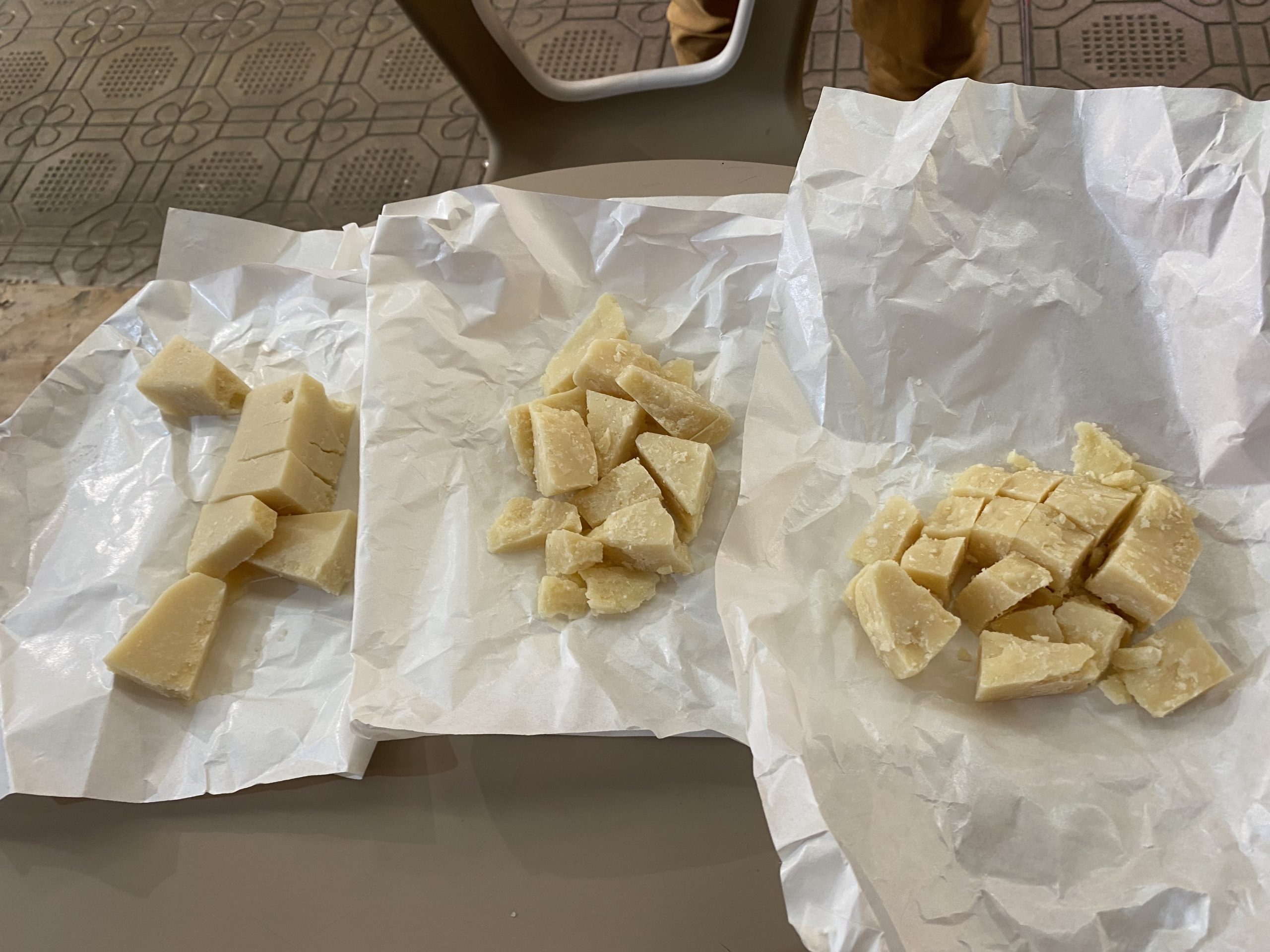 Our next stop was La Consorteria, which purports to be the only shop in the world dedicated entirely to the balsamic vinegar of Modena.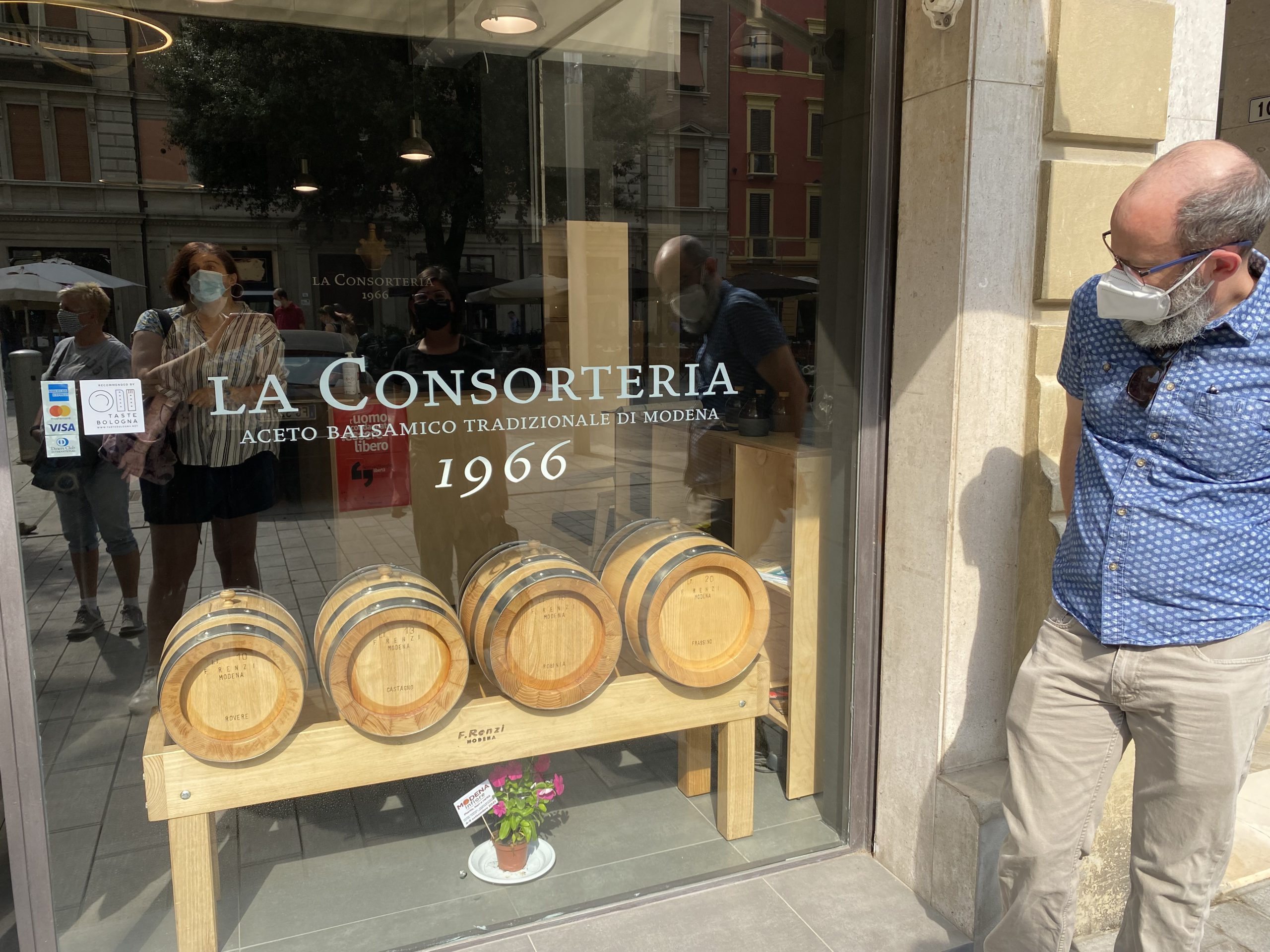 A really knowledgeable lady talked to us about how balsamic vinegar is made, and why the protected stuff in Modena is so special. Some of it is aged for 25+ years! She gave us each a little spoon and we tasted several different local varieties.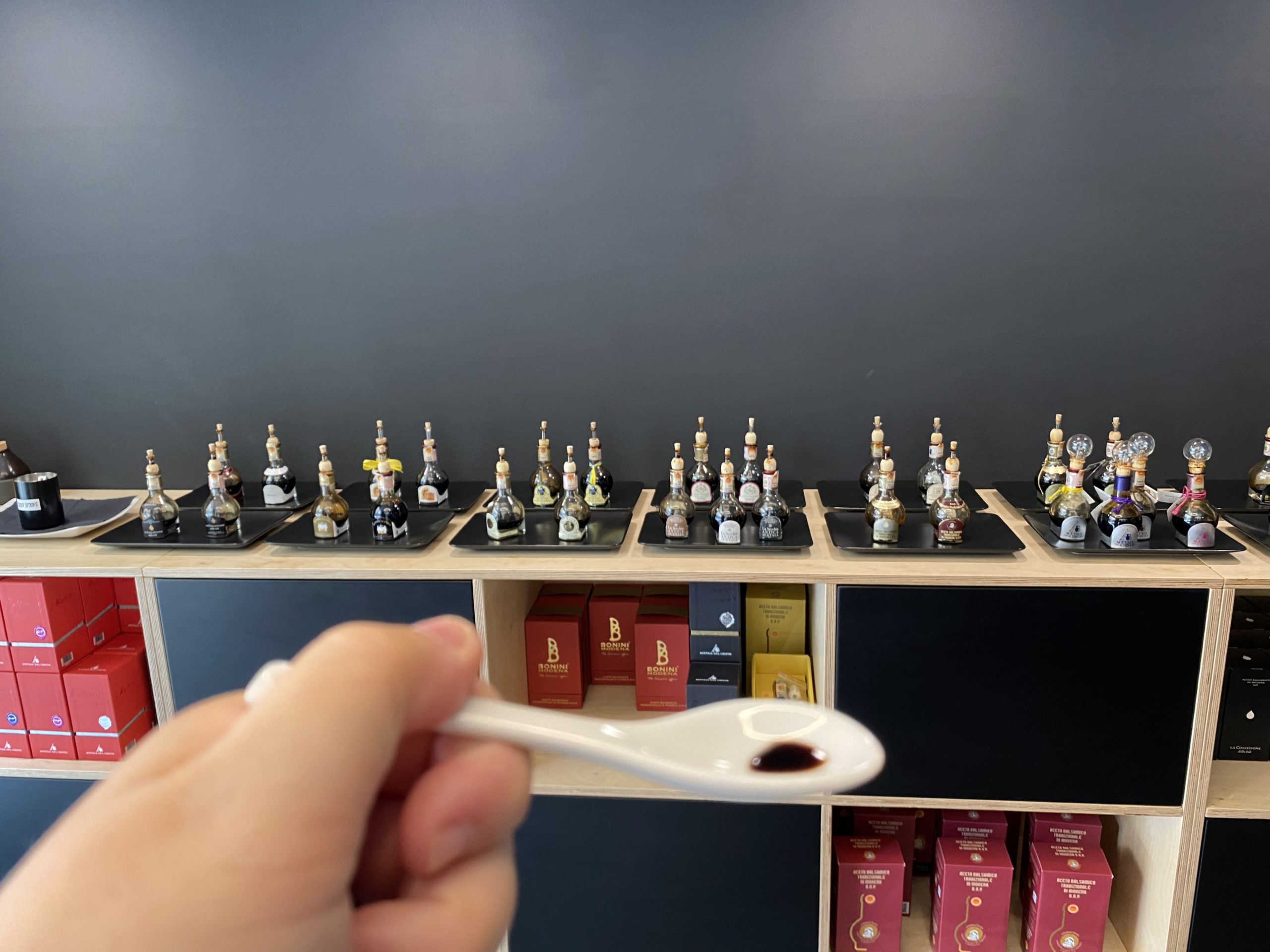 The really old stuff gets very thick and syrupy. Look how slow it drips! We ended up buying a bottle of Acetaia del Cristo Cherry vinegar to take home. (The cherry is from the wood barrels that it's aged in.)
Our next stop was L'Or-Ma Crescentina, who specialise in the tigella we had on our first night. This time we had them split and stuffed like little sandwiches. We tried one spread with "cunza" (pork lard with garlic and rosemary), and another with headcheese!
And then it was time for dessert. We finished tour tour at the Antica Pasticceria San Biago, a treasure trove of cakes and pastries.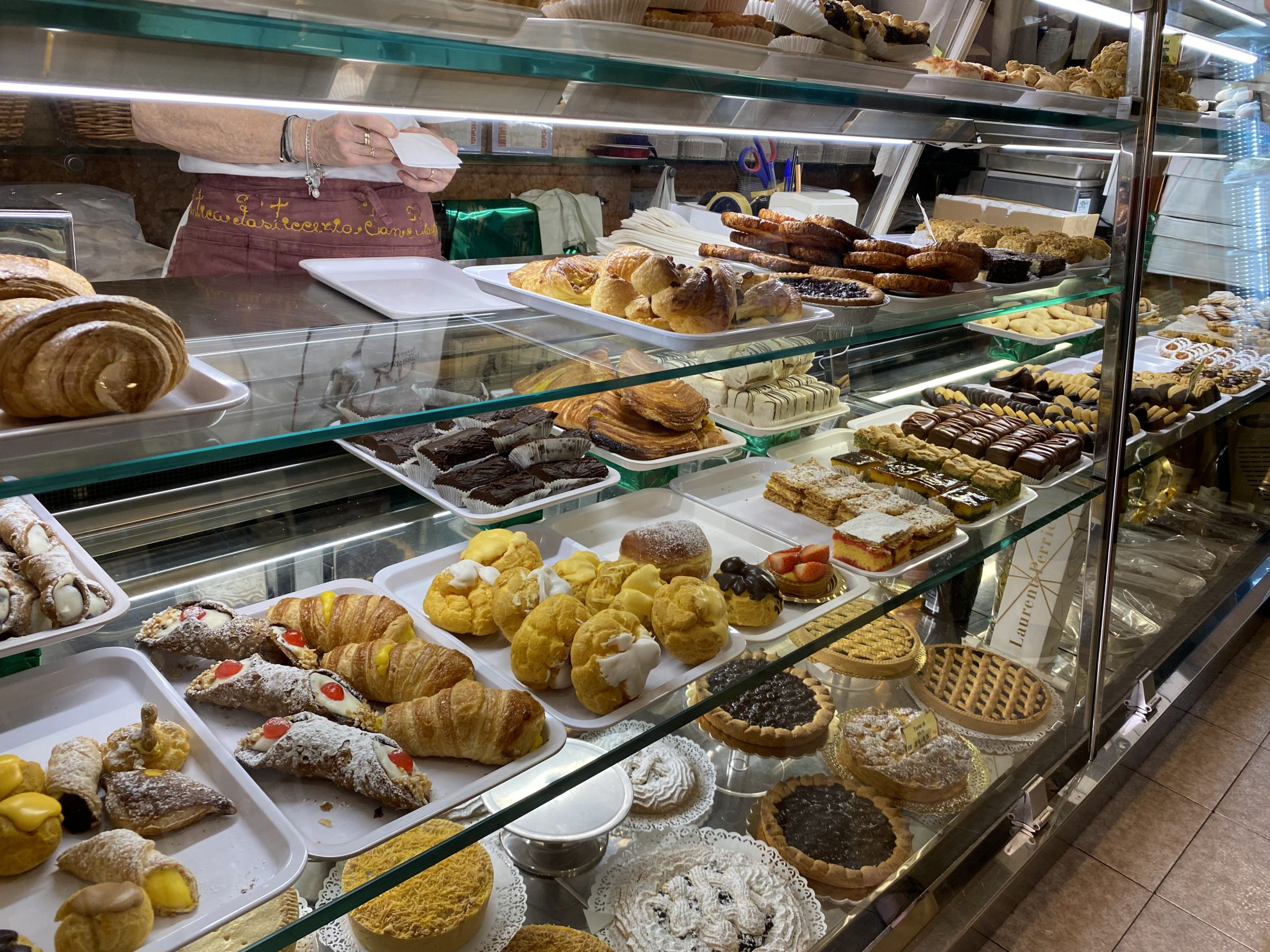 The owner of the shop came outside to tell us about some of their specialties, and we got to try three of them. The Torta di Tagliatelle is made with almond flour and has very thin crispy pasta on top. I think the green one had pistachio filling? And the dark one in foil was the famous Torta Barozzi, made with almonds, peanuts, and dark chocolate. She also gave us each a shot of a strong walnut liqueur.
The food tour was highly recommended. You get to learn a lot about the city and the food from the region, and you get to try some things you might not have known about otherwise!
For our final meal in Modena, we wanted to eat something very traditional. We ended up at Ristorante Da Enzo. I had the famous tortellini in brodo to start, and then a steak with a balsamic vinegar glaze.
The Snook went with tagliatelle alla Bolognese to start, and then the special roast goat for the main. (Trust me when I say the sound he made when he had his first bite of that goat was pretty special.)
And that was it for Italy! The next day we caught the train to Milan, where we managed a very quick visit with my colleague Alex. Then we boarded the EuroCity 320 from Milan to Zürich, Switzerland…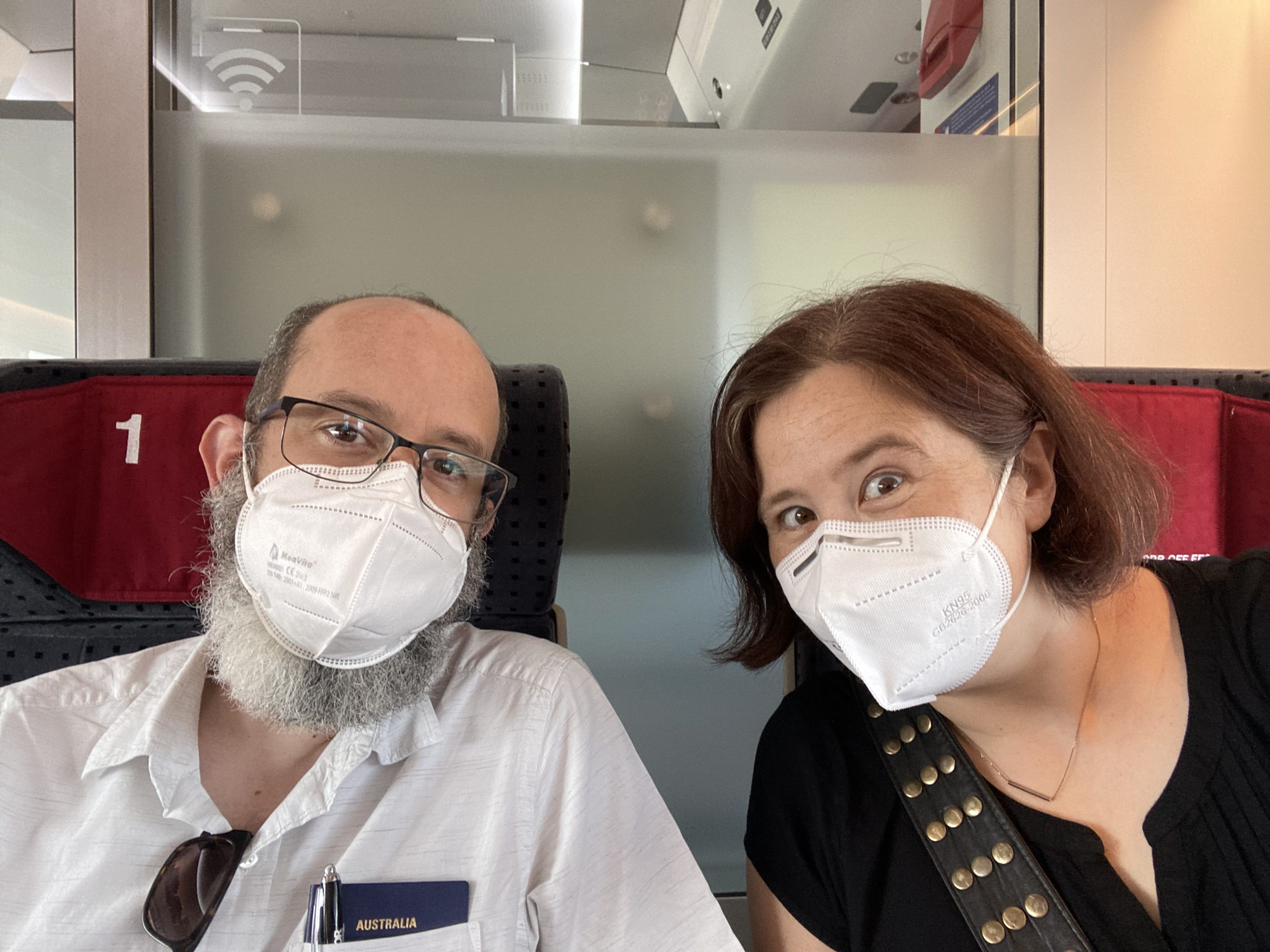 Wow, is this a gorgeous train journey. You go north past Lake Como and Lake Lugano, through the region of Ticino, and it's so lush it basically looks like Naboo. (Not surprisingly, they filmed some of those scenes here!)
It takes about three hours to get to Zürich. Once we settled in at the hotel, we met up with my old college friend Chris Fesen and his lovely little girls for dinner at the Zeughauskeller.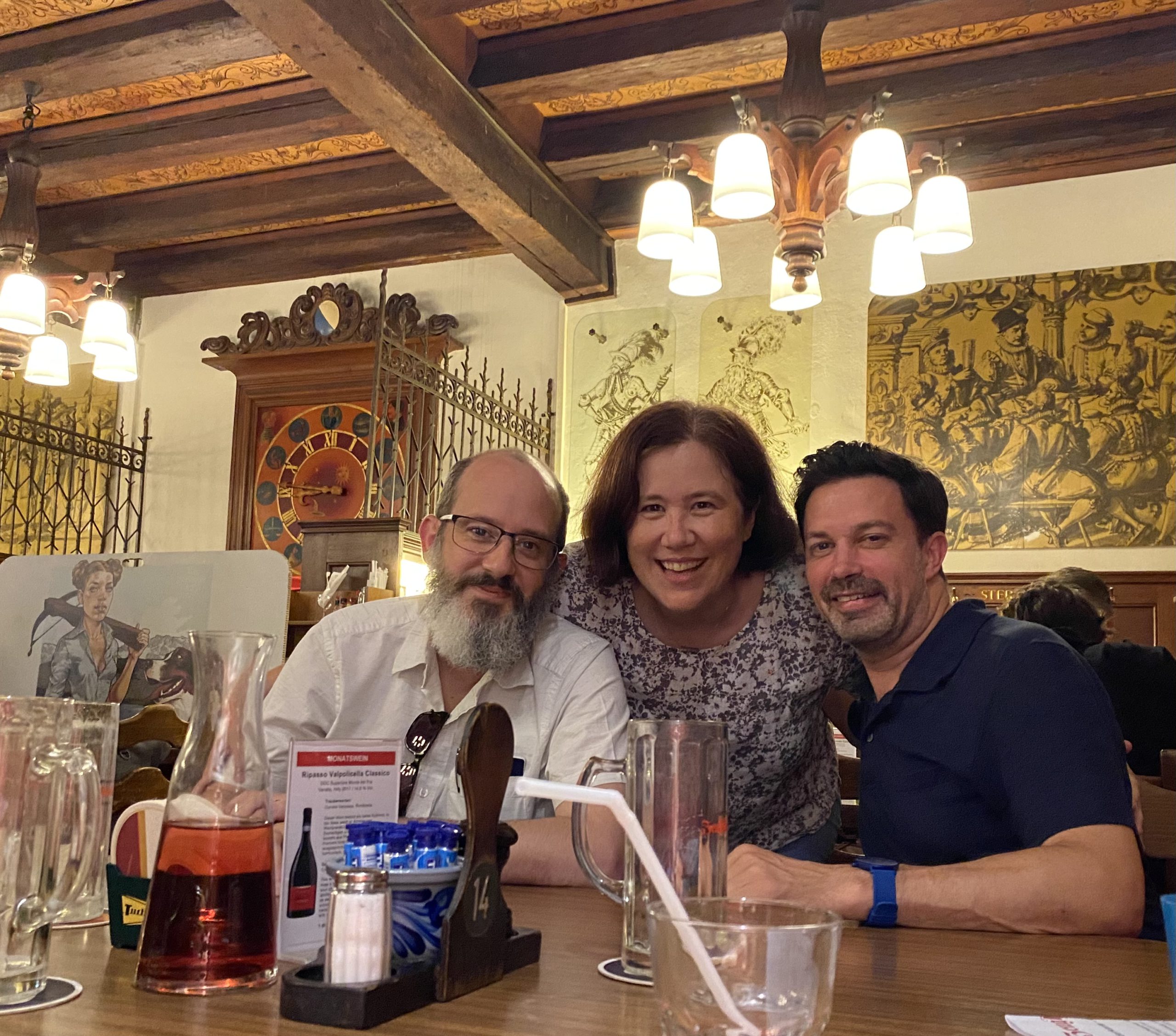 We meandered through the streets of Zürich after dinner. It's very pretty.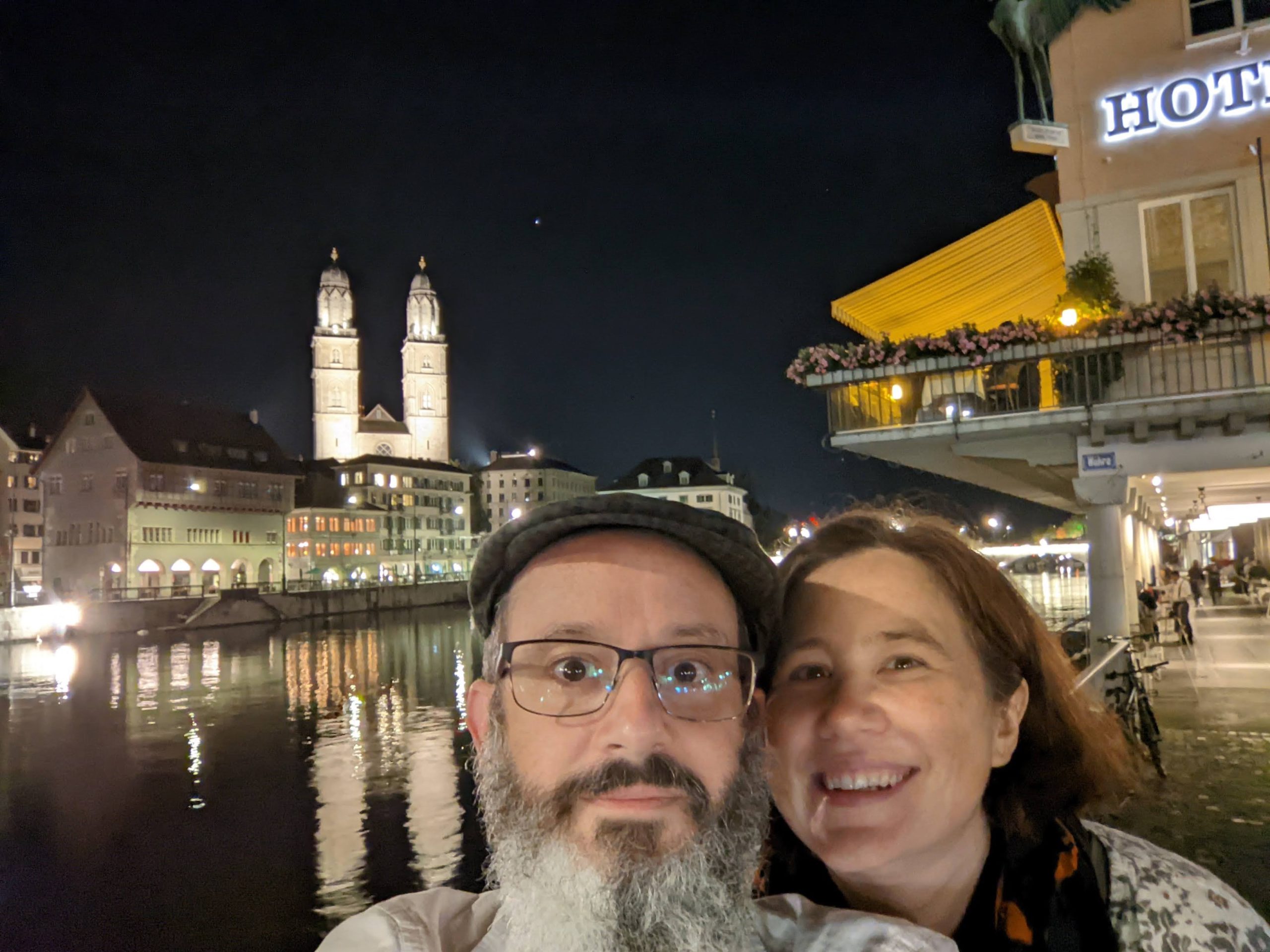 I was actually in Zürich for a work event, so I went into the AWS office for the next couple of days while the Snook worked from the hotel. Some highlights of my daily commute…
My colleague Dennis joined me in Zürich, and we met up one evening with Rinon from the AWS Swiss User Group and his partner Gloria for dinner. And what do you have when you're in Switzerland? FONDUE!
Rinon and Gloria took us to Baracca Zermatt where we ate our way through two different pots of fondue, a bowl of boiled potatoes, and a basket of bread. It was glorious, and entirely worth the cheese dreams I had all night afterwards. 😂
Finally it was time to head home, so we caught the EuroCity 99 from Zürich back to Munich. The train skirts the edge of the Bodensee (aka Lake Constance), and we'll definitely have to head back there sometime for a proper visit.
Four hours later, we rolled back into Munich. I feel so incredibly lucky we've been able to have these adventures!