Back home again in Indiana…
Well, I'm back at Mom's but my heart is winging its way to Sydney with the Snook. This is the first time we've been apart in over six years. It's weird. I'm having a good time with my family though, and I'm looking forward to a few uninterrupted days with my new nephew. I got him an awesome T-shirt at NASA and an Ugly Doll in Chicago. I'm planning to spoil the little bugger rotten.
Anyway, last week Mom dragged us all to the JC Penney Portrait Studio, and it was just as hellish as you might imagine. We did get a good photo of me and Rodd out of it though…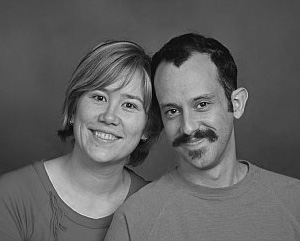 Have a good flight, Snookums. I miss you already.