Allez cuisine!
This week was our highly-anticipated dinner with Iron Chefs Sakai and Chen at the Observatory Hotel here in Sydney. I was kicking myself the whole time that I'd forgotten to print out the photo of me and Snook dressed as Sakai and Kaga. (And of course, I couldn't print it out at work because the site was down. *grumble*) But that niggling annoyance aside, I was excited and rarin' to go. We met up with Toast and Shan and headed in. We had a small table for four in the back corner of the Globe Bar with a big TV screen right beside us (for watching all the kitchen action). Shan and I took photos of every course, but I'm not going to bother posting them because Not Quite Nigella has written it all up way better than I ever could. Seriously, if you want to see and read about what we ate, go over there. I will say that my favorites were definitely Chen's mud crab soup and his signature mapo tofu, but that my least favorite was the soup that went with the mapo tofu. Afterwards, we all rushed out into the lobby for a chance to get autographs and photos.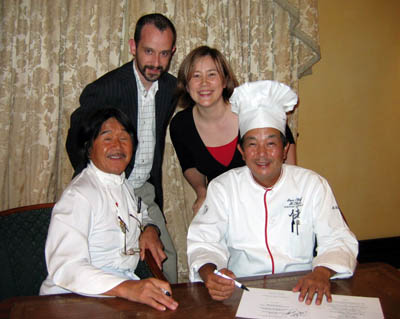 Neither of them spoke English very well, so I chose my words carefully. "Chef Sakai, do you know 'Halloween'?" I asked as I approached. "Halloween, yes!" he said cheerfully. "I WAS YOU!" I blurted out. "And him," pointing at the Snook, "he was CHAIRMAN KAGA!" They laughed and laughed.
Final tally of weird/unfamiliar stuff that I ate that I never would've eaten five years ago: salmon mousse, braised carp, caviar, jellyfish, calamari, sea urchin roe, foie gras, kinugasa mushrooms, mud crab (with roe), lobster tail, and shark fin (we guessed there was some in the soup I didn't care for). And while all that sounds really exotic, the dishes weren't really "out there." It's not like I had a pile of any of those things; they were mostly used in tiny amounts as interesting flavours or textures. I had the definite impression that the Chefs were toning down the weirdness factor for Western palates. (Case in point: Sadly, no fish ice cream.) Anyway, I've posted a few more photos from our table after the jump.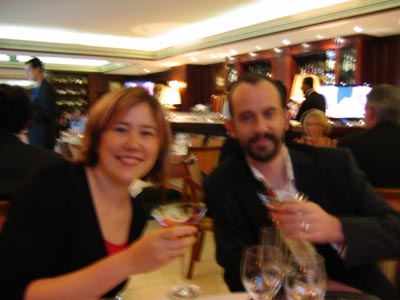 Here's an extremely blurry shot of the Snook and I enjoying our champagne cocktails at the start of the evening.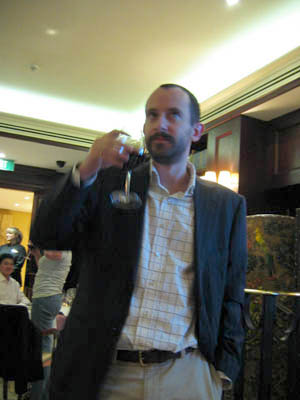 Halfway through the night, we played a game where everyone tried to guess where a mystery wine was from. The Snook made it the furthest out of the four of us. Here he is contemplating his next answer. (He didn't win.)
The desserts really were something out of this world. Here's the Snook checking out the pannacotta on top of the upturned martini glass. We were all a little unsure how to approach this. It was nummy though.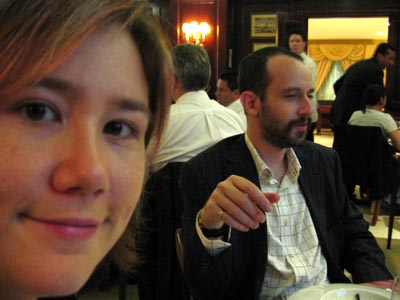 Everyone wants to know whether we got enough food for the money, and whether we were stuffed at the end of the night. Well, there was plenty of food. The portions were a good size (given that we had seven courses) and I'm not sure I could've eaten any more at the end of it. It just took so long! We were there a good five hours. Five hours of eating and drinking wine is actually pretty tiring. Here's me and the Snook at the end of the night, just wanting to get our photo and go home to bed.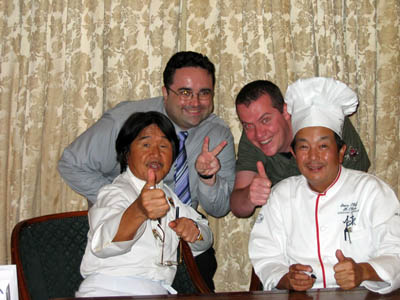 Here are our other two tablemates, Toast and Shan. Thumbs up all around!