Vanilla Creamed Rice with Rhubarb
We got another bunch of rhubarb in this week's veggie box, and I was at a loss what to do with it. Rodd's already made a batch of (extremely good) rhubarb and apple jam. We have a big bag of chopped rhubarb in the freezer. What's next? Then I found this recipe, which is basically rice pudding with rhubarb on top.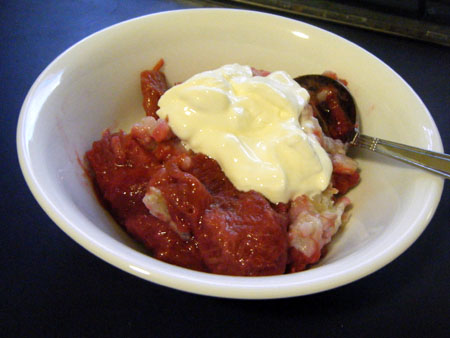 SO. GOOD. I think that's going to be my go-to recipe for rice pudding from now on. We usually have all those ingredients on hand, so it's easy and quick to make up. It's not disgustingly sweet either. The rhubarb was really simple. You just chop it all up and throw it in a saucepan with a little water and sugar. I was skeptical at first. Like, here's this pan of very crispy stalky bits, almost like celery. How's that going to turn to mush? I turned it on low and left to watch Time Team for 10 minutes. When I got back… beautiful pink mush! (I wonder how/why it breaks down so quickly?) Anyway, we had some for dessert last night and then finished it off for breakfast this morning. That's a big dollop of Greek yoghurt on top. Highly, highly recommended.