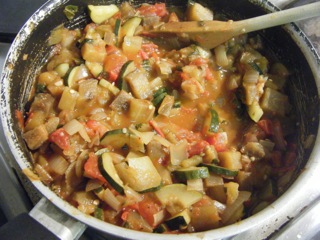 Ratatouille
No, I don't mean the Pixar movie (which I still haven't seen). I mean the real stuff. Eileen asked for "easy and tasty" recipes, and this is my contribution. You can eat it as a side dish on its own, put it on pasta as a sauce, or even just spoon it over bread. (It tastes even better the next day!) There's not much to the prep other than chopping, and it freezes pretty well. Also, we had a surplus of eggplants, zucchinis, and tomatoes from our last two veggie boxes so it was a good way to clear the backlog. Read on for the recipe and photos of the preparation.Recipe: This is from the Better Homes & Gardens: New Cook Book, which I absolutely love. I have yet to think of a dish that isn't in here.
1/2 cup finely chopped onion (1 medium)
1 clove garlic, minced
1 tablespoon olive oil or cooking oil
2 cups cubed, peeled eggplant
1 small zucchini or yellow summer squash, halved lengthwise and cut into 1/4-inch-thick slices (1 cup)
1 cup peeled, chopped tomatoes or one 7-1/2-ounce can tomatoes, cut up
1/2 cup chopped green sweet pepper
2 tablespoons dry white wine or water
1-1/2 teaspoons snipped fresh basil or 1/2 teaspoon dried basil, crushed
I had enough to do a double recipe, so the quantity you're seeing here is way more than what the recipe will make. Also, note that even though my pan gets quite full at times, the veggies do "cook down" quite a bit.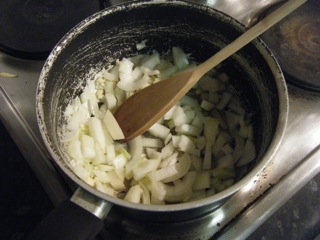 Step 1: Onions and Garlic
Chuck your onions and garlic in the olive oil and cook til the onion is tender. You can make this in a frypan/skillet, but I knew I was going to have a lot so I went with a saucepan.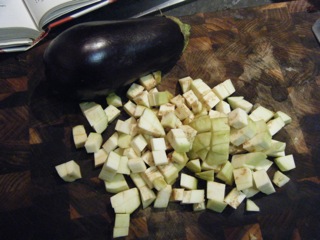 Step 2: Everything else
Seriously, it's that simple. Here I've chopped up the eggplant…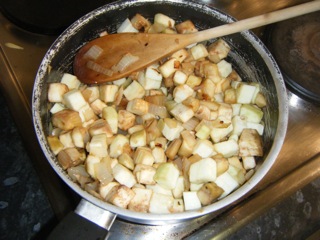 …and then I add it to the pot. Note: I've turned the temp down to medium-low at this point.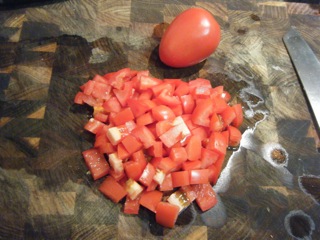 Tomatoes: I had fresh ones, but I've used canned before too and it's fine. And no, I didn't peel them. That's just insanity.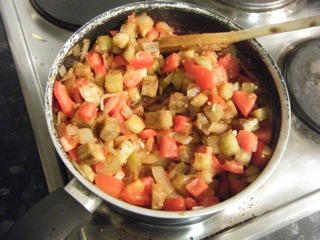 Tomatoes are now in the mix.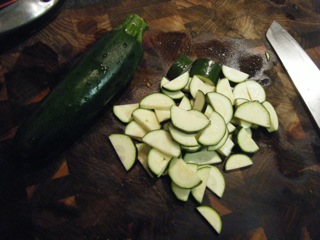 Zucchini is all chopped up…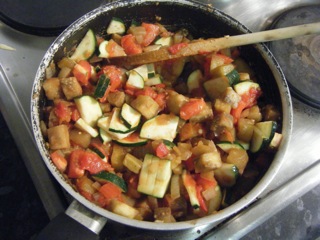 …and added to the pot.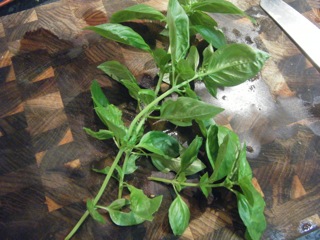 Normally I just use dried basil, but our plants are still going nuts so I used the fresh. I chopped it up and added it to the pot.

Okay, so at this point you chuck everything else in the pan too: wine, 1/8 teaspoon salt, and 1/8 teaspoon pepper. (Note: Rodd doesn't like green pepper/capsicum, so I left it out.) Bring to boiling. Reduce heat; simmer, covered, 20 minutes or till tender. Uncover; cook 5 to 10 minutes or until thickened, stirring occasionally.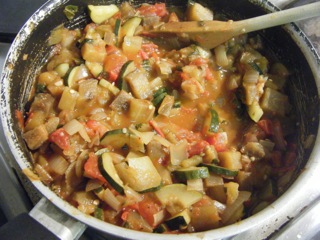 And that's it!
Like I said, you can now put this over pasta for a delicious sauce, or just serve it as a side dish on its own. Put the leftovers in a container in the fridge and it'll be even more fantastic the next day. Seriously, cold ratatouille on chewy sourdough? BLISS.