Home again from Canberra – with photos!
Well, THAT was a fun trip! On Friday the Snook and I packed up the GoGet car and headed off to Canberra. We took our time on the drive, knowing that traffic would be heavy with everyone heading off for the long weekend. We had lunch on a lookout in Mittagong, then gawked like tourists at the Big Merino in Goulburn.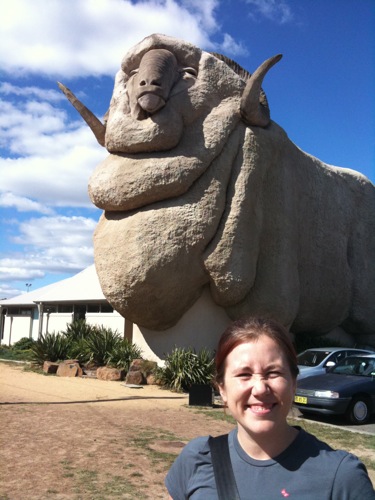 We ventured in to the Big Merino gift shop, where we were disappointed to find you weren't allowed to climb all the way up into the merino's head. (Apparently there was some safety issue to be resolved.) So we bought a postcard and headed on.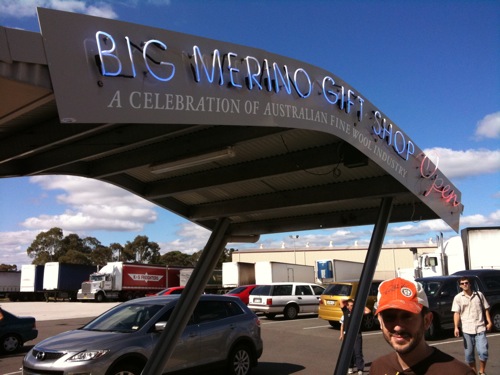 The drive along Lake George was brilliant, with the sun shining brightly off the futuristic propellers of the Capital Wind Farm in the distance. We dropped our stuff off at Bells's and Sean's house before heading into the city to check out Lake Burley Griffin.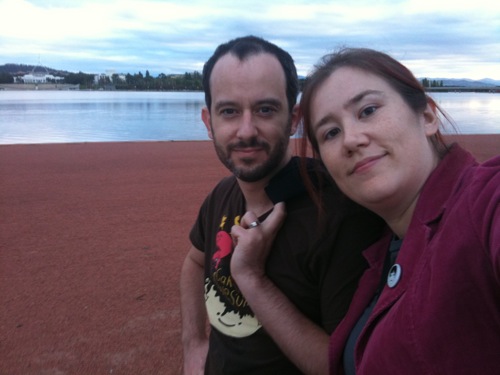 Read on for more pictures and description! We picked up Eileen at the airport and then headed back to the house for dinner. I had been watching the National Gallery Twitter feed and worked out that if we waited to go to the Exhibition later in the day, we wouldn't have to wait very long. With that in mind, we slept in on Saturday morning before heading out to explore the other sights of Canberra.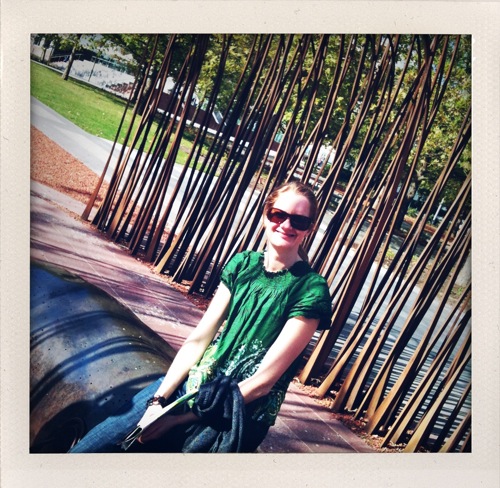 We started at the National Library, where we checked out their current exhibition on the Dunera boys. Outside the library, Eileen posed with Judy Watson's sculpture "Fire and water." Then we headed to the National Portrait Gallery where we viewed the finalists for the National Photographic Portrait Prize 2010. (My favorites were "The Shield," "Gurkirat," and "Lipstick.") After wandering the galleries for a bit, we headed over to Questacon for lunch and exploring.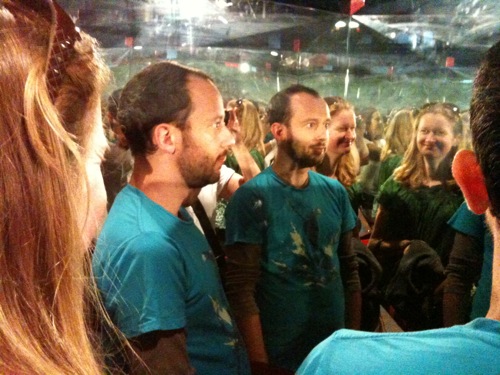 At one point, the three of us climbed inside a giant triangular kaleidoscope and I took a photo. I also got a video (on Facebook) of Eileen doing a 6m free fall slide thing. It was fun, although the hordes of screaming children did take a toll.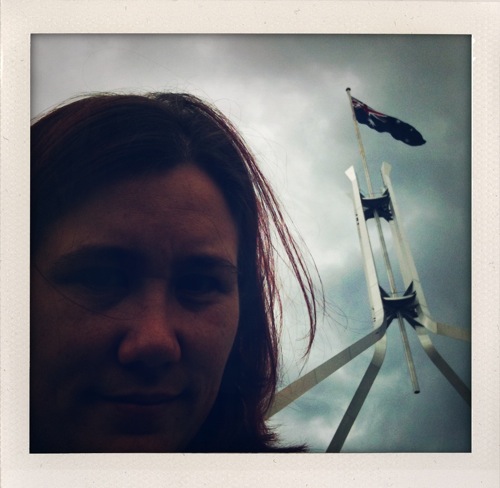 Then it was over to (new) Parliament House. (Did I mention that we did all this ON FOOT?!) We caught the lift to the roof and had a much needed rest on the grass. I took a self-portrait beneath the dizzyingly large flag pole.
Then it was finally time for the Exhibition. By 5pm there was no wait at all, so we strolled in. We all opted for the headset audio tour as well. There were six rooms to get through, and even without a queue there was still quite a crush happening. (The gallery was open til 9pm.) It took us well over an hour to get through. I particularly liked the Van Goghs (of course) and Bonnard's Le chat blanc (I bought a postcard). We ended the night with dinner in the city and a much needed sleep back at the house.
Easter Sunday saw Eileen and I going for a run together in Giralang. Then we all headed to the Old Bus Depot Markets for some gift-shopping. It was crowded; I think everybody in Canberra was there! Afterwards we headed out of town to the Tidbinbilla Nature Reserve. We had a picnic lunch in the park and then headed out for some of the walks. We saw loads of kangaroos, emus, and birds (including a brolga and a nesting black swan!). We also went up to a lookout with stunning views.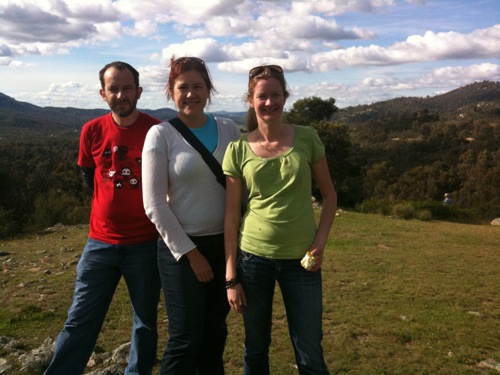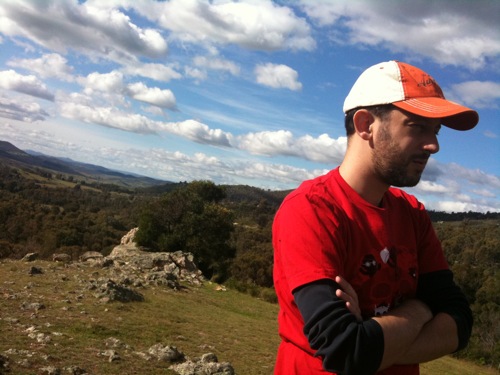 Not far from the Nature Reserve is the Canberra Deep Space Communications Complex. We geeked out a bit, checking out the space exhibits and learning out the role of this station in the moon landings. I got to pose with the largest satellite dish in the Southern Hemisphere!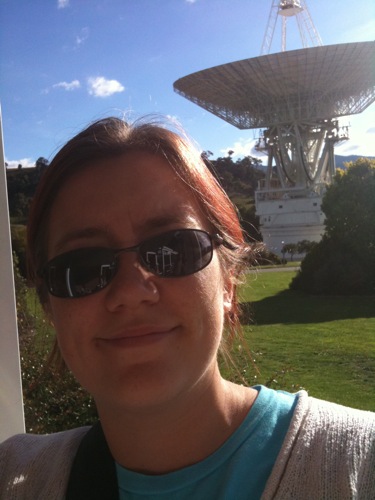 They had a smaller dish out by the cafe. Here's Eileen pretending to be Godzilla and menacing it.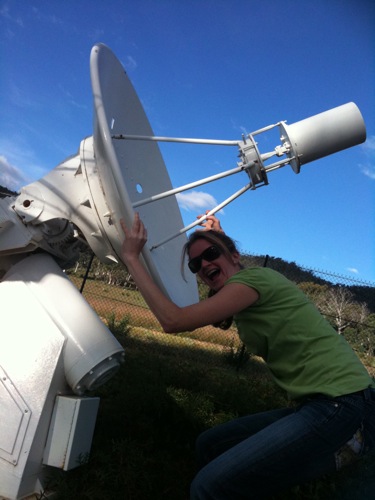 On our way back to town, we stopped off at the Black Mountain Tower, a terribly futuristic looking tower on a mountain overlooking Canberra. None of us wanted to pay $7.50 to go up it though, so instead we just snapped a few pictures in the parking lot.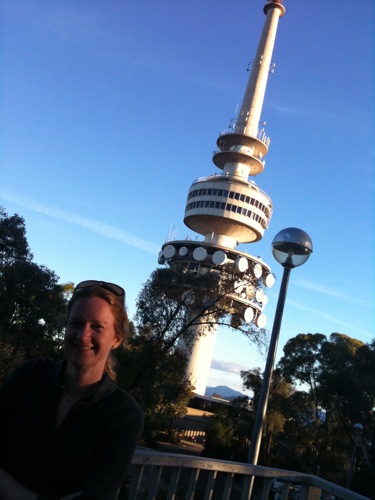 Quoth the Snook: "You guys want to go to a brew pub?" Uh, YEAH. So our next stop was the Wig & Pen. To our surprise, sitting out front was the Snook's old college buddy Huw! So we had a pleasant little catch-up with him and his friends. (W&P beer = very good, but I was driving so I didn't have much.) For dinner we went exploring in Dickson and ended up at the Dickson Dumpling House. It was excellent (though the Snook said he still prefers my mapo tofu).
On Monday, we packed up the car and said goodbye to Bells's house. It was finally time to go to the Pancake Parlour. I've been wanting to go there for ages! Eileen and I LOVED it. It was the closest thing I'd gotten to a big American pancake breakfast in years.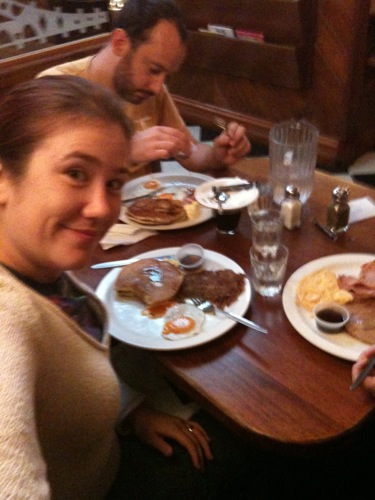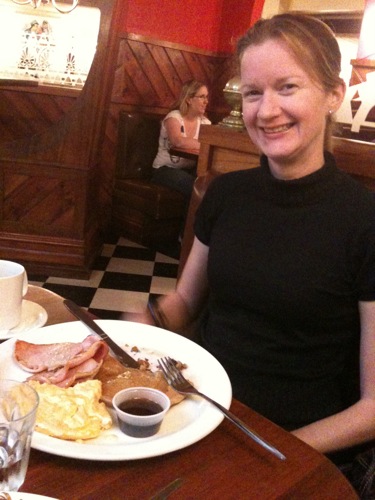 After our very filling breakfast, we went back to the National Gallery to view the Sidney Nolan Gallery. It was stunning. I'd seen many of the pieces before when they were on loan to the Art Gallery of NSW, but this new purpose-built oval room makes them dazzle. We also made a point of checking out Jackson Pollack's Blue Poles, which I hadn't seen before. Eventually it was time to drag ourselves away and head home. We dropped Eileen off at the airport before starting the drive back to Sydney. We made it back in less than four hours to the cuddles of two extremely disinterested cats.
Thanks again to Bells for the house; to Issy for housesitting; and to Eileen for going with us!