Curtains and art! Oh my!
Early Saturday morning, I invited the Snook to come over to Broadway with me to pick up my contact lenses. "Oh, and we can check out the new Reject Shop that's opened up," I suggested. Do you know about this place? IT'S MY NEW FAVORITE STORE. It's a $2 shop that's actually clean and organised! We ended up buying a giant roll of bamboo fencing for our passionfruit to climb. I also picked up a number of frames because I had a growing collection of stuff to hang on the walls. That got me thinking… "How about we go to IKEA tomorrow and look at curtain stuff?" We've been living here for nearly 3 years without curtains. For some reason he said yes, so Sunday we fought our way through the crowds and emerged laden with curtain-related paraphernalia. And on Monday, we put it all together. Over the course of about 8 hours, I learned how to use a hammer drill (our walls are made of brick) and we covered the place in dust. Have I mentioned how I impressed I am with my handy husband?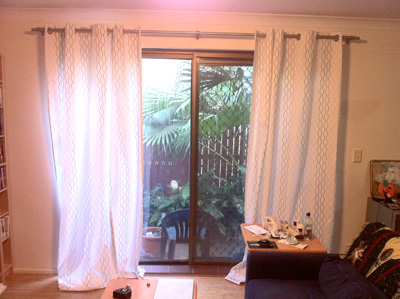 Curtains! Curtains in my living room! We went with the DÄMPA fittings, and luckily we didn't need to cut any. The curtains are the HENNY RAND. (Yes, I know they're way too long. You're meant to let them hang for a while before you hem them.)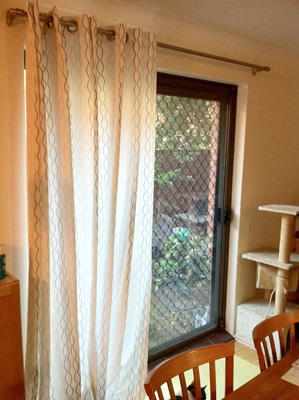 We used the same curtains for the dining room sliding doors. They have large metal grommets at the top so they're very easy to slide back out of the way.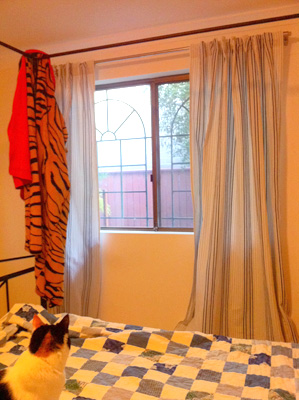 The bedroom curtains are ALVINE STRECK. My original impulse was to hem them short to match the window, but I think they look cooler long. Thoughts?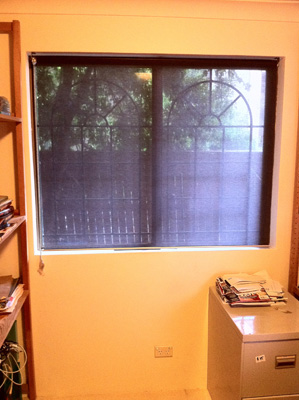 For our offices, we decided to go with a simple ENJE roller blind. (We may still put curtains over them some day.) The Snook's is dark grey.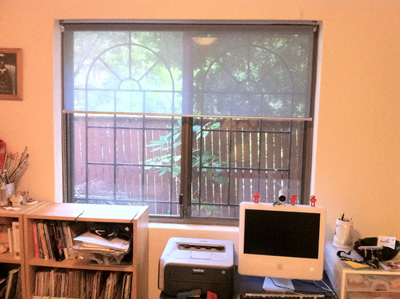 Mine is light blue.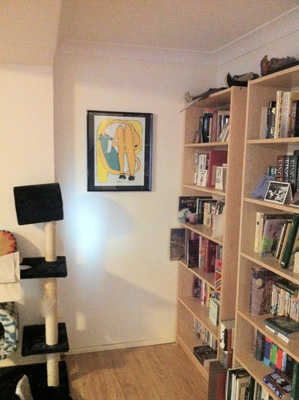 Art! I wanted something interesting and dramatic in this spot by the bookcase because it's the first thing you see when you come in the front door. This is one of the Alice prints that were done by my friend crumpet. She actually gave this to me! That was so nice. (If you want some of her art, you can buy it too.)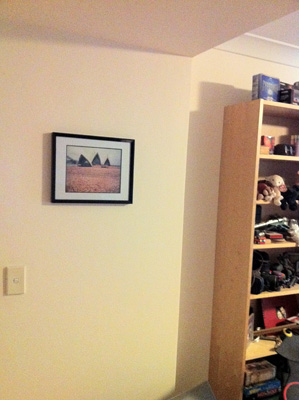 And here's the final photo from our nude Spencer Tunick adventure at the Opera House.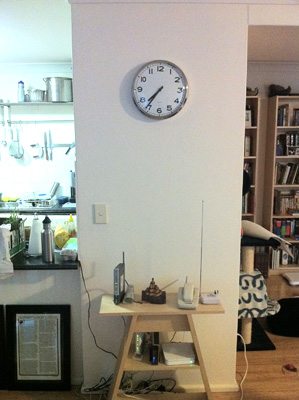 My clock. I have been coveting the PUGG clock for years now. It reminds me so much of the clocks in my elementary school. I love it.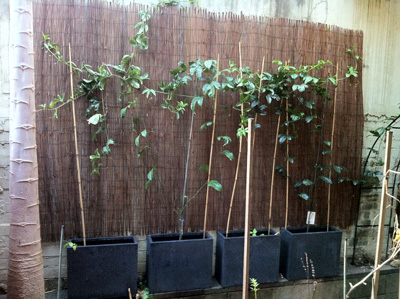 And lastly, the bamboo fencing we put up behind the passionfruit vines. They're going gangbusters and had long since outgrown the little stakes we put in the pots for them. The bamboo has lots of little bits for their tendrils to cling onto.
And that's not even everything! We still have two more prints framed and ready to go up on the walls, as soon as we can work out where best to put them. Stay tuned…