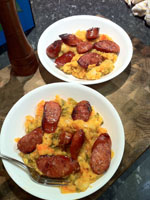 Stamppot and Scones
This week's veggie box had more kale in it, so I went hunting for another way to use it up. Somehow I hit upon the idea of making stamppot. Stamppot is a Dutch dish that basically consists of boiling up a ton of vegetables, mashing them, and serving it with meat. I'd been wanting to try this dish for 25 years.* Here's the recipe I used. Most of the cooking time is in the preparation. I used potatoes, butternut pumpkin, sweet potato, carrots, parsnips, leek, onion, and kale. After a rough mashing, I added a big whack of butter, salt, and pepper. As the meat accompaniment, we fried up a half a dozen Spanish chorizo sausages. It was very tasty! It easily made six large servings.
* In the 3rd grade, I discovered the book The Twenty-One Balloons at my school book fair and bought it. I still have that very book, complete with my 8-year-old self's signature. It's one of my favorite books in the world, and I've probably read it twenty times. At the end of the story, the Krakatoans are forced to escape their exploding island aboard a massive balloon platform. The only food they have to eat is what Mrs. D (of the Dutch house) had prepared for dinner: Stampot von zuurkool met rookworst. Isn't it funny the things that stick in your mind? As soon as Google showed the word "stamppot," I knew exactly where I'd heard of it, and that I had to make it.
I also did some baking today. Earlier in the week I saw this typically gorgeous Smitten Kitchen post featuring Apple and Cheddar Scones. I've been on an apple-and-cheese kick lately, so it appealed to me. We had pretty much everything already on hand, so I whipped them up for tea today. They were so good! It was my first attempt at making scones from scratch. (Normally the Snook is the scone-maker in this house.) He said they were "light and crispy." We devoured two each not long after taking them out of the oven.