2010 Rebel Sport Run4Fun 10K
This was my second year running this race (last year's race report) and my first with the Snook beside me. A bunch of guys from my office were also signed up as well. We met Kunaal at Central Station at 7:15 and enjoyed an uneventful trip to Olympic Park. Once we got there, I dropped off my backpack and made a toilet stop. I had been hoping for cool rainy weather like last year, but instead it was turning out sunny and warm. The Snook and I lined up in the Purple group (the other guys were all in the Red) and waited for the gun to go off.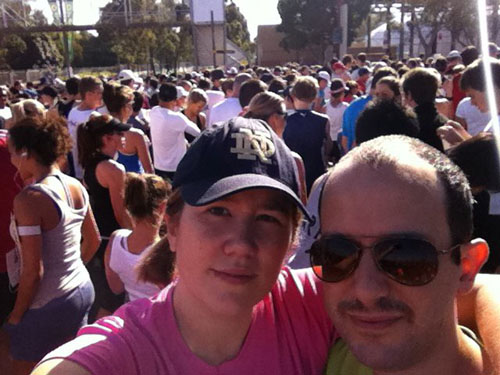 I had my iPhone safely strapped to my arm – no chance of losing it this time – and I started RunKeeper as we inched towards the starting mats. I made a quick mental decision to not worry about checking my pace during the actual race. It was going to be more fun to just enjoy myself with the Snook. The first couple KMs were relatively easy, except for the excessive crush of people. (I think they need to stagger the start even more next year.) I felt good so I skipped the first water stop. The sun was getting stronger all the time though. We doubled back and headed towards the back half of the course.
Sidenote: I have to say, I was really disappointed by how many people I saw jumping the curb and cutting corners. I probably could have shaved another minute off my time if we'd done what most of the crowd was doing. Bah.
Anyhoo, I could feel my pace starting to slow in the second half. They'd changed the course from last year so it had less turnarounds, but it was also a bit more hilly too. I walked briefly as I had a drink at the second water stop. At the 7K mark, the Snook announced that he was "finally warmed up" and that he was feeling good. I announced that I was falling apart and that I hated him. We persevered. My friend Tytana ran past and said hello. The 8K mark was right at the top of a small hill, and I had to walk for 30s to catch my breath. Then it was the final push to the finish. My friend Raj shouted a greeting as he sprinted past us. At the 9K mark, I told the Snook to go on ahead and finish strong. I had a sudden side stitch and it was all I could do to just keep going. He pulled ahead a bit. We rounded the stadium and entered the tunnel. I had nothing left to sprint, but I did my best to hold on until the end. The stitch was hurting so bad. RunKeeper recorded a time of 70:21, but my official adjusted time was 70:00 exactly. So I only missed last year's PR of 69:06 by a little bit! I'm happy with that. (Snookums finished in 69:22.) Up in the stands we reunited with our friends…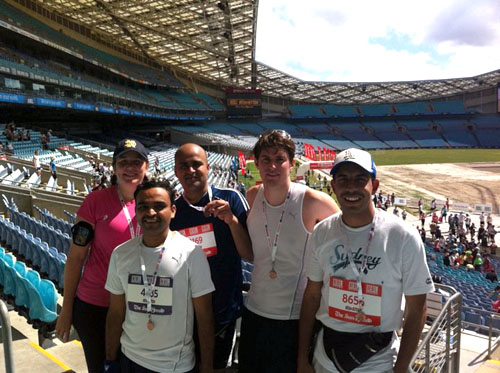 The MobileActive running team: Me, Raj, Venks, Josh, and Kunaal
It was a fun day. Thanks to my best friend for running with me!