Jamie's 30 Minute Meals #3: Cheat's Pizza
This was our third official cooking/blogging attempt from Jamie's 30 Minute Meals. It's been so hot in Sydney this week that we wanted to choose a "cooler" meal, something with lots of salad. We settled on Cheat's Pizza with 3 Delish Salads, Squashed Cherries & Vanilla Marscapone Cream. It actually worked out pretty perfectly, as we had a surfeit of tomatoes and basil from our weekly veggie box, and cherries were on special at the grocery store.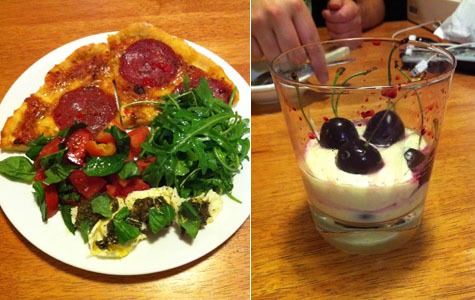 Quick verdict: This was the first recipe where we didn't substitute anything; we had it all. This was also our FASTEST attempt yet! Elapsed time: 38:26. That's pretty damn good! I think you could easily get this one down to 30 minutes once you had the recipe memorised. (There's also a step we'd eliminate if we did it again; more on that in a minute.) Overall I rated it 9/10, while the Snook judged it 8/10. Read on for a photo essay of the preparation.Pre-start prep: We got out all the necessary ingredients, tools, and cooking vessels. This week we also needed the food processor and the blender. The kitchen was clean (well, as clean as it gets) and everything wiped down and ready go to. The grill was turned on as high as it would go and the frying pan was on the stove on low heat.
First up are the ingredients for the pizza. The dough was just self-raising flour and tepid water. There's also: salami, buffalo mozzarella, red wine vinegar, canned tomatoes, garlic, fennel seeds, red chilli, and parmesan.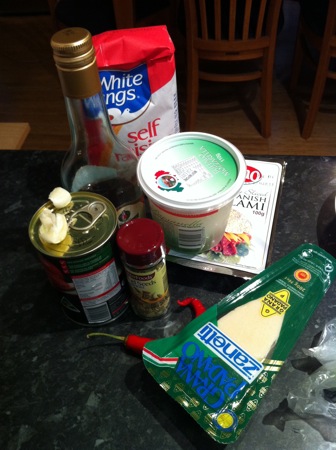 Next up are the ingredients for the tomato salad: a variety of "interesting" tomatoes, basil, balsamic vinegar, garlic, chilli.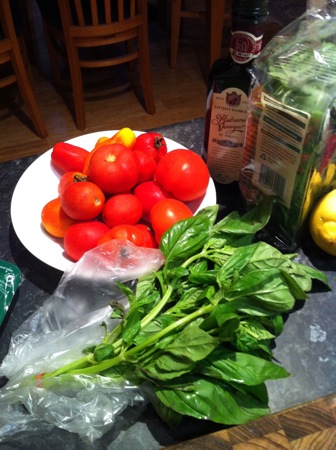 Two more salads' ingredients here: a packet of rocket and a lemon for the rocket salad; buffalo mozzarella, pesto, basil, and lemon for the mozzarella salad. (Note: Rodd actually made some homemade pesto recently and froze it into an ice cube tray, which is why our pesto looks weird here!)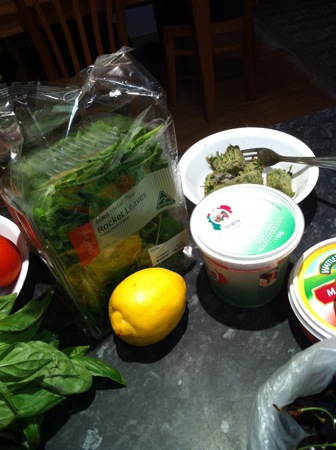 Dessert ingredients: marscapone, cherries, icing sugar, an orange, milk, vanilla.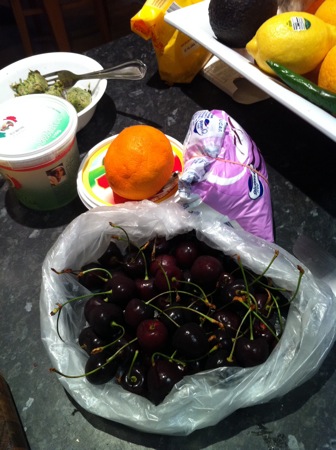 Here's our frying pan on the stove. We didn't have an ovenproof one as big as the recipe required, so we took Jamie's advice and made two smaller pizzas instead.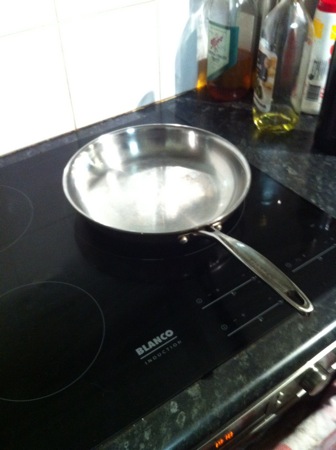 Our crappy food processor. We're going to get a new one soon, I swear.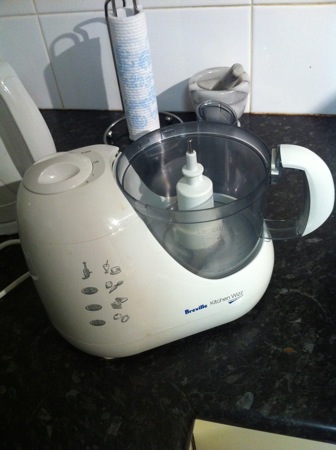 And a newcomer to the stage: the blender! (Or "liquidizer" as Jamie refers to it.)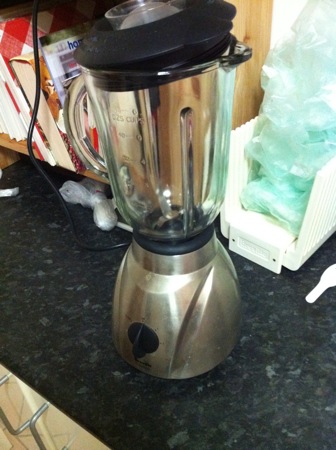 The tomato salad was the first thing to do. The Snook got to work chopping up all our weird organic tomatoes.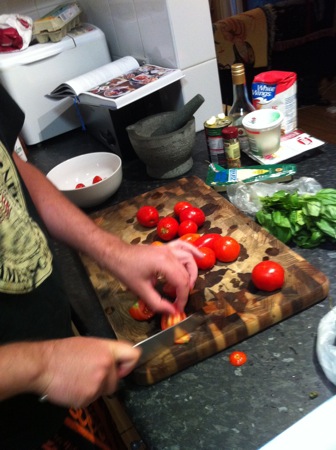 Really, the salad prep was so quick. We added in finely chopped chilli and garlic, torn up basil, and the balsamic vinegar. Then a seasoning of salt & pepper and a drizzle of olive oil, and it was done!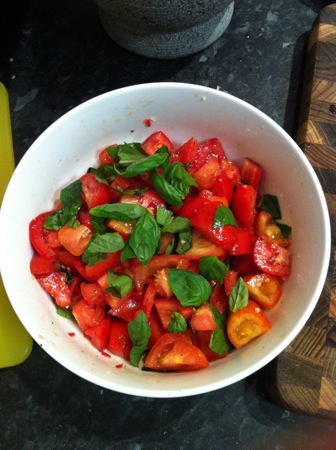 Time to get the pizza going. Here's the Snook whizzing up the dough (flour, water, oil, and salt) in the food processor.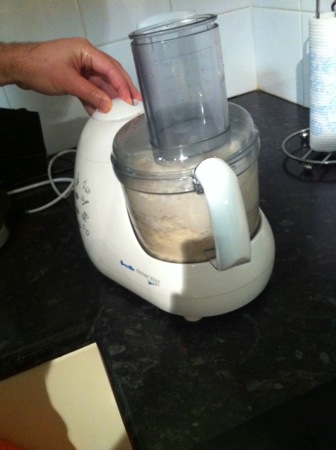 Next he turned it out onto a floured board…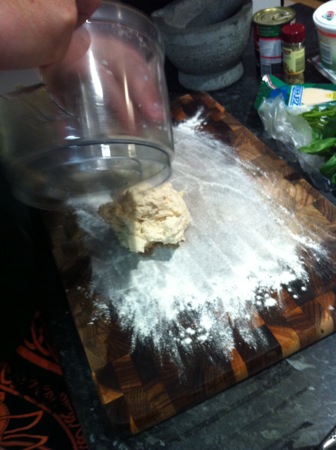 Kinda lumpy and wet, "like a scone dough" he says.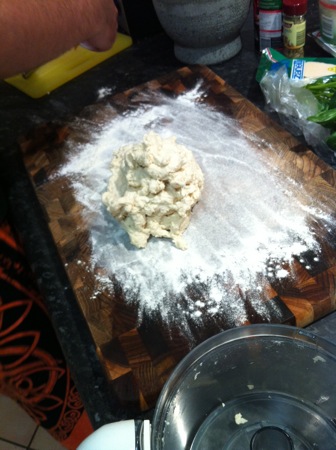 Here he's divided it in half and he's rolling it out into a circle roughly the size of our frying pan.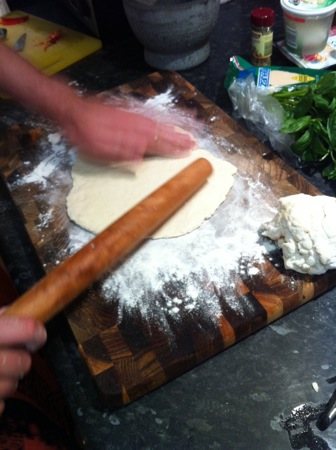 Meanwhile, I got to work on that sauce. The blender has tinned tomatoes, basil, garlic, red wine vinegar, olive oil, and salt in it.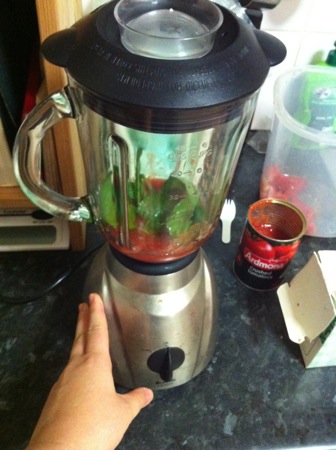 The whizzed up sauce. Frankly, this is a step I'd leave out next time. It annoyed me that it only uses a third of a can of tomatoes. What the heck am I going to do with the rest? And it's a pain to clean a blender. I found myself thinking – why not just buy one of those little tubs of pre-made sauce?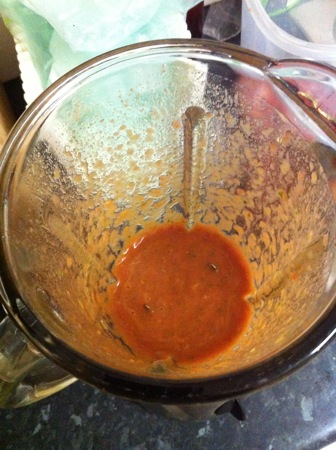 Time to assemble the pizza! Here's the dough going into the frying pan.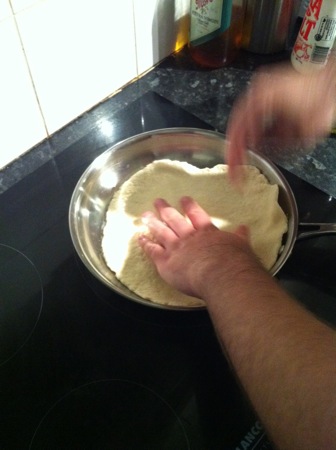 At this stage it's got my sauce on it, along with torn up buffalo mozzarella and a grating of parmesan.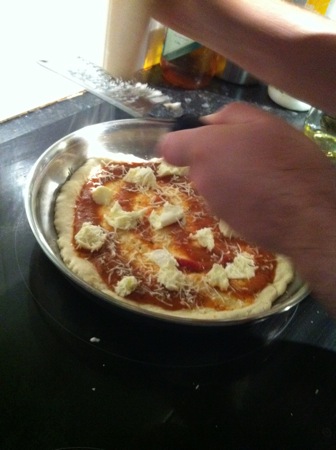 The final additions: salami, fennel seeds, and chilli. Then it went under a hot grill for 5 minutes!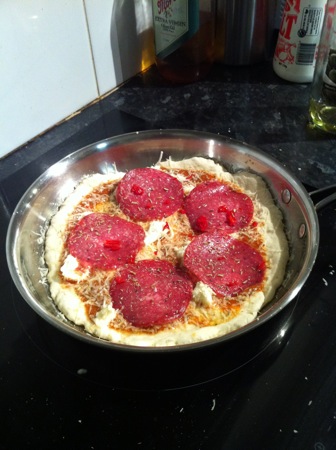 Meanwhile, Snookums got working on the rocket salad. It was pretty simple: just rocket, olive oil, lemon juice, salt and pepper.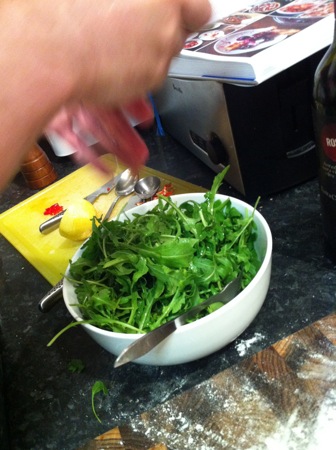 The pizza is done! (We let it cool for a minute before putting it on a rack and then assembling the second one in the same pan.)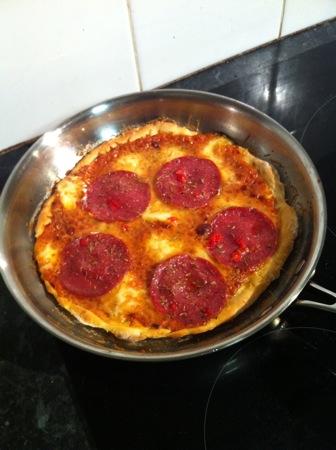 I was busy with the mozzarella salad. Basically, it's torn up mozzarella covered in pesto, basil, lemon zest, pepper, and olive oil. (Note: real buffalo mozzarella is HELLA expensive. The two lumps we used cost us $16!)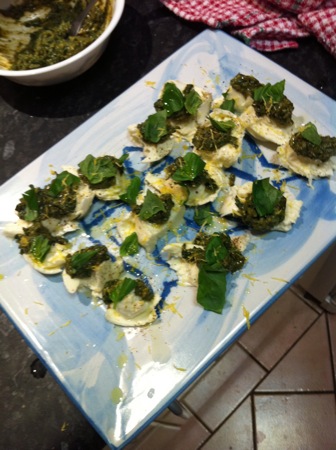 The dessert was the weirdest part for me. First, I don't get why you have to put the cherries in ice water. It didn't seem to really make much difference. Secondly, why such a tiny amount of marscapone? The recipe called for 125g, which was half my little tub. Even padded out with milk, icing sugar, vanilla, and orange zest, that doesn't amount to much when you divide it among four people. Here I've divvied it up as if you were serving to four.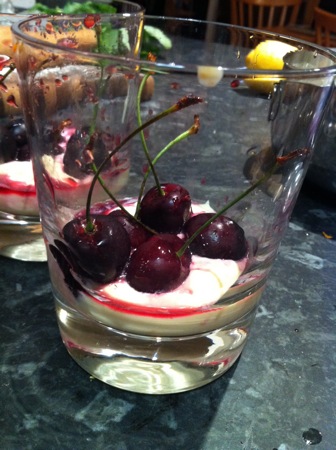 The finished meal! In terms of leftovers, we have a whole second pizza and plenty of salads for lunch tomorrow.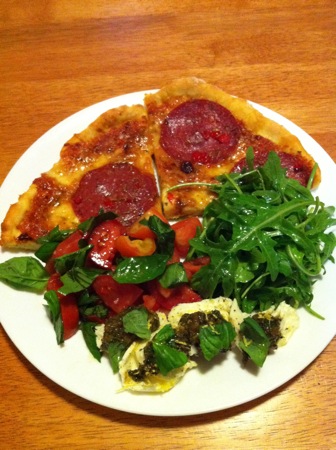 Here's the dessert after I decided to just dump in the other half of the marscapone cream. That made a much nicer portion size.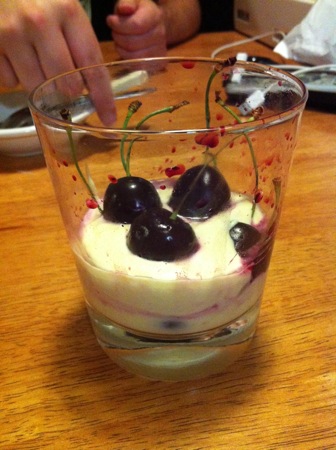 Tasting notes: The Snook says the pizza was as good as could be expected given that it was made so quickly and didn't include yeast. It browned up nicely on the bottom, but it was mostly bready and not that crispy (except around the edges). Snookums also doubted the inclusion of fennel seeds, which I actually liked. The tomato salad was excellent, and I think it actually brought out the best in our ragged tomatoes. The other two salads were good as well. In retrospect, buffalo mozzarella is probably overkill for the pizza in terms of the price, but it sure made a nice little indulgence. The dessert was very tasty; we just thought the recipe amounted to some very meager portions! Overall this was the perfect summer Italian meal and that nicely highlighted produce that's in season. Will definitely be repeating this one.
Stay tuned next week for another recipe from Jamie's 30 Minute Meals!