Jamie's 30 Minute Meals #5: Oozy Mushroom Risotto
This is our fifth official cooking/blogging experiment from Jamie's 30 Minute Meals. Hey, we've made it through 10% of the book! I had plans to go to the Eveleigh Farmers' Market on Saturday morning, so I figured we should find a recipe that uses ingredients I can get there. We settled on Oozy Mushroom Risotto, Spinach Salad, and Quick Raspberry & Lemon Cheesecake. For most of my life, mushrooms have been my most hated food, but I've been working to get over that in the past few years. I figured this would help. But I wasn't going to use just any old crap button mushrooms from Coles. There's always a stall at Eveleigh selling fancy mushrooms ("The Fun Guy"), so that was my first stop Saturday morning. Let me tell you: 500g of fresh exotic mushrooms is NOT cheap. Neither are dried porcini. I'm glad I suffered the expense though, as the resulting meal was well worth it.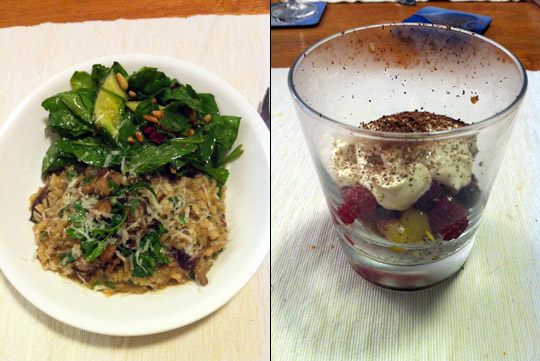 Quick verdict: No substitutions on this one; we followed the recipe pretty much exactly. Elapsed time was 43:07, which wasn't too bad. In terms of taste it was fantastic, and we both rated it 9.5/10. I would have never thought such a quick risotto would turn out so good! We did come up with a couple things we'd do differently next time though. Read on for a photo essay of the preparation.Pre-start prep: We got out all the necessary ingredients, tools, and cooking vessels. This week we also needed the food processor and a kettle full of boiled water. The kitchen was clean (well, as clean as it gets) and everything wiped down and ready to go. The oven was turned on and a big saucepan put on the stove to heat. The Snook also decided to wash the mushrooms ahead of time. (Alton says it's okay!)
First up are the ingredient for the risotto: onion, celery, rosemary, dried porcini, arborio rice, a stock cube, white wine, garlic, butter, thyme, parmesan, lemon, and parsley.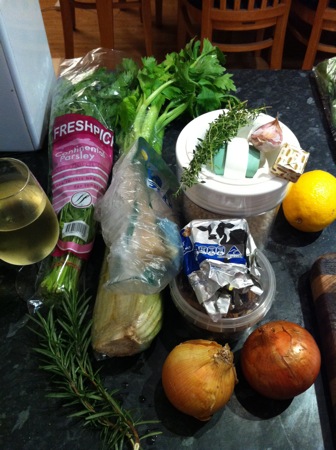 And of course, the mushrooms themselves! I asked for 500g of mixed "chestnut, oysters, and shiitake."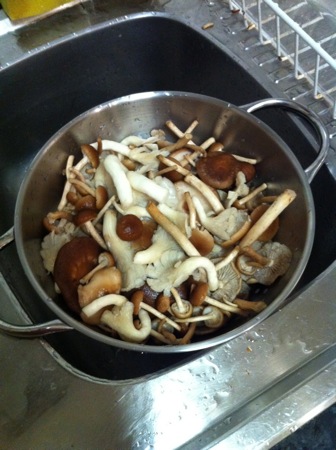 Next, the ingredients for the salad: pine nuts, balsamic vinegar, olive oil, lemon, baby spinach, mint, cucumber, and sun-dried tomatoes.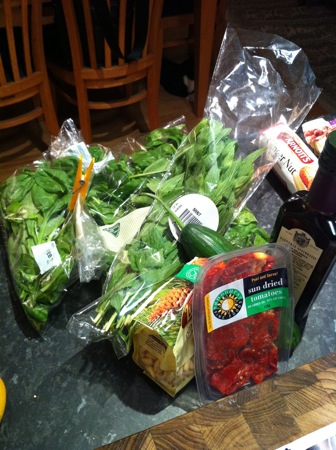 Lastly, the dessert ingredients: gingernut biscuits, hazelnuts, butter, lemon curd, lemon, (frozen) raspberries, light cream cheese, icing sugar, milk, vanilla, and dark chocolate.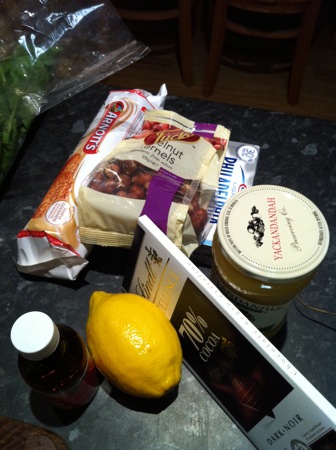 Pots and pans, ready to go!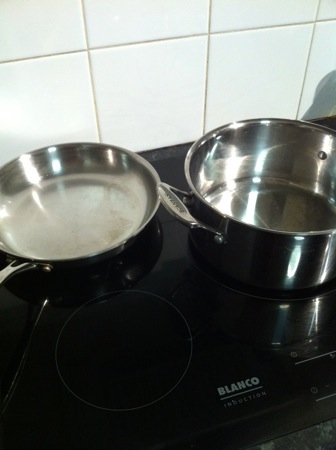 Our crappy food processor, ready to go. (Our new one should be here soon!)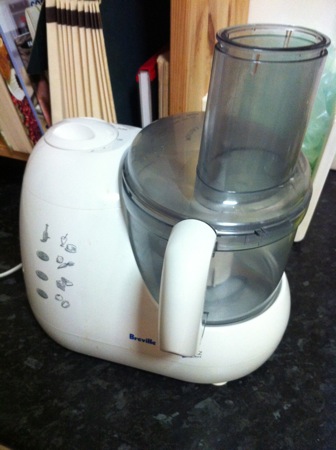 The first step in the risotto prep is to whizz up celery, onion, and dried porcini. The porcini smelled amazing – just like Vegemite! Lots of umami happening here.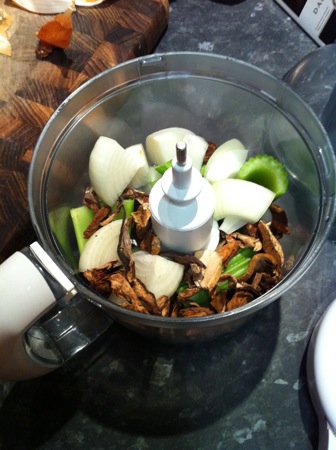 While I did that, the Snook got the pine nuts toasting for the salad.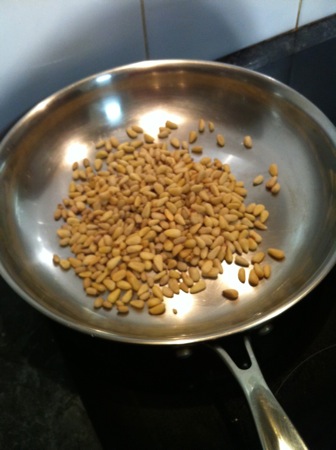 Here's what the whizzed up risotto base looked like.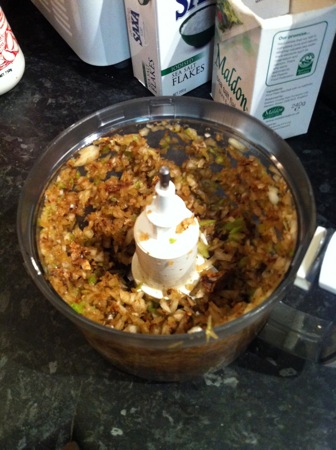 The Snook cooked this in a pan with a couple slugs of olive oil.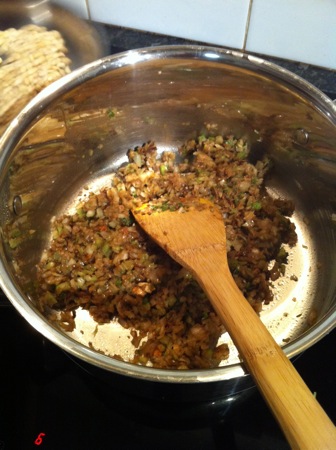 Now he's added the white wine and the arborio rice.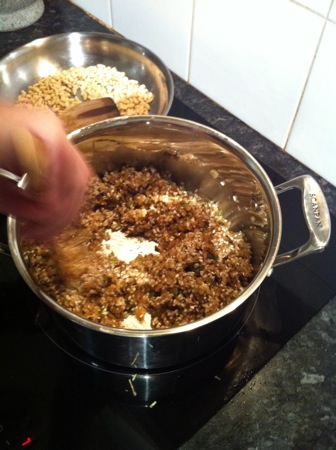 And now the real risotto process happens. He put in a crumbled stock cube and then began adding boiling water, a bit at a time. Over the next 20 minutes, he kept an eye on it, stirring and adding more water as necessary.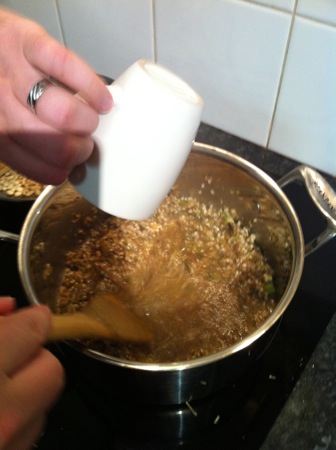 Pine nuts are toasted!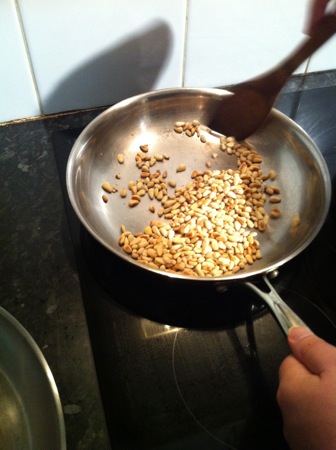 Once the pine nuts came out of the pan, it went back on the heat with some oil. Then we tore up half the mushrooms and added them along with garlic and thyme. These came off the heat very quickly.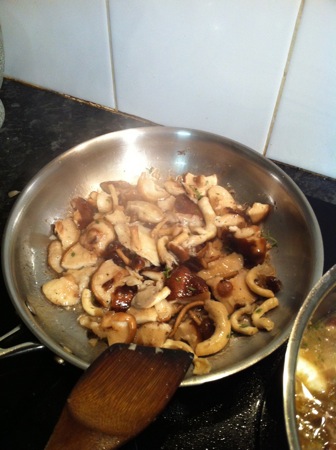 The rest of the mushrooms and thyme went into the risotto.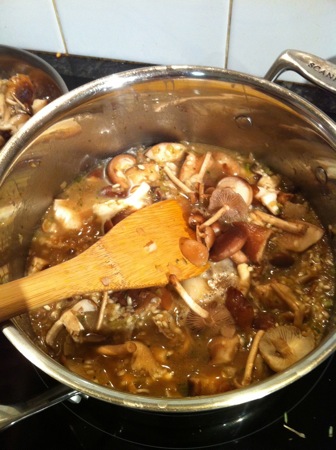 Now we get started on the dessert. This step was fun at first, but in retrospect it was really stupid. I had to bash up the hazelnuts and the gingernut biscuits in a tea towel with a rolling pin. It would have been a lot faster to use the food processor, but presumably he figures yours is dirty from the risotto bits.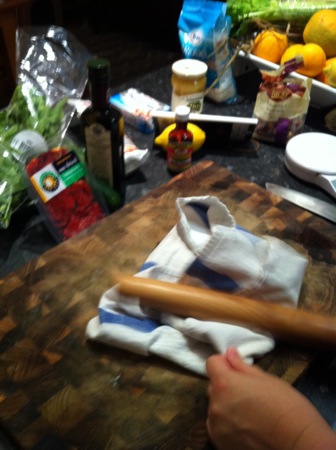 After melting some butter in a saucepan, the Snook dumped in the bashed up cookies and nuts. This was another stupid step. Why get a saucepan messy to melt butter? We'll use the microwave next time.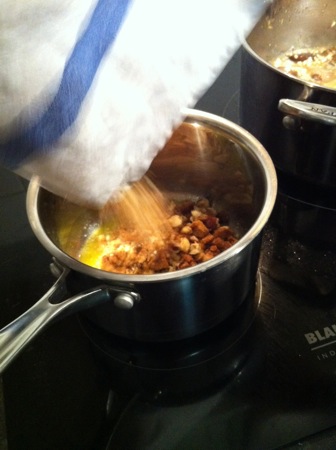 After grating in some lemon zest, we pressed the mixture into our chilled tumblers. It was pretty chunky. Plus we had a tea towel covered in crumbs, which is annoying.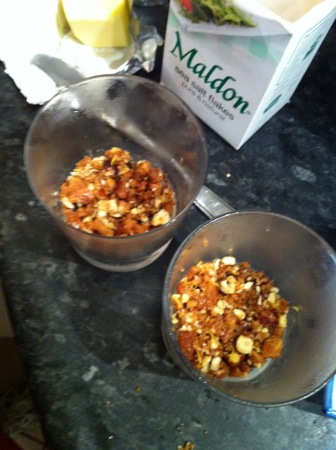 Now for the salad! The toasted pine nuts go into a bowl along with balsamic, olive oil, lemon juice, and roughly chopped spinach.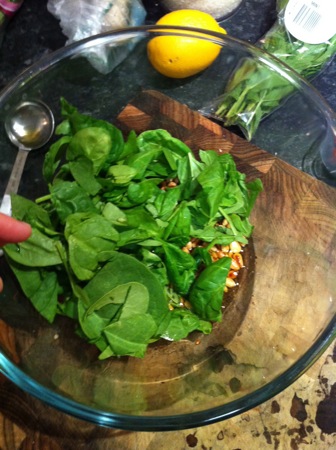 Risotto is still going! Also, the mushrooms in the frying pan were put under the grill to crisp up.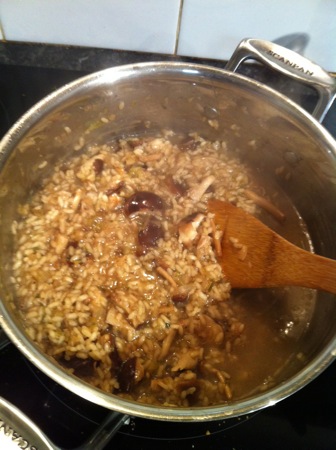 Completed salad with mint, cucumber (complete with arty scoring), and sundried tomatoes.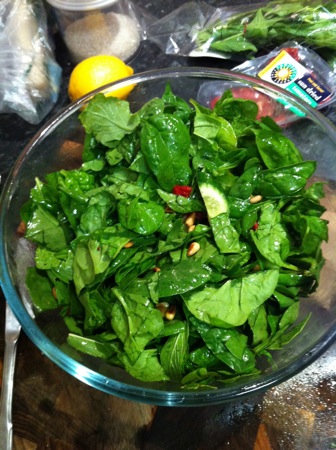 Next step on the dessert: adding lemon curd and raspberries.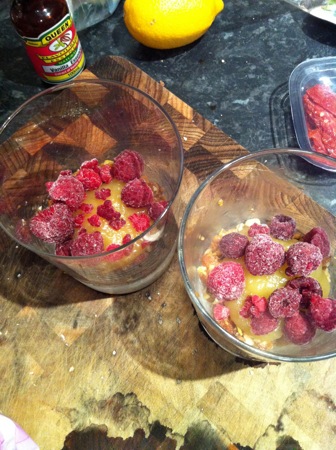 The grilled mushrooms are finished! They smelled great.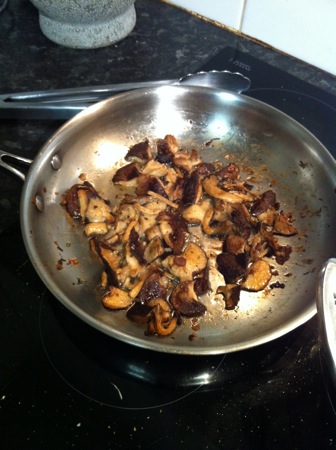 Finishing off the risotto with parmesan and lemon juice…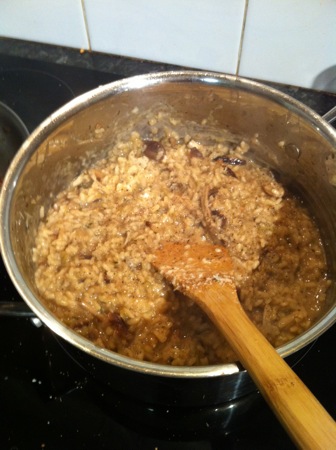 Finished meal! Chopped parsley was added to both the risotto and the grilled mushrooms, which were served on top.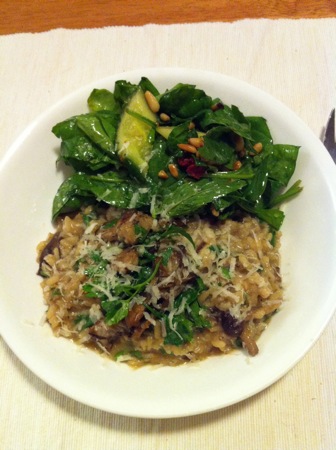 And the dessert, with the "cheesecake" mixture and grated chocolate on top.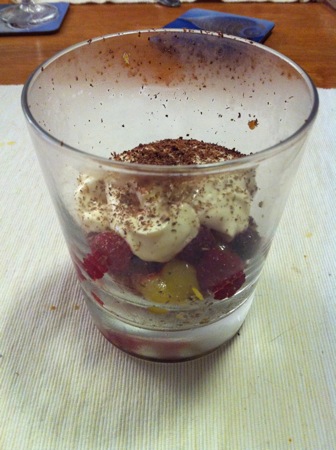 Tasting notes: The risotto was GREAT. The Snook admits that the "stock cube + water" method was less hassle than stock, but he felt the resulting dish needed a little extra salt at the end to compensate. I was impressed with how well the mushrooms matched up to the strong flavours of rosemary, thyme, garlic, and parsley. They also retained their texture nicely. I don't feel bad about the cost anymore – it was well worth it! The salad was simple but made a nice contrast. The cheesecake dessert was very nice, but the bottom was really chunky (due to my crappy bashing). Next time we'll whiz it in the food processor and add melted butter from the microwave. We have plenty of leftovers of everything so we're having it for dinner again tonight! Great little vegetarian feast for a cold autumn night…
Stay tuned next week for another recipe from Jamie's 30 Minute Meals!