Jamie's 30 Minute Meals #8: Pregnant Jools's Pasta
This is our 8th cooking/blogging experiment from Jamie's 30 Minute Meals. We decided this week to move our "Jamie meal" to Saturday nights which gives me a lot more time to put the post up on Sunday. The goal for this particular meal was to CARB-LOAD in preparation for today's long run. With that in mind, we picked out "Pregnant Jools's Pasta, Crunchy Chicory & Watercress Salad, and Little Frangipane Tarts." We saw the corresponding TV episode a couple months ago, so we had a good idea of the preparations.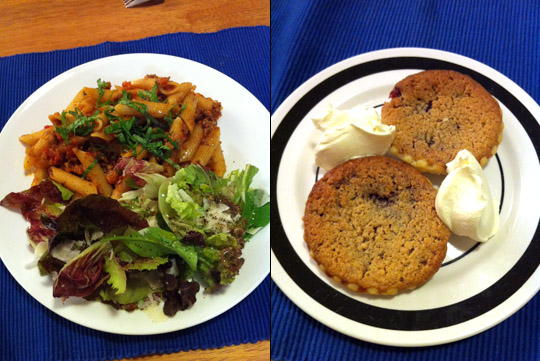 Substitutions: We couldn't find red chicory in any of the shops – it must not be in season – but we did find a bag of mixed salad at the farmers' market that had red chicory in it. We only made a half-recipe of the dessert. It was supposed to use "golden" caster sugar, but we couldn't be arsed buying it specially so we just used plain. The Snook ground his own almonds (just because he objected to the price of pre-ground at the grocery store) and we used cherry preserves instead of raspberry jam. Everything else was as-written.
Quick verdict: Yum! This is the quickest and easiest recipe in the whole book, I bet. The frangipane tarts are really impressive considering how quick they are to make. The sausage pasta is just good, filling comfort food that would please any picky-eater. The Snook found the simple salad a little too bitter for his taste, but I thought it was a nice contrast to the sweetness of the pasta. We both rated it 9/10. Our elapsed time was 35:23, but the last 5 minutes were just standing around waiting for the tarts to finish baking. If we'd have been quicker getting them in the oven, we'd have easily made the 30 minute mark. This is a great recipe for any beginners who aren't super confident in their cooking ability! Read on for a photo essay of the preparation.Pre-start prep: We got out all the necessary ingredients, tools, and cooking vessels, including our new food processor! The kitchen was clean (well, as clean as it gets) and everything wiped down and ready to go. The oven was turned on and the kettle was boiled. We had a fry pan, pot, and cookie sheet ready to go.
First up are the ingredients for the pasta: spring onions, carrot, celery, red chilli, "good-quality sausages" (we got ours at the farmers' market), fennel seeds, oregano, penne, garlic, balsamic vinegar, chopped tomatoes, and basil for garnish.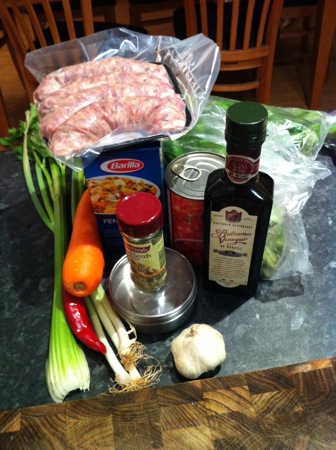 Next, the ingredients for the salad: chicory, rocket, and watercress (ours already premixed), parmesan cheese, and a lemon.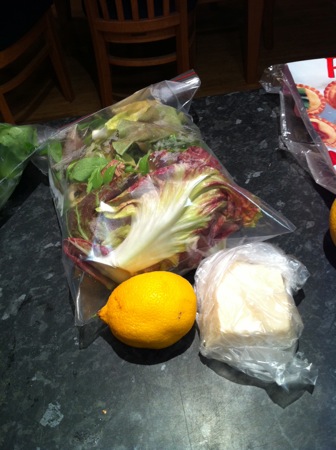 Lastly, ingredients for dessert: shortcrush pastry cases, egg, ground almonds, butter, sugar, orange, vanilla, jam, and créme fraiche.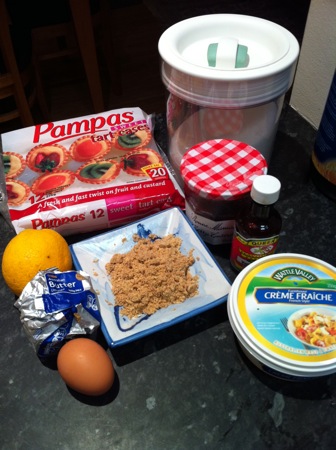 Pots and pans, ready to go. Frying pan is for the sausage; pot is for the pasta; and cookie sheet is for the tarts.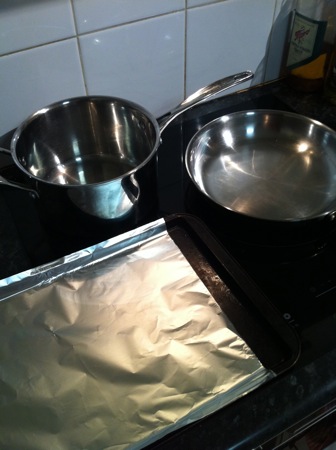 Our kickass new food processor.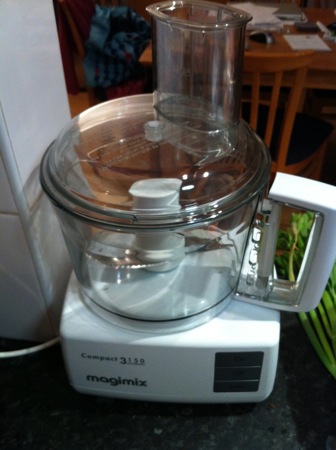 Since I was going to be washing the salad leaves, I thought I'd show you our salad spinner. It works pretty well.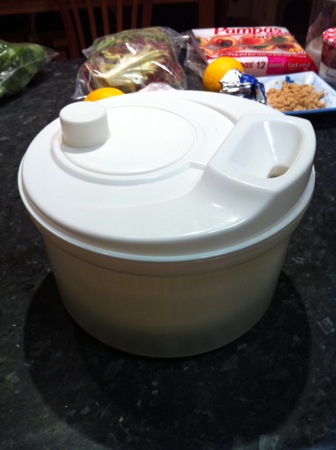 And we're off! The first step is to put the spring onions, carrot, celery, and chilli in the food processor.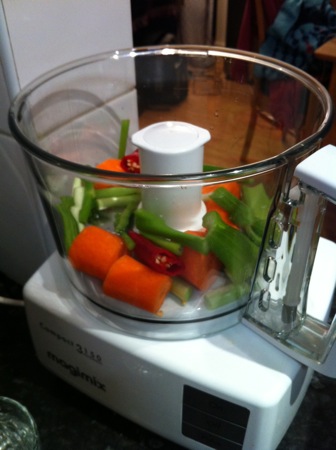 Once those are whizzed up, you add in the sausages (not bothering to remove the skins), fennel seeds, and oregano.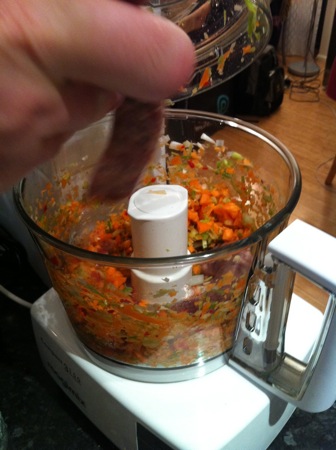 Here's what it looked like when it was all mushed up. Mmm, meat paste.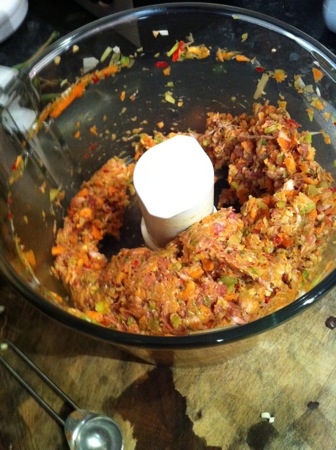 This gets fried in the frying pan with some olive oil.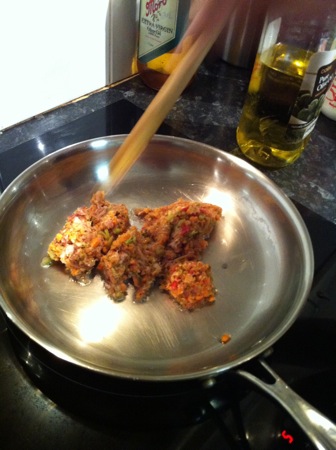 Meanwhile, I got to work on the dessert. The frangipane mixture consists of egg, ground almonds, butter, sugar, orange zest, and vanilla.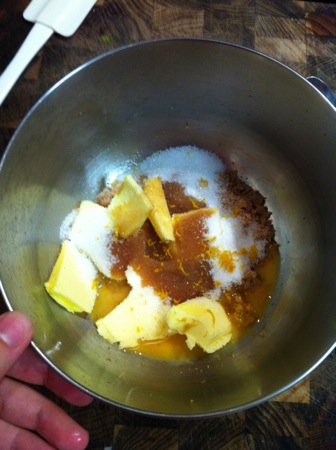 This what it looks like once you mix it up. We beat it quite a bit to try to break down the lumps of butter.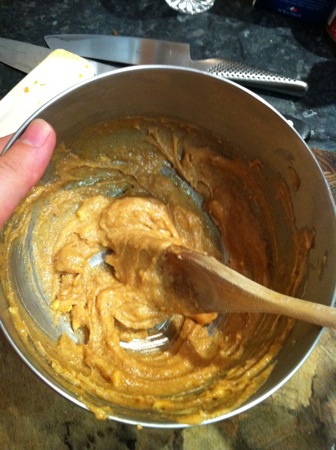 Our tart cases were unbaked and the recipe didn't specify if they were meant to be or not. We decided to risk it and not pre-bake them. Here the Snook is filling them with alternating layers of jam and frangipane mixture.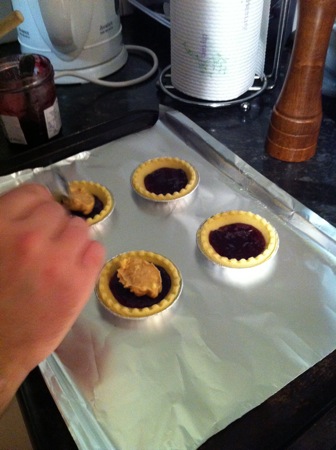 The meat mixture is just about cooked…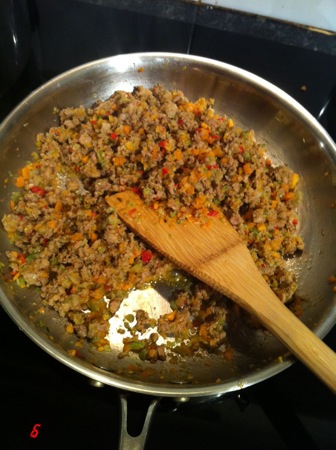 The completed tarts go into the oven. We actually made a couple extra when we realised how much mixture we had left. Note: unbeknownst to us, these are overfilled. You'll see. We had really shallow cases though.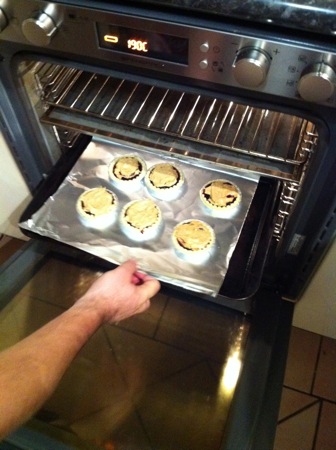 Time to get the pasta going! Here it is bubbling away.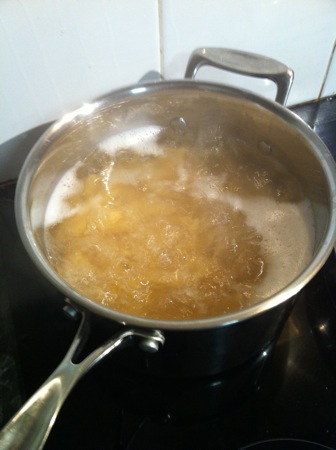 The Snook is crushing garlic into the meat sauce now…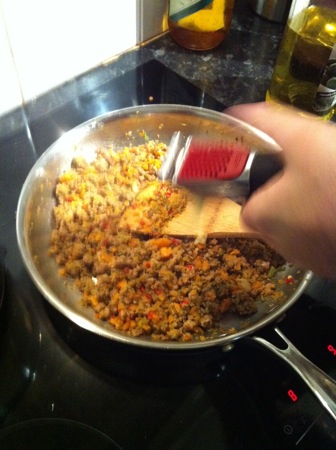 Our salad prep was a lot simpler than the recipe's! I just washed the leaves, spun them dry, and put them in a bowl.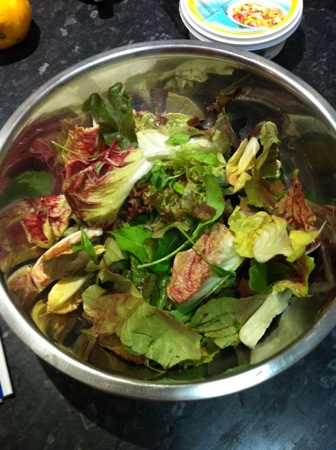 The only other thing you do is grate some parmesan on top…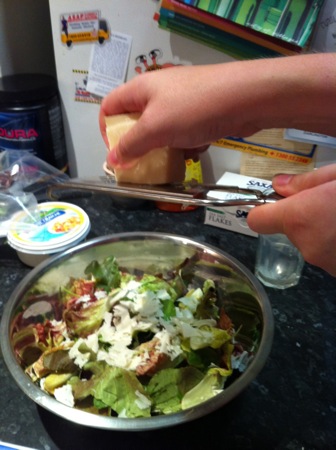 The meat sauce is coming together! He's added balsamic vinegar and tomatoes now.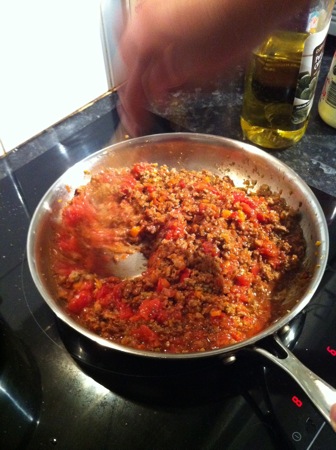 My completed salad, ready to be dressed with salt, pepper, extra virgin olive oil, and lemon juice.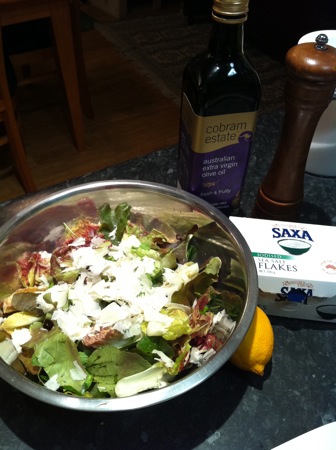 The pasta is finished, so it gets drained…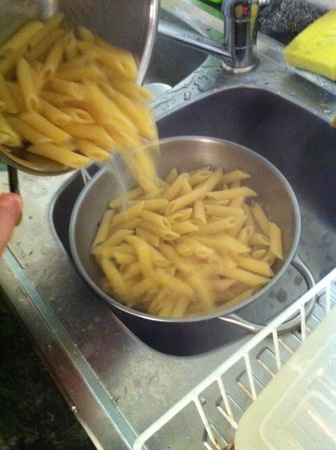 …before being added to the meat sauce. Except our frying pan wasn't nearly big enough, so instead we added the sauce to the pasta.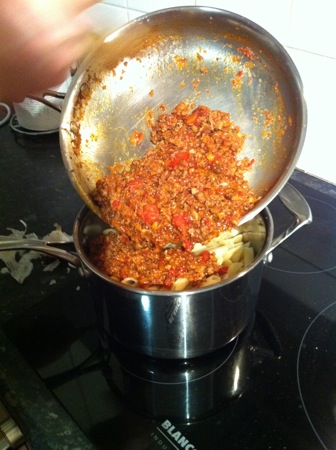 Once you stir it up, the whole meal is basically done!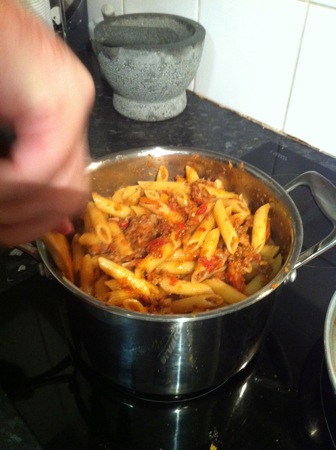 Well, except for those tarts. We basically stood around for five more minutes waiting for them to finish. As you can see, a couple escaped their cases a bit. That's okay; we just won't fill them as full next time!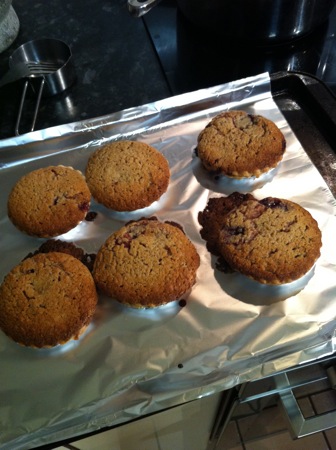 The finished meal of Jools's Pasta and Chicory Salad.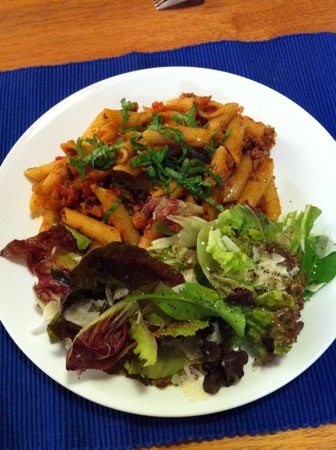 Pop the tarts out of the tins, add some créme fraiche, and there's dessert!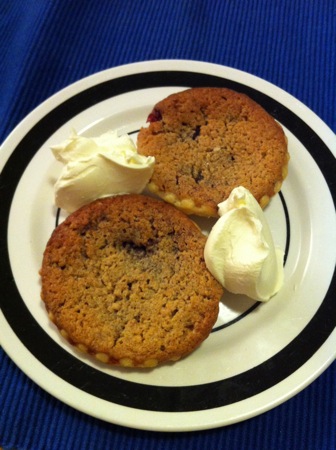 Tasting notes: The pasta was quite sweet from the tomatoes and the balsamic, but a little salt helped to bring out the other flavours. The Snook thought the fennel seeds dominated too much, but I like them and thought they were fine. I like that you could easily tweak the dish by changing up the type of sausages you used. The salad was simple and crunchy and made a nice contrast. The tarts were the real star though. They were much, much better than we expected given how quick and easy they were to put together. It's a simple meal but one that would still impress a guest! We had heaps of everything left over, so this one is definitely a crowd-pleaser.
Stay tuned next week for another recipe from Jamie's 30 Minute Meals!