The Bentley Bar and Restaurant
The Bentley is a restaurant that I've been wanting to try out for a long time. It's been awarded two hats for several years in a row, and it's the most high-profile "molecular gastronomy" type restaurant in Sydney. (The chef is that guy who went on Masterchef last year and made the crazy pea dish that Claire had to replicate.) The Snook made reservations for my birthday so last night we headed over there after work.
I got there early (I was actually the first patron in the place) but they happily seated me at our table next to the front window. I ordered a G&T and checked in on Foursquare while I waited for the Snook. Our waiter was a woman from Michigan, and she was fantastic. I'd read some miffy reviews from people who thought the servers were snobby or mean, but I didn't see that at all. Eventually I spied the Snook coming up Crown Street bearing a flower for me. Awww, so sweet! And it was my favourite.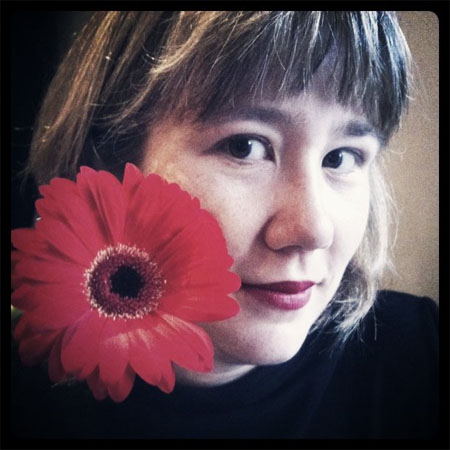 We had been tempted to order the tasting menu, but after some consideration we decided to go "a la carte" instead. Since we planned on sharing everything, we figured that way we could taste just as many dishes but get to pick the ones we wanted. I picked the "Duck Liver Foie Gras Parfait," "Beetroot with Snow Peas and Goat's Curd," "Slow Roast Duck Breast," and a new dessert that isn't on the website yet that involved goat's cheese mousse. The Snook picked "Kingfish Ceviche," "Jamon Poached Tuna," "Fillet of Black Angus Beef," and the "Raspberry Parfait." Everything was AMAZING. And you know what? It wasn't too weird. (No listening to waves crashing on an iPod tucked in a seashell or anything like that.) It was definitely "arty," in both the plating and the preparation. We didn't have any foams, but the chef definitely likes his "soils." Each dish was very, very tasty and beautiful. The waitstaff were great at recommending wines to go with each course. I took some increasingly bad photos of the dishes as the night wore on, so keep reading if you're interested…First up is my choice of appetizer: "Duck Liver Foie Gras Parfait with Puffed Rice and Pickled Raisin." I picked it because it was mentioned in this Time Out review as being especially good. The presentation was amazing. How do you get such a perfect tube? My version didn't come with any "toastlets," I just ate it straight off the plate. The puffed rice and pinenuts were yummy and crunchy against the smooth richness of the pate. I believe those were little dried capers on top; they gave a nice salty hit with each bite.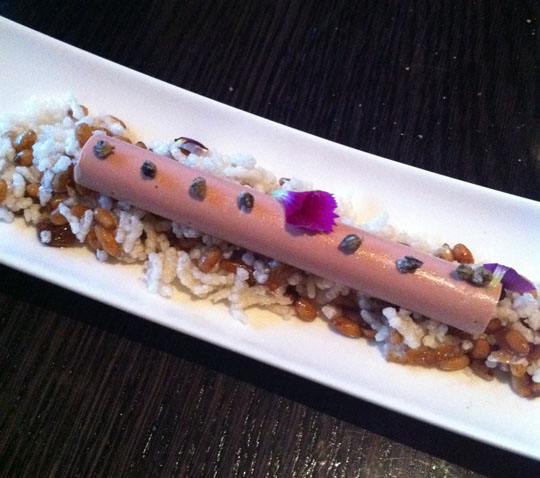 Unfortunately I didn't take a photo of the Snook's "Kingfish Ceviche with Pickled Daikon and Yuzu Mayonnaise," but you can see someone else's here. We ordered it based on a Foursquare tip. It was three beautiful little golf-ball sized piles of daikon ribbons and kingfish. "You're going to love this one," the Snook said as he tasted it. "The flavour is heavy on lime juice and coriander!" He was right. It was beautiful. I could've happily eaten a great big bowl.
Next up is my "Beetroot with Red Chard, Horseradish and Soy Beans." I've been on a real beetroot kick in the past year, and now I can't get enough of it. When she sat down this plate, I thought the red balls were baby beetroots. Nope! They're "beetroot spheres" filled with a beetroot puree. Luckily they didn't pop like balloons as I'd feared; instead they were soft and smooth inside. The dish was heavily spiced with cumin, and the Snook said it reminded him of the beetroot dip you get at Lebanese restaurants. The waiter has described as "warming," which was a good description.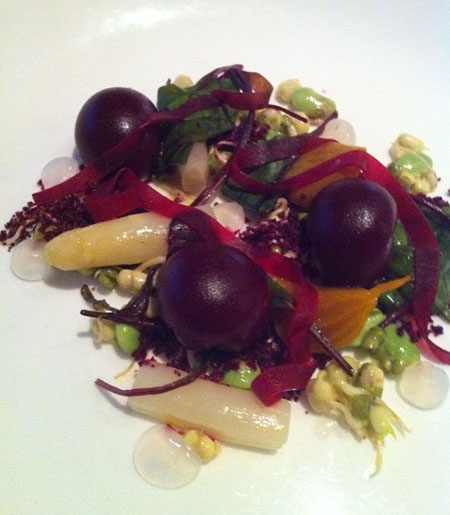 Next is the Snook's "Jamon Poached Tuna with Celeriac, Squid Ink & Black Sausage Crumbs." To be honest, we're not sure exactly where the Squid Ink is… unless it's the fat black ribbon below the tuna. It was very savoury. This wasn't really my type of dish – more subtle than WOW-POP! – but we both still enjoyed it.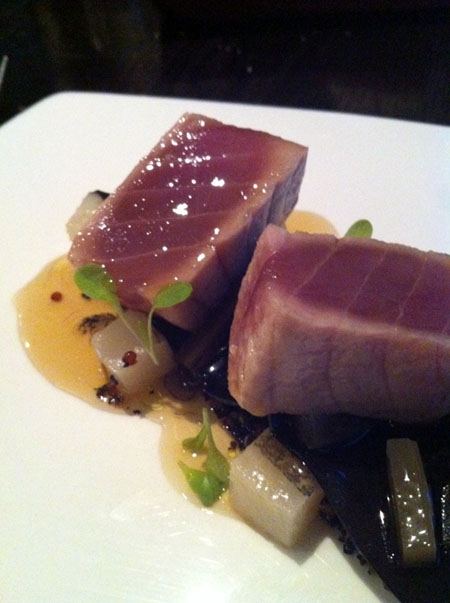 Now for my "Slow Roast Duck Breast with Cuttlefish and Mushroom." (The light was fading at this point, which is why the photos are so bad. I didn't want to use a flash and disturb everyone.) Every review of this place said to get the duck breast, so I was really looking forward to it. It was SO GOOD. The slices were rolled into a curl on top a bed of cuttlefish, mushrooms, and some sort of tasty black soil. (I think the waiter said it was mushrooms?) The duck was cooked to absolute perfection. I think I may have moaned a little on the first bite. We both loved this one.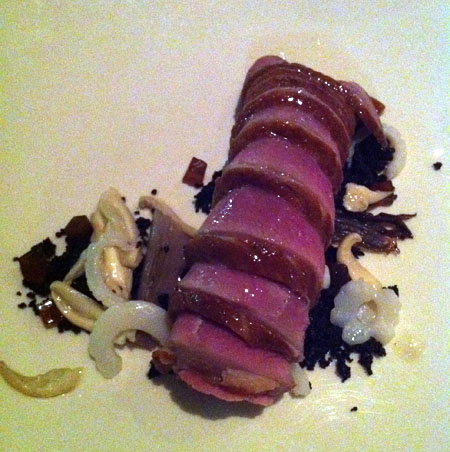 Our other main was the Snook's "Fillet of Black Angus Beef with Carrot, Azuki Bean, and White Sweet Potato Cake." I'm sorry the photo is so bad, because this was the most perfect and succulent piece of beef I've ever seen in my life. The orange "soil" was actually the carrot! There were also two piles of black "dust" which tasted strongly of aniseed (and actually went really well with the beef). This was a generous portion of meat and we both absolutely loved it. I definitely moaned when I tried this one.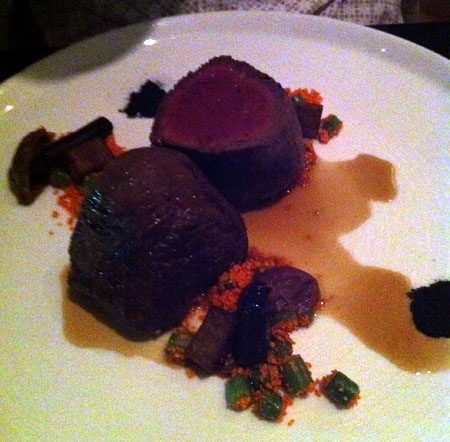 Here's the Snook with his dessert choice: "Raspberry Parfait with Almond and Nectarine." The slabs that look like sushi rolls are actually the raspberry parfait covered in a chocolate soil. I only had a small taste of this one, but it was lovely. He seemed to like it.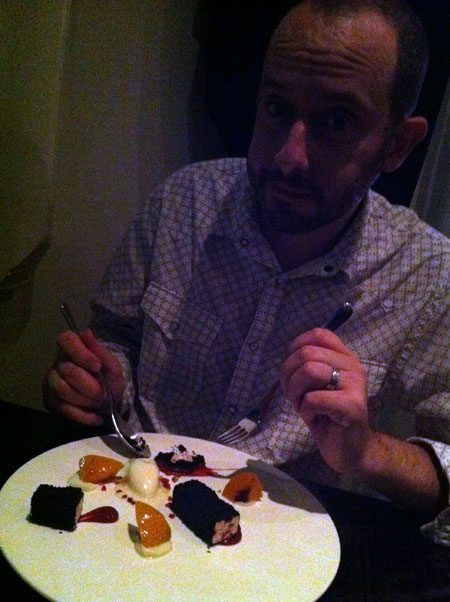 Last but not least is my dessert selection. It's so new it isn't listed on the website, so I can't really give a good description! The white fluffy bits are actually Goat's Cheese Mouse, light and airy like savoury little clouds. There are a couple thin slices of cake and a scoop of some delicious passionfruit ice cream. The shards are white chocolate, I think? And the soil involved some sort of crispy barley or something like that? Whatever – I ate every bit. So good.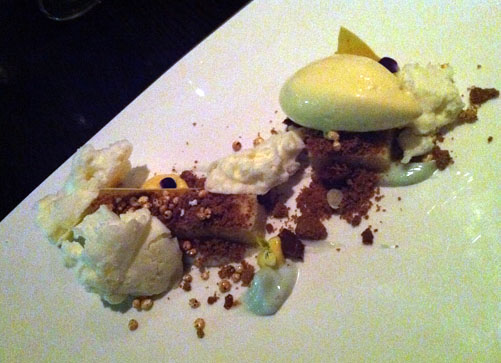 If you're an adventurous sort or you like your food on the arty side of the spectrum, you should definitely check out The Bentley.