Tim Tam (and Oreo!) Stuffed Chocolate Chip Cookies
Sometimes I amaze even myself. I knew I wanted to make some sort of sweet treat this week as a belated birthday gift for my friend Kunaal. (He was overseas on his actual birthday a couple weeks ago.) Kunaal has a serious sweet tooth, and he is partial to chocolate. I suddenly remembered seeing Oreo Stuffed Chocolate Chip Cookies being linked on a bunch of food blogs recently. "But self," I thought, "Oreos are kind of a novelty here and they're really more American than Australian. WHAT ABOUT TIM TAMS?" Tim Tams, for the uninitiated, are just about the best chocolate cookie in the world. They're an Australian icon, and everybody who visits and tries them gets addicted. What better way for an immigrant like myself to symbolize the two cultures than by baking one national icon inside another?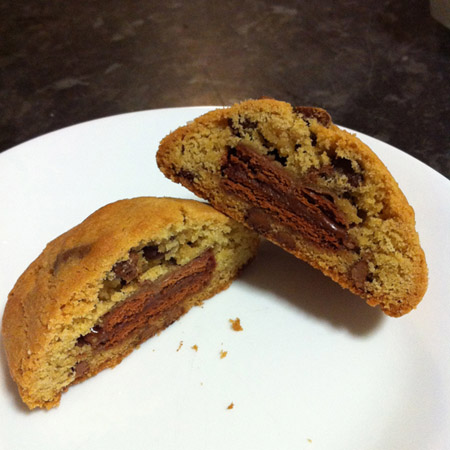 Oh man, they turned out AMAZING. I was half worried that the chocolate coating would melt and, like, leak out of the cookies or something, but they worked perfectly. I followed Picky Palate's recipe pretty much exactly. I have to give a big thank you to the Snook, who helped with the assembly. We did half of them with Oreos, and half of them with Tim Tams. (We cut the Tim Tams in half so they were square rather than oblong.) These are some pretty hefty cookies! I let each batch bake for about 14 minutes or so, just until they were golden and lovely. Then they cooled on the tray for 5 minutes before going on to a rack. I was worried they'd be squishy, but they feel pretty robust and I don't reckon transportation will be a problem.
Such a great idea, and such a great result! Now I want to bake more things inside of things. Hmmmm…