Star Wars Burlesque
A couple of months ago, a friend on Facebook shared a link to an upcoming event at the Vanguard in Newtown: Star Wars Burlesque. I told the Snook, "We HAVE to go!" And this past Saturday night, we did!
My only exposure to burlesque is the musical Gypsy, so I didn't really know what to expect. I was pretty sure nobody was gonna get naked, but I figured we'd see some scantily dressed dancers. We'd booked in for the "show + dinner" option, and when we arrived we were seated right next to the foot of the thrust stage. Excitement! We had drinks and ordered our dinner, and over the next couple of hours we enjoyed ourselves as the place filled up. The food was excellent, as were the cocktails. We all got restless though, especially the non-eaters up in the balcony who'd arrived early to get good seats. After many hours, the curtain finally raised… on the Mos Eisley Cantina Band! These three guys went through a rockin' overture of the Cantina Song, Luke's theme, and Vader's theme. The crowd loved it.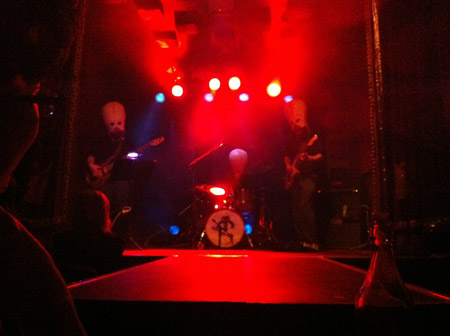 The host for the evening was a smooth-talking guy, and he entertained us between acts with nerd patter and Star Wars trivia. To kill time during setup, he brought on a "Go-Go dancer dressed as Princess Leia." She bopped around on stage for like 15 minutes while everybody played with their iPhones and looked bored. Finally, the host came out to announce the first dancer – "from the tundras of Tattooine, the Tusken Raider!" I GASPED. I'd joked to the Snook that I hoped they'd do some of the less obvious characters, and a pole dancing Tusken Raider had been our private joke. Well, here she was! Minus the pole. Standing on stage in the alien mask and robes before a pile of dirt. Rhythmic music kicked in and she began to dance. It was MESMERISING. Seriously, she was the best of the night. She eventually stripped down to underpants and some strips of cloth across her breasts, but she never removed the Tusken Raider head. It was so weird. People went nuts when her act finished.
We saw many more acts over the course of the evening: a sexy C3PO emerging from a pile of junk; a Twilek bounty hunter limbering up for a job; a trio of Wookiee hunters; a rather gymnastic Boba Fett; a light saber wielding Jedi; Storm Troopers; and many more. The first act ended with "Slave Leia" of course, whose chain was connected to the ceiling above our table. To our surprise, she actually SWUNG ON IT out over us! It was amazing. And the big finale was Darth Vader herself, dressed all in black latex. She was awesome too.
So yeah, a fun night watching some talented ladies dance in a big giant Nerd Fest. Highly recommended!