After a gap of more than two years, it was time once more for the Snook and I to head to the US for a visit with the fam. Work commitments resulted in a shorter trip than we'd planned, but we still managed to fit in stops in Indiana, Orlando, Chicago, and Los Angeles. (Oh yeah, and Space Camp. That ruled.)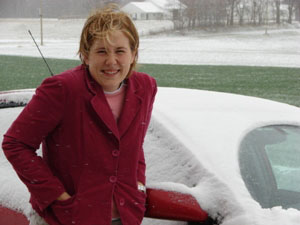 Yeah, so our flight from Sydney was sorta nightmarish. Eventually I stopped hyperventilating though, and we made it to Chicago without any further difficulty. We spent the night at the Holiday Inn Express (excellent bed, nice and clean, and the airport shuttle was much appreciated). The next morning we picked up the rental car and drove to Indiana, where we discovered… SNOW.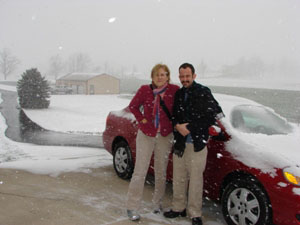 SNOW. IN APRIL. That sucked. Especially since everybody had been telling us how unseasonably warm the weather had been, so we hadn't brought a lot of warm clothes. (Special thanks to my Aunt Deba for both putting us up yet again and for sending through these pics.)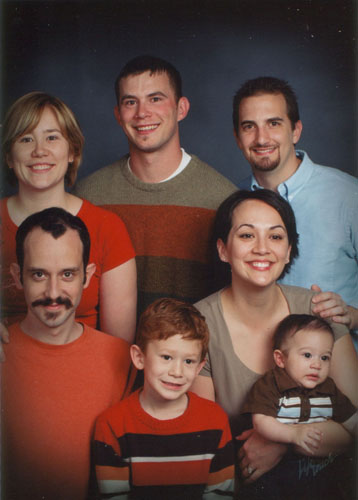 The week in Indiana was a haze of family visits, carbs, dogs, and kids. As mentioned on the blog, my Mom booked us all in for a session at the JC Penney Portrait Studio to commemorate the occasion. While the Snook and I managed one decent shot, the rest didn't fare so well. That photographer SUCKED. Here's one of all the "kids."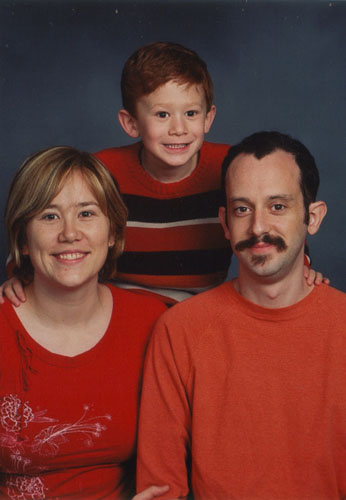 Me, Joey, and Snookums. I wish I hadn't worn a shirt with that ridiculous dangly thing on the front.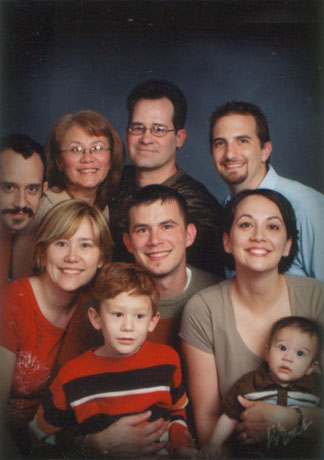 This is the one that had my Mom spitting mad. Why didn't she make it landscape instead? We were all crowded in on the one side, and poor Rodd is just a disembodied head. And there's lots of room over where Dan is! Not to mention that we're all looking in different directions. It's kinda funny, actually.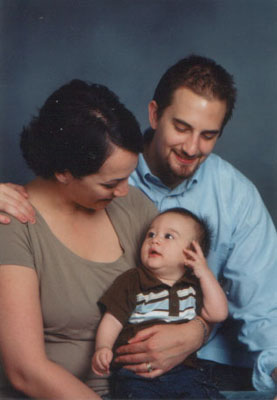 As you might imagine, quite a lot of time and effort went into the baby wrangling. At one point, there were like ten adults maniacally singing the ABC song in a frantic attempt to get Penn to look up at the camera. He looks pretty sweet here with Amy and Dan though.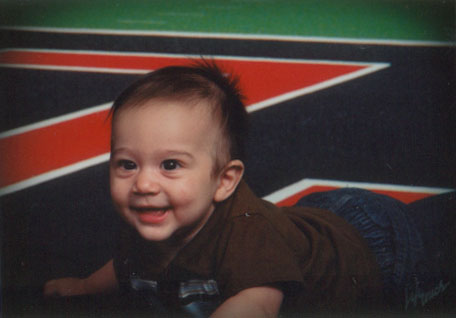 Here's little Penn with a football backdrop. Now that's a cute smile!
After a week of visits, the Snook and I packed up and boarded a flight to Orlando. It was time for some warm weather and theme park action!
Pages: next ->