We landed in Orlando and went to pick up the rental car. Through some fluke, we ended up with a PT Cruiser. A burnt orange metallic PT Cruiser. I know! The Snook and I had been wanting to ride in one of these for some time, but MAN, I can unequivocably state now that they're an absolute bitch to drive. Worst car ever. It has a blind spot the size of a tank and practically no power. But we looked cool!
We stayed at the Royal Plaza, one of the "Downtown Disney" hotels. I'm a bit torn on the hotel recommendation. On one hand it's super conveniently located and everything was clean and comfortable. They've got frequent shuttles to and from all the theme parks, too. On the other hand, they were out of single king bed rooms so we had one with two doubles, which was random. And when I smashed a coffee cup on the first day and rang down to tell them about it, they helpfully sent someone to clean it up… but never replaced the cup. It was just a bit faceless. We got a special rate through Mousesavers though, so I'm not complaining too much.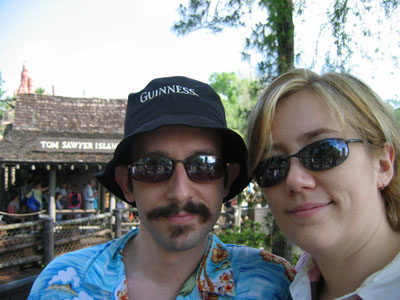 You know what I will complain about though? The ticket prices at Disney World. Man, they really soak you! The hotel concierge helpfully informed us that we could save $150 if we sat through a time-share presentation, but it would have eaten up half of one of our days. We just said "Screw it" and paid the full fare. Here we are at the Magic Kingdom on the first day. We headed straight to Adventureland and Frontierland to do the big rides before the lines got too long.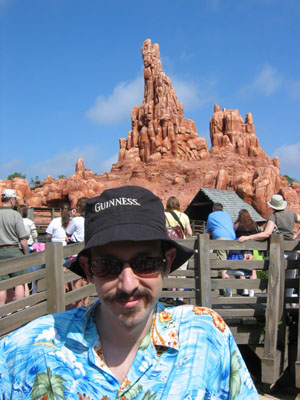 Our first stop was Pirates of the Caribbean, and since there was no wait, we got straight on. The "Davy Jones waterfall" effect at the beginning is BRILLIANT. Seriously, it was the best thing I saw in all of Disney. So, so cool. The Johnny Depp animatronics were pretty good too, but not nearly as jaw-dropping. The crowds were so thin that morning, we rode Splash Mountain, Big Thunder Mountain, and the Haunted Mansion all in succession.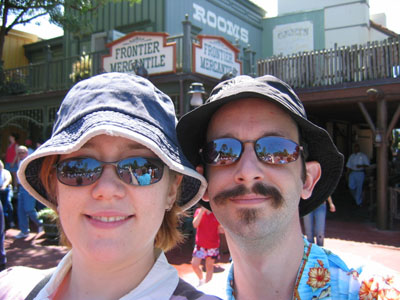 Tourists.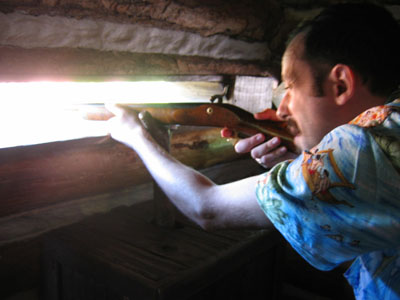 Snookums takes a shot at some "Injuns" from the fort on Tom Sawyer Island.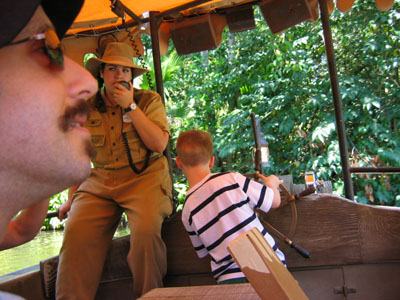 Here we are on the Jungle Cruise. The park was actually starting to fill up by this time, and we actually had to get a Fast Pass to get on this ride.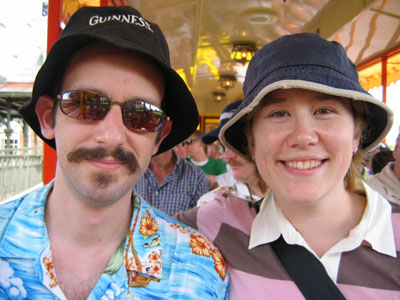 On the train. I actually dragged the Snook on all the "Old People" attractions: the Tiki Room, the Carousel of Progress, the Hall of Presidents, the Tomorrowland Peoplemover. We like the slow stuff.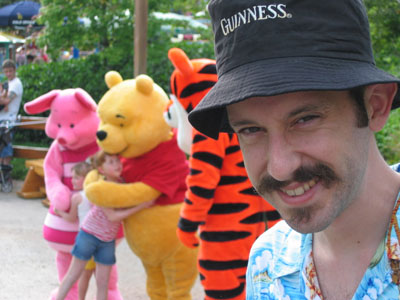 Everytime a character appeared, a queue of like 50 parents and children would materialize beside them. So my only recourse was a telephoto lens and trickery! Here's Snookums with Pooh, Piglet, and Tigger.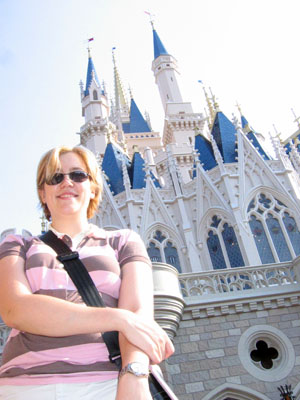 Me and Cinderella's Castle. We eventually did make it over to Tomorrowland and Fantasyland, but we were getting pooped by that point. We got a FastPass for Space Mountain but our time slot was, like, five hours in the future. Whatever! We decided to cut out early.
After a short rest back at the hotel, we caught a shuttle up the street to Downtown Disney. That place is NUTS. Everything is so expensive, and all of the restaurants had ridiculous wait times. We eventually managed to get a table at Cap'n Jack's, which was okay, I guess. We also slammed some margaritas and bought some minifigs at the Lego Store. We headed back for a good night's sleep before our SPACE ADVENTURE…
Pages: <- previous / next ->