This was my third year attending the Wollongong Knitting Camp put on by CR&K Daisy Designs. It's held at Mount Keira Scout Camp overlooking Wollongong. We had a much smaller group this year, but it was still a lot of fun to relax with friends for a few days in beautiful surroundings. I didn't take very many photos, so if you want to see more then visit Margarita, Lyn, and Kylie to see theirs.
I took the day off work Friday to have plenty of time to pack and get ready. I was kindly offered a lift with Margarita, who was also driving Lyn and Jody. It was a very merry party! We had an adventure in the National Park when our way was blocked by a fallen tree. (Luckily our vehicle fit under it, but a semi-truck driver wasn't so lucky. We phoned it in to the Park Rangers for him.) We had lunch at the Scarborough Hotel and then headed on to Wollongong. We made a pit stop at the cosy little house of Kylie, who presented us with…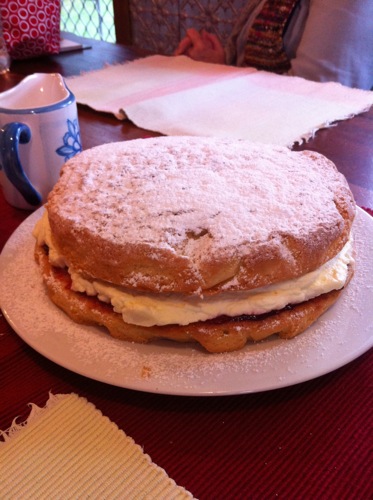 A beautiful homemade sponge! We had tea and coffee and this lovely cake. How felicitous.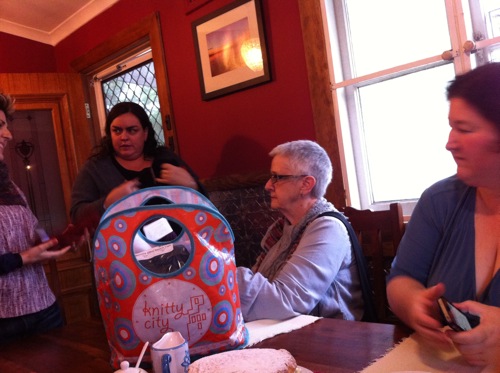 Here we are admiring some of Kylie's latest knitting wool acquisitions.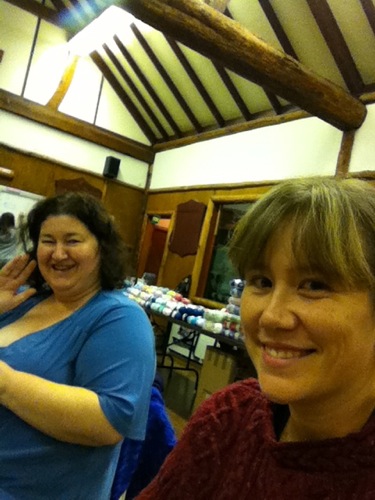 Finally we made it to camp! After settling in to the cabins, we headed up to the lodge to get in some solid knitting time before dinner. It was chilly up there, and I was very glad I brought St. Brigid with me.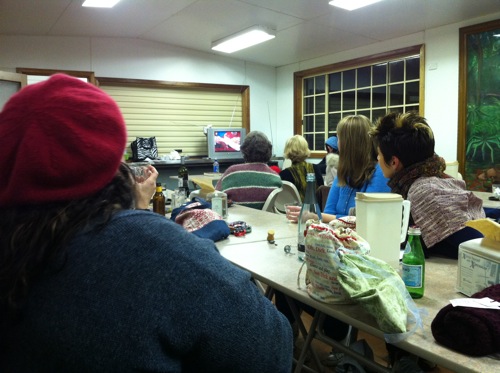 Of course, many of us were a teeny bit sad that we were missing the Royal Wedding. Luckily a TV was found down in the dining room so we could see a bit! Here we all are eagerly awaiting a glimpse at the dress.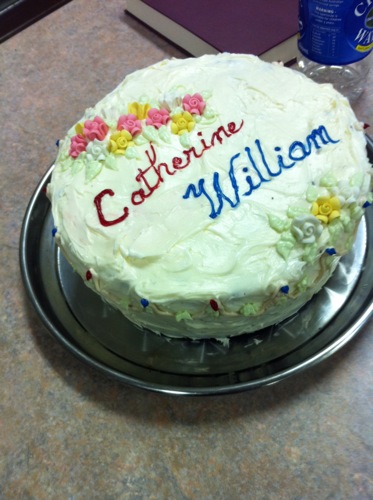 Awww, the cooks even themed the evening dessert!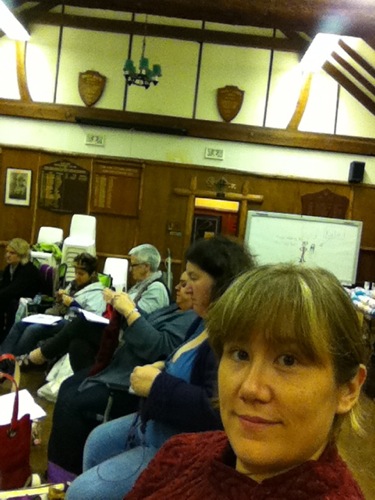 Then it was back to knitting. Ailsa and Donna were there, as well as Zena and Charmaine. Gemma also turned up with her sister. Fun group!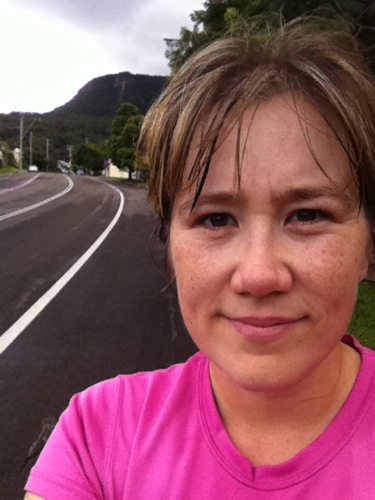 I had a scheduled 6-miler that weekend, and I wasn't going to let a little rain and mountain stop me. I headed out after breakfast Saturday morning down the road from Camp. It probably wasn't the smartest thing to do, as the road had a lot of switchbacks and not a lot of visibility. But I made it 5K down to the bottom, took this photo, and then headed back up. (RunKeeper data.) I was happy to get it done!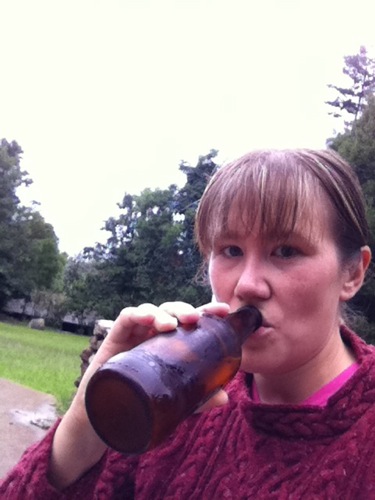 Something funny happened when I got back to the cabin. I was getting ready to hit the showers when the lights suddenly went off. I checked that it wasn't the bulb, and then I stuck my head out. The Camp Warden was nearby and I yelled to him that the power had gone out. "It's out everywhere!" he said. I figured I better get to the shower before the hot water ran out! Here I am afterwards enjoying a well-earned cold beer. (I figured I'd better drink those since the fridges were off as well!)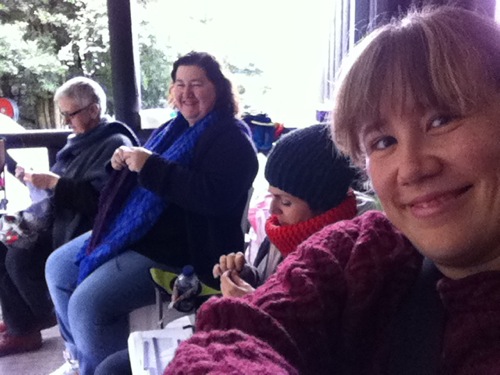 We had high hopes that the power would be restored quickly, but as the day wore on it looked less likely. Our Twitter and Facebook activity died off as we realised we weren't going to be be able to recharge our phones. Eventually we all ended up out on the porch trying to catch the light as it was quite dark inside the lodge. Our amazing cooks were still able to put up a great lunch using only gas barbecues!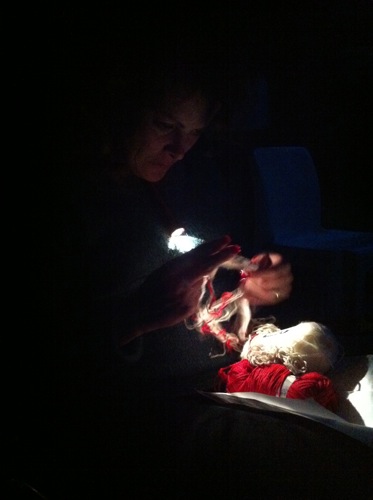 Confirmation finally came that the power wouldn't be on for at least a week. The Wollongong locals started mobilising. We had husbands and friends and fathers bringing us flashlights and headlamps and gas bottles. The knitting started to slow down after that, but I snapped this photo of Donna stubbornly persisting with her intarsia by the light of a headlamp! Eventually I pulled out the ukulele and we had a fun group singalong. No video, but Kylie did a fantastic job with the vocals!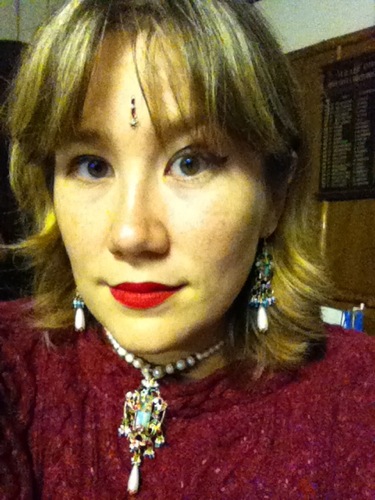 Due to the rain and darkness, the group decided to cancel our Bollywood-themed fancy dress dinner. It's just too hard to put on a sari while you're trying to hold a flashlight! So I satisfied myself with some makeup and bling, courtesy of my friend Janhavi. Fortunately the Camp Warden was able to rig up some generators for lights in the lodge so we could still have our traditional crazy trivia contest. (WHICH MY TEAM WON!)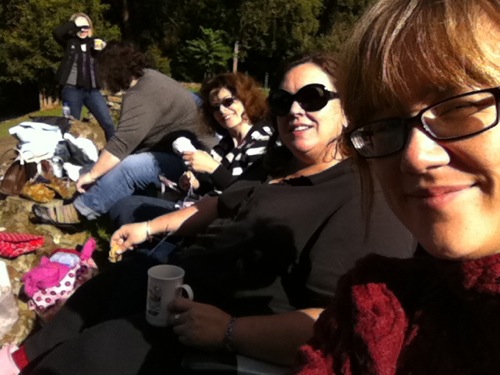 Sunday morning was fine and sunny, and we all quickly moved into our traditional spots along the wall. Finally it felt like Camp.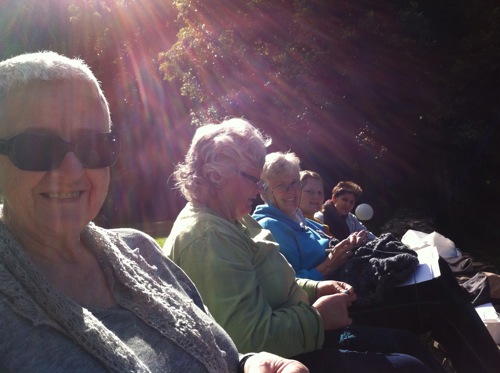 Such a great group of ladies!
Camp ended as always with lunch and cameraderie, hugs and goodbyes. I bought six balls of the Regia Kaffe Fassett sock yarn (which I didn't really need, but there you go). We all piled back into Margarita's car for the uneventful drive back to Sydney. See you all next year!