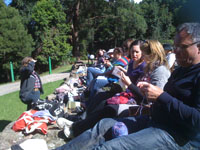 Weekend Update: It was both an incredibly busy and non-busy weekend. I took the day off on Friday to run errands and get ready for the Knitting Retreat. I managed to drive myself out to St. Leonards in the morning for an appointment with my allergist, and then I successfully navigated through the Lane Cove tunnel and out to Homebush to pick up Na Craga from the Show. Then I raced back home to Chippo to tidy up the house before meeting Stef at Spudds for a workout. I had a quick shower afterwards, then hopped a bus to Circular Quay to meet the Snook for a late lunch (and a smooch goodbye!). Then it was back home to frantically pack for the trip.
Lyn was the able chauffeur for myself, Miss Fee, and JP. It took us about 90 minutes to get to Mt. Keira Scout Camp, what with fairly heavy traffic through the Shire. The camp was gorgeous. We shared a cabin with Ness, Gemma, and Kelly. After dinner, everybody retired up to the lodge to sit before a roaring fire and get knitting. I think there were around 30 of us all together. Soon the wine was flowing…
And that was pretty much the pattern for the next 40 hours. On Saturday some folks did a dyeing workshop, but I decided to sit in the sun and work on finishing off Rusted Root. Miss Fee and I went for a run in the middle of the day. I bought the last set of Addi Click needles from the shop. (Interestingly, I paid a lot less than $150US for them!) That night, we all got dressed up for a Hawaiian-themed dinner. Then it was back to the lodge for trivia games, more knitting, and copious amounts of wine.
Yeah, we were all a bit hungover the next day. Sunday was quieter, with everyone in recovery mode. We made it back to the city by 4pm, where I was greeted by a very happy husband and pair of silly cats. It's nice to get away every now and then and have them miss you. 🙂
Update: Donna, Bells, Mary-Helen, and Lyn have all posted photos!