The whole thing started in early 2004 when my sister announced that she was going to be getting married to Mr. Dan Carbo near Thanksgiving. The Snook and I duly made plans to fly to the States to attend. Somewhere in the middle of everything, we decided to get married ourselves. On November 20, friends and family around the world watched as we exchanged vows in front of Elvis in Las Vegas. We even managed to squeeze in a short honeymoon in San Francisco after all the festivities. Here we go…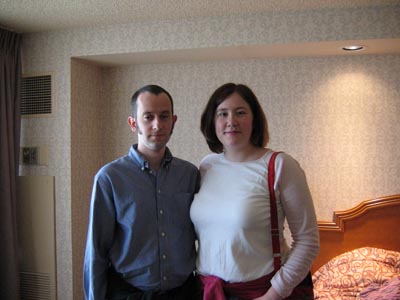 After a long flight from Sydney to L.A. (and a night crashing at my sister's apartment), we flew to Vegas early Friday morning and checked in at our hotel, the Stardust. The hotel was really great, actually. We picked it because it didn't have any twee kiddie theme; it was pretty old school Vegas. Here we are in our room before heading off to get the marriage license.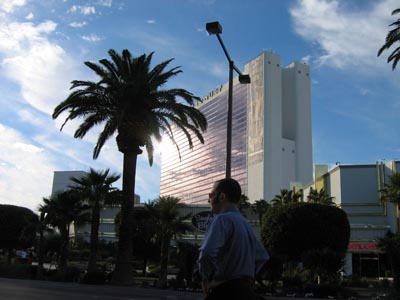 The Snook poses in front of our hotel while waiting for the bus to arrive. We figured that the Marriage Bureau would be less busy in the afternoon than at night.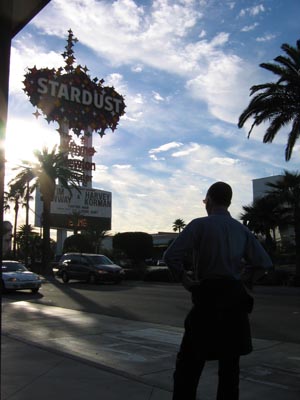 Another nice one of the Snook.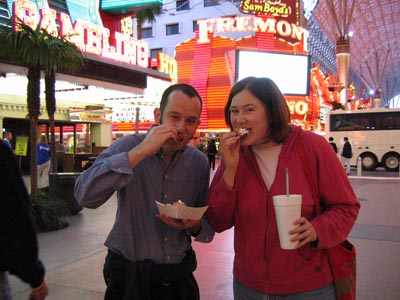 The Bureau turned out to be busier than we expected but we eventually made it through the queue. Afterwards we walked around the Fremont Street Experience where I finally, after much anticipation, ate my first ever deep-fried Oreo. It was awesome.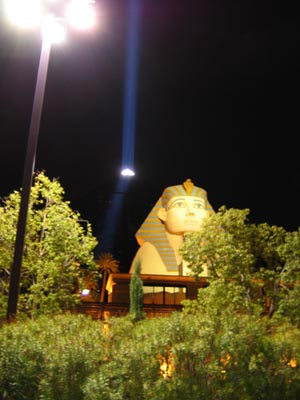 We took the bus to the end of the strip and then walked back towards our hotel. Here's the Luxor, the big pyramid hotel with the laser beam on top.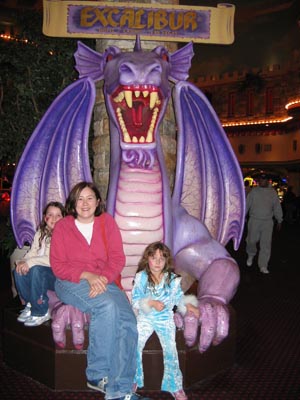 We liked Excalibur, especially when it got all confused and started mixing its medieval nomenclature. (F'rinstance, there'd be signs pointing to both the "Camelot Cafe" and the "Sherwood Forest Nightclub.") These little girls just would not abandon the dragon, so we had to include them in the picture.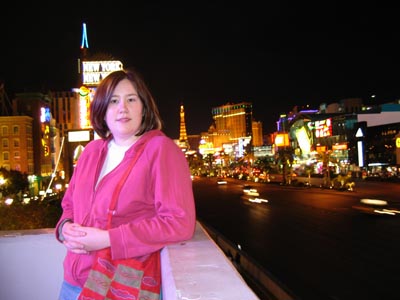 Here's a great one of me looking down the Strip with New York New York in the background.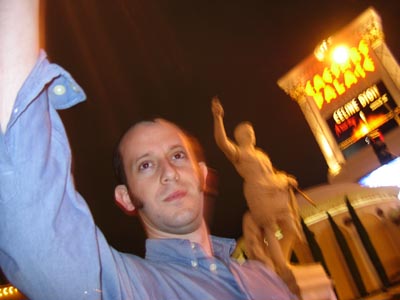 Snookums imitates Marc Antony outside Caesar's Palace.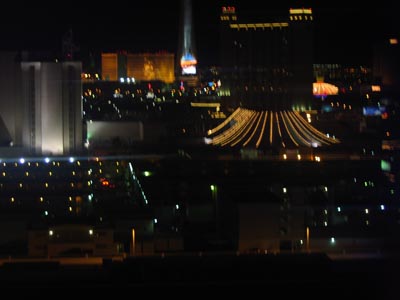 That night we went to see "Splash" at the Riviera. It was your basic Vegas revue, complete with topless dancing girls, comedians, jugglers, and even a magician with tigers. The finale involved five motorcyclists racing around inside a 14-foot diameter metal Sphere of Death! It was the coolest thing I've ever seen. And check out the view from our hotel window! We looked down on Circus Circus.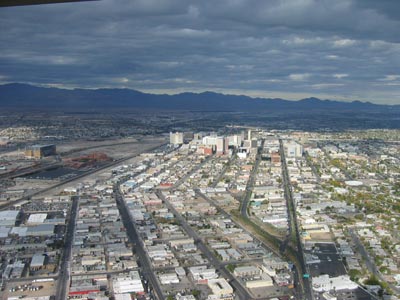 On Saturday we went to the Stratosphere to check out the Strip from the observation deck. No, we didn't ride the rollercoaster. (Snookums doesn't do so well on those.)
Pages: next ->