Continuing our tradition of celebrating Yule with the animals, the Snook and I planned a trip out to Dubbo to visit the Western Plains Zoo. We booked in to the Zoofari Lodge, rented a car, and took off on the six hour drive west from Sydney. Unfortunately about five hours into the trip we got a call from the lodge explaining that they'd had to evacuate and close the zoo… because there was a murderer on the loose. Seriously. That kinda sucked. We scrambled and managed to get a room for the night, and luckily on Saturday the zoo opened up…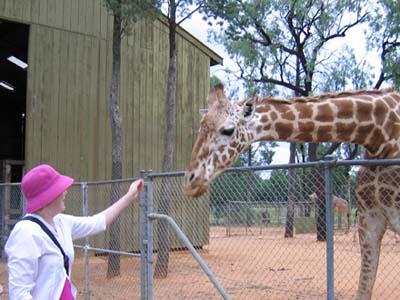 Fortunately the night before, we'd met some locals at the restaurant who'd recommended the early morning Keeper Walk. You get to go in before the zoo opens to the general public and see some of the "behind the scenes" areas. Here I am feeding a bit of carrot to a very funny and friendly giraffe.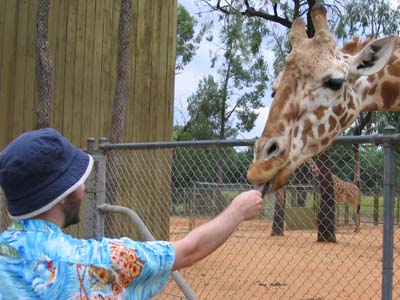 Now Snookums has a turn. Giraffes tongues are really long, and he just curled the bit of carrot right up inside it. (I wondered how he got it out inside his mouth without biting his own tongue!) Everyone who fed the giraffe got a little bit of slobber on their hands, which is always fun.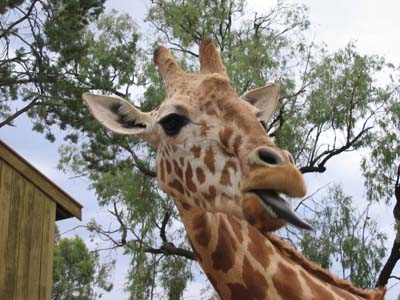 I figure you've all seen zoo animals before so I've left a lot of the boring pictures out, but I just couldn't resist this one. Giraffes are so endearingly goofy looking.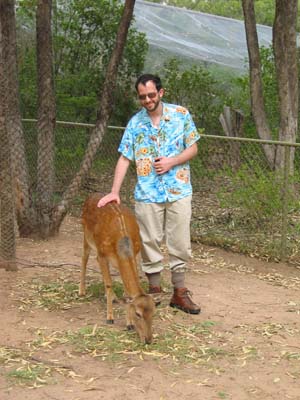 Snookums in the deer-petting enclosure. (He has his pants tucked in his socks so they don't get caught in the spokes of the bicycles we rented. He's not a dork.)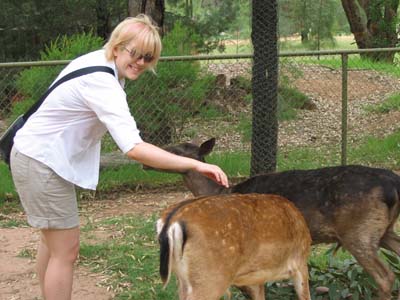 You'd think I would've been more comfortable around the deer, seeing as how they're the only animal in the zoo I'm used to from home. But no, they scared the crap out of me.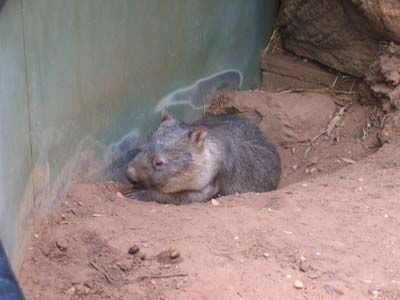 Attention my fellow Americans. This is a wombat. It's a short, stumpy legged little marsupial. (Its pouch is upside-down because they dig a lot, and that keeps it from filling up with dirt.) This one was digging a hole…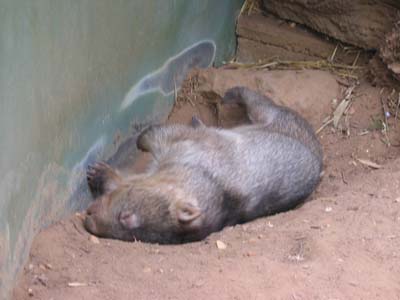 … to have a nap in. Isn't he adorable?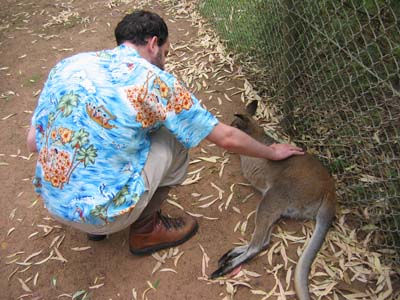 Here we are in the 'roo and wallaby enclosure. I was a little nervous but Snookums showed me that they're just like big lazy pussy cats.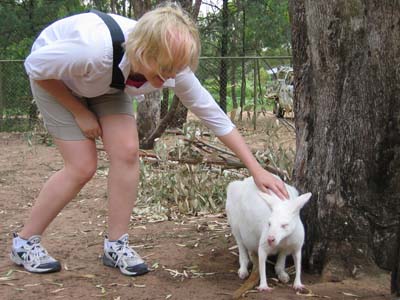 Check me out! This is actually an ALBINO wallaby. He was very soft and nice.
Pages: next ->