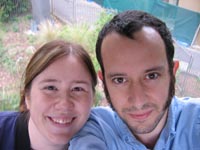 Happy Festivus! Or Chrismukkah! Or whatever.
We ended up having a much happier holiday than expected. It started when we got special package in the mail from my Mom. It was a Christmas ornament that played a pre-recorded message from my little brother Joey: "Merry Christmas to Mr. Snook and Kristy. We love you!" I started bawling as soon as I heard it. We spent Friday relaxing and getting ready for our feast over at Amy and Rob's today. We even made some very special gingerbread cookies. Can you guess what the shape is? (I bought the cutters at an op shop a few years ago. Some disgruntled Aussie tourist must have gotten rid of them.) On Christmas Day the four of us headed out to Taronga Zoo to visit the monkeys and the meerkats. Snookums and I had a close encounter with a koala and recorded our very own special holiday message for Joey. (He likes koalas.) Then we headed back to Rob and Amy's place for a Mexican feast complete with two very Aussie desserts: homemade summer pudding and pavlova. Whew. I'm stuffed. I'm looking forward to two more days of relaxation before I head back to work…
Edited to Add: Amy just posted a great picture of the four of us.