Wednesday, March 31, 2004
| | |
| --- | --- |
| | [2] |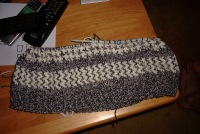 I've got yet another knitting project in the works! This one is the "Janetta Dexter Sampler Sweater" from the back of Jacqueline Fee's The Sweater Workshop. The wool is a really soft chunky cotton/acrylic that my Mom sent me for my birthday. It's knitting up really fast and I'm enjoying the fairisle practice. So far I've done the zig-zag pattern and now I'm working on the houndstooth. It's gonna be big, bulky, and fun...

| | |
| --- | --- |
| | [6] |
The L Word debuts on Australian TV tonight. Anybody watched it? Is it good?


The Snook forwarded me a link to this news story about a rash of iPod muggings in the UK. Apparently Bad People are identifying their victims by the distinctive white headphones. I say, "Bugger them." It took me ages to get the comfy "in-ear" headphones and I'm not going to give them up. What's the point of being in a trendy clique if nobody knows you're in it? :)

Addendum: Apparently this crime spree might be more fiction than reality.

Tuesday, March 30, 2004

Wow, a bright yellow shark! That's not somethin' you see every day.

| | |
| --- | --- |
| | [6] |
I am a slave to marketing. After two days of being home sick, I got it into my head that the only thing that would cheer me up was a beautiful, soft new Bonds hoodie. It's those damn commercials! After a quick trip to Kmart, I'm sitting here in fluffy pink comfort. Ahhhh... (And if anybody else is wondering, that awesome "Little Red Riding Hood" song is by Sam the Sham and the Pharoahs.)

Monday, March 29, 2004
| | |
| --- | --- |
| | [6] |
I have the flu. This really couldn't come at a worse time.

| | |
| --- | --- |
| | [2] |
Knit your own fry-up! Oh Lordy. I need to make those now.


"Is it theoretically possible for science to someday create a real lightsaber?" Thank goodness for Ask Yahoo, tackling today's pressing issues.


Note to my family: Sydney has just gone off Daylight Savings time and most of the northern hemisphere starts it next week, which means that the time difference has gone all wacky. Please refer to that page (or to CouchCam on the right) before you call to ascertain whether or not we're asleep...

Sunday, March 28, 2004
| | |
| --- | --- |
| | [2] |
I've become obsessed with baby websites. No, Mom, it's not that. I think I'm identifying because of the cat. Anyway, The Trixie Update is one of the best I've seen. Geeky parents are the most fun.

| | |
| --- | --- |
| | [1] |
Deluxe cat tree and scratching post: $120
"Crazee Ball" self-propelling battery-powered cat toy: $20
Special padded duffel-bag type cat carrier: $70
Two taxi rides for two humans and a cat: $19
Vaccination and worming: $69

The guilt caused by Dr. Amy Jones's first trip to the vet... priceless.

Saturday, March 27, 2004
| | |
| --- | --- |
| | [6] |
Holy crap! The new Prisoner of Azkaban trailer is online and it looks awesome. (Spoiler alert!) I love all the bits that weren't in the book, like the weird little shrunken Jamaican head on the Knight Bus and when Hermione grabbed Ron's hand. And I LOVE the scene where she punches out Draco. Kickass! I sussed out the URL for the biggest Quicktime version if you want to go straight to that one. EXPECTO PATRONUM! (Link courtesy of Kevin.)

Friday, March 26, 2004
| | |
| --- | --- |
| | [5] |
Welcome to the Kitty Hilton, home of the world's most spoiled kitten...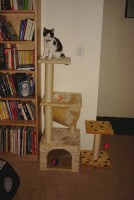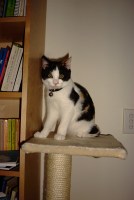 | | |
| --- | --- |
| | [1] |
Sting swings! It's your chance, B!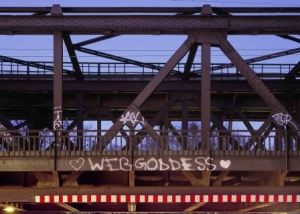 Pretty neat, huh? Make your own. In case you can't read German, the text near the input box says that you can insert the "degree symbol" to get it to draw a heart. (Link courtesy of SixDifferentWays.)


Airport Codes - So that's why O'Hare is called ORD!


100 Movies that Deserve More Love. Great commentary on some hidden cinematic gems. My favorite bit was: "This film should have stunk more than a shipment of ass on Ass Wednesday, but it's brilliant." I'm totally using that phrase from now on.

| | |
| --- | --- |
| | [1] |
"Ars Technica takes on three years of Mac OS X." The article is a nice overview of the changes OS X has undergone since its debut. I've been there pretty much from the beginning: Snookums buys me OS X; I track down the 10.1 update; the 10.1.5 update kills my machine; we make a special trip to buy 10.2 at the Apple Road Show; I cheat and have a student friend buy my copy of Panther so I can save a hundred bucks. Good grief, that's a lot of money and effort to expend on an operating system. But on the plus side, my mom finally got it installed on the Powerbook her office gave her. "I can't tell anybody," she said, "but I really like it!"

Thursday, March 25, 2004

It's about time. Coretta Scott King, widow of Martin Luther King, Jr., spoke out against the proposed Constitutional gay marriage ban. She and other prominent black leaders are making a stand that this is is civil rights issue. Good on her.


As if I needed another reason to boycott Myer... Now they're discriminating against drag queens! Man, I wish I'd seen that protest. :)

Wednesday, March 24, 2004
| | |
| --- | --- |
| | [6] |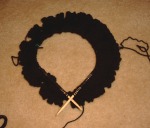 I've made a little progress on Cheesylove, as you can see here. I finished the ruffle (casting on 1,008 stitches!) and I've just started the body decreases. Apologies for the bad picture; thick black wool is hard to photograph with a crappy camera. I'm using a 60cm-long 5mm wooden circular needle. (I'd have preferred an 80cm but it was all they had, and I like the wood.) I'm going to have to stop here, though, as I think I'm the only one that's actually begun. My sister is understandably distracted by this whole "getting-married" business. I've got some other knitting projects to distract me though, like the Stitch and Bitch I'm hosting this Saturday. Fun!

And on a related note, my career as a knitting instructor has begun in earnest. Today I gave a lunch hour lesson to two of my co-workers. One of them "got it" immediately, but the other had difficulty with the hand coordination. It's good to get practice in dealing with different kinds of students!

| | |
| --- | --- |
| | [9] |
"I.T. Workers - Unhappy Campers?" Yes, yes, yes! Well, for this one, anyway. That article sums up a lot of the thoughts I've been having about this industry for the last couple years. I'm not happy. I don't make anything real or useful or lasting. Most of the websites I've built are now dead. (At least one was sold to a porn company that wanted to mine its database.) I don't help anybody. I don't make the world a better place. I sit at a desk and move meaningless electrons from one place to another. It's just not doing it for me anymore.

I need a Change. I've got a couple different options I'm considering. The big issue is, of course, money. I get paid more to do this unsatisfying job than I would to do anything else. Is job fulfillment worth taking a pay cut? I think I'm reaching the point where I say "yes". I'll keep you posted.


Roger Ebert's "Answer Man" column this week tackles the burning post-Oscar question: Was Billy Crystal being gracious or rude with his onscreen comment about Bill Murray losing Best Actor? (Specifically, it was his "Don't go Bill... We love you!" bit.) Ebert took it as a friendly joke, but a lot of other folks seemed to think it was mean-spirited and catty. As I didn't actually watch the show myself, I have no idea what the context was. What did you guys think?

| | |
| --- | --- |
| | [11] |
Neighbours is coming to the US! Now you may all share in my secret addiction. (Except for you British weirdos, who are even more obsessed with it than the Aussies.) "That's when good neighbours become goooood frieeeeends..."

Tuesday, March 23, 2004
| | |
| --- | --- |
| | [10] |
Congratulations to my sister, who just got engaged last night! She's planning a Thanksgiving wedding... which means the Snook and I will once again be gracing the land of Red, White, and Blue come November.



On a totally unrelated note, her e-mail also contained this announcement. "ATTENTION: It has been determined that the strange, filmy, silvery trails occasionally noted on the carpet in Amy's apartment can, indeed, be attributed to SLUGS of some sort." She's kinda freaking out a little about that.



Monday, March 22, 2004
| | |
| --- | --- |
| | [4] |
Fascinating Feline Facts. I found that page while researching how cats purr. (Answer: Nobody really knows. There are a number of theories.) There's a lot of weird facts in there I didn't know, like how white cats with blue eyes are deaf and only female cats can be both black and orange. Apparently "cats respond most readily to names that end in an "ee" sound," so we lucked out with her name. Also, it says that tortoiseshells are "black with red or orange markings" and calicos are "white with patches of red, orange and black." That makes Amy a calico. I wonder if that's an American term or something, because the Cat Protection Society definitely had her down as "tortoiseshell-and-white."

| | |
| --- | --- |
| | [7] |
New Poll: In honor of the disgusting Easter treat I just polished off, what's your opinion on the ubiquitous Cadbury Creme Egg? Some folks love 'em. Personally I think they're gross. (Yeah, yeah, I still ate one, but only because a co-worker gave it to me.)

| | |
| --- | --- |
| | [2] |
The mind boggles. Not only did the Archbishop of Canterbury give the Royal National Theater's production of His Dark Materials a glowing review, but he and Philip Pullman then met to discuss religion, art, and education and take questions from the audience. I had no idea modern Anglicanism was so progressive...

| | |
| --- | --- |
| | [3] |
Crud. I just discovered that they're changing the Hogwarts scarf design for the Prisoner of Azkaban film! (You can see pictures here.) I guess that means I'll need to revise the pattern I use...

Sunday, March 21, 2004

Huh. Jamie Oliver has a weblog. I haven't been through all the archives but I really like the section where gives cooking tips and answers questions.

| | |
| --- | --- |
| | [4] |
We got Amy one of these Treat Ball things. Basically it's a plastic ball that you fill up with cat food and it's got a little hole so that when she rolls it around, a few bits of food fall out. It's supposed to be fun for them. The only problem is that she just doesn't get it. She stares at it and sniffs it, and she eats the food that falls out when I roll it, but she hasn't made the intuitive leap yet that rolling = food. I feel like my Dad must've felt upon presenting three-year-old me with a really fly tricycle, only to discover that I was too dumb to ride it.


Friday Five:

1. If you owned a restaurant, what kind of food would you serve?
I'd probably run something like a steakhouse, where you'd get lots of really good homestyle food. I'm thinking burgers, sandwiches, mac-and-cheese, big slabs of meat, the whole works. Basically the kind of stuff I like to eat. The Snook would concoct appropriate homebrews to go with everything.

2. If you owned a small store, what kind of merchandise would you sell?
My own crafty things, of course! Plus wool and paints and buttons and glue and everything you need to make beautiful fun things. Oh, except for that scrapbooking crap. I hate that.

3. If you wrote a book, what genre would it be?
Probably a "humorous" memoir. Actually I'd just cheat and bind together a load of posts from this site. I'm lazy and my writerly aspirations pretty much died in grade school.

4. If you ran a school, what would you teach?
Knitting! Incidentally, I'm meeting with the Tapestry Craft folks later this week to discuss teaching a class for them this winter. Beyond that, I'd probably want to teach something in the English/Drama/Speech area. Those were always my favorites in school. Or some kind of "Pop Culture Appreciation" course. That would be fun.

5. If you recorded an album, what kind of music would be on it?
Mid-90's riot grrrl alterna-pop a la Belly, Juliana Hatfield, or the Breeders. I'm just waiting for the grunge revival!

Saturday, March 20, 2004

The Cult of Diet Coke. I myself am a hopeless addict. I actually paid $2.70 for a friggin' 600mL bottle the other day because I needed the fix and that damn price-gouging gas station was the only supplier in the area. It infuriates me, especially since Coles always has the two-liter bottles on sale for, like, $1.75. But society deems it not "cool" to lug around two liters of your favorite soda, so I must pay for the "convenience" of having a smaller bottle. Such is the pain of the Diet Coke addict. (Link courtesy of not martha.)

Friday, March 19, 2004
| | |
| --- | --- |
| | [9] |
Damn, you know what's difficult? Wiping a cat's ass. I'm starting to see the wisdom of owning a pet before you reproduce. You need to get acclimatized to all the disgusting stuff that goes along with caring for another lifeform.


Blog Survey: Expectations of Privacy and Accountability. I wondered why I hadn't heard about this until I saw the dates and realized I was up at Camp Creative around then. Anyway, nothing too startling in those results. I was surprised to see the male-female ratio though. Somehow I thought there were more girls doing this blogging thing. I wonder if the percentages would have changed if "journalers" had been included as well...

| | |
| --- | --- |
| | [4] |
Holy crap! My Dad just e-mailed to let me know that someone is currently shooting a movie in Goshen, Indiana. He said he heard it stars Liv Tyler, and his wife Cindy ran into "that guy from ConAir" at a coffee shop. A little research by me... and Boom! Steve Buscemi is filming a movie with Liv Tyler in my hometown! Isn't that cool? Apparently they're using a couple other Indiana locations too.

Thursday, March 18, 2004

Toys of the 80's. That's a huge time suck if ever I saw one. I spent half the day reminiscing about Popples and Puffalumps and Care Bears.


Snookums's Link Of the Day: Best Pictures of 2003. "There's one in there from South Bend!"

| | |
| --- | --- |
| | [6] |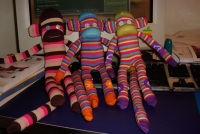 Oscar Monkeys
I've finally managed to finish this year's prize monkeys for the Oscar Contest. Pretty cute, huh? That's 1st, 2nd, and 3rd place from left to right there. Please be patient, winners. I promise I'll have them in the mail this weekend!

Wednesday, March 17, 2004
| | |
| --- | --- |
| | [11] |
RunningBlog: The date for this year's Nike Women's Classic has been posted: June 20th. That's just over thirteen weeks away. As I've run the 5K the past two years, I'm wondering if I should stick with that and try to improve my pace or challenge myself to complete the 10K. What do you guys think? Any particular good, tried-and-true training programs? I should be meeting with my personal trainer sometime in the next two weeks so I'll check with him and see what he recommends.

| | |
| --- | --- |
| | [5] |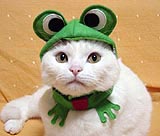 "New fashion of this Spring! It's gonna hit big! She's kind of froggy..."

Oh. My. God. (No, that's no my cat.) I love the Japanese. Check out this page of costumes for cats. The descriptions are as funny as the pictures. What kind of person dresses their cat up as "Anne of Green Gables"? I do like the "gentleman's" shirt and tie though. It's "the least that handsome boy needs." And don't forget to give you cat a "hub" afterwards!

Tuesday, March 16, 2004
| | |
| --- | --- |
| | [3] |
I've made an unofficial start on the Cheesylove sweater my sister and I are doing as a knitalong. (She's not doing the ruffle and I am, so I'm starting a little early.) Good grief. Do you know how long it takes to cast on 504 stitches? Frickin' ages! And technically you have to do that twice, because the real ruffle's supposed to be 1008 stitches. Now I understand why they have you do it in two parts, otherwise you'd need a circular needle about three feet long.

| | |
| --- | --- |
| | [4] |
What?? Princess Di had an affair with General Zod??

Monday, March 15, 2004
| | |
| --- | --- |
| | [8] |
New seasonal site theme for the week... Remember kids, Guinness is good for you!

| | |
| --- | --- |
| | [3] |
Attention Sydney reality TV fans: Channel Seven has just started rebroadcasting the first season of The Amazing Race! It's on Sunday mornings at 11:00. The Snook and I are enjoying seeing how it all began.


Grrrr. I woke up this morning to discover I'd been spammed by the "brokenman.net" guy (not a link to his site). He's got an album launch happening soon or something. I wrote him back to say, "It's bad enough I have to see your spam all over the sidewalk, but now I have to get it in my Inbox too? Please take me off your mailing list." I'm all for underground fight-the-power guerilla marketing tactics myself but this is getting ridiculous.

| | |
| --- | --- |
| | [23] |
Happy birthday to me...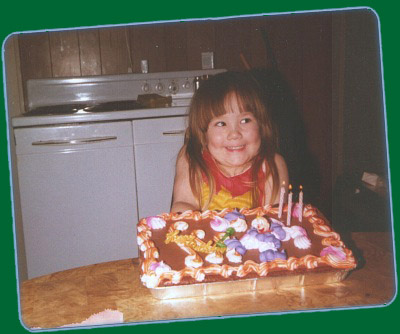 Why yes, those are Wonder Woman Underoos. I was a cool three-year-old.
Sunday, March 14, 2004
| | |
| --- | --- |
| | [11] |
Cat Scratch Fever
Amy's officially been with us for a week now so we're tentatively giving her the run of the house. (She's been spending nights and workdays in our big guest bathroom.) Last night we left the door open so she could sleep wherever she wanted. She spent some time curled up beside me on the bed but in the morning she got antsy and started clawing the blankets, so I locked her out. She didn't like that. She hasn't gotten into any trouble though, and she hasn't pulled any bookcases down on herself. We may try leaving her out tomorrow during the day.

Oh, and did I mention the scratches? Because I'm covered in them. I made the mistake of pulling on shorts yesterday morning and I regretted it the first time she tried to jump in my lap. Not good. Everyone in the gym's going to think I'm a battered housewife or something. We headed to the pet store this morning for some nail clippers and a brush, so hopefully we'll do some much needed grooming today. The Snook also has plans to make her another scratching post, hopefully an ultra-mega tall one that she can really stretch out on. We were going to buy one but they're expensive! It'll be cheaper to nail a piece of wood to a board and then buy a premade cover to slip over it.

| | |
| --- | --- |
| | [4] |
Aww, man, I'd kill for some Girl Scout cookies, no matter what you call 'em. I love all three of those kinds if anybody's got some extras. :)


Aussie underwear maker Bonds is launching a swimwear line. Cool. I really hope they do an underwire bikini top.

Saturday, March 13, 2004

How did I miss this? National Corndog Day is next Saturday! "Celebrating 12 Years of Golden-Breaded Goodness..." HA! I was always partial to mustard on my corndogs, but some plain ol' Heinz 57 is good too. The only problem with throwing my own corndog party is... no corndogs! They don't really exist here. Hmm, you can make them from scratch, right? It's just basically a cornbread-type batter on a hotdog. Maybe I'll have to try it.

Addendum: The Snook informs me that corndogs are available here! They call them "Dagwood Dogs". (No idea why.) He says you can only get them from greasy takeout joints though, so I still might try and make my own.


Lite Brite online! Fun.

Friday, March 12, 2004
| | |
| --- | --- |
| | [1] |
"Cleaning your face is different from cleaning your... oh, let's say, ass. You shouldn't just soap it up and rinse it off. You need to know that the skin on your face is special and different and when you treat your face like your ass, no one's happy."

HA! That's from Lance's Guide to Man Grooming, Part One: Facing Facts. Now I just have to print this out and slip it under the Snook's pillow...

| | |
| --- | --- |
| | [6] |
My mystery allergy is revealed at last.
I spent a good portion of the afternoon today in the office of Dr. Karl Baumgart, an allergy specialist. He was great. Not only did he finally identify the stuff that's making me feel crappy, but he also managed to explain a lot of random secondary symptoms I didn't realize were related. After talking to me for a while, he brought out the skin prickers. Basically there were these four plastic things, each of which had six metal spikes on them (like cleats). He dipped them all in my suspected allergans and then stuck them into my forearms. Within minutes I started swelling up and itching intensely. It turns out that I'm severely allergic to dust mites, with minor allergies to three different kinds of Australian grass. He also told me that I have a touch of "allergic conjunctivitis", which I was relieved to learn does not mean I have pink eye. (It means I have itchy, watery eyes and dark circles.) I don't have a food allergy as such, but certain things (like the preservatives in wine) will irritate my sinuses and bring on a reaction. I have to use allergy pills and spray for four months, boil all my bedding, and get hypoallergenic mattress and pillow covers. Then I have to go back for a checkup. If I haven't improved, I have to get a "scan" of my sinuses to see if I need surgery. Then we'd begin "desensitization" treatment, which (as I understand it) involves them injecting me with the stuff I'm allergic to. Yeah, I want to try to avoid that.

But at least I know what I'm up against now! Dust mites are my arch enemy.

| | |
| --- | --- |
| | [1] |
Hey knitters! Debbie Stoller is taking submissions for a sequel to her Stitch & Bitch book. Sounds pretty cool!

Thursday, March 11, 2004
| | |
| --- | --- |
| | [1] |
Pauline Hanson is pissed off that the Red Cross won't take her blood because she's been in jail. Boo frickin' hoo. In the past five years I've been denied on the basis of an ear piercing, a tattoo, and the fact that I ate beef in England. Rules is rules. At least you're not gay...


Remember Murder by the Dozen? It was an Apple game in the 80's, sorta like a choose-your-own-adventure, where you had to solve one of twelve mysteries. I used to love playing it at our local library. My favorite part was the revealing of the solution, which you could only read by holding a piece of red plastic up to the book. I don't think I ever had the patience to play a whole game but I just thought it was so neat and high-tech.

I was reminded of that game tonight while the Snook and I were watching our new favorite show: Crime Team. It's a reality program from England that features two celebrity sleuths trying to solve an actual historical London murder in only three days. They can only use means that were available to the police at the time. (It's currently airing in Australia Thursday nights at 9:30 on the ABC.) Tonight's episode had a radio personality and an investigative journalist trying to uncover the mystery of several dead babies that turned up in the Thames in the 1890's. It was fascinating, not just the crime solving aspect but also the hidden history of London that I never knew. (Shepherd's Bush was a thriving center for "baby farming"?) It's also interesting to see the tenuous leads that police back then were forced to follow (without recourse to DNA testing, modern forensics, etc). Tonight's killer was convicted and hung on the basis of the way she tied her shoe. I really recommend the show if you can find it.

| | |
| --- | --- |
| | [2] |
In a MeFi discussion of whether it's appropriate to equate American religious fundamentalists with the Taliban*, somebody wrote an excellent parody of "The Candyman" called "The Taliban Can". Pretty catchy!



* For the record, I don't think comparisons with the Taliban are that far off. Sure, Bush and his cronies haven't suggested that we stone adulterous women to death, but are their policies towards the lower classes and minorities really that much more compassionate? Both groups want to enforce their own insane religious beliefs on everybody else and unfortunately have no hesitation about using government to do it.




Harvard has just eliminated tuition fees for students whose parents make less than $40,000 a year. That's awesome. I hope more schools will follow their lead. (I have to admit though, I can't really see ND doing it. They're tightasses.)

Wednesday, March 10, 2004
| | |
| --- | --- |
| | [6] |
Only four shopping days left til my birthday... and if anybody wants to blow my mind, you can pick me up one of these on eBay. Seriously. I love my kitty but cat poop sucks.

| | |
| --- | --- |
| | [1] |
Eyesore of the Month. I like architecture. This is a great look at some really bad buildings with hilarious commentary.

| | |
| --- | --- |
| | [1] |
What do you call a group of cats? A clowder. That's so weird.

| | |
| --- | --- |
| | [4] |
For the Snook: Squirrel Fishing. There was a squirrel fishing bit on that Japanese betting show Banzai a few years back that Snookums still reminisces about. I've never seen him laugh so hard.

| | |
| --- | --- |
| | [5] |
When I was 15, I read The Hero and the Crown by Robin McKinley. I absolutely loved it. It was a fantasy with a princess and a dragon and magicians and secrets and I wished more than anything that I had written it. So I spent, like, a week plotting my own fantasy and inventing characters. There was a princess... and a dragon... and some magicians... You see where this is going. Eventually I realized that all I was doing was rewriting McKinley with different names. It wasn't original and it wasn't interesting. I decided imitation wasn't the sincerest form of flattery and gave up the effort.

Christopher Paolini didn't. He's a weird home-schooled teenager "genius" who's written this year's pseudo-Harry Potter book of choice (according to the publishing industry, anyway). It's called Eragon. It's been getting a fair bit of hype so I picked up a copy last weekend. I regretted it as soon as I got home. There's a gushing quote from Anne McCaffrey on the back! (I've never been able to get through a single Dragonriders of Pern book so her recommendation doesn't exactly carry a lot of weight with me.)

It only got worse once I cracked it open. The first problem is the kid's writing style. You can read some for yourself here. He actually says: "In my writing, I strive for a lyrical beauty somewhere between Tolkien at his best and Seamus Heaney's translation of Beowulf." *snort* In practice, as far as I can tell this involves using lots of adjectives. Mountains are "forbiddingly solemn", forests are "thickly treacherous", and the danger is always "intensely palpable". Once you get past the affected style, the story itself isn't that bad... as long as you don't mind rolling your eyes at the obvious influences. It's like he put the Pern books, a complete set of Lord of the Rings, a dog-eared copy of Beowulf, and the shooting script of Star Wars into a blender and this is what popped out. He even prefaces the book with a map that might as well be Middle Earth. The story is full of elves, monsters, dwarves, men, dragons, men who ride dragons, etc. There's no humour and no originality, other than in the combining of all these things. I keep waiting for hobbits to show up.

Am I being too harsh? I'm only halfway through, so maybe it gets better towards the end. Right now I'm just plugging along out of curiosity and duty. I dunno, maybe I'm just jealous that nobody ever offered to publish my derivative crap. At any rate, I can't exactly recommend this one to the Potter fans yet.

Tuesday, March 9, 2004
| | |
| --- | --- |
| | [6] |
Would you like some Turkish Delight?
Kevin discovered a rumor that Nicole Kidman might be playing the White Witch in Disney's upcoming adaptation of The Lion, the Witch and the Wardrobe. I actually think she'd be really good for that part. She's got that whole beautiful-yet-terrible, pale-yet-flashy elfin ice queen thing going on anyway. I wonder if she'd sign on to play Jadis ("Empress of Charn") if they get around to making The Magician's Nephew...



Incidentally, when I first read the books I thought that turkish delight must be the best candy ever. Thus when I arrived in London in '98, I headed straight for the local grocery store and bought some. It was awful! It was like a chocolate bar with a center of PINK JELLIED ASS. I still shudder at the thought.



| | |
| --- | --- |
| | [7] |
I can't resist. She's just so cute!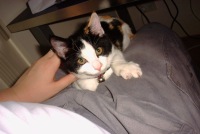 She's been sitting on my lap tonight learning about the Internet. We're bonding.



The gutter-minded among you will be amused to note that the Snook, upon receiving these pictures from me, proceeded to forward them to his work buddies with the subject line: "Pictures of my girlfriend's pussy." Actually even I thought that was pretty funny.



| | |
| --- | --- |
| | [3] |
My sister has caught the knitting bug and is ready to try her first sweater. She wants to do Cheesylove (the sleeveless version) from Knitty but she's a little apprehensive. So we're going to do it as a knitalong! We're both going to knit it at the same time so we can help each other over the rough bits. Any of you other knitters want to join us? We're aiming to get the materials this week and start next weekend.


"When Two Tribes Go to War: A History of Video Game Controversy". Very interesting article about the games that have been giving Tipper Gore and Joseph Lieberman nightmares for decades. Be sure and check out the bit about "Custer's Revenge", a famous Atari game that involved a naked cowboy assaulting Native American women for points. Hmmm, we never had that one at our house...

Monday, March 8, 2004

New poll! My sister is wondering about the "ideal pet" breakdown of web-goddess readers. Please register your choice down there on the right.


"I'd Leave the Country But My Wife Won't Let Me." Another excellent and impassioned essay in support of same-sex marriages.

| | |
| --- | --- |
| | [11] |
AOL Presidential Match Guide. I had an 88% compatibility rating with Kucinich. Huh, I didn't know that. Kerry's second with 77%. Bush is 5%. He was the absolute opposite of me on everything. The only thing I agreed with him about was limiting malpractice suits against doctors. Oh, and we both like pretzels. That's about it.

| | |
| --- | --- |
| | [3] |
Belated Friday Five:

1. What was your first grade teacher's name?
Mrs. Weir. As in WeirD. She was this really scary mean old lady. I remember that one little boy had to transfer into our class from the other first grade class, and she made him stand up at the front of the room and admit that the reason he got transferred was because the other teacher couldn't teach him to read. She also tied the class bully to his chair once with a jump rope because he wouldn't stay seated. Another time she took him out in the hall to paddle him and she called all the other teachers to come out and watch. She was scary. The only good thing about her was that her ancient husband was a Shriner so the whole first grade got to go to the Shrine Circus for free.

2. What was your favorite Saturday morning cartoon?
I loved Saturday morning cartoons. Mom would set out my bowl of cereal the night before and leave me a cup of milk and a baby orange juice in the fridge. (Remember those orange juices? In the little plastic containers with the foil lids? I miss those.) I'd get up at 6 a.m. and sit there for, like, five hours. My favorites were the Bugs Bunny Looney Tunes show, the Smurfs, and Garfield and Friends. I also think I've seen every episode created of Muppet Babies. I wasn't a fan of those weird grown-up shows like Kid Video and Dungeons & Dragons. They were just a little too surreal for me.

3. What was the name of your very first best friend?
Hmm. I haven't had a lot of "best friends," but I think my first one was Annie Fleck. We'd sit up all night playing with her huge Barbie collection (she even had Jem and the Holograms!) and then we'd play Nintendo Track & Field (on the cool running mat) and listen to Tiffany and prank call boys in our class. Her Mom was a manager at Dairy Queen so she was always bringing home prototype snacks, like cherry-flavored Dilly Bars. We'd swim in the lake and ice skate on it in wintertime and host awesome slumber parties. She was fun. I haven't talked to her in years. We drifted apart after I changed schools in junior high.

4. What was your favorite breakfast cereal?
Whichever sugar-laden nutrient-free novelty one Mom wouldn't buy us. Once I got a little older and my tastes settled down, I'd choose Golden Grahams every time.

5. What was your favorite thing to do after school?
Since our parents didn't get off work til later, we all ended up at a local babysitter's every afternoon. Luckily there was a playground in the field behind her place, so if it was warm we'd play out there. In the winter it was mostly TV. (That's where my "Days of Our Lives" addiction started, to tell you the truth.)


"What's important about these findings... is that they show you people can actually get killed from something from out of space." Did a comet trigger the Great Chicago Fire? Pretty neat. Maybe it's time to exonerate poor Mrs. O'Leary's cow!

| | |
| --- | --- |
| | [11] |
Day 2 of Cat Ownership
I'm tired. I feel like Dooce. Okay, that's not true. If there's a scale of maternal misery, she's at, like, 100 and I'm at 7. But my level of sympathy for her is going way up. I spent the whole night lying awake listening to Amy meow pitifully in the bathroom. I knew she'd go to sleep eventually but it just broke my heart to hear her. Then I started envisioning all the things that could happen in there. "Snookums, our toilet seat isn't very heavy. She could push it up with her head and fall in and drown! Oh, and I left the bottle of hand soap on the sink. She could accidentally push it and then lick the soap and get poisoned!" He'd just grunt, turn over, and start snoring again. Eventually she quieted down and I feel into an uneasy sleep. This morning we gingerly opened the bathroom door to see her peeking out at us from her new cat bed. And lo and behold, she'd done a poo and a wee in her litterbox! Good girl, Amy!

I'm going to get her a scratching post tonight. So far she's tried scratching her little claws on the couch, the bathroom rug, my jeans, and the dining room chairs. Only the first two are acceptable. Now the only decision is whether my cat-mommy guilt will allow me to purchase the cheap one-tier post or whether I'll shell out $100 for the ultra mega three-tier-and-a-tunnel playground. We'll see.



I swear this isn't going to become a total CatBlog. It's just the novelty of the thing. You may have to sit through a few more pictures though... :)



Sunday, March 7, 2004
| | |
| --- | --- |
| | [12] |
Introducing Dr. Amy Jones!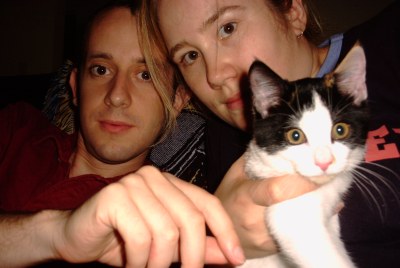 And just like that, we're a family.



The cat's name was originally going to be Dr. Alowicious Jones, but that's really more of a boy's name and she's a girl. So then we came up with the idea of naming her after my sister, for the pure comedy of saying, "Amy shat all over the floor!" and "Amy's coughing up a hairball." Think of it as a compliment, Sis. :)



Saturday, March 6, 2004

Get well, orangecat! Huge hugs and warm thoughts to Robert, who often posts here. He had a headache that wouldn't stop and started affecting his vision. According to the comments on his last post, he was rushed to hospital and had some sort of surgery. His mom reports that he's feeling better now.

Friday, March 5, 2004
| | |
| --- | --- |
| | [1] |
Smells like Albania.
Okay, these Texas sayings from MetaFilter cracked me up. They're hilarious. I was trying to think of any regional Indiana expressions but we don't seem to have much colorful slang.

Thursday, March 4, 2004
| | |
| --- | --- |
| | [6] |
Another FO!
(That's "Finished Object" for you non-knitters.) After doing two pairs of simple basic socks, I was ready to expand my skills. So I cracked open my copy of Socks Soar on Two Circulars* and picked out the "Columbine Peaks" pattern. The leg of the sock has a lacy pattern that forms little v-shaped mountain peaks that continue down onto the foot. It wasn't too hard, though you do have to count and sometimes I have difficulty with that. (Handy tip: Knitting and wine don't go together so well.) Now they're finally done. Unfortunately the Sockenwool I had was rainbow-colored so the pattern doesn't show up so well, but I still like them. They give me the craziest urge to buy some Birkenstocks and walk around like a German tourist. (Note: That second image is a big scan and shows the stitch pattern nicely.)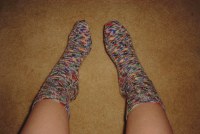 * Although I like the technique used, I wouldn't necessarily recommend this book for beginners. I've found several frustrating errors in the patterns. You can see a list of some corrections here.

Australian sheep produce world's finest wool. That's not a generalization, like saying that Aussie wool is the best. They really have produced a bale of the finest - in terms of thickness - wool ever seen. It's worth thousands of dollars and will probably be sold to a top fashion house. Gee, you could make some lovely soft sweaters with that!

| | |
| --- | --- |
| | [20] |
The Movie Alphabet Game. Identify movies based on these letters from their posters. I suck at this today. I'm missing B, C, E, F, J, K, P, S, U, V, and Y. How many can you get?

Wednesday, March 3, 2004
| | |
| --- | --- |
| | [2] |
12 Reasons Same-Sex Marriage Will Ruin Society. I couldn't have said it better myself. (Link courtesy of Brigita.)


Mars had water. How cool is that? I want to be an astronaut.

Astronauts on space walks have to wear adult diapers. Okay, I take it back.

| | |
| --- | --- |
| | [2] |
I had another of my periodic urges to organise today so I finally killed off the old Book Group forum. It was fun for a while but with projects like that folks inevitably lose enthusiasm. I never really liked the look or functionality of that forum software anyway. (I've got it all backed up in case anyone should need to refer to those discussions in the future.) We can still do group reads though and just discuss them in the regular weblog comments. I've just picked up The Life of Pi, which I saw highly recommended on a couple blogs. Anybody interested in reading it along with me?


Leaked preview of the Star Wars DVD packaging. Eh, I'm still not that excited. The Special Editions are okay, but I'm pissed George isn't even giving us the option of getting the originals. Han shot first, dammit!

| | |
| --- | --- |
| | [10] |
John Rock's Error: What the co-inventor of the Pill didn't know about menstruation can endanger women's health.

I just read this absolutely fascinating article on the development of the birth control pill and its ramifications for women's health. It completely debunks the idea that having a period every month is in any way "natural". You all should read it. Seriously. Even you men. (Well, I guess the gay ones are excepted, but you still might find it interesting.)

It starts off talking about Dr. John Rock, the Catholic doctor credited with inventing the Pill, and his belief that the Church would approve it as a "natural" method of contraception. After all, human females already have a safe time each month where they can't conceive, and all the Pill does is provide more of the body's own hormones to extend that time frame. The Church already approved the rhythm method and Dr. Rock saw the Pill as merely a regulator and helper for that. As we all know, the Pope didn't quite agree. [more...]

Tuesday, March 2, 2004

Ebert has answered Major's question from yesterday. There have been two previous major films that won every Academy Award they were nominated for: Gigi and The Last Emperor. They both went nine-for-nine.

| | |
| --- | --- |
| | [1] |
I just noticed that my Dahl site has finally appeared on the Website of the Day page for BBC Radio Suffolk. I'm guessing that means the interview aired yesterday. I hope they remember to send me a tape of it!

| | |
| --- | --- |
| | [7] |
Since my Permanent Residency will hopefully be awarded soon, I've been thinking about getting my Australian driver's license. According to the RTA site, I only have to take a written knowledge test (since I have a valid overseas license). That's pretty sweet. I have to prove how long I've had my US license though if I want to skip over the probationary levels here. There's only one problem that I can see:
Since it is a legal requirement that only one licence can be used for driving in Australia, before your NSW licence will be issued, you must present your overseas licence to be made invalid in Australia. The overseas licence will be returned to you after holepunching plastic or laminated licences or endorsing paper licences. The holepunch or endorsement will be done at a blank area of the licence so that no licence details will be removed.
WHAT? What if I want to use my license when I travel back to the US? Does anybody know if holepunching your US license invalidates it?

| | |
| --- | --- |
| | [3] |
I just learned today that Miss Elizabeth died last year. That probably won't mean anything to those of you who didn't have little brothers growing up in the 80's. Miss Elizabeth was the manager/wife of Randy "Macho Man" Savage in the World Wrestling Federation back then. She was really pretty and nice, and though I thought she often overplayed the whole "damsel-in-distress" thing, I infinitely preferred her as my female wrestling role model to the scary and unattractive Fabulous Moolah.


Ooh, here's one for the birthday wish list: "I'm blogging this."

Monday, March 1, 2004
| | |
| --- | --- |
| | [2] |
Raised eyebrow...
Somebody on Glitter linked to this clay project for kids. *snort*


We had a mini Sydney blogger meetup tonight as the Snook and I met Andrew and Kathleen out at a Surry Hills pub. (Andrew, you'll recall, is the bloke that recognized me on the bus a few weeks ago.) A good time was had by all. It's just a little weird to meet people that you know "on paper" but have never really spoken to...

| | |
| --- | --- |
| | [3] |
Wow. Billy Corgan is a blogger. I knew the Pumpkins were from Chicago but I didn't realize he was that big of a Cubs fan. (Link courtesy of Tricia.)

| | |
| --- | --- |
| | [2] |
Not a single damn upset.
Shocking, isn't it? But good on Peter Jackson and the LOTR crew for cleaning up. We ended up with a 13-way tie for first place consisting of: Adanma Onyedike, Carol LuBien, Carrie Murphy, Christen, Colin Bunnell, Denise, Emily, julie, Mark Schoppe, Mary Jo Brown, Mike, Pat, and Tim Reid. The tiebreaker, you'll remember, consisted of guessing how many dead people would feature in the annual obituary tribute reel. The total was 30, which means that with a guess of 31, the winner is...

*drum roll*

Christen! I don't actually know him/her, but a sock monkey will soon be heading off to his new owner.

In second and third places were two people that guessed the same number (25), thus the double-tie was broken on the basis of who entered earlier. Therefore in second place is Mark Schoppe, and in third place is Carol LuBien. (Carrie Murphy missed out on third by a mere hour!)

And lastly, with the wooden spoon, is poor ramanan, who got zero correct. Better luck next year!

| | |
| --- | --- |
| | [1] |
The Cat Protection Society of NSW. That's probably where we'll get our kitty from. It sounds like a great organization. You can even see pictures of cats they have to adopt (Snookums likes "Soxy") but that was back in December, so I bet those are all gone by now.

| | |
| --- | --- |
| | [7] |
The contest is closed! Stay tuned for the winners.

archives
You can search through the archives by post keyword using the form on the left, or you can browse by month using the links at the bottom.
"Moblog" refers to posts and images posted directly from my mobile phone.

"PW Blog" refers to posts recovered from my very first weblog, which dealt with news related to my college dorm.