Friday, June 30, 2006
Moblog: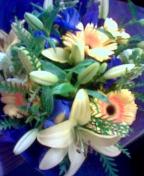 Sunshine Through the Clouds
There's nothing like struggling to the end of a stressful week and finding these on your desk. I forget how lucky I am sometimes. I couldn't ask for a better partner and friend. Thanks, Snookums.

| | |
| --- | --- |
| | [8] |
Friday Annoyances
I'm always torn when I get the impulse to post more tales of Retail Horror. I know I must sound like a broken record to some of you, but others have told me they find these Anecdotes of Hell really funny. And God knows, it helps to get them off my chest. So here we go...
My name is Kris. I have one (otherwise very nice) old lady who's made repeated Internet orders and phones me up regularly, and she keeps calling me "Chrissy." I have never been "Chrissy" (or even "Krissy") in my life. I know she probably means it in an endearing "Grandma" sort of way, but every time she says it my teeth (and more) clench. HATE IT.
Do me a favor. Go to the shop website. Do you see any text or mentions of our Annual Sale? You shouldn't, because I took all that down on Monday. But I've nevertheless had a couple idiots turn up and say that the website said the Sale was still on. And then I have to teach them how to hit Control-R to Refresh.
A woman rang up yesterday wanting to buy some wool for her mother to knit squares for Wraps with Love. As she was too busy and important to come into the shop, she wanted me to pick out all the colours (which I hate doing, because they invariably don't like them). And then she asked the kicker: "What colours are in for it this season?" Ahhh, you mean the hott colours for knitting blankets for the homeless? Pink and teal. Definitely.
I was talking about novelty wools with a lady in the shop today, and she was saying how much her granddaughter likes the fluffy and shiny ones, "because she's a Downy." A DOWNY. I nearly choked.
Whew. Now I feel better.

| | |
| --- | --- |
| | [6] |
Ebert pans Superman Returns. Huh. That would probably be enough for me to pass on seeing it, if I didn't know two people involved in the production...


July 17 is apparently Non-Photography Day. Maybe the photobloggers will have a non-meetup? :)

| | |
| --- | --- |
| | [1] |
This one's for the Snook: What is Web 2.0?
Web 2.0 is made of 600 million unwanted opinions in realtime
Web 2.0 is the air for the next bubble
Web 2.0 is made of a collaborator trick to create a hive mind for the Borg Queen's ascendancy
Web 2.0 is these marvellous new clothes that only the emergent can see
Web 2.0 is the vapourware output of people moving forward in pushing back the envelope of the corporate paradigm (to the sound of whalesong)
My favourite bit of the article is the the results of a poll that asked whether "Web 2.0" was a "good thing" or a "swindle." Best. Pie Chart. Ever.

Thursday, June 29, 2006
| | |
| --- | --- |
| | [2] |
Apparently Cadbury's is recalling a million chocolate bars that may have been tainted by salmonella. The funny bit is that they're being all secretive about what they're going to do with them. "[Cadbury's] is considering removing all the wrappers and burying the bars. It will not reveal where for fear children will try to find them, says the Mail on Sunday." Dude, I liked chocolate as a kid too, but I don't think I'd eat an unwrapped candy bar I DUG OUT OF A DUMP.


I had my second-to-last pottery class last night, and it was definitely one of the most successful. Everything else I've thrown is waiting to be fired, so I decided to just get in some more practice with the wheel. It was great! I threw three nicely centred pots, and Peter thinks I've still got time to finish them next week. It's funny how much easier I found the process now that the damn Sale is over...

Tuesday, June 27, 2006
| | |
| --- | --- |
| | [4] |
DietBlog: Stayed the same. I actually expected to have a gain, considering how the wheels came off a bit after the Food & Wine Show last weekend. But I'd evidently done enough earlier in the week to compensate, so I'm going to count that as a win! The meeting was pretty fun; Karen and I both showed off our "before" pictures (much to the shock of the new people). It's funny - whenever I bring out the "troll" picture people actually get confused, like they're trying to figure out where I am in the photo. I'm like, "Right there! The big fat one in the middle!" A customer in the shop today actually said to me, "There used to be another American girl who worked here. I remember she was going to Vegas to get married..." And I said, "That's me!" "NO." "Yep. Just fifty pounds lighter and with a new hair colour!" Pretty amusing.

I had a new realization at the meeting tonight - I've become one of the "skinny beeyotches" that tormented me on my first night. Well, no, they didn't really, but at the meetings now I'm super cognizant of the fact that new people might wonder what I'm doing there. And that makes me feel guilty... so then I feel like I overcompensate by trying to establish my WW cred.

| | |
| --- | --- |
| | [5] |
My Mom finally shared the photos she took during her visit a few months ago, and I particularly liked this one of me and the Snook at Farm Cove. We look so much cooler here than we do in real life.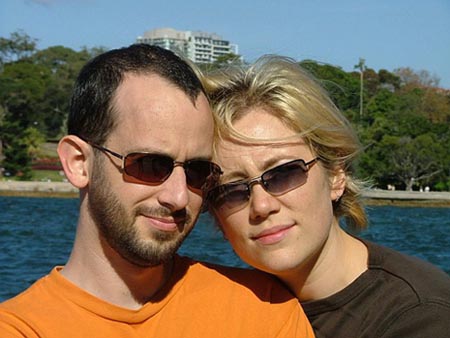 I've got a bunch of other interesting shots from the week that I'll post soon...


Lest you think I'm nothing but a Tapestry Craft shill, I'm excited to report that Lincraft are selling 100g balls of Four Seasons Hot Socks for $10! That's, like, half the cost that other, uh, stores sell them for. They've still got a couple colours left too, even after I stocked up. (Hi Snookums!)


"There is no official religion in this country. Not all parents are Christians, and the MPAA ratings should serve all parents." I love Roger Ebert, especially when he's telling off huffy conservatives.

| | |
| --- | --- |
| | [3] |
How did Nicole Kidman re-marry in a Catholic Church? See, I wondered about that too! Especially after the priest mentioned consulting on her "annulment" earlier in the week. It seemed weird that she'd be able to get one after being married so long and actually getting pregnant as a result. So is it that the Church doesn't recognize *any* marriages that aren't performed in a Catholic Church, or just the ones from the Church of Scientology? Would I be able to one day divorce the Snook and marry a Catholic? (Hypothetically speaking.)

| | |
| --- | --- |
| | [3] |
And the Aussies are out. That sucks. I've been a little surprised at how bad the officiating has been in the few World Cup matches I've watched. Is that always the case, or is this year especially bad? Is this "human factor" something you're just supposed to accept as part of the game (like in baseball), or is there a movement to introduce more video refereeing?

Monday, June 26, 2006
| | |
| --- | --- |
| | [2] |
AND THERE IS ANOTHER ERROR IN THIS FRICKIN' PATTERN...! [more...]


My Mom's posted a couple dozen photos of her quilting on Flickr. There are a couple more pictures of the Vader quilt in there, along with lots more that I haven't seen before. I'm just in awe of what she can do.

| | |
| --- | --- |
| | [9] |
It's the day of my Australian Citizenship interview. Quick, quiz me on the privileges and responsibilities of being a citizen!

Responsibilities:
Obey the laws and fulfill duties as citizen
Enroll and vote in Federal, State, Territory, and local elections
Serve on a jury if called
Defend Australia if need arises
Privileges
The right to vote and elect public officials
The right to run for public office
The right to apply for an Australian passport and enter/leave the country freely
The right to apply for help to Australian diplomatic personnel overseas
The right to join the Defense Forces or apply for government jobs the require citizenship
The right to have my kids be Australian by descent
I think I'm ready!

Later: All done. Took about 10 minutes in the end. She looked over everything and checked my application against my passport and birth certificate. Then she asked me about the rights and responsibilities, and I proudly rattled them off. (Ten for ten! For the record though, there was NO poster or cheat sheet for me to read them from. My lady was tough!) So now I just have to wait for the letter letting me know when the ceremony's going to be...

Sunday, June 25, 2006

My head is very sore (there was much wine imbibing at the Good Food Show today) and I feel like I've been banging it against a wall for the past half hour. I've been working on this damn Knot & Cable Jacket all evening and just when I thought I'd finally got it sussed, it starts making no sense. I've done the "ribbing" cables down at the bottom, and it's time to start the cable crossing proper. But no matter what I do, Row 1 of the Right Front just doesn't work. And why doesn't it work? BECAUSE THE PATTERN IS WRONG. After much wailing and gnashing of teeth, I finally decided to add up the number of stitches to make sure it's right. AND IT ISN'T. The line as written adds up to 70 stitches, and (as verified by the previous line) you're supposed to have 68. The weird thing is it's not listed in the official revisions, so I guess that means I'm the first to find it. And all it took was a raging headache and a calculator. HARRUMPH.

The Next Morning: Okay, I can think again. Here's the actual error for the benefit of future Googlers: [more...]

Saturday, June 24, 2006
| | |
| --- | --- |
| | [2] |
The Snook caught the cat and me napping on the couch this arvo, and Dr. Amy Jones uploaded it to Flickr. Now that's attractive. Damn cat.


My sister rang up a while ago to ask if we'd received our invitation to Nicole and Keith's wedding. I'm sad to report that we haven't.

Friday, June 23, 2006
| | |
| --- | --- |
| | [1] |
Heh. John pointed me to this hilarious tale of a guy who applied for a manager job at a Premiership football club on the basis of his success at Football Manager 2005 (a video game). The response from the team's chairman is very, very classy.

| | |
| --- | --- |
| | [15] |
EQUALIZER! Oh my stars and *%&!ing garters! HARRY KEWELL, YOU BEAUTY! All I can say is, it's about goddamn time. Now we just have to hold on for ten minutes...

Ten minutes later: Sweeeeeet. WE'RE THROUGH! But hey, that referee sucked, huh? And correct me if I'm wrong, but didn't Simonic get THREE yellow cards?

Thursday, June 22, 2006

Two great new Star Wars items linked on Boing Boing recently: Yoda Backpack and Millennium Falcon Transformer. Sweeeeet.

Wednesday, June 21, 2006
| | |
| --- | --- |
| | [4] |
Any of you Sydney females want to score some free movie tickets? I just got invited by the Nielsen people to watch a preview screening of a new TV show next Monday night, and they give you two free tickets for going. I can invite "three other female friends between 16-64." Yeah, the whole thing was a bit marketing-spammy, but I don't have anything on that night and it'll be good blogging fodder. (It's sad that that's my criteria for doing things, isn't it?) Plus I've always wanted to have more influence in deciding what CRAP gets shown on TV. So if you're free Monday the 26th and you want to join me, just drop me a line. (The screening's at 6:30pm in the city.)

Update: They've changed the date. It's now on July 3rd.

| | |
| --- | --- |
| | [3] |
DietBlog: I've been quiet on the WW front lately, mostly because I put on a little bit two weeks ago (up to 79kg) and I haven't done much to take it off. Last night I was due to get my Lifetime Membership, and I was a little depressed thinking that I was going to be over my Goal. Not much of a victory, huh? So I got ready to go to the meeting, and just before I left the house I stepped on the bathroom scales. It was under 78kg. "Huh! Maybe this isn't going to suck after all!" I said to the cat. Half an hour later I weighed in officially... 77.5kg. That's my lowest ever. How the heck did that happen? I had Una's last weekend, for God's sake! It's inexplicable. (I have made one tiny change to my diet lately, but I'm not going to tell you about it til I confirm it's having a positive effect.) Our leader Barbara was so happy for me, and she made me get up in front of everybody and tell them what I'd learned over the past year. I also got the "key" charm for my keyring and got my official LTM card (which gets me free meetings for life, as long as I stay under Goal). After the meeting I spotted Karen sitting in the back row, and impulsively I stopped to tell her how much she inspired me at my absolute rock bottom. I can only hope that I did the same for somebody else in the room last night!

And here's something fun for those of you wondering what 22.5kg means in real size terms. I had the Snook take my measurements on April 10th last year, the day I started WW. I had him do them again last night:

Neck: lost 3.5cm (Off my neck? WHAT?)
Upper Arm: lost 6.5cm
Chest: lost 14cm (but my boobs haven't deflated too much)
Waist: lost 20cm (That's the biggie. I've now officially got an hourglass shape!)
Abdomen: lost 15cm (Curse my pot belly!)
Hips: lost 10cm
Upper Leg: lost 13cm
Calf: lost 4cm

(For confused Americans, 10cm is about equal to 4 inches.)

Tuesday, June 20, 2006
| | |
| --- | --- |
| | [5] |
Umm, I received a postcard at the shop today from Ennis and Jack. That's right; the two gay sock monkey cowboys I stitched six months ago sent me a postcard. It's a picture of them in a little house. And I don't think it was Craig the winner, because he's in the US and this was sent locally. So 'fess up, who did it? I'm guessing Miss Fee, but I could be wrong. The handwriting looks so familiar...

| | |
| --- | --- |
| | [1] |
Punny Dog Names. Ha! My favorites are "Chehuahua Guevara" and "Droolius Caesar." (I also like "Gilgameow" for a cat.)

| | |
| --- | --- |
| | [3] |
I did have a big post about my long three-day weekend, but I lost it. Quick Summary: Friday I went to the Craft Show and bought a bunch of stuff I hadn't planned. (Hello, Noro!) Then I went to Una's with Miss Fee and ate a schnitzel the size of a dinner plate. (Mmm, schnitzel.) I also went to Ariel and picked up some new books, including Subversive Cross Stitch. Saturday was knitting in Newtown with SSK and then over to Kenya's for some rugby action. (Again, too much food.) And Sunday was spent in a lethargic consumer coma, which meant that I just sat on the couch knitting all day. I love three day weekends.

Monday, June 19, 2006

Ooh! I had my first Chaser sighting today. It was Julian, and he was on my 483 bus from the city tonight. That brings my total to one, and the Snook's to, like, fourteen. (The only people he claims to see more often are the hosts of the SBS Movie Show, which is weird because we've only watched it, like, once, and I wouldn't know those people if they punched me in the face.)


Snookums informed me tonight that I have Delayed Sleep Phase Syndrome. And holy crap - I do! Case in point: it's 10:30pm and he's falling asleep on his feet. I'm wide awake and struggling against going to bed like a two-year-old.


Fascinating article about a man whose sight was restored after fifty years. It turns out that while we sighted people imagine that seeing is just light hitting your eyes, there's a lot more to it. And how weird is it that Virgil didn't understand shadows? (I mean, I can totally understand how he didn't, but it's freaky to think how many everyday concepts depend on visual observation. I'm reminded of the scene in Mask when Eric Stoltz tries to explain "billowy" to the blind girl.)


Happy Father's Day, Dad! I just finished skimming through this lovely AskMetafilter thread about the lessons we learned from our fathers. Some are uplifting; some are sad; some are bitter. Worth a read.

Saturday, June 17, 2006
| | |
| --- | --- |
| | [1] |
Knitted Naughty Bits. Be sure and follow the link to Crochet My Crotch, which crochets vulvas to order. (EAR MUFFS?) Now that's some subversive knitting!


The Dillon Brothers: A Study in Hotness. I figured this AskMetaFilter question on why Matt Dillon is so much better looking than Kevin Dillon would be deleted right away, but instead the discussion was really interesting and totally redeemed it. I like the person who squished up Matt's features and spaced out Kevin's. Points for creativity!

Friday, June 16, 2006

I have no idea what this "Ridin' Dirty" song is, but go here and vote for Comedy Sportz's lip sync version. It features everyone's favorite ImprovBlogger Tara D in several scenes, including the promo shot of her writing "DIRTY" on a wall. HILARIOUS.

Thursday, June 15, 2006

KnitSplurge: I've been watching the KnitterlyThings Shop in some time in the hopes more Vesper sock yarn would shop up... and today it did! I just bought a skein of Tartan.

| | |
| --- | --- |
| | [5] |
Whoa... My e-mail to the ABC got our WWKIP Day pictures linked on their Arts blog! I also got in a plug for the TC SnB. Sweet!

Later: Someone from the Public Broadcasting Company of Japan read the article and rang the shop asking about both the Sydney stitch and bitch groups and the Melbourne "Knitta" people. I explained that the "knit graffiti" movement - as far as I can tell - seemed to be inspired more by magazine articles than any real creative urge. (It's the same problem I have with the zombie thing, really.) She also seemed oddly fixated on how many men were coming to these knitting groups. She actually said she had a funny image of a bunch of funky young guys sitting around knitting. And while I know that would make a great image for a story, it's sadly not the case. I'd love to get more guys interested in knitting, but most of them still think it's a bit of a joke (as witnessed by the drunken louts who stopped by WWKIP Saturday). Maybe I should organise "Teach a Guy to Knit Day" or something. Anyway, I tried to play up the "hip" factor of Sydney knitting without giving her too much the wrong idea...

Wednesday, June 14, 2006
Moblog: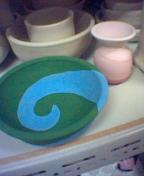 Underglazing
I had a really enjoyable pottery class tonight, mostly because I didn't bother to try to throw anything. I turned my two crappy pots from last week and the new bottoms rather improve them, I think. Then I decided to start decorating. First, my curvy little vase. I decided she wanted to be pink. I was trying for a real gradation of colour, like fabric that's been drip-dyed. Unfortunately that's pretty hard to do with dry clay that sucks up moisture, meaning you can't really "blend" the colour areas very much. I settled for some swoopy stripes. Then it was on to my chunky bowl from the very first night. I decided he wanted to be green. I then went back with a blue to do a thin spiral in the middle, but the spiral decided it wanted to be thick and spill over the side of the bowl. It's more of a wave, really. I think it's gonna look groovy once it's fired and glazed. I really will need to do some more throwing next week though. I'm running out of things to turn and glaze!
| | |
| --- | --- |
| | [1] |
This morning the Snook and I watched this clip of a lyrebird from one of David Attenborough's nature specials. Lyrebirds are native to Australia and I'd heard they were good mimics, but I had no idea. It's amazing! The chainsaws and the camera are the bits that blew my mind.

Tuesday, June 13, 2006
| | |
| --- | --- |
| | [2] |
HOLY CRAP! Australia stuns Japan 3-1. I'm kicking myself for going to bed after the disappointing first half. (In my defense, we bought a new heater yesterday and being toasty warm is not conducive to staying up after midnight...)

Sunday, June 11, 2006
| | |
| --- | --- |
| | [2] |
"Tabby Cat Chases Bear Up Tree, Twice." HA! This is particularly relevant this weekend because I finally managed to witness Dr. Amy's mistreatment of the Snook. He's maintained for some time that she attacks him whenever I leave the house, and he has a theory that he's below her in the family power structure. (I, of course, am the top.) I just laughed at him until I actually saw her nonchalantly walk up to him and then lunge at his leg (resulting in a four-inch-long scratch). So yeah, I can totally buy a cat terrorizing a bear. Snookums is just lucky we don't have any tall trees around. (Link courtesy of John.)


Raiders of the Lost Banana. Dude, with nanners up around AUD$12 a kilo (like US$8 a pound), I'd become a banana bandit too! (The Snook wants me to link to a picture of Mr. Banana Grabber here, but I can't find one.)

| | |
| --- | --- |
| | [1] |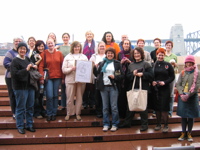 WWKIP Day Photos are online!
I gotta say, I was really, really impressed with the turnout we had. The weather was about as good as could be expected – it sprinkled a bit at first but held off the rest of the day. (We were under cover anyway.) The folks at the Sidewalk Cafe looked a little worried when they saw how many people were turning up, but we kept buying stuff and that seemed to assuage them. People walking by kept doing double-takes when they saw our sign, and we even managed to talk a few into knitting with us! This is definitely going to have to become an annual (or semi-annual) event.


I've got some Amazon gift certificates burning a hole in my e-pocket, so I headed over there today to order the Veronica Mars DVDs. I was alarmed to see a notice that my "June 6 order has recently shipped." I didn't place any order on June 6th. What's even more disturbing is, the site won't let me in to view the details of that order. All I can see is that it's a Simpsons Clue game and it was sent to someone named "John Mackill." I never ordered this. I don't know that person. I never received the usual order confirmation e-mails. My fear and paranoia is balanced by the fact that they couldn't possibly have charged to my credit card (my old number expired months ago and I haven't put the new one in yet), and none of my gift certificate credit seems to be missing. I've sent through an e-mail to Support. Snookums thinks that it's just a screw-up, and that someone else's order has become associated with my account (which is why it won't let me see the details). Besides, if you were going to scam someone, you'd buy more than a $20 board game, right? Just to be on the safe side, I've changed my Yahoo and Amazon passwords to the most elaborate gobbledygook I can possibly remember. I'm crossing my fingers this is all just a mistake.

Update Two Days Later: Yep, it was a mistake. Of course, it took two e-mails and an international phone call to clear that up. *sigh* I'm gonna have to ding their customer service score on this one.

Saturday, June 10, 2006
| | |
| --- | --- |
| | [2] |
Moblog: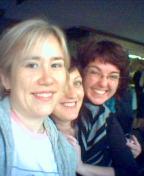 WWKIP Day!
Knitting in Public Day has been a great success! Here's me, Mel, and Miss Fee enjoying the lack of rain. We've had about 20 people and even a couple random tourists joined in! Photos are coming.

Friday, June 9, 2006
| | |
| --- | --- |
| | [4] |
Dad, your dreams have come true. Some guy is starting up a professional deer hunting league. YOUR DESTINY AWAITS!

| | |
| --- | --- |
| | [7] |
I feel a rant coming on. This one is entitled: Things I Wish Customers Would Learn, or Why I Always Get Headaches Every Afternoon.

I am not a knitting robot. I do not have an encyclopedic knowledge of every yarn and pattern in the world. I don't even have an encyclopedic knowledge of the yarn and patterns we sell in our shop. As with all humans, I tend to recognize and remember things that are unusual more than things that aren't. So if you ask me whether a pattern exists for a hot water bottle cover, I might know that. (In fact, a customer asked me that yesterday and I pointed her right to the only book in the shop.) If you ask me for a kid's jumper with a giant snail on it, I can help you out. But this, this is what I hate: "Do you have any patterns for a cardigan? A nice one." ARRRGH! (I especially like it when they specify a colour, like we have pattern books with just red sweaters in them.) If you ask me a stupid, non-specific question like that, I'm just going to point you in the direction of our 600 pattern leaflets and ignore you. I need something work with, people!

On the same note, I am not a mind reader. At least once a week some idiot customer comes in and says that she saw a great pattern last week but didn't buy it, and now she can't find it. Oh, and she can't remember what it was called, or what number it was, or what yarn it used, or even what was on the cover. And then she gets mad at me because I don't know which one she's talking about. A similar thing happened a few days ago with wool. This lady came in and insisted that she'd seen the most beautiful skein of charcoal grey New Zealand merino in the shop just days before and now she wanted to buy it. I showed her every bit of New Zealand yarn we have and nothing matched up to the idealized picture in her head. She repeatedly insisted that it was a skein, not a ball, in spite of me telling her that we've only ever sold, like, four things in skeins and I showed her every one of them. She dragged me around for half an hour and even at the end I think she still suspected I was secretly hiding the extra-beautiful grey wool out the back. She was looney tunes.

And lastly, look at what you're buying, lady. I know at fancy bookstores, they let you "purchase" books and then return them for a full refund later. We're not Dymocks and we don't do that. We know that Rowan and Debbie Bliss books are expensive. We know that you'd like nothing better than to take them home, photocopy the one pattern you want, and then bring the book back for some other sap. But that just means that we become a library, and the books get progressively more handled until nobody wants to buy them at all. That's why we have big signs up saying that we don't exchange on patterns (or knitting needles) at all. There has to be a rule, and that's it. So when some lady comes in like this morning and claims that she didn't realize til she got home that the Debbie Bliss book she bought yesterday was "so expensive," and that she really would only ever "make one thing out of it," she's not gettin' any sympathy from me. What, did you just pick the book out at random? Did you even look at the total when you signed your credit card receipt? If she'd said at that point, "Whoa! I didn't want to spend this much!" we'd have cancelled the sale, no problem. I might have even let her swap it if she'd come back that same day. But 24 hours later? Nuh-uh. And I'm sorry, but protesting that you really didn't copy anything "because I don't have a photocopier at home" doesn't cut it. That's what everybody says. I'm not a judge and I don't want to be in the business of deciding who looks honest and who doesn't. That's why we have a rule. Most people don't have a problem with it, but then most people don't claim to drop $40 on a tiny book without flipping through it.

Whew. Nice to have that off my chest.

Thursday, June 8, 2006
| | |
| --- | --- |
| | [1] |
I bought new cords today... and they're a size 12! I haven't bought size 12 pants since middle school. I also convinced the Snook to buy a new T-shirt, thus increasing his wardrobe by, like, 20%. We are stylin'.

| | |
| --- | --- |
| | [3] |
Moblog: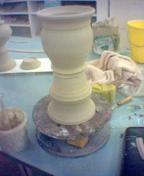 Mad Pottery Skillz
Aren't my pottery skills coming along nicely? I threw this puppy yesterday in two pieces and then joined them together. It was just a whim, but I think it turned out rather well...

Not. Yeah, that's my teacher Peter's work. My own output for the evening was pretty crap. Even my turning - which I normally like - didn't go so well and one little round pot won't even sit flat. I managed to throw one decent bowl and a really crappy pot. I put my little curvy vase in to be fired though, so I'm hoping to decorate that with glaze next week. I figure that two hours of playing with clay is still fun, even if I don't always throw really great pots.
Wednesday, June 7, 2006

The Snook and I have often contemplated how nice it would be to eat like the cat. You know, just have a box of "food" that you could dump in a bowl and eat without having to worry about deciding and shopping and cooking and cleaning... (I know we're foodies, but we're lazy foodies.) Anyway, turns out we're not the only ones with this idea! This guy is trying to subsist for a week on nothing but MonkeyChow, "a complete and balanced diet for the nutrition of primates, including the great apes." Neat!


Heh. First there was the Knitting Olympics; now there's the Tour de Fleece! If you spin, you should enter. (Much like Mary-Helen, I will not spin. No, I will not spin.)


RunningBlog: Last night's weigh-in was a bit of a backslide, but I expected that. I've been slacking off on my exercise since the Sale started (mostly because I'm just tired) and the cold, wet weather makes me want to sit at home and eat (and I've been giving in to the impulse). I know I can bounce back from it though. The Snook and I have officially entered the City 2 Surf and today was our first training day. We went on a nice jog through Glebe and Forest Lodge. Right now we're planning on sticking to the "Fun Run" training plan but with an additional workout per week from the Competitive plan. Oh, and I entered us in the "Husband and wife under 34" team competition. Go Team Howard-Snook!

| | |
| --- | --- |
| | [6] |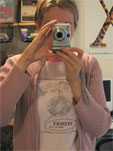 Look what came in the mail yesterday... It's my World Wide Knit in Public Day shirt! Only four days til the big event. I'm going to put up some signs in the shop today and send out a few mass e-mails. Do you think I should call the Cafe and give them a heads-up about the hordes of knitters that will be descending up on them this weekend?

Tuesday, June 6, 2006

Beastly Mispronunciations. The big shocker there for me was medieval. I've been complaining about the Brits' and the Aussies' habit of giving this word four syllables for years. Turns out I'm wrong! My world is spun.

| | |
| --- | --- |
| | [1] |
Check out all the bad mutants! (That's our new code word for goths, courtesy of X-Men 3.)


Hey, I didn't even realize it was Devil's Day! So if any of you crazy evangelicals are worried that the world is going to end, you can unclench. It's been 06/06/06 for nearly eleven hours Down Under and I'm happy to report that all is well. (Except for the annoying Italian in pink Ugg boots who pushed in front of the Snook on the bus this morning and then sat down next to me, stealing his seat. She was clearly a minion of Satan.)

Later: I just realized that my latest DeskCam picture is particularly appropriate.


A pigeon flew into the shop this morning and is sitting upstairs above the heating vent. I repeat, A WILD BIRD IS CURRENTLY IN THE SAME BUILDING AS ME. I may have to hyperventilate.

Update: The bird has left the building. Danny has once again come to my rescue as the Trapper of Feral Creatures. Hooray!


Manage your headphone cords with crochet. Neat!

Monday, June 5, 2006

Unlocking the Secrets of Cream Cheese. Huh. That's fascinating. I kinda thought that it was just a normal type of cheese that was, uh, "whipped up."

| | |
| --- | --- |
| | [3] |
I just noticed that slashdot has finally had a facelift! This is the stuff you miss when you rely on RSS all the time. It's very Web 2.0.

| | |
| --- | --- |
| | [1] |
I was really surprised and disappointed to see that Cedar Point have taken out White Water Landing. That was one of my favorites! I used to love stepping off the stairs onto the big rotating platform and feeling the cognitive dissonance as my brain insisted that the rest of the world was turning, not me. Oh well, at least Snookums got to ride it on our last trip. I get that giant-ass coasters bring in the bucks, but I wish they'd keep some of the stuff I loved as a kid. I miss Kid Arthur's Court; I miss the Dolphin show; I miss the Schwabinchen; I miss having the Giant Wheel smack dab in the middle of the park instead of smooshed over to one side. Maybe I'm just getting old.


The world's most expensive cat toy. (If you can't get the video to play - as I couldn't at first - click on the "Download" link and try to get the MP4 version.) This reminds me, I really do need to film Dr. Amy chasing the laser pointer and put it online. It's hilarious.


RunningBlog: The official City 2 Surf website is up! I've just printed out the training guide. Unfortunately I think the Snook and I fall somewhere between the two options ("Fun Runners" and "Competitive"). The easier plan doesn't look that different from what we already do! I guess maybe we'll stick with that one, but add in some interval training every now and then.

Saturday, June 3, 2006
| | |
| --- | --- |
| | [4] |
Well, that was disappointing. We walked over to the "Entertainment Quarter" (aka Fox Studios) today to check out the Farmer's Market and the big Crocs Warehouse Sale. The Market was good; we got apples, tomatoes, zucchini, peppers, and a loaf of sourdough. The Crocs Sale... sucked. I got all excited at first by the "Everything $20" sign and started planning which colours I was going to get. I was even happier when I saw boxes of the closed-toe style, which I'd like to get for winter. But guess what? They were all kids' sizes. The only adult size shoes they had were the flip-flops. Thongs. Not what I was looking for. Oh well. At least we had a nice long walk on a very blustery day!

| | |
| --- | --- |
| | [4] |
Actual Whispers Between the Snook and I During X-Men: The Last Stand:
"They CGIed all their wrinkles out!"
"HEY, IT'S STAN LEE!"
"That's called a 'Fastball Special.'" *fangirl smugness*
"How did Anna Paquin gain ten pounds ALL ON HER NOSE?? She's not pretty here."
"This is the only time Cyclops has ever looked hot to me."
"How did she kill him? Dude, vagina dentata!"
"Evil has pretty, pretty hair."
"Does he have an ADAMANTIUM PEEPEE?!"
"Why are all the bad mutants goths?"
"This movie is really all about the gayness."
"Why move the frickin' bridge? Why not a plane or a boat? And how could that crappy plastic prison have ever contained somebody who can move a goddamn bridge?"
"What does Beast do besides be furry? Ohhhh...."
"I thought he could manipulate the temperature of water. I didn't think he could SHOOT SNOW."
"Oh, he saved his Dad. How special."
"Riiight. His whole outfit gets ripped to shreds EXCEPT FOR HIS PANTS. Whatever."
And that was pretty much it. In our defense, we were way in the front at a mostly empty theater with sound turned up to deafening levels. I'd give it a 6.5 out of 10. Parts of it were entertaining, but other bits - most notably Dark Phoenix - were earth-shatteringly boring. Literally. I liked Beast, especially when he was fighting, and I liked that they made Xavier more morally ambiguous. I found Magneto really sad at the end. And hey, where was Jubilee? I saw her listed in the credits but I must have missed that cameo.

Friday, June 2, 2006

Get well, Roger! Maybe I should knit him a scarf or something.

Thursday, June 1, 2006

Just a reminder: World Wide Knitting in Public Day is coming up next weekend! It looks like our Sydney details are now up on the website. Let's all get the word out to get as many folks there as possible! (I just got an e-mail from a Parisian girl who's going to be visiting and wants to join in. How cool is that?)

| | |
| --- | --- |
| | [7] |
Holy crap! The Snook told me some crazy story tonight about two girls who were in an accident in Indiana and one of them died but the other one was in a coma, and now weeks later the coma girl has woken up and SHE'S THE OTHER GIRL. I was like, "What?" He said that the family who thought their daughter had lived only just realized that it's actually the other girl, and their daughter actually died in the accident. I scoffed and accused him of reading the Weekly World News too much. But get this - it actually happened! I guess her injuries were really severe and - coupled with how much the two girls looked like each other - everybody made the same misidentification. That's awful.


Last night we were trying some of the new "Chopper Reed" beer we got in this month's delivery from The Beer Club when I had a truly brilliant idea. "Okay," I said, "so this photographer made lenses for his camera out of ice and took all these weird, ghostly photographs. Now just imagine--" The Snook's brain leapfrogged to my conclusion. "Lenses made out of frozen beer! You could get actual photographic evidence of the effects of BEER GOGGLES!" Of course, now all we need is a catchy name for the resultant Flickr group. (Ice photography link courtesy of John.)

archives
You can search through the archives by post keyword using the form on the left, or you can browse by month using the links at the bottom.
"Moblog" refers to posts and images posted directly from my mobile phone.

"PW Blog" refers to posts recovered from my very first weblog, which dealt with news related to my college dorm.