Thursday, July 31, 2003
| | |
| --- | --- |
| | [11] |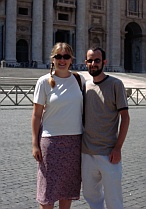 Round-the-World Holiday Pictures
Unlike Max, I have very little restraint when it comes to taking pictures on vacation. In fact, I took almost 200 during our recent holiday! Lucky you, though; you only have to look at 160. The vacation pictures are here!

(Once again I must apologize for how crappy my camera is. It overcompensated for the extremely bright weather by making everything dark and washed-out. Trust me, everything was many times prettier than these pictures make out.)

| | |
| --- | --- |
| | [4] |
Bad news: The iBook monitor is definitely dying. Discussions on the Apple support site have led me to believe that the bad design of the hinge has broken the wires connecting the display. As I'm out of warranty, it's going to cost hundreds of dollars to fix (or the Snook and I are going to have to attempt the pretty tricky operation ourselves). Not happy, Jan.

Good news: The computer itself still works fine. I've got it connected up to the Snook's mammoth monitor right now and damn it looks purty.

Annoying discovery: Apple intentionally crippled the iBook so that I can only mirror the display (i.e. I can't turn off the laptop display or close the lid without the thing going to sleep) and I can't get any resolution higher than 1024 x 768. Grrrr. I don't know what I'm going to do.

Wednesday, July 30, 2003

I have about half of our trip photos captioned and ready to upload. Unfortunately I'm being slightly hampered by the fact that my iBook monitor is having a BIG FREAKIN' MELTDOWN. *hyperventilate* I may have to take it to the shop tomorrow.

| | |
| --- | --- |
| | [4] |
Happy birthday to Snookums, who turns 27 today. Man, we're gettin' old.

Tuesday, July 29, 2003
| | |
| --- | --- |
| | [1] |
This is the restaurant I'm taking Rodd to tomorrow for his birthday. Shhh! It's a surprise.


New poll: What's your dream vacation?

| | |
| --- | --- |
| | [2] |
I saw Down With Love on the flight home and I absolutely loved it. Snookums refused as he thought it was going to be some cheesy girly romance (though afterwards I tried to get him to watch it on repeat). It's really funny and if you have any sort of crush on Ewan McGregor at all, you must go. The single line "Why do you mourn, baby?" even managed to erase what little ill will I had towards the film because of Renee Zellweger's involvement.

| | |
| --- | --- |
| | [5] |
We're back. Jet lagged. Sunburnt. Frickin' freezing, Mr. Bigglesworth. (Going from the height of summer to the depths of winter is never as fun as you think it's going to be.)

Oh yeah, CouchCam's back too. We hung the sarong up over the window while we were gone so would-be thieves couldn't peek in and see all our lovely Buffy DVDs waiting to be pilfered. I kinda like it.

More in twelve hours or so when I can think coherently...

Monday, July 28, 2003

Singapore airport is a friggin' palace. Free Internet, lovely cactus garden, air conditioning... I could live here. Anyway, yeah, we're on our way home. Twelve hours of flying down, only eight more to go!

Wednesday, July 23, 2003
| | |
| --- | --- |
| | [2] |
Here's a useful tip for travelling, kids: Book hotels before you go. The Snook and I (in our usual fashion) waited til the last minute to schedule anything on this Italy trip. We've been lucky so far and we've only had one bad place, but our lack of planning has finally bitten us on our collective ass. We were supposed to go to Naples today and spend three days exploring Herculaneum and Capri, but unfortunately we just could not find a damn hotel room. Hence we're in Rome for another night and we had to spend half of today calling all over the country looking for a room. We're finally booked, but it was a pain that we should have avoided. Just think of that in the future...

| | |
| --- | --- |
| | [4] |
Arrivederci, Florence... Hello, Rome!
The Snook and I now find ourselves in the Eternal City. Unfortunately I haven't seen any of the quintessential Rome movies (Roman Holiday, La Dolce Vita), so I've been reduced to saying things like "Hey, that's where the Griswolds got their video camera stolen!" every five minutes.

But my cultural ignorance aside, Rome is a lovely place. On our first day we visited the Vatican Museums, the Sistine Chapel, St. Peter's Basilica, the Trevi Fountain, and the Spanish Steps. St. Peter's was definitely my favorite place, and I think it may be my favorite church ever. It's full of beautiful paintings and statues and mosaics, but it doesn't look gaudy and everything is just the right scale and position. I didn't even mind that the stupid guard made me put a skirt on. (Shorts are evidently not quite holy enough, but I'd brought a skirt for such a case. I wasn't about to walk around in two layers though, so I have the distinct honor of taking my pants off in the Vatican.) We finished our first day at a Roman steakhouse where the Snook and I both consumed the biggest hunks of cow we'd every seen in our lives. When in Rome, I guess...

Today we hit the Colosseum first thing in the morning to try to beat the crowds. Unfortuately our strategy failed, as the line was still half an hour long. A nice man sold me twenty postcards for a euro though so I stood in line writing them out to everybody I had addresses for (which wasn't a lot, since I forgot to update iPod with them before I left). If you want one, drop me an e-mail with your address. (Especially Brigita and Tricia, as I had addresses for you but I wasn't sure if they were correct.) Less than a week to go!

Sunday, July 20, 2003
| | |
| --- | --- |
| | [9] |
The unforeseen perils of backpacking in Europe...
Me: Hey, Snook, can you grab me one of those towels in the bathroom? I wanna take it along on our day trip in case we get sweaty.
Him: Which ones?
Me: You know... The little hand towels hanging above the bidet.
Him: You mean the ass towels??
Me: Ass towels? No, I mean the little hand towel right above the-- Oh my god! They are ass towels! I took one yesterday and wiped my face with it! You didn't use any of them on your ass, did you?
Him: No! Did you?
Me: No! (pause) Okay then.

Saturday, July 19, 2003
| | |
| --- | --- |
| | [4] |
Milan, Cinque Terra, Florence...
All in the space of 72 hours. Milan was actually pretty nice and the Snook and I had a great time climbing up on the roof of their huge cathedral. We had been worried about our hotel, which was disturbingly cheap for the area and season. We solved the mystery in the morning when a jackhammer woke us up at 8 am. No worries though; we needed to get up early anyway.

Our bad hotel karma was not over yet. We headed to La Spezia which is on the northwestern coast of Italy, just down from Genoa. The Snook had never been to the Cinque Terra and this seemed like a good base for exploration. The Cinque Terra ("five lands") are five tiny villages perched high up on cliffs overlooking the sea. They were gorgeous and lovely and fun. Our hotel, however, was not. No air conditioning, no ceiling fan, and it was about eighty degrees in there all night. Finally the Snook decided to accept the inevitable mosquito bites and throw open the window, only to discover that the noise from the street below was so loud we couldn't sleep. That was definitely the low point of the trip. Everybody needs at least one bad backpacking trip though, right? So we shrugged it off and headed on to Florence, city of my Room With a View fantasies...

Well, the fantasy didn't last long. I stepped out of the train station ready for my first sight of the ultimate Renaissance city only to see an old dirty homeless man having a wank on a nearby bench. (I'm still shuddering.) We seem to have passed through hell though and our luck has only gotten better. Our room here in Florence is actually supposed to be for four so it's huge! We've got AC too, which is a blessing. We spent our first day today wandering through the Uffizi (big art gallery) looking at Botticellis and Michelangelos. Then we had a tour through the Duomo and walked across the Arno on the Ponte Vecchio. It was so beautiful. Old scary homeless men aside, this could be my favorite place yet. It's got all the modern conveniences of Milan combined with the cobbled streets and oldy-worldy charm of Venice. I like it very much indeed.

So that's us so far. I've got the worst farmer's tan of my life and my feet are killing me, but I'm having a great time. The Snook and I have settled into the backpacking routine and are making more of an effort not to irritate each other. (To paraphrase my mother, "nobody can spend five weeks together 24-7 and not want to kill each other".) Only ten days left!


If any of you are still pondering Harry Potter and the Order of the Phoenix, my Book Group discussion is still going on.

Tuesday, July 15, 2003
| | |
| --- | --- |
| | [2] |
48 hours in Venice and I've...
had gelato (yummy Italian ice cream) twice
realized that cities without cars are really, really nice
seen the famous glassblowers of Murano
travelled all over the city via "vaporetti" (canal ferries)
dipped my toes in the Mediterranean at the beach on the Lido
applauded the string quartets playing in St. Mark's Square at night
taken pictures of the colorful little houses in Burano
eaten a pizza as thin as a tortilla and bigger than a record album
made more references to the Venice episode of The Amazing Race than I can count.
Unfortunately the city itself isn't the only Race similarity. I used to think it was ridiculous how some of the teams treated each other. Now I realize that irritation, impatience, and general irrational behaviour is to be expected when you travel with one person for an extended period of time. Yes, the Snook and I are driving each other crazy. It's been three weeks of seeing each other 24-7 and we're going maaaaaad. If you don't hear from me by the end of the week, it's probably because one of us finally pushed the other into a canal. :)

Sunday, July 13, 2003
| | |
| --- | --- |
| | [2] |
HoIy crap. This post is being made on a Sony E ricsson mobile phone. How cool is that? I do miss London technology...

Friday, July 11, 2003

Ummm... My Carpenters Album Bag has been linked on The Karen Carpenter Remembrance Page. I was kinda worried when I saw the backlink that they'd be upset that I was taking the piss out of her, and it'd wind up being like the Ashley and Mary-Kate thing all over again. But they seem cool with it, so far.

Thursday, July 10, 2003
| | |
| --- | --- |
| | [4] |
Happy birthday to my sister Amy, who turns 24 today. Woo! Hopefully her new boyfriend will take her out on the town.


One hundred and eighty degrees.
Interestingly, that figure does not refer to temperature (even though it felt like it for a while there in Boston). Rather, the Snook and I have now traversed one hundred and eighty degrees of the globe. Kinda mind-blowing, huh? We took off from Boston Wednesday night (after spending our last day on the fabulous Sam Adams Brewery tour) and landed in London early Thursday morning. It was a vile flight. Being a bit of a chunker myself, I've always felt sympathetic to the plight of folks too big for conventional airplane seating. My patience was sorely tested by the lady beside me though, who spilled over into my seat to the point where I couldn't fully lower my arm rest (as it was sitting on her leg). She also had a walking stick and about forty-seven packages sitting on her lap, which meant she wasn't easily moved. Thus I was trapped for five hours with no aisle access and such limited elbow mobility that I felt like a Tyrannosaurus Rex. Grrr.

Anyway, London seems different somehow. There are lots of shiny new buses (courtesy of Red Ken, I hear). We're staying with our friend Alex in Fulham, which looks a lot more upmarket than I remember. Times, they are a changin'. Hopefully I'll feel more at home when we hit a pub tonight...

Tuesday, July 8, 2003
| | |
| --- | --- |
| | [1] |
Congratulations to Kristen on her wedding. The Snook and I have been thinking of you and Mark and we hope your big day was as special as you planned. And hey, maybe we'll run into you in Italy! :)

| | |
| --- | --- |
| | [4] |
"It's CHOWDA!"
Rodd and I have finally left the Midwestern plains for the twee quaintness of New England. Well, at least that's what we thought we were doing. Instead we arrived in Boston to the marvelous sight of the "Big Dig" and the insanity of Beantown drivers. We're having a good time though. We're staying with my college roommate Eileen, who I haven't seen in four years. Yesterday she took us up to the beach in Gloucester (which is apparently where The Perfect Storm was set). It's like 90 degrees here and sunny, so it was a perfect day. Today the Snook and I are walking the Freedom Trail and checking out all the Revolutionary War sites. We've been through the State Building and we even saw Paul Revere's grave. It's hilarious because Rodd knows very little about the War of Independence, so he keeps asking me questions and demonstrating that I know very little about my own country's history. But we're learning now, right?

And hey, you Brits. The Snook and I will be landing in London this Thursday morning and we want to meet up with as many folks as possible. We're thinking of having a little Netdeciders reunion Friday night either at the Suffolk Punch or at the Anchor down on the Thames. Let me know if you've got any other ideas or if you can't make it. And please tell all the other ND folks that I've fallen out of contact with. Hope to see you soon!

Thursday, July 3, 2003
| | |
| --- | --- |
| | [4] |
Literature
I was pleasantly surprised to score 11/13 on this Famous First Lines Quiz. I had to take a couple educated guesses.

I've been doing a fair bit of reading on the trip so far. I managed to finish Speaker for the Dead, the Orson Scott Card sequel to Ender's Game. It cleared up a lot of the issues I had with the first book (especially the bit about the computer game that seemed a little too sentient). My edition came with a nice introduction from Card that explained why the whole "Speaker for the Dead" thing at the end of Ender's Game felt so tacked on. Basically, he wanted to write the second book but he needed to set up who Ender was and what humanity's attitude would be towards the piggies. Now I almost wish he had spent more time on it. I'm enjoying the series so much that if I don't get the next book soon, I'll probably go back and reread the first two!

| | |
| --- | --- |
| | [2] |
Sunburn. I forgot how bright it gets here during the summer. My forehead kills.

archives
You can search through the archives by post keyword using the form on the left, or you can browse by month using the links at the bottom.
"Moblog" refers to posts and images posted directly from my mobile phone.

"PW Blog" refers to posts recovered from my very first weblog, which dealt with news related to my college dorm.